Author of The Zeroes to Speak at Scarsdale Library
Published: Monday, 20 September 2010 13:59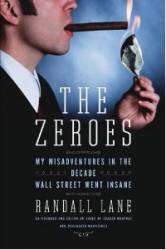 Friends of the Scarsdale Library are proud to present author Randall Lane who will speak on his bestseller, The Zeroes on Tuesday, October 5 at 8 pm in Scott Room.
What Liar's Poker was for the 1980s, The Zeroes is to the first decade of the new century: an insider's memoir of a gilded era when Wall Street went insane-and took the rest of us down with it.
Randall Lane never set out to become a Wall Street power broker. But during the decade he calls "the Zeroes," he co-founded a small magazine company that put him near the white-hot center of the biggest boom in history. Almost by accident, a man who drove a beat-up Subaru and lived in a rented walk-up became the go-to guy for big shots with nine-figure incomes.
Lane's saga began with a simple idea: a glossy magazine exclusively for and about traders, which would treat them like rock stars and entice them to splurge on luxury goods. Trader Monthly was an instant hit around the world.
Before long, Wall Street's rich and powerful trusted Lane as a fellow insider-the guy who could turn an anonymous trader into a cover model and media darling. And the rest of the world sought him out as a way to tap into Wall Street's riches. As he emptied his bank account to help keep his little company afloat, he became a nexus for the absurd; traders who turned 9/11 and Hurricane Katrina into multi-million-dollar windfalls, Al Gore, John Travolta, Peter Max. corrupt Caribbean rulers, the mobsters from Goodfellas, and the Pope. Plus Lenny Dykstra, the retired baseball star turned market guru, whose rise and fall was a great metaphor for the decade. All played roles in Lane's surreal world.
Hear Randall Lane's story, FREE at the Scarsdale Public Library on Tuesday October 5 at 8 pm.