Thank You to the Book Sale Volunteers
Published: Tuesday, 05 October 2010 09:22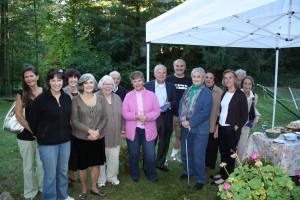 To the Editor:  On behalf of the Scarsdale Library Board of Trustees, I would like to express our appreciation to the volunteers and patrons who made this year's Friends of the Scarsdale Library book sale our most successful one yet.
We are so grateful to our dedicated group of volunteers who, under the leadership of Kathy Steves, spent hundreds of hours toiling in the library's basement to sort the thousands of donated books, and then staffed the nine-day sale.
We also thank the community for generously donating books, records and DVDs, and for showing up -- not only once but multiple times, in many cases -- to purchase from the enormous assortment available.
The Library relies upon the book sale proceeds to provide programs for children and adults and to pay for many other important projects. Your continued enthusiasm for the sale will help the Library remain a vital community resource for years to come.
Sara Werder
President, Scarsdale Library Board of Trustees
October 3, 2010
BLOG COMMENTS POWERED BY DISQUS