Westchester Becomes Popular with the Film Set
Published: Monday, 17 July 2017 12:46
Joanne Wallenstein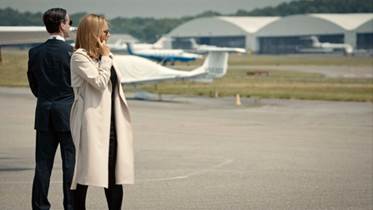 Look closely and you'll notice familiar scenery when you are watching your favorite television shows. Westchester County announced that revenue from the television and film industry almost doubled in 2016 after local towns became popular destinations for cinematographers.
Just last week, the Amazon Series "Sneaky Pete" was filming in the garage at the Hartsdale Train Station, and the county office of tourism and film reported that last year many popular productions used scenes from Westchester in their movies and shows. Among them were:
The Girl On The Train"(DreamWorks Pictures/Universal)
The Affair (Showtime)
Divorce" (HBO)
Homeland (Showtime)
Elementary" (CBS)
The Americans (FX)
Mr. Robot" (USA Network)
Madam Secretary (CBS)
Blind Spot (NBC)
The Blacklist (NBC)
According to Westchester County Executive Robert P. Astorino the county received more than $30 million in revenue from the film and TV industry in 2016 from 532 on-location production days in Westchester this past year. "Westchester's film and TV industry is booming," said Astorino. "These numbers show the popularity of Westchester as a backdrop for movies, television shows and commercials, as well as the importance of the film and TV industry to our local economy."
Natasha Caputo, director of Westchester County Office of Tourism and Film, pointed out that Westchester's appeal lies not only in its world-class locations, but also in its accessibility, affordability, and the hands-on support offered by the county's Tourism & Film office. "Our office has a deep knowledge of production needs and how to help location managers navigate the process of filming in Westchester," said Caputo. "Westchester offers unique settings all within a short distance of New York City and is accessible for productions of all sizes through our airport, major highways, and a reliable rail and bus system. The county also offers a large talent pool of location scouts, production managers, crew, and postproduction specialists."
A survey revealed a 130% increase, from $526,454 in 2014 to $1,209,804 in 2016, in permit revenues collected by the county and local municipalities. The county received $500,000 in permit fee revenue in 2016 for productions held on county-owned property, while municipalities collected over $700,000 in 2016, showing the positive impact film activity has on Westchester's local towns and cities. "There are real economic benefits from working with the film industry," said Jill Iannetta, director of special projects for the City of White Plains. "Location fees help when budgets are tight for local businesses, schools, and residents. What's more, local residents seem to enjoy seeing productions. Filming in White Plains has been overwhelmingly positive for us."
For more information about filming in Westchester, click here.
BLOG COMMENTS POWERED BY DISQUS