SHS Principal Condemns Graffiti and "Hateful" Language
Published: Wednesday, 20 September 2017 15:36
Traci Dutton Ludwig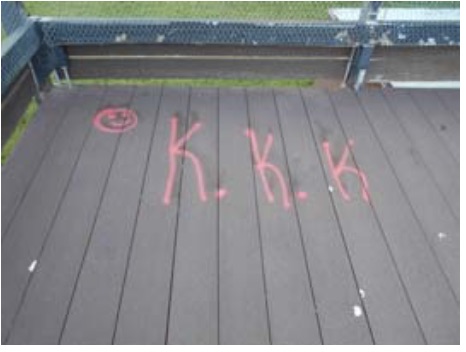 On Sept. 17, graffiti was discovered on a Scarsdale High School platform tennis court and inside the school. The graffiti consisted of the letters "K.K.K.," a homophobic slur and images of genitalia – all rendered with spray paint. Police are investigating the incident, and school officials have publically addressed the matter.
On Monday afternoon, Sept. 18, Scarsdale High School Principal Kenneth Bonamo sent a letter to parents and other members of the school community. His position was clear: "While the images might be dismissed as the product of juvenile antics, the inclusion of hateful language must give us pause. Those terms carry significant weight because they have been used to intimidate members of various groups and because they undermine our efforts to build an inclusive, tolerant, and safe society."
Bonamo linked the tone of the graffiti to another incident allegedly perpetrated by a Scarsdale High School student approximately two weeks ago. In his letter, Bonamo reported that the White Plains High School Athletic Director informed SHS Athletic Director Ray Pappalardi that "an adolescent in a car covered with Scarsdale logo items used inappropriate language, including a racial epithet, and verbally harassed an African-American staff member" after a game at White Plains High School.
Bonamo said he apologized to the principal of White Plains High School and for the incident, and Pappalardi personally delivered a letter of apology to the staff member who was harassed.
Bonamo's letter, on Monday, explicitly condemned both acts. He wrote: "In both instances, it is very difficult to identify the individuals responsible for these actions; it would be unfair to cast blame widely on the school community, as we know that most of us abhor and condemn these acts of hatred. Yet the implications of these incidents are serious enough that I felt obligated to inform you of them, not to give attention to those who acted inappropriately, but to let them know that their actions have no place in our school community."
High school deans and youth outreach workers were made available to speak with students and families who wanted to talk about the incidents. Bonamo invited anyone who had information about either of the incidents to contact him directly.
Meanwhile, Scarsdale police are investigating the graffiti. Captain Thomas Altizio said detectives were reviewing video surveillance as part of their fact-finding process; however, he could not comment on the content of that surveillance at press time. Based on investigation, police have classified the graffiti as an act of criminal mischief.
Altizio explained the potential charge of criminal mischief, in light of graffiti's content. "Incidents of graffiti are investigated on an individual basis, based upon the totality of all the circumstances, to determine if the incident is in fact bias or hate related," he said. "The mere presence of what may appear to be a symbol of bias or hate in graffiti does not necessarily mean that the motivation behind the act was bias related. In this particular case, the KKK that was painted had periods after every letter, which is not how that organization's name is normally displayed. In addition, the graffiti was accentuated with a smiley face and a large drawing of [male genitalia], which is generally not consistent with genuine messages of bias or hate."
The police department's comprehensive policy on bias related incidents and hate crimes guides officers in determining appropriate legal charges. Based on detectives' investigation, including information obtained from video surveillance, Altizio said, "We are confident that this was an act of vandalism and mischief by a group of juveniles, and not a true bias motivated act of hate." The police investigation remains ongoing.
Nevertheless, regardless of the perpetrators' motives, the school community is taking the matter seriously. School officials are aware of the sensitive historical and cultural implications that such graffiti may invoke. Bonamo's letter took the opportunity to invite discussion, assert clear positions of respect and urge the entire school community to stand up for equality and mutuality. "If even one member of our community feels unwelcome or distressed by these incidents, that is one person too many," Bonamo wrote. "All students, families, and staff members must feel equally included and respected by each of us. Hate speech and scare tactics will not be tolerated and do not represent what we stand for. I ask each of you today to recommit to the belief that all of us deserve the opportunity to participate fully in our school community and our society at large and to join together in denouncing acts of hatred and bigotry."
BLOG COMMENTS POWERED BY DISQUS