Photo Opps from the Football Field and the BRP
Details

Category: On Our Minds
Published on

05 October 2017

Written by

Joanne Wallenstein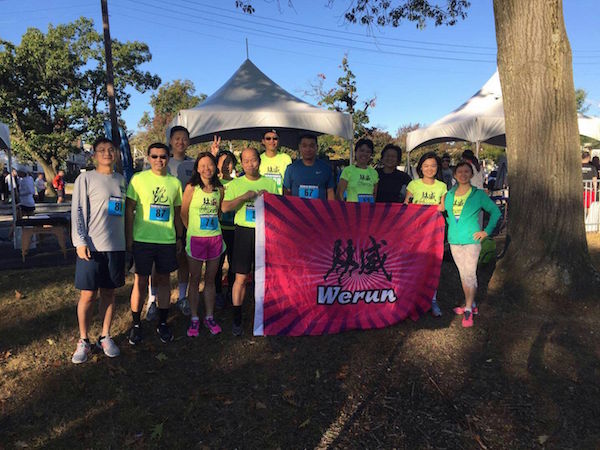 Call for Candidates for the Citizens Nominating Committee
Details

Category: On Our Minds
Published on

04 October 2017

Written by

Joanne Wallenstein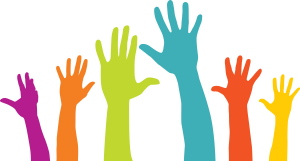 There is still time for eligible Scarsdale residents to run for election to the Citizens Nominating Committee (CNC) in all neighborhoods except Heathcote. The extended deadline is Monday, Oct 9. Those who are elected will join 20 current CNC members to choose candidates to run for Village Mayor, Trustee and/or Justice under the banner of the Scarsdale Citizens Non- Partisan Party in the March general election. This year, the CNC will meet 4 or 5 times on Tuesday or Wednesday nights in December and January to select candidates for three Trustee positions.

CNC members are expected to attend all CNC meetings for three years and to serve the following year on the Procedure Committee. The meeting dates for 2017-2018 are: Tuesday, December 5 (organizational meeting); Tuesday December 19; Wednesday, January 10; Wednesday, January 22; and, if necessary, Wednesday, January 24.

A candidate for the CNC must be a qualified voter and a resident of Scarsdale for at least two years. A CNC candidate may not be a member of the Procedure Committee, the School Board Nominating Committee, the School Board Administrative Committee, the Scarsdale School Board or the Village Board. For more details on qualifications, see the Non-Partisan Resolution, which defines the rules for CNC candidacy, on the Procedure Committee website www.scarsdaleprocedurecommittee.org.

Residents in each of the five elementary school districts (Edgewood, Greenacres, Fox Meadow, Heathcote and Quaker Ridge) may run for one of two open positions in their district. Candidates must file with the Procedure Committee a short biographical sketch. After Sept 30, no petition is necessary. Forms and filing instructions for the bio form may be downloaded from the Procedure committee website www.scarsdaleprocedurecommittee.org. Hard copies may be obtained at Village Hall and the Scarsdale Library as well.

The final deadline for filing the bio forms is Monday Oct 9. The CNC election will be held at Village Hall on Wednesday November 15 (Wed).

For help in filing or more information, potential candidates are welcome to contact the Chair of the Procedure Committee Jim Pullman, jpullman@verizon.net, the Vice Chair Robert Schechter, schecter.robert@gmail.com, or one of the current committee members. They are: from Edgewood, Elissa M. Bookner, David Irwin, Eli Mattioli, Ed Morgan, and Elaine Lamb Moreno; from Fox Meadow, Brian Nottage, and Bruce Wells; from Greenacres, John Baer, Mary Blumenthal-Lane, and Neil Kanner; from Heathcote, Leonard Benowich, Lauren Mintzer, B.K. Munguia, and Myra Saul; and from Quaker Ridge, Michael Gorelick, Howard Nadel and Anna Paternoster.
SHS Principal Condemns Graffiti and "Hateful" Language
Details

Category: On Our Minds
Published on

20 September 2017

Written by

Traci Dutton Ludwig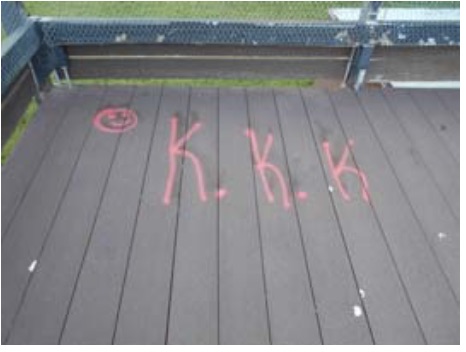 On Sept. 17, graffiti was discovered on a Scarsdale High School platform tennis court and inside the school. The graffiti consisted of the letters "K.K.K.," a homophobic slur and images of genitalia – all rendered with spray paint. Police are investigating the incident, and school officials have publically addressed the matter.
On Monday afternoon, Sept. 18, Scarsdale High School Principal Kenneth Bonamo sent a letter to parents and other members of the school community. His position was clear: "While the images might be dismissed as the product of juvenile antics, the inclusion of hateful language must give us pause. Those terms carry significant weight because they have been used to intimidate members of various groups and because they undermine our efforts to build an inclusive, tolerant, and safe society."
Bonamo linked the tone of the graffiti to another incident allegedly perpetrated by a Scarsdale High School student approximately two weeks ago. In his letter, Bonamo reported that the White Plains High School Athletic Director informed SHS Athletic Director Ray Pappalardi that "an adolescent in a car covered with Scarsdale logo items used inappropriate language, including a racial epithet, and verbally harassed an African-American staff member" after a game at White Plains High School.
Bonamo said he apologized to the principal of White Plains High School and for the incident, and Pappalardi personally delivered a letter of apology to the staff member who was harassed.
Bonamo's letter, on Monday, explicitly condemned both acts. He wrote: "In both instances, it is very difficult to identify the individuals responsible for these actions; it would be unfair to cast blame widely on the school community, as we know that most of us abhor and condemn these acts of hatred. Yet the implications of these incidents are serious enough that I felt obligated to inform you of them, not to give attention to those who acted inappropriately, but to let them know that their actions have no place in our school community."
High school deans and youth outreach workers were made available to speak with students and families who wanted to talk about the incidents. Bonamo invited anyone who had information about either of the incidents to contact him directly.
Meanwhile, Scarsdale police are investigating the graffiti. Captain Thomas Altizio said detectives were reviewing video surveillance as part of their fact-finding process; however, he could not comment on the content of that surveillance at press time. Based on investigation, police have classified the graffiti as an act of criminal mischief.
Altizio explained the potential charge of criminal mischief, in light of graffiti's content. "Incidents of graffiti are investigated on an individual basis, based upon the totality of all the circumstances, to determine if the incident is in fact bias or hate related," he said. "The mere presence of what may appear to be a symbol of bias or hate in graffiti does not necessarily mean that the motivation behind the act was bias related. In this particular case, the KKK that was painted had periods after every letter, which is not how that organization's name is normally displayed. In addition, the graffiti was accentuated with a smiley face and a large drawing of [male genitalia], which is generally not consistent with genuine messages of bias or hate."
The police department's comprehensive policy on bias related incidents and hate crimes guides officers in determining appropriate legal charges. Based on detectives' investigation, including information obtained from video surveillance, Altizio said, "We are confident that this was an act of vandalism and mischief by a group of juveniles, and not a true bias motivated act of hate." The police investigation remains ongoing.
Nevertheless, regardless of the perpetrators' motives, the school community is taking the matter seriously. School officials are aware of the sensitive historical and cultural implications that such graffiti may invoke. Bonamo's letter took the opportunity to invite discussion, assert clear positions of respect and urge the entire school community to stand up for equality and mutuality. "If even one member of our community feels unwelcome or distressed by these incidents, that is one person too many," Bonamo wrote. "All students, families, and staff members must feel equally included and respected by each of us. Hate speech and scare tactics will not be tolerated and do not represent what we stand for. I ask each of you today to recommit to the belief that all of us deserve the opportunity to participate fully in our school community and our society at large and to join together in denouncing acts of hatred and bigotry."
Big Bust in Ardsley
Details

Category: On Our Minds
Published on

28 September 2017

Written by

Joanne Wallenstein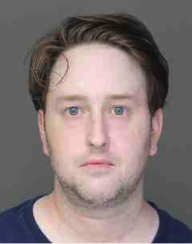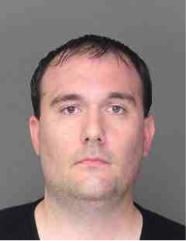 This in from the Greenburgh Police: Two Westchester men have been charged with two counts of Possession of a Controlled Substance after the Greenburgh Street Crime Unit and the Greenburgh Drug and Alcohol Task Force found them with 501 glassine envelopes of heroin. According to the report, police stopped the driver of a blue Ford Fusion in Ardsley at around 3:30 pm on Wednesday 9-27 and saw the driver and passenger trying to hide glassine envelopes in the car.
Police then found the 501 bags of heroin and arrested Joseph Raffaelli, birthdate,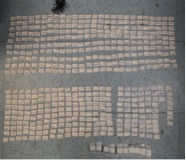 08/02/81 of Hawthorne, and the passenger Nicholas Coploff, birthdate 07/02/83, of Irvington. Both were charged with two counts of Criminal Possession of a Controlled Substance in the 3rd degree, sub 1 with the intent to sell, and sub 12 possession with an aggregate weight of 1/2 once or more. Both parties were held at Greenburgh Police Headquarters pending arraignment.
National Merit Semifinalists Announced
Details

Category: On Our Minds
Published on

14 September 2017

Written by

Joanne Wallenstein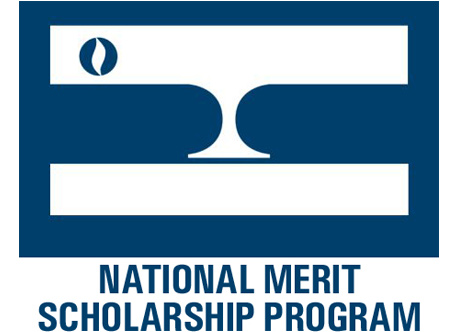 On September 13, 2017 National Merit Scholarship Corporation announced the names of approximately 16,000 semifinalists in the 63rd annual National Merit Scholarship Program. These semi-finalists can compete for 7,500 National Merit Scholarships of $2,500 each that will be offered next spring.
13 students from Scarsdale High School and two from Edgemont High School were among the semifinalists.
The winners were selected based on their performance on PSAT tests taken in 2016. The semifinalists represent less than 1% of US high school seniors and are the highest scoring entrants in each state. The number of semifinalists is proportional to the state's percentage of the national total of graduating seniors.
Here are the names of the local semifinalists:
Edgemont High School:
Jeffrey Z. Ma
Grace S. Wang
Scarsdale High School:
Ariel P. Goldman
Matthew H. Greenberg
Eric D. Hansen
Ryan K. Jacobowitz
Lauren R. Jacoby
Ryan Lee
Hudson Lin
Jason T. Lipsay
Arjun Ravi
Charles G. Simonds
Perri L. Thaler
Emily Wang
Richard A. Xu