The 2016 Reval: The Problem is not Misdirected Anger
Details

Category: On Our Minds
Published on

25 July 2016

Written by

Robert Berg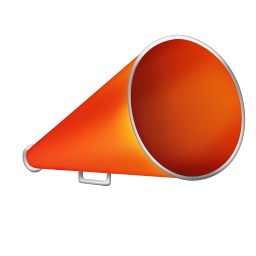 This letter to the editor was sent to Scarsdale10583 by Robert Berg:
Joanne, your editorial "We're all in this Together" misses the "Mark" both literally and figuratively. The problem here is not misdirected anger by those who are unhappy with their 2016 assessments. A number of the "leaders" of the movement calling for the nullification of the 2016 revaluation actually saw their assessments go DOWN in the Ryan revaluation. That includes me --our property assessment is $58,000 lower in the 2016 reval. What we and many other property owners beyond the 19% who have actually filed grievances are upset about is the failure of our elected officials to safeguard the interests of all residents, to spend our tax dollars wisely, to accept responsibility for their bad decisions (having been publicly forewarned not to do the second revaluation in the first place and to pull the plug when it was obvious that the Ryan revaluation would be the unmitigated disaster that it is), and to take any sort of remedial action.
We are angry that our fact-specific protestations fall on deaf ears.
Moreover, It is not correct to say that "nothing can be done" at this stage except allow the grievance proceedings to run their course. We have asked the Mayor and Trustees to bring in an independent expert to assess the Ryan reval in light of the major deficiencies we have articulated. They have not done so, in my view, because they are afraid of what the findings of such an investigation will be.
They have not demanded that JF Ryan defend what he has done in a public meeting. (Ryan has "kindly" offered to provide consulting services in responding to criticisms of his reval for $200/hour -- we call that the ultimate in chutzpah). In stark contrast, when Tyler Technologies conducted the 2014 revaluation, I recall several meetings when Tyler brought its staff to public meetings at which residents asked difficult questions for hours and hours and Tyler's staff responded with thoughtful answers. I remember thinking -- wow, Tyler has some impressive staff members who really know their stuff.
Tthe Village could at least sue Ryan for breach of contract and recoup the monies it has paid him for his flawed work product and for damages resulting therefrom. Finally, I see no reason why the Trustees cannot sue to void the 2016 revaluation itself nothwithstanding the filing of the tentative assessment roll on June 1. I am a litigator. I think a federal lawsuit challenging the Ryan reval as violating the Equal Protection Clause would be successful, and other towns in Connecticut and Rhode Island have done so.
In your editorial, you mention that following the 2014 reval, a different group of angry, but more respectful, residents complained to the Board, but thanked members for their service. These "folks," as you say, were persistent, and ultimately the Board voted to go forward with the Ryan reval. Are you suggesting that if we now thank the Board members for their service, they'll authorize a third reval to fix the ungodly Ryan mess? If so, Mayor and Trustees, "thanks so much for your service."
Your assertion that "[s]ometimes there are unanticipated consequences of well-intentioned actions. This seems one of those times," really rankles me. Going forward with the second revaluation was never a well-intentioned action. It was folly from the start. I personally have good street cred to make this statement. I have now studied property tax revaluation in New York State for years, and I was the prime author behind the Scarsdale Forum's report recommending the first revaluation in 45 years. I have served on the Board of Assessment Review for several years now, and I have participated in several thousand grievance decisions. So when I first got wind that the trustees were considering another revaluation immediately after the Tyler revaluation, I publicly, vociferously, and repeatedly opposed going forward both in speeches to the Board of Trustees and in letters to the editor. I was joined by former Village Trustee Bob Harrison and former Scarsdale Forum President Howard Nadel. The trustees and then Mayor rejected our pleas, and caved in to the political pressure from the wealthy developers and estate owners in the Heathcote and Murray Hill areas and hired Ryan to do the second reval in a no-bid contract.
How could it be "well-intentioned" to hire JF Ryan in a no-bid contract? Given his position as the so-called "independent monitor" for the Tyler reval, how could Ryan give that reval a passing grade and then immediately proposition the Village to do a new reval using a completely different methodology while paying him a handsome fee ? That's such an obvious conflict of interest, particularly with a no-bid contract, that no reasonable person could say that the Village Board was "well-intentioned" in approving such a dealt? Bob Harrison made a lot of noise about this at the time, but the Mayor and Trustees ignored him.
What you don't know -- and what we just learned last week in reviewing emails produced by the Village in response to our requests under the Freedom of Information Law, is that when our Assessor advised the New York State Department of Taxation Office of Real Property Tax Services (ORPTS) (John Wolham) in early September 2014 of her and Ryan's plan for an updated 2016 revaluation using Ryan's "market model," Mr. Wolham expressed considerable skepticism. Mr. Wolham then conferred with his colleagues at ORPTS and found that they shared his skepticism. Indeed, no one at ORPTS could recall any revaluation projects in New York State in which Ryan's approach had been used. One colleague did recall:
this approach being discussed in a class taken quite some time ago. The instructors evidently presented this as a possibility, i.e., utilizing only a regression model to value residential properties. It was stressed, however, this would require:
1. LOTS of sales.
2. REALLY GOOD inventory and well-defined, homogeneous neighborhoods.
3. An EXPERT modeler.
Mr. Wolham went on to stress: "The consensus here [in ORPTS] is the conditions for this approach to be successful would be rare. Technically, an independent value from one of the three approaches is required to complete a reappraisal. While this would be a form of market, given the experiences in the initial project, I can't help but think this single approach to value would hamstring you to a degree. Where it works -- in other words, where the model does a good job predicting value for those unsold homes reasonably similar to those that sold -- no problem, but you have sufficient numbers of unique housing stock to make me question for how many homes this will work well. And what alternate will you then use? I can't help but think an additional approach would be helpful, especially a comparable sales estimate and I don't recall from our conversation why the additional use of a comparable sales approach would be problematic."
The Assessor and Ryan then privately deride Mr. Wolham's expert advice, especially Mr. Wolham's suggestion that an additional approach -- a comparable sales estimate -- would be helpful. Ryan writes to Ms. Albanese, the Scarsdale Assesssor: "You very effectively exposed the idiocy of this statement by describing succinctly that comp sales in fact caused most of your problems." Ryan continues: "As you can surmise from the tone of my remarks, it annoys the h... out of me that the State has the nerve to pass judgment on your professional opinion as to how to best proceed going forward..." Ms. Albanese responds: "[N]ow they want us to do it the same old, same old way and expect it to somehow turn out better. If it was the best approach to begin with, how and why did it turn out to be such a disaster. I actually wrote it originally with the word "disaster," but decided I shouldn't put that in writing ... just in case. Funny you chose the same word."
Fascinatingly, Ms. Albanese further notes to Ryan: "It will be interesting to hear Al's [former Village Manager Al Gatta's] take on all this.... My sense is that if Wolham is skeptical, Al won't want to push forward with it. We'll have to regroup on this if that's the case....What could a Plan B possibly look like????" Well, what was Mr. Gatta's take on this?
Was the Mayor and the Board privy to Ryan's and Ms. Albanese's rejection of ORPTS' expert advice against proceeding with Ryan's market model when they decided to sign onto the second reval? If not, why not? If Ryan agreed with Ms. Albanese that the Tyler reval was a "disaster," how in the world could he have properly fulfilled his responsibilities as the independent monitor if he gave his seal of approval to a "disaster" in exchange for his $110,000 fee?
How could the Board have been "well-intentioned" this Spring -- while there was still time to pull the plug-- when they discounted my and Bob Harrison's pleas that the Ryan revaluation was a "train wreck waiting to happen?" The Ryan reval mess is just not "unanticipated consequences of well-intentioned actions." These consequences were forewarned by me and others. We are not Chicken Little, and yes, the sky did fall.
The Ryan reval, as I have stated before, is largely undoing the excellent Village assessment roll that existed on May 31, 2016 which represented the fruits of the Tyler revaluation as adjusted by two full years of property tax grievances. The Ryan reval is hammering many of our seniors with unjustified and dramatic increases in their property valuations and will hit them with large property tax increases that many cannot withstand, while dropping many estate valuations to unjustified pre-Tyler levels. Taxpayers will have spent $1.5 million or more in fees and expenses to Tyler and Ryan to wind up with a seriously distorted assessment roll. They will spend out of pocket hundreds of thousands (or even a few million) dollars paying property tax services and lawyers to grieve their unfair assessments if they don't have the knowledge and courage to grieve themselves.
And you wonder why some residents are not especially polite when they call the trustees and the Mayor out at Village Board meetings? And you suggest that we who have been advocating against this sorry state of affairs become part of the solution -- as if we are part of the problem? Joanne, that's being disrespectful to your fellow neighbors who are spending hundreds of hours trying to right a serious wrong!
I have worked for years "from the inside" on working through the problems this Village and School District have faced. I have been (and am) President of my neighborhood association, an officer and director (and former President) of the Scarsdale Forum, a long-serving member of the Board of Assessment Review, and a member of SNAP. Bob Harrison has served the Village for decades more than me. Howie Nadel has likewise served the community for many years. We "insiders" were not heard by the powers that be at Village Hall, so how can you expect citizens new to the process to have any faith that their concerns will be heard either. Joanne, this simply is not the time to join hands and sing "Kumbaya." Best regards,Bob.
Robert J. Berg, Esq.
Bob Harrison Owes the Trustees an Apology
Details

Category: On Our Minds
Published on

25 July 2016

Written by

Joanne Wallenstein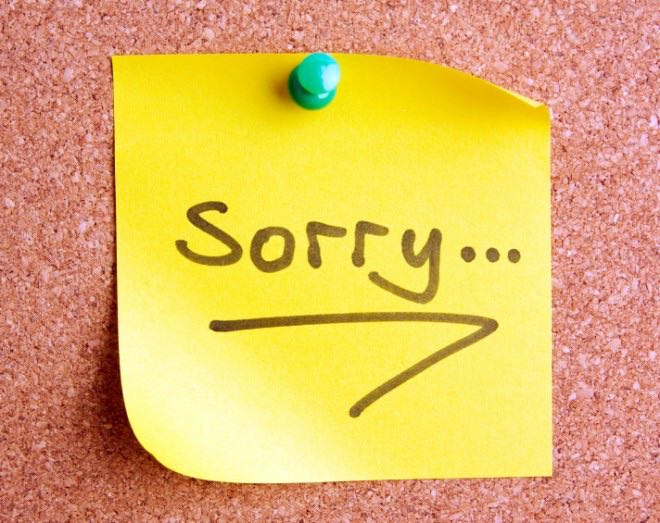 The following letter was sent to Scarsdale10583 by former resident David M. Brodsky:
Since my wife and I moved, after 23 wonderful years, from Scarsdale, I have followed with interest events in the Village, including the 2016 revaluation. One person I have heard speak on this issue at many meetings on the revaluation has been Robert Harrison.
When I watched the video of the public comments on July 12, 2016, I was stunned to hear him yelling at the Trustees. I was stunned to hear him personally calling out some of the present Trustees individually because the assessed value of their homes had gone down. I was stunned to hear Mr. Harrison make an apparent effort to shame them and, by extension, accuse them of causing their homes' valuations to be lowered. I was stunned to hear him threaten the Trustees with being sued for malfeasance.
Mr. Harrison seems to feel that he occupies a special position in the Village of Scarsdale, that he can say anything he wants at the allegedly-time-limited microphone for as long as he wishes, and that he can break as much glass and as many rules of appropriate conduct as he wants. He seems to feel that he can say whatever pops into his head, however off-base, insulting, and mistaken.
What he did to those Trustees on July 12 was cruel and it was shameful. He well knows, from his own two years as a Trustee, when the first revaluation in over 40 years was initiated and completed, how hard, how dedicated, how selfless each Trustee is. He also knows from his attending every meeting involving the revaluation process that the Trustees chose to have a 2016 reval because the 2014 reval was full of anomalies that cried out for change. He knows the Trustees chose Mr. Ryan because he was familiar with the first reval and was capable of completing a less expensive process that promised to correct the anomalies.
He also knows that no Trustee had the ability to, or ever would, interfere with the Village-wide assessment to benefit themselves or anyone.
Furthermore, he knows that the process by which the 2016 revaluation was conducted -- the so-called drive-by or external view method -- is an approved appraisal methodology under the Uniform Standards of Professional Appraisal Practice (USPAP, 2016-2017), upon which the Board of Trustees could appropriately rely.
Finally, in hindsight, he and we all now know that errors were apparently committed by Mr. Ryan and his team during the 2016 reval process, errors that that Trustees had nothing to do with. Yet Mr. Harrison deliberately sets out to inflame the audience and all others who watched the proceedings on cable TV, knowing that what he was saying and implying was false and malicious.
Bob Harrison owes those Trustees -- and the general public in Scarsdale -- an apology. I hope to hear or read that at the next meeting that he has done so.
David M. Brodsky
Ryan Reval: Pendulum is an Understatement
Details

Category: On Our Minds
Published on

14 July 2016

Written by

Brice Kirkendall-Rodriguez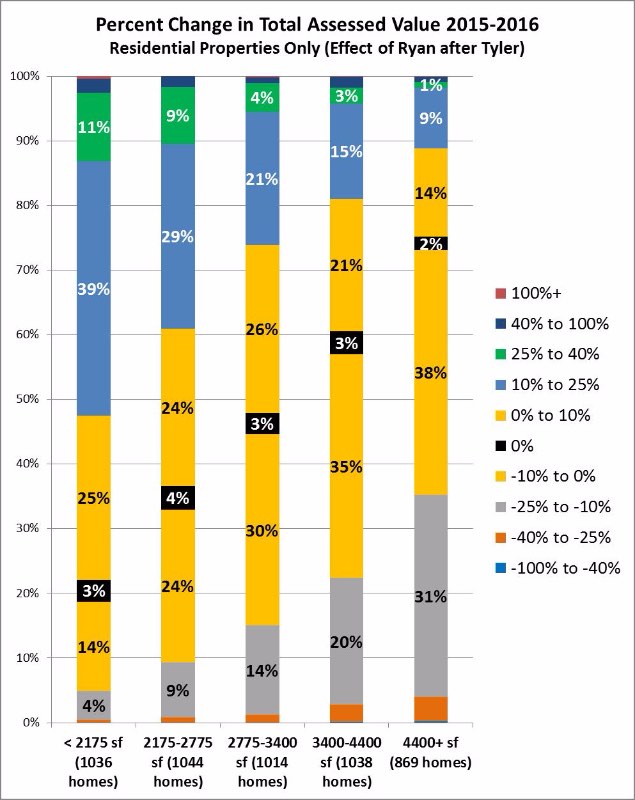 This article was sent to Scarsdale10583 by Brice Kirkendall-Rodriguez: Last week the Village of Scarsdale released a distribution chart on its website that showed percent change in total assessed value as stratified by neighborhood. In aggregate it appeared to show only modest differences in the valuation changes by neighborhood. However, that approach masked the substantial changes that have occurred with the J.F. Ryan revaluation at a more granular level. In multiple presentations to the Scarsdale Board of Trustees, others and I have pointed to the ill-conceived and unexplained decision to use a square root model for determining base home values from which multipliers are then applied as modifiers. Use of a square root model suggests that homes of 8,000 square feet should only be valued at twice the price of a 2,000 square foot home. This appears to be an industry assumption in mass appraisals and its economy of scale assumptions may be accurate when valuing commercial real estate or even many other residential markets. However, it is quite likely that Scarsdale is poorly suited to broad industry assumptions. Our housing stock spans over a century and there is an order of magnitude difference in the prices of our least expensive homes and those at the top of the scale.

Furthermore, the tear-down phenomena that is easily observed here is not common in most U.S. communities or even many neighboring communities.

In an effort to better illustrate the effects on Ryan's use of a square root model on total assessed value in Scarsdale, I decided to recreate the same chart furnished by the Village of Scarsdale but stratify it by home size instead of neighborhood. I took two additional steps not present in the Village of Scarsdale chart to eliminate data noise and improve clarity. First, I excluded homes that have changed in size from Tyler to Ryan. This eliminates valuation changes that would be expected with the application of any revaluation approach. Second, I highlighted the segment of homes that experienced no valuation change (0%). While the mass appraisal industry only attempts to be accurate to +/- 10% of home value, I think it is important for readers to see the exact position that differentiates valuation increases from decreases.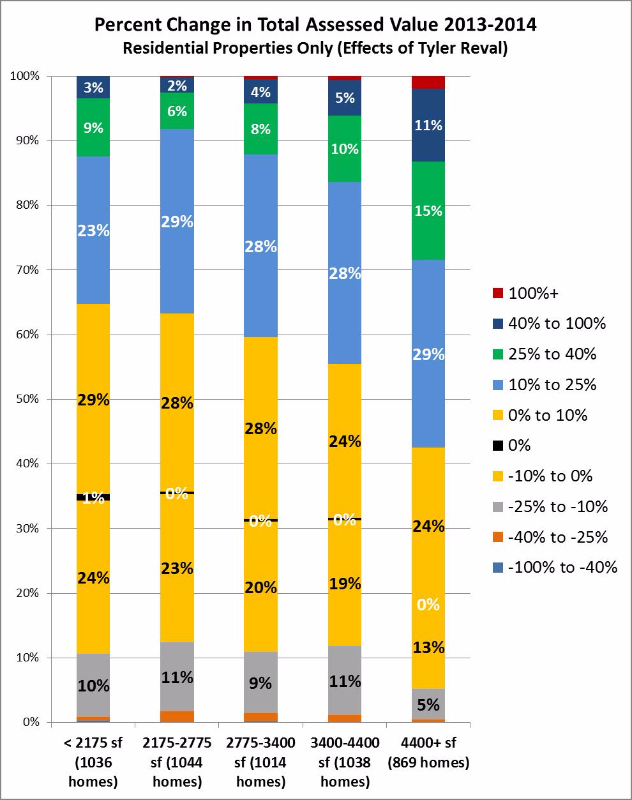 On April 21 of this year, John Ryan told the Board of Trustees that his goal was to create a uniform result. I say with great sarcasm, "mission accomplished." The result of Ryan's model is a uniform redistribution of tax burden based on the size of your home. We have a highly educated citizenry, and I suspect that no one here believes that this neatly staggered redistribution reflects the actual effects in nature of a more nuanced real estate market. As the chart above clearly shows, owners of homes less than 2,175 square feet have an almost 80% probability of being assessed upward and more than half of these home owners saw their valuations increase in excess of 10%. At the other end of this scale, more than 70% of homes greater than 4,400 square feet have been assessed lower.

When you see where 0% falls on the above chart you observe that there is a 50% difference in the proportion of increases versus decreases when comparing the smallest and largest quintiles of Scarsdale homes. This profound separation of winners and losers purportedly reflects market changes in just the last two years. However, such a stark redistribution was not even true with Tyler's revaluation based on 40 years of change. To prove this, I went back to earlier data for the same population of homes and examined the actual effects of Tyler.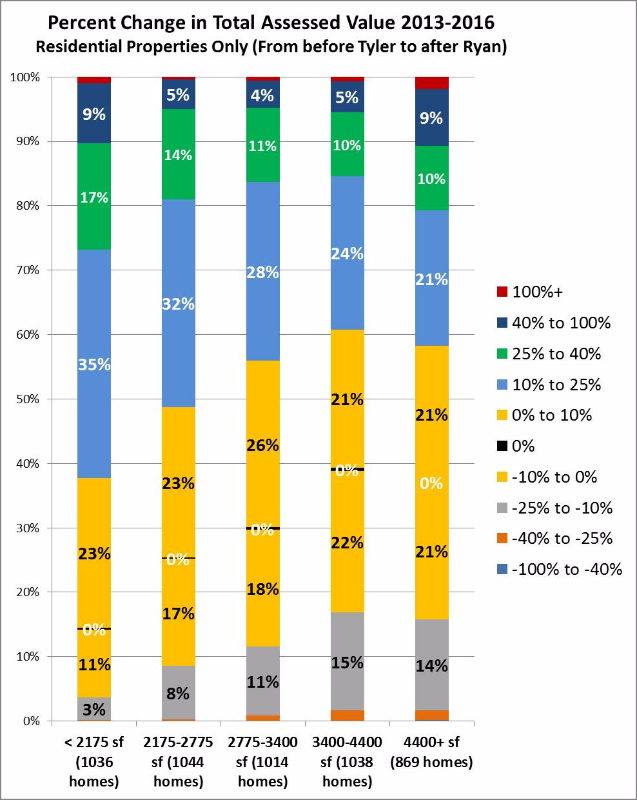 The above chart does show greater valuation changes in the larger end of the Scarsdale home market. However, the position of the 0% change line is remarkably consistent for all but the largest quintile. Overall, 15% separates the balance of winners and losers between the quintiles with the greatest separation. This is a far cry from the 50% separation now present with Ryan. With Tyler, the majority of the community saw increases in assessed value regardless of home size. This is not surprising considering that the stratification of home value differences even among similar properties would be significant after not having conducted a mass appraisal in 40 years.

The greatest weakness of the Tyler model is the apparent overemphasis on increases on the largest homes. Some of this may have been warranted and some may have been overly exuberant as has been discussed at length two years ago following Tyler. However, nothing in the Tyler chart presented here suggests a giant giveaway to smaller homes that must now be corrected by Ryan.

When you study the combined effects of Tyler and Ryan, you find that the influence of Ryan's square root model overwhelms everything else.
The net combined effect of Tyler and Ryan is a total assessed value that disproportionately shifts the burden to smaller homes. This is the same effect achieved with Ryan alone which suggests that Ryan represents more than just a return to pre-Tyler valuations. Ryan leaves us in a position more extreme than before or after Tyler.

While I think it is poor public policy to rely on the cost and emotional distress of a formal grievance process to fix errors and omissions in a mass appraisal, at least Tyler's over-statement of values for some high-end and other homes could be and probably were corrected with grievances. Ryan has extracted so much value from the Assessment Roll (I estimate as much as a half billion dollars) that a correction for overvalued homes through grieving the Ryan reval will leave Scarsdale with a significantly lower total assessment than we had a year ago. This will mean that homeowners largely unaffected by the Ryan reval will nonetheless be obliged to pay an increase in taxes that exceeds the percentages approved by the Board of Education or the Board of Trustees.

Where do we go from here? It is unlikely that homeowners already burdened with the costs of a grievance process will spend even more money on a legal challenge even if it would be justified under the equal protection clauses of the U.S. and New York State Constitutions. We could wait for another revaluation, but what Board of Trustees will be brave enough to propose it? Will Scarsdale fester with the disaffection of large swaths of its electorate that will defend themselves against even more tax burden by voting against upcoming bond initiatives and annual budget increases? While Scarsdale has historically been very supportive of the resources needed to fund our excellent schools, municipal services and public employees, there is precedent for a no vote campaign and a patently unfair distribution of tax burden makes the community ripe for this kind of response. I urge the Board of Trustees to reconsider their position against independent analysis of the Ryan revaluation. Given that J.F. Ryan received no oversight and submitted his results too late to allow for an informal period of public review, an independent review seems the least the Board could do to reassert itself into oversight of this process.

Brice Kirkendall-Rodriguez
Fox Meadow Road, Scarsdale
The Scarsdale 2016 Tax Re-Reval: Let Them Eat Cake
Details

Category: On Our Minds
Published on

18 July 2016

Written by

Joanne Wallenstein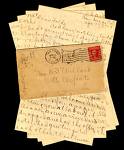 This letter was sent to Scarsdale10583 by Ellen Neidig:
If the goal was to re-distribute Scarsdale's tax burden across the board, regardless of home size, age, condition, and actual sales value, it has become clear that the 2016 Tax Re-Revaluation is a smashing success! And clearly, that WAS the goal.

The 2014 revaluation undertaken by Tyler Technologies was, by all accounts (including that of its paid auditor, JF Ryan), fair, above-board, logical, and transparent. Human beings actually physically entered a majority of homes in the village and saw for themselves, up-close and personal, what a potential buyer would see. For instance, although our home is on a lovely .31 of an acre bordering White Plains, a potential buyer would surely notice that it has not been updated or remodeled since 1960, the year it was built (except for the addition of a deck). That buyer would also notice, for example, that our entire kitchen is roughly the size of many Scarsdalians' kitchen islands, our rooms are relatively small, our heating/air conditioning is all on one zone, and the building materials used are considered by the village to be C grade, among other possibly observations they might make which could negatively affect the sale price of our home. I can assure you, that buyer would not want to pay more for our house if we explained that the land it sits on is where the true value lies.

In 2014, welcoming the original Tyler representative into our little abode (1,978 sq. ft.), we felt quite confident that he would not fail to see the differences between our home and the new, F.A.R.-cap-exceeding McMansions springing up all around us. We knew our taxes were higher than many in the area whose houses had clearly been vastly enlarged and improved, but whose tax assessments hadn't gone up in more than 40 years. We believed that these, and many more inequalities, would be addressed by this much-needed revaluation, undertaken by one of the nation's leading and respected firms. And they were addressed. Our assessed value went down, not by much, but enough to prove to us that our house was seen, and comparatively valued, for the Scarsdale market.

Evidently, those residents in newer, ever-larger houses built on existing, smaller lots (due to village F.A.R. caps not being enforced during teardowns and remodels) were unhappy when their new assessments leveled the playing field by shifting their burden of taxes back to them, where they belonged, and giving those of us in our older, regular-sized houses a tiny breath of relief. Grievances followed, and were addressed. Things calmed down in the village and we all settled in until the next inevitable tax rise.

That is, until someone (we have yet to learn who) decided there needed to be ANOTHER revaluation less than two years later. No clear reason was given; some say it was to correct "outliers," artifacts that did not conform to the overall results. I am not a statistician, but I don't have to be one to know that 49% (the number of assessments that changed more than 10% in the 2016 revaluation) does not represent "outliers" by any stretch of that word's definition. No one seems to know what Ryan was told when he was unfathomably hired for six figures to re-do the re-reval and assure the outcome would keep the homeowners with the biggest houses and estates happy. But I think we can guess. Something like: "Fix this. Make the numbers seem more 'fair.' Even it out. And don't worry about the little guys...they don't have the extra money to get lawyers or grieve."

And fix it he did. Some more jaded folks might even say the fix was in, for those of us who assumed our taxes had finally settled down to where they belonged.

Without an auditor watching over his shoulder, without visiting the majority of village houses, without using the massive amount of raw data Tyler Technologies had certainly amassed, Ryan "fixed" it using some specious numbers culled from a shockingly small number of real estate sales. He did so on the backs of the village's small house owners and seniors, using the sales of only 220 homes for comparison, in what the village board is calling a "drive-by" evaluation. Even unsophisticated, non-numbers people understand that real estate "comps" do not tell a comprehensive story, and may be skewed in comparison to other homes in an area.

Now that this unnecessary re-reval is completed, the Board sits in meetings with their disgruntled constituents (can one even call us "constituents," if we weren't given the opportunity to originally choose the candidates?), rolling their eyes, making snarky comments to those who dare to question the process ("If you knew anything about how this was done, you'd know..."), and repeating like automatons, "If you have a problem, you can grieve or go to small claims court." They put the onus on the citizens who have been left in the dark about the whys, wherefores, and processes used in this re-re-valuation, which was, ostensibly, only to correct outliers and "make it right."

Listening to the stream of people who spoke at the June 14th and subsequent board meetings, it was not a surprise that so many were seniors and residents living in smaller properties. This was the group that had been sacrificed to soothe the ire of the more powerful, more vociferous, more able-to-afford-a-lawyer opponents of the first reval. And like the peasants complaining of inequities to the landed gentry in days of old, they were told, "We feel your pain, but there is nothing we can do," which sounded suspiciously like the modern-day version of "Let them eat cake," complete with eye-rolling and condescension.

Few, if any questions have been answered. JF Ryan and Associates has not been present to defend their "methods." No explanations have been given to address the apparent capriciousness of this second re-re-valuation. Here are just a few examples of the questions still unanswered:

-Why, since the village felt it necessary to pay for a second re-valuation, was no action taken to force Tyler Technologies to "fix" the so-called "mistakes" they had made on our dime?

-Why was JF Ryan, as the monitor working with Tyler on the first reval, not responsible for calling attention to issues with their methodology at the time?

-Why was JF Ryan given the contract for the second re-reval at all, if he played any part in the questionable first reval?

-If the Board of Trustees knew there were problems with the first reval, why did they throw good money after bad, and allow a member of the team that made so many mistakes in the first place to "correct" the problems with the first one? By paying Ryan for a second re-reval on the heels of the first, they have admitted carelessness, if not negligence, in spending taxpayers' money without reasonable care TWO TIMES.

-Is it possible that Ryan, by NOT calling attention to issues he saw during the first reval, positioned himself to make even more money by doing a second one?

-Why was no monitor put in place to work with JF Ryan on their re-reval?

-Is the fact that 49% of assessments in the village went up more than 10% as a result of the second re-reval proof that the first was deeply flawed, and if so, why isn't the Board of Trustees being held accountable for that $1,000,000 piece of negligence?

No answers to any of these and many other relevant questions have been offered to the public. Boards must carry liability insurance that covers their members in the case of negligence, incompetence, errors, and omissions. Why hasn't this means of redress been considered? Where is the oversight here? And why do these types of questions and issues keep coming up over and over with regard to our Village Board's transparency, and the transparency of our nominating and election process?

Watching the ineffectual and disdainful response of our Board in light of these serious questions and allegations, it's no mystery why so few residents participate in our "election" process. One cannot help but feel disenfranchised and overruled before even starting to question the Board. If a group of highly educated statisticians and analysts who dare to question methodology can be summarily shut down and dismissed, why would anyone else bother to try and voice their concerns?

Witnessing this debacle unfold has been a sobering reminder of why so many people are apathetic, and and feel it's pointless to make their valid opinions known. This has not been a moment of pride for Scarsdale.

Trustees Ponder Grass Cycling and Pick-up of Grass Clippings
Details

Category: On Our Minds
Published on

30 June 2016

Written by

Joanne Wallenstein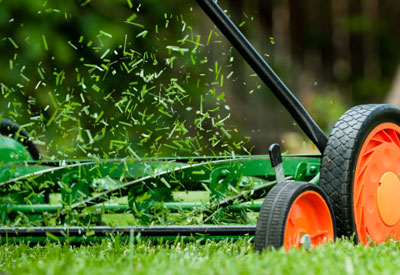 A lively debate about the pros and cons of grass cycling took place at Village Hall on Tuesday night. A proposed code change would end the curbside pick-up of grass clippings from Village streets and proponents and opponents made their cases.
Advocates for grass cycling argue that leaving grass clippings on the lawn rather than picking them up and recycling them has benefits to home lawns and to the environment at large.
The clippings maintain moisture

They improve the health of the turf

The clippings act as natural fertilizer
Furthermore, eliminating the need to truck these away would save fuel and reduce carbon emissions.
However, the Village currently picks up grass clippings, and it appears that the majority of landscapers pick up clippings rather than leave in place. Landscapers claim that clumps of heavy wet grass can rot and kill the grass. Furthermore, leaving it on the lawn does not appeal to some customers who seek a perfectly manicured lawn.
Several representatives form the New York State Turf and Landscape Association spoke against the proposal. Michale Iorio said that all the grass cannot be picked up and since they cannot use gas powered blowers, they cannot spread the clippings around. He said, "I would urge you not to take away another service that taxpayers receive. Landscapers will charge customers to take it away."
Michelle Sterling a co-chair of the Scarsdale Forum Sustainability Committee urged the trustees to see through Iorio's comments and recognize that he is representing the interests of the landscapers who don't want to have to charge their clients to pick up the clippings. She said, "our landscapers are taking away the clippings and their fertilizing effect and charging us to fertilize our lawns."
She said that the Scarsdale Parks Department has been grass cycling for years and that Scarsdale Schools have been doing this since the 1970's and she has "never heard about anyone complaining about grass clippings on fields."
She read notes from Renu Lalwani, Kaye Eisenman and Maggie Favretti in favor of grass cycling.
She asked the Trustees to exercise their leadership to do what's right, even if it does appear that the Village is taking away a service.
Darlene Le Francois-Haber, also a co-chair of the Forum's Sustainability Committee and a physician, spoke in favor of grass-cycling. She said her triplet daughters played on Scarsdale fields and favored, "Do like the pros, leave it after you mow."
She read a letter from Ron Schulhof in support of the proposed changes. He called the pick up of grass clippings an "Environmentally damaging, non-essential service," and said the "best place to dispose of clippings is the lawn." Schulhof said, "We can reduce out of county trucking and redeploy savings to other village needs." Dr. Haber said, "I often sit with individuals who think they can't change behavior which is clearly to their detriment. In the end you have to do the right thing. You are thinking about the health of our community and our environment. People need help and you're here to help them. I hope you come to a positive vote regarding the grass cycling effort."
Larry Wilson the Government Affairs Chair of the NYS Turf and Landscape Association told Trustees, "There is a certain aesthetic standard here. Some homeowners ask, what is this mess that you are leaving on my lawn? We live and die catering to the needs of homeowners. It is a bad climate to start discontinuing services here."
Susan Douglas said, "We have been doing grass cycling for three seasons. We had a dog die of cancer and that prompted us to examine the chemicals we were putting on our lawn. We now have an organic lawn, we leave the grass clippings on the lawn, they save water and trap moisture."
Lynne Clark, a realtor and longtime resident said she is a big recycler, but wants to make her own choices about what to recycle. She said, "Eliminating grass pick up has me on edge. Grass pick up is a valuable service to our residents. If residents cannot handle the removal of yard waste the new code creates an additional burden. Our village government should not be mandating what I do with my grass on my own property. To eliminate services now is not smart and not a boost for the spirit of our village....Educate our residents and let them choose for themselves. I want to cut my grass the way I want to."
David Fenigstein complained about the "choking smell of lawn pesticides," and said a healthy lawn requires less treatment. He said, "I think there are better things the town could do with its money than pick up grass....Let people pay for aesthetic standards themselves. Think about the long-term impact."
Lena Crandall said she has lived here since 1991 and grew up mowing the lawn. She said, "When grass clippings are long, all you have to do is go over them again and they disappear....If the landscapers mow over them more than once they will disappear even faster....Landscapers should educate their customers about what is good for their lawns...I hope you enact this change – it is a baby step in the right direction."
Merrill Clark, Lynne's husband said he had a long talk with his landscaper about the proposed code change. He said, "Our landscaper has invested in equipment that picks up everything on our lawn including twigs, clippings and leaves. He takes pride in how our lawn looks. There is no week in which only grass goes into the bag. He said we will not have a better looking lawn by leaving the clippings on the lawn. To be asked to buy new equipment and truck materials to the recycling center would be costly and added to the bills. My landscaper said not all his clients would go along with this – so I would be forced to drive the grass clippings to the recycling center."
Kelly Sperling said, "I want to support grass cycling. We practice it and the grass clippings go right back into the lawn. We have seen no downside to it."
Carol Silverman agreed. She said, "I have been here since Halloween of 1972 – 43 years. My lawn is not picture perfect – and a few years ago we started grasscycling and my lawn looks no worse."
Sterling also read a note from Tony Robinson, Commissioner of the Harrison Department of Public Works where they grass cycle by code. He said that "Education alone will not work.... There was no mass dumping." Sterling said, "The runoff from their clippings was going into their watershed and contaminating it so they had to make this change."
Deputy Mayor Marc Samwick said the code change will be voted on at the July 12th meeting of the Village Board of Trustees.
Appointments:
The Village will have a new fire chief. Thomas Caine is retiring on July 17th after nearly 32 years of service including 10 years as fire chief. A committee was assembled to interview the four candidates who applied for his position.

They named two finalists who were interviewed by the Mayor and the Village Manager. They selected Captain James Seymour to be the new Fire Chief of Scarsdale. The Scarsdale Fire Department will conduct a ceremony to appoint a new Fire Chief and a new Fire Captain on Tuesday July 12, 2016 at 1pm in the Scott Room at the Scarsdale Library.
Additional appointments were announced:
Michelle Sullivan Lichtenberg was named to the Advisory Council on Human Relations.
Marjorie Meiman and Ronnie Hirsch were named to the Advisory Council on People with Disabilities.
Gas Main:
Village Manager Steve Pappalardo announced that Con Edison is replacing a high pressure natural gas main on Crane Road between Post and Stonehouse Roads. The work is expected to take 8-10 weeks and will result in traffic delays. Con Edison will provide advanced notice to homeowners when the line is changed and they expect service to be disrupted for no more than 8 hours. There will be a single reversible lane for most of the time of the project. A small part of the bottom portion of the Village Hall parking lot is being used to stage Con Edison's equipment. The Village is looking into hiring a private inspector to represent them. Pappalardo asked for residents' patience while the work is done.
At the end of the meeting Trustees Matt Callaghan and Marc Samwick made comments about the 2016 revaluation. Watch them here:
What is your view on the proposed change to end the pick-up of grass clippings? Please send us your comments in the box below.