Maroon and White Celebrates Winter Athletes
Published: Tuesday, 27 March 2018 15:45
Emmeline Berridge
Every season, the Maroon and White awards dinner honors Scarsdale's athletes for their dedication and success in their respective seasons. The winter dinner was held on March 14th at Mulino's of Lake Isle. A special emphasis is put on the seniors of each team, as this is usually their last time competing at a varsity level in athletics at Scarsdale.
(Pictured left: Top (left to right): John Seider, Jeremy Wolfe, Sam Seltzer, Mike Schur, Loic Harousseau Bottom (left to right): Daniel Koch, Matthew Hyman, Anthony D'ambrosio)
Boy's Hockey: The boy's hockey team had a successful season led by their 8 seniors. They faced degrees of adversity, as their coach was suspended for their last game due to a series of penalties and ejections throughout the season. Senior Matt Hyman noted that his favorite memory from the season was the win against North Rockland, noting that it was a "big accomplishment to beat them early in the season, as they went on to compete in the state semifinals, and it gave [the team] a lot of confidence going into games for the rest of the season." The hockey team will look for a new head coach during the off season.
Girls Basketball: "This team has been the closest of any team I have ever been on," noted Senior Captain
Left to right: Audrey Shaev, Samantha Mancini, Lily Steckel, Lauren Metviner, Nicole LaubLily Steckel, a 3 time varsity captain on the tennis, basketball, and lacrosse teams. The camaraderie of this group helped propel them to success against many strong teams, including a victory against the defending State Champions in Connecticut, Stamford. The girls made a playoff run, but ultimately fell to a strong Ursuline team boasting many formidable offensive players. Mancini finished with a thank you to the team for making this the "best last season she could have imagined."
Bowling: Above anything else, Senior Jack Waxman mentioned that his highlight from this season was the team's "cheese fry frame", which stipulated that "if all of [the team] bowled strikes but one person, that person would have to buy the rest of the team cheese fries." Although the team bowled "very poorly this year," the girls team won the league and went to sectionals. Sisters Maya Kulick
Left to right: Michael Waxman, Maya Kulick, Marc Josephs, Cole Cutlipand Zoe Kulick (Fr.), both very enthusiastic about the sport, led the team to a respectable finish at both league and sectional tournaments. Finally, Waxman noted that the team had an "awesome, fun year as a tight knit group."
Boy's Swimming: The Scarsdale boy's swim team, which featured a number of State qualifiers, had a successful and fun season. Senior Ryan Lee noted that "after 3 years on the team, one of the highlights of the season was going to States with a lot of first timers." Additionally, the 200 and 400 freestyle relays at both Sectionals and States broke school. The 200 relay consisted of Jack Callahan, Haofung Liu, Riley Haffner (Jr.) and Justin Disanto (Fr.), and the 400 was made up of Ryan Lee, Haofeng Liu, Riley Haffner,
Top (left to right): Jack Callahan, Eliot Greene, Ryan Lee Bottom (left to right): Jonny Cohen, Haofung Liuand Jack Callahan. Lee also emphasized that he is "confident the junior class will continue the Scarsdale swimming legacy for the years to come."
Ski: Despite weather issues, which prevented the team from practicing on their home Thunder Ridge Mountain as often as they could have, the Ski team had a positive season. Senior Mason Marsh noted that the team "sent a lot of racers to sectionals and states", reinforcing the team's legitimacy on a regional scale. Senior Joe Weintraub was proud of the face that the boys team won a race at the beginning of the season. Junior standout Connie Ferragu had an outstanding performance at the state meet, placing 22nd in a field of the 64 best skiers in New York state.
Joe Weintraub, Nick Coeytaux, Alison Schwartz, Mason MarshGymnastics: Emily Kopp, one of the senior captains of the Gymnastics team, mentioned that the team was very strong this year, and they posted some of the highest scores in Scarsdale gymnastics history. One gymnast, Sophomore Molly Grand, went on to compete at sectionals for the team. Kopp pointed out that she is "proud of all of the work that everyone did", and looks forward to seeing what they do in the future.
Cheerleading: Cheerleading had a historic winter season, starting in the fall being section 1 champions, and finished the season at the semi finals of the National Championship in Orlando, Florida, ultimately placing 28th in the nation. Senior Captain Talia Abbe asserted that overall,
the season was "so fun and memorable because everyone worked hard to achieve
Lone senior pictured was Emily Kopp[their] common goal." The team will lose 6 strong leaders and role models from their squad next year.
Boys Basketball: Despite a setback toward the end of the season when beloved coach Bill Murphy was abruptly fired, the boy's basketball team was successful. Senior Captain Nash Goldman said that the team had a fun season, noting that the "team got very close and learned how to work really well together." After the dismissal of Coach Murphy, they went on to beat Mount Vernon in a regular season game for the first time in the 21st century, as well as upset North Rockland on the road to make a valiant playoff run. The team will lose many key contributors in Nash Goldman, a 2 year all-section player, Jared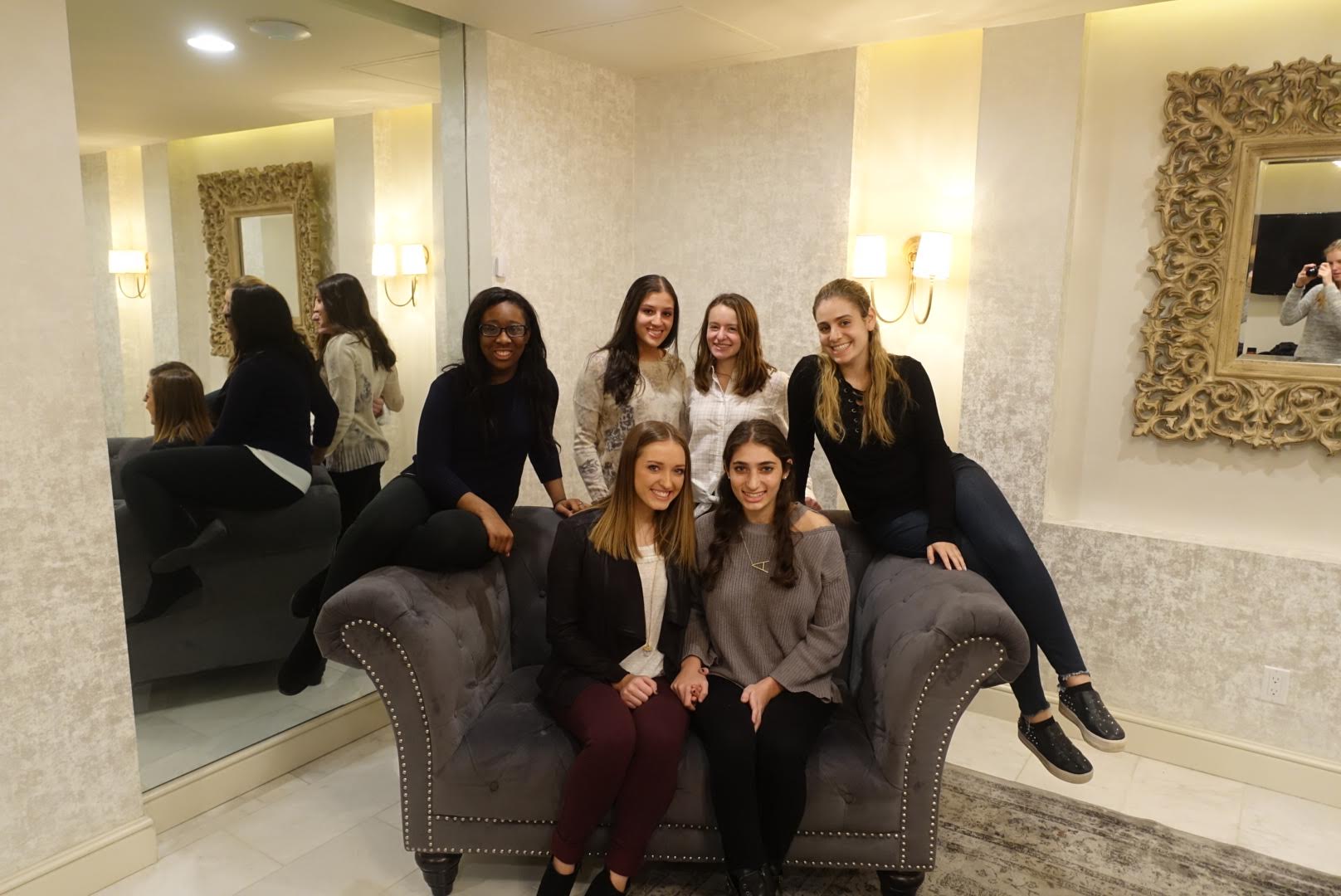 Top (left to right): Zaria Cash, Talia Abbe, Ari Stonberg, Sydney Schweber Bottom (left to right): Savannah Smith, Aerin CantorSchulman, a major contributer, Will Hoffman, a strong defensive presence, Trevor Nossel (not pictured), who showed up in many key games including Mount Vernon, strong players Leo Katz, Evan Maroney, and Jack Solodar.
Rich Leaf
Rich Leaf, a long time sports announcer for the Scarsdale Basketball program and Section 1 athletics, was honored with the first ever "Positive Impact Award" from Maroon and White. Leaf, a Scarsdale alumnus, was given this award for his dedication and performance at both boys and girls varsity games. The boys and girls varsity captains spoke about his impact on their respective high school basketball
Top (left to right): Nash Goldman, Evan Maroney, Jared Schulman, Will Hoffman, Scott Galst Bottom (left to right): Jack Solodar, Leo Katzcareers. The girls team noted that Rich brings "an unmatchable legitimacy to home games, and adds an irreplaceable energy that gets [the team] excited to play." After the award was presented, Leaf spoke about how touched he was for the honor of receiving this award.
(Photos by Sydney Albert and Text by Emmeline Berridge)
Rich Leaf speaks after accepting the Maroon and White "Positive Impact Award"