News from the Court
Published: Tuesday, 12 March 2019 12:47
Joanne Wallenstein
Here's basketball news from Westchester Reform Temple's 11th grade team and the fourth grade girls from Greenacres:
Westchester Reform Templel 11th Grade Basketball Team
Congratulations to this year's 11th Grade Westchester Reform Temple (WRTA) basketball team for winning their bracket in the Westchester Basketball Temple League. They advanced through the regular season to win three straight playoff games against 11th and 12th Grade teams from area synagogues. Each player is a Scarsdale resident and most of the boys have been playing basketball together since sixth grade.
Pictured Above: Boys left to right : Riley Schneider,Dean Glucksman, Ian Rothenberg, Evan Kashanian , Oliver Krohn,, Luke Fisher, Brian Plattus, Ian Fisher, Zach Medvinsky , Dylan Wasserberger
Front row:
Coach Adam Glucksman
Greenacres 4th Grade Girls Rec Basketball Team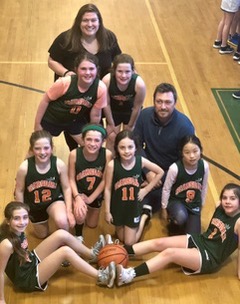 The Greenacres 'Green' 4th Grade girls' rec basketball team played their hearts out and won first place among all Scarsdale 4th grade girls with a 9-0 record. No other team went undefeated during this 2018-19 season. The girls are incredibly excited and their parents are, of course, very proud.
Pictured at right:
1st row: Nealie Caldara, Penny Kaplan
2nd row: Caitlin Jeremiah, Juliet Dalton, Oliver Brucker, Mia Yang
3rd row: Rachel Kershner, Katie Brew, Assistant Coach Kurt Dalton
Back: Head Coach, Karin Garvey