An All Star Line-up for the WCC Celebrity Salon Series: April - June, 2019
Published: Monday, 01 April 2019 03:25
Joanne Wallenstein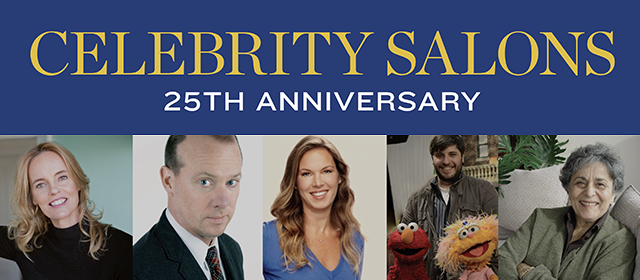 This year's Westchester Community College Celebrity Salon Series celebrates its 25th anniversary season with leading professionals from the world of media, publishing, architecture, history, and politics. As the first series of its kind in Westchester County, these events continue to attract top names who help the Westchester Community College Foundation raise funds for student scholarships. All of these events are held in private homes and are co-sponsored by TD Wealth and Cuddy & Feder.
Lisa Friel on Thursday, April 4 at 7:00 p.m. Hosts Amy Koch-Oman and David Oman's colorful and art-filled home is perched above picturesque Bronxville. (A long flight of stairs must be climbed to enter this home.) Friel, special counsel for investigations at the National Football League, once led the sex crime prosecution unit in the Manhattan District Attorney's office. She will discuss how domestic violence, child abuse and sexual misconduct became private sector issues and how the handling of these matters has evolved, especially in today's #metoo era.
Maureen Sherry on Monday, April 8 at 7:00 p.m. Hosts Marianne and David Chao reside in a 1920s-era Edgemont home once owned by Meredith Wood, the late president of the Book of the Month Club. After years on Wall Street, Sherry—once the youngest managing director at Bear Stearns—wrote Opening Belle, a novel based on her experience. Sherry, who has shared her perspective on CNBC's Closing Bell, Fox at Five, CNN and in The New York Times, Fortune and Money, will let us know why she is bullish about women in finance.
Katonah Museum of Art on Friday, May 3 at 6:30 p.m. Host Yvonne Pollack's Marcel Breuer–designed home will serve as the perfect coda to viewing the Edward Larrabee Barnes–architected Katonah Museum of Art. Join the museum's Executive Director Michael Gitlitz and curator Michele Wijegoonaratna for a private tour of LandEscape: New Visions of the Landscape from the Early 20th and 21st Centuries at the museum. Works by American modernists including Marsden Hartley, John Marin and Marguerite Zorach featured at the groundbreaking 1913 Armory Show will be contrasted with pieces by contemporary artists including Judy Pfaff and Lois Dodd.
Anna Quindlen on Sunday, May 5 at 11:30 a.m. It seems fitting that Joanne Landau and Fred Schwalb's Croton on Hudson home, once J.J. Newberry's hunting lodge where his family gathered every summer, would be where Anna Quindlen will tell us about becoming a grandmother. Quindlen, Pulitzer Prize–winning journalist and The New York Times best-seller list novelist has just published her tenth novel, Nanaville. Her singular voice has never been sharper or warmer. With the sensitivities and word craft she brought to motherhood in Living Out Loud and to growing older in Lots of Candles, Plenty of Cake, Quindlen now illuminates the special joy of grand parenting.
Women's Self Defense with Tommy Calandrucci on Wednesday, May 8 at 12:00 p.m. Hosts Marianne and David Chao's large and light-filled gym in their Edgemont home will give participants room to learn some crucial moves. Calandrucci is a boxing and self-defense instructor with a second-degree black belt in Kyokushin karate and extensive training in Krav Maga. He offers a class on the importance of self-awareness in everyday situations as well as how to stave off an attacker. Bring your daughters (13 and up), granddaughters, or nieces! Please wear athletic shoes and attire.
Kate Coyne on Saturday, May 11 at 4:00 p.m. Hosts Dawn Fitzpatrick and John Esposito's home in Irvington, which boasts a 180-degree view of the Hudson River, was once the residence of Charles Lewis Tiffany. Coyne is the executive editor of People, where she oversees television, film and music coverage, as well as the annual Sexiest Man Alive blockbuster issue. Coyne—who worked at The New York Post's "Page Six" and is the author of I'm Your Biggest Fan, an unfiltered look at life alongside the rich and famous, will share details of some of her countless surprising (often awkward) interactions.
Arlene Alda on Tuesday, May 14 at 7:00 p.m. Host Edythe Gladstein is delighted to honor the Bronx in her gracious 1916 Scarsdale Tudor home. Alda, a musician, photographer, and writer, began her career as a professional clarinetist. When her children were young, she became an award-winning photographer; now, she is the author of 19 books. Just Kids from the Bronx is a collection of stories featuring recollections of Bronx-born artists, athletes, scientists and entrepreneurs including Al Pacino, Mary Higgins Clark, Carl Reiner, Colin Powell, and Neil deGrasse Tyson.

William Helmreich on Wednesday, May 15 at 6:30 p.m. Hosts Kate and Seymour Weingarten's New York City apartment building was featured in the iconic movie Ghostbusters and has breathtaking views of Central Park. Helmreich traversed every block of New York City during his research for the writing of his award-winning book, The New York Nobody Knows. For his subsequent 2018 walking guide, The Manhattan Nobody Knows, he retraced most of his many steps—walking more than 9,000 miles to date. Helmreich has shared the magic of what he learned along the way on Oprah, NBC Nightline, CNN and in The New Yorker and The New York Times.
Out of My Head - movie screening and discussion on Wednesday, May 22 at 6:30 p.m. Hosts Wendy and Howard Berk's media room in their well-appointed Scarsdale colonial will be a great place to catch this flick. Share the journey of a mother and daughter as they discover the truth about living with chronic migraines. Writer/director Susanna Styron's credits include Sidney Lumet's TV series 100 Centre Street and the web series All Downhill From Here starring Brooke Adams. Styron's partner on Out of My Head, Jacki Ochs, is a documentary producer/director who executive-produced Keith Beauchamp's Emmy-nominated The Untold Story of Emmett Louis Till. Dr. Richard B. Lipton, the co-director of the Montefiore Headache Center, will join the filmmakers to answer questions about this complex and often misunderstood disorder afflicting nearly a billion people worldwide.
Justin Hefter on Thursday, May 23 at 7:00 p.m. Host Diane and Marc Greenwald's F. Scott Fitzgerald meets Elmore Leonard warm yet elegant Scarsdale home is the perfect place to hear about the unlikely kismet involved in Hefter's life-affirming story. In March 2015, Hefter, along with three strangers helped interfaith activist Mohammed Al Samawi escape from war-torn Yemen. Samawi's book about the rescue, The Fox Hunt: A Refugee's Memoir of Coming to America, is being made into a movie by La La Land producer Jordan Horowitz. At the time, Hefter was the CEO of Bandura, a company he created to encourage intercultural cooperation. Most recently, Hefter helped launch the African Middle Eastern Leadership Project as he continues to seek to advance human rights around the world.
Sam Sifton on Wednesday, May 29 at 7:00 p.m. Hosts Suzanne and Andy Yearley's meticulously updated 1929 Scarsdale colonial has a sumptuous double kitchen where Suzanne teaches her consistently sold-out "What's for Dinner" classes. Sam is food editor for The New York Times, founding editor of the newspaper's cooking app, and a columnist for its magazine. He has also served as the paper's national editor, restaurant critic and culture editor. His upcoming book, See you on Sunday! A Cookbook for Family and Friends, emphasizes the joys of breaking bread with those who matter most.
Kenneth R. Weinstein on Sunday, June 2 at 4:00 p.m. Join hosts Denise and Camillo Santomero III in their stunning Georgian Mott Schmidt Bedford home and gardens fully restored to their 1926 design. Weinstein is president and CEO of the Hudson Institute, a Washington think tank dedicated to U.S. leadership and national security. A political theorist by training, he is the chair of the Broadcasting Board of Governors, the oversight board for the Voice of America, and serves on the U.S. Trade Representative's policy advisory board. Weinstein will share his take on what he calls President Trump's "disruptive" style of governing.
Bill Sherman and Matt Vogel on Monday, June 10 at 7:00 p.m. As you step inside their English-style pub, hosts Carla and Brian Eccleston's 1911 Pelham Manor home will transport you across the pond. Sherman is the music director for Sesame Street and an Emmy, Tony and Grammy award-winning composer, producer, arranger and orchestrator. He is currently working on the film adaptation of In the Heights with Lin Manuel Miranda (2020). Emmy award-winning actor and director Matt Vogel is the puppeteer for Kermit, the Count, and Big Bird. He has been a Sesame Street muppet performer since 1996 and a core Disney muppet performer since 2008.
Peter Blauner on Thursday, June 13 at 7:00 p.m. Hosts Greg and Kathiryn Werlinich's contemporary Rye Brook living room provides a safe place to talk about scary crime novels. Blauner is the author of eight novels, including The New York Times bestseller The Intruder and 2018 L.A. Times bestseller Sunrise Highway. His short fiction has been anthologized in Best American Mystery Stories and on NPR's Selected Shorts. Blauner was also staff writer and co-executive producer for several television shows including Law & Order: SVU and Blue Bloods. He will discuss his approach to writing for TV versus writing novels.
Cocktails and hors d'oeuvres will be served at all salons. Salon fees are $165 per event. For further details, call 914-606-6558. Or visit www.sunywcc.edu/celebritysalons.