Scarsdale Woman's Club Tag and Book Sale
Date:
Sun. 15 Oct, 2017 9:00 am - 3:00 pm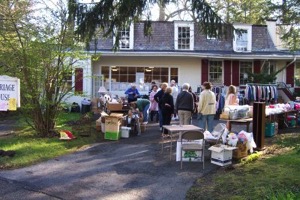 The Scarsdale Woman's Club Tag & Book Sale will be held on Saturday, October 14th from 9am to 3pm and Sunday, October 15th from 11am to 3pm. The sale takes place in the Carriage House, which is located behind the historic clubhouse at 37 Drake Road, Scarsdale. There's plenty of parking and admission is free. Drop by for books galore, clothes you'll adore, jewelry and more! Proceeds will be donated to local charities in Westchester County.
The Scarsdale Woman's Club has been serving the community and providing a fun place for people from all over the tri-state area to connect, serve and grow since 1918. For more information about the Club, its events and membership opportunities see www.scarsdalewomansclub.org.