Zachys' Festa d'Italia 2018
Date:
Sat. 3 Mar, 2018 4:00 pm - 7:00 pm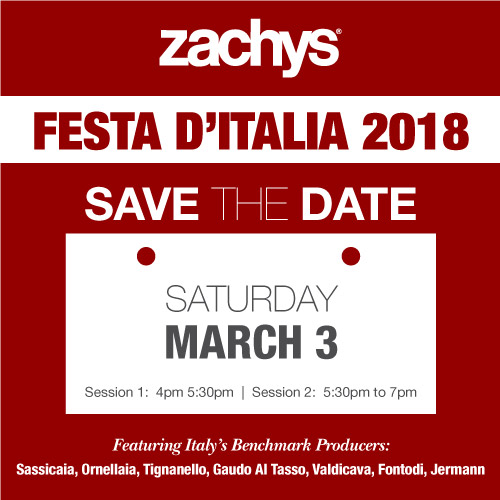 What's the story behind Zachys "Italian Perfect Storm" and why is coming to Scarsdale on March 3rd a must?
On Friday, March 2nd there is a big industry tasting in NYC for all the Gambero Rosso TRE BICCHIERI winners, and on the following Tuesday will be James Suckling's "Great Wines Of Italy" down at the IAC Building. As a result, we knew there would be a lot of amazing producers in town. We asked ourselves, "What if we could get 15 of them to come up for a ridiculous tasting at Zachys?"
We did better than that... we got 18!!!
Besides getting 18 A-level producers, we have convinced most of them to airship in their hot new releases scheduled to hit the market later this year. So not only will you get to meet/greet/taste with these producers, you'll among be some of the FIRST IN AMERICA to taste hot new releases like (2015 Sassicaia, 2015 Guado Al Tasso, 2015 Saffredi, 2015 Testamatta, 2015 Flaccianello...and many more!!) on a complimentary basis. We also recruited an amazing Italian charcuterie company, Levoni, who will be slicing fresh Prosciutto di Parma (YUM!); as well as the Consorzio del Parmigiano Reggiano to get us a nice big wheel of Parmigiano for the tasting.
Zachys' Festa d'Italia 2018
Saturday March 3rd, 4:00pm - 7:00pm
This is a day you won't want to miss at the store! I can honestly say that this is quite possibly....No, it's DEFINITELY...the most off-the-hook Italian tasting I have ever done at the store. At any other event you might pay a hefty price for admission but at Zachys these are complimentary but registration for this event is a MUST.
To RSVP and to see a full list of the personalities, wineries and featured wines, please visit here: