LWVS Bookclub Discussion: One Person No Vote
Start Date:
Thursday, November 29, 2018 10:00 am - 11:00 am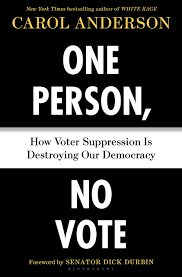 The League of Women Voters of Scarsdale will hold two bookclub discussions of the book One Person No Vote by Carol Anderson.
The discussions will be held on Thursday, November 29th at 10:00 AM or 7:00 PM. Location TBD. To attend, please RSVP: BookGroup@lwvs.org
ONE PERSON, NO VOTE: HOW VOTER SUPPRESSION IS DESTROYING DEMOCRACY
by Carol Anderson (288 pp)
Longlisted for the National Book Award in Nonfiction
From the award-winning, New York Times bestselling author of White Rage, the startling--and timely--history of voter suppression in America, with a foreword by Senator Dick Durbin . . . With One Person, No Vote, she chronicles a related history: the rollbacks to African American participation in the vote since the 2013 Supreme Court decision that eviscerated the Voting Rights Act of 1965. Known as the Shelby ruling, this decision effectively allowed districts with a demonstrated history of racial discrimination to change voting requirements without approval from the Department of Justice . . . In gripping, enlightening detail she explains how voter suppression works .