Jill Weisfeld, Author of Riley the Retriever Wants a New Job to Read and Sign Books at Scarsdale Library
Start Date:
Tuesday, December 18, 2018 4:00 pm - 5:00 pm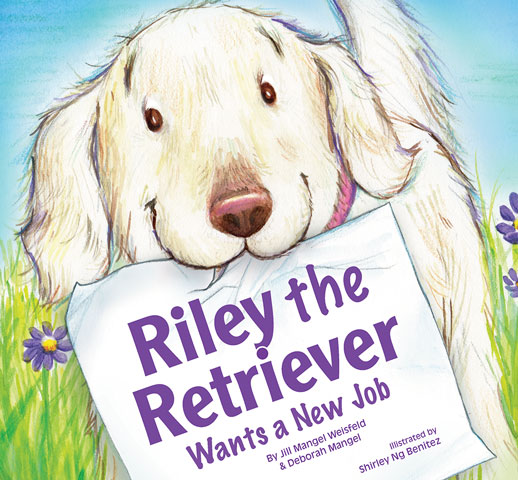 Scarsdale resident Jill Mangel Weisfeld will read and sign copies of her new children's book, Riley the Retriever Wants a New Job, at the Scarsdale Library on December 18 at 4 pm. The book is based on the adventures of her own dog, Riley.
Weisfeld's dog, Riley, is a certified therapy dog, trained by the Good Dog Foundation, who visits schools, libraries and nursing homes in the Westchester area.
The book tells the adventures of Riley who is trying to find a more meaningful job than being a retriever. Riley begins her quest researching working dog jobs on "Doogle" to see if she can find one that's a better fit for her. The colorful illustrations by Shirley Ng Benitez bring Riley's adorable personality to life.
Weisfeld wrote the book with her mother, Deborah Mangel, also a children's book author, who passed away not long before the book's publication.
"I wanted to write a book that was both educational and enjoyable and to teach kids about working dogs, " says Weisfeld. "By visiting schools and nursing homes, Riley helps provide happiness and comfort to members of the community."
Weisfeld and Riley have been participating in Wag Your Tale! Read to a Dog events at the Scarsdale Public Library in which dogs and their human volunteers listen to children read as a way for independent readers to practice their skills.
Eileen Corbett, Scarsdale Children's Librarian, says, "Riley and Jill have been coming to the Scarsdale Public Library for 7 years now, and we are delighted to have them for Riley's first book."

Weisfeld is currently Art Director of the Pediatric Cancer Foundation and has done freelance graphic design for various non-profit organizations, including Temple Israel Center of White Plains. She is formerly Senior Art Director at Bride's Magazine and Art Director for Macy's Advertising in New York. She is Founder and CEO of her own publishing company, Peek-a-Bear Press based in Scarsdale.
Her first children's book, Take a Peek with Peek-a-Bear, received five awards including a gold medal in the prestigious Mom's Choice Award in the category of Children's Picture Books, and a silver medal in the Moonbeam Children's Book Awards in the category of Book Arts/Pop-up/Cut-out.
Weisfeld is a 20 year resident of Fox Meadow where she lives with her husband, Bruce and her daughters Emily, Danielle and Lauren.
The book is available on Amazon, at Bronx River Books in Scarsdale, Womrath Bookshop in Bronxville and Scattered Books in Chappaqua, as well as other bookstores in the Westchester area.
For more information or to arrange school visits or book signings, please visit http://peek-a-bear.com/