The 10th Scarsdale Salon at Bronx River Books
Start Date:
Thursday, May 23, 2019 6:30 pm - 8:00 pm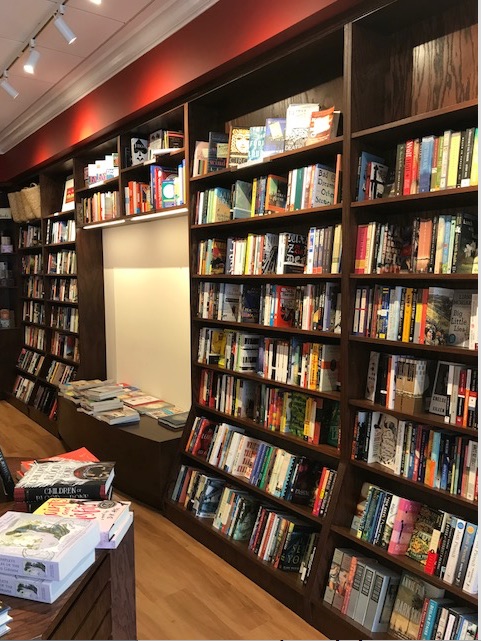 The 10th Scarsdale Salon will be held at Bronx River Books. The theme of the event is CROSSING BORDERS. Physical, poetic, metaphorical, real or dreamy, borders are signs that remind us how literature and arts are essential to build sensitive connections that link cultures and languages. This theme was chosen to inaugurate a special bridge that will cross the Atlantic Ocean and emphasize a new partnership with Salon de Belleville, a cultural event that will happen in Paris, France, on the same period as these readings. It's a great way to celebrate four years of bringing authors and readers together at The Scarsdale Salon.
The Salon de Belleville , curated by Plinio Ribeiro Jr., intend to take the most of this eclectic and multi-ethnic area of Paris, which lies in four different arrondissements (neighborhoods) in order to become a cultural mirror of its richness. This first edition will happen during the 30th edition of a major event, Belleville Artists' Open Studios.
Plinio Ribeiro Jr, the Paris curator, is a journalist, researcher, visual artist and curator living in Paris since 2001, with a Master Degree in Literature, Arts & Aesthetics. His portfolio is designed by multi-disciplinary projects, crossed by a large field of topics: memory, otherness (as part of personal and social identities) and multiculturalism.
Ines Rodrigues and Preeti Singh are the creators of The Scarsdale Salon. Ines is a journalist, fiction writer (author of the novel Days of Bossa Nova) and teacher. She teaches Creative Writing at Sarah Lawrence College – The Writing Institute, and also at Bronxville Adult School. Preeti Singh is a writer and journalist with a Masters Degree from Columbia University, currently covering business for Private Equity International.
The Scarsdale Salon and Salon de Belleville are now a joined international cultural venture. Both events will happen on the same week. All the information will be shared and seen online, like a window connecting both sides of the Atlantic.
The authors for the 10th Scarsdale Salon on this side of the Atlantic are:
Lea Geller is a recovering lawyer and English teacher, who lives in New York with her husband and children. She began her writing career blogging about her adventures in parenting and got the idea for her first novel, Trophy Life, when her sons were in Middle School. She will read from this novel, published in April, 2019. (www.leageller.com).
Alice Kaltman is the author of the story collection Staggerwing, the novel Wavehouse and the forthcoming fantasy The Tantalizing Tale of Grace Minnaugh. Her stories appear in numerous journals including Hobart, Whiskey Paper, Joyland, and BULL: Men's Fiction, and also in different anthologies Alice lives, writes and surfs in Brooklyn and Montauk, NY. She will read one of the stories from Staggerwing. (www.alicekaltman.com).
Vladimir Klimenko is a writer and teacher. In the early 1980s, he traveled repeatedly to Central America to write about the Nicaraguan Revolution.  A decade later he ended up in Moscow, where he covered the power vacuum created by the Soviet Union's collapse. He worked as the journalist/interviewer for the Emmy Award-winning PBS documentary Stolen Years. He currently teaches history at Hackley School in Tarrytown, NY and is working on a dystopian satire. He will read one of his short stories.

Steven Lewis is a former Mentor at Empire State College, a current member of the Writing Institute faculty at Sarah Lawrence College, Elder of the Nichols Pond Salon & Sanctuary, Literary Ombudsman of Read650, "El Jefe" of the Duckdog Writing Retreats on Hatteras Island, NC, and a longtime freelance write, whose publication credits include The New York Times, The New York Times Magazine, The Washington Post, LA Times, West (LA Times Sunday Magazine), AARP, Ladies Home Journal, Beliefnet.com, Confrontation, Commonweal and a long, long, long (biblically long) list of parenting magazines. His most recent novels are Take This, Loving Violet and A Hard Rain (Codhill Press).
Txemi Parra is a Spanish actor, writer and playwright. He worked for 12 years in Madrid as a screenwriter, creator and producer in different TV shows. His plays have been performed in England, Spain, Poland, Miami and New York, where he has been living since 2014. He collaborates in the Spanish Radio program El Graffiti and is also performs in Repertorio Español as an actor in different productions.
He published two novels "Los Muertos No Comen Yogurtes" and "Funeraria en Brooklyn Busca Muerto", both comedy/mysteries in Spanish.
**** As Txemi Parra's books are just available in Spanish, he won't be reading at the Salon, but he will be interviewed in English by Ines Rodrigues and will answer audience's questions.
The 10th Scarsdale Salon
Thursday, May 23rd, 2019
@Bronx River Books (37 Spencer Place, Scarsdale NY)
6:30-8pm – FREE