Aces and Knaves at Emelin Theatre
Start Date:
Sunday, September 15, 2019 4:00 pm - 9:00 pm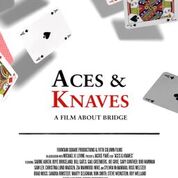 Encore screening of Aces & Knaves—a documentary about the fascinating game of bridge, directed by Larchmont-based filmmaker, Jackie Paré. With footage from local bridge clubs (including The Hartes Club in White Plains and Bridge Deck in Scarsdale), international tournaments, and old Hollywood movies, the film takes viewers behind the scenes of the game and into the minds of the people playing it.Approximately one hour in length, the film will be followed by a brief Q&A. Film goers can also register for a special two-hour 'Intro To Bridge' workshop prior to the film. Learn the basics of the game with bridge champion Sylwia McNamara, co-owner of The Bridge Deck in Scarsdale, and enjoy a free drink after the lesson.
Sunday, September 15
Workshop: 4-6pm
Film: 7pm
Film Tickets: $15
Film plus Workshop Tickets: $40