Jonatha Brooke at Emelin Theatre
Start Date:
Saturday, September 21, 2019 8:00 pm - 9:00 pm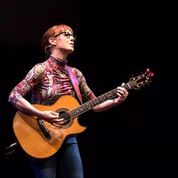 Saturday, September 21, 2019 @ 8pm
Tickets: $40/$35
The American folk-rock singer-songwriter and international touring star returns to the Emelin fresh from her triumphant new release, Imposter. A true original, Brooke has been innovating the folk-rock scene for decades with her poignant lyrics and complex harmonies, performed with a kind of infectious energy impossible to resist. Among her many achievements, she has written the critically acclaimed, one woman, Off-Broadway musical My Mother Has Four Noses, as well as songs for film and television. She has co-written songs with Katy Perry and The Courtyard Hounds, and composed and performed the theme song for Joss Whedon's Dollhouse. Join us as Brooke performs songs from Imposter,among other favorites, live at the Emelin.