An Evening With Tom Rush at Emelin Theatre
Start Date:
Thursday, September 26, 2019 8:00 pm - 9:00 pm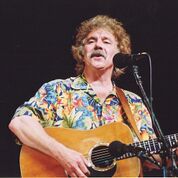 An Evening With Tom Rush  - Accompanied By Matt Nakoa
Thursday, September 26, 2019 @ 8PM
Tickets: $48/$42/$35
Tom Rush is a gifted musician and performer whose distinctive guitar style, wry humor and warm, expressive voice have made him both a legend and a lure to audiences around the world. 
His impact on the American music scene has been profound. He helped shape the folk revival in the '60s and the renaissance of the '80s and '90s, his music having left its stamp on generations of artists. James Taylor, Emmylou Harris, Tom Petty and Garth Brooks have cited Tom a major influence.  His early recordings introduced the world to the work of Joni Mitchell, Jackson Browne and James Taylor. Subsequently, his Club 47 concerts brought attention to artists such as Nanci Griffith and Shawn Colvin. His shows are filled with the rib-aching laughter of terrific story-telling, the sweet melancholy of ballads and the passion of gritty blues. Internationally touring singer/songwriter, Matt Nakoa will accompany Rush on stage.