Junior League Holiday Boutique
Date:
Thursday, November 21, 2019 10:00 am - 8:00 pm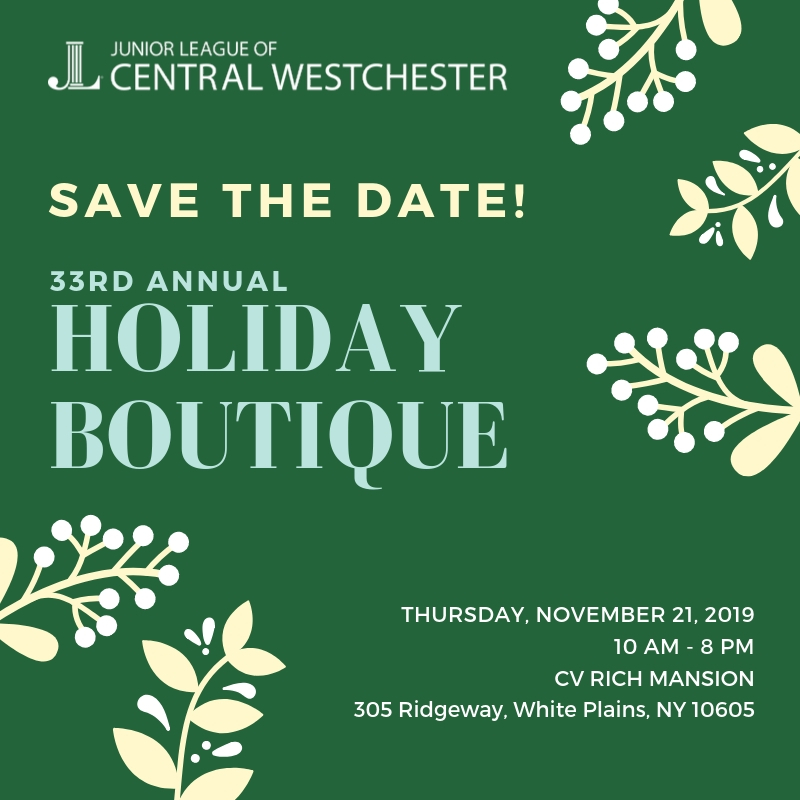 33rd Annual JLCW Holiday Boutique

The Junior League of Central Westchester's 33rd Annual Holiday Boutique Takes Place Thursday, November 21, 2019
The Junior League of Central Westchester (JLCW) invites holiday gift givers to do their shopping at the JLCW's 33rd Annual Holiday Boutique! This year's event will be held on Thursday, November 21, 2019 from 10 a.m. – 8 p.m. at a new location - C.V. Rich Mansion, 305 Ridgeway, White Plains, NY.
The JLCW Holiday Boutique will feature an impressive roster of vendors, with many participating for the first time, and serves as an opportunity for the Westchester community to support small and local businesses. Nearly 40 vendors will offer a wide variety of merchandise, including jewelry, home goods, clothing, hostess gifts, items for children, men and more.
"Holiday Boutique is always an important fundraiser for the League as well an amazing event. It's wonderful to see so many vendors and attendees come together to support the local community. Proceeds from Holiday Boutique allow the League to provide a variety of services to the community at large," said Valerie Phillips, President of the JLCW.
In addition to checking off items from holiday gift lists, Holiday Boutique shoppers contribute to the greater good: 20 percent of all vendor proceeds will be generously donated to the JLCW. Funds raised will allow the JLCW to continue its mission of improving the lives of individuals and families throughout Central Westchester County. Holiday Boutique sales enable the JLCW to support programs that promote health and literacy, provide food and necessities to the underprivileged, empower low-income families, help preserve community history, and train effective community volunteers.
Suggested donation for admission is $10. Raffle tickets will be available for purchase for a chance to win one of several fabulous prizes. For more information visit http://www.jlcentralwestchester.org/hb or contact JLCWHB@gmail.com
Where: C.V. Rich Mansion, 305 Ridgeway, White Plains, New York 10605
When: Thursday, November 21st , from 10 a.m. - 8 p.m..
Who: Junior League of Central Westchester
How: The JLCW is an organization of approximately 225 women committed to promoting volunteerism, developing the potential of women, and improving the community through the effective action and leadership of trained volunteers.
Cost: Suggested donation for admission is $10
Website: http://jlcentralwestchester.org/hb
Contact: JLCWHB@gmail.com