LWVS Membership Coffee and Speaker
Tuesday, October 15, 9:30 am, 50 Carthage Road, Scarsdale
Come learn about the League and hear from guest speaker, Professor Vanessa Merton, of Pace University Law School and Director of the Immigration Justice Clinic of John Jay Legal Services, Inc., White Plains. Professor Merton will discuss the current crisis at the southern U.S. boarder as well as various aspects of immigration and asylum.
All League members and prospective members are invited!
I Am More Scarsdale to host BUBBLES & BOOBS, Breast Cancer Screening 101, to benefit Breast Cancer Research Foundation (BCRF) on Tuesday, October 15th from 6:30-8:30pm.
I Am More Scarsdale is thrilled to announce BUBBLES & BOOBS, its second annual Breast Cancer Screening event to benefit the Breast Cancer Research Foundation (BCRF), which will take place on Tuesday, October 15th, from 6:30-8:30pm at 6 Spencer Place in Scarsdale Village. I Am More welcomes "boobie" panelists, Drs. Pam Weber and Stephanie Sims, Breast Radiologists from the WPH Imaging Center at New Rochelle, who will lead an engaging and informative discussion on knowing your risks for breast cancer, all of the screening and diagnostic imaging options available, and the importance of early diagnosis and treatment. Tickets are a suggested $30 donation.
I Am More Scarsdale, a unique retail concept in Scarsdale Village featuring the hottest new trends in fashion, accessories and jewelry, just celebrated its two year anniversary. I Am More is a predominantly philanthropic boutique, with a mission to empower women and give back. Since opening two years ago, I AM More has donated more than 130K in cash and merchandise to over 40 charitable organizations. I Am More was awarded the 2019 Best of Westchester category for Best Women's Empowerment Shopping, and the owners, Marcy Berman-Goldstein and Abbey Solomon were recognized by the Westchester County Business Journal as powerful women leaders in 2018 and 2019.
Berman-Goldstein, a Board Certified Radiologist with fellowship training in Breast Imaging, underwent a double mastectomy and reconstructive surgery in the summer and fall of 2018, due to suspicious pathology. "Given my medical background, personal experience and strong family history, I feel knowledge is the most important power we can all have to help ourselves and others. I trained with Drs. Weber and Sims at Mt. Sinai Hospital almost 20 years ago, and am so excited they will be joining us and leading our panel discussion."
BCRF is a nonprofit organization committed to achieving prevention and a cure for breast cancer. They are the highest rated breast cancer organization in the US, providing critical funding for cancer research worldwide to fuel advances in tumor biology, genetics, prevention, treatment, metastasis and survivorship.

"We are thrilled to partner with BCRF, such an incredible organization, close to home for many of our clientele," said Abbey Solomon. "We enjoy providing meaningful and impactful workshops to members of the community and also giving back to such worthy causes."
Advanced ticket purchase requested. www.iammorescarsdale.com or 914-723-6673 (MORE). Suggested donation of $30. 100% of proceeds to benefit BCRF. Light bites and drinks will be served.
I Am More Scarsdale Press Contact: Marcy Berman-Goldstein, Co-Founder, 917-940-3944, marcy@iammorescarsdale.com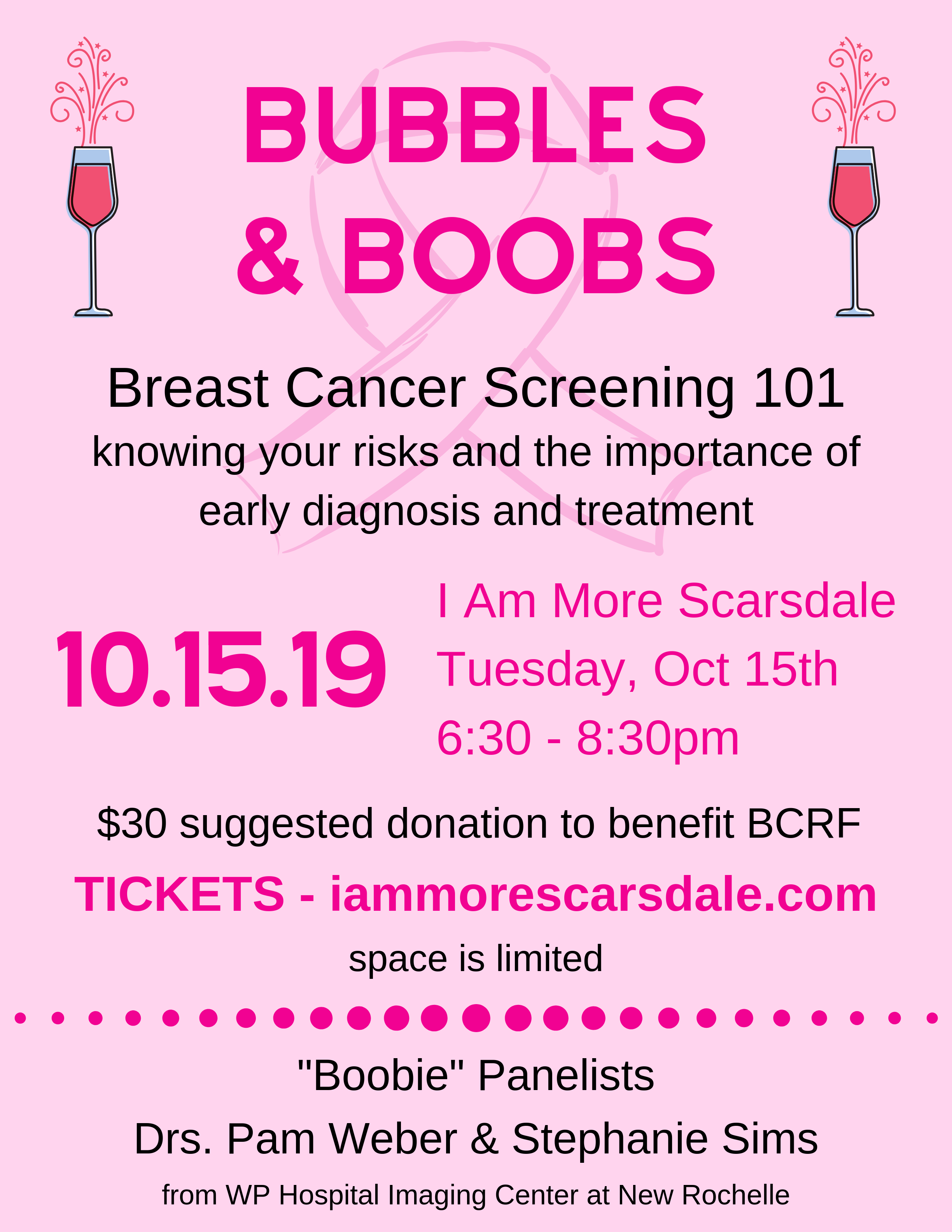 Categories
Powered by JCal Pro - the Joomla Calendar