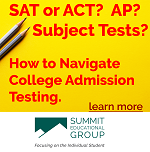 Please join Summit Educational Group on Tuesday, September 24, or Wednesday, October 30 at 6:30 pm, for a free informational session about the SAT, ACT, and other standardized tests for college admissions. You will learn everything you need to know about the tests so you can start planning for test preparation.
This session will help answer key questions such as:
Which test(s) to take? When to take them? How to prepare for them? When to prepare for them?
Topics include:
· Comparing the SAT and ACT: format, content, scoring
· Key Components of a Test Prep Plan
· When to take the SAT and ACT
· PSAT and Pre-ACT
· Subject Tests
· Should I take the Essay? Is it required?
· Testing Accommodations
· Preparing for these tests
Register today! Seats are limited. This event is free, but registration is required. Refreshments will be served. Click here to register.
This event will be held at Summit Educational Group, 611 W. Hartsdale Ave., White Plains. Information session is 1 hour in length, with time for Q&A. For complete details and speaker bio please visit the event registration link.
About Summit Educational Group
For more than 30 years, Summit Educational Group has been preparing students throughout New York and New England to maximize their scores on standardized tests. Our mission is to reduce anxiety, increase clarity, and impart confidence to educators and families about the college admissions testing process. Each informational presentation is free, requires no commitment for other services, and always incorporates the most up-to-date information about the testing landscape. Those who attend receive complimentary copies of our popular College Admissions Testing Guide. Visit mytutor.com or call 914-888-1500.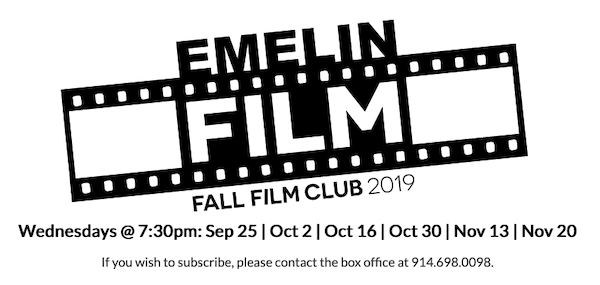 THE EMELIN FILM CLUB: FALL 2019 SESSION (This session is sold out)
SIX WEDNESDAYS @ 7:30PM: SEPTEMBER 25 | OCTOBER 2, 16, 30 | NOVEMBER 13, 20 | FILM
SUBSCRIPTIONS $125
The Emelin Film Club begins its fifteenth season this fall with six of the best new critically-acclaimed independent films from around the world. This past year, members were the first to see Robert Redford's The Old Man and The Gun, the Oscar nominated Will You Ever Forgive Me, and Red Joan, starring the incomparable Dame Judi Dench. Films span a wide range of genre and subject matter including documentary and foreign film, specially selected by club programmer David Schwartz. Titles of the films are not known prior to screening which adds to the fun, and members are invited to a Q&A after each film with special guest(s). The Emelin Theatre is equipped with state-of-the-art digital projection, Surround Sound and stadium seating, has easy access to parking and the Metro North, and offers snacks and beverages including beer and wine.
Categories
Powered by JCal Pro - the Joomla Calendar