Weekly View
Sun. 12 Mar, 2017 - Sat. 18 Mar, 2017
Sunday, March 12, 2017
Monday, March 13, 2017
The public is invited to meet the Citizens' Non-Partisan Party candidates
Monday March 13th – Susan and Dan Hochvert Welcome Scarsdale to their home 7PM-9PM at The Hochvert Residence
Dan is Candidate for Mayor and former 2-term Trustee
RSVP: nonpartisan@scarsdalecitizens.org
Tuesday, March 14, 2017
Robert the Guitar Guy brings his special brand of music on Tuesday, March 14, at 10:30 a.m. Robert and his repertoire of more than 75 songs entertains young children up to age 5 as he conveys his delight in musical expression.
Lindsay Buttenschon from the Lekotek Center of Westchester will lead Sensory Storytime with play therapy for children will special needs at the Scarsdale Public Library on Tuesday, March 14, at 4 p.m. The program is inclusive and for all children ages 3 and up.
Wednesday, March 15, 2017
Not Your Kids Book Club for Adults, the monthly session for adults interested in what young adults are reading, will discuss "Scythe" by award-winning author Neal Shusterman on Wednesday, March 15, at 1 p.m.
The novel focuses on two teens who must learn the art of killing in a world that has even conquered death. Scythes are the only ones who can end life - and they apprentice the unwilling teens to keep population growth under control. The teens must master the "art" of taking a life, knowing that the consequence of failure could mean losing their own.
The group is led by Scarsdale resident Sheela Chari, whose debut children's novel, VANISHED, was a 2012 APALA Children's Literature honor book, an Edgar Award nominee for best juvenile mystery and was featured on the Today show with Al's Book Club for Kids.
To register and reserve a copy of the book, go to the library website, scarsdalelibrary.org, or call the Reference Desk at 914-722-1302.
The 3rd Grade Book Club will meet on Wednesday, March 15, at 4:15 p.m. to discuss "The Legend of the Irish Castle: a Boxcar Mystery" by Gertrude Warner." The Boxcar Children seek to discover the secret of the castle where they are staying in Ireland where a mysterious figure walks the halls at night carrying a lantern. The book to be discussed has an Irish theme in honor of St. Patrick's Day and will be available in the children's room after participants register on the library website, scarsdalelibrary.org.
The public is invited to meet the Citizens' Non-Partisan Party candidates
Wednesday March 15th – Susan and Seth Ross Welcome Scarsdale to their home 7PM-9PM at The Ross Residence
Seth Ross is a Candidate for Village Trustee
RSVP: nonpartisan@scarsdalecitizens.org
Thursday, March 16, 2017
Mother Goose for Walkers Up to Age Two will meet on Thursday, March 16, at 10 a.m. This language enrichment program uses rhymes, songs and stories to stimulate listening, learning, speaking and reading skills. Mother Goose for Walkers is limited to the first 20 appropriately aged children. Attendees must have a ticket which are distributed on a first come, first served basis to Scarsdale cardholders in the Children's Room half an hour before the start of each session.
At 4 p.m. on Thursday, March 16, Needlemania!, a crochet club for kids in grades 3 and up will meet. Children have an opportunity to learn the basics or show off their existing skills while meeting new friends. Registration is required at the library website, scarsdalelibrary.org.
Author Abigail Pogrebin will speak about her new book, "My Jewish Year: 18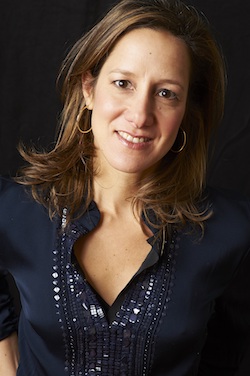 Holidays, One Wondering Jew" at Scarsdale Public Library on Thursday, March 16, at 7:30pm.
"My Jewish Year" chronicles Pogrebin's experience researching and observing every holiday in the Jewish calendar. Released this month, it's a poignant, funny, and thoughtful take on finding modern-day meaning in ancient rituals. Combining a treasure trove of information with personal anecdotes, Pogrebin's spiritual journey is moving and inspiring.
Abigail Pogrebin also wrote "Stars of David: Prominent Jews Talk about Being Jewish" and "One and the Same." Previously, she was an Emmy-nominated producer for shows including Charlie Rose and 60 Minutes. Currently, she moderates a blockbuster interview series at the JCC in Manhattan called "What's Everyone Talking About," with such guests as Malcolm Gladwell, Nicholas Kristof and Mario Batali. She is also the President of Central Synagogue.
"We are looking forward to having Abigail Pogrebin share her unique experience at the library," said Library Director Beth Bermel. "I think that the insight she gained while pursuing a greater knowledge and understanding of the Jewish faith is one that will be of great interest to our community."
This program is free and open to the public, but registration is required as space is limited. Copies of "My Jewish Year" will be available for purchase and signing. To register, visit scarsdalelibrary.org, or call the Reference Desk at 914-722-1302.
Friday, March 17, 2017
Mother Goose for Pre-Walkers, a program of rhymes, songs and stories for infants who are not yet walking will be held Friday, March 17, at 9:30 a.m. Reservations are not required, but attendance is limited to the first 20 babies to arrive.
Saturday, March 18, 2017
The book club that discusses books with the theme "Words Around the World," will meet on Saturday, March 18, at 11 a.m. Led by Wendy Archer, the library's Adult Services Manager, the group will discuss "The Dinner" by Herman Koch.
An internationally bestselling phenomenon, soon to be a major motion picture, "The Dinner" is a darkly suspenseful, highly controversial tale of two families in Amsterdam struggling to make the hardest decision of their lives during a dinner. Each couple has a 15-year-old son. The two boys are united by their accountability for a single horrific act; an act that triggered a police investigation and shattered the comfortable, insulated worlds of their families. The novel reveals the dark side of genteel society and asks what each of us would do in the face of unimaginable tragedy.
To register and reserve a copy of the book, go to the library website, scarsdalelibrary.org, or call the Reference Desk at 914-722-1302.
The group will meet again on April 8 to discuss "A Gesture Life" by Chang-rae Lee.
Purchase Sports Camp. located on the scenic campus of Manhattanville College in Purchase will offer weekly summer programs from June 26 to August 11, 2017. The camp is a fun and safe place for kids ages 3 to 15 where top-notch coaches help children of all levels feel at home, and bring their game to the next level. The well-rounded camp experience focuses on developing skills, discovering new interests, meeting new friends and most importantly, having fun.
The facilities include 6 Har-Tru tennis courts located right next to the campus's brand new state-of-the-art astro-turf soccer field, outdoor basketball courts, an indoor pool, and an indoor gymnasium that can be used for basketball and volleyball, and will be used during rainy days. While the primary focus of the camp will be tennis, soccer, basketball, baseball, lacrosse, cheerleading and flag football, the children will have an opportunity during the day to cool off at the pool, and the option to play other field sports as they like.
Come to our open houses on March 18 and April 15 from 2-4 pm at the Richard A. Berman Student Center Lobby and on May 6 from 2-4 pm in the East Room (Benziger Hall) at Manhattanville College. Register by March 31 for a $75 early bird discount (Mention 10583).
For more information, visit www.purchasesportscamps.com, email us at info@purchasesportscamp.com or call (914) 315-7507.
Categories