Weekly View
Sun. 14 Jan, 2018 - Sat. 20 Jan, 2018
Sunday, January 14, 2018
Monday, January 15, 2018
MONDAY, JANUARY 15, 2018, 10:30 AM - 1:00 PM
MLK DAY OF SERVICE
UJA-Federation of New York's Time for Good to offer community-wide service opportunities to help those in need.
Continuing the tradition of marking Martin Luther King, Jr.'s birthday as a day of service, UJA-Federation of New York's Time for Good is offering meaningful volunteer opportunities in Westchester County for its MLK Day of Service on Monday, January 15, 2018, at Westchester Reform Temple in Scarsdale.
These opportunities are made possible through UJA-Federation grants.
For more information, click here.
Interview and photo opportunities available.
WHAT: Teen Response to Hurricane Disaster
In partnership with AJC and the Westchester County Youth Council,
J-Teen Leadership will spearhead a Westchester-wide interfaith teen event with the AFYA Foundation, helping organize shipments of humanitarian and medical supplies for areas affected by recent hurricanes. Volunteers will sort and pack supplies collected through teen-run collection drives and prepare shipments to be sent to Houston, Florida, and Puerto Rico.
WHEN: 10:30 a.m. to 1:00 p.m.
WHERE: Westchester Reform Temple, 255 Mamaroneck Road, Scarsdale, New York
WHAT: Sort and Package Clothes for Kids in Need
Volunteers will sort gently used clothing for disadvantaged children and teens and assemble packages of diapers and underwear for families in need. WJCS Kids' Kloset is a volunteer-driven program that provides Westchester County children and families in need with donated clothing and related items free of charge.
WHEN: 10:30 a.m. to 1:00 pm
WHERE: Westchester Reform Temple, 255 Mamaroneck Road, Scarsdale, New York
About UJA-Federation of New York:
For over 100 years, UJA-Federation has inspired New Yorkers to act on their values and invest in our community for the biggest impact. Through UJA-Federation, more than 50,000 donors address issues that matter most to them, pooling their resources to care for Jews everywhere and New Yorkers of all backgrounds, respond to crises close to home and far away, and shape our Jewish future. Working with hundreds of nonprofit partners, synagogues, and other Jewish organizations, UJA-Federation is the world's leading local philanthropy; our reach extends from New York to Israel to nearly 70 other countries around the world, touching 4.5 million people each year. For more information on how to donate or volunteer, please visit our website.
Tuesday, January 16, 2018
Wednesday, January 17, 2018
Not Your Kids Book Club for Adults to Discuss "Turtles All the Way Down"
Not Your Kids Book Club for Adults, the monthly session for adults interested in what young adults are reading, will discuss the best-selling "Turtles All the Way Down" by John Green on Wednesday, Jan. 17, at 1 p.m., at the Scarsdale Public Library.
The highly-praised novel features Aza, 16, who pursues the mystery of fugitive billionaire Russell Pickett with her best and most fearless friend for a $100,000 reward. Together, they navigate the short distance and broad divides that separate them from Pickett's son as Aza tries to be a good daughter, friend, student, and maybe even a good detective, while living within the ever-tightening spiral of her own thoughts.
Not Your Kids Book Club for Adults is led by Scarsdale resident Sheela Chari, whose debut children's novel, VANISHED, was a 2012 APALA Children's Literature honor book, an Edgar Award nominee for best juvenile mystery and was featured on the Today show with Al's Book Club for Kids.
To register and reserve a copy of the book go to the library website or call the Reference Desk at (914) 722-1302.
The group will meet on Feb. 14 to discuss "Akata Witch" by Nnedi Okorafor.
Scarsdale Woman's Club Presents:
"Dreams of Equality,  A Film on the First Women's Rights Convention of 1848
Wednesday, January 17, 2 pm
37 Drake Road, Scarsdale, NY
"All Men and Women Are Created Equal"
-Elizabeth Cady Stanton
The public is invited to view the film and participate in a discussion led by the members of the Scarsdale Woman's Club and the League of Women Voters of Scarsdale.
A reception follows. Due to seating limitations, a reservation is suggested. Call (914) 220-2387 or (914) 472-5102.
"Dreams of Equality" is a film commissioned by the National Park Service for Women's Rights National Historical Park in Seneca Falls, New York. The First Women's Rights Convention was held in the Wesleyan Chapel on July 19 - 20, 1848 in Seneca Falls. The convention drew over 300 people to discuss the "social, civil and religious rights and condition of women." One hundred women and men echoed these words with their signatures in support of the Declaration of Sentiments proclaimed by Elizabeth Cady Stanton.
Open Studio at the Digital Arts Experience

Join CEO Rob Kissner and the Digital Arts Experience Team for a fun night of hands-on workshops. Build video games in Scratch and Python, 3D model an idea, test an Arduino Uno and program an Edison Robot. Bring your kids and complete as many or as few projects as you'd like!

Plus, a HUGE announcement from Rob!
*Snacks and drinks provided

Attend the Open Studio to receive a special gift to use toward registering for Saturdays in Winter 2018!
The Digital Arts Experience
303 Central Park Ave.
Scarsdale, NY 10583
Wednesday, Jan 17th - 5pm-7pm
FREE RSVP: http://daeopenstudio.eventbrite.com
Thursday, January 18, 2018
Friday, January 19, 2018
Friday, January 19, 8:00 p.m.
Scarsdale Synagogue has introduced a new series of Shabbat Services for 2017-18 that will be organized around combining Social Justice with prayer. The topic for January 19 is Standing Against Hatred.
Stephanie Merkrebs from the Anti-Defamation League (ADL) will be speaking about the recent rise of anti-semitism generally including college campuses. Scroll down for Stephanie's bio. The ADL stands up and speaks out. They are on the front lines to stop anti-Semitism and to bring justice and fair treatment to all. They are working to build a more inclusive world. And they never give up.
Stephanie Merkrebs is an Associate Director of ADL's New York office, where she oversees several programmatic efforts, including organizing programs for Jewish students to learn tools to address anti-Semitism and anti-Israel bias, as well as the ADL New York Volunteer Program. Stephanie graduated from Muhlenberg College in 2013 and is proud to be at ADL ever since. She is currently working towards her masters in Jewish education from Hebrew University.
If you have questions about this event, please email Karen Chapro at socialaction@sstte.org.
Scarsdale Synagogue is located at 2 Ogden Rd, Scarsdale, NY 10583. 914-725-5175. www.sstte.org.
Saturday, January 20, 2018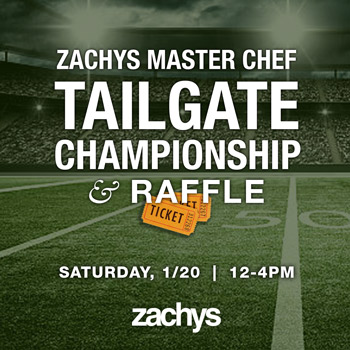 Zachys Master Chef Tailgate Championship and Raffle - Final Showdown
Sat Jan 20th 12:00pm - 4:00pm
Join Zachys this Saturday, January 20th from 12 to 4pm, for our Tailgating Wine and Food Pairing Championship featuring our two victors from the playoffs – Zachys' employees Michael Simkin and Peter Messa. Michael and Peter will be making their best tailgating cuisine, paired with a selection of wines to highlight their dishes.
We want you, our Zachys' clients, to choose the winners. Get to know our knowledgeable staff, learn about their favorite wines and taste their special dishes. We will be providing voting ballots for customers to vote which Zachys' Specialist had the best tailgate dish and pairing, and choose who will be Zachys Master Chef Tailgate Champion.
Who will have bragging rights!? Well it's up to you – the only way to find out is to stop by, meet the Specialists, taste, and vote! That's not all, each customer who votes will be entered into our Championship/Tailgate Showdown Raffle. Your vote will give you the opportunity to win a special prize after the Championship round, to be drawn on Monday, January 22nd. The only way to win is to join us this Saturday, January 20th in Scarsdale and enter to win.
Customer Raffle Prizes (Please note winners will be drawn on Monday, January 22nd)
1st Place: $100 Zachys Gift Card
2nd Place: $50 Zachys Gift Card
3rd Place: $25 Zachys Gift Card
Now let's meet our competitors:
Michael Simkin, Sake Specialist
Dish: Torinokaraage (Japanese Fried Chicken)
Featured Wine Pairings:
426060 Laherte Freres Rose de Meunier NV $49.99
411104 Kanbara Bride of Fox Junmai Ginjo Kaetsu Shuzo $39.99
411105 Konteki Tears of Dawn Daiginjo Higashiyama Shuzo $44.99
414517 Boundary Breaks Riesling Ovid Line North Finger Lakes 2014 $14.99
Peter Messa, Sr. Wine Specialist
Dish: Hellas Sliders
Featured Wine Pairings:
419793 Sigalas Santorini Assyrtiko 2016 $32.99
419326 Crozes Hermitage Alain Graillot 2015 $39.99
423668 La Rioja Alta Reserva Vina Ardanza 2008 $36.99
422623 La Rioja Alta Gran Reserva 904 2007 $54.99
Categories