Weekly View
Sun. 28 Jan, 2018 - Sat. 3 Feb, 2018
Sunday, January 28, 2018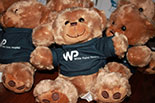 On Sunday night January 28, White Plains Hospital will sponsor their 3rd annual Bowling for Bears charity event at the Bowlmor Lanes in White Plains. Proceeds from this event will go towards providing teddy bears and comfort kits for the Emergency and Pediatric Departments at White Plains Hospital. Charlotte Meyers, junior board executive says, "It's a really fun night where families and kids can come together and bowl for a great cause." The teddy bears are given to the patients who are 4 years old or younger and the comfort kits which contain wiki sticks, a coloring book, crayons, a magnetic bear, and a deck of cards are given to patients between the ages of 5 and 12. The Bowling for Bears event is bound to be a lot of fun and White Plains Hospital is hoping for an even better turn out than in passed years.
Monday, January 29, 2018
Tuesday, January 30, 2018
Wednesday, January 31, 2018
Thursday, February 01, 2018
Friday, February 02, 2018
The series of films focusing on the themes of aging in film continues with "Bucket List" on Friday, Feb. 2, at 1:45 p.m., at the Scarsdale Public Library.
"Bucket List" stars Morgan Freeman and Jack Nicholson as two terminally ill men who escape from a cancer ward and head off on a road trip with a wish list of to-dos before they die. Dr. Steven Hyler, professor emeritus of psychiatry at Columbia University Medical Center, and a Scarsdale resident, will lead a discussion on how individual perspectives have changed since the film was released. Register at the library website or by calling (914) 722-1300. Refreshments will be served.
Saturday, February 03, 2018
Squire Advantage and Squire Sports Camps at Maria Regina High School in Hartsdale is celebrating its 45th year and is the proud recipient of the first ever Westchester Country Inspector Choice Award! An OPEN HOUSE and CARNIVAL is scheduled for Saturday February 3rd from 1-4pm. There will be door prizes, bouncy houses, carnival games and food! Instructors and coaches will showcase their courses and tours will be given. Courses are taught in air-conditioned classrooms by certified teachers. Hot lunch is included and transportation is available. Squire Advantage Primary (grades K-3) and Advantage Choice (grades 4-9) is created for campers who wish to custom design their own schedule by choosing courses in the fields of swimming, computers, sports, fine arts, science, cooking, music and more. There are more than 50 different activities to choose from! Squire Sports Camps are divided into two different sports programs. Squire All Sports Academy (ages 6-15) allows for instructing and playing of many different types of sports throughout the day. Sports include tennis, basketball, soccer, baseball, football, etc. Squire Tennis Academy (ages 6-15) is a fun and challenging tennis experience designed for beginners to experienced players. Squire Camps programs run from June 25th until August 10th, 2018.
Party in the 'Dale!
The Scarsdale Forum hosts its tenth annual membership party, Winterfest 2018, on Saturday, February 3rd at the historic Scarsdale Woman's Club, 37 Drake Road from
7 to 11 PM. (Snow date: Sunday, February 4th from 4 to 7 PM)
Among the highlights of the evening will be the delicious buffet dinner prepared by Plates and the home brewed beers of Bruce Wells, both served in the beautifully appointed music room of the club. Musical entertainment as well as door prizes provided by local vendors add to the festive evening. Home baked desserts in the charming dining room near the library top off the evening for Forum members and their guests. This lively event is perfect for chasing away the shivery winter blues and the conversation is always spirited around the beer and hot dog stations!
The Scarsdale Forum is a charitable organization dedicated to improving life in Scarsdale. The Forum studies many issues affecting the Village and frequently provides input to governing bodies and elected officials on the local, county and state level via reports and statements prepared by its committees. Village of Scarsdale residents are encouraged to join the Forum and come to the best block party in town! All profits from the event support the public programs offered by the Forum throughout the year.
Admission is $40 per person and limited to members and their guests. Due to the popularity of this event, advance reservations are encouraged. Please RSVP by Monday, January 29.
Advanced reservations, membership renewal and joining the Forum for the first time can be done online or by mailing a check to Scarsdale Forum Inc., P.O. Box 86, Scarsdale, NY 10583. For additional information regarding the event, please contact the Forum office by phone at 914-723-2829 or by email.
B. Kathleen Munguia
Winterfest 2018
Special Events Committee
Scarsdale Forum
January 2, 2018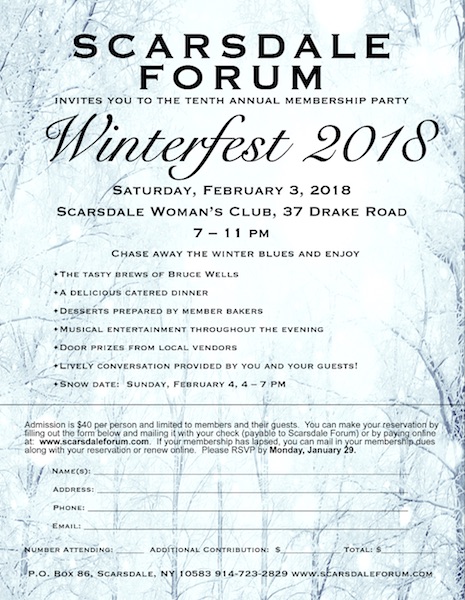 Categories