Weekly View
Sun. 11 Feb, 2018 - Sat. 17 Feb, 2018
Sunday, February 11, 2018
Monday, February 12, 2018
Tuesday, February 13, 2018
Wednesday, February 14, 2018
Not Your Kids Book Club for Adults, the monthly session for adults interested in what young adults are reading, will discuss Akata Witch" by Nnedi Okorafor on Wednesday, Feb. 14, at 1 p.m., at the Scarsdale Public Library.
The novel is the story of a twelve-year-old American Albino living in Nigeria who is a terrific athlete but can't play soccer in the sun. There seems to be no place where she fits in. However, she discovers something amazing—she is a "free agent" with latent magical power. Soon she's part of a quartet of magic students, studying the visible and invisible, learning to change reality as they are asked to catch a career criminal who also knows magic.
Not Your Kids Book Club for Adults is led by Scarsdale resident Sheela Chari, whose debut children's novel, VANISHED, was a 2012 APALA Children's Literature honor book, an Edgar Award nominee for best juvenile mystery and was featured on the Today show with Al's Book Club for Kids.
To register and reserve a copy of the book go to the library website, or call the Reference Desk at (914) 722-1302.
The group will meet again on March 14 to discuss "Jane Unlimited" by Kristen Cashore.
Thursday, February 15, 2018
Scarsdale Forum Presents George Latimer
Scarsdale Forum Membership Meeting February 15, 2018 at the Scarsdale Woman's Club, Speaker: County Executive George Latimer
The Scarsdale Forum membership meeting is scheduled for Thursday, February 15, 2018. It will be held at the Scarsdale Woman's Club, 37 Drake Road and our guest speaker will be County Executive, George Latimer. Refreshments will be available at 7:30 pm and the meeting will begin at 8:00 pm
Friday, February 16, 2018
Saturday, February 17, 2018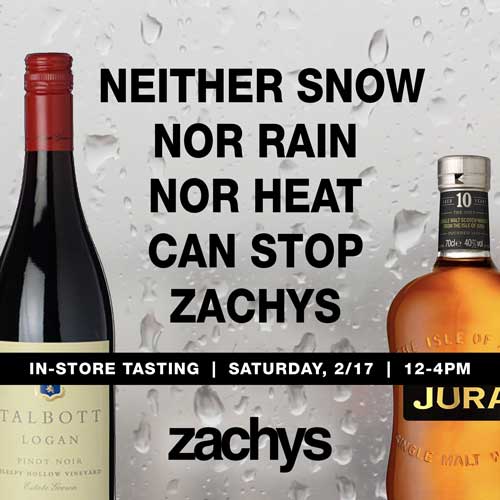 Near 60-degree days, frigid nights, sunshine, rain, sleet, snow - and that's only the forecast through Sunday!

With that many changes in weather over the next few days, how can you possibly decide what to drink? Join us Saturday, February 17th from 12 to 4pm, and let us help you make sense of this ludicrous forecast. For the warmth and the sun, we have Saint Clair's Origin New Zealand Sauvignon Blanc, which, in our opinion, is one of the most interesting New Zealand wines we have tasted lately. Though it still has the typical tropical fruit and gooseberry notes, this wine is beautifully balanced by minerality and salinity that also add an unexpected complexity for the region.

For those moderate days, we will be featuring the wonderful Talbott Logan Vineyard Chardonnay and Pinot Noir, which both over-produce for their value and pair brilliantly with almost any dish you throw at them.

Lastly, for the foggiest, slushiest and snowiest of days, we will have the Scotches from Isle of Jura. On this tiny Scottish Isle, where the deer outnumber the people nearly 25 to 1, there is only one distillery and they have been crafting some of the most complex, diverse, price-driven scotches available in the market. Unlike other regions in Scotland, the Isle of Jura does not adhere to a single style but embraces a variety of peated and unpeated Scotches that are perfect for any palate.

View the list of featured wines on Zachys.com here:

Saturday, February 17 from 12-4pm
Selections for All Types of Weather
"Black is Beautiful," a program of entertaining stories for children in grades K-5 will be held at the Scarsdale Public Library on Saturday, Feb. 17, at 2 p.m. The program is part of the library's celebration of "Black History Month."
Ria Alexander, who notes that when we put all the colors of the rainbow together, we get black, will read stories about Ananse the Spider, and from Aesop's Fables and African Tales.
The week of children's programs begins on Monday, Feb. 12, at 9:30 a.m., with Baby Yoga for Pre-Walkers, a time for parents and caregivers to enjoy a moment practicing yoga with babies who are not yet walking. This yoga class will integrate stretching, strength building, and mindfulness meditation.

At 10 a.m., it will be Yoga Tots, where children ages 2 ½ -5 have fun "playing yoga" by combining traditional yoga poses, props, and engaging songs to build motor skills, confidence, and relaxation skills. Parents and caregivers participate in the fun. Tickets are required and can be picked up at the Children's Room desk half an hour before the start of the program.
Time for Twos, a special program for two-year olds with stories and fun will be held at 4 p.m. This is a ticketed program, limited to the first 20 children to arrive. Tickets can be picked up from the Children's Room desk half an hour before the start of the program.

Library Playdate, a time for free play for children ages 2-5, will be held on Tuesday, Feb. 13, at 10:30 a.m.

At 4 p.m., the weekly Traditional Tuesday Storytime will feature stories and rhymes designed specifically for ages 3-6.

Mother Goose for Walkers Up to Age Two will meet on Thursday, Feb. 15, at 10 a.m. This language enrichment program uses rhymes, songs and stories to stimulate listening, learning, speaking and reading skills. Mother Goose for Walkers is limited to the first 20 appropriately aged children. Attendees must have a ticket which are distributed on a first come, first served basis to Scarsdale cardholders in the Children's Room half an hour before the start of each session.

On Friday, Feb. 16, at 9:30 a.m., it's Baby Free Play when pre-walkers have their opportunity for free play and to socialize.
Categories