Weekly View
Sun. 4 Mar, 2018 - Sat. 10 Mar, 2018
Sunday, March 04, 2018
There will be a blood drive at Scarsdale Synagogue co-sponsored by Shaarei Tikvah on Sunday, March 4 from 8:30 a.m. - 1:00 p.m. NY Blood Center is hosting a blood drive at Scarsdale Synagogue. Sign up in 1/2 hour increments by calling 914-725-5175 or online here. 
Scarsdale Synagogue is a reform congregation located at 2 Ogden Road, Scarsdale, NY 10583. 914-725-5175. Visit the website here. 

Shaarei Tikvah is a conservative congregation located at 46 Fox Meadow Road, Scarsdale, NY 10583. 914-472-2013. Visit the website here. 
Join the fun at our annual Purim carnival on Sunday, March 4, from 10:15 to 12:30 p.m.
10:15 a.m. - Megillah Chanting, Purim Songs and Puppet Show. Bring a box of Pasta to use as a grogger.
11:00 a.m. - Purim Carnival
$10/child ages 3 through Grade 6. Children under 2 are free. Games and fun activities for all!
Live DJ, Purim themed games (pin the jelly on the hamentaschen, Haman bowling, Edible Groggers, King and Queen beauty salon, Duck matching game & more!

Popcorn, Pizza and Drinks available for purchase.
Prizes for best costumes!
Come dressed as your favorite superhero! (or any other favorite costume) There will be 5 best of prizes (best family costume, best costume for under 5, best costume for ages 5-7, best costume for ages 8-10, and best costume for ages 10+).
For more information about other Purim festivities click here. 
Scarsdale Synagogue is a reform congregation located at 2 Ogden Road, Scarsdale. www.sstte.org, 914-725-5175
Monday, March 05, 2018
Tuesday, March 06, 2018
The League of Women Voters of Scarsdale
CANDIDATES FORUM
Tuesday, March 6, 2018*
7:30 - 9:30 pm
Scarsdale Village Hall, Rutherford Hall
1001 Post Road, Scarsdale
Featuring Candidates for
Scarsdale Village Trustee
Come listen to the candidates discuss the issues and answer questions.
*Snow Date: March 8, 2018
Wednesday, March 07, 2018
Thursday, March 08, 2018
Friday, March 09, 2018
The Class of 2019 will be sponsoring the Harlem Wizards Game!
Date: March 9, Friday
Time: 7pm (doors open at 5:45pm)
Venue: SHS Gym
Location: Brewster Road Entrance (across from the tennis courts)
Ticket Prices:
Students (4-18) $15.00
Adult $20.00
Courtside Plus $ 50.00 - Seating includes 10-minute meet-and-greet with 2-3 Wizards, pizza, souvenir lanyard, free team poster and $15 discount on Wizards replica jersey (maximum 50). Arrive at the gym 1 hour 15 minutes before game time.
Special Opportunity to Warm Up With the Wizards! (Maximum 75 kids)
Become a "Wiz Kid!" - Buy Wizards replica jersey and join the players on the court for some pre-game fun! Experience incudes:
Personal introduction to the crowd as a "Wiz Kid" member by our MC
Warm up with the Wizards (beginning 30 minutes prior to game)
Participation in the Wizards grand entrance
Group photo with both teams
Order your jersey(s) online and pick up at the Wizard Souvenir Store when you arrive!*
Sizes: YXS, YS, YM, YL, AS, AM
Prices: Regular $45 (CSP Price $30) CSP refers to Courtside ticket holders. Each CSP ticket holder can buy 1 Wizard jersey for a special discounted price of $30 ($15 discount) If the selected size does not fit, or if your requested size is unavailable, you may change to a different size, or receive a full refund.
Have an old Wizard jersey that no longer fits? Bring it to the game and receive $15 off when you trade it in.
Buy your tickets and jersey online here.
*Children 3 and under admitted free. Limited # of CSP. Tickets are non-refundable.
Saturday, March 10, 2018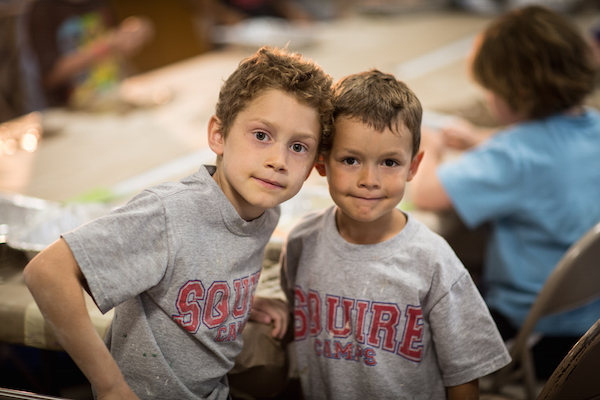 Squire Advantage and Squire Sports Camps at Maria Regina High School in Hartsdale is squirecamps18celebrating its 45th year and is the proud recipient of the first ever Westchester Country Inspector Choice Award! An OPEN HOUSE and CARNIVAL is scheduled for Saturday March 10 from 1-4pm. There will be door prizes, bouncy houses, carnival games and food! Instructors and coaches will showcase their courses and tours will be given. Courses are taught in air-conditioned classrooms by certified teachers. Hot lunch is included and transportation is available. Squire Advantage Primary (grades K-3) and Advantage Choice (grades 4-9) is created for campers who wish to custom design their own schedule by choosing courses in the fields of swimming, computers, sports, fine arts, science, cooking, music and more. There are more than 50 different activities to choose from! Squire Sports Camps are divided into two different sports programs. Squire All Sports Academy (ages 6-15) allows for instructing and playing of many different types of sports throughout the day. Sports include tennis, basketball, soccer, baseball, football, etc. Squire Tennis Academy (ages 6-15) is a fun and challenging tennis experience designed for beginners to experienced players. Squire Camps programs run from June 25th until August 10th, 2018.
Squire Camps
Maria Regina High School
Hartsdale, NY
(914)328-3798
Categories