Weekly View
Sun. 15 Jul, 2018 - Sat. 21 Jul, 2018
Sun. 15 Jul, 2018
Mon. 16 Jul, 2018
The White Plains Democratic City Committee has scheduled a candidates' forum for the candidates for Attorney General on Monday, July 16, at 7:00 p.m., at the White Plains YWCA, 515 North Street in White Plains, in the room there known as the Lower Lounge. Candidates Zephyr Teachout, Leecia Eve and Tish James have confirmed their attendance and Representative Sean Maloney may participate as well. The Scarsdale Democratic Town Committee is co-hosting this forum.
Tue. 17 Jul, 2018
Wed. 18 Jul, 2018
Thu. 19 Jul, 2018
The Westchester Band's free outdoor concerts in Chase Park are celebrating their 49th season.
Concerts will be held on 7/19, 7/26, 8/2 and 8/9 at 8:00 pm.
Concert audiences are welcomed to bring lawn chairs, blankets and picnic dinners.
In the event of rain, the performances will be held at 8:00 PM in the Scarsdale High School Auditorium located on Brewster Road.
Call the Recreation Department for information at 914-722-1160.
The Band members include some of the finest professional musicians and teachers in the tri-state area, with outstanding amateur and student players as well.
The family oriented programs feature outstanding vocal and instrumental soloists. The music ranges from pop to opera, with generous portions of light classics, show tunes, jazz, marches, dixie and big band sounds.
Funding for this wonderful program series is made possible by the Scarsdale Parks and Recreation Department and by the members of the non-profit "Friends of the Westchester Band". You can become a member and donate all year long. Send your contributions to Westchester Band President Jill M. Weiss, 6 Persimmon Lane, White Plains, New York 10605. Feel free to contact her anytime at 914-391-2401.
Fri. 20 Jul, 2018
Sat. 21 Jul, 2018
Summer is flying by as usual, but don't stress. Join your friends at Zachys Saturday, July 21st from noon to 4pm and let us help you relax. They will be showing six summer sippers that will help you pump the brakes and get a bit more enjoyment out of your summer. With wines from all over the world there will be something for every palate and for every meal. For the grill masters it is highly recommend to load up on the fabulous 2015 Super Tuscans such as Sette Ponti's Crognolo and Tenuta San Guido Le Difese, as they have the structure and acidity to tackle the biggest steak money can buy.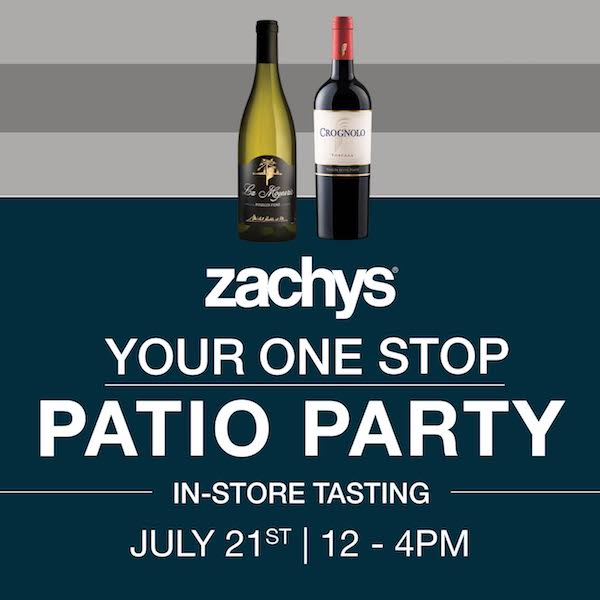 "What is on the market or soon to be released from Top producers of Super Tuscan wines…is very exciting. The 2015 vintage was a warm and generous growing season and produced ripe and juicy grapes…The reds are generous and fruity yet maintain tannin tension and backbone […] the superb 2015 vintage was really no comparison." – James Suckling

Featured Items:
Michel Redde Pouilly Fume La Moynerie 2015
Feudo Maccari Family and Friends Riserva 2017
Craggy Range Kidnappers Vineyard Chardonnay 2015
Louis Jadot Beaune 1er Cru "153rd Anniversary Cuvee" 2012
Sette Ponti Crognolo 2015
Tenuta San Guido Le Difese 2015
Categories
Powered by JCal Pro - the Joomla Calendar