Weekly View
Sun. 22 Jul, 2018 - Sat. 28 Jul, 2018
Sun. 22 Jul, 2018
Mon. 23 Jul, 2018
On Monday, July 23 at 11:30 a.m., Robert the Guitar Guy will entertain young children up to age 5 with his special brand of music. Robert with his repertoire of more than 75 songs conveys his delight in musical expression.


Olmsted Road building, the program will be held at Shaarei Tikvah, 46 Fox Meadow Road. Directions are available on the temple website.

Registration is required and can be found at the library website. The program is limited to Scarsdale residents.

No food or drinks are permitted. Parking is limited to spaces in front of the building.
Tue. 24 Jul, 2018
Wed. 25 Jul, 2018
Thu. 26 Jul, 2018
The Westchester Band's free outdoor concerts in Chase Park are celebrating their 49th season.
Concerts will be held on 7/19, 7/26, 8/2 and 8/9 at 8:00 pm.
Concert audiences are welcomed to bring lawn chairs, blankets and picnic dinners.
In the event of rain, the performances will be held at 8:00 PM in the Scarsdale High School Auditorium located on Brewster Road.
Call the Recreation Department for information at 914-722-1160.
The Band members include some of the finest professional musicians and teachers in the tri-state area, with outstanding amateur and student players as well.
The family oriented programs feature outstanding vocal and instrumental soloists. The music ranges from pop to opera, with generous portions of light classics, show tunes, jazz, marches, dixie and big band sounds.
Funding for this wonderful program series is made possible by the Scarsdale Parks and Recreation Department and by the members of the non-profit "Friends of the Westchester Band". You can become a member and donate all year long. Send your contributions to Westchester Band President Jill M. Weiss, 6 Persimmon Lane, White Plains, New York 10605. Feel free to contact her anytime at 914-391-2401.
Fri. 27 Jul, 2018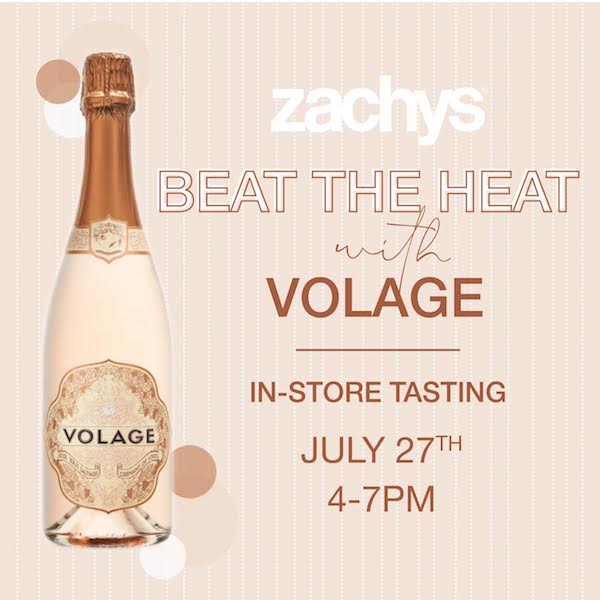 Friday, July 27th from 4 to 7pm, Zachys will be tasting a phenomenal sparkling rosé that rivals some of the best known Champagnes for a fraction of the cost!

Volage Cremant de Loire Rose is produced from a single vineyard site from Domaine du Landreau in the heart of the Loire Valley. This breathtaking sparkling is matured on the lees for 3 years and goes through secondary fermentation in the bottle just as the great wines of Champagne. Upon first inspection you cannot help but notice the vibrant rose color as well as the fresh strawberry and floral notes on the nose. On the palate it is elegant, refined and delicate with tasty minerality and lovely acidity.

At only $27.99 it is a stellar bottle for any occasion.
Sat. 28 Jul, 2018
Magic, Music and Munchies at Scarsdale Synagogue
Saturday, July 28, 5:00 - 7:30 p.m.
Three Stars at Night* Havdallah Program brought to you by the clergy at Scarsdale Synagogue. This is an event for people of ALL AGES!
- Adults will be treated to the talents of Master Illusionist JB Benn
- Kids will enjoy games and sports with Coach Steve
The evening will end with an interactive Havdallah experience.
There is NO CHARGE for this event. Donations are always welcomed.
Light Food and Desserts
- BYO Wine and Beer
- Non-Alcoholic drinks too!
- Cake from Lulu Cake Boutique
PLEASE RSVP: programs@sstte.org
Questions? Please call 914-725-5175 or send an email to programs@sstte.org
*Traditionally, when three stars appear in the sky, Shabbat is over and it is time to recite the Havdallah blessings.
Scarsdale Synagogue is a reform Jewish synagogue located at 2 Ogden Road, Scarsdale, NY 10583.
Visit us at www.sstte.org. Cal us at 914-725-5175.
Categories
Powered by JCal Pro - the Joomla Calendar