Weekly View
Sun. 21 Oct, 2018 - Sat. 27 Oct, 2018
Sun. 21 Oct, 2018
The Scarsdale Parks and Recreation Department will be holding their 67th Annual Halloween Window Painting Program on Sunday, October 21st from 9:00am–4:00pm. All adults and children who reside in or attend public or private schools in Scarsdale in are eligible to participate in this event.

The Halloween Window Painting Contest is open to children in Grades 3-10. Judges will determine a winner from each age group and one overall winner. Prizes will be awarded at a special awards ceremony in November.
The Family Window Painting program is an opportunity for young children and their parents, teens above 10th Grade, or adults who want to show off their artistic ability to participate in this annual village tradition. There are no age limits in this group, and any Scarsdale residing individual, team, or family of up to five members may decorate a window. Family Window Painting is NOT a contest. Participation ribbons will be awarded to each entry.
Deadline to register for the Halloween Window Painting programs is Tuesday, October 16th.

As windows are limited, registration is on a first-come, first-served basis. Please register online here.
For questions, call the Recreation Department at 722-1160
Mon. 22 Oct, 2018
LWVS General Membership and Consensus Meeting on the Proposed Amendments to the Non-Partisan Resolution
Monday, October 22nd, 2018
10:30 a.m. at Village Hall, 3rd Floor Meeting Room
Please join the LWVS on Monday, October 22nd, at 10:30 a.m., for a general membership information session with members of the Scarsdale Procedure Committee regarding the proposed amendments to the Non-Partisan Resolution, the document that governs the nonpartisan election system in Scarsdale. The amendments will appear on the ballot for voter approval at the November 13th, 2018, CNC Election.

All members of the public are invited to attend the information session. A consensus discussion will immediately follow for League members only. At that time, those who have not yet paid annual dues or who are not yet League members can either renew their memberships or can become new members. for more information, please contact Diane Baylor, LWVS Village election system Chair, at VillageElectionSys@lwvs.org.
To join the League of Women Voters of Scarsdale or for more information about the League, please visit our website, www.lwvs.org.
Tue. 23 Oct, 2018
The Scarsdale Education Foundation invites interested parents and community residents to tour the new Design Lab and Fitness Center on Tuesday, October 23rd at 9am and 7pm, and also on Wednesday, October 24 at 12 noon. The tours will also include the new Paver Courtyard at the High School. Participants will meet in the Brewster Road Lobby at the high school. (Additional parking is available at the Post Road entrance.)
The Scarsdale Education Foundation invites interested parents and community residents to tour the new Design Lab and Fitness Center on Tuesday, October 23rd at 9am and 7pm, and also on Wednesday, October 24 at 12 noon. The tours will also include the new Paver Courtyard at the High School. Participants will meet in the Brewster Road Lobby at the high school. (Additional parking is available at the Post Road entrance.)
Wed. 24 Oct, 2018
The Scarsdale Education Foundation invites interested parents and community residents to tour the new Design Lab and Fitness Center on Tuesday, October 23rd at 9am and 7pm, and also on Wednesday, October 24 at 12 noon. The tours will also include the new Paver Courtyard at the High School. Participants will meet in the Brewster Road Lobby at the high school. (Additional parking is available at the Post Road entrance.)
Thu. 25 Oct, 2018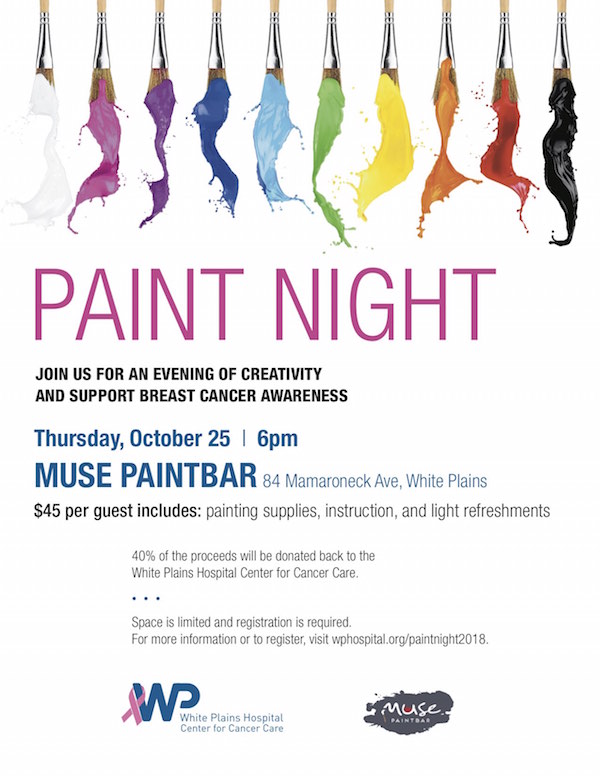 Come support White Plains Hospital's Breast Cancer program with an evening of creativity and awareness at Muse Paintbar.

The cost of attending is $45 per guest. This includes painting supplies, instruction, and light refreshments. 40% of all proceeds will be donated back to the White Plains Hospital Center for Cancer Care.

Space is limited and registration is required. To register please visit, Muse Paintbar.
Contact: Aisling Feighery (914) 681-7160 afeighery@wphospital.org
Location: Muse Paintbar, 84 Mamaroneck Avenue, White Plains, NY 10601
Date: Thursday, October 25, 2018
Time: 6:00 PM – 8:00 PM
Link to website/registration: wphospital.org/paintnight2018 or https://www.musepaintbar.com/events/fundraiser-70339
Fri. 26 Oct, 2018
Sat. 27 Oct, 2018
Categories
Powered by JCal Pro - the Joomla Calendar