Police Report: Firefighters Find Lost Child Knee-Deep in Water
Details

Category: Today's News
Published:

12 December 2018

Written by

Traci Dutton Ludwig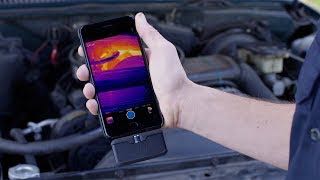 On Dec. 3, firefighters were called to Cayuga Road on the report of a missing 5-year-old child, who had last been seen more than 30 minutes ago. Firefighters used thermal imaging cameras to search the area on foot. They found the boy in a shallow waterway in the village, wet up to his knees. They warmed the boy as much as possible until Scarsdale Volunteer Ambulance Corps arrived. SVAC returned the boy to his house.
Arrest on warrant
Edwin C. Gonzalez, 32, of the Bronx, was arrested on warrant after being detained in Bronxville for an unrelated offense Dec. 5. The warrant, issued out of Scarsdale on Oct. 24, 2018, was for unresolved vehicle and traffic offenses. Following his arrest, Gonzalez was released on $50 cash bail. He was ordered to appear in court on Dec. 12.
Hate Crime
Purchase College student Gunnar Hassard was arraigned in Harrison Town Court for Aggravated Harassment in the First Degree, a class E felony, for hanging posters with Nazi symbolism in areas of the campus. On Sunday evening Dec. 8, 2018, during the Jewish celebration of Hanukkah, the felony complaint alleges that 18-year-old Gunnar Hassard of Oneonta, NY, and a student at SUNY Purchase, hung multiple posters, which incorporated a swastika and symbols of Nazi Germany, on and near the Humanities Building.

The complaint states that the defendant posted multiple flyers on the campus "frequented and utilized by members of the Jewish community…causing alarm, fear and annoyance to the members of the campus community during the Jewish holiday of Hanukkah." New York State University Police arrested Hassard and charged him with Aggravated Harassment, a hate crime which specifically states a person is guilty of this crime when one "Etches, paints, draws upon or otherwise places a swastika, commonly exhibited as the emblem of Nazi Germany, on any building or other real property…"
Identity theft
On Dec. 6, a Fox Meadow Road resident reported unauthorized charges on his credit card.
Criminal mischief
A Jeep was reportedly damaged at Scarsdale High School Dec. 4. According to police, it appears that someone used a blunt object to make scratches on the car's hood. Police are following up.
Domestic matter
A 21-year-old Fox Meadow young man reported that his mother took his prescription medication away from him without his permission Dec. 8. The mother said she took the medication because she was concerned about it and the unknown physician who prescribed it. The young man said it was a new doctor. The young man's parents requested that he leave their house. The medication was returned to the young man, and he left. Police advised the young man he could only return to his parents' house with their permission.
Dispute
A resident of a Post Road group home reported a verbal argument with another resident Dec. 4. Police went to the scene and found everything to be under control.

Help
Police helped a Lenox Road homeowner bring a large ladder into the house after being called to check the house's exterior due to concern over an alarm activation reported by the homeowner Dec. 3.
Police helped lift a person who had fallen out of a wheelchair in a Rural Drive house, in order to assist the person in getting back into the wheelchair Dec. 9. The person was uninjured.
Complaint
A caller on Scarsdale Avenue complained that a fuel delivery truck was delivering gasoline to the Gulf gas station on Scarsdale Avenue and "causing a disturbance to her" Dec. 6. Police went the scene and found both the delivery truck and the caller had already left.
At 1:37 a.m., Dec. 9, a Scarsdale Road resident that a fuel delivery truck was delivering gasoline to the Gulf gas station on Scarsdale Avenue. Patrol advised the truck driver of the designated hours during which deliveries can be made, as per village code.
Leaves
A Brown Road resident reported Axtell Road landscapers were blowing leaves onto her property Dec. 4. Police spoke with the landscapers who said they would try to control the leaves, but they acknowledged it could be difficult to fully prevent any leaves from entering the resident's property, especially during periods of strong wind.
Callers complained about large leaf piles obstructing traffic on Birchall Drive Dec. 8. Police issued a summons to the homeowner who was responsible for the leaf pile.
Civil matter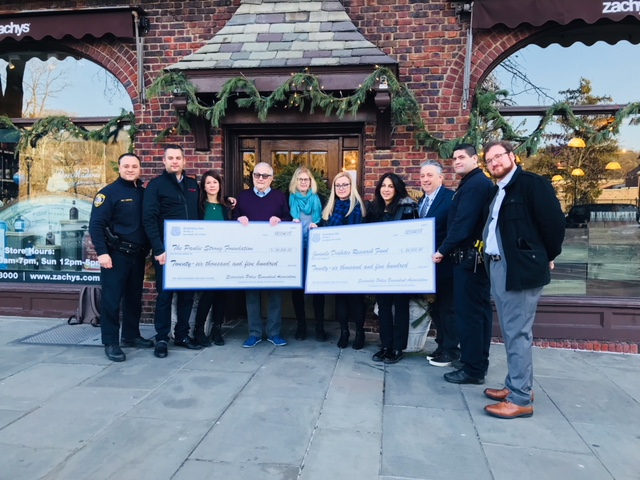 The Scarsdale PBA donated $53,000 to the Paulie Strong Foundation and Juvenile Diabetes Research Fund. Pictured here awarding the check in front of Zachys on December 11. Photo by Jon Thaler
A Bradford Road resident reported a New Rochelle florist has called her over 100 times about payment for flowers used in a bar mitzvah. The resident said she would pay the bill only after receiving proper paperwork about it. The florist said he was calling in an effort to obtain payment but would send his bill by email instead. Police advised both parties that their dispute was a civil matter.
Cars and roadways
On Dec. 3, police issued a summons to the owner of car parking in a no standing zone on Overhill Road.
As a courtesy, a driver moved her legally-parked car away from a resident's walkway on Olmsted Road Dec. 3.
After drivers complained Dec. 4, police notified the highway department about a large pothole on Popham Road.
Police asked landscapers to move their parked vehicles from Mamaroneck Road because they were causing a traffic obstruction Dec. 5.

A truck driver reported hitting low-hanging phone wires on Sheldrake Road Dec. 6. Verizon was notified.
On Dec. 6, a license plate reader alerted police to a car traveling on Mamaroneck Road with a suspended registration, due to its insurance not being in effect. Police conducted a traffic stop, removed the car's license plates and issued the driver a summons.

A Taunton Road resident reported tire marks in his yard, with a light pole knocked down, ostensibly from a hit-and-run accident Dec. 7.

Verizon was notified about a fallen wire at Griffen and Grand Park avenues Dec. 7.

Police removed a broken wire from Olmsted Road Dec. 8.

Police directed traffic around a disabled car on Post Road while the driver waited for a tow Dec. 9.

A bus driver reported hitting a lamp pole on high school grounds Dec. 9. The highway department was notified about the fallen pole and exposed wires.

Six car accidents were reported in the village this week.
Lost and found
A Heathcote Road man reported losing a driver's license somewhere in the village Dec. 4.

A woman reported losing her phone and ID in the Wilgrin parking lot on Palmer Avenue Dec. 7.
Firefighters
According to Fire Chief James Seymour, firefighters responded to 29 incidents during the reporting period. He shared the following narratives below.

On Dec. 3, firefighters assisted with a rollover car accident on the Hutchinson River Parkway.

On Dec. 3, firefighters responded to as fire alarm in a Tunstall Road house. There, they found painters who had been working with a heat gun in the dining room. The painters left the heat gun unattended on a stepladder. The heat gun then fell onto a quilted drop cloth and ignited it. The fire burned the dining room doorway and a door leading into the kitchen. The painters removed the burning drop cloth and heat gun to the rear yard. Firefighters removed the molding and checked for fire extension within the wall. They confirmed there was no extension. Firefighters contacted the homeowner about the incident.

A gas odor inside s Bradford Road house was traced to an all terrain vehicle leaking gasoline in the garage Dec. 5. Firefighters placed an absorbent material on the spilled gasoline and ventilated the space.

A Popham Road resident reported an electrical outlet fire Dec. 5. During investigation, firefighters found an overheated electrical switch. They shut power to the breaker and advised the homeowner to contact an electrician to replace the switch.

On Dec. 7, firefighters investigated a reported natural gas odor inside a Dickel Road house. The housekeeper said when she attempted to light a burner with a handheld lighter, "a flash and small explosion" occurred. She was not injured. Firefighters did not detect any gas leaks or gas odors. Firefighters stood by for Con Edison.

On Dec. 9, an electric dryer vent became detached in a Leatherstocking Lane house. Firefighters advised the resident to have the vent repaired.
This report covering police and fire department activity from Dec. 3-9 has been compiled from official information.

This police report is sponsored by Scarsdale Security who does more than just security. Contact them about remote video for your home or business. Call 914-722-2200 or visit their website.
Add a comment
Edgewood Elementary School to Celebrate Centennial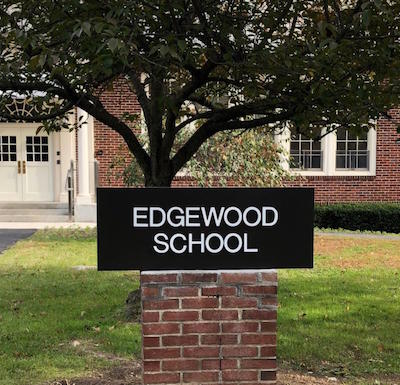 Students, faculty and PTA leadership at Edgewood Elementary School are gearing up for the school's 100th Anniversary Celebration. An assembly will be held on Monday January 7, 2019 the first day back from the two-week Christmas vacation.
According to Principal Scott Houseknecht, the school will "celebrate the rich experience we all share at Edgewood, tell a few stories of Edgewood's past, and share some photos and video footage of memorable events in our history."
Kids are most excited about the opening of a time capsule that was buried 25 years ago at the 75th anniversary of the school in 1994.
Former teachers and students with stories to share are invited to email School Principal Scott Houseknecht to arrange one on one interviews. Email him at shouseknecht@scarsdaleschools.org.
More events are planned throughout the school year.
In February and March kids will be treated to special courses to commemorate the centennial at Edgewood University of the Arts. Kids will enjoy courses like "The Legend of the Edgewood Ghost" and "100 Years of Inventions."
On March 28, the school will hold their Multi-Cultural Fair where parents will display information about their own heritage and focus on what life was like 100 years ago.
An Alumni Weekend is planned for April. On Friday, April 5th from 1:30 - 3:00 pm there will be an open house at the school with tours led by fifth graders who will share fun facts about Edgewood. Students will show 100-year projects to alumni. In addition, there will be an alumni tea at 3pm where alumni can view old photographs and memorabilia.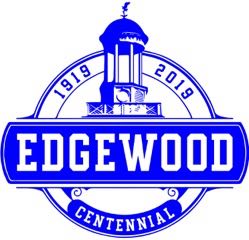 School and neighborhood tours will be offered on Saturday, April 6th followed by a STEAM activity at school for children. At 7pm parents, teachers and alumni will attend the Edgewood Centennial Gala at the Westchester Country Club in Rye.

In May the school will have a planting day for the Edgewood Friendship Centennial Garden, a new perennial garden that will enhance the landscaping surrounding the new library and front of the school. Dedicated to the Edgewood community, including veterans, gardening will be done during school hours on Friday with any carryover work to be done on Saturday morning with parent/child volunteers.
The them of the Edgewood Fair on May 11 will also incorporate the centennial.
Happy Birthday Edgewood!
Add a comment
90th Annual Holiday Sing and Tree Lighting in Arthur Manor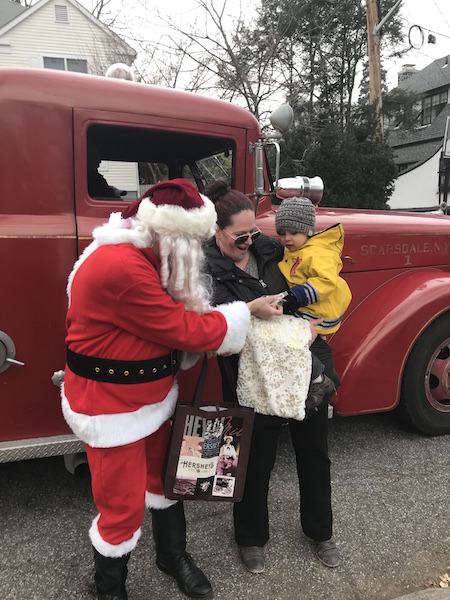 On a bone-chilling Sunday afternoon, December 9th, 2018, the Arthur Manor Neighborhood Association celebrated its 90th annual holiday sing and tree lighting ceremony in Davis Park. This annual event in Davis Park began in 1918, the founding year of the Arthur Manor Neighborhood Association.
The day's festivities began with a brief speech by Scarsdale Village Mayor Dan Hochvert to those gathered in Davis Park about the significance and vital role that neighborhood associations play in the community in Scarsdale. Village Trustee and Arthur Manor resident, Matthew Callaghan, and his wife Georgann Callaghan, were also in attendance and had the chance to catch up with many old and new friends.
The crowd then sang their favorite Christmas and Hanukkah songs which were all magnificently directed by the voice of Arthur Manor's Jeanie Bongiorno. Hot chocolate, brownies and holiday cookies were provided by all of the volunteer residents who pitched in to help out and make the day a special one in Arthur Manor.
Following the group sing, everyone's all-time favorite, Santa Claus, arrived at Davis Park in true style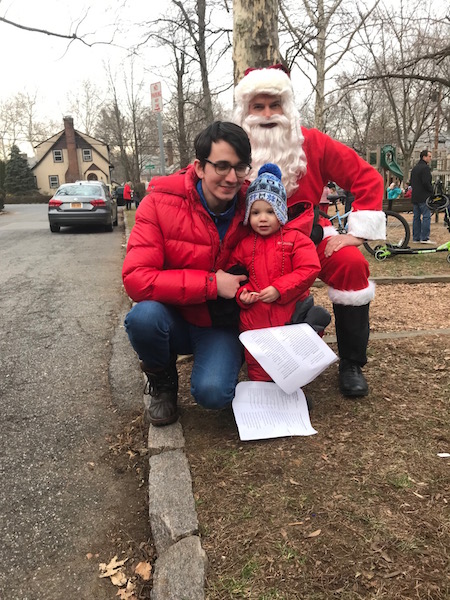 in an antique 1946 Scarsdale Fire Department truck driven by Arthur Manor's own Michael Keating.
After Santa completed his rounds in Davis Park with many photographs taken and all of the candy canes handed out to the children, Santa Claus left the group at Davis Park, departing in Michael Keating's vintage fire truck to visit other holiday celebrations in Scarsdale and beyond.
The day's event ended with the lighting of the Davis Park tree. The tree lights were strung earlier in the week on the Davis Park tree under the direction of Scarsdale's Superintendent of Public Works, Benny Salanitro, and his dedicated Pubic Works' crew.
This year's holiday celebration was sponsored by Heather Harrison of Compass Realty. Heather grew up in Arthur Manor and has many fond memories of this fun filled annual holiday event in Davis Park.
This annual festivity in Arthur Manor's Davis Park is also only made possible by the collective efforts of the many Arthur Manor volunteers including especially the Marcus, Roche, Porco, Bartalos,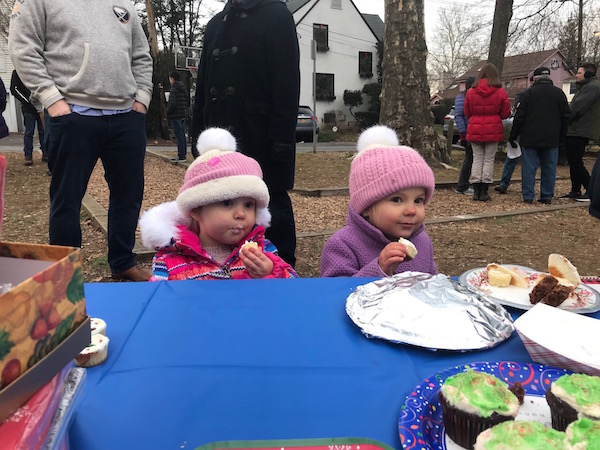 Salazar, Stuart and Bongiorno families, and all of the other Arthur Manor volunteers too numerous to list here. The Arthur Manor Board of Directors wishes to thank everyone who helped to make this year's 90th celebration so special.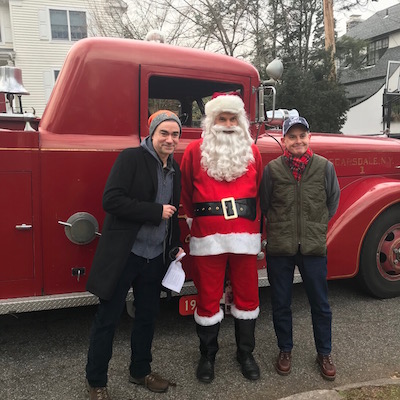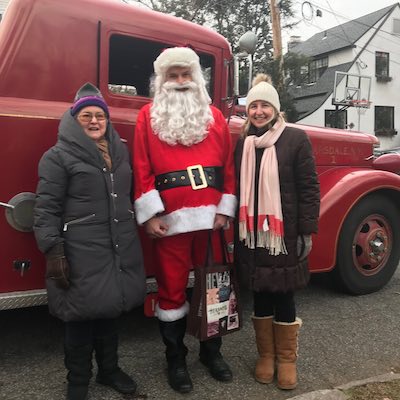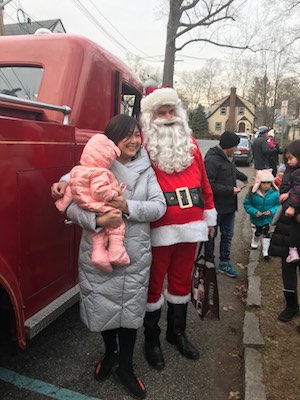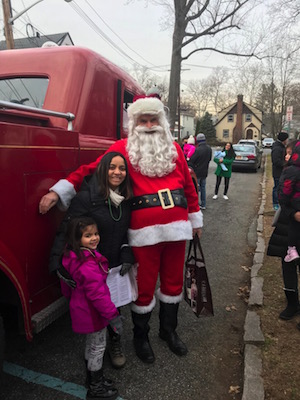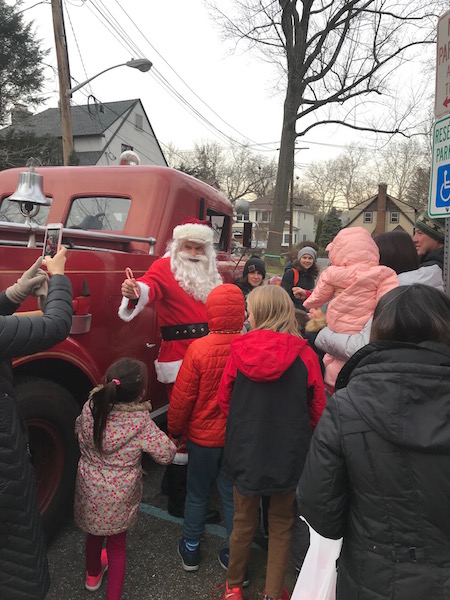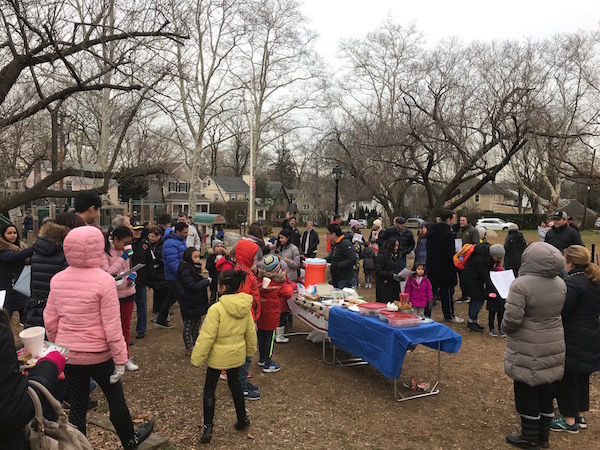 Add a comment
Environmental Hazards Pose Risks to Children in Schools: Speak Up Now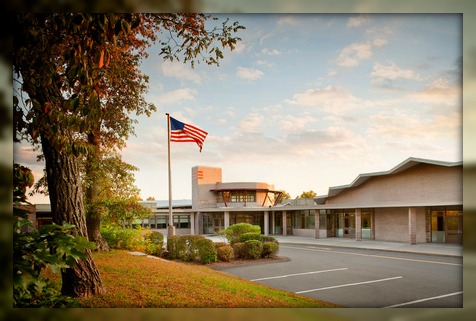 Coleytown Middle School in Westport is closed due to mold.Two news stories from other school districts came to my attention this week -- one involving the complete closure of a middle school in Westport, CT due to mold --and another about lead in the water in schools in Detroit, Michigan.
Why is this relevant to Scarsdale? Read below:
From the Westport News, "After a two-year saga fighting mold strung along while students remained in class, Coleytown Middle School will now be shuttered for the remainder of the year. The relocation of 450 Coleytown students grades six through eight first appeared to be a temporary fix but has now become a permanent solution, according to officials. "
Another story explains, "It's more than 50 years old. It was built hastily, to house the postwar baby boom generation that was flooding Westport schools. A major renovation in the 1990s made its hallways more navigable, its curves less quirky and its classrooms more pleasant.
But it's tough to fight mold.
Westport is in the first phases of deciding what to do with Coleytown Middle School. Experts are still trying to identify the causes of physical symptoms experienced by students and staff. Reports will be followed by debates. District administrators, the Board of Education, Board of Finance and the public — particularly parents — will weigh in. Can — and should — the school be renovated? Torn down? Meanwhile, what will happen to sixth through eighth graders, who currently share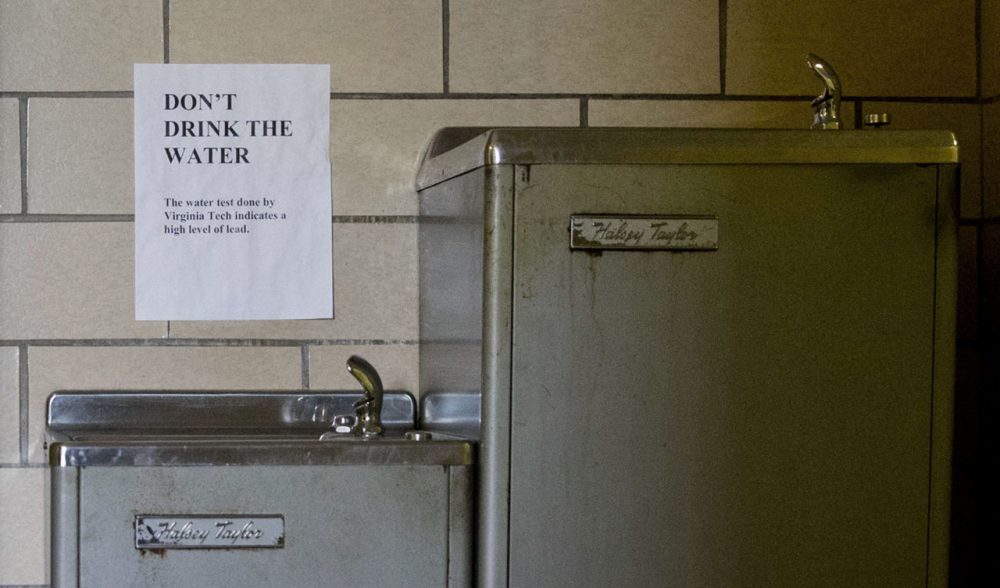 Water fountains at Detroit Public Schools are dry due to lead.Bedford Middle School and Staples High?"
Concerning school water quality, on November 15, in a story titled, "Not Far from Flint, Contamination Has Left Detroit School Taps Dry," the New York Times reports all the water fountains were turned off in Detroit Public Schools in August after testing revealed elevated levels of copper and lead in drinking water at some schools. The article goes on to say that the problem in Detroit may be due to aging pipes, and explains, "Joints and other plumbing components often contain metals that can leach into the water over time."
Why does this all sound familiar and why is it relevant to Scarsdale?
The Greenacres Elementary School, now more than 100 years old, will soon undergo a $28 million renovation. The school has aging plumbing and recurring outbreaks of mold. However the renovation does not include plans to replace the water pipes in the old building. Lead filters will continue to be required on fountains and faucets with elevated lead levels as it's too expensive to open up the walls and replace the pipes. *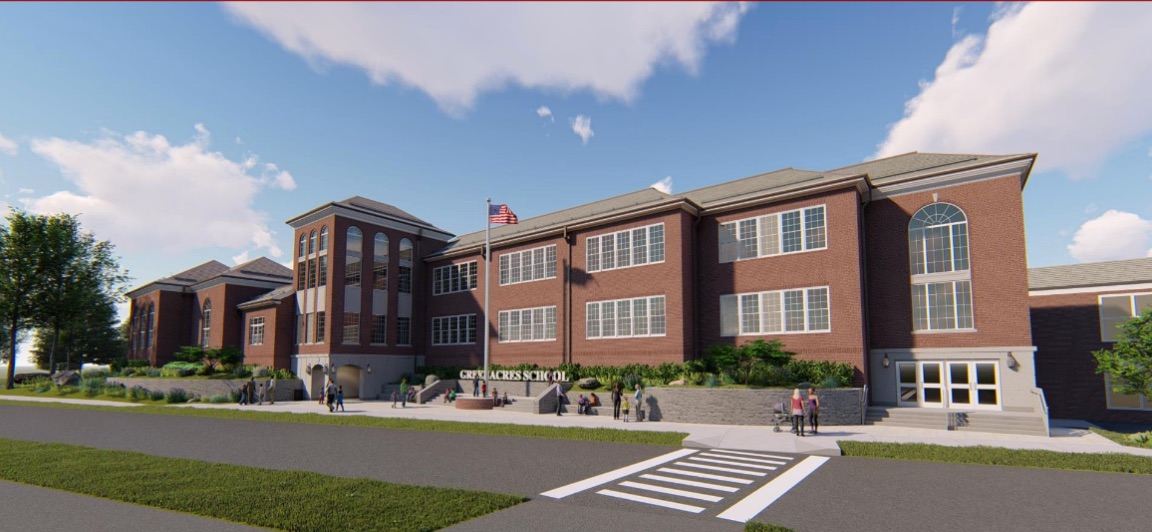 A $28 million renovation is planned for Greenacres. Have environmental issues been adequately addressed?
What about the mold? Efforts will be made to improve ventilation and dehumidify the basement, but the majority of the old building sits on a dirt foundation described as a crawl space, so it's unclear how new ventilation will reach this space and reduce mold growth underneath the school. Air conditioning was promised for the eight new classrooms, however it is not listed on the documents provided by the district.
We asked Assistant Superintendent Stuart Mattey what will be done to address these issues during the renovation and his answers are below. Unfortunately he did provide a direct answer to some of my questions and rephrased others and answered his own questions. The environmental reports he cites for air quality are from 2015 when mold was found in Greenacres. Mold has been found again since that time. The water quality report is from 2016. The problems still exist.
Here are the questions I asked:
What is being done to address the dirt crawl spaces underneath the building that have mold? What short-term and long-term solutions are incorporated in the construction to address any current or future mold from these high moisture areas?
Given the presence of lead in the water, what, if any, pipes will be replaced? For any pipe not being replaced, what's the short-term and long-term solution for water quality at the school?
(Please provide the) Most recent water quality reports for Greenacres
Ventilation: What will be done to improve the air quality in the old classrooms, the library and the gym? These rooms get too hot and damp in the warmer months.
Sustainability: what is specifically being done to make this century old building greener, cleaner and more energy efficient? How is the district sustainability committee involved in this process?
Parking and traffic plan. Prior to the bond vote Dr. Hagerman announced the district would work on a parking and traffic plan for the school. If this plan has not been completed, please provide a timeline for completion. The plan should include the current proposal to use the kitchen at Greenacres to transport food to other schools and parking for food service employees.
Here is his response:
Here is what I received:
"Dear Joanne: Thank you for your continued interest in the Greenacres project. You may find it reassuring that most of the issues you bring up were in fact studied, reported on, and thoroughly discussed by the Board and community members at the time the Bond Scope was determined. The items that were approved as part of the bond scope by District residents last February are indeed the items that will be included in the project specifications and eventually built as part of this project. All bond reports and environmental reports are available on the District website."
For example, the question of mold was addressed in detail in a comprehensive report on air quality, which may be accessed here:
(Editor's note: The link is to a 2015 report. Mold was found again in 2017. There is no mention of the mold emanating from the dirt crawl spaces that are the foundation of the old building.)
Concerning water testing, the District has been most diligent, as can be seen in this report:
As was announced earlier this year, updates on environmental testing will be reported at regular intervals throughout the year at Board meetings.
(Editor's Note: This link is to a report from 2016. There is no mention of the lead filters on the drinking fountains and sinks)
Ventilation was thoroughly addressed in the Bond Scope:
Here's an excerpt regarding this type of work at Greenacres:
Air Quality/Health Related
Install new unit ventilator system to improve ventilation in classrooms
Install commercial-grade dehumidification system for basement rooms; tie condensate to the sanitary system
Replace old boilers and burners that have exceeded their life expectancy
Abate and replace VAT flooring and Install roof (attic) insulation
Relocate drinking fountains
Improve drainage at window wells
Paint corridors, multi-purpose rooms, and the gymnasium
Sustainability issues were addressed under Frequently Asked Questions:
5. HOW ARE SUSTAINABILITY CONSIDERATIONS BEING ADDRESSED IN THE PROPOSED BOND SCOPE? The District's architecture and engineering consultants, BBS Architects and Engineers, intend to employ many eco-friendly principles when developing construction plans, both in materials selection and interconnected component design. For example, new materials would be low VOC (Volatile Organic Compounds) and sustainable products, including adhesives, sealants, paints, coatings, flooring and wood products (casework and furniture). All new lighting will be high efficiency LED with vacancy sensor controls. All new heating and ventilation equipment will be high efficiency and provide for energy recovery where feasible. For the Greenacres expansion, projects will be designed following LEED (Leadership in Energy and Environmental Design) and CHPS (Collaborative for High Performance Schools) best practices and principles.
Parking and traffic concerns were also addressed under Frequently Asked Questions:
14. WHAT IS THE ANTICIPATED TRAFFIC IMPACT AT GREENACRES DURING CONSTRUCTION AND AFTER ALL WORK IS COMPLETE? WILL ANY CURRENT TRAFFIC PATTERNS BE CHANGED? A State Environmental Quality Review (SEQR) performed by J.C. Broderick & Associates, Inc., an environmental construction and testing company, has determined that construction at Greenacres will not have a significant adverse impact on traffic. As is the practice with all the other elementary buildings, at Greenacres, the District is working closely with the Village of Scarsdale and the Scarsdale Police Department to continue to identify effective ways to help traffic move smoothly for parents during drop-off and pick-up times.
As a matter of fact, I believe the Village just received an award for their work in this regard.
(Editor's Note: There is no mention of the loss of parking spaces, parking issues due to the increased number of employee cars working in the cafeteria, nor a discussion of the food trucks on Sage Terrace that will bring food to Greenacres and ferry meals back and forth to Fox Meadow School.)
As a reminder, all these documents and many, many more can be found in the Facilities and Grounds section of the website:
Sincerely,
Stuart P.G. Mattey, Assistant Superintendent for Business
Clearly it's uncomfortable and unpopular in Scarsdale to speak of environmental hazards like mold and lead in our schools, but there is no denying that they pose a threat to children now and in the decades to come. When we look at what's going on around the country, it's evident that you can't wish these problems away.
In my view, parents, neighbors and environmentally conscious residents should ask more questions and request a full and transparent environmental assessment of the existing building to find out if these issues can be adequately addressed in the upcoming renovation. Before taxpayers spend $28 million on a shiny new cafeteria, we should find out what it will cost to make Greenacres a safe, clean school. We don't want to spend money renovating now, before we have assurances that mold and lead will not cause big problems down the road.
Let's learn a lesson from Westport and Detroit. According to Dr. Hagerman, architects plans to submit the project to the State Education Department for approval within weeks, so action should be taken now.
* An April 2015 feasability study from former district architects KG&D said this about the school:

Ground water intrusion & high water table – The northern corner of the building has a lower level that routinely has odors and other evidence of some water intrusion. Despite several attempts at repairing the condition there does not seem to be any easy answer to this problem. It is likely the result of a high water table which varies seasonally and has many sub‐surface points of entry into the aging structure. With moisture penetration likely coming from under slabs and through walls that are significantly below grade it is difficult to imagine a cost‐effective method of repair. The condition could be made more tolerable with improved ventilation and air conditioning but will still require monitoring and could continue to make this portion of the building uncomfortable or inappropriate for student use. This area is currently used for Art, Music, Instrumental Music, Art Storage and mechanical support spaces.

Aging systems – The school did experience the collapse and failure of the main sewer pipe that exits the building a few years ago. This type of failure can be very disruptive and costly to repair in an emergency situation. Given the age of the building and the expected useful life of building materials and systems these types of failures are likely to continue. As a result the long term recommendation is to completely replace all of the original piping and plumbing systems that have not already been updated.
Add a comment
Trustees Agree on Village Code Changes Regarding Gun and Vape Sales in the Village
Details

Category: Village Voices
Published:

12 December 2018

Written by

Joanne Wallenstein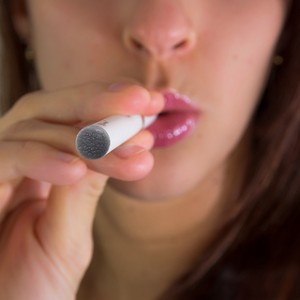 What can we do in Scarsdale to diminish the presence of guns and safeguard kids against the dangers of e-cigarettes, also known as juuling or vaping? As we read troubling accounts of shootings throughout the country and reports of kids vaping in school, directly under the noses of their teachers, our local government has proposed some changes to our Village code to restrict the sale of guns and e-cigarettes in Scarsdale. Though the risks are ever present, at least these two proposed code changes will make it more difficult to secure guns and juul pens in town.
There are no outlets currently selling guns in Scarsdale, but vape pens are currently sold at 7-Eleven, at Five Corners Stationary on Palmer Avenue and at the gas station at the corner of Post and Crane Roads.
Village Trustees met on Monday night December 10 to review the propose code and came to consensus on the following proposal. Under proposed revisions to Village code, shops selling guns would be limited to the retail area around Garth Road (VCR 1.0 District) and could not be closer than 250 feet to places where children are present such as schools, nursery schools, day care centers, playgrounds or houses of worship. This law will regulate the sale, delivery or transfer of firearms and ammunitions as follows:
The provision will also regulate the manner in which guns and ammunition are sold and stored, requiring the following:
-All ammunition shall be kept in a locked case or behind the counter in an area not accessible to the public
-No firearms shall be stored, exhibited or displayed in windows
-All firearms shall be located in a locked display case, counter or storage area with no access from the public. The keys or codes to such areas shall not leave the control of authorized personnel.
When the store is closed:
-All firearms shall be stored in a locked fireproof safe or vault located at the business.
-All firearms must be secured by a hardened rod or cable of at least ¼" in diameter and shall be secured with a hardened steel lock that has a shackle. The lock and shackle shall be protected or shielded from the use of a lock cutter and the rod or cable shall be anchored in a manner that prevents the ready removal of the firearm from the premises.
-The store must have an alarm system and surveillance cameras that are operational when the store is open and closed. Surveillance footage shall be retained for six months.
Under the new law, the sale of E-cigarettes and components would also be regulated to put some distance between sale locations and sites where children are present.
The code would prohibit the sale, transfer or delivery of electronic nicotine delivery systems (ENDS) or ENDS supplies such as e-liquids, atomizers, cartridges, and flavoring within 1,000 feet of:
-Any public or private school
-Nursery school
-Day care center
-House of worship
-Youth center, playground
-Park
-Library
-Arcade
It also specifies that any locations selling ENDS or supplies cannot display them in the store window and cannot be accessible inside the store without assistance.
Village Staff is finalizing the proposed code and a public hearing will be scheduled at an upcoming meeting of the Village Board to invite feedback from the public.
Add a comment
Social Media Threat Heightens Awareness of School Security
Details

Category: Shout it Out
Published:

12 December 2018

Written by

Jordy Love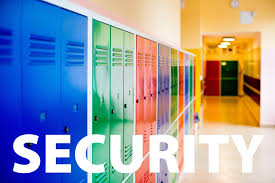 This is the opinion of SHS Junior Jordy Love: Following a peaceful Thanksgiving Scarsdale residents were shaken by rumors of a specific threat to a high school student.

On Saturday evening November 24, a Scarsdale High School student received a threat via social media. That student's parents alerted both the Scarsdale Police Department and the high school. This threat included gun violence and included the personal address, and phone numbers of the student and the student's family.
The Scarsdale Police Department began investigating the origin of the threat. The School Principal Kenneth Bonamo alerted the Scarsdale High School community in an email on Sunday morning. Because the threat was made towards an individual and was not a general threat, he said that school would continue as scheduled with extra police presence added as a precaution the following day. However, later on Sunday evening students and parents received another email from the school that said that the social media post also mentioned bombing Scarsdale High School. As a result of the bomb threat, the Scarsdale Police Department had the county bomb squad do a sweep of the entire high school on Sunday night and continued to monitor the school building throughout the night until school opened on Monday morning. School proceeded on Monday without incident.

These events, although unsettling, demonstrated strong cooperation between the Scarsdale Police Department and the high school to address student safety.
But in my view, cooperation is not enough. Although these posts were later discovered to be "jokes" by those trying to gain popularity for an Instagram page, the threat to the individual and our community was terrifying. In this day in age, with gun violence and threats to schools constantly plaguing our country, it is important that all communities develop a comprehensive approach to keeping students and staff members safe.

After the shooting at Parkland High School last year, in addition to the multiple mass shootings across the country, students nationwide expressed frustration over a lack of government intervention by participating in the March for Our Lives movement. Marches were organized in cities across the US and internationally to promote gun violence awareness, support gun control and encourage people to register to vote in order to demand change. In light of the lack of government progress on gun control, I believe we need to find other ways to make schools across the nation safer.

Districts all over America have already begun to have security upgrades installed throughout their schools. Cameras and doors with electronic locks seem to be the priority. Unfortunately most districts still believe that a school shooting will never happen in their community. Schools tend to be reactive rather than proactive. Most school shooters showed signs or spoke to others about what they were going to do and little to nothing was done to intervene before it was too late. Districts need to make more counselors available for students. Staff needs to be more involved with situations and notifications amongst each other. Schools need to do more to truly provide safe environments.
According to Chris Cooper, CEO of School Safety and Security Solutions, "We have met with many districts that have spent very high dollar amounts with little return on prior security and protocols. One district told us they spend millions a year in security and have no idea what they get. Our company was formed because nothing seemed to change. We have former law enforcement, secret service, retired SRO's, psychologist's and professors involved within our company to provide a very broad approach to helping secure schools beyond just cameras and locking doors. What we find most is that schools are no better prepared for any type of emergency situation. Most teachers are taught to wait for further instructions after an event unfolds. The planning stage usually consists of a small group and anyone outside it doesn't really know what to do. Lockdown drills are done with what a teacher thinks may work best rather than actually shown what is best. Some districts do not even include local law enforcement in the emergency planning strategies. Providing safer schools starts with the people in place already. See something, say something goes a long way. Offering anonymous ways to provide information is very helpful. Bringing awareness to students and their parents is also very helpful as we firmly believe in this approach. None of these events happened when the shooter woke up and decided to do this spur of the moment. They were all planned and discussed. When Parkland happened, the shooter was known even before proven by most everyone in the school. Even the FBI was contacted in regard to things he posted and nothing was done. We have our own campaign: Be Safe, Not Sorry… Reporting something saves lives plain and simple. In todays world we no longer have the luxury to just sit back, we all need to be more proactive to create safer schools."
Fortunately, we live in a community that is committed to keeping students and residents safe. Scarsdale residents are largely unaware of the work that District and Building Safety committees is doing to respond to concerns of teachers and parents, to plan for possible issues and to conduct emergency drills.
This year, the Scarsdale Schools contracted with security and safety management firm Altaris and we now have a full time Director of Security on site. They have taken many steps including (but not limited to) reviewing and revising emergency plans and protocols, training employees and conducting drills. Last February, the community approved a $65 million bond and some of those funds will be used to construct security vestibules at the five elementary schools and enhanced security cameras at all of the schools.
Other security improvements in the works are panic buttons at the security stations, motion detectors that work in conjunction with the alarm systems, high functioning PA systems, required school personnel IDs, and many others.
Let's hope that these measures are enough to keep us all safe.
Add a comment
Brave New World: SMS Sixth Graders Pilot 1:1 iPad Program
Details

Category: School News
Published:

11 December 2018

Written by

Joanne Wallenstein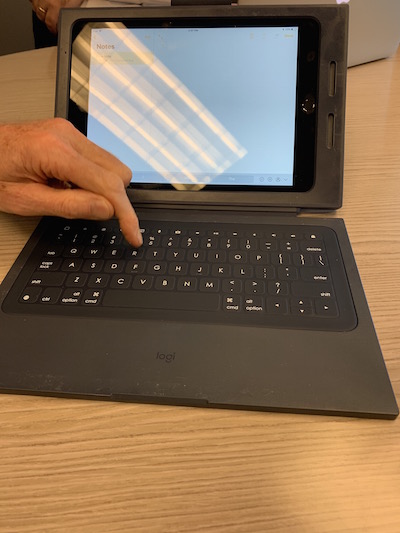 With the purchase of 399 iPads for the sixth grade class, Scarsdale Middle School is adapting to a new teaching style that incorporates technology into all parts of the learning process.
This year's sixth grade class is the first where each student was given their own device that they use in school and out; in the classroom, for homework and even in art class. In prior years students had access to ipads, MacBooks and Chrome Books that were stored on carts in the classrooms. Kids could use them in class, but were not able to store their own work or use the devices at home. But according to the schools website, this year's 1:1 iPad initiative "provides students with opportunities to develop as users of computers and related resources through work toward a variety of learning outcomes and assured digital experiences."
Before making this change, the school's technology team embarked on research to see which devices should be purchased and how they were being utilized in other districts. They went on five site visits to districts like White Plains and Briarcliff Manor who had already implemented similar programs.
After considering what they saw they decided to purchase iPads with detachable key boards that when closed, form a protective cover on the screen. Though students can write on the screen using a stylus, the school has not supplied these this year, but students can purchase an Apple pencil or a Logitech crayon. A major benefit for students is that now all students have 100% access to the same devices. Previously, teachers heard that kids might not have a computer at home or might be sharing one with other family members, posing challenges to doing homework. Now that each student has their own machine they have unlimited access to their work.
Both students and faculty needed a lot of preparation for the move. Teachers received weeks of training as they needed to learn how to upload assignments and resources to the iPads and how to use them as teaching tools. The school offered STI courses, summer training and used faculty meetings as opportunities to offer training on using the devices.
Though the devices were distributed to students on the first day of school, they were kept in school for the first few weeks and did not go home until the kids had been briefed on handling, responsible use, charging and proper internet access. They learned how to access their assignments online, access resources, complete their work and "hand it in" to the teacher online. It is hoped that this new program will teach students to be responsible digital citizens now and throughout their lives. The school has the ability to monitor internet usage on the devices which serves to deter students from going places they should not. Furthermore, students cannot download apps onto their iPads – that can only be done by the school. No messaging or games are available on the devices.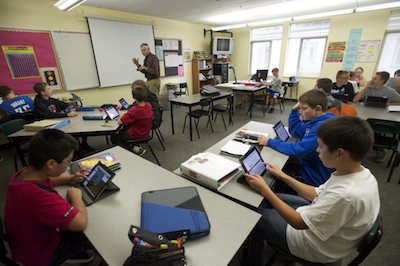 Parents who are used to seeing homework on handouts had many questions about the integration of the device into the curriculum. Some found that their kids were having difficulty doing math homework or writing on the screen. Others were concerned that if kids did not have internet access they could not do their homework. Others were having difficulty with scheduling and due dates.
To find out more, I met with the Jerry Crisci, the school's technology team and SMS Principal Megan Troy and here is what I learned. Not everything needs to be done on the iPad, and Principal Megan Troy emphasized that paper can be used where preferred. For instance, if students are having trouble doing math problems on the screen, they can print out their assignments, do them on paper, take a photo of the completed assignment and submit the photo to the teacher.
Another parent expressed concern about kids' ability to do homework online – without the benefit of a textbook or resources in hand. Technology teachers Doug Rose and Mike Pincus explained that the iPads do have split screen capabilities to allow students to refer to resource as they work on their assignments.
If kids know that they will be out of the range of internet service, they can download their assignments in advance and complete them on their machines.
What about taking notes? Is that a skill for the past? Apparently not. Though sixth graders are not usually developmentally up to taking notes, they can take notes using "Notability" and even mark up their virtual outlines. Teachers can access students' notes and work and project them to the screen to share with the class. For example, for math problems, teachers can see how students are solving a particular problem and project the varying approaches with the class to compare.
The iPads are configured with a suite of apps and applications that kids will learn to use and will enhance student work. The machines include internet access via Chrome, presentation software Keynote, music composition software Garageband, spreadsheet, chart and graph software Numbers and much more. With applications like Google calendar, word processing software and video software, kids gain proficiencies that they will use for a lifetime. Check out what's available here:
I asked if the kids are having trouble holding onto their iPads, keeping them charged and in good order. The school has the equivalent of a "Find My Phone" app and is able to locate any missing devices. Though there have been a few cracked screens, casualties have been lower than expected. Those who leave their iPad at home, can go to the help desk in the morning and get a loaner. In fact the iPad Tech Support Desk is available to students to help with both the physical machine and issues with usage.
The school is fortunate to have two full time computer teachers who provide tech support to faculty and kids. Without them, the iPads may not have been used to their full capacity. Parents with questions about the iPad can email computer teachers Doug Rose or Michael Pincus for help.
Though it's too early to fully evaluate this new program, the school is gathering feedback and fine-tuning the program based on user experience.
What do your kids think of the new iPads? Enter your comments below.
Add a comment
Maria: Home Cooked Italian in New Rochelle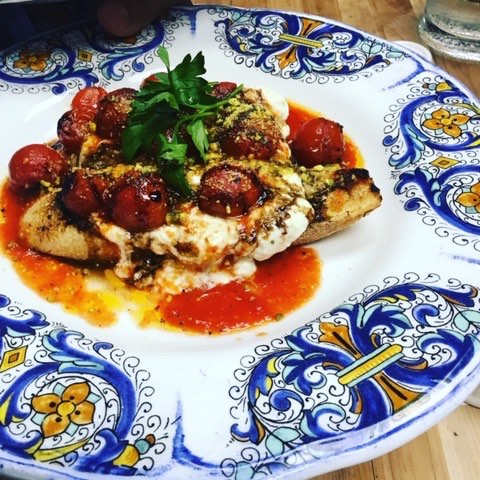 "Maria", I just discovered a restaurant named Maria, and it is quickly becoming a favorite. I had the pleasure of chatting with the hospitable Giovanni Cucullo, the co-owner and chef at the new Maria in New Rochelle. He and his brother Peter have been feeding guests on Huguenot Street in New Rochelle throughout the day. You can enjoy breakfast, pastries and coffee and lunch at Pop's Espresso Bar, wood fired pizza, pasta and light fare at Fratelli Pizza and Pasta, next door and in the corner space, on the same street is their latest project, Maria, a casual fine dining establishment with classic and innovative dishes at lunch and an ever changing menu at dinner. It has a bistro feel where its comforting atmosphere welcomes everyone.
The space, like the menu, combines modern elements as well as traditional ones.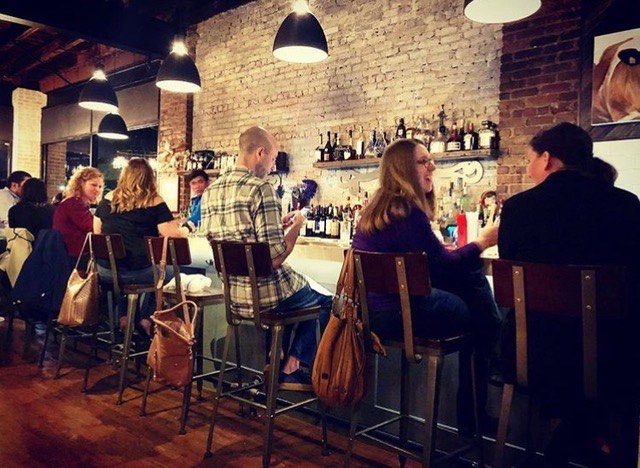 The white marble bar, with bar stools and high tables is separated from the dining area, by a partition, where you note the striking bright blue tufted banquettes and tables. Antique mirror, white exposed brick, interesting lighting and exposed beam ceiling all combine with eye catching family memorabilia such as photos, items from the Cucullo's childhood kitchen, vintage trays and even an old espresso pot all add to the coziness of Maria, named for the mother of the owners, Giovanni and Peter Cucullo. Yes, their mother Maria was an excellent home cook, who inspired them and shared her culinary talent with them. Upon chatting with Giovanni, I learned that he grew up around food. From early childhood, he helped out in the family pizza restaurant in The Bronx and at Fratelli, when they moved to Westchester. He then spread his wings and managed several high-end spots in Manhattan and San Francisco where he continued his culinary education.
He describes Maria as new Italian. "It is important for a restauranteur to have patience and empathy for his guests as well as his staff. You need to be part psychologist in this field. The best part of this business is relating to the guests and watching our staff grow. Our goal is for longevity as Maria evolves. We listen to our customer's comments and suggestions. "I asked Giovanni whom he would like to share a table with at Maria. His reply was Shakespeare, Leonardo Da Vinci and John F. Kennedy. Wow.. With each an artist in his own field it certainly would make for interesting conversation.
As we checked out the menu we nibbled on some country bread and olive oil topped with grated cheese and hot pepper flakes. With a dinner menu that changes daily, it is exciting to visit Maria often. As our food started to arrive, I just loved the china plates our meal was presented on. They were his Mom's china. Once again, the modern combined with the vintage. How nice to feel the memories of you childhood kitchen, as you embark upon the future.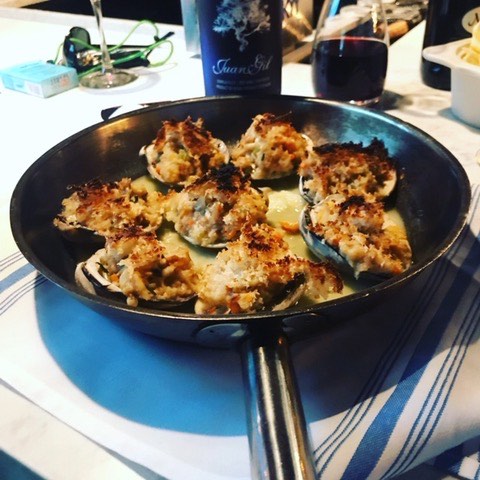 Appetizers here are varied from classic to innovative. We started with Mom's meatballs. These baseball sized treats were a mix of beef, veal and pork. They sat in a pool of house made chunky tomato sauce. Clearly, as the menu indicates, they are prepared with pomodoro and love. It is a dish that the Cucullo brothers grew up on.
I'm glad that Giovanni paid attention when his mom cooked. The real deal baked clams were another must have. Four large clam shells were filled with fresh clams, enough bread crumbs to hold them together and a touch of pork fat for added flavor. A squeeze of fresh lemon juice, and the clams were just great. Shrimp Diavolata reminded me of the Latin garlic shrimp. Here, large, tail on shrimp combine with garlic, marsala wine, arbol chili and thyme for Giovanni's version of garlic shrimp. Served in an individual metal pan it was sizzling and delicious. We used the country bread to absorb every bit of the fragrant sauce. Another appetizer, this time with a Greek influence was the excellent lamb crocchette. This large croquette was prepared with shredded lamb and braised chopped vegetables and was crusted with panko. It sat on a bed of Greek yogurt and garnished with a tangy mint chimichurri sauce. The flavors were well paired. Future appetizers may include grilled fennel sausage, Maria's big salad, or escarole and beans. For sharing, your table might enjoy a veggie board, with raw, pickled, marinated and grilled items, or a salumi board of meats and cheeses. Keep in mind, my selections were from a menu in early November. The menu changes daily.
We then perused the pasta selections. Gnocchi, rich and delicious was bathed in an oxtail ragu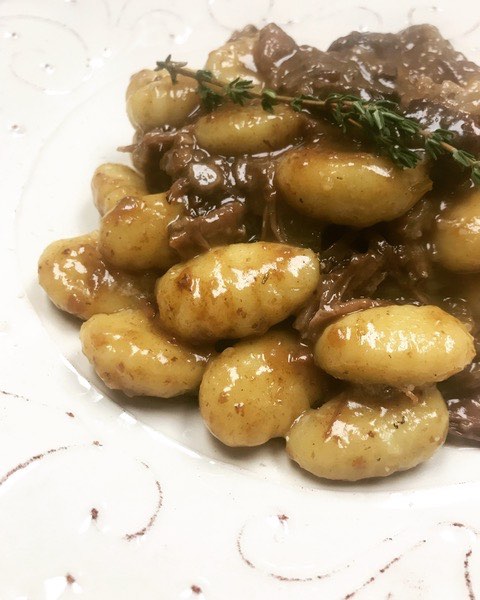 enriched with porcini mushrooms, marsala wine and cheese. A large bone with some meat still intact shared the plate in the event.
You don't mind getting a bit messy while dining. We also sampled black linguine rich with calamari rings and shrimp, tossed with that divine tomato sauce and some chili crumbs. Awaiting future visits are whole wheat fusilli with roasted eggplant and smoked mozzarella, cavatelli with broccoli rabe and maccheroni in Sunday sauce with meatballs and sausage. Main dishes ranged from seafood, poultry and meat. We loved our seared sea scallops with tomato farrotto and porcini agrodolce and gigante beans. Scottish salmon trout grilled to my taste, was simply delicious. Bacon wrapped monkfish, grilled pork chop and charred octopus sounded appealing, as well.
For dessert, the specialty of the house is the danoli- a combination of a donut and cannoli filled with cannoli cream, Nutella or berries. Cordials, wines and craft beers are available to accompany your meal.
If lunch is your meal of choice there are salads, jasmine rice bowls, farro chickpea bowls, a selection of sandwiches and choices from the dinner menu. From Monday through Saturday, from 3 pm to 7pm, a happy hour with wine, cocktails and killer bar snacks is offered.
Enjoy a meal at the charming and welcoming Maria, where classic dishes mingle with innovative ones for a tasty dining experience.

Maria
11 Hugenot Street
New Rochelle
914-636-0006
(Recipe)
Pasta With Eggplant, Tomatoes, Smoked Mozzarella And Basil
(Serves 4-6)
Ingredients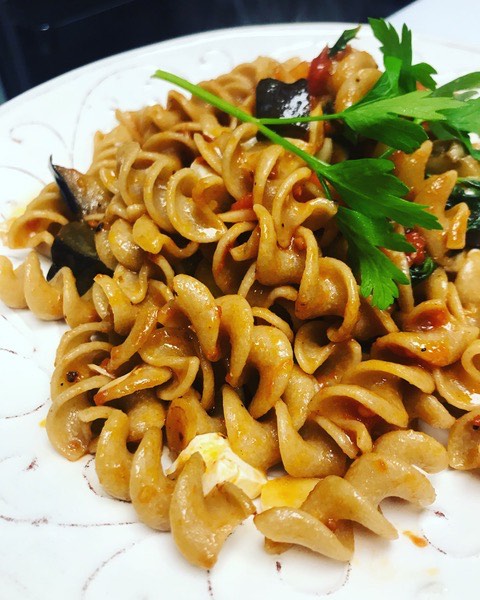 3 Tbsps. olive oil
1 small onion, coarsely chopped
3 cloves garlic, thinly sliced
1 medium eggplant about ¾ of a pound
2 ½ pounds fresh tomatoes
1 cup diced smoked mozzarella
4 Tbsps. fresh basil, coarsely chopped
½ tsp. salt
1 pound pasta of your choice, cooked
Instructions
In a large heavy skillet, warm 1 tbsp oil over medium heat. In it, sauté onion for 3 to 4 minutes until translucent. Remove garlic and onion with a slotted spoon and set aside. Wash and cut unpeeled eggplant into ½ inch pieces. Add remaining olive oil and eggplant to the skillet on high heat. Brown eggplant on all sides. Return onion and garlic to the skillet. Add tomatoes, 2 tbsps of the basil and the salt. Lower heat and simmer for 20 minutes. Add the cooked pasta, remaining basil, and smoked mozzarella and toss to combine. Drizzle with a few more tbsps. of olive oil as desired and spoon onto warm plates.
Add a comment