New STEP Student Zaria Cash and Host Family Each Embrace New Experiences
Details

Category: Parenting
Published on

26 September 2016

Written by

Mary Beth Evans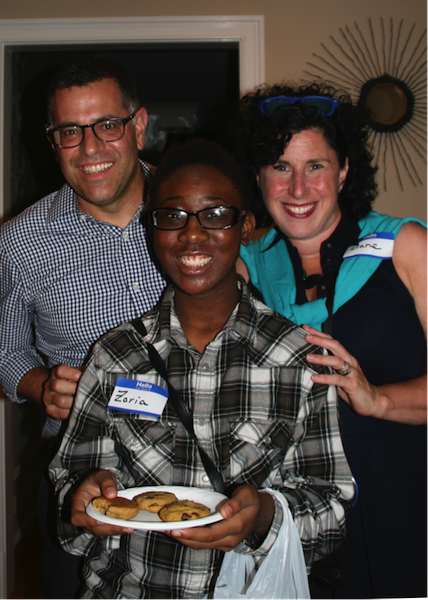 Junior year is a daunting one for any Scarsdale student. Just when academic rigor and extracurricular commitments are peaking, the college application process -- campus visits, standardized testing -- begins in earnest.
So just imagine junior year for a student both new to the high school and over 1,000 miles removed from family and friends? What sort of 16-year old student would even think to challenge herself on so many levels at once?
Meet Zaria Cash, an exceptionally intrepid and determined student from Memphis, Tennessee, who joins Scarsdale High School's Class of 2018 as the latest in a long line of remarkable Scarsdale STEP students.
The Scarsdale Student Transfer Education Plan (STEP) is an independent community program that identifies promising students of color and enables them to attend Scarsdale High School for their junior and senior years. The program offers qualified students access to Scarsdale High School's strong college preparatory program and extensive extracurricular activities, as well as the cultural and recreational resources of the New York metropolitan area. By offering students exposure to a different and challenging environment, STEP prepares them to take positions of leadership and responsibility in a multi-cultural society
Zaria Cash comes to Scarsdale with a track record of embracing new experiences and seeking challenges. She was an honors student at KIPP Memphis Collegiate High and a member of the school's cheerleading squad. In her freshman year she competed in the greater Memphis Science Olympiad and won 4th place as the only 9th grader on teams of juniors and seniors. The summer after her sophomore year, the Eleanor Roosevelt Foundation selected her to participate in their Girls' Leadership Worldwide program in New York City, which Zaria considers a life-changing experience. She spent part of this past summer in Minnesota attending Carleton College's Liberal Arts Experience program.
When asked how she came to apply to the Scarsdale STEP program, Zaria replied, "Well, my college advisor, Mrs. Weber, recommended STEP to me. At first I didn't like the thought of being away from home; but, as I kept asking about the program, I realized that this was an amazing opportunity to better my education and succeed in life."
Scarsdale STEP could not provide such an opportunity to Zaria, or to the other STEP students before her, without also being able to offer a strong system of social and emotional support. Most crucial is finding a Scarsdale family willing to provide the student with a nurturing and supportive environment -- that is, a home away from home. Host parents not only supervise and take responsibility for students but also offer moral support, reassurance and advice in solving problems. STEP students typically become integral members of the host family and often maintain close ties with them well beyond their high school graduation.
STEP's 2016 graduate, DonTavius Holmes, also of Memphis, lived with Bettina and Michael Klein and their children. DonTavius now attends Oxford College at Emory University under full scholarship.
In stepping up to play this pivotal role in Zaria Cash's life, the Greenwald family has shown that they, too, welcome new experiences with a warm embrace. Diane and Marc Greenwald and their two sons, Jay and Eli, are hosting Scarsdale's newest STEP scholar for the next two years.
As Diane Greenwald explained, "Neither Marc nor I had ever been involved with STEP, but last spring, I saw the notice in the Inquirer that STEP had selected Zaria and was seeking a host family. Something about her just caught my attention. We talked to the STEP board members and learned how much support the board and community would provide. Then we talked to our sons, and really it was their unhesitating enthusiasm to share our home that clinched our commitment."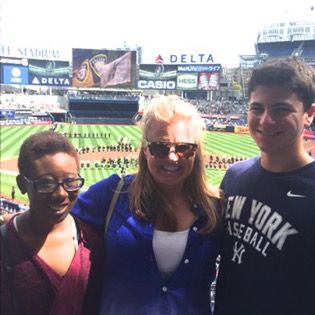 The success of each STEP student further depends on a consistently strong network of personal support and access to resources from the fifty-plus member STEP organization, as well as the broader Scarsdale community. Scarsdale High School also offers a structure of support in the form of a new student group run by Dean Nancy Thompson and Youth Outreach Worker, Lauren Pomerantz. In addition, the student-run STEP Club organizes fundraisers and social events.
Just a few weeks after her arrival in Scarsdale, on September 14th, STEP hosted a potluck dinner to welcome Zaria, along with its first board meeting of the 2016-17 year.

Zaria reported on her academic courses, and was especially enthusiastic about the prospect of conducting experiments in Psychology and developing public speaking skills in Acting class. Zaria has already joined the Junior Varsity cheerleading squad and is also interested in trying out for one of the school's a cappella groups.
Asked to reflect on her adjustment so far to life in Scarsdale, Zaria remained both focused on the positive, as well as candid. "I believe that everything is going well. Everyone is so nice and welcoming that I am kind of distracted from not being close to my family and friends. Although I do miss the little things sometimes...."
It will no doubt take time for this new STEP student to build new relationships and to feel she is part of the Scarsdale community, but already her open and straightforward demeanor and positive attitude have helped to ease her transition. As host parent Diane Greenwald puts it, "Zaria has made it easy for us to welcome her, as she approaches everything she does with a ready smile. She is a brave and positive young woman. In this very short time, Zaria has impressed us all with her enthusiasm, determination and maturity. It has only been a few weeks, but I anticipate we will learn much from her, and I hope she from us."
2016 marks STEP's 50th year and a community-wide celebration will take place to commemorate this milestone on Saturday, November 12th at the Scarsdale Woman's Club. It was former Scarsdale Social Studies teacher Eric Rothschild who first established the Student Transfer Education Program in Scarsdale in 1966 and the guest of honor for the anniversary celebration will be Rashid Silvera, another venerated Scarsdale High School Social Studies teacher who has also been a true friend of STEP. Those interested in learning more about STEP, attending the 50th celebration, donating funds or services, or becoming a host family, should contact STEP at info@scarsdalestep.org, or visit its website, www.scarsdalestep.org.
Author Mary Beth Evans is a member of the STEP Board.
The Buck Stops Where?
Details

Category: Shout it Out
Published on

19 September 2016

Written by

Joanne Wallenstein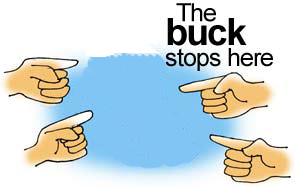 It seems that the mismanagement of the 2016 village-wide revaluation in Scarsdale has raised questions about the overall competence of village management. Though most have focused their questions on the office of the village assessor, and John F. Ryan, the man who conducted the revaluation, some are also blaming village managers for failing to oversee the process and intervene.
At the Scarsdale Village Board meeting on September 13, Ron Schulhof, a member of the Conservation Advisory Council, the Scarsdale Forum and Chair of the Ad-Hoc Committee on LED Streetlights called for Village Manager and the Board of Trustees to be more transparent with information and decision-making and called on residents to become more active.
In blunt remarks, Schulhof questioned the accuracy of the information and recommendations the Board of Trustees receives from Village staff and asked the Board to "micromanage" until confidence is restored. He asked the Board of Trustees to allow the public access to meetings where decisions are made that lead to the resolutions that are passed at the public meetings. He also wanted all the information the trustees review before meetings to be available online.
Schulhof likened Village Manager Steve Pappalardo to the CEO of Scarsdale and asked him to take public responsibility for what happened with the revaluation. He said, "Up to this point, he's been quiet, has barely said anything meeting after meeting. This community will not have confidence restored in village government until he takes responsibility. I want to hear Steve say "I take full responsibility" and I want him to mean it. "
As for residents, Schulhof asked them to get involved, attend meetings and push for more information.
Following Schulhof's remarks, rather than offer a defense or pushback, the Mayor simply said, "Mr Schulhof I agree with you – thanks for your comments."
For his part, later in the meeting, Village Manager Steve Pappalardo responded to Schulhof's request to take responsibility. He said, "I want to respond to Ron's statement. As the Village Manager and CEO, I take my responsibilities for village oversight very seriously. I have never shied away from that responsibility-– and had that same approach during the many years I served as Deputy Village Manager, which is, I believe, one of the reasons I was promoted. The 2016 revaluation was undertaken with the best intentions to maintain the property assessment as close to 100% market value as possible. The execution of the project was not what was expected. And even though it's not my responsibility as CEO to micromanage capital projects, and I do rely on the department heads, I accept the ultimate responsibility of this administration. I have been working with the staff toward achieving fairness and equity in tax assessments. The Mayor presents his reports. I have been quiet; but we work closely with the Mayor – so when he is speaking and talking about what is happening -- even though I am quiet, I am intimately involved and he is speaking for the board and its managers."
Though the Mayor and Village Managers had originally maintained that the Assessor's office was independent, they ultimately did take the fall for the assessor's actions.
It was a humbling moment for everyone in the room. See the meeting here or read Schulhof's full remarks below.

What do you think? Please enter your thoughts in the comments section below.
From Ron Schulhof:

Addressing the issues in our Village Management
Like most in the community I have been following the Reval proceedings over the past several months. I am not going to talk about the Reval itself tonight, but rather what we learned about our Village operations, the issues that exist and what I believe we can do to fix these issues.
What troubles me most is that all of the issues about our operations only came to light because the Reval was a project with high visibility and there were a number of residents who pushed through all the barriers to get at the truth. But what about all the other aspects of our operations and all the capital projects that also impact us but aren't so visible. How do we as a community have any confidence that all these aspects of our annual $50M budget are being properly managed? Whether you were for the Reval or against, happy with the outcome or dissatisfied, I think we can all agree there has been an erosion of confidence in our Village Management. The question of what to do about the Reval will continue, but it's also time to address how we make the necessary changes to our Village operations to ensure future decisions and projects are managed properly. Here is what I think we need to do.
The Board of Trustees
Management: Most of the decisions you make are predicated, at least in part, by information, analysis and recommendations provided by our Village Staff. I think until now it was assumed this information could be taken at face value. No more. There can be no assumptions on Village-prepared materials. Everything must be critiqued now. Until our confidence is restored, you will need to micromanage.
Meetings: Often there is information presented or topics discussed outside of this room; whether it is during the 7:30pm agenda meeting or in other forums. More discussion between the seven of you needs to be happening on this dais during public board meetings. Too often you explain why you made a decision at board meetings; instead you need to allow the public to hear your thought process before a decision is made to help us be more involved in the process. There is a time and a place for meetings and discussion outside of the bi-weekly board meeting, but too much has been shifted away from the public eye.
Public Information: The packet of information you receive on Friday before board meetings needs to be made public. We need more than seven sets of eyes on this information. For those who aren't aware, the Friday before each Board meeting the agenda of the upcoming meeting is posted on the Scarsdale website. The Board, however, receives an additional packet with information related to Village decisions and projects.
What I'm asking for is more transparency and until confidence in the Village is restored, more oversight of operations.
Residents
Be Present: We need to be present. That doesn't mean we have to be at every meeting. But at key junctures such as during the budget process, we need to be there. I will use the budget process, which drives so much of what happens each year in the Village, as an example. While there have always been presentations of the preliminary budget for residents, by the time we're presented with this information, it's effectively too late for change. We need to be at the meetings where the department heads present to the Board. This is where decisions are made. By law these meetings are public. They're long, almost all day, but we can divide up the time and ensure we're involved in the decision process. And if need be, provide the Board with key questions they may not have asked.
Be Heard: We need to continue voicing our thoughts. If you have an issue, a question, a suggestion or a constructive criticism – you need to voice it. And you need to voice it to the Mayor and the Board. You may have sent something to the Village Manager or a department in the past, but if you really want to be heard it needs to go directly to the Mayor and the Board.
We've seen what being present can do. If residents hadn't come to all these meetings, pushed for more information and stuck with their convictions, none of the issues with the Reval and our Village operations would have come to light. Now we need to continue doing it with projects at the outset to position us for success.
Village Manager
Responsibility: Our structure of village management is similar to that of a typical corporation. Instead of a Board of Directors we have a Board of Trustees. The Board sets high level policy and provides high level oversight. However there is no expectation that the Board will scrutinize every detail of daily operations. This is why we have a paid Village Manager, our CEO of the Village. This is Steve Pappalardo's role. It is the Village Manager that is responsible for the day to day operations of our Village and the implementation of the Board's policy decisions. And just like with the CEO of a company, the buck stops with the Village Manager. The execution of this Reval wasn't just a failure of our Assessors Department; it was Steve's failure too. Every department is HIS responsibility. When they succeed, he succeeds. And when they fail, he fails. We've had a major failure. And now we have a crisis of confidence. We need to know that he understands this on him. We need our Village Manager to publicly take responsibility. Up to this point, he's been quiet, has barely said anything meeting after meeting. This community will not have confidence restored in Village government until he takes responsibility. I want to hear Steve say "I take full responsibility" and I want him to mean it.
Moving Forward: Then we then need to hear his plan on what he is going to do going forward to ensure something like this doesn't happen again. Not just for the Assessor office but for all departments. Maintaining the status quo is not acceptable. I remind everyone, we've only scrutinized one department. What if we had looked in this level of detail at another part of our operation; a department, a capital project, a recommendation to the Board? We need to have confidence that if we start FOILing all the other departments that we won't find similar issues. We spend $50M every year on operations and capital projects; we need to know our Village Manager has his finger on the pulse of all departments and major projects.
This all needs to happen not with just the Board, not at a 7:30pm agenda meeting that isn't televised, but in this room at a public board meeting.
The last few months have brought to light a number of significant issues in how this Village is run. I hope we can look at these issues and work together to solve them. Thank you.
Ron Schulhof
Community Weighs Plans for Library Renovation: Scarsdale Forum Invites Residents to Participate in a Survey
Details

Category: Village Voices
Published on

26 September 2016

Written by

Joanne Wallenstein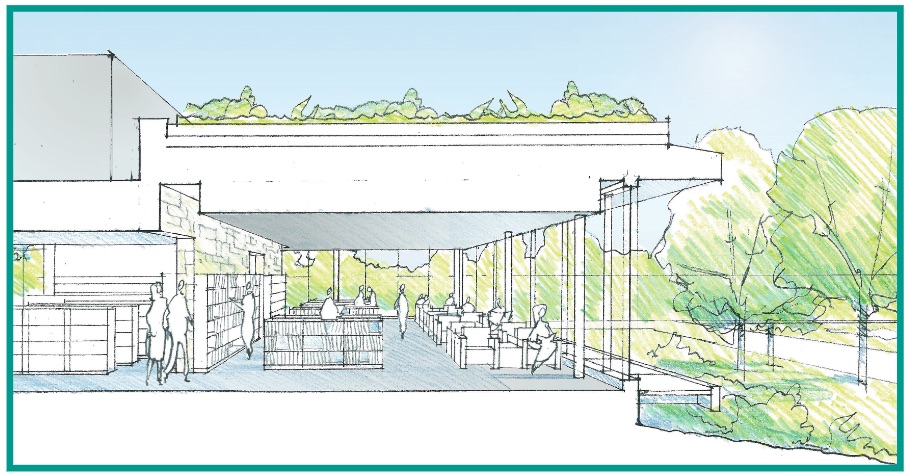 The community continues to consider a proposed library renovation that would modernize the aging facility, make the space more flexible, handicapped accessible, and sustainable, bring in more light and accommodate new technology. In response to feedback from the Board of Trustees and the community, the Library Board has revised their plans to cut $3 million from the proposed budget therefore decreasing the funding that would be needed from the Village.
At the September 26 meeting of the League of Women Voters of Scarsdale, Library Board President Terri Simon and Library Director Elizabeth Bermel explained the cost savings which included modifications to the foundation of the building, substitutions for furniture, shelving and lighting, modifications to woodworking, interior materials and reductions in the purchase of AV systems and wiring. The original plan included a wrap around reading deck which has now been shelved – however it could be added on in the future if funds become available.
All the changes were made with the intent of not gutting the original plans, goals or vision for the new library. This new plan is called Option A-1.
The net result is that the total project is expected to cost $17.9 million. Funding sources will include $7.5 million in private donations, of which $2 million has already been raised along with a $500,000 grant from New York State and $1.5 million that will be saved when the library is closed for two years. Simon anticipates that the Village would need to fund $8.4 million with debt financing – which will mean an $8.4 million bond (or $9.9 million if the $1.5 million in savings cannot be included in financing for the project.)
Meanwhile, the Scarsdale Forum is studying the proposal and has issued a survey to the community to gather more information for their report.
According to a press release from the Forum, the committee will be chaired by
Madelaine Eppenstein and Rosanne Underweiser. Eppenstein said, "Now that the Village has received 'Option A-1' we are reviewing the details to understand both the revised costs and the updated project components. Wider community feedback is essential for an informed dialogue about the project."
Lena Crandall, President of Scarsdale Forum added, "The Forum continues to provide valuable analysis and research on important Village issues, as our organization has done for over 100 years. Community surveys are a natural extension of our ongoing member meetings and discussions. We welcome and encourage all residents to voice their opinions on issues of community interest."
All residents are invited to participate in the survey. To do so, either click here or email info@scarsdaleforum.com to receive the survey via email.
Volunteers Needed to Plant Village Field
Details

Category: On Our Minds
Published on

26 September 2016

Written by

Joanne Wallenstein

The Village of Scarsdale, its Conservation Advisory Council and the Friends of Scarsdale Parks are working to transform an unused grass field at Palmer and Secor into a beautiful native landscape. The field will be planted as a meadow next spring, which will support butterflies, bees and other pollinators. Plans also call for a path along the meadow to appreciate the resulting natural wonderland.
This fall they will restore the area next to the field into a healthy native woodland with trees, shrubs and perennials, which will also provide important habitat to many creatures including birds. This is an important environmental project that will benefit the community for many years to come. Volunteer just a few hours of your time and take pride in having helped accomplish this important natural project.
They need your help with planting on Saturday October 8th and Sunday October 9th. Bring your own gloves, trowels and shovels, or we will provide them. Volunteers are needed for these time slots:
Saturday, October 8
10 am - 1:30 pm
1:30 pm - 5 pm
Sunday, October 9
10 am - 1:30 pm
1:30 pm - 5 pm
To get this community project accomplished we need your help! Sign up here or email VillageOfScarsdaleCAC@gmail.com.
Please also share this email with anyone else who you think might be interested. Volunteers must be at least 16 years old.
President Obama Quotes Six Year-Old Scarsdale Boy in U.N. Speech
Details

Category: People
Published on

21 September 2016

Written by

Joanne Wallenstein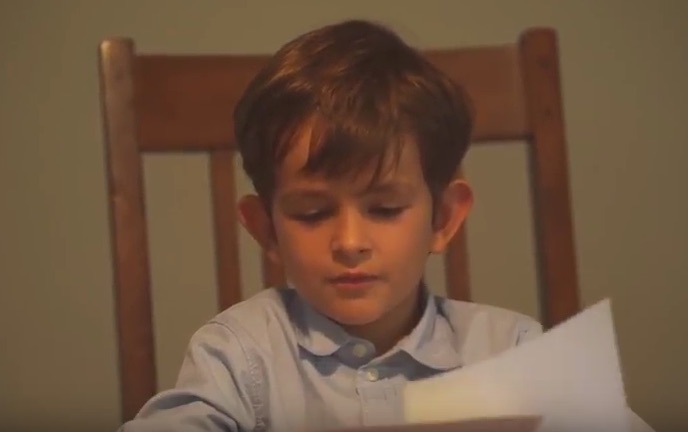 Does anyone know Alex? In his speech at the United Nations on Tuesday September 20th, President Obama quoted a six year-old boy named Alex from Scarsdale. In remarks about the crisis in Aleppo, Syria, Obama read from a letter he received from Alex who invited Omran Dagneesh, an injured Syrian boy to come live with him and his family and to be his brother.
We doubt that Alex knew his words would be read at the Leader's Summit on Refugees at the United Nations when he wrote them – but he does us all proud.
Watch the video here – and read the transcript of Obama's speech here. And if you know Alex, please ask him to get in touch with us at scarsdalecomments@gmail.com or at 914-980-4803. We would love to speak to him:
Here is what the President said: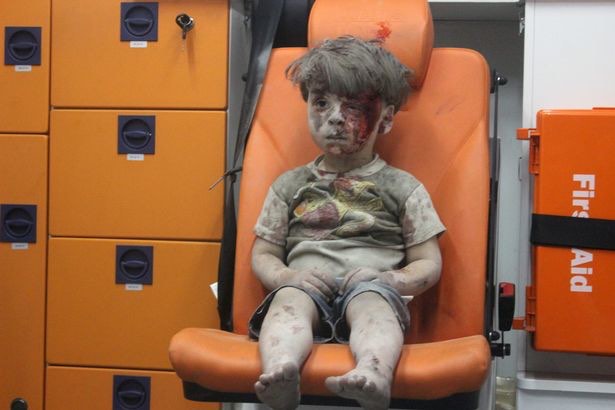 We can learn from a young boy named Alex, who lives not far from here in Scarsdale, New York. Last month, like all of us, Alex saw that heartbreaking image -- five-year-old Omran Daqneesh in Aleppo, Syria, sitting in that ambulance, silent and in shock, trying to wipe the blood from his hands.
And here in New York, Alex, who is just six years old, sat down and wrote me a letter. And he said, he wanted Omran to come live with him and his family. "Since he won't bring toys," Alex wrote, "I will share my bike and I will teach him how to ride it. I will teach him addition and subtraction. My little sister will be collecting butterflies and fireflies for him...We can all play together. We will give him a family and he will be our brother."
Those are the words of a six-year-old boy. He teaches us a lot.
The humanity that a young child can display, who hasn't learned to be cynical, or suspicious, or fearful of other people because of where they're from, or how they look, or how they pray, and who just understands the notion of treating somebody that is like him with compassion, with kindness -- we can all learn from Alex. Imagine the suffering we could ease, and the lives we could save, and what our world would look like if, seeing a child who's hurting anywhere in the world, we say, "We will give him a family and he will be our brother."
Note from the Editor: On September 22nd we received this note from Roy Gordon offering a free bicycle to Omran: He says, "Hello My name is Roy Gordon. I was hopping you could help me. I live in Ohio and after reading the story about the 6 year-old boy that wrote President Obama the letter I broke down in tears. What got me is generosity this little boy had and how this child can teach all of us a valuable lesson about sharing. So i wanted to share a gift of brand new bike. I do assembly and repair work for a company. I often come across brand new bikes that get returned to the company that were never used. I happen to have one that I safety checked and I would like to give it to this boy who wrote the letter so he could give it to the boy from Syria if and when he comes. You can contact me via this email address If you can help me out I would greatly appreciate it."

(Please contact scarsdalecomments@gmail.com and we will put you in touch with Roy)
Scarsdale's Hyatt Park: Pay to Pee or Use a Tree
Details

Category: The Goods
Published on

21 September 2016

Written by

Stacie M. Waldman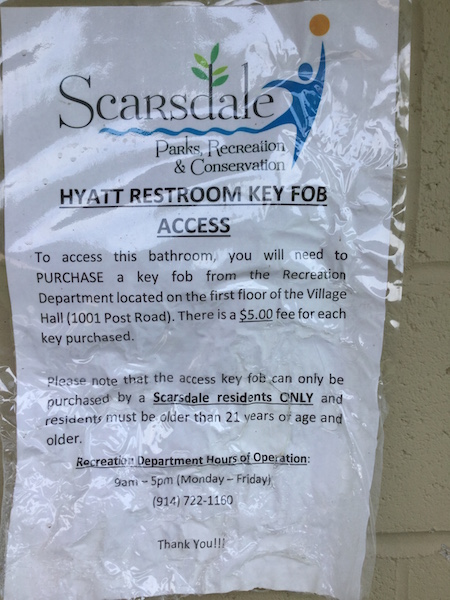 Scarsdale's newly renovated Hyatt Park off of Grand Boulevard or Potter Road has become very popular with residents and nearby non-residents alike because of its zip line, it's new and unique playground equipment, it's beautiful basketball courts and ample benches for tired caretakers. For months, park users watched in eager anticipation as the "comfort stations," known to the lay person as bathrooms, were completed. Very few parks have bathrooms in our area although this is the norm in places like southern California, for example.
The bathrooms were finally opened in August but for better or for worse (depending on who you ask), they are only accessible to Scarsdale residents. The reaction to this policy has been mixed. The posted sign reads (verbatim):
To access this bathroom, you will need to PURCHASE a key fob from the Recreation Department...There is a $5.00 fee for each key purchased. Please note that the access key fob can only be purchased by a Scarsdale residents ONLY and residents must be older than 21 years of age and older.
I spoke with Brian Gray, Superintendent of Scarsdale's parks, to get more information about the park itself as well as the bathrooms. "All Scarsdale parks are technically open to the public" he said. "Different parts of the park were funded by different groups. Residents from the local homeowner's association contributed money as did different organizations within Scarsdale," he continued. "Little league funded the bathrooms with $15,000 and Scarsdale softball contributed $2,000."
I mentioned some of the concerns people have written to me about since the sign was posted and the bathrooms were restricted as well as some of the comments people have made in support of the policy. "There were meetings with the neighborhood association and they had concerns about safety and security. Also the little league wanted to protect their investment," he responded.
Another concern several people had was what would be done during baseball or softball games when the village hosts a visiting team. Mr. Gray said, "All coaches are supplied with a key fob to allow for use of the bathrooms by players." That has alleviated some of the kickback that people have voiced about the limited bathroom access.
Many people support the key fob bathroom access for Scarsdale residents only. (These comments from Facebook include names if approved by the commentator.)
They have been doing this for a long time with the tennis court bathrooms at Crossway, the high school, and Brite Ave. There is also a bathroom that works with the key at supply field. The key is a little attachment to a key chain. I am just so happy to have bathrooms at these places, versus many of the other areas where I have to drive kids to a bathroom. –Scarsdale resident Paulina Schwartz
The key also keeps strangers out of the restrooms. Think about all of the safety issues. It's great that they built a bathroom there. A few years ago, the Village didn't even want benches or tables in parks for fear that teenagers would hang out. They've come a long way and I say "hooray!"
This is an example of "direct taxation" where one pays for the specific use. It's just like paying a toll on the thruway. Otherwise, the cost would be spread out amongst all of us; and the last time I checked, people were complaining about taxes... –Scarsdale resident
My husband just picked up a key and was told that it's only good at Hyatt Park -- i.e. wouldn't work at Crossway. I'm okay with the general idea of a resident park bathroom key, but if we have to have a separate key for every park, it's really not workable. –Scarsdale resident
I do think to keep bathrooms orderly there should not be open bathrooms and I like idea of a key fob but perhaps each family should be allowed 2 per household and be required to pay for additional and lost. –Scarsdale resident
I think that people are really too worked up about this issue. It is not in the town's best interest to leave bathrooms open and unsupervised for obvious reasons. It's not about exclusivity as I see it, it's about practicality and safety.
Having lived right up the street from Hyatt for many years (I've since moved), I agree that the bathrooms should be locked. There are a lot safety concerns for the residents who live right near the park when bathrooms are left unattended and open to the general public. I've lived here long enough to hear about all sorts of crime and vandalism to locked private homes and cars. My husband has witnessed people sleeping in Hyatt park overnight in years past. It's not practical for the town to send someone out to lock bathrooms at the end of the day. My understanding is that the bathrooms were installed primarily for sporting events because it is difficult to have long games and no bathroom available. I can understand the town's perspective in keeping its property under control for maintenance and safety purposes. It might not be ultimately convenient for park users but obtaining a key fob is not onerous. –Shari Soloway, Scarsdale resident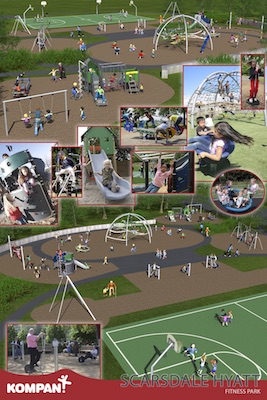 This has been the same rule for years and years. I Iike it. I bought multiple keys which helps. –Scarsdale resident
I think it may be naive to think that these are truly public parks. They are not. They are Scarsdale parks established and maintained with Scarsdale tax dollars. While anyone can come and use them, they are primarily for the use of Scarsdale residents. It's inconvenient to live a couple of blocks away and not have access to the bathroom. Isn't it nice they have access to the park? Plenty of parks in plenty of places don't have bathrooms and people survive. As the saying goes, "membership has its privileges." In this case, membership is bought with our spectacularly high tax dollars. The privilege: bathroom access. –Scarsdale resident Kiki Hoffman
Other people wrote in expressing their displeasure that the bathroom is accessible only to Scarsdale residents who have purchased a key fob.
What kind of message are we sending to our kids whether they live in Scarsdale or live in the town over? I already know it's a privilege to live in Scarsdale. We pay high taxes and housing prices but the perks of that include a top-notch school district and easy access to Manhattan. Do we have to rub it in our neighbor's faces from New Rochelle and Eastchester even more that we are wealthier, more privileged, and have better schools? We have friends in these towns that we meet on occasion at Hyatt park or elsewhere, and frankly, I feel embarrassed by the policy. –Scarsdale resident
I disagree with Scarsdale's approach. If the park is a public place, then the key fobs should be available for purchase to parents of surrounding neighborhoods (Scarsdale PO, Eastchester, etc). The fee should cover any expenses to keep the bathroom maintained.- Gabriella Fleurimond, Eastchester resident
Putting a restriction like that on a public toilet in a public park is ridiculous! Maybe a sign saying to please help keep the facilities clean would make sense but that sign is offensive and ridiculous.
The only thing that I can think of is that there may have been problems (i.e. vandalism) that caused the restriction and sign to occur, but if not, then it seems completely unwarranted. -Robyn Bedil, Scarsdale resident
It feels so exclusive and unfriendly to only allow Scarsdale residents to use the bathrooms. I'm not sure I'm a fan of this. –Nikki Hahn, Scarsdale resident
What were the reasons for this policy? Is it for safety purposes (they want to keep them locked so teens don't use it as a gathering ground), is it to prevent vandalism, is it to protect their children? The park is a public recreation area. Yes, it's located in Scarsdale but it is a park and nowhere does it say that only Scarsdale residents can use it. I can't see what they gain from preventing young children from accessing the bathrooms. Just say you are at the park with your child and he/she desperately needs the bathroom and he/she sees all of the other little boys and girls freely coming and going, you have to then explain that they can't use the toilet because they don't live in Scarsdale. Instead they have to pee in the woods or in the river behind the playground. That doesn't seem safe or fair to me. What next, they lock the swings? Or maybe they should build a wall around the entire playground that only allows Scarsdale residents to enter with their precious key fobs. –Eastchester resident
I was just at that park last week with my girls and of course, my younger one had to go to the bathroom. I was thrilled (at first!) that there were bathrooms right on the premises. Then, I saw the note and we had to scurry home. Part of me can fully understand the horrible clean-up and maintenance of a public bathroom. I have certainly used them in Bryant Park, etc. On the other hand, how can it be fair to public park goers that some get to pee in comfort, and others of us have to scramble?
-Jody Cohen, Eastchester resident
Seems a little silly that they are keeping it solely for Scarsdale residents and charging for the key. It is a public playground, no? The facilities on premises should also be public and accessible to everyone who plays there. -Edgemont resident
We've been to Rye Rec Park. There are restrooms available for anyone to use. -Heedan Chung-Goh
Personally, I think the policy sits in the gray area of public decency. I have friends who grew up here in Scarsdale and they used to drink (as minors) and hang out at Hyatt Park because it was set far back from the road and there were multiple exits for eluding the cops. Teens are still doing that today as evidenced by the broken glass. People have used Hyatt Park as a hangout well before the "comfort stations" were put in place. If the doors could be locked remotely overnight, which it sounds like they can, I think that could alleviate many of the safety and security concerns as well as the vandalism fears. Security cameras could be installed as they are many other places in the village to deter people not just from vandalizing the bathrooms but from illicit or illegal activities in the entire park.
Living in Scarsdale, or any other town that is wealthy or not, is not like purchasing a membership to an exclusive club. There are country clubs and private jets for that and the clubs often have playgrounds (and potties) for members and their guests only. The schools are for taxpayers' children. The parks, however, are open to all including the school playgrounds after school hours. My kids didn't go to preschool with all kids from Scarsdale and more days than not, we meet friends from nearby towns at area playgrounds. Furthermore, if the bathrooms were built primarily for use by athletes during long sporting events and with little league funding the majority of the project, it can be argued that only members of little league and softball should be granted bathroom access.
Many of the Eastchester parks now have serviced port-a-potties (also funded by little league). They're free and can be used by Eastchester tushies or Scarsdale tushies at any time. I feel for the parents and guardians of little kids who are being potty-trained and have to try to run home or have their kids urinate right there in the park. We all know how hard it can be to get kids out of the house and the anxiety that goes along with having to run home for an emergency bathroom run. The "general public" would likely not abuse the bathrooms at Hyatt. The daytime crowd is moms, dads, grandparents and nannies with kids; older kids come and use the basketball courts. The village should at least allow people from the surrounding neighborhoods (Edgemont, Eastchester, and New Rochelle for example) to purchase a key fob if they're willing to do so. Some commentators suggested charging non-residents more to help cover maintenance costs since Mr. Gray mentioned that the $5 key fob fee barely covers the cost of the device. The great thing about the key fob entry system is that it can likely be locked remotely/electronically at night and the village can see who has used their key fob for the bathroom. So security and safety measures are already in place.

Overnight on September 17th, one of the Hyatt Park bathroom doors was forced open and the bathroom was vandalized ($2,000 estimated repair cost). Some playground equipment was also broken. The bathroom door was locked at the time and it was forced open. If there had been security cameras the vandals may have been deterred. The criminals have yet to be caught but it is unlikely that the vandalism was caused by a mom in Eastchester with a toddler that needed to poop.
Our neighbors use the Scarsdale library and drive on Scarsdale roads. They pay the village's meters because they patronize village businesses. They can use the trash bins at our parks; they can use the swings, the see saw, the zip line, and the climbing structures; they can have basketball games with their friends; they can use the water fountain at Hyatt to refill their water bottles. But they can't use the bathroom unless they are playing travel softball. Wouldn't it better to use the toilet instead of a bush?
What do you think? Post your comments below.
Letter to the Editor: You, too, can contribute to the perpetuation of good, clean Village government
Details

Category: Good Work
Published on

26 September 2016

Written by

Joanne Wallenstein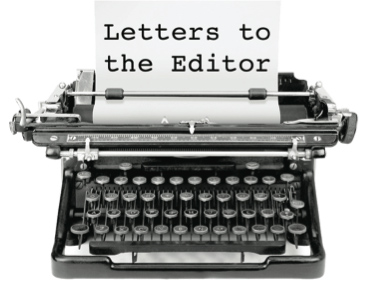 The spectacle of this year's presidential campaign, and the disgraceful, nonproductive, inefficient, partisan manner in which the federal government has functioned the last eight years, in particular, is deplorable. And although state government inefficiencies may not have the same consequences on our personal life as do those in the federal government, the political infighting that takes place in Albany, other state capitals, and many municipalities is not much better.

For this reason alone, I have been most impressed by the benefits residents in Scarsdale have experienced as a result of our nonpartisan governmental structure. I especially appreciate that our system has established a process in which the office seeks the candidate, rather than the candidates seek the office. This has given distinction to the office so that our elected Village office holders are willing to accept long hours and arduous responsibilities and to serve without remuneration. And I appreciate, as a Scarsdale resident of 46 years, that we have exemplary quality services such as recreation, police and fire protection, sanitation, and public works. Unlike so many other municipalities, our Village has been free of charges of graft, misuse of funds, and corruption in office. Perhaps that's why we are one of very few villages in New York State with an AAA bond issue rating from Moody's.

When my family first moved to Scarsdale, like so many young fathers I got involved with coaching sports teams and serving as a mentor to Cub Scouts. More recently, I realized that I had a community responsibility to contribute to the perpetuation of what I strongly believe has been good clean Village government. I chose to do this by offering myself as a candidate to run for the Citizens Nominating Committee (CNC).

I was exceedingly impressed by the talent, quality and dedication of CNC members with whom I served. They were genuinely interested in identifying the most qualified candidates for trustee, and during the period of time I served, for mayor and Village judge.

Each candidate for trustee and the other open positions came before our committee and told us what qualities and special skills they would bring to the office. Each candidate was encouraged to inform us of civic work they had done and were most proud of. Each candidate was asked to tell us his or her understanding of the role he or she was seeking and how the candidate would approach the time commitment necessary to devote to that role.
The CNC reviewed each candidate's statement and interviewed his or her references. In addition, to learn as much as we could about the candidate, we contacted the organizations, councils, and committees on which the candidates serviced. Starting in December we began deliberations on the pros and cons of each candidate.

Often, it was difficult to prioritize who amongst the very qualified candidates we, as a nominating committee, ultimately recommended for the various positions. As part of this process we, at times, took into consideration the composition of the current trustees. For example, if the current composition of the Village trustees included several attorneys, but no trustee with financial or environmental expertise, and we were considering a candidate with strong financial or environmental expertise that, at times, influenced who we recommended as a new trustee.

I have always found politics to be distasteful. For this reason I felt most privileged to be a part of and to contribute to Scarsdale's nonpartisan governmental system. If you, like me, appreciate competent administration of government, and are prepared to devote five stimulating meetings this fall (that's right, CNC members will complete their work within a 4 to 5 week period, maximum) in to the perpetuation of our very special nonpartisan system, then I enthusiastically encourage you to get involved by offering yourself as a candidate for the Citizens Nominating Committee. Not only will you find it to be a terrific way to meet other great Scarsdalians, but you will also find it to be an extremely satisfying experience.

Here is how to obtain forms to become a CNC candidate:

1) On line go to www.scarsdaleprocedurecommittee.org
2) At the very top of the page that opens up, click "Forms"
3) Half way down the page that opens up, click both "Download this revision" lines
4) Once you complete the election forms, submit them on or before Sept. 30, 2016.
By John Baer
14 Colvin Road, Scarsdale

From the Procedure Committee: Calling all Eligible Scarsdale Residents: The CNC Needs You!
The Procedure Committee of the Citizens Nominating Committee currently is seeking candidates for the upcoming CNC election. Applications can be found here and are due September 30, 2016.
Under Scarsdale's nonpartisan system of government, the CNC interviews potential candidates for open positions in our village. From this pool, a slate representing the Scarsdale Citizens Nonpartisan Party is selected to run in the village election in March. This year's CNC will select candidates for three open trustee positions and village mayor.
Becoming a member of the CNC is a small commitment, with a big reward. You spend 5-6 evenings in December and January (1 Sunday evening and 4-5 Wednesday evenings), with 29 other village residents for three years. This is a great way to get involved in our community, meet new people, and help our village government run.
All that is needed to participate is a biographical form and a nominating petition with 10 signatures of registered voters from your elementary school area. These two forms can be downloaded at: www.scarsdaleprocedurecommittee.org. Hard copies also can be obtained at village hall and the Scarsdale Library. Filing instructions are on the forms. The deadline for filing is September 30, 2016.
The nonpartisan resolution requires people to have lived in Scarsdale only two years before serving on the CNC, so this is a great opportunity if you are new to our town. It is also a perfect civic-minded activity for anyone who is now with an empty nest, or for someone who is looking to get more involved in our community.
All eligible Scarsdale residents are encouraged to consider this important and unique opportunity. Please contact Max Grudin, CNC Procedure Committee Chair, at mgrudin@gmail.com if you have any questions.