Scarsdale Accepts the Ice Bucket Challenge
Details

Category: Content
Published on

12 September 2014

Written by

Joanne Wallenstein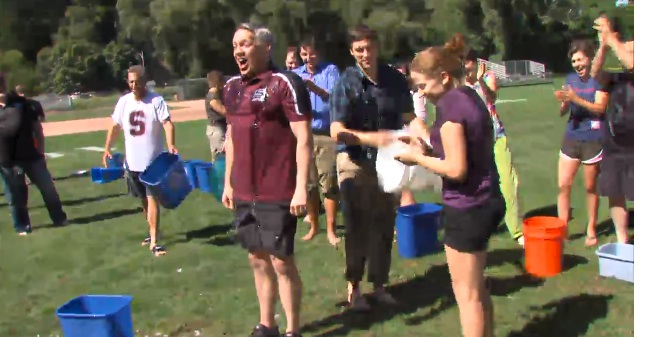 Students, faculty, administrators and the superintendent himself gathered on Dean Field on Friday September 12 to accept the Ice Bucket Challenge from Winnetka Illinois.
Dr. Hagerman's former district sent him the challenge and he rallied the troops at SHS to get doused. Participants stood in a row and poured water down the line – ending with Dr. Hagerman who was drowned by School President Amanda Shuster.
Watch it streaming on the Scarsdale Schools website.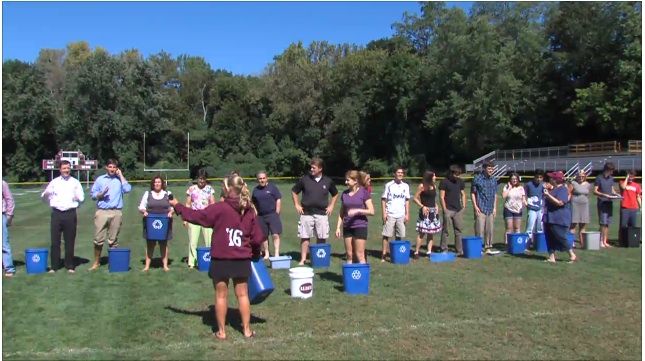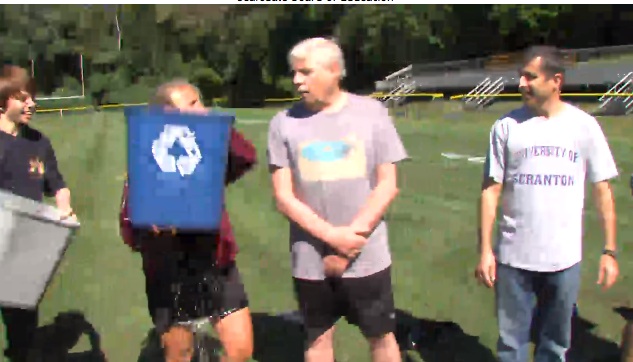 The Master of the Cloud Returns to Scarsdale
Details

Category: Schools
Published on

17 September 2014

Written by

Joanne Wallenstein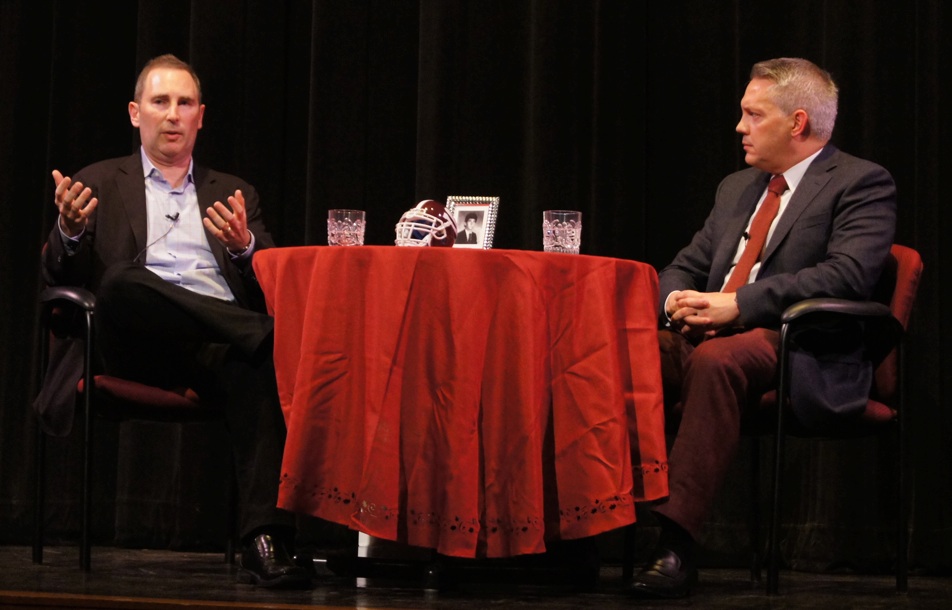 Scarsdale got a glimpse into the past and the future when the Scarsdale Schools Foundation welcomed SHS alumnus Andy Jassy to address the community on Tuesday night, September 16th. Jassy, who heads up Amazon's Cloud Computing division called Amazon Web Services, gave the packed audience a glimpse into what's driving Amazon's success as well as his own impressive career trajectory at the company, offering credit to Scarsdale for making him the person he is today.
Superintendent Thomas Hagerman interviewed Jassy and said he looked back at Jassy's transcript at Scarsdale High School for something interesting but could only find a record of success. He presented Jassy with a framed photo of himself from his 1986 yearbook.
Jassy reminisced about Scarsdale and said the last time he was in the auditorium he was performing in the senior class play Guys and Dolls. He told the audience that Scarsdale has "an incredible school system" and "you should feel lucky you send your kids to school here." He remembered the teachers who had made a difference in his life including Eric Rothschild who taught him to write, engage and consider himself a student. In Warner Feig's class on constitutional law he learned the Socratic method and the importance of preparing for class. Though he wasn't fond of English teacher Courtney Cauble, he ended up in his class for three years. Cauble had "unrelenting standards" and taught Jassy to write. His ninth grade Social Studies teacher Larry Davis insisted he learned to take notes in shorthand, a skill he continues to use at meetings today.
After attending Harvard College and Harvard Business School Jassy accepted a position at Amazon in Seattle where he felt he could learn and quickly assume bigger responsibilities. In fact, Jassy believes that a hunger to continue to learn throughout life is key to success. Today he manages what he says could become Amazon's biggest business, Amazon Web Services, which serves some of the world's biggest websites, companies and government agencies. Clients include Pinterest, Netflix and Air B&B as well as General Electric, Time Inc. and large academic centers. He said, "We are still in the early days of what is possible," and that the company "develops their services in response to customer needs."
What do they look for in hiring new talent? Amazon seeks intelligent, analytical people with a high tolerance for ambiguity. They look for people who are strategic but can deal with the details as well. Those who succeed are tenacious, persistent, able to overcome barriers, reflective and vocally self-critical. According to Jassy, the company cannot hire enough computer engineers. He said, "It used to be that becoming a doctor was a guarantee of earning a good living. Today, if you
graduate with a degree in computer science you will have a job." He encouraged the district to teach coding at an early age as it teaches problem solving and critical thinking.
In order to be nimble, the company is divided into small, autonomous units so that work teams are not dependent on other units to succeed. These units are called 
"Two pizza teams" meaning that the teams must be small enough that they would need only two pizzas for a meal.
Another key to Amazon's success is the prioritization of new projects. Since there are always new ideas, the challenge is to select those that will respond to customer needs and have the biggest impact. In order to define those projects Jassy says that before any coding or development begins the team will write a press release and an FAQ on the new product, laying out its benefits to customers and answering questions that will arise. By evaluating these materials first the company can decide which projects have the most merit and potential before using resources for development.
What's down the road? Jassy said, "We are planting seeds now that will hopefully grown into trees." More specifically he mentioned the drones project that could be two, five, or even ten years away. He said that in the future very few companies will have their own data centers and will use the cloud to collect, store and analyze data at a far lower cost. He even predicted that cancer would be cured by computer scientists through data analysis. The use of mobile apps and devices will be more pervasive and sensors will be used to collect and transmit data back to the cloud.
Hagerman questioned Jassy about the work environment and Jassy replied that the rapidly growing company always has too little space. In order to make the most of the space they have, walls are lined with white boards so that any room can become a meeting space. To keep teams in Seattle in touch with teams around the world, they stream videoconferencing on their computers 24/7 and speak to people around the world as if they were in the same room.
Asked who inspires him, Jassy said, "My boss Jeff Bezos." He continued, "He is the most brilliant thinker I know, he is unbelievably creative, has technical acumen and unusual empathy for the customer. Jassy shadowed Bezos for 18 months and saw that "he quickly got to the heart of an issue and added value." Bezos is "not set in his ways, does not rest on his laurels, is optimistic about change and does not believe there is a glass ceiling on what we can do."
An audience member asked him what he wished he knew when he was in high school and he quickly replied, "I wish I knew then that trying to be cool or popular was overrated."
The irony is that almost 20 years later Jassy is the coolest guy in the room.
Watch the entire conversation on Video on Demand here.
The talk was sponsored by the Scarsdale Schools Education Foundation that is supporting research and development, innovation, technology and the improvement of the physical infrastructure of the Scarsdale School District. The foundation will embark on a fundraising program to support these initiatives this fall. For more information, visit scarsdaleschoolseducationfoundation.org.
Final Tax Assessments Now Available Online
Details

Category: Local Finds
Published on

16 September 2014

Written by

Joanne Wallenstein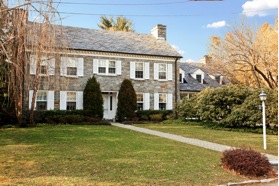 The wait is over. For those who grieved your tax assessments, the new tax roll is now available online. Check it out and see where you stand. According to Robert Berg who served on the Board of Assessment Review more than 950 grievances were filed and the Board reduced 12% to 15%. Here is a comment on the process from Berg:
The final 2014 property tax assessment roll was released last night. The Board of Assessment Review ("BAR"), an independent Town Board consisting of Chairman Tom Giordano, Ken Sklar, Gary Ellis, Paul Sved, and me, worked extraordinarily hard this year. We considered more than 950 property tax grievances filed on or before Grievance Day which was June 17, 2014. This was a record number of property tax grievances for Scarsdale, but that's not surprising considering that this was the first town wide property tax revaluation in 45 years. On Grievance Day itself, about 90 property owners spoke before us to argue their grievances, and we heard argument from early afternoon until late in the night, allowing everyone who wanted to say her piece. In a normal year, only a handful of property owners or their representatives appear in person.
Many of the grievances lacked independent real estate appraisals of the properties. On Grievance Day, we stressed that even though an appraisal is not required for a grievance, an independent appraisal is often the best evidence of the fair market value of the property. (Other "best" evidence includes the actual sales price of the property in an arm's length sales transaction which occurred during the valuation period). As a matter of law, the tentative assessment which the owners were grieving is presumptively legal, so the property owner has the burden of proving the fair market value of the property. We invited and encouraged all grievants who had not done so to submit independent appraisals or evidence of the recent sales price of the properties to buttress their cases, asking that such evidence be provided within two weeks. (We actually accepted such evidence up through our last meeting at the end of August).
Following Grievance Day, the BAR met two full evenings per week throughout July and August. We reviewed each and every grievance (other than those which the Village Assessor had resolved), analyzed the evidence (if any), deliberated, and made our determinations. While I don't have the exact numbers, I believe that we reduced the assessments on about 12% - 15% of the properties before us.
Overall, Tyler Technologies, which conducted the revaluation, did a very good job -- well within the normal margin of error. But, in those cases where we lowered the assessments, the property owners were able to demonstrate that the Tyler Technologies tentative assessment was too high. No assessments are ever raised through the grievance process, and now that the assessment role is final, no property can be reassessed higher until the next town wide revaluation, except to account for new construction or renovations.
Because all properties are now carried at 100% of fair market value, the equalization rate or residential assessment ratios that have been used for years no longer apply. Property owners who are dissatisfied with the BAR's determinations have the right to appeal the determinations in court until October 15, 2014.
Finally, I would like to thank our Assessor, Nanette Albanese, and her outstanding staff for their tireless efforts throughout the revaluation process. Besides working with and supervising Tyler Technologies for several years to ensure that the revaluation was performed as well as possible, they provided us with untold hours processing the grievances, otherwise assisting us, and making sure we were well-fed during our evening deliberations. My fellow Board members deserve the community's thanks for volunteering to give up many lovely Summer evenings to plow through 950+ files in order to help achieve property tax equity for all Scarsdale residents. We now have a final assessment roll that, for the first time in 45 years, is, for the most part, fundamentally fair in distributing distributing Scarsdale's property tax burden according to each property's current fair market value. While the reallocation of the property tax burden may cause some residents financial hardship, remember that for years, their property taxes have been subsidized by other Scarsdale residents.
Scarsdale10583 Back to School Guide 2014
Details

Category: Parenting
Published on

26 August 2014

Written by

Joanne Wallenstein
Whether you've got a toddler, a pre-teen or a college applicant in your house, now is the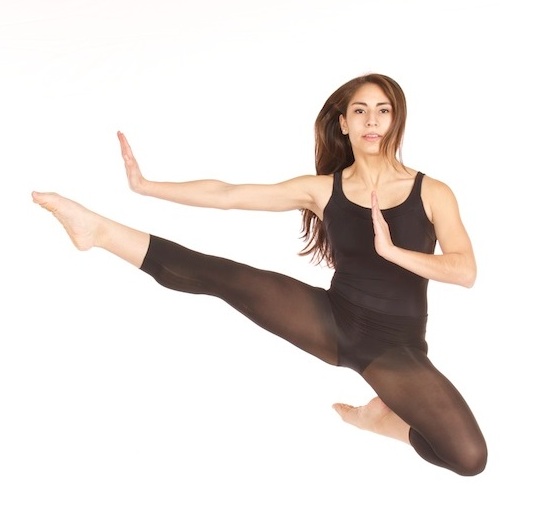 time to consider programs that will build skills, develop artistic, musical and athletic talents and enrich academic lives. The area is blessed with wonderful program opportunities for kids of all ages. Here are just a few of the quality programs in Westchester for your consideration:
Dance and Music:
Steffi Nossen School of Dance located in the nearby Music Conservatory of Westchester building offers classes for dancers ages 3 – adults in Modern, Ballet, Jazz, Contemporary, Hip-Hop, and Moving Wheels & Heels for dancers with special needs. New this year are Tiny Dancers: classes for 12 – 36 months and caregiver, Adult classes for beginners and for experienced dancers, Contemporary Dance, and Improvisation/Composition. We have lots of performing opportunities for all ages and levels and most classes have live music accompaniment. Please visit us at www.steffinossen.org or 914-328-1900 for complete information.

Dance Cavise: Described in the New York Times as "setting higher standards in dance education", Dance Cavise offers all dance disciplines, at all levels, for all ages. In its 10,000 square foot facility, Broadway veteran Joe Cavise heads a staff of over twenty professionals from New York City and Westchester. The studio is known for its family-oriented and nurturing environment, while promoting strong technique in a non-recital oriented, education driven program. For more information, contact Dance Cavise Studios, 273 Halstead Avenue, Mamaroneck at (914) 381-5222, or visit www.dancecavise.com.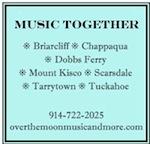 Over the Moon Music and More: Did you know that all children are musical? Have you ever wondered what you can do to nurture the musical growth of your child, regardless of your own musical ability? And did you know that there's a storefront location where you and your child can play musically together, right here in Scarsdale? Over the Moon Music and More offers Music Together®, the internationally recognized early childhood music and movement program, in a beautiful and comfortable space at 78 Garth Road, as well as in 5 other convenient locations in Westchester, including a new storefront in Pleasantville. Our classes--for children from birth through kindergarten age accompanied by an adult caregiver--are research based, experiential, and not performance oriented, but most of all, they're fun! Free demo classes are available. And we also offer our own Uke U., a mommy-and-me ukulele program for 3- to 6-year-old children and their caregivers. For class and demo class schedules, please visit www.overthemoonmusicandmore.com or call 914-722-2025.
Preschools and Religious Schools:
Kids' B.A.S.E. and The Little School continues to be an invaluable resource for the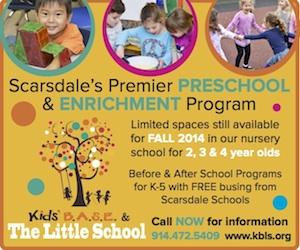 families of Scarsdale. This not-for-profit community organization encompasses two programs: Kids' B.A.S.E., which provides quality before and after school programming for youngsters in Kindergarten through fifth grade, and The Little School, a pre-school program for three and four year-olds, with the addition of a new toddler class offering morning and afternoon sessions. At Kids' B.A.S.E. a variety of enrichment programs are offered at different times throughout the year: tennis, golf, hip hop, Mad Science, Private Picassos, Animal Adventures, Kids R Cooking, Chess Chums and Legos with Block Stars. The Little School also offers enrichments at different times throughout the year: Kids R Cooking, Broadway Stars with Applause, Clay Works and Art with Private Picassos. . The Little School provides a high quality full day or half day preschool experience, and is accredited by NAEYC. In addition to our developmentally appropriate program led by highly qualified Head Teachers and Teaching Assistants, we offer weekly music, gym and creative movement classes, as well as monthly "Nature of Things" animal programs. Applications are available for the 2014-2015 school year. For more information or to request an application, please call 472 – 5409 or visit their website at www.kbls.org.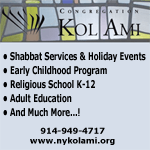 Congregation Kol Ami: The Early Childhood Program at Kol Ami is dedicated to providing a comprehensive and developmentally appropriate curriculum teaching and modeling Jewish values. We believe that children learn best through experiential play and provide for these rich experiences within warm, accepting, and nurturing surroundings. All of our Head Teachers have Masters Degrees in Early Childhood or related educational fields. We offer a wide range of programs for children (from 2 months to 5 years old) and their families. Our A Step Ahead! program for Fall 5 year olds provides full day pre-K learning until 4 pm. For more information, contact: Nan Blank, Early Childhood Program Director at njbtt@aol.com or call her 914-949-4717 x107
Shaarei Tikvah: If you are looking for a warm, creative environment where you and your children can all grow Jewishly, come to Shaarei Tikvah's Anna and Louis Shereff Religious School. Our weekday only, K-7 program provides a strong foundation in Hebrew language and prayer, with hands-on, experiential learning and innovative, 21st century programs that highlight Jewish values, holidays, Shabbat and Israel. Plus, families with their oldest child in pre-school are invited to attend High Holidays at Shaarei Tikvah free of charge. There will be warm and nurturing children's services on both days of Rosh Hashanah and on Yom Kippur. Telephone: 472-2013, Email: synagogue@shaareitikvah.org, Web: www.shaareitikvah.org
Scarsdale Synagogue Temples Tremont and Emanu-El takes pride in the creative and innovative programs of its religious school, its Mazel Tots® pre-school and its diverse adult education activities – all aimed at fostering a sense of ruach (Jewish spirit). The clergy and educators at Scarsdale Synagogue, one of Westchester's leading Reform Jewish congregations, strive to achieve a love of Jewish learning among their students, with particular emphasis on engendering and strengthening pride in being Jewish among children and their parents. They use 21st century technology to teach the relevance of the texts and traditions of Judaism, helping to make religious school engaging and fun. They also have crossover programming with active youth groups for all ages. The schools strongly reflect Scarsdale Synagogue's warm and welcoming approach to creating shared lives and real relationships. They invite members of the wider Westchester Jewish community, of all ages, to stop by and learn more about their commitment to lifelong Jewish learning. Contacts are: Rabbi Wendy Pein, Director of Congregational Learning, 914-725-5175, ext. 121 (RabbiPein@sstte.org); Jody Glassman, Director, Early Childhood Program at914-725-5175, ext. 119 (mazeltotssstte@gmail.com) or Roberta Aronovitch, Executive Director, at 914-725-5175, ext. 116 (roberta@sstte.org).
College Application Services:
Uniquely U. guarantees that its 3-step writing process will guide you to collect, connect,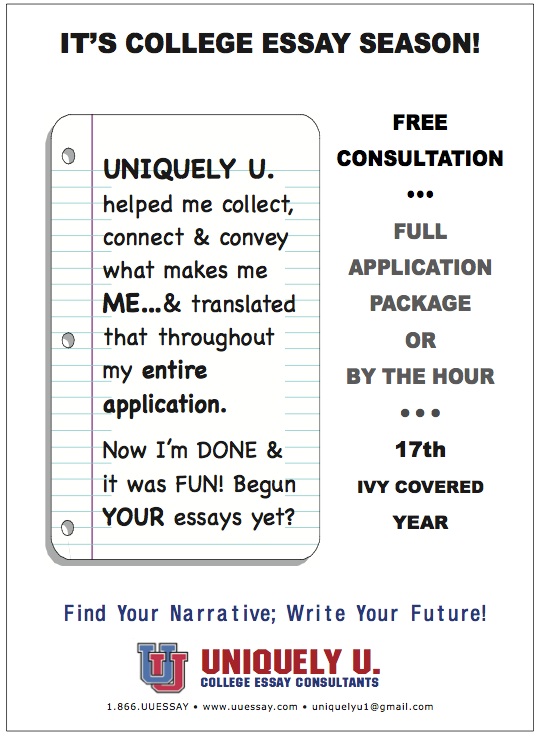 and convey your unique self-defining narrative, empowering you to envision, then actualize, your personal, academic and professional calling. FIND YOUR NARRATIVE; WRITE YOUR FUTURE! Free consultation. Full application package or by the hour. Services include: core essay / personal statement, custom formatted activity sheets / resumes, short answer, "perfect match" template, help with any / all other application essays (long and short) for law-, medical-, MBA-, graduate-, boarding-school and transfer students, teacher recommendation work-ups, college visit / interview prep, waitlist letters, online and long-distance sessions, read-overs, expertise with college-bound ADD/LD students. Contact: Maxene Fabe Mulford , College Essay Consultants, 55 Riverside Avenue, Stamford, CT 06905, www.uuessay.com • 1-866-UUESSAY -Cell: 203.219.7653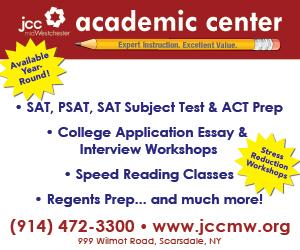 The JCC Academic Center offers a series of classes, lectures and workshops designed to help students through the entire college application process. The Center's fall schedule includes a wide array of programs including College Interview Essentials, a workshop to teach students critical interview skills to help them in both the college interview process and beyond; College Application Essay Writing workshop which focuses on writing the personal essay for college admissions, exploring what makes each student unique and working to craft a narrative to best portray one's self in college application essays; PSAT Boot Camp, which teaches students how to attack the test's critical reading, math and writing skills sections; ACT and SAT Diagnostic Tests to help students determine which test is best for them, a Common App/Activities Resume Workshop; SAT and ACT Prep classes; a lecture, Organizing and Time Management for Academic Success, Stress Management Workshops, Speed Reading and more. The very popular Inside the Admissions Office program, featuring a panel discussion among deans and directors of admissions from a variety of colleges and universities, will take place on Monday, October 6, 7:30-9:00pm.
For dates, fees and other information click here, or contact Lisa Itzkowitz, Director, JCC Academic Center at 914-472-3300, ext. 275; itzkowitzl@jccmw.org. Pre-registration is required for all Academic Center lectures and workshops. Let us know that you read about the JCC Academic Center on Scarsdale10583.com and receive 10% off any Fall 2014 JCC Academic Center program.
Sports: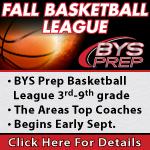 Backyard Sports Prep Basketball is now accepting registrations for all 3rd-9th graders to participate in our Fall Basketball League. The program takes place at Purchase College on Sundays. For more information go to: www.byardsports.com or call Danny Bernstein at 914-304-4052.

Tae Kwon Do: Grandmaster Bruce and Master Susan Chung have been teaching Tae Kwon Do for 21 years. Children have loads of fun in their supercharged classes designed to build strength, stamina, coordination, and flexibility. Parents are thrilled to see their children gain
confidence, self-esteem, and focus. Their Gym-Mini Kick-it Program offers Mommy and Me classes for 1-3 year olds and Open Gym for 1 to 5 year olds. They also offer Adult Tae Kwon Do and Fitness Programs. Call anytime for a free trial class or to sign up for fall classes. Bruce Chung's Tae Kwon Do, 250 Halstead Avenue, Harrison, NY 10528, 914-835-0665 www.brucechung.com.
Chelsea Piers Connecticut: Our 400,000 sq.-ft. cutting-edge sports complex provides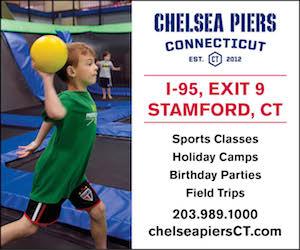 world-class facilities, expert instruction and the most exciting sports curriculum available – all under one roof. Sports facilities include: two ice rinks, an Olympic-sized pool, a Splash Zone water park, 12 squash courts, 7 tennis courts, baseball/softball and gymnastics training centers, a Field House with a 100-yard indoor turf field for soccer, lacrosse and field hockey, Aacer Maplewood basketball and volleyball courts, a preschool and child care center, a pro shop, a cafe and a restaurant.
Fall programs include a wide range of sports classes for children ages 4 months to 18 years, Chelsea Piers Athletic Club competitive teams and Adult Leagues in basketball, ice hockey, soccer and volleyball. Memberships are available for families, single adults and youth, and members will soon have access to a 65,000 sq.-ft. state-of-the-art fitness center and clubhouse, scheduled to open late fall of 2014. Chelsea Piers Connecticut also offers a wide range of birthday party options, including Splash Zone and Adventure Center (Trampoline & Rock Climbing) parties. Chelsea Piers is also a popular spot for sports-themed Bar and Bat Mitzvahs. Contact Chelsea Piers by phone at 203.989.1000, email at: info@chelseapiersct.com or visit www.chelseapiersct.com.
More ...
Education at the JCC of Mid-Westchester: Feeding the Minds and Bodies. Pre-school learners all benefit from the full service nursery schools, fitness and sports facilities and professional teaching staff throughout the JCC .... a year round indoor pool, fitness programs, arts programs and Special needs programs. The JCC's Summer Art Center (SAC), a one of a kind program that provides a non-competitive, nurturing and flexible environment for all children with a passion for the Arts, continues throughout the year! Classes are all taught by professional artists and teachers and offers high quality instruction in Fine Arts, Dance, Theatre and Music. This year we have added a brand new dance studio for our ever-popular Dance programs. The Dance School provides extensive programs for pre-schoolers, teens, and adults. Theatre School teaches Musical Theatre performance. Contact Julie Dorfman at the JCC for a tour: dorfmanj@jccmw.org or 914-472-3300 or visit the web at www.jccmw.org.
Parties: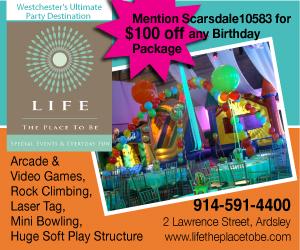 LIFE The Place To Be, Westchester's ultimate party destination. 29,000 square feet of fun and excitement, featuring Arcade/Video games, Rock climbing, Laser Tag, Mini Bowling, Huge Soft Play Structure and more! LIFE's Birthday Party Packages are all inclusive. Make LIFE simple, Let LIFE do it all! www.lifetheplacetobe.com.
Arts: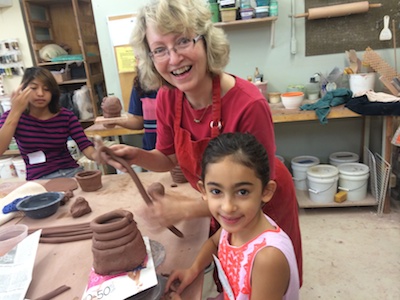 Clay Art Center at 40 Beech Street in Port Chester offers weekly youth and teen classes after school and on the weekend at home in Port Chester and in their White Plains Satellite classroom in partnership with ArtsWestchester. Adult and family classes are also available including Friday night Cladies Nights, Mommy & Me and Saturday Drop-in Clay Classes. Participants have fun and get their hand dirty. www.clayartcenter.org
Digital Arts Experience: The Digital Arts Experience, located at 170 Hamilton Avenue in White Plains, is launching a number of new and exciting classes, while bringing back all of the popular programs from last year. Classes are available for ages 6 and up and include Lego Robotics, 2D & 3D animation, 3D Printing, Computer Programming for all ages and skill levels, Digital Music Classes, and much, much more. The DAE is also launching our exciting new mobile computer lab, which will bring 99% of the classes offered at The DAE to you! Programs run after school, Monday through Friday starting at 4:00 PM and on Saturdays all day. For more information visit thedae.com.
Jacob Burns Film Center: This fall, the JBFC Theater is screening two family films: Patema Inverted on Sept. 13, 14, 20, 21 and Disney's Bears on Oct. 5. At the Media Arts Lab, the JBFC is offering courses and weekend workshops for students of all ages. There is also a free Media Maker Festival for all ages at the Media Arts Lab on Sat. Oct 25 from 10am-1pm. Experience hands-on projects from stop-motion animation and light-painting to iPhone photography lessons and a visual scavenger hunt challenge. For more information visit burnsfilmcenter.org or call 914.773.7663. Jacob Burns Film Center, 364 Manville Road, Pleasantville, 10570, Media Arts Lab, 405 Manville Road, Pleasantville, 10570.

Property Tax Revaluation: What's Next?
Details

Category: Village Voices
Published on

08 September 2014

Written by

Melissa Hellman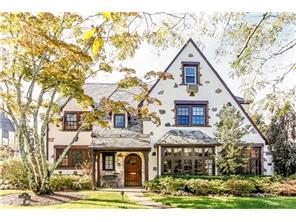 The Finance Committee of the Village of Scarsdale Board of Trustees met on Thursday, September 4, 2014 to discuss property tax revaluation. The purpose of the meeting was to talk about the Scarsdale Village plan for property assessments on an ongoing basis. The meeting did not pertain to the recent Tyler Technologies assessment revaluation project and did not provide any information regarding the status of the 950 grievances that were filed with the village as a result of the Tyler Assessment except to say that a report will be issued on September 15, 2014 with the Board of Assessment Review's final decisions.
Village Manager Al Gatta presented the Board of Trustees with two options for property assessments going forward. The first option would be to update assessed values on an annual basis using sales data and market trends to make Village-wide adjustments to assessed values. Mr. Gatta estimated the cost of annual updates to be approximately $50,000-$100,000 per year. This method would have the Village maintain property assessment values at 100% of market value. Annual updates would allow the village to correct any under assessed property that may have been overlooked in the recent assessment project, but there was also some concern that it could lead to a large number of grievances each year. Even with yearly updates, a full reappraisal is required in 2017. (A full reappraisal is required every 4 years under any plan the Village adopts.) A full reappraisal reviews and assesses properties on an individual basis. It would be expected that adjustments resulting from the full reappraisal would be minimal, as the assessment values would have been updated yearly under this plan. Mr. Gatta estimated the cost of the full reappraisal to be $250K-$350K.
The second option is a full reassessment every four years only with the next assessment in 2017. The cost estimated for this option is $250K-$350K (same as the cost for this process shown above). Under this option, assessed market values slip until the next full assessment. The number of grievances in non-assessment years would be expected to be minimal with spikes during the revaluation years. Under this plan, if the Village identified a property that was under-assessed, it would not be able to act on any adjustment until an appraisal year.
It is important to note that under either option, the Village can still conduct tax assessments on new construction and additions/improvements to existing homes. Further, under either option, the village is required to complete a visual inspection (from the exterior) of each property on the tax roll every six years.
There was no decision made at this meeting and Mayor Steves wanted to give the Trustees some time to think about the issue. He acknowledged that a decision would have to be made soon especially if option one is selected. He plans to put this topic on the agenda for a meeting in approximately two weeks.
There was also some brief discussion during the meeting about whether the data from the current 950 grievances would be or could be analyzed to determine any trends. For example, would it show that there was a neighborhood without any grievances or a neighborhood with the majority of grievances? The Scarsdale Village Office of the Tax Assessor does not conduct this type of analyses. However, the information will be made public with the report on September 15 and it is expected that some citizens may try to look at the data to identify trends. The Board of Trustees is wondering whether analyses of the data would help to address community concerns about the appraisal process and bias, but there is not a clear answer to be provided at this time. It's likely this issue will discussed more intently after the grievance results report comes out on September 15.
Six More Homes to be Demolished in Scarsdale
Details

Category: Shout it Out
Published on

15 September 2014

Written by

Joanne Wallenstein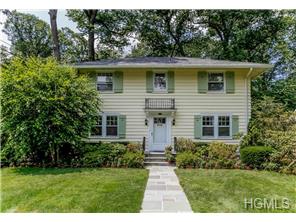 The Committee for Historic Preservation met on Tuesday night Setpember 16 to decide whether or not to give the go ahead to demolish six more homes in Scarsdale. The demolition of all six was approved.

Here are the homes that will go down:
157 Brewster Road: (Pictured above) 3 bedroom, 3-bath home on quarter acre lot in Greenacres. Currently listed for $999,000. Built in 1926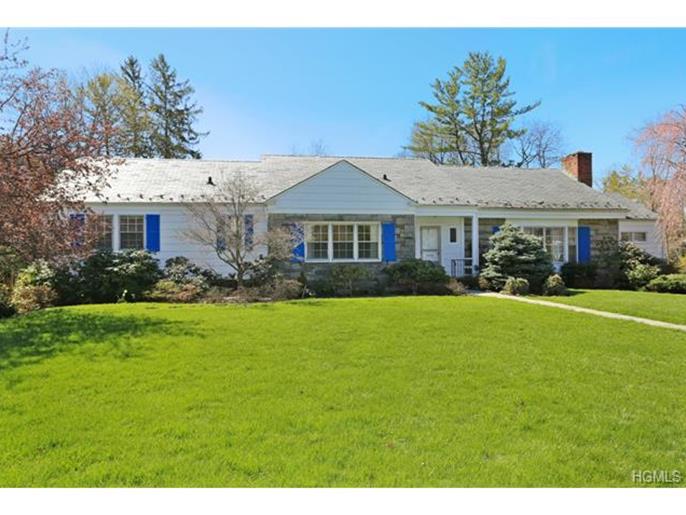 33 Stratton Road: 4 bedroom, 3.1 bathroom ranch on 2/3 of an acre in Quaker Ridge. Built in 1952. Currently listed for $1,517,000.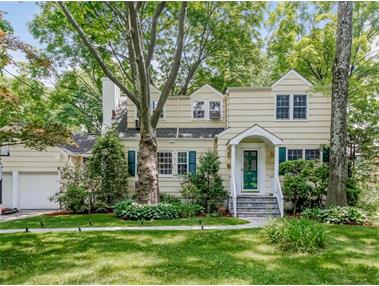 109 Carthage Road: Now listed as a picturesque colonial on .72 of an acre in Heathcote for $1,395,000. Built in 1949.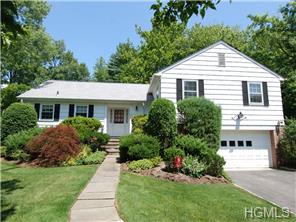 361 Heathcote Road: 3 bedroom, 3 bath split level home on 1/3 of an acre, currently listed for $949,000
Homes not currently on the market:
45 Penn Boulevard built in 1952.
4 Brookline Road built in 1928
This is Where I Leave You Hits Home in the Burbs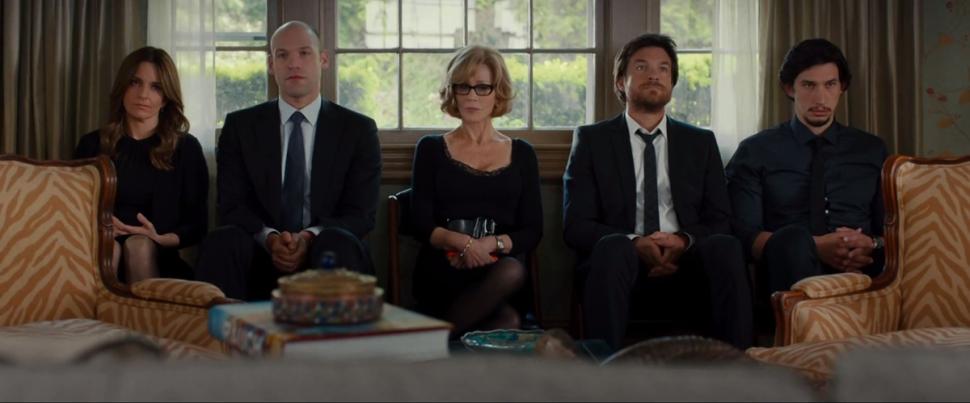 Just in time for the High Holidays – it's a Shiva movie! The film version of Jonathan Tropper's bestselling novel, "This is Where I Leave You," is being released this week and the target audience is clearly you.
The story centers on the return of adult children to their childhood home to sit Shiva for their father. They're only home for a minute before reigniting petty jealousies, and re-enacting the fistfights of their youths. You'll recognize the all-star cast with Jane Fonda as an over-sexed widow, Tina Fey as Wendy Altman, a West Coast Jewish princess and her brother Judd played by Jason Bateman, a newly-betrayed husband who loses his wife, his job and his father all in one week.
Tropper places the family drama in his hometown of New Rochelle and includes all the familiar suburban stereotypes – friends who never left home, the rabbi who can't lose his obscene nickname, ex-beaus who pop up in unexpected places and mom's trusted best friend, who in this case turns out to be much more than a friend.
The movie embraces and mocks Jewish tradition and includes a wonderful send-up of a Saturday morning service where the three oversized brothers retreat to a nursery school classroom and end up doused by the sprinkler.
As the story develops, the characters reveal the disappointments of their adult lives. Jason Bateman, the guy who did everything right, is completely unmoored by his wife's infidelity and torn when he spots his high school girlfriend Penny (Rose Byrne) at his father's sporting good store. Tina Fey's husband is a money-hungry workaholic, Paul's wife, played by Kathryn Hahn (Parks and Rec) is struggling with infertility, the youngest brother Phillip (Adam Driver) has failed to grow up and returned home with his decades older girlfriend (Connie Britton of Nashville) who is also his therapist. The family is so dysfunctional that it will make anything that happens at your house this Rosh Hashanah seem tame.
Their stories are troubling but sometimes so funny that I found myself laughing and crying at the same time. After too many "home for the holidays" Christmas movies it was good to see yarmulkes, smoked salmon and a synagogue on the big screen. The rabbi is played by Ben Schwartz who grew up in Edgemont. Other local touches included WRT Cantor Mia Fram Davidson playing the cantor in the film (she taught Jane Fonda to sing Heneh Ma Tov), scenes shot in Portchester and Rye, and even a score that features a song called "Home" written and performed by the American Authors, a band that stars Dave Rublin who has lots of family in the 'Dale.