Off to College: Advice for Parents of College Freshman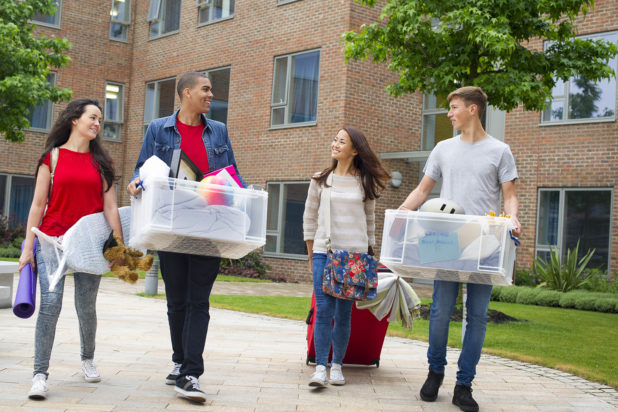 With move-in day just weeks away, many parents will soon be taking their college freshman to college and then leaving them there on their own. What should you say – and not say? How often should you call? How should you manage their spending?
Below is some advice from Julie Stonberg, a social worker at Westchester Family Counseling. Here, she gives her own thoughts about sending students off to college for the first time from her experience as a social worker and as a mother. This is followed by some DO's and DONT's and from college students.
How do you believe parents can best prepare their children for the social pressures of their freshman year in college (e.g. drinking, finding supportive friends, rush process)? How can parents push their children to succeed academically without being too overbearing and adding too much stress?
[...] Now is the time to trust that all those years of daily parenting will kick in and they will begin to figure things out on their own. We have prepared them for this "launch" for the past 18 years! I think it is so incredibly important – as hard as it feels -- to show them that we believe in them, and that we have faith that they will be ok.
[...] One thing I have been talking about a lot with my daughter this summer before she heads off to college in the fall, is about being open to new people and new situations, not making hasty judgments, but instead really paying attention to how she feels about someone or some activity or class. This translates for sure to the Greek scene – we have talked about that idea that if you [have] trust in yourself and understand who you are and where you feel comfortable, you are most likely to wind up with a positive experience. Maybe the "coolest," sorority or fraternity is not for you. That's fine! Fin[d] one where you step in and feel at home. In the end it's about finding a community that is right for you.
With regards to academics, I would say the best thing a parent can do first semester is not add to the pressure their child may already feel, especially if they are in a competitive school [...] You want him [or her] to be able to reach out to you and know he [or she] will get support and love, not questions about grades and assignments. If you really feel like something is not working you can always discuss it when your child is home for winter break, and get feedback from him [or her] in person about how it all felt and what could be done differently going forward. But it's really important to stress (in this age of everything Instagram) that most kids find first semester and even the first year, to be a huge and not always smooth adjustment.
How can parents balance helping their children financially with pushing them towards independence?
In terms of finances, what has worked best for our family was to set up a checking account in high school where they had "allowance" transferred in automatically every week from my account. When my son went to college, his high school account transferred to a "College Checking Account" (basically the same idea) and we adjusted the amount based on a budget he kept the first few weeks of school. We re-adjusted it again when he went completely off the meal plan sophomore year, taking into account his realistic expenses (again a careful budget kept) and how much he had from summer jobs and other sources. When we sat down and looked at the budget together we were able to come up with a weekly amount that seemed reasonable to both of us and he has very rarely asked for any additional funds.
How often would you recommend parents checking in on their children (text, phone call, or visit)? And should this be initiated by the child or the parent?
Regarding checking in, I have friends that tell me their child calls on the way to classes every day. My son does not. In fact, when he does actually call on the phone, it is usually to discuss something less than pleasant – something that couldn't be shared in a text or over a family Face Time session. I personally love texting. It's a way to check in that puts very little pressure on him. I might text him something during the day that makes me think of him, such as "Cooked finally opened," or some news about one of the teams he played on in high school, or something I heard about Game of Thrones. I usually get a short response, which lets me know he's alive, and sometimes it turns into a longer exchange. For keeping in touch with teenage boys, I think text might be the best thing ever.
And, although my son and I are now in a fairly good rhythm, in the beginning I tried to give him some space, and let him set the tone. If your child sees a text or missed call from you every time they look at their phone, they won't have the space to breathe, start to make decisions on [their] own – or miss you!! It's hard, but try to take the extra time and space in your house and your schedule to enjoy some time with your spouse and friends, focus on a child still at home, or do some of the things you may have put on hold during the crazy full-time parenting years.
I guarantee that if you are busy and happy with meaningful activities, it won't be long before you glance at YOUR phone and see the following: "Hi mom – wanna FT? I'm in my room…."
Do's And Dont's From Students Themselves
DO Send Care Packages: As excited as students are to go to college, homesickness can set in quickly. Even if it doesn't, care packages are always nice to receive! These can include (but are certainly not limited to) candy, homemade cookies, and Spotify Premium and/or Netflix and/or Hulu subscriptions.
DON'T Plan Surprise Visits: Your kids love you and are grateful for you, but don't expect a smile if you show up unexpectedly to their dorm rooms! There are homework assignments to finish, tests to study for, and social lives to maintain. Sporadic - approved - visits can be nice, but surprises are simply disruptive and ultimately stressful for everyone.
DON'T Take Over My Room At Home: You may think it's funny when you joke about turning your kid's room into a gym or a movie theater, but your kid probably isn't laughing. He or she is going to college - which is not the same as moving out. Winter break is nearly a month long at most schools, and most students don't want to have to crash in the guest bedroom and feel like an imposter in their own homes. Even swapping rooms with younger siblings vying for a bigger room is strictly unacceptable.
DON'T Make Vacation Plans For Thanksgiving: Yes, a skiing trip or beach vacation would be great! But it would be just as great during winter break - or any other break! Your child's first Friendsgiving is a quintessential college freshman moment (even if it doesn't happen at college). It's the first time all their friends will be together since the summer, and a necessary time to exchange stories. However, be sure to plan all fun vacations for times your child will be home. With one less person to pay for and one less schedule to accommodate, you may think it would be the perfect time to indulge in a whole slew of extravagant vacations. Your children don't want you to be miserable of course, but having too much fun can definitely send the wrong message.
DON'T Question Me On My Credit Card Bill: This is huge! Your kids are happy and thankful that you are footing their bills for the time being (and not in a "you're nothing but an ATM now that I've moved out" way), but they can't possibly be expected to defend every purchase. Can anyone really be independent if they can't order from Shake Shack five times in one week? Buy hundreds of ping pong balls? Spend $500 on headshots for rush?
Add a comment
Procedure Committee Calls for Comments on Proposed Changes to the Non-Partisan Resolution
Details

Category: Shout it Out
Published:

13 August 2018

Written by

Joanne Wallenstein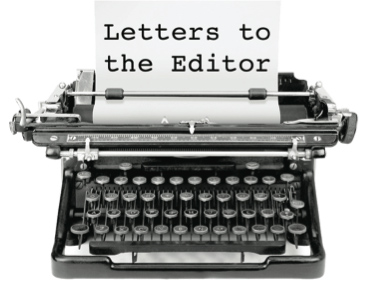 This letter was sent to Scarsdale10583 by Madelaine Eppenstein and Eric Cheng from the Procedure Committee:

To the Editor:

The Procedure Committee, the ad hoc group that administers the non-partisan election system in Scarsdale, is issuing one last, final invitation to all Scarsdale residents to help improve our unique system by commenting on proposed changes to its governing document, the Non-Partisan Resolution. Please visit the PC's website for an explanation of the proposed amendments and to review a copy of the current Non-Partisan Resolution marked to show proposed changes. August 31 is the deadline to send your comments to Procedure Committee chair Madelaine Eppenstein and/or vice chair Eric Cheng (meppenstein@eppenstein.com; chengchoi@optonline.net). Proposed amendments will appear on the ballot on Tuesday, November 13, 2018, when Scarsdale voters will simultaneously elect a new class of Citizens Nominating Committee members.

We are also inviting voters to join the Citizens Nominating Committee, whose purpose is to recruit, evaluate and select a non-partisan slate of candidates for the village offices of mayor, trustees and village justice – that election will be held on March 19, 2019. The CNC's simple application materials, a brief biographical form and nominating petition, are also posted on the same page of the Procedure Committee's website. This is your opportunity to have your voice heard on who will represent you at Village Hall and to participate in Village civic affairs.

This is a public service announcement from the members of the 2018 Procedure Committee, residents from each of Scarsdale's five elementary school neighborhoods: Charles Baltman; Sarah Bell; Eric Cheng; David Dembitzer; Madelaine Eppenstein; Timothy Foley; Jeff Goodwin; Mayra Kirkendall-Rodríguez; Eli Mattioli; David Peck; Richard Pinto; Pam Rubin; Gregory Soldatenko; Jill Spielberg; Nancy Steinberg; Michelle Sterling; and Bruce Wells.

Madelaine Eppenstein, Procedure Committee Chair
Eric Cheng, Procedure Committee Vice Chair
Email: meppenstein@eppenstein.com; chengchoi@optonline.net
Add a comment
Former Village Justice John Galloway Passes Away
Details

Category: Village Voices
Published:

06 August 2018

Written by

Joanne Wallenstein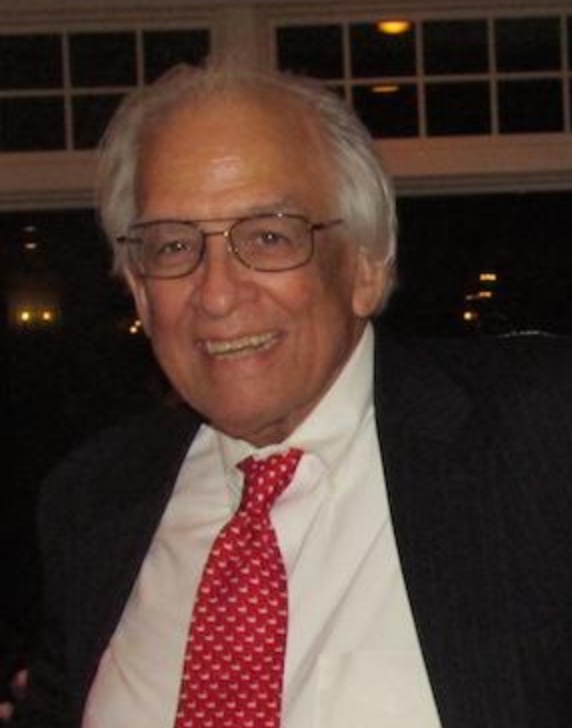 John H. Galloway III, affectionately known in Scarsdale as "the Judge," passed away on August 3, 2018. Born on August 29, 1939 in New York, New York to Mary Phillips Galloway and John Henry Galloway Jr., John resided in the Scarsdale area for much of his life.
John attended Stepinac High School, Georgetown and Cornell Universities and Fordham Law School. John and his wife, Frances, formed a law practice in Scarsdale where they were partners in life and law for over 50 years. His compassion, dedication to fairness and kindness showed through in every aspect of his life. As Scarsdale Village Justice of 20 years, longtime Rotarian, active parishioner and educator at Immaculate Heart of Mary Church in Scarsdale, John lead a life that made a difference in others' lives. He took great pleasure in Community Theater, sailing, bird watching, music and stargazing. The Galloways are long-time members of the Fox Meadow Tennis Club. Above all else, was his love for his family. He is survived by his wife, Frances Cassebaum Galloway, daughters Emily McGovern-Voliva and Sarah C. Galloway, brother, David Galloway, grandchildren Colleen McGovern, Erin McGovern and Kelly Ann McGovern. John was known by many and loved by all.
Commenting on the loss, Scarsdale Village Justice Jack Alemany said, "John Galloway was a great judge and a better person. The Village of Scarsdale and the legal community of Westchester County will miss him.
Scarsdale Village Manager Steve Pappalardo said, "John Galloway was a rare individual, smart, principaled, and respectful of all, a more empathetic, human being you won't find. Every defendant had their day in court when Judge Galloway precided and his decisions were fair and balanced. I will miss him for his friendship and kindness."
Mass of Christian Burial Tuesday August 7, 2018 at Immaculate Heart of Mary Church Scarsdale 10AM. A memorial luncheon will be held immediately following the mass at the Scarsdale Congregational Church 1 Heathcote Road Scarsdale NY 10583.
In lieu of flowers please make any contribution to Calvary Hospital, 1740 Eastchester Road, Bronx, New York.
Add a comment
Shake Shack to Open on Central Avenue Plus More Retail News
Details

Category: Around Town
Published:

14 August 2018

Written by

Joanne Wallenstein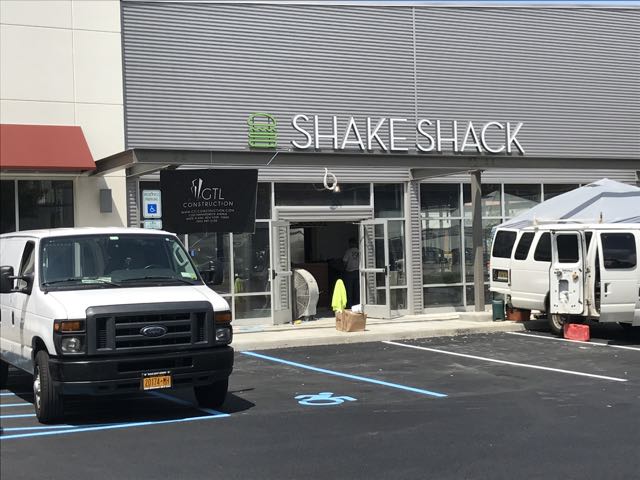 Though many people are out of town, we took a trip around town to see what August had to hold.
First, we noticed that a large Shake Shack is opening in the Dalewood Shopping Center on Central Avenue in front to HMart. That should be welcome news for burger lovers as Shake Shack's burgers are made from 100% all-natural Angus beef, with no antibiotics or hormones. Shake Shack also offers crispy chicken sandwiches, flat top hot dogs and cheese fries. For dessert there's rich and creamy frozen custard with a mouthwatering choice of topping like dark chocolate chunks, chocolate truffle cookie dough and Doughnut Plant doughnuts.
Hand-spun shakes come in vanilla, chocolate, caramel, black & white, strawberry, peanut butter or coffee Fair Shake. To drink the menu includes shack-made lemonade, beer, and red and white wine. Don't forget their breakfast sandwiches too.
I have a feeling we will all be hanging out on Central Avenue soon!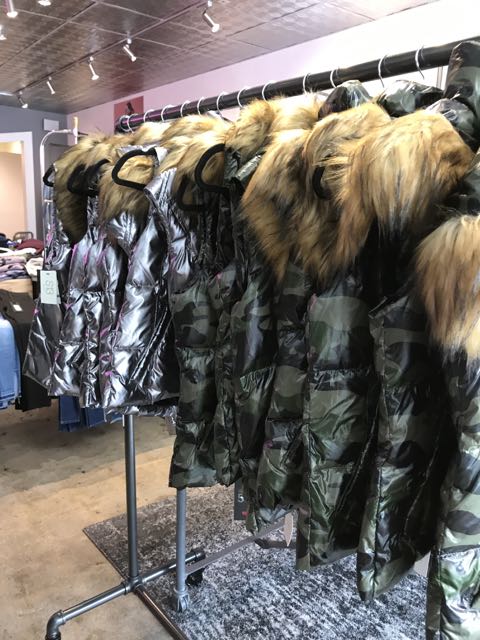 In Scarsdale Village, it looks like the new bookstore is planning a late summer opening, and we're hopeful that we'll welcome Bronx River Bookstore to Spencer Place by the end of the month.
We found some intriguing sales of summer merchandise and great new looks for the fall.
At Mixology on Spencer Place, we spotted these cool camouflage or silver vests with fur-trimmed hoods that will be fun for cooler weather. Mixology is hosting a series of designer trunk shows at their Rye Brook and Scarsdale stores throughout August. Stop by to see what's in for Back to School.
There were many busy shoppers and tables loaded with sale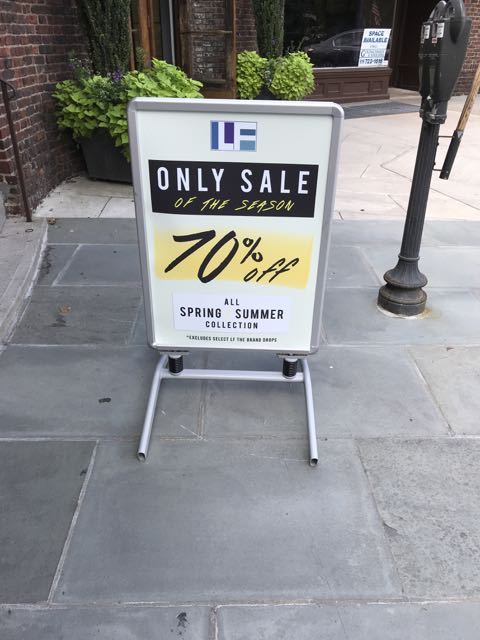 merchandise at LF on Harwood Court, where they are now offering up to 70% off on their spring and summer collection. Find denim shorts and skirts, jean, knit tees, playsuits, sweaters, woven tops and more. Just plowing through the merchandise is a good way to beat the heat.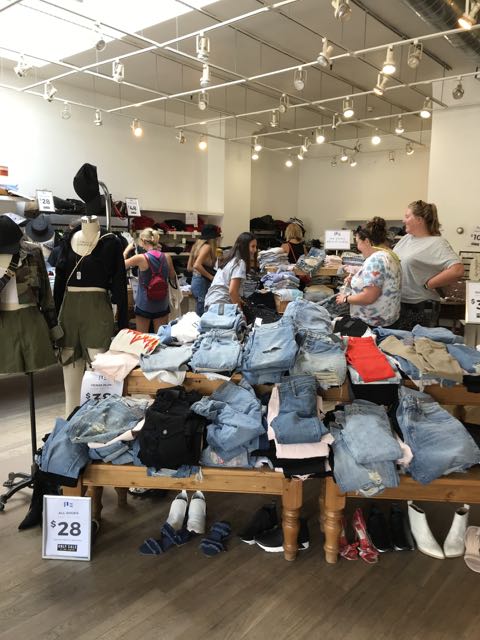 Pookie and Sebastian on East Parkway is offering up to 75% off their summer goods and already has a nice collection for fall featured in the front of the store. Get a good deal on summer whites and cottons or try on knit sweaters, fur vests, leather jackets and and an appealing mix of tops, pants and sweaters in taupe, gray, khaki and mauve for fall.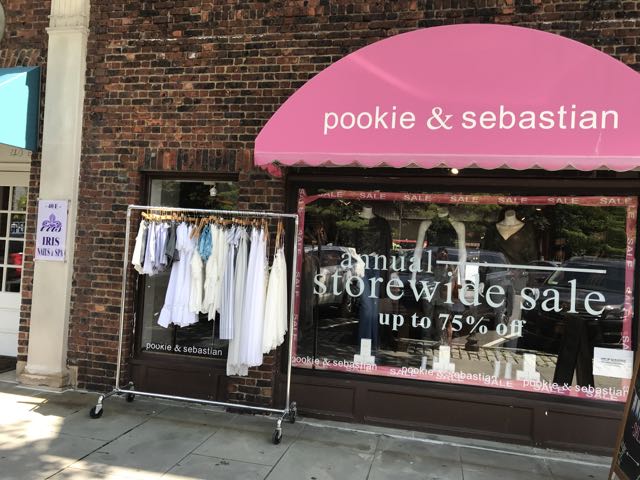 I Am More on Spencer Place also has a summer sale in progress. We liked this display of silky camis paired with cut off denim shorts. They also have a rack of jeans on sale.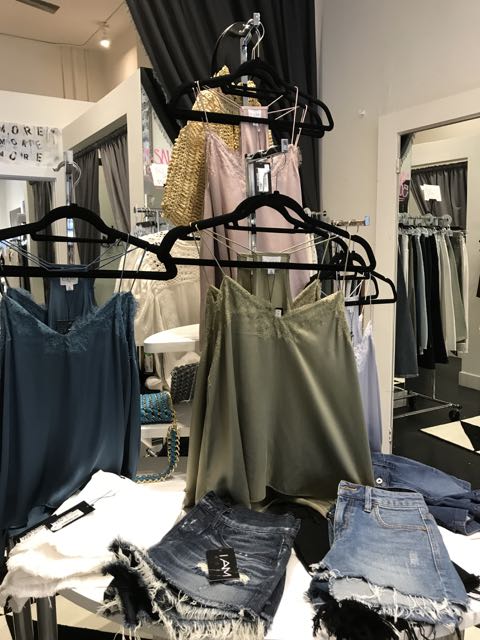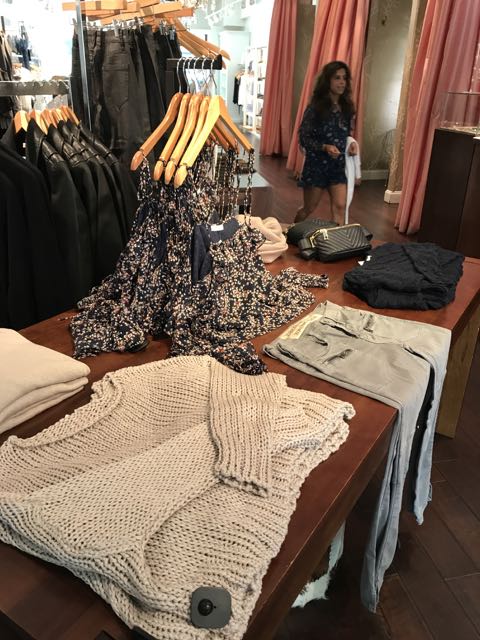 The Dark Horse, a unique gift shop appears to be running their summer sale on Harwood Court.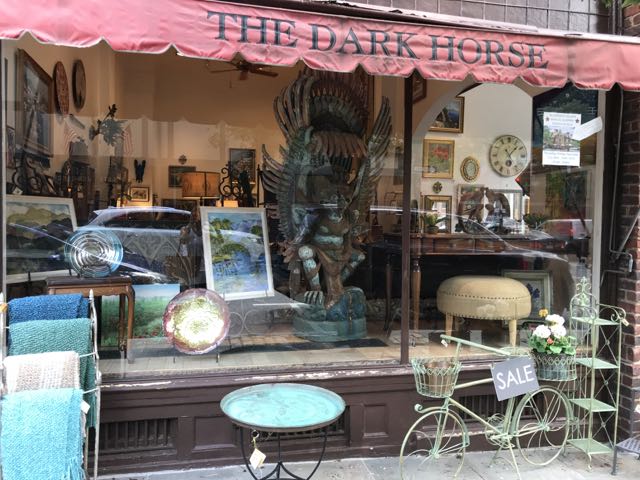 A summer sale is in progress at The Dark Horse
Add a comment
SHS Senior Sends Books to South Africa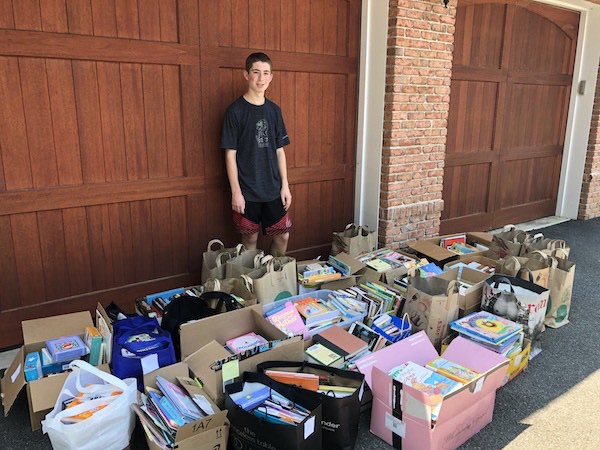 Soon to be senior at Scarsdale High School Zach Hoexter has undertaken an ambitious project to bring books to children in South Africa. Last summer, as a volunteer in South Africa, he witness first-hand witn pit toilets, poor conditions ... and no libraries. When he returned home he was inspired to send children's books donated by families in the United States to elementary schools near Kruger in South Africa where many schools have no libraries.
Using social media he has already collected 1,500 books for Books for South Africa and donations continue to arrive daily. Undaunted by the challenge of shipping them overseas, Zach went through a lengthy application and approval process, and secured shipping from a major international shipping corporation who will deliver the books from New York to South Africa. Moreover, he's excited to report that the company has invited him to a special event this week to meet their Global CEO and deliver a speech.
The issue is timely. The New York Times published a front-page article on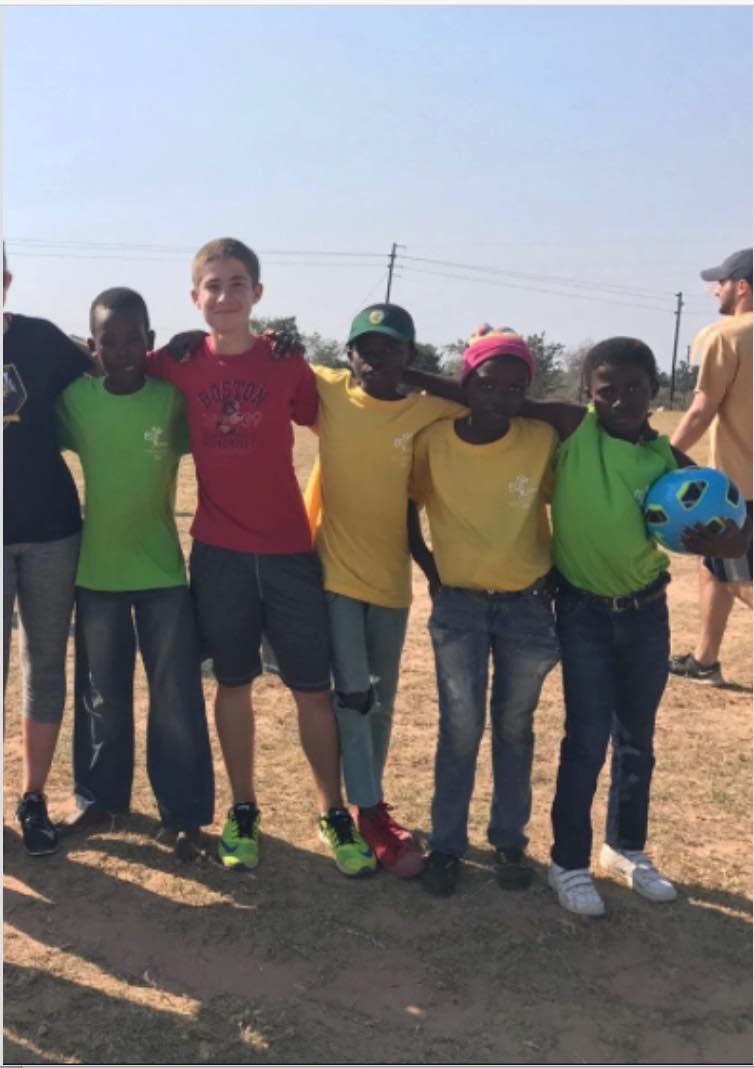 August 5th highlighting the mass corruption plaguing South African primary schools. It discusses exactly what Zach witnessed during his volunteer service there. South Africa has one of the lowest literacy rates of developing countries and less than 5% of the school in and around Kruger National Park have a library. He is working with a local organization in South Africa that is helping to improve literacy for these schools and the books he collected will stock a library for the Mphaku School in Kruger and possibly other primary schools in that area.
If you have books for children ages 5-13 that you would like to donate, click on the Go Fund Me link for instructions. https://www.gofundme.com/books-for-south-africa.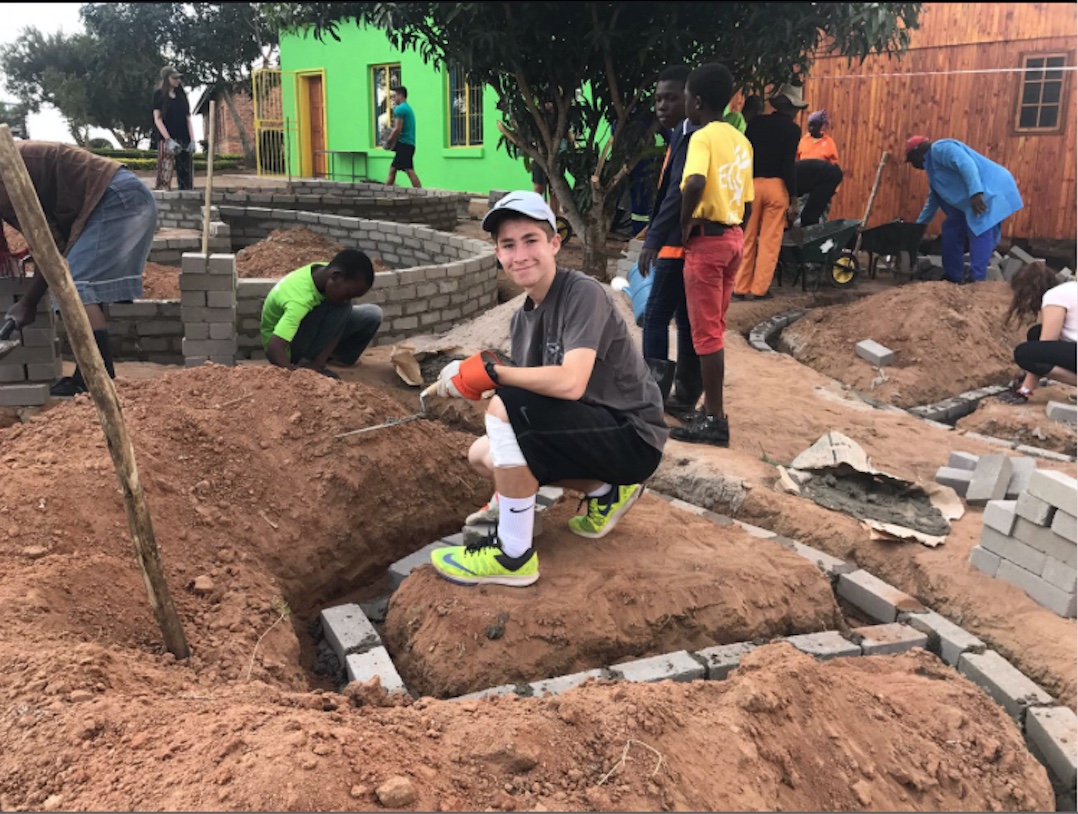 Add a comment
A Mid East Feast For All The Senses At Fez Turkish Meze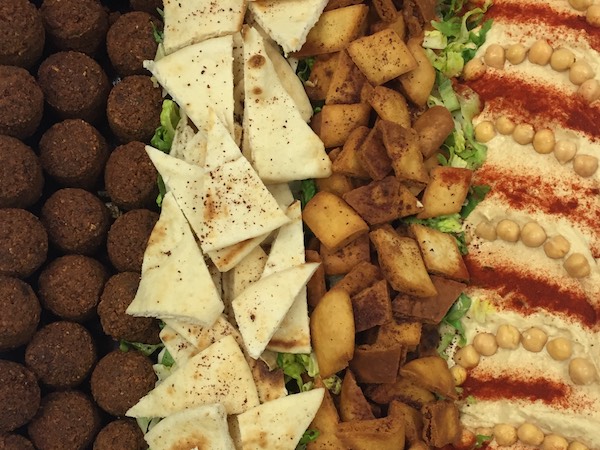 Do the words grape leaves, pomegranate molasses, sumac, pine nuts, kibbeh, tabbouleh and baklava make your taste buds sing? If they do, pay a visit to Fez Turkish Meze where the rich aromatic flavors of the Mid East combine for healthy, wholesome and very tasty dishes, in a warm friendly setting. Fez occupies the space that for many years was another very pleasant Turkish restaurant. The new owners are the welcoming Khaled Daas and his wife Ahoud Bata. Seating about 60 guests, Daas was proud to inform me that the simple space was completely redecorated by his family and himself, from the stucco walls, dark wood beams, vintage copper cooking utensils on the walls, and turquoise recycled water glasses on the tables, the color reminiscent of the Mediterranean. The dining rooms are separated by a large entrance area. Mid Eastern music was playing in the background, setting the scene for the meal to follow.

Daas indicated that, "I love the social aspect of restaurant ownership. Many of our guests have become friends. We consider every guest a VIP and we make them all feel at home at Fez. Our goal is to grow gracefully and maintain the family feeling. "Busy in the kitchen, is Chef Ahoud Bata. The Turkish and Mid-East cooking is a reflection of her time spent in the kitchen with her mother and grandmother. At Fez, Chef Bata instills her dishes with her love of food and her desire to prepare her dishes for the pleasure of her family and guests. The dishes are traditional and many are adapted to modern techniques. "We are aware of the need for gluten free and vegan dishes and offer many in those categories. Our food is very healthy. Vegetables, grains and lamb are important ingredients in our cooking."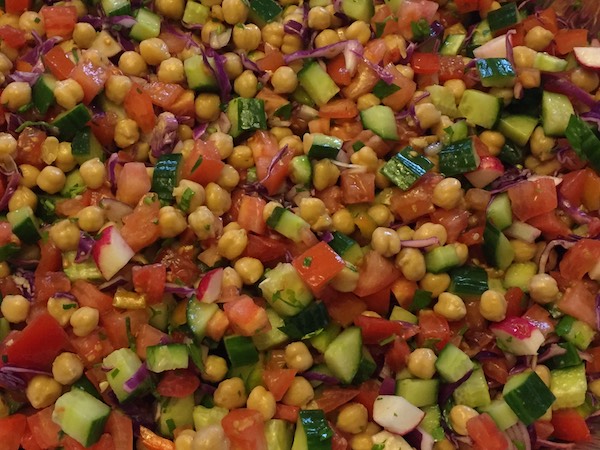 France may have its hors d'oeuvres, Spain its tapas, China its dim sum and Italy its antipasti, but Turkey and the Mid East has its meze. At Fez, the selection of meze is so varied that several of the selections can certainly constitute an entire meal. The meze here is truly a miniature feast. First, there are the dips, served with a basket of warm pita bread. Some are familiar such as the hummus with chick peas and tahini and lebne a rich strained yogurt. We sampled a superb baba ghannoush. The eggplant is roasted and blended with tahini, yogurt and seasonings. It was addictive with its chunky texture, smoky flavor and sprinkling of fresh parsley. Yet to be tried are modammas with fava beans, garlic and fresh lemon juice, and mhammara, a walnut red pate with spicy red pepper paste and walnuts, walnut lebne yogurt with garlic and walnuts and lentil pate. Next we sampled some of the finger foods. There was zatar pie, cheese puffs, falafel, kibbeh balls and zucchini pancakes. We chose lahmacun. These were 6 inch rounds of homemade dough topped with ground beautifully seasoned lamb. They are baked and are Turkey's answer to individual pizzas. Phyllo pastry is the wrapper for many fillings from minced lamb, spinach and cheese to simply feta cheese. Rolled into cigar like packages the sigara borek, fresh out of the oven were hard to resist. Dolma, grape leaves are enjoyed throughout the mid east. Here the leaves are softened for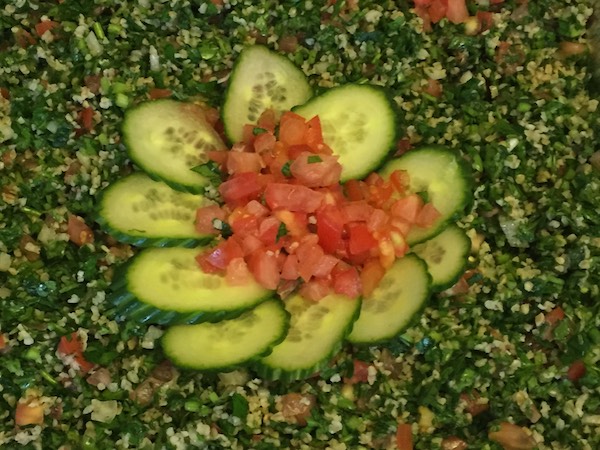 easy eating and filled with a rice and vegetable mixture. They are served at room temperature. Hints of lemon and pomegranate molasses were evident. In my home the grape leaves are served in the Syrian style filled with ground meat and rice and cooked with dried apricots and pomegranate molasses. The third section of meze at Fez includes a variety of vegetable stews or soslu. They are served cold with pita or hot with rice. The varieties include eggplant, okra, butter beans, potato and coriander, and cauliflower with garlic, coriander and lemon juice. On cool day you may wish to try homemade red lentil, hearty vegetable or chicken noodle soup.

There are about 9 salad choices ranging from tabbouleh with bulghur, parsley, tomato, onion, lemon and olive oil, to the ever popular fattoush with romaine, tomato, cucumber, pepper, radish, onion and lemon juice. Olives, pita chips and a sumac vinaigrette complete this salad. The salads can be topped with meat, vegetables or fish. For a light bite, wraps are offered.

Fez entrees run the gamut from chicken or lamb adana or kefta shish kebab or a mixed grill of several skewers. We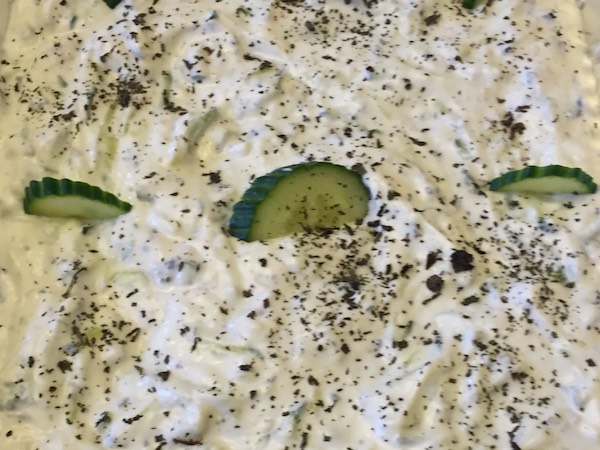 enjoyed the kefta shish kebab. The finely minced lamb was lightly seasoned and mixed with onion and parsley and threaded onto skewers and grilled. Basmati rice and a nicely tossed salad shared the plate. These kebabs are an example of simple cooking at its best. We also sampled the eggplant pot pie. Here eggplant was roasted with the skin intact and layered with minced meat, tomato sauce and Fez tahini blend. This was topped with toasted pine nuts and pita chips for a rich combination. Other entrees include grilled lamb chops, branzino, salmon, lamb shank, cabbage rolls, moussaka. Several chicken dishes and mujaddra, a lentil and rice dish.

If you wish, bring your own wine to enjoy with dinner.

Homemade baklava, rice pudding chocolate pudding and semolina cake are dessert offerings. I simply ended my tasting with a cup of Turkish coffee served in a gold leaf decorated demi tasse cup. In the mid east tradition, I let the coffee grinds settle at the bottom of the cup so my fortune could be read. It appeared to say you will return to Fez soon.
Share a meal with family and friends at Fez soon. The meze selection is perfect party fare and Fez will be delighted to cater a party for you.

Fez Turkish Meze
409 Mount Pleasant Avenue
Mamaroneck, New York
914-341-1122

Recipe: Baba Ghannoush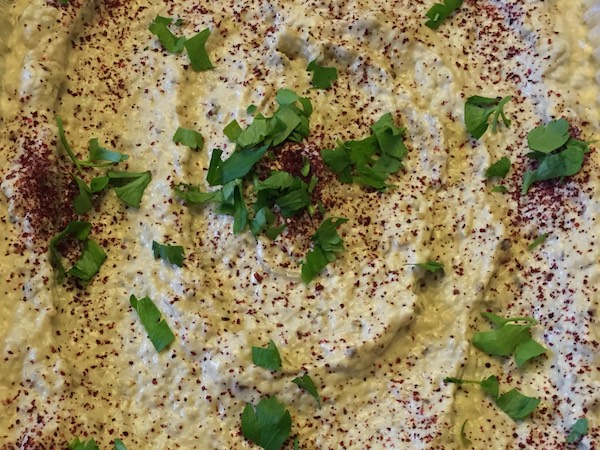 2 Large Eggplants
½ Cup Tahini
½ Cup Plain Yogurt
1 Tbsp. minced garlic
2 – 3 Tbsps. fresh lemon juice
Salt and pepper to taste
Olive oil for garnish
Ground sumac for garnish

Roast the eggplants. Cool and peel off the skin. In a bowl, mix tahini, yogurt, garlic and lemon juice until it is creamy. Cash the eggplants and add it to the tahini mix. Add salt and pepper to taste. Place in a serving dish and garnish with olive oil and a sprinkling of sumac.
Unusual ingredients are available at mid-east markets.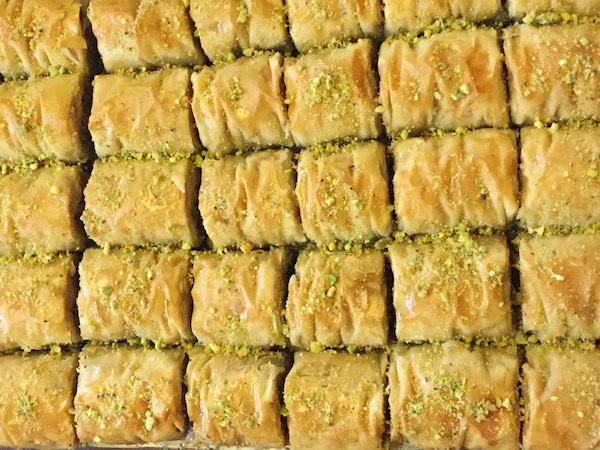 Add a comment
Scarsdale Schools Education Foundation: Fostering Innovation in the Scarsdale Schools
Details

Category: School News
Published:

07 August 2018

Written by

Joanne Wallenstein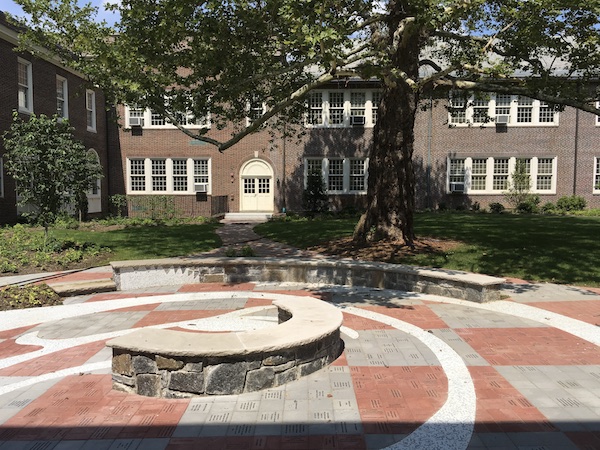 The SHS courtyard is lined with pavers enscibed with the names of donors.Now that the Scarsdale Schools Educational Foundation's (SSEF) first major campaign is complete, will they continue to support the Scarsdale Schools? In September, the foundation will celebrate the opening of the Design Lab and Fitness Center at Scarsdale High School, both built with over $2.25 million in funds that the SSEF raised from the community. Grants from SSEF were used to fund these two projects in combination with an $18.1 million bond to finance extensive capital improvements throughout the Scarsdale Schools. This was the first time in Scarsdale's history that private funds were combined on this scale with public financing to improve the schools.
The capital campaign was the second initiative for SSEF who initially provided $90,000 in grants that were used to build Makerspaces in Scarsdale's elementary schools, to implement a Gaming and Simulation curriculum at Scarsdale Middle School and to fund a programming and coding project, HackScarsdale, at the High School.
So what's next for the foundation? We met with the foundation's Executive Director Steve Seward to learn more about the foundation's goals for the future.
It turns out that students will benefit immediately from the foundation's grants when they return to school this fall. For the first time, in September 2018, two sections of a new AT class in Entrepreneurship will be offered in the high school Design Lab. The classes will be taught by Lisa Yokana and Brian McDonald, and both sections are already fully subscribed. Funding for curriculum development for the class was provided by the foundation last year in support of a class that served as a prototype for the new courses.
At the elementary schools and the Middle School, Seward said the foundation's Grants Committee is seeking ideas from administrators and teachers for innovative projects that fit the foundation's overall mission to support programs at all levels of education in existing and new spaces. "We seek to supplement the District budget by providing funds for initiatives that do not fit within the constraints of the District's operating budget," Seward said.
The foundation will continue to look to the District's Center for Innovation for worthy projects. As Seward put it, "we see the Center for Innovation as an ideal incubator for good ideas and new projects. We welcome the opportunity to be the accelerator for those projects district-wide."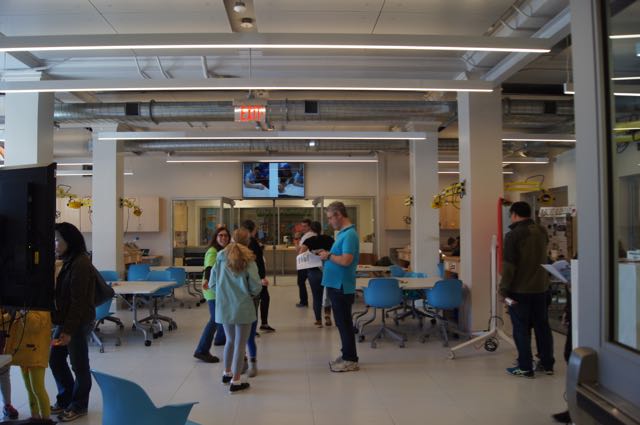 The new Design Lab at Scarsdale High School
With ever increasing pressure from the state and taxpayers to limit tax increases, funding from the Education Foundation can help to drive innovation and keep the Scarsdale Schools at the forefront of education nationwide.
The Foundation has proven its value to the community and will continue to innovate in the years to come. This summer they welcomed four new board members: Elinor Etkes, Seema Jaggi, Megan Simon and Scott Zemachson.
The entire community is invited to a celebration of the design lab, the fitness center and the paver courtyard at Scarsdale High School on September 27 at 7 pm. Mark your calendar to join the party.
Add a comment
Crickets, Collagen and Cauliflower: Food Trends of the Year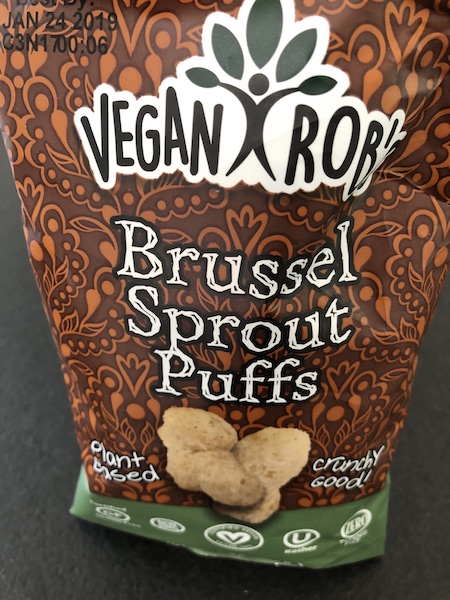 Early this summer I attended the 2018 Fancy Food Show in Manhattan to learn about current and upcoming food trends and sampled so much that I thought I would never want to eat again.
There are many exciting and interesting development food industry this year that consumers will begin to see on the shelves and on their menus. There's good news for carnivores, vegans, gluten-free'ers, aquaphilics, allergy kids, matcha-lovers, super-food aficionados and more. And the other news is that DeCiccos, Balduccis and Trader Joe's keep up with these trends and stock these new products. Here are just a few you'' soon see:
Cauliflower
Although not his most famous quote, Mark Twain did say, "Cauliflower is nothing but a cabbage with a college education." And boy is that proving to be true a century later. Plant-based food is becoming increasingly popular. Some are calling cauliflower the "next kale" and touting its success as a carbohydrate substitute that's packed with nutrients. Trader Joe's has cauliflower-based pizza crust, "rice" and "mashed potatoes" but you'll even start seeing cauliflower flour used in snacks like pretzels and cheese squares. I detected a cauliflower aftertaste in the pretzels but not so much in the cheese snacks. Apparently, some people are more bothered by this than others, like most foods. I skipped the cauliflower ice cream (in favor of the chocolate and cheese aisles). Other vegetables like brussel sprouts and broccoli are also being "hidden" in snacks, most often in powder form. Interestingly, many snacks have the hidden vegetable name and/or picture on the package. I'm not sure about your kids but if mine saw a package of potato chips with a giant broccoli on the packaging, they'd be like "hell no."
Superfoods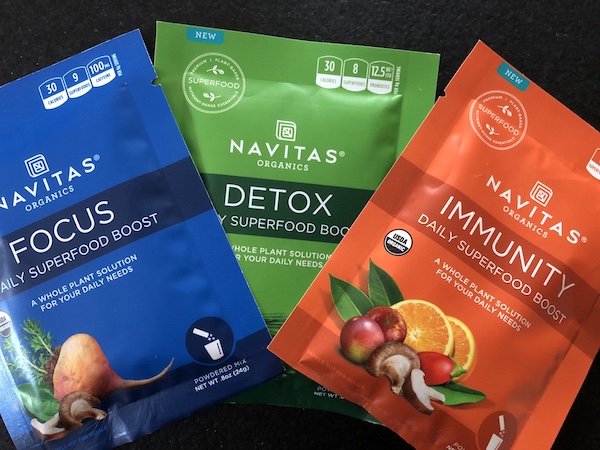 Superfoods are upping their game in a big way. Superfoods don't have an exact definition, but are essentially any food packed with nutrients, vitamins, minerals or collagen, or foods like broccoli and wild salmon that are nutritiously superior to other foods. It seems to be a marketing "bling word" these days. Newer to the food industry is giving consumers the ability to make their regular ol' plain foods into superfoods. For example, you can turn a simple cup of H20 into a superfood by dumping a packet of (purported) "superfood boost" into it. Forget the kale salad for lunch, just toss a packet of Navitas daily boost into your food or drink. There are options called "detox," "Focus" and "immunity." I need all three of these but don't know if they can be used concomitantly. I also saw "brain oil" and "collagen fuel" but there were no IQ tests being given nor dermatologists around to confirm their efficacy.
Upcycled Foods
Manufacturers have gotten waste savvy and are testing new products that were once seen as byproducts of manufacturing but are now being repurposed into a marketable food product. For example, RIND snacks uses the whole fruit, rind and all, hence the name. I found their fruit products to be remarkably palatable. Salmon skin is being turned into crackers and shells of hempseeds are being used in granola bars.

The Coconut
Coconut everything. It's not new, but the coconut is still trending in foods, drinks and of course beauty products. Coconut water is now available using king coconuts which are mainly harvested in Sri Lanka. As a natural beverage, coconut and particularly king coconut water provides the imbiber with a vitamin and mineral-heavy refresher of a drink. Also popular is carbonated coconut water like Jax Coco. Coconut continues to be a fashionable ingredient in food from granola to energy bars and everything in between.
Nuts. No Nuts. Nuts. No Nuts.
Nuts remain prominent in foods like chocolate and energy/nutrition bars. Nuts are being seasoned in unique ways and marketed as healthy snacks. Furthermore, they're being packaged creatively for on-the-go snacking.
Seemingly newer to the market is the response to the demand for allergen-free snacks. Between the increase in allergies in kids and school rules to accommodate these allergies, parents need to find snacks that are tree nut free, peanut free, egg-free, dairy-free and gluten-free, for example. Specialty food manufacturers are packaging numerous alternatives to popular children's snacks that are safe for schools and safe for kids with food allergies. Expect to see more of this on your grocery store shelves this year.
Also look for nut-based milk as well as nut-based cheese and butter.
Water and Other Drinks
It's interesting to see water take off since it is virtually free and ubiquitous. But we Americans love our fancy water! There's oxygen-enhanced water, pH balanced water, alkaline water, electrolyte water, mineral water, engineered sparkling water, natural sparkling water, enhanced sparkling water (pro-biotic, flavored, etc.), and plenty of Artesian water from places as far away as India. When I was in India, most of the people I went with got sick from drinking the water but that hasn't hindered the demand for Indian Artesian water. Artesian water is produced from an aquifer under layers of rock and clay. Water from a confined artesian aquifer is marketed as being "more pure" than other water. Though the EPA doesn't support this claim, those who have discovered a taste for artesian water swear by it.
There were quite a few kombucha exhibitors at the Fancy Food Show with many new, interesting flavors. Kombucha is a fermented tea made using SCOBY, or a symbiotic culture of bacteria and yeast. A kombucha maker will tell you that there are numerous health benefits from drinking kombucha (daily) but these claims have not been scientifically verified. Regardless, kombucha is now a $400+ million-dollar market.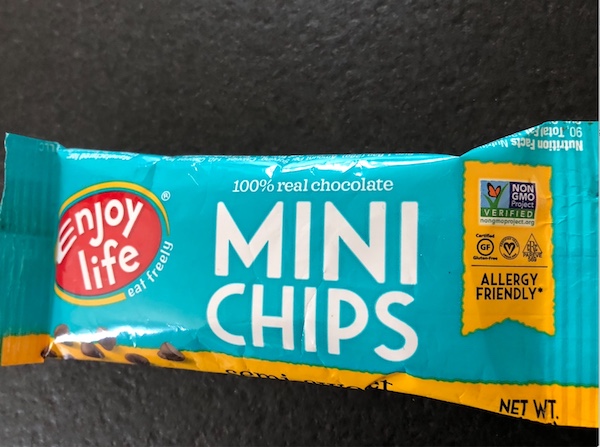 Matcha everything
Matcha has become so popular among its ever-increasing fan base that there are now companies that manufacture only matcha-based products. Matcha is a finely ground green tea powder and contains polyphenols which some studies show may boost metabolism. It also contains powerful antioxidants. Matcha is now being added to drinks like lemonade for better taste while still getting potential benefits from matcha powder.
The beverage industry is growing faster than the food industry and the sparkling beverage industry is the fastest growing within the drinks category.
A Bug's Life (or Lack Thereof)
My mom loves to tell the story of her most badass moment as a teenager- ordering chocolate covered ants and getting her brothers to eat them. As a self-proclaimed insectophobe, I knew it would be fun to lure her into eating a sample of green ant-covered goat cheese from Australia. (It was fun, after I got over the momentary guilt of watching her face turn pale after she learned she ate a green ant.) I ate it too and frankly, it was delicious.
Insects are packed with protein, iron, b12 and other vitamins; they're low in fat; they are better for the environment than animals raised for their meat. They eat less and they poop less than farm animals and their poop (called frass) makes an excellent organic fertilizer. There are over 1,700 of varieties of edible insects.
Americans have not taken well to the idea of eating insects though 80% of the world enjoys them. I've tried mealy worms and whole crickets (as ice cream toppings). I can't say I loved the whole cricket because it was dry and powdery. But companies such as Crickstart are using cricket powder in products like energy bars and crackers and there's no "insect taste." Like boogery kombucha, cricket powder may just be something that people need to get used to. In Cambodia I had the opportunity to try fried tarantula, a common Khmer dish, but that's where I drew the line.
Snackin' Meats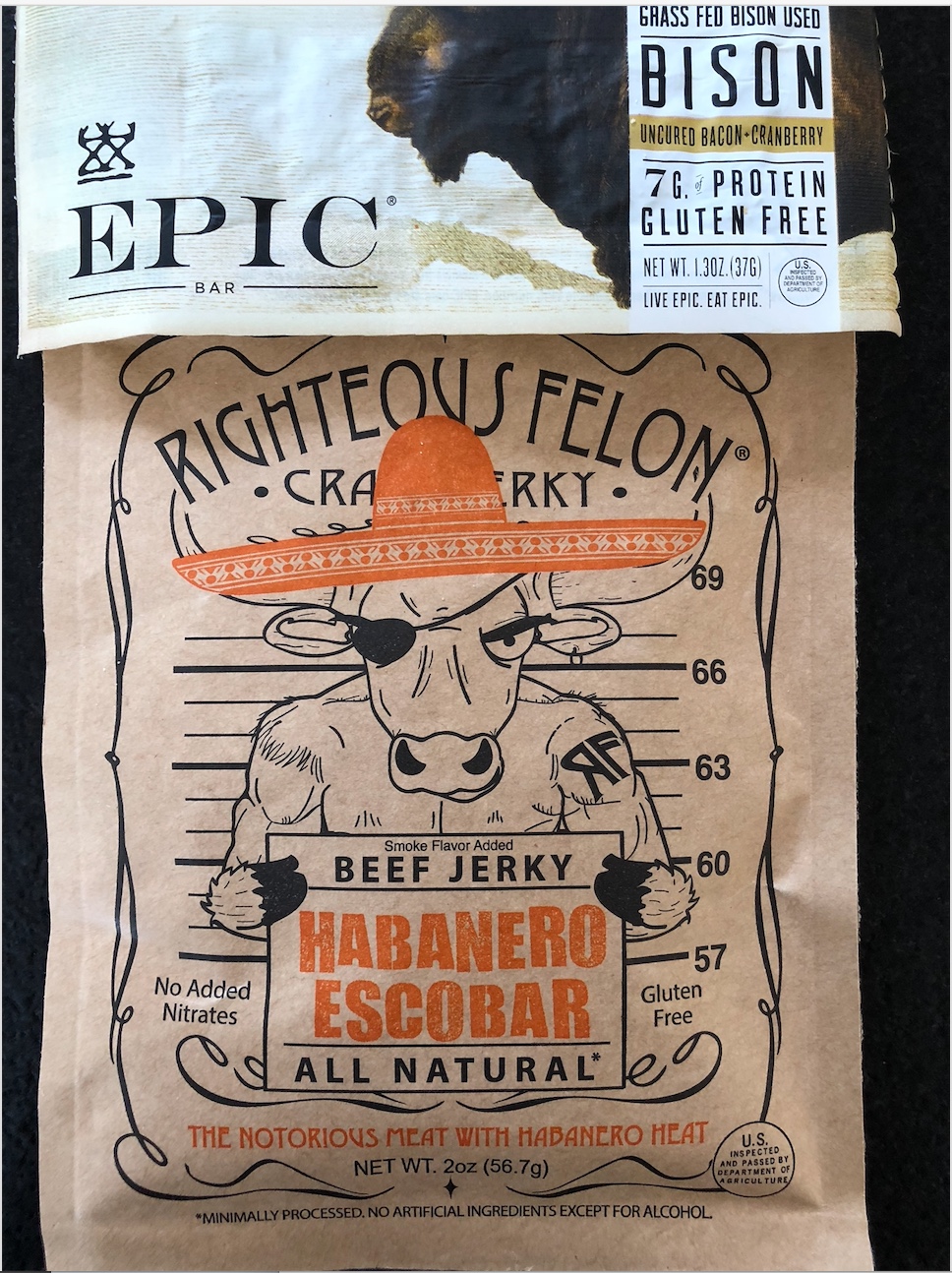 Jerky in all forms was all over the Fancy Food show. The most unique was Pan's Mushroom Jerky that was unbelievably delicious. Traditional beef jerky is still popular but is now available in "super premium" filet mignon or other fancier cuts of meat. Salmon, buffalo and pork are being used as jerky meats and chicken is being made into "meat bars" by Epic. South African style dried meats are gaining popularity in the U.S. such as biltong (air-dried, cured meat) and Droewors (a coriander-seed spiced dried sausage). I enjoyed the biltong as it is much less salty and moist than jerky.
Have you seen any of these new foods while grocery shopping this summer? Are there other new products we should try? Most importantly, would you eat crickets? Please share in the comments section below.
Add a comment