Police Report: Fire Destroys Car on Bronx River Parkway
Details

Category: Today's News
Published:

29 January 2020

Written by

Traci Ludwig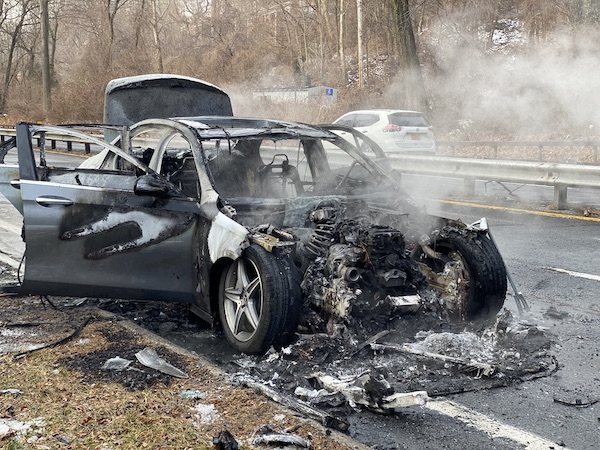 A fire engulfed a passenger car on the northbound Bronx River Parkway, near River Road, shortly before 9 a.m., Jan. 23. Due to heavy morning traffic, firefighters' response time was impacted, and the car was "well involved with fire from the engine and passenger compartments" when firefighters arrived, according to the official report log. Firefighters immediately stretched two hose lines and extinguished the fire with approximately 750 gallons of water and two 20-lb dry chemical fire extinguishers. Westchester County police assisted with traffic control while firefighters cleaned up the roadway with absorbent and assisted the tow truck operator with debris removal.
The driver of the car reported that he pulled over to the side of the road after hearing a loud "pop," followed by smoke emitting from beneath the hood. He said he first saw flames coming from the engine compartment and was able to evacuate the car before the flames spread to the passenger compartment. Following extinguishment, firefighters determined the most extensive damage occurred at the front end of the car, although burn patterns spread from the front of the car to the rear of the car. Investigation noted two empty 5-gallon portable fuel container inside the car's trunk; however, there were no indications that the contents of these containers in any way contributed to the fire's ignition or spread. According to the driver, the container were used two days in the past to transport diesel fuel to his house at the direction of a heating oil contractor who could not provide a timely delivery.
Land Rover Stolen
At 7:20 a.m., Jan. 24, a Mamaroneck Road resident reported someone stole his 2018 Land Rover Range Rover from his driveway overnight. The value of the car is $100,000. The keys were left in the car overnight.

Arrested
On Jan. 21, Fabrice W. Haddad, 49, of Greenwich, Connecticut, was charged with second-degree criminal contempt and arrested. Haddad is accused of violating an order of protection issued by a Family Court judge. Following arrest processing, Haddad was arraigned at Scarsdale Village Justice Court and released on his own recognizance with an appearance ticket, returnable for Jan. 22.
On Jan. 23, police conducted a traffic stop of a car with only one operable headlight traveling on Post Road. The driver's license had been suspended for five violations over the past two years. The violations included failure to answer summonses and failure to pay fines in Bronx County, New Rochelle and Mount Vernon. The driver – Jason M. Bentley, 45, of the Bronx – was arrested on charges of second-degree aggravated unlicensed operation of a motor vehicle with three or more suspensions and an equipment violation. He was released on his own recognizance with an appearance ticket, returnable for Feb. 29.

Burglary
A Fox Meadow Road woman reported someone "was changing locks and removing property from her house" Jan. 20. Police went to the house to investigate. They noticed one broken pane of a double-paned window on an unsecured basement door. No signs of forced entry were observed. She said she was last at the house on Jan. 17 and did not notice any damage to any windows at that time. She reported that ten gift cards worth $1,900 were stolen. She also reported that a fur coat, belt, shoes and a Chanel handbag, with a combined value of $23,100, were stolen.

Car break-ins
An unlocked car was entered on Cushman Road overnight Jan. 20. A change purse and loose change were stolen.
While police were investigating the first reported incident of a car break-in on Cushman Road Jan. 21, another Cushman Road resident reported her unlocked car was also entered during the overnight period. Earbuds and loose change were stolen.

Check fraud
On Jan. 21, a Christie Place man reported someone fraudulently altered and cashed two checks drawn on his business account using a mobile deposit feature. One check was written for $3,500, and the other check was written for $1,650.22. The check numbers, memo portions and persons to be paid had all been altered on the checks. The man closed the account as soon as he discovered the fraud. He said he would like to press charges if the perpetrator could be found.

Shoplifting
On Jan. 23, police noticed a 25-year-old Village resident running past officers on Scarsdale Avenue carrying a backpack. A Scarsdale Avenue store manager then outside and told police that the resident had just stolen items from the store. Police caught up with the resident at the train platform and escorted him back to the store. There, the manager stated that the resident had removed cans of Truly Hard Seltzer from the refrigerator case and only presented a few of the cans for payment at the register. At the time of payment, the cashier inquired about cans missing from the refrigerator case and noticed three cans inside the resident's backpack. Two cans were removed from his backpack, and the resident fled the store with one stolen can still inside his backpack. It was valued at $3.29. The store manager elected to not press charges. The store manager said the resident was not welcome inside his store in the future.

Unknown car
A person checking a Quentin Road house while the homeowner was away informed police that an unknown car was parked at the end of the snow-covered driveway Jan. 23. Police ran the plates of the car, and it came back as a rental car. Police knocked on the door, and an elderly man answered. He provided credentials verifying that he was the homeowner's brother. He was permitted to be inside the house. Police advised him to move his car to a better location.

Welfare checks
On Jan. 20, a woman asked police to perform a welfare check of a Fox Meadow Road friend. The friend was in good condition and all was determined to be in good order.
Patrol performed a welfare check of a Colvin Road woman, at the request of the woman's daughter, Jan. 23. The woman was OK and reached out to her daughter.
Patrol performed a welfare check of a Black Birch Lane couple, at the request of the couple's daughter, Jan. 23. The couple was OK, although they were currently waiting for a plumber to address a broken water heater and lack of hot water. They said they would contact their daughter.
Police checked the welfare of a Black Birch Lane woman Jan. 24. She was OK and said she would notify her daughter.

Eviction
A person called from France stating that she had assumed possession of a foreclosure property on Fox Meadow Road and was evicting the current tenant Jan. 20.

Driver safety
A woman reported her elderly Park Road father was attempting to drive, and she was concerned about safety Jan. 20. Police went to the house and spoke with the father. He presented a valid driver's license and expressed frustration that his daughter's car, which he was attempting to drive, was having difficulty handling the conditions of a steep, icy driveway. The father then said he wasn't going to attempt to drive that day and returned to the house. Police informed the daughter and provided contact information for the police department's older adult advocate.

Licensed driver
A man was reportedly going door-to-door "looking for a licensed driver to operate his truck" on Herkimer Road Jan. 24. Police arrived on scene and spoke with the man, who had been stopped by Westchester County Police. The man had been operating a commercial vehicle on the Hutchinson River Parkway and struck an overpass. WCPD told the man he could drive the truck away from the scene if he was able to get a properly licensed driver to respond to the scene. He was unable to find someone able to perform the task, and a tow truck was called. Police provided the man with a courtesy ride

Property line
A Fairview Road resident reported a construction vehicle at his neighbor's construction site keeps hitting tree that is on his property. The job foreman reported he was told that the tree was within the property lines of the job site's property. The foreman agreed to stop work for the day and follow up with Village Hall to verify the property lines.

Sewage
Sewage was backing up into a Fox Meadow Road basement Jan. 21. Highway workers responded to address the problem.

Cars and roadways
Police set up portable stop signs because a traffic signal was out at Griffen Avenue and Weaver Street Jan. 20.
Police removed a temporary "no parking" sign from Paddington Road Jan. 21.
A Walworth Avenue resident said a white SUV, registered to a rental company, pulled into her driveway and sat there for approximately 15 minutes before leaving Jan. 21.
A car was stuck on ice on an Oakstwain Road driveway Jan. 22. Police helped the driver move the car.
Police notified Verizon of low-hanging fiber optic cables on Tompkins Road Jan. 23.
Police asked workers to move their vehicles to one side of the street to support good traffic flow on Lenox Place Jan. 24.
A group of teens standing on Rock Creek Lane at 11:30 p.m., Jan. 24, said they were looking for rides.
A clogged storm drain was causing flooding at Wynmor Road and Palmer Avenue Jan. 25. The highway department responded to clear it.
A pipe was leaking water and causing ice to form on Harvest Drive Jan. 26. Highway workers were contacted to salt the roadway while the resident actively addressed the broken pipe.
Police stood by for traffic control and safety while a driver changed a flat tire on Post Road Jan. 26.
Seven car accidents were reported in the village this week.

Animals
Police advised a woman who was walking a dog off leash and pushing a stroller on Springdale Road that she needed to leash the dog at all times in public spaces Jan. 21. She immediately put the dog on a leash and said she would restrain it in the future.
A Kids Base employee reported Village lights were out at the back of the property and coyotes were running through the parking lot at night Jan. 24. The highway department was notified about the light complaint.
A pedestrian said she was walking her dog on Garth Road, and another woman's dog attacked her dog and almost caused the pedestrian to fall down Jan. 24. The dog owners argued and the woman with the reportedly aggressive dog went into an apartment building. Police attempted to contact her, but she was not there. Police spoke to her father instead and advised him of the incident. Neither dog was reported to have sustained any injuries.
A noise complaint about an alarm on Morris Lane led police to a small auditory device installed by a homeowner to scare away birds and animals Jan. 26. The noise was minimal and did not constitute a violation of Village Code.

Lost and found
A Central Taxi driver noticed a passenger left a cell phone in the back of his taxi, and he gave the phone to police Jan. 23. Police tracked down the owner using ID information left in the phone case and notified her of the lost phone. She said she would pick up the phone from the police desk later that day.
A Central Taxi employee reported finding a Louis Vuitton wallet in the crosswalk of East Parkway Jan. 24. Police used a work ID inside the wallet to track down the owner and notify her of the lost wallet. She said she would pick up the wallet from police after work.
A woman reported losing her driver's license and wallet somewhere in the village Jan. 26.

Firefighters
According to Scarsdale Fire Captain, James Seymour, firefighters responded to 30 incidents during the reporting period. He provided the following details.
On Jan. 21, firefighters responded to an alarm indicating a water condition in a Madison Road house. There, they found that a water leak on the second floor had compromised first floor smoke detectors, causing them to send out a false alarm. Firefighters disconnected the compromised detectors and shut power to any light fixtures that had been compromised by water.
On Jan. 22, firefighters helped a Fox Meadow Road resident address flooding in the basement.
On Jan. 26, firefighters notified Con Edison about a reported outdoor gas odor on Stratton Road.

This report covering police and fire department activity from Jan. 20-26 has been compiled from official information.
The 2020 Summer Camp and Activities Guide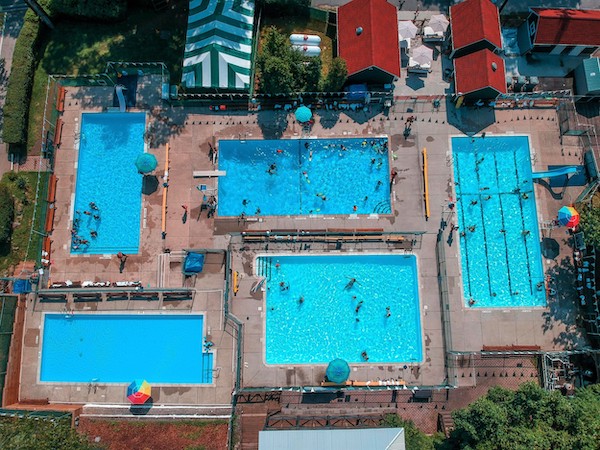 One of the many advantages of living in Southern Westchester is the wide range of summer programs available to your children, all within a bus ride from home. There are traditional day camps, specialty camps for music, dance, sports, STEM and the arts and programs for pre-schoolers too.
Even though it's January, directors of summer programs and camps are busy planning for the summer of 2020 now – and invite you to see what they offer. We reached out to a range of summer camps and programs for kids from 2 to 17, and here's information from some programs sure to be enjoyed by Scarsdale kids. Contact them by phone or email and be sure to mention Scarsdale10583.com.
Day Camps
Camp Hillard: (pictured above) Started in the summer of 1929, four generations of the Libman family has continued to own and operate Westchester's first day camp. Impeccably maintained and constantly improved, Camp Hillard offers a complete program that uniquely combines spirit, tradition, and fun with first class modern facilities. Our program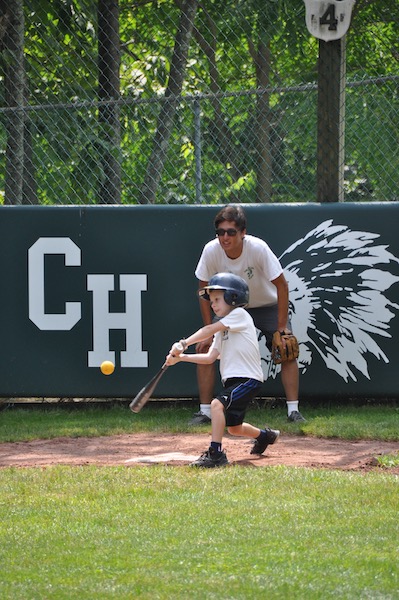 includes swimming and sports instruction, balanced with high-quality creative and performing arts, fun specialty activities, as well as exciting special events in a warm and personable camp environment. An experienced staff of camp professionals work together to ensure a successful summer for each and every camper.

Activities include swim instruction in seven heated pools, baseball, basketball, hockey, soccer, softball, lacrosse, flag football, tennis, gymnastics, pony rides, arts and crafts, drawing, painting, jewelry, clay, nature, theater, music, dance, zip line, flying squirrel, climbing wall, mini golf, golf skills center and driving range, archery, gaga, mini sleep away program, day trips, horseback, golf and sports specialization programs for older campers.

Camp Hillard
26 Elizabeth Street
Scarsdale, NY 10583
914 -949-8857

Camp Ramaquois is "a day camp as complete as sleep-away camp," situated on 44 magnificent acres in nearby Rockland. From adventurous activities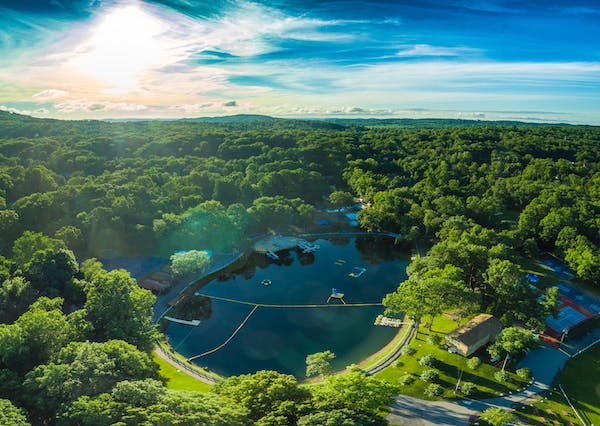 to creative arts to athletic activities, boys and girls, ages 3-15 experience a traditional day camp program filled with a variety of stimulating activities including instructional and general swim in nine heated pools and boating on a five-acre lake. Seven period programs planned for each age group include a splash park, aerial adventure park, climbing wall, flying squirrel with zip lines, tennis, basketball, volleyball, lacrosse, hockey, softball, soccer, recycling bin, ceramics, nature facility with petting zoo, dance, drama, yoga, special events and much more. Facilities include an air-conditioned indoor gym and group bunks with bathroom facilities. Hot lunch is served in an air-conditioned dining room by waiters and waitresses. Junior Camp for 3-6 year olds has a separate campus with age-appropriate activities and facilities. Ramaquois offers pre-teens and teens a regular camp program in combination with an optional Trail Blazers trip program. Day trips planned for 3rd–10th graders; overnight trips planned for 5th-10th graders; Leadership Program for 10th graders. Door to door air-conditioned mini-bus transportation provided by licensed school bus drivers and a bus counselor. Ramaquois is a magical camp where children experience a sense of adventure, meet new challenges, create wonderful memories and make lasting friendships.

Camp Ramaquois
30 Mountain Road
Pomona, NY 10970
845-354-1600

Specialty Camps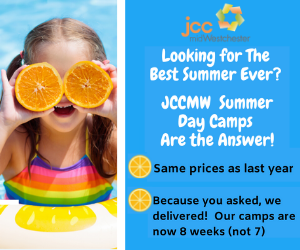 For over 40 years, the JCC of Mid-Westchester has introduced children to the joy of summer camping. They now offer 8 weeks of camps, with a five day per week or three day per week option, which is ideal for young campers. They also continue to provide towel services and extended days. The day camp introduces campers to a variety of professionally led activities and weekly special events including instructional and recreational swim in their heated indoor pool (beginning with 3 year-olds), gymnastics, a variety of different sports activities, arts and crafts, and nature. They offer low staff to camper ratio and early drop off/late pick up. Unique to the JCC is its renowned Summer Arts Center (SAC) for the creative and independent child who is interested in the arts. For campers grades 6 and up who are serious and experienced dance students, there is a comprehensive curriculum of dance and dance-related classes taught by professionals in the state of the art dance studios. The CIT/LIT programs offer teens the opportunity to gain hands-on counselor training and leadership experience with social action initiatives and weekly trips. LITs that successfully complete the program may be asked back for the following summer as junior counselors.

JCC of Mid-Westchester
999 Wilmot Rd
Scarsdale, NY 10583
Caryn Symons, Director of Camping
914-472-3300

Squire Advantage and Squire Sports Camps at Maria Regina High School in Hartsdale is celebrating its 47th year and is the proud recipient of the first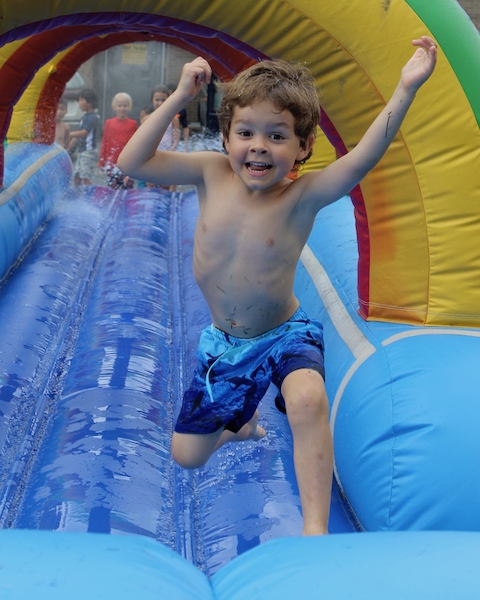 ever Westchester Country Inspector Choice Award! An OPEN HOUSE and CARNIVAL is scheduled for Saturday February 1ST from 1-4pm. There will be door prizes, bouncy houses, carnival games and food! Instructors and coaches will showcase their courses and tours will be given. Courses are taught in air-conditioned classrooms by certified teachers. Hot lunch is included and transportation is available. Squire Advantage Primary (grades K-3) and Advantage Choice (grades 4-9) is created for campers who wish to custom design their own schedule by choosing courses in the fields of swimming, computers, sports, fine arts, science, cooking, music and more. There are more than 50 different activities to choose from! Squire Sports Camps are divided into two different sports programs. Squire All Sports Academy (ages 6-15) allows for instructing and playing of many different types of sports throughout the day. Sports include tennis, basketball, soccer, baseball, football, etc. Squire Tennis Academy (ages 6-15) is a fun and challenging tennis experience designed for beginners to experienced players. Squire Camps programs run from June 29th until August 14th, 2020.

Squire Camps
Maria Regina High School
Hartsdale, NY
(914) 328-3798
Matt Davanzo – Director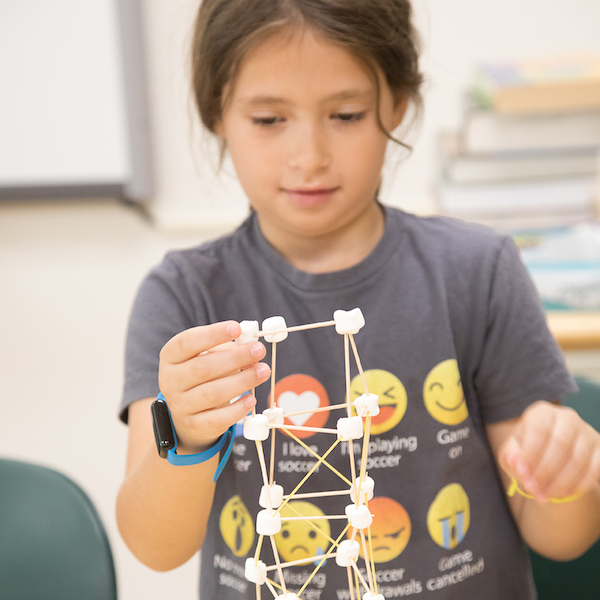 Challenge Camp: Open the door to a delightful and meaningful summer of fun and learning for your bright, curious child. Challenge Camp is an ACA accredited camp celebrating its 40th summer. Join them at their fully air-conditioned facility in Hartsdale, NY. Challenge is dedicated to providing meaningful opportunities for children aged 4-15 to realize their intellectual and personal potential. They offer over 100 STEM and Arts based enrichment courses ranging from 3D Printing, Chess, Coding, Cooking, DJ'ing, Drones, Escape Room, Fashion, Fortnite, Go Kart, Lego, Magic, Makerspace, Minecraft, Model Rocketry, Music, Photography, Robotics, Theater, Video Production, Virtual Reality, YouTube and many options in between. Sports options include Swimming, Fencing, Ninja Warrior and Tae Kwon Do. Challenge campers customize a program of selections based on their interests and follow their courses for an entire session, enabling their knowledge and interest to grow throughout the session. Bus transportation and early/extended day options available. Please join them for an Open House on Sunday February 9th, from 2-4PM at their location.

Challenge Camp
The Leffell School
555 West Hartsdale Avenue
Hartsdale, NY 10580
914-779-6024
info@challengecamps.com

Music and Dance

The Music Conservatory of Westchester's summer programs will spark your child's interest in music and other artistic areas from June 29-August 21,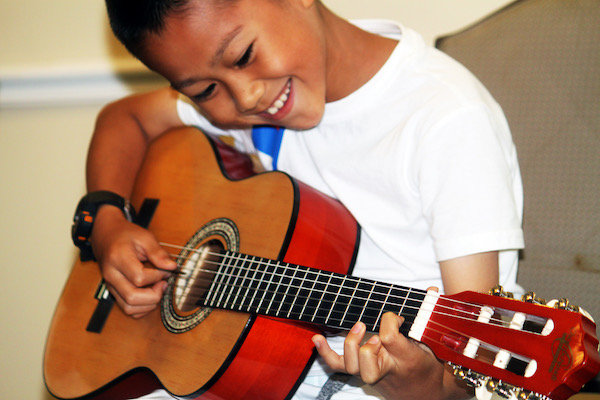 2020. We offer fun, comprehensive learning experiences with a variety of programs and classes. Our reinvented Music & Arts program for grades K-6 continues to provide quality instruction in music, dance, and art. This year, Music & Arts offers a new Band Experience for the older group (grades 4-6) playing popular music from rhythm & blues to radio tunes and beyond. Younger kids (K-3) will be introduced to music fundamentals and begin playing instruments. The Musical Theatre Immersion will give kids grades 3-7 the opportunity to be stage stars performing a musical production from songs to scenery. Suzuki Summer (ages 5+) and Beginner Special (ages 4+) programs offer violin, cello, and piano students an opportunity to reinforce Suzuki skills or an introduction to the incredibly effective music instruction technique.

Music Conservatory of Westchester

216 Central Avenue

White Plains, NY 10606

914-761-3900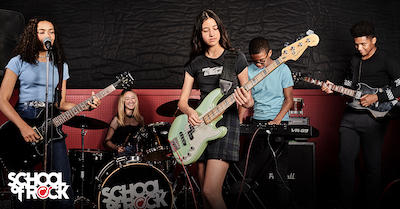 School of Rock White Plains Summer Camps: With camp choices for ages 5 through17, School of Rock White Plains is the perfect summer activity for your child. Our summer music camps are performance-based, meaning students learn to play by rehearsing and performing together in a fun environment. From beginner camps to songwriting to themed camps like Classic Rock and Pop Punk, we offer a wide variety of options to ensure your child has an amazing, immersive music experience. Sign your child up now and watch them become a musician this summer!
School of Rock White Plains summer music camps offer students a way to learn how to sing, play an instrument, write songs and, in most cases, perform live on stage with a band. Our camps are perfect for musicians of any skill level who want to play guitar, bass, drums, keyboard and vocals.
School of Rock White Plains
242 Central Avenue
White Plains, NY 10600
(914) 468-1100
Steffi Nossen School of Dance: This summer explore dance in one and two week camps: from Story Book Dance for the tiniest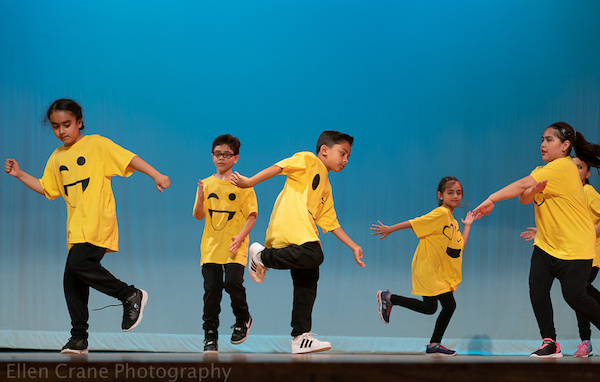 dancers to a Dance Intensive for pre-professional teens and adaptive programs for kids and adults. Explore the performing arts in a safe, nurturing and artistically challenging environment. Weekly Story Book camps, a morning of movement, music and art for preschoolers with a new story each week (June 8 – August 17). Moving Wheels & Heels Adaptive Dance Intensive (June 22-27) and Camp (June 29 –July 2) a chance to enjoy movement, improve range of motion, explore and express creativity; wheelchairs welcome. In Dance Camp (grades 1-5) and Dance Intensive (grade 6-8) July 6-17 take classes in Modern, Ballet, Jazz, Hip-Hop, Musical Theater and body conditioning, learn dance history and composition, choreograph your own dances. In Hip-Hop Camp (grades 2-5) the child who loves Kidz Bop Music Videos and reenacts the dance moves on Fortnite Mission Success will have a blast learning Classic and New School styles, scratch, MC. and the rich history of Hip-Hop Culture. Musical Theater Kids (Grades 2-5) and Musical Theater Intensive (Grades 6-10) July 27 – August 7 are for actor/singers who need more intensive dance training and dancers who want to explore acting and singing; train with some of the best professional teachers in the field in daily acting, voice, and dance classes enhance vocal and acting skills while honing dance technique. Beginner – advanced performers learn music and choreography from a different Broadway musical to perform at week's end. Early drop off and extended day available. 10% discount before March 30.

Steff Nossen School of Dance
216 Central Avenue
White Plains, NY
914-328-1900

For the Younger Set: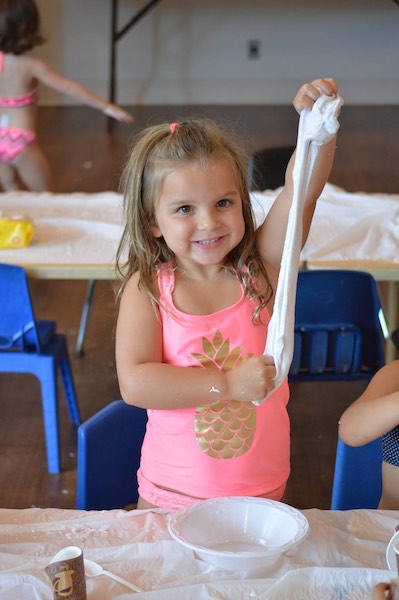 Beth El Day Camp in New Rochelle is the place to be for children ages 2-9! Widely recognized as the best-in-class day camp in Westchester, Beth El continues to be the most fun, most trusted choice for young campers and their parents, year after year. Join us Monday, June 29 through Thursday, August 20, 2020. We offer before and after camp care 7am-7pm. Campers love the sports, especially tennis, swimming twice a day in the pool, music, arts and crafts, cooking, dancing, nature, STEM, yoga, karate, and much more! Proudly accredited by the American Camp Association (ACA), we are also known for our nurturing environment, cutting-edge programming, and commitment to safety. We have the county's finest, best-trained professional staff and a very favorable child to staff ratio. Whether this is your child's first camp experience or not, at Beth El everything begins with love and ends in fun.

Beth El Day Camp
1324 North Avenue
New Rochelle, NY 10804
(914) 235-2700 ext. 256
daycamp@bethelnr.org

Scarsdale Synagogue's Summer Stars Program is the perfect summer experience for young children. This warm and nurturing seven-week summer program is for children 18 months to 5 years old. The children are engaged in activities such as sports, music, art, story time, daily water play and much, much more. There are special theme days each week such as Circus Day, Hawaiian Day or Carnival Day. At Summer Stars, friendships are formed and children grow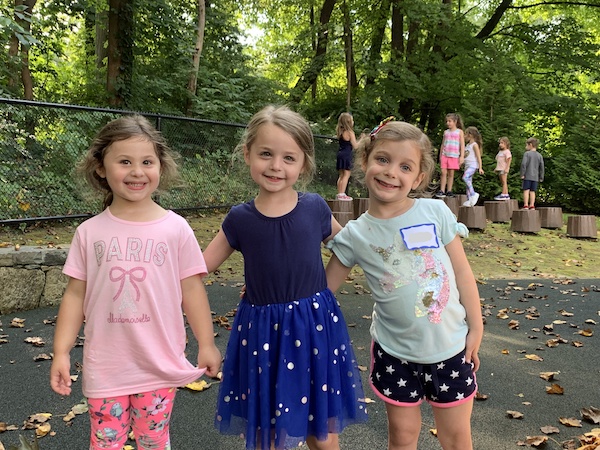 socially, emotionally and intellectually as they engage in fun, stimulating summer activities. There is a three-day option for toddlers ages 18 to 30 months. Two year-olds may choose a three-day option or attend five mornings a week. Three to 5 year-olds may choose a half-day, 9am -12 noon option or a full day option from 9am - 2pm. Your child will sparkle and shine at Summer Stars!

Scarsdale Synagogue Summer Stars
2 Ogden Road
Scarsdale, NY
914-723-3001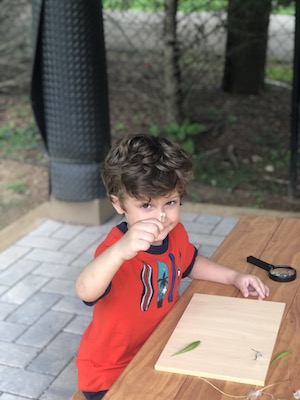 St. James The Less Fun In The Sun Summer Program is a morning program for children aged 2, 3, 4 or 5 year-old program or those entering kindergarten in the fall. Staffed by experienced nursery school teachers, Fun in the Sun Summer Program offers outdoor playgrounds, water tables and sprinklers plus music and movement, gym and yoga classes, arts and crafts and fun weekly themes. Directed by Cheryl Smith, the program runs from 9- 11:45 am, Monday through Thursday from June 29 to July 30. For the two's program, there is one counselor for every five campers and for the 3,4,5's, there is a 1 to 7 counselor camper ratio. Fees are $200 per week and incoming 2's have the option of 2 or 4 days at $100 or $200 per week.

Cheryl Smith-Director
Church of St. James the Less
Ten Church Lane
Scarsdale, New York 10583
914.723.1018
director@stjamesnursery.org



Westchester Reform Temple's Summer Play Place Camp offers young children a unique 7-week summer experience. The professional certified staff provides arts and crafts, water-play, stories, games, sports and snack within a nurturing and loving environment. The 3's and 4's program is enhanced by specialists in music, movement and nature and special theme days. There are separation classes and classes with a loved one to stay as options for children who will be entering a 2's program in September. The little ones also enjoy crafts, water-play and music. Your children will learn, laugh and flourish. Click here to register. … Limited spaces are available in the ECC school program for the 2020-2021 school year.

Summer Play Place Camp
255 Mamaroneck Road
Scarsdale, NY 10583
914-723-5493
Email: sue.tolchin@wrtemple.org

Close to Home
Scarsdale Recreation Summer Day Camp offers four-day camps for children from Kindergarten through eighth grade, including recreational and educational programs and daily swimming at the Scarsdale Pool. The camp accommodates about 900 children in grades K-8. Camp Sagamore is for children entering kindergarten, Camp Lenape for first graders, Camp Wapetuck for second graders and Camp Patthunke is for kids in third through eighth grades. The season runs from Monday, July 6-Friday, August 7 from 9am - 3:30pm. Transportation is provided from Scarsdale Pool, Quaker Ridge, Greenacres, Heathcote, Fox Meadow, and Edgewood. There are also combination camps for third-eighth graders who can choose soccer or sports camp in the morning and regular day camp in the afternoon. The Village offers two sessions of Teen Travel Camp for sixth through ninth graders, who go on a different trip each day.

Scarsdale Recreation Camp
Phone: (914) 722-1160
Email: recreation@scarsdale.com
To add your summer program to our guide email us at scarsdalecomments@gmail.com.
Dermatologist Jennifer Goldwasser Gives The Skinny on Skin
Details

Category: On Our Minds
Published:

28 January 2020

Written by

Joanne Wallenstein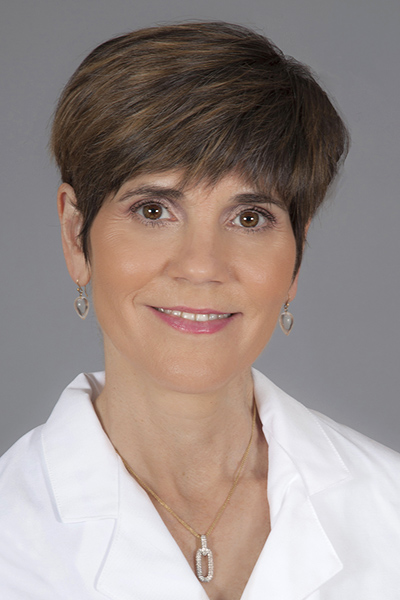 Sought after Dermatologist Dr. Jennifer Goldwasser is back in town. She is now seeing both children and adults at her new offices on Central Park Avenue in Hartsdale. We asked her a few questions about skin, sun exposure, diet, aging and more – and here is what she shared:
Tell us about yourself. where did you train, where do you practice and what are your areas of specialization?
My undergraduate training was in nutrition at Cornell, which is a little unusual for a physician. For medical school I went to Downstate in Brooklyn. I interned at the New York Hospital-Cornell Medical Center and went back to Downstate for my dermatology residency. I have been caring for adults and children with diseases of the skin, hair and nails for the past 25 years in lower Westchester.
What are some of the most common reasons your patients schedule visits?

I commonly treat patients with skin cancer, psoriasis, acne, eczema, rosacea, skin infections, hair loss, and nail disorders.
What skin problems do you see that are preventable if patients are more vigilant?

Skin cancers and pre-cancers are highly preventable since most of them are caused by overexposure to the sun. Smoking also contributes to skin cancer. Lifestyle plays an important role in many skin diseases. Rosacea patients often benefit from alcohol avoidance, and psoriasis patients may see improvements with weight loss, smoking cessation, and alcohol avoidance. Patients with a tendency toward eczema need to be careful to avoid common irritants to the skin, like wool, perfumed and harsh soaps, and excessive sweat.
For teens, are there any new treatments for acne?
There are some new acne treatments! Topical minocycline (Amzeeq) recently became available. some excellent topical retinoids are now available over the counter. Neutrogena is offering a red and blue light acne mask, which can be helpful. More and more information is available about diet and acne--probiotics can even play a role in acne treatment.
On the other end of the spectrum, what can you do to help patients with age spots?
There are many different types of "age spots": Sun spots (lentigines), liver spots (seborrheic keratoses), skin tags and red spots called cherry angiomata are all different forms of age spots. These can generally be destroyed easily by freezing them, burning them, or cutting them off.
What are the most frequent signs of sun damage that you see? Has this gotten more prevalent in the years that you have practiced?
Sun damage manifests in many different ways. Some people develop wrinkles, some people have alterations in skin pigmentation or "mottling", and some people notice that their skin is thinner and more fragile. Suntanning gained in popularity in the 1950's, so many baby boomers are especially likely to have been overexposed to the sun in their youth. Tanning parlors proliferated in the 80's and 90's, and that took a toll, too. By the time i started my dermatology practice in 1994, we were already starting to see the effects of these practices. Fortunately smoking is much less common now, and that has helped somewhat.
What's your view on Botox and other cosmetic skin treatments?
I'm not a cosmetic dermatologist, but injectable anti-aging treatments like Botox and fillers are popular. I tend to encourage a healthy lifestyle over these interventions. Eating a healthful diet, good sleep hygiene, regular exercise, avoiding sun/tobacco/alcohol, and maintaining a healthy body weight are the best bets for maintaining a youthful appearance, and good health, in my book.
How can you help patients who are experiencing hair loss?
Hair loss can occur for many reasons, but the most common type of hair loss that i see is androgenetic alopecia. This is an inherited type of gradual hair thinning. Most people recognize this type of hair loss in men because the pattern is so characteristic, but in women, the process is more subtle, starts a little later in life, and can pick up speed at menopause. Fortunately, there are many approaches to this problem: topical medications, light treatments, camouflage techniques, and hair transplants, to name a few. It's important to take a complete history, do a thorough exam and appropriate lab work, and discuss all the available options, because hair loss is an emotionally fraught diagnosis, especially in women and young men.
How does diet affect your skin?
Since my background and interest are in nutrition, I have so much to say on this topic, I don't think I could begin to address all the answers to that question in a column. Suffice it to say that I advocate a whole foods/plant-based diet. I like the simple way Michael Pollan puts it: "Eat real food (not too much), mostly plants". I spend a great deal of time interviewing acne and rosacea patients about dietary habits. Often these conditions are more of a "subtraction problem" than they are an "addition problem". Sometimes, what we need to address is what to eliminate or reduce, rather than what prescription to write. I counsel my acne patients to avoid cow's milk, whey protein, and foods with a high glycemic index like white starches, sugary drinks, and sweets. I ask all my rosacea patients to consider eliminating or reducing alcohol, especially red wine.
Have you ever seen skin conditions that you are unable to diagnose? Do you ever get stumped?
Of course I've seen skin conditions that have stumped me, but there are many ways to approach a diagnostic challenge. I believe in the power of slow medicine: taking the time to elicit a complete history and to expose and examine the patient completely can go a long way to solving mysteries. It can also be helpful to know your patients over time--continuity of care is a powerful tool!
I can think of an example: I saw a young man who happened to be an identical twin. Neither twin had experienced significant acne during the teenage years, but this young man suddenly developed severe cystic acne in his twenties. I couldn't imagine why this was happening out of the blue, but i suspected there must be some outside force at work. Sure enough, when I delved, it turned out the patient had been given an IV agent for an imaging study, and that triggered his terrible acne flare. If I didn't know him and his identical twin brother over the years, or if I didn't dig deeply into his recent history, I might never have figured out the cause of his issue.
Fortunately, skin is accessible to biopsy easily, and I work with some incredible dermatopathologists who can offer invaluable assistance. Finally, there is no shame in enlisting the help of other clinicians--sometimes it takes a village! Electronic medical records make it a bit easier to share information with other physicians, which can really create some synergy in difficult cases, and I try to leverage that. Of course, it also helps to have a solid relationship with the patient--physician-patient "teamwork" can make all the difference in tough cases.
Schedule your appointment with Dr. Jennifer Goldwasser at 210 N. Central Avenue, Suite 320 in Hartsdale by calling 914-422-3376 and learn more at her website at Goldwasserderm.com.
Minis Latin Fusion for the Colorful Vibrant Tastes of Latin America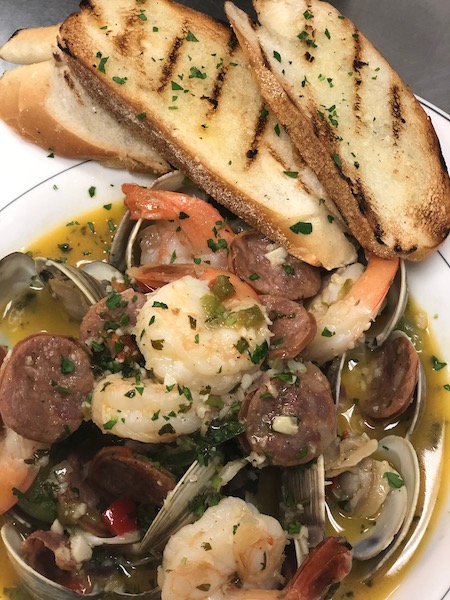 Steamed clams and chorizo.The flavors of Latin American cuisine are adding a vibrant taste to the New Rochelle culinary scene with the recent opening of Minis Latin Fusion Restaurant. It is owned by Nicole Pirraglia Piparo and Michael Piparo. Upon chatting with Nicole, she indicated that she worked in several restaurants on City Island as manager and in the front of the house. Driving to New Rochelle to pick up her children from school, she noticed the empty storefront that previously housed Fratelli for many years. The rest is history. She decided the area needed a change of pace from the many Italian eateries in the area. Thus, Minis Latin Fusion was born. "Our food is Spanish with influences from many Latin cultures. We offer something for everyone. The person who I would have loved to experience Minis, is my grandmother, a great cook. My goal for the future is to expand to many locations. For me, the best part of the business is the social interaction. The hardest part, is being away from my young family."

The space has been redesigned. Seating about 50 guests, the bar is to the right and the dining room to the left. To give the space a south of the border ambiance, the many works of Mexican artist Leonid Afremov adorn the white stucco walls. They depict many areas of the arts. The dance and music themes compliment the Latin food.

We enjoyed several appetizers. One of my favorites was a bowl of steamed clams paired with chorizo. The fragrant cilantro flavored sauce was perfect with the delicate clams and nicely spiced chorizo. Toasted slices of bread were just right for dipping. I requested a spoon to lap up every bit of the sauce, and I was told that another guest indicated that if he had a glass, he would just drink the beautifully flavored sauce. Empanadas con Picadillo with creole sauce were quite good, as well. These "meat pastries", were filled to the brim with a well seasoned meat mixture and were fried to a golden brown. I had been instructed on how to navigate the empanada and followed the rule…. I bit off the corner of the pastry and the tantalizing aroma of the beef mixture with its combination of herbs and spices filled the air. Quesadillas are popular in many restaurants. At Minis, the filling is chicken that is roasted and tossed in a mole sauce. It was a very pleasant variation with that great chocolate enhanced sauce of Mexican origin. Chicharron de pollo arrived as fried to a crisp nuggets of chicken. They were as crunchy as could be and pleasant when dipped in some creole sauce. --- One caveat----- They are not boneless, so be careful when biting into these delicious morsels. Creamy garlic shrimp were another tasty appetizer. The diced shrimp tossed with a creamy white garlic sauce were serve atop freshly fried tostones. Yet to be tried among the appetizers are shrimp soup with Juarez Sherry, black bean soup and sancocho, a soupy dish with chicken or fish, popular in the Caribbean. For a lighter beginning try the Arcadian green salad with sherry guava vinaigrette or tomato avocado salad with chipotle orange vinaigrette and tostones.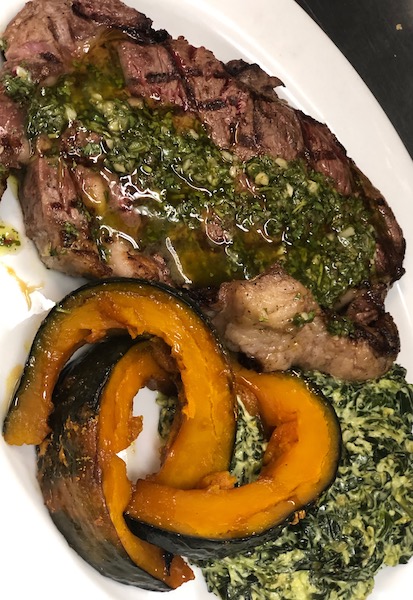 Steak with Argentinean Chimichurri Sauce

Many dishes are creatively presented at Minis. Ropa Vieja is a dish I have enjoyed through the years. Translated as "old clothes", this dish of shredded beef is a Cuban specialty. Here the shredded beef is served in a Peruvian presentation. The meat mixture is layered with rice and white beans. This mountain of flavors was enhanced with aji Amarillo, a Peruvian yellow chili, avocado and a few slices of tostones, those fresh , fried green plantains, on a plantain leaf. The origin of the dish is Cuban and the " tacu tacu" presentation is Peruvian.

Other entrees are varied with dishes popular in Puerto Rico, Peru, Cuba and the Caribbean, to name but a few. There is the popular arroz con pollo and seafood paella. Grilled NY Steak has a Latin touch when served with Argentinean chimichurri sauce. Pernil, pork shoulder , from Puerto Rico, plantain crumb crusted chicken breast, pork chops with moduros, sweet plantains and mofongo , a popular mashed plantain dish , with meat, vegetables or seafood. There is even mac and cheese with chorizo and chicharon crumbs.

Desserts include carrot cake bread pudding, cheesecake brulee as well as a Latin inspired tres leche Maduro sundae with those terrific sweet plantains, nuts and syrup.

Minis serve lunch Tuesday through Friday with Latin touches joining popular favorites such as fish and chip sandwiches with spicy Caribbean tartar sauce, carne hero with chimichurri sauce, and tamarind bbq pernil. Enjoy happy hour Tuesday through Friday from 4-7 pm. Sunday brunch is offered from 11.30-4 with selections including Venezuelan frittata, chorizo mac and cheese, and chimichurri steak and eggs.

Park your car in the parking area of the strip mall or on the street and enjoy the ray of Latin sunshine at the new Minis Latin Fusion Restaurant soon.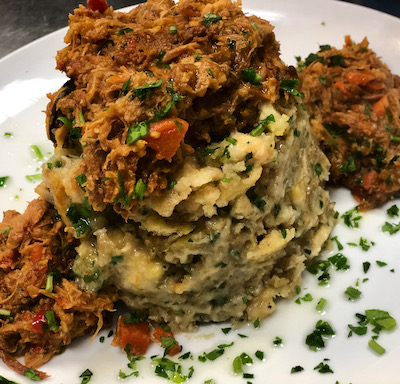 Ropa Viega

Minis Latin Fusion
237 East Main Street
New Rochelle
(914) 355- 5609

Recipe: Beef Empanadas (10 empanadas)

2 pounds ground beef
1 large onion, finely diced
3 Tbsps chopped garlic
½ red bell pepper finely diced
½ green bell pepper, finely diced
4 Tbsps. tomato paste
2 Tbsps. capers
1 tsp. chili powder
1/2 tsp cumin
½ bunch chopped cilantro
½ tsp. adobo
½ tsp. salt
10 Goya empanada shells, 5 inch rounds
2 Tbsps. olive oil

Olive oil for frying empanadas

In a large pot mix together all filling ingredients. Saute stirring, in 2 Tbsps. oil until meat is browned and cooked through. Chill the mixture. Divide it among the 10 shells. Fold each in half and crimp the edges tightly. Fry in olive oil on both sides until golden. Drain and serve.
Reimagining the Scarsdale Bowl
Details

Category: On Our Radar
Published:

29 January 2020

Written by

Joanne Wallenstein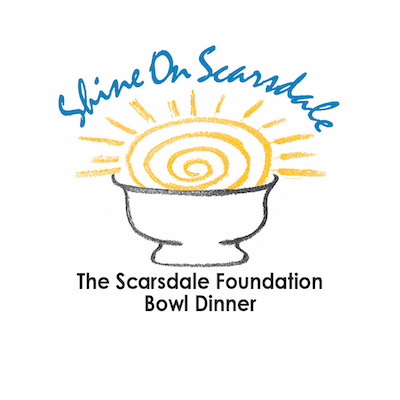 Although the Scarsdale Bowl Dinner, honoring an exemplary community volunteer, has been held since 1944, this year's Bowl dinner will be anything but traditional.
Most in the community do not realize that the Scarsdale Foundation, the group that hosts the dinner, offers much-needed scholarship funds to college sophomore, juniors and seniors from Scarsdale. These grants are often given to students who received assistance for their freshman year from the Scarsdale PTA Scholarship Fund – which only awards grants to SHS seniors entering college. The Foundation traditionally fills the gap in subsequent years, giving out around $130,000 per year – and has to dip into their endowment for the shortfall between what they raise and what they give. They currently depend on a few generous donors to fund all the scholarships.
College tuition has jumped more than 40% in the last ten years. To meet this need, the Foundation hopes to increase the amount of scholarship money per student and increase the total amount of scholarship awards.
That's where the Scarsdale Bowl Dinner comes in. Unlike most organizations, who use their annual gala to raise funds, the Bowl Dinner has never been a fundraiser. The dinner ticket price simply covered the cost of the meal– and that was that.
Now the Scarsdale Foundation has moved the dinner to another venue and will increase the price slightly so that some of the funds can be used for student scholarships. According to Nancy Michaels, who chairs this year's Bowl, "The former model was not sustainable." She said that the Foundation will use this year's Bowl to "engage community members by increasing awareness and outreach."
This year's dinner will be held at Braeburn Country Club on Wednesday April 22 at 6:30 pm. The theme is "Shine on Scarsdale," as the Foundation has helped the community shine for nearly 100 years. The dinner hosts are reaching out to a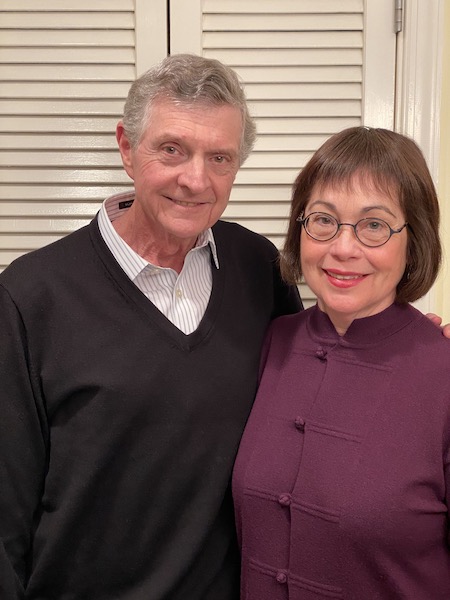 ll segments of the community and hope that the event draws a wide swath of Scarsdale, including those new to town and those who have lived here for decades – along with volunteers, people who work here and anyone with a connection to Scarsdale.
One key element of the dinner will remain the same. The purpose of the evening is to celebrate volunteerism and the two honorees that have been selected to receive the 2020 Scarsdale Bowl.
In the spotlight this year are a star volunteer couple: Jon Mark and BK Munguia. BK has been a staunch defender of Scarsdale's non-partisan system, serves on the Board of the Scarsdale Foundation and was the President of the Scarsdale Teen Center.
Jon Mark is a former Mayor of Scarsdale, two-term Village Trustee and can be found volunteering everywhere and anywhere he is needed.
Come out and celebrate Jon, BK and everyone who volunteers to make Scarsdale such a special place – and help some very worthy students at the same time.
Watch for your invitation in the mail and mark your calendar for Wednesday April 22 at 6:30 pm at Braeburn Country Club. Learn more about the Scarsdale Foundation and the Scarsdale Bowl here.