Architects Present Plan to Build a New School and Save Greenacres Field; Bids for District-Wide Construction Rejected
Details

Category: Schools
Published on

22 June 2016

Written by

Joanne Wallenstein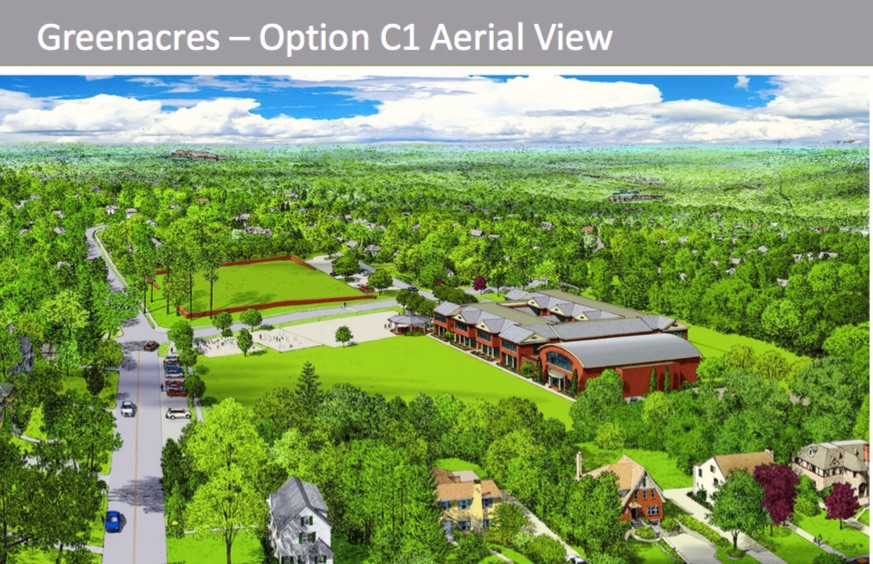 Though scores of residents came to the Board of Education's last meeting of the year on June 20 with the intention of learning more about the Greenacres School, they waited hours before seeing new options for the school and were not able to comment on the plans until well after 11 pm.
The Board had pressing business to attend to and struggled to keep the audience at bay to allow the board to stick to their agenda. It wasn't easy, as there were several other factions in the audience who wanted to make their views known. A group of softball players and their parents wanted answers on why Coach Scagnelli's contract would not be renewed next year. Board President Lee Maude said that the Board could not discuss personnel issues but Jay Houseman of Thornwood Place persisted, saying, "We implore you to reconsider your decision to allow the people in the back of this room to speak .... We want an open line of communication with you and Ray Pappalardi. This is hurting my daughters chances of being recruited ..... He (Coach Scagnelli) doesn't play by the rules but he is an excellent coach."
Others saw the meeting as a platform to raise concerns about the village-wide property tax revaluation. Bob Berg and Brice Kirkendall-Rodriguez both addressed the board about the potential effects of the revaluation on raising funds to finance capitol projects for the schools. Berg went as far as to suggest that the School Board bring a lawsuit to void the revaluation. When his three minutes was up, he was repeatedly asked to sit down.
Mayra Kirkendall Rodriguez brought up another issue that was not on the agenda, urging the Board to reconvene the World Language Committee to consider adding more foreign language offerings to the curriculum. She made a long list of suggestions on how the Board should go about studying the issues and publicizing the program to district parents. She ended by referring to Dr. Hagerman's upcoming trip to Singapore, saying "Please have a Singapore sling on us – I think after tonight you may need one."
These comments, along with departing words for retiring Board Member Suzanne Seiden, the announcement of a new contract with the teachers, a discussion of the rejection of all of bids for approved building projects from the $18.2 mm bond (see detials below) and the introduction of new hires for the 2016-17 school year delayed any discussion of Greenacres until late in the evening.
When architect Russ Davidson of KG&D finally did make his presentation, he explained that he had renderings and site plans for option B1 – the renovation of the existing school, and an alternative plan for a new school across the street. The new option C1 would be a two-story school with a smaller footprint to preserve more green space and play area. The school would be on the West side of the field, parallel to Brewster Road. According to Davidson, the school would be a bit less expensive than Option C and have the least impact on adjacent homes.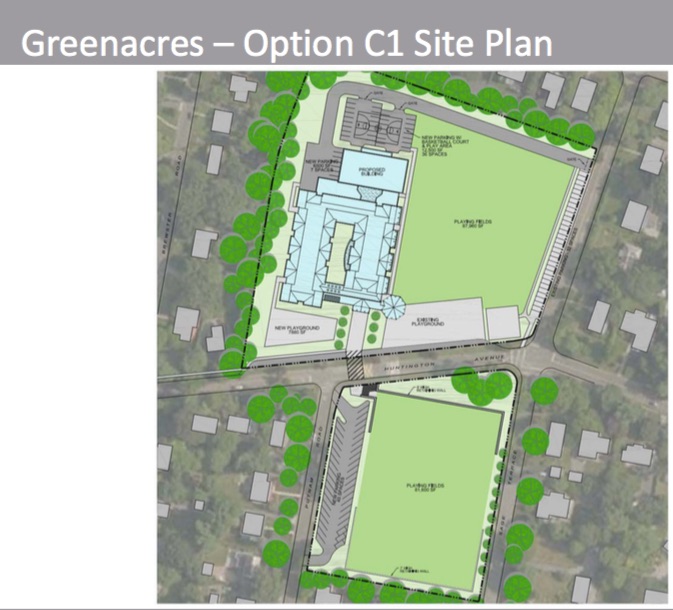 The exterior of the school would look like a series of "linked houses," with covered porches facing the field. The entry would be a covered gazebo and the school would also include a large covered play area. A full service cafeteria would be adjacent to the gym. The two areas could be joined to make an even bigger assembly space and includes a large indoor stage. Classrooms surround a central courtyard to bring light into both sides of each room.
Another feature of the site is a long access driveway extending from Montrose Road to the rear of the new building. The paved lane would run parallel to Kingston Road and could be used for deliveries and service vehicles. The site of the current school would include a playing field with a 6-7 foot retaining wall to level off the area.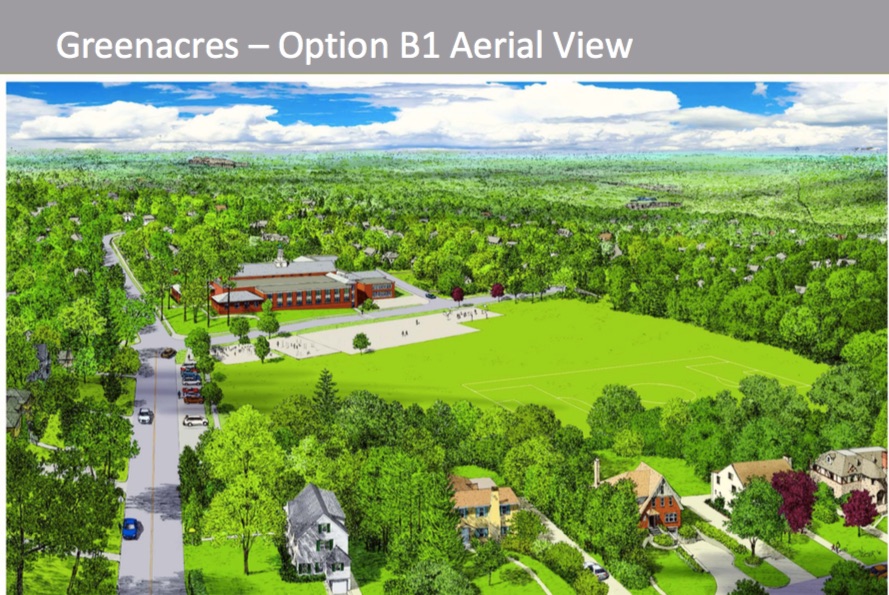 Davidson's plans for B1, or the renovation, now includes $1.4 million for six temporary trailers to be used as classrooms during the construction. He said that kids could be in the existing building while the addition is under construction as it will be done on exterior space. However, there is work involved to renovate the heating and ventilation systems in the existing classrooms, and thus the need for the trailers. The design includes a stair tower extending from the second floor down to street level. Davidson said, "The addition fits naturally into the neighborhood." About the two plans, Davidson said, "These are your two best options."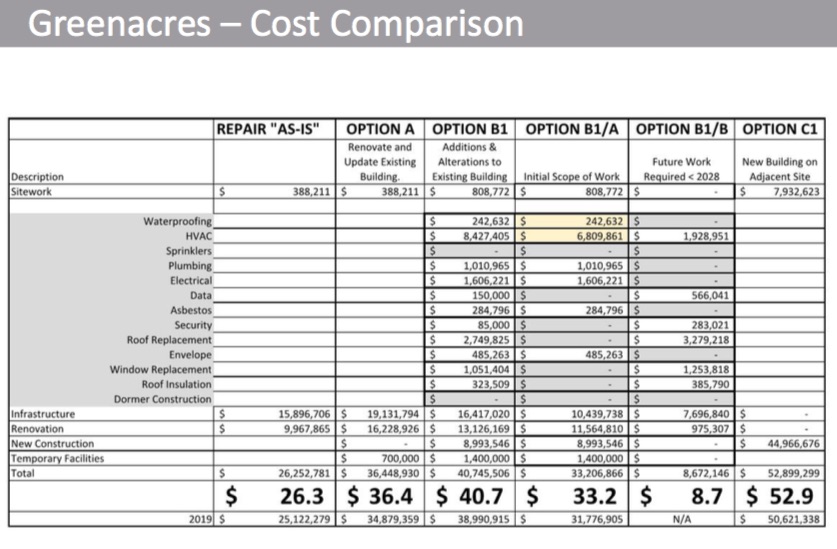 Which of the two buildings would best meet the district's needs? Davidson presented a chart showing how the two options conformed to the "model program" or state education department targets. In the chart below, red boxes indicate a shortage of space, yellow for similar and green for an overage. Option B1 fails some of the criteria as some of the rooms are smaller than optimal standards. It is interesting to note that the new Option C1 offers 25,000 more square feet of green space than the prior Option C and addresses the concerns of those who valued the blacktop area with 34,204 square feet of blacktop to the current 35,540 square feet.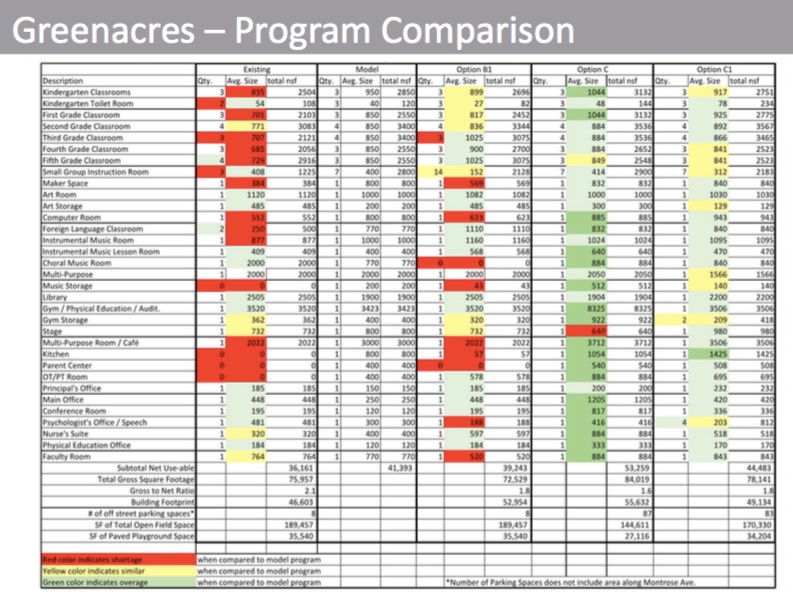 The new building is estimated to cost $12 million more than a renovation – with an estimate of $40.7 for B1 to $52.9 million for C1. Davidson did say that the new building would be heated and cooled by a geothermal system that uses 50% less energy than traditional buildings and would yield considerable savings in energy costs in the future. These cost savings could narrow the expense gap between the two options. In addition, the state permits 30 year financing for new construction vs. 15 years for renovations, which would again impact the annual debt costs for the two options.

Dr. Hagerman asked the audience to examine these two options with an open mind. He said, "We considered all factors ....including green space and a 21st century building." Referring to the many messages he was receiving he said, "Stop the robo texting and really consider the options. We went line by line addressing the issues that had been brought to our attention." In discussing robo texting, Hagerman was referencing a petition that was circulated before the meeting that asked the Board to take Option C off the table. The "Google Forms" doc was a widget that facilitated the easy submission of emails to the Board. Their inbox was flooded and they struggled to respond to each one for which there was an email address.
Board President Lee Maude sought answers to the safety questions raised by parents at the prior meeting., specifically about asbestos, lead and dust. Davidson assured the board that construction companies follow "section 155 regulations for occupied school buildings," that require a separate ventilation system for the construction area and the occupied building as well as a hard wall between the two. Furthermore asbestos abatement is prohibited while the children are in the building. Davidson says in all their years of practice they have not had a lawsuit concerning the health effects of school construction.
Despite Dr. Hagerman's plea for residents to look at their options with an open mind, most who spoke echoed their prior positions, adapting their comments to incorporate the new information presented. Meredith Gantcher asked why trailers were necessary at Greenacres if none would be provided for students during construction at the other schools. She said the standards should be the same across all elementary school districts. She also wanted to know how drop off would be accommodated at the new building and asked for construction timing for the new options.
Ira Hasson, who lives next to the current school, said that now that Davidson had cleared up concerns about construction safety, there would be no reason for the district to spend $10 million more on a new school and lose two baseball fields when the old school could be safely renovated. Vivienne Braun told the Board that a renewed effort to gather signatures in support of Option B1 had yielded far more support than the campaign to build a new school. She said, "What is the difference between the renovations for Edgewood and similar work for Greenacres? Why is it safe there and not in Greenacres? I don't understand the need for temporary classrooms in Greenacres."
Madeline Hauptman of Brewster Road read a lengthy statement from architect Aaron Lamport who lives in Greenacres. He suggested a proactive outreach effort on the part of the Board to communicate safety procedures for the renovation. He supports Option B1.

Valerie Greenberg said she finds the school to be beautiful and said that all issues with the school will go away with the renovation. She does not believe that new was necessarily better.
Jon Singer of 8 Montrose Road said that classroom size is not tied to educational performance. He said that the classroom sizes in the other schools do not meet these targets and argued that applying the model program to the other schools would require massive changes and the demolition and rebuilding of the other schools. Mike Greenberg agreed that everyone would be demanding a new school.
Mark Lewis, an empty nester spoke in support of the new school, saying the children of Greenacres need a new school that meets the needs of today and tomorrow. He chided the board for doing their consent agenda before giving the audience the opportunity to speak. He said, "People have to go to work and have small children at home."
Tony Coriggio of Brite Avenue said "C1 is spot on. It takes the "save the field" argument off the table.... Take into account the energy and maintenance savings." Coriggio urged the board to get the facts out to the public and to not be swayed by a robo campaign.
Andy Taylor of 37 Walworth Avenue supported the new school, saying that C1 is the only option for Greenacres. He said a facelift of an old school was not optimal and posed questions about the safety and hidden costs of renovating an old building. He said in the long term, it would cost more to run and maintain the old building than to build a new one. He called B1 a "fatally flawed, stop gap measure."
John Krisbergh of Greenacres Avenue told the Board that all of Scarsdale would support "a great new school that we can all be proud of."
David Fenigstein pointed to the deficiencies in B1 in terms of the model program. He told the board to take a look at the energy savings and to consider the advantages of having the school on the same side as the playing fields.
Rona Muntner of Fairview Road questioned the parity issue. She said, "We are one community and can share in the resources. Each school comes up for renovation when needed."
Mitch Kahn of Brewster Road said, "The grounds are school property. I understand there is a baseball game that has been going on there for 50 years, but that's not for kids... To me the "Save the Field" people started with saving the field, so you got an option that saved the field. Then they went to Save Greenacres. Now they are being altruistic and worrying about other areas of Scarsdale and raising concerns about the cost. You guys see through this. You know where they live and you can see what their real concern is. The cost of a new building will not be that different in the end. Do what's right for the kids."
Though people debated the pros and cons for a new school, it was apparent that external factors could have a big impact on the decision. Earlier in the meeting, Assistant Superintendent Stuart Mattey announced that the district had not received any acceptable bids for the work planned at the High School, Middle School, Edgewood and Heathcote Schools. This work was approved by voters in an $18.12 million bond in December 2014. However, the State Education Department delayed their approvals, forcing the district to put the projects out to bid in May. Due to the timing and an uptick in the economy, the bids that were received were 33% higher than estimated and the district did not receive any bids at all for general contractors for the $7 million project at the high school. At their final meeting of the year the Board passed a resolution rejecting all the bids as they exceeded the available budget.

As a result, Stuart Mattey and Russ Davidson said those projects would need to be streamlined and bundled together to get more favorable pricing. The increase in pricing for these projects could affect the district's ability to pay for the renovation or the construction of a new school at Greenacres. The work was scheduled to begin this summer, but will clearly not begin on time.
Furthermore, the reval has spurred dissent from taxpayers and some wonder whether this could impact residents' willingness to fund new construction projects down the line.
The meeting ended at 12:21 am and there was no timeline or proposed resolution to the issue of the Greenacres School.
At the conclusion of the meeting, Lee Maude thanked her fellow board members for a great year and thanked Board Vice President Bill Natbony for being her wingman.

You can watch the meeting and the presentation here. What do you think of the district's options? Share your thoughts in the comment box below.

Revised Proposal for the Library in the Works
Details

Category: Shout it Out
Published on

28 June 2016

Written by

Joanne Wallenstein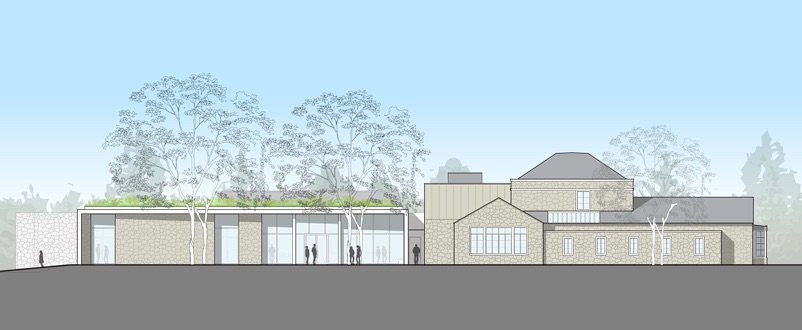 Proponents for a renovated and expanded library have been retooling their proposal and will present revised plans that will substantially reduce the required funding from the Village of Scarsdale. Library Board President Terri Simon and Library Director Elizabeth Bermel said they "listened carefully to feedback from the Village and comments from a report from the Scarsdale Forum." They "heard widespread enthusiasm for the design and growing understanding for doing this, but know that people are concerned about the cost. They are working on a response.
Simon said they had met with Dattner Architects to do some "value engineering" and find ways to economize while still realizing the programmatic achievements for the project. The two feel confident that with private funding they can deliver a project that does not "gut the plan."
Earlier this month the Municipal Services Committee of the Scarsdale Forum issued a report in support of a library renovation that asked for "economies and prioritization of design features," and a "fiscally tenable plan that would not present any imprudent risk to the Village and its taxpayers." They recommend the exploration of a range of design options and a cost-benefit analysis of each one. They note that Dattner's original report included a scaled back "Option B" offering a savings of $2 million. However, some of the elements that were eliminated were "intrinsic to programming and user needs and should not be considered expendable." They also stressed that project incorporate sustainable design, and that it be energy efficient and "healthful." The forum committee called for a third "hybrid" design choice. You can find the full report here:
Simon and Bermel said the committee is putting together a binder of materials to make available to the public that will include all source documents that were part of this decision making process along with an FAQ. They said they have "thoughtfully analyzed their decisions," and considered the forum's feedback. The binder will also include a sustainability analysis. Since this is a renovation, not a new building, it will not be LEED certified, but it will be "environmentally responsible."
In the meantime, an investigation of the subsurface is being conducted and an engineer is analyzing the building foundation so that there are no surprises during construction. They are also working on a study of traffic and parking.
Simon pointed out that time is of the essence, because construction and material costs continue to rise while the project is debated. Also, in order for the Library Board to meet its fundraising goal, they need the funding commitment from the Village.
They hope to present their revised plans to the Board of Trustees in the next few weeks.
17% of Scarsdale Property Owners File Grievances For Property Tax Relief
Details

Category: On Our Radar
Published on

23 June 2016

Written by

Joanne Wallenstein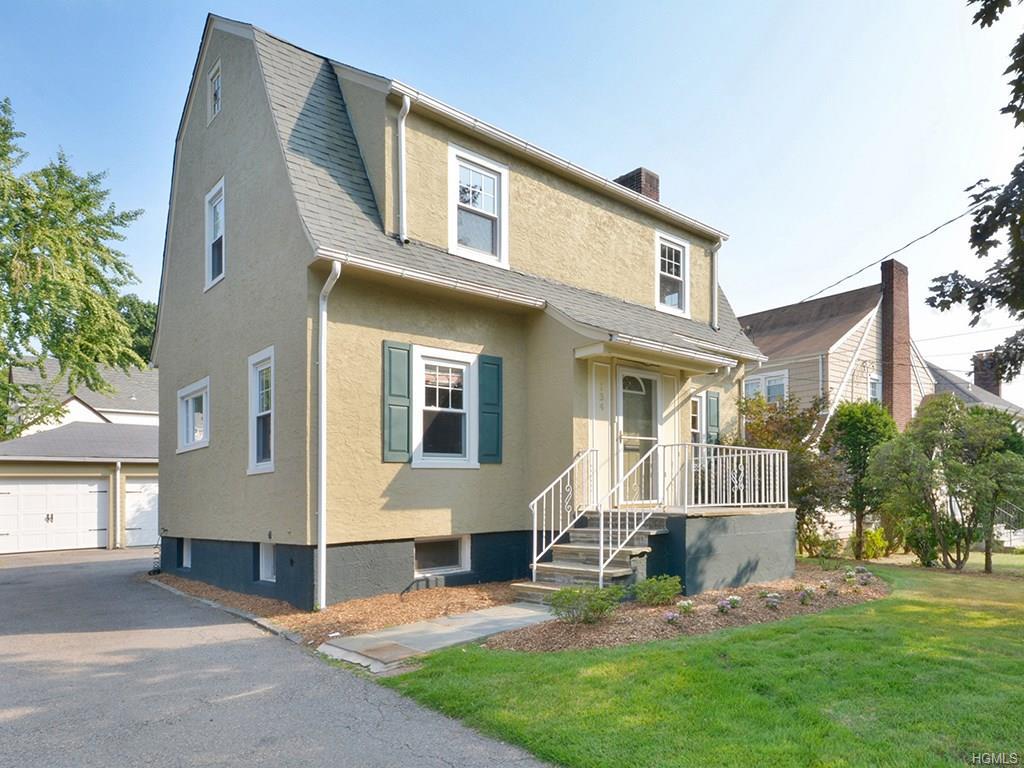 It's too late to turn back the clock now on the 2016 property tax revaluation. Though some urged the Mayor and Trustees to void it and return to the 2014 assessments, they did not act and residents had a busy week submitting their paperwork to file grievances at Village Hall. According to Deputy Village Manager Robert Cole, as of the 8 pm deadline on Tuesday June 21 it appears that 1,030 people filed, which is up from the 960 grievances filed after the 2014 revaluation and represents approximately 17.5% of the total of 5,900 properties.
The Board of Assessment Review will meet on Thursday, June 23 from 8 am – 12 pm and 6:30 pm to 10 pm to hold 3-minute appointments with those who wish to appear before them. It's not necessary to appear in person, but some would like to do so, and the Board is doing their best to accommodate as many residents and attorneys as possible. The BAR has scheduled an additional hearing on Wednesday June 29 from 6:30 to 10 pm to allow them to hear more cases.
The Scarsdale Board of Trustees has scheduled a special meeting of the whole on Monday, June 27, 2016 at 8:00 PM in Rutherford Hall to review the status of the assessment grievance proceedings for the 2016 tentative assessment roll. It is not known what, if any, action can be taken to change the process.
Residents expressed their discontent through a variety of ways. A petition to void the revaluation was posted on Change.org, people are writing letters, attending the BAR hearings and writing to the trustees.
Robert Berg, who serves on the Board of Assessment Review and was also a critic of this second revaluation sent an email to trustees today, urging them to attend the BAR hearing. He said;
"I invite, and indeed, I implore you to come and observe tomorrow's Board of Assessment Review ("BAR") public hearing, which is the continuation of the Grievance Day hearing, beginning at 8 am in Rutherford Hall. On Grievance Day, the BAR heard as many grievants as it could -- about 70 or 80. But because of the huge number of property owners who want to speak at the BAR hearings, the BAR must hold another two days of public hearings, at least, to accommodate this demand.
You and the trustees need to understand why so many property owners are outraged and, in many cases, traumatized by the Ryan valuations. You need to hear from elderly homeowners who have lived in our Village for four or five decades or more whose property values have suddenly, and inexplicably risen by 25% or 40%, and who fear that they will be unable to live out their lives in their beloved village.
You should hear the anguish many homeowners express about having to struggle to pay for an appraisal or to hire an attorney or property tax service to fight the Ryan valuations that appear to many to be random, or biased, or simply incomprehensible."
The Class of 2016 Has Its Day in the Sun
Details

Category: The Goods
Published on

27 June 2016

Written by

Joanne Wallenstein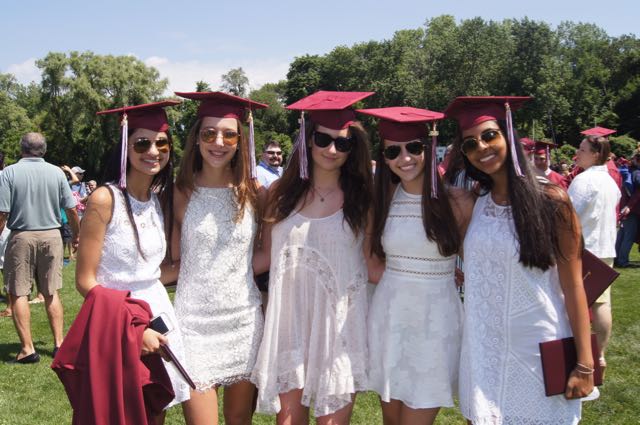 There could not have been a more perfect June day for a graduation –- cool, sunny, dry and comfortable for the hundreds of parents, grandparents, teachers, friends and supporters who came to cheer on the 356 graduates in the Scarsdale High School Class of 2016.
Before the processional, the spirited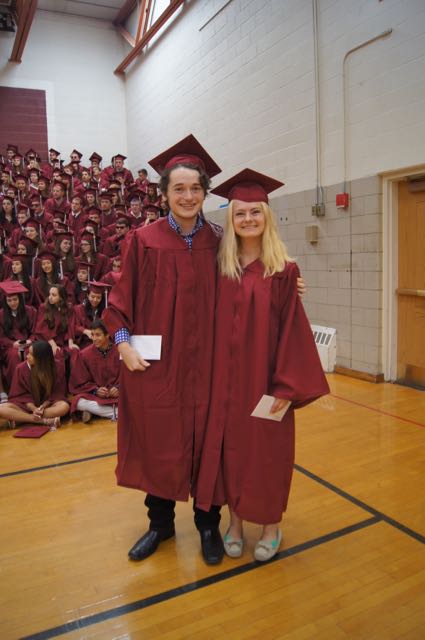 but well-behaved group gathered in the gym and honored two class members who were singled out for marching to their own drummers and being their own person. Ben Isaacs Stevens and Signe Louise Porsborg Forsingdal both looked surprised but pleased to be recognized. Assistant Principal Sue Peppers told the class that this was her last graduation after 28 years at SHS and advised the students to "stay close to their friends."
With that they lined up in alphabetical order and marched out to Dean Field to the sounds of Pomp and Circumstance played by the Symphonic Band under the baton of conductor Jason Noble.
School Board President Lee Maude advised the students to "try something new," do something you're not good at," and to "experience all life has to offer," before ceding her time to Board V.P. William Natbony who had a daughter in the graduating class.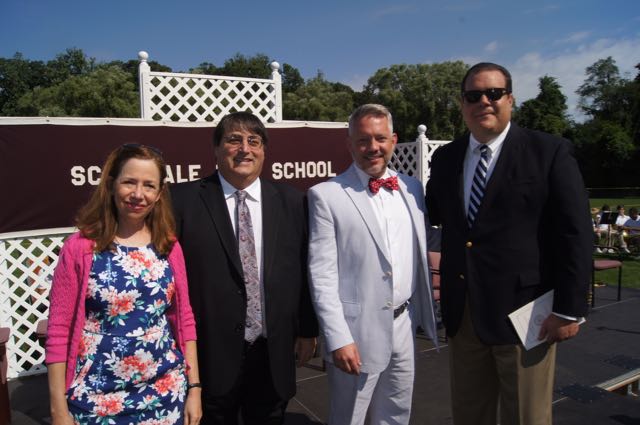 A child actor, Natbony drew an analogy between the high school experience and a theatrical play. He said, "There's something really special about High School -- I like to think of its as a four year long drama club production. As parents we can attest that there WAS a lot of drama in that production. There are many rehearsals -- some go really well, while others not so well. Over the four years of rehearsal, the actors, musicians and tech crew bask in their accomplishments and learn from their mistakes along the way. Teachers, counselors and parents provide notes along the way, giving the production structure and imparting valuable knowledge to those who participate. And then there are the friendships -- both the nurturing of old friendships and the making of new ones -- friendships that result in a collaborative and continuing performance in a show called "life."
He continued, "In As You Like It,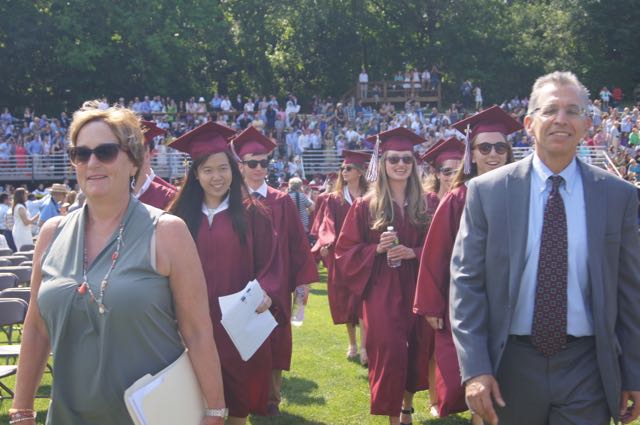 Shakespeare wrote that "all the world's a stage, and all the men and women merely players." I would suggest to the Class of 2016 that YOU are those "players" and you are about to set foot on that world stage. You will have a vast audience -- your family, your peers, your colleagues and the world at large. You will have the power to influence, the ability to create, the knowledge to innovate and the persuasiveness to move people. Do not be afraid to use your voice as you perform your various life roles.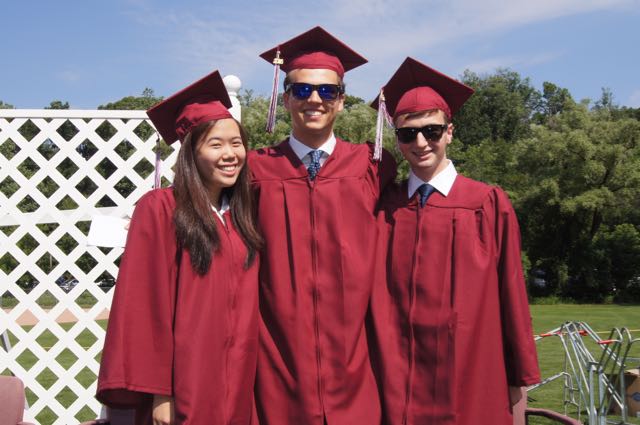 Be strong in your convictions and compassionate in your actions. Never lose sight of your own personal potential or your creative voice. Never underestimate your talent and your ability to spark change -- find your passion, perform a meaningful role using that passion, and your reviews will be great. I also urge you to perform well the role of representing Scarsdale in the global community and keeping true to our District's motto of "non sibi" -- not for one's self alone...... Today is the "opening night" of your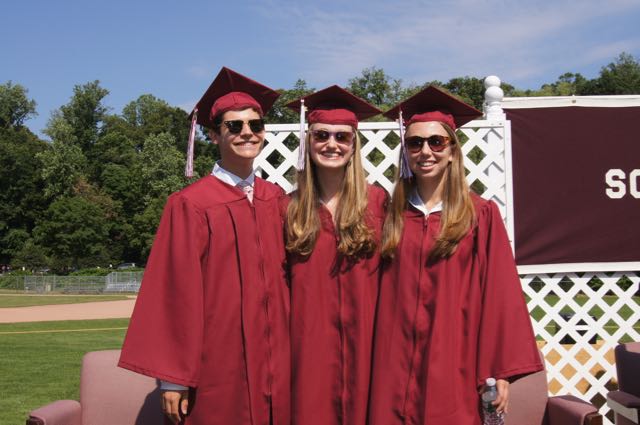 next show. The rehearsals are over. The audience has filed in. The stage manager has called "places". The overture is finished. The curtain is rising. The lights are coming up. The spotlight is on you. And you're on. Break a leg!"
It was a bittersweet day for class advisors Larry Brown and Ann Liptak who retired at the end of the school year. Charlie Musoff thanked Brown, saying he "encouraged us to be our most sarcastic selves!" He called Brown a "beloved teacher," who always helped the class do what they wanted to do and told Brown to "enjoy some more golf." Matthes Drescher thanked Ms. Liptak for "being there for everyone," and helping the class through everything from Junior Olympics to the Senior Class Play. He said, "To know Ms. Liptak is to know that you're not alone."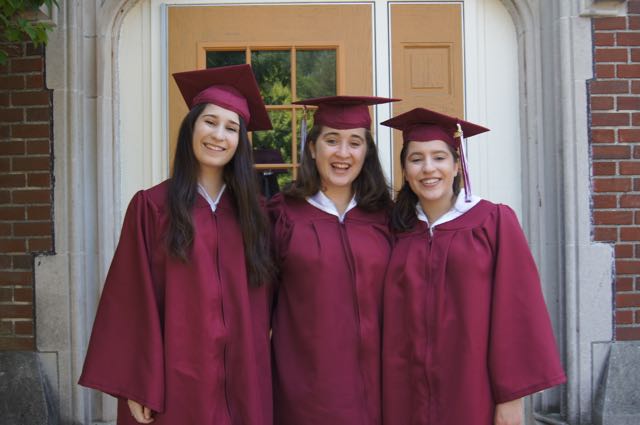 The two advisors took the stage and thanked the class for showing them a few things ... like "The Brian," the best sandwich at Nonni's, and the second meaning of words like "darty, dank (cool) and word (sounds good)." They reminisced about dancing the night away at the best senior prom ever and ending the year with a colored powder throw.
Brown remembered a favorite student who graduated in 2005 and passed away last week at the age of 29. In his year book, he quoted Derek Zoolander saying, "I'm pretty sure there's a lot more to life than being really, really, ridiculously good looking. And I plan on finding out what that is."
Brown offered the following advice on what we could learn from this young man's life:
Live large. The world is your oyster, and you should either go big or go home.

Don't sweat the small stuff. Life is simply too short to worry about meaningless things, particularly things that are out of your control.

Be forgiving. We are all human, prone to making mistakes. Forgive the acts of others as you would like to be forgiven.

Embrace the world around you. As Ann said earlier, we are all in this together, so whether it is your community, your nation or the entire world, give back to others.

And finally, never postpone joy. Our time together as friends and family is short and precious, so Carpe Diem!
Ann Liptak choked up as she quoted Walt Whitman saying,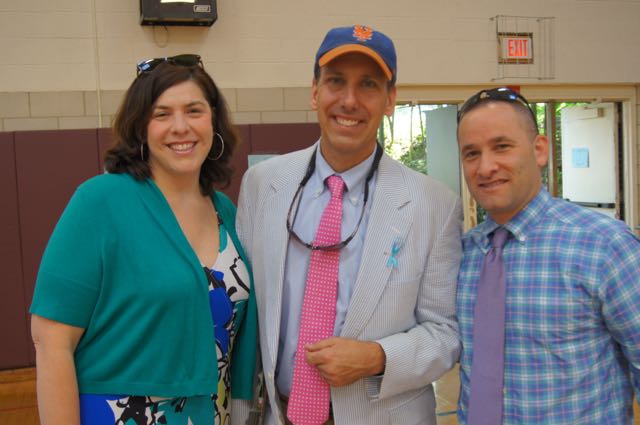 I tramp a perpetual journey,
But each man and each woman of you I lead upon a knoll,
My left hand hooking you round the waist,
My right hand pointing to landscapes of continents and the public road.
Not I, not any one else can travel that road for you,
You must travel it for yourself.
It is not far, it is within reach ..."
They ended by saying, "We say goodbye with beautiful memories in our heards and we say good to you with tears in our eyes." Many in the audience choked back tears themselves.
Class VP Owen Marsh thanked everyone at the school, from the principals to the custodian, the secretaries, nurses, library staff and aids for keeping the school running smoothly.
Class President Clare Chan said it was difficult to find words to name this feeling. She said she felt like an Emoji with eyes and no mouth and captured the moment with the word WOW. Putting on the gown, she said, gave her goosebumps.
She remembered her friend Michael Ludwig who passed away after fourth grade and would have been a member of the graduating class. She called him "determined and optimistic" and said he always smiled. She also remembered Paulie Jimenez, a student at Greenacres Elementary School who died this year and said that the Class of 2016 would donate the balance of their funds to the Ludwig Foundation and Paulie Strong. She encouraged her classmates to highlight the good times they had together, and to never apologize for who they are. She ended with a serenade from High School Musical, singing "We're all ready for the start of something new!"
Principal Ken Bonamo told the class that he also started his tenure at Scarsdale High School four years ago too. He reminded the students that it's easy to see tragedy and say "not my problem," but urged them to take on big challenges and to respond to hate with love. He told the students, "You are out best hope." He advised them to "study what you love and follow your heart," and wished the class a wonderful graduation.
With that, Superintendent Thomas Hagerman bid the class to "Go forth to grow in wisdom and to serve the common good, non sibi."
If you would like to add your grads picture to our photo gallery, please email it to scarsdalecomments@gmail.com.
STEP Celebrates DonTavius Holmes
Details

Category: People
Published on

27 June 2016

Written by

Joanne Wallenstein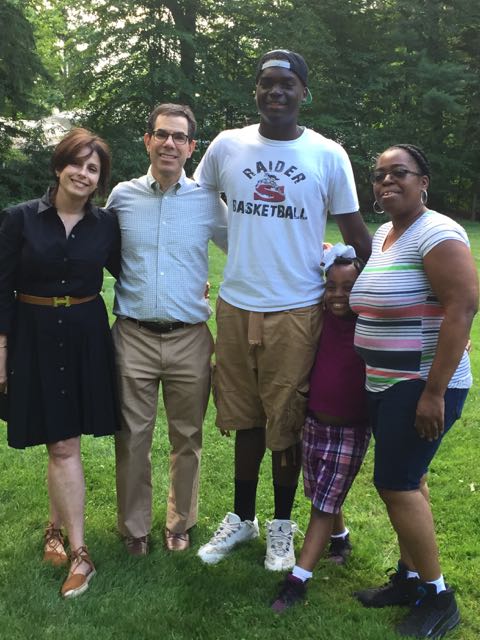 The STEP Board (Student Transfer Education Plan) celebrated a successful two years for DonTavius Holmes in Scarsdale at the home of Lisa Rodman on June 23, the eve of the Scarsdale High School Graduation. By all accounts, DonTavius had a positive experience in Scarsdale and enriched the lives of everyone who got to know him. He was hosted by the Klein family of Heathcote Road and enjoyed the friendship of their son Josh Klein who is also a member of the class of 2016. Host mom Bettina Klein said that DonTavius fit right into the family and that as parents, they demanded the same high standards from him that they expected from their own children. To learn more about the STEP program, click here.
http://www.scarsdalestep.org/
DonTavius embraced all that Scarsdale had to offer – playing basketball and football and holding a job at the Scarsdale Congregational Church. When the basketball team travelled to Gainesville, Florida, Coach Scagnelli invited him to come along. DonTavius said his time here was a "great experience" and that his "many moms" on the STEP Board who supported him here. He thanked Dean Michael Gibbs, and teachers Robert Draper, Tom Maguire, Rashid Silvera, Stephen Mounkhall and Elise D'Ammora and all his friends in the Dale.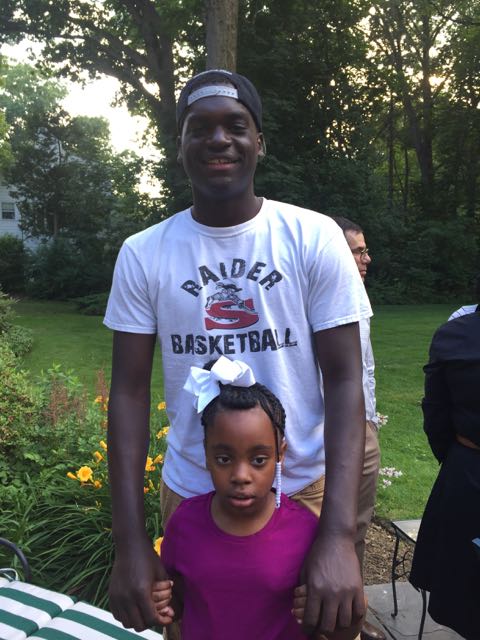 His mom Angelesa and sister Diamond came up to New York for the graduation and posed proudly for photos with DonTavius who will attend Oxford College in Atlanta in the fall.
Here is the toast given by STEP Co-Chair Nan Berke to DonTavius at the celebration:
DonTavius, it has been an incredible pleasure having you be a part of STEP these past two years. As I've said to you many times before, we are all so proud of you and all that you have accomplished. You had a lot of help along the way, so I want to start by acknowledging those who were key to your success:
Thank you to the Kleins for being a great host family. You taught DT so much, took good care of him and were incredibly generous with our time and in sharing your home with him. As someone who was in your shoes just a year ago, I know how bittersweet this experience must be for you. Although hosting is not for the feint of heart, I'm betting you got just as much from this experience as you put into it.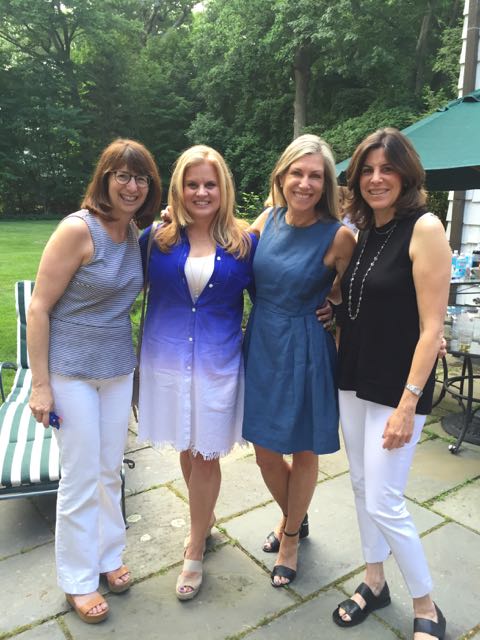 Thank you for taking the leap of faith and saying 'yes' to hosting a STEP student.
To Collegistics and Lisa and Lillian in particular, thank you for all you did for helping our young man get into the college of his dreams. During the thick of it, DT it seemed as if you might have perceived them as being a bit of an annoyance, pestering you to do a huge amount of work. But guess what? These women really know their stuff and got you to where you want to be.
The same can be said about Susan Groner who helped you with your scholarship applications. She is such a nice person, she just plugged away at getting DT money whether he was involved or not. We know you were watching DT, and see now that it takes a lot of patience and methodical grunt work to work through the college process and getting college funded. What you've learned from Lisa, Lillian and Susan will stand you in good stead throughout your life.
Julie and all the Stonbergs, thank you for being DT's home away from home away from home buddy family. You took him to Nashville to see Vanderbilt and to Florida to see an ocean. He clearly loves being with you all and made this experience much more comfortable for him.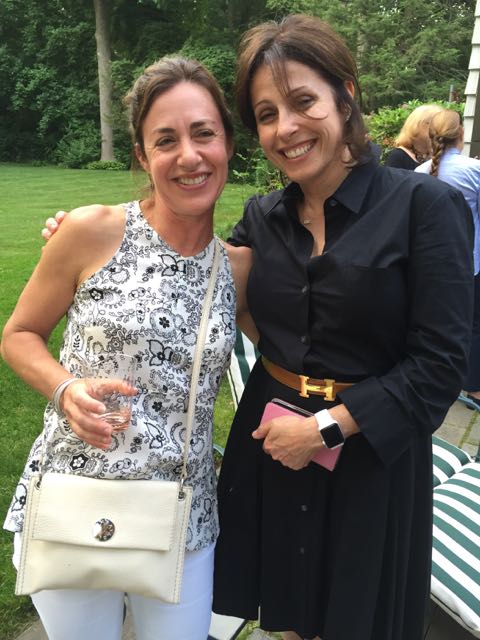 A thank you to Dean Gibbs for being the awesome dean that you are and to SHS for generously agreeing to enroll DT and educate him so well. Thanks to the STEP Presidents, Valerie, Debra and myself here while DT was in Scarsdale and to the STEP Board for all you did for the Kleins and for DT, and finally, thanks to Angelesa and Diamond for sharing your son and brother with us.
DonTavius you have an irrepressible charm and a bigger than life personality. I believe this year's senior class has 384 students and my guess is close to 100% of the class knows or loves you to varying degrees. Younger kids are drawn to our Mufasa too.
You are just fun to be around. These past two years you've grown and matured immensely. You're willing to let the little things slide now. You follow through and work hard.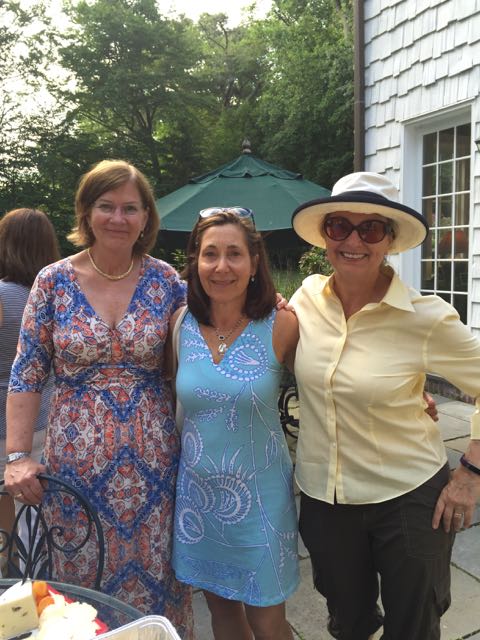 You are an athlete devoted to your teams and someone who bonded strongly with his coaches. Sports can teach you a lot about life, and I think you learned that very well.
You excelled academically while in Scarsdale. Could you have worked a bit harder at times? ...Maybe. Hopefully you have been saving the full throttle academic setting for college.
Several times you've said that life in Memphis is like a crab pot and everyone is trying desperately to crawl up the sides of the pot and get out. Well, DT, you are out of the pot. Wherever you go, who ever you become, we all have the greatest confidence you will be a huge success and do exciting things.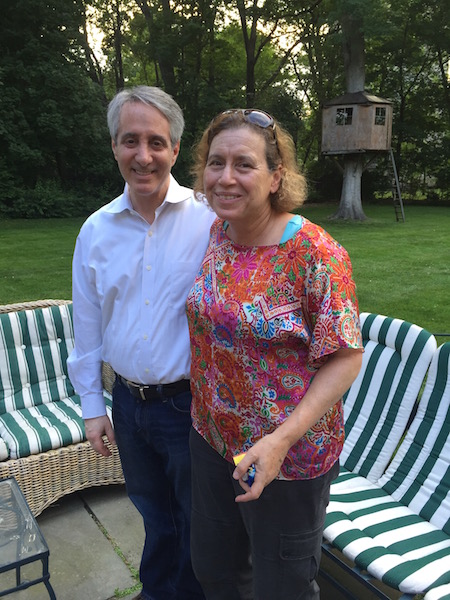 SHS PTA Toasts Retiring Staffers
Details

Category: The Goods
Published on

21 June 2016

Written by

Joanne Wallenstein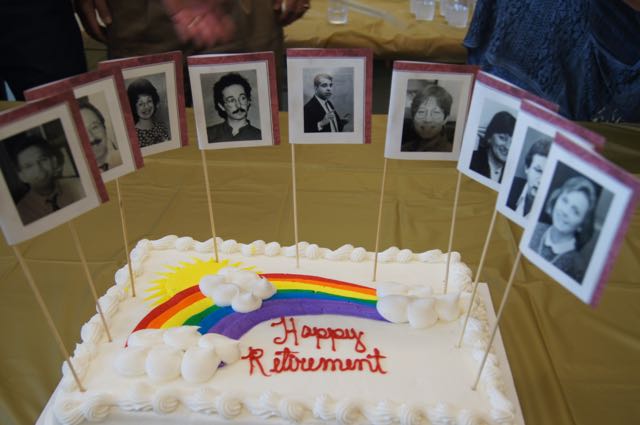 On Monday June 20, the SHS PTA arranged a small celebration for a group of veteran staffers who will retire at the end of the school year. Well-loved and well known, these teachers and Assistant Principal Sue Peppers have had an impact on the thousands of students they have taught. The PTA ordered a cake bearing pictures of the teachers as they were when they came to the school years ago – and PTA President Margaret Smith gave lovely – and sometimes amusing --tributes to each one. We can't say it any better than she did – so below are her remarks to the nine retirees who have been at the school for a collective 257 years.
Here are Margaret Smith's remarks:
Good afternoon. I would like to welcome everyone here and thank you all for coming to celebrate our retirees and wish them well as they are about to embark on a new phase of their lives. I would like to introduce them to everyone now, as none of us, I believe, has had the pleasure of knowing all of them as teachers to our own kids. When I call your name, could you please stand?
Larry Brown
Roger Cappucci
Sandra Cisco
Tom Conrad
Ann Liptak
Sue Peppers
Paul Sheehey
Beth Schoenbrun
Ihor Szkolar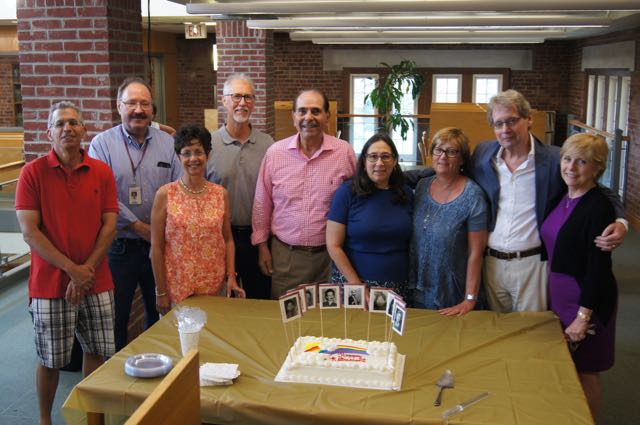 Welcome to each of you.
This is the part of the school year that I have come to dread. Not because I have to give retirement speeches, but because I really feel an aversion to saying goodbye at the end of the year. This has been the case since my kids were in grade school. I think it's because, no matter how exciting the next stage promises to be, we must loosen valued connections that we have formed through time and teamwork over the course of the school year. Those precious relationships will lodge in our hearts and our memories, never to be replicated, though others will take their place in our lives over time. That's how I feel again this year, and for nine good reasons, all standing in front of us in this room. Furthermore, I myself am retiring this year, as my youngest child is graduating this Friday. My retirement, however, is not really a matter of choice; it's more like I'm being asked to leave.
Today, we are celebrating the relationships we have had and the contributions that have been made by eight of our educators and one educator-turned-administrator who have been with us for a collective 257 years! Wow! Their individual years of service range from 13 for someone who made teaching his encore act, to a whopping 50 for a teacher who devoted his all to the multiple generations of students who came through his doors. Together, I conservatively estimate that they have taught more than 27,000 students. That's like teaching all of Scarsdale one and half times over. And think of the ripple effect of their teaching!
The Scarsdale community is unique in that so many people who have students in the school system were themselves students here. This is not the case in many other locales. In my own experience, I grew up in a small town in southern Minnesota, and I was ready to leave upon high school graduation, with no intention of returning to settle down and raise a family when the time came. My husband and I chose Scarsdale for two very good reasons. One was that his golf club was situated here. Hey, that's as good a reason as any when you don't yet have children. The other one, of course, was the sterling reputation of the schools. Our retirees today are some of the very people upon whom that reputation was built. Mr. Cappucci, with 50 years of teaching at Scarsdale to his credit, Mr. Sheehy, with 37 years under his belt, Mr. Conrad with 36, just to name a few of those we honor today, were some of the teachers that erstwhile Scarsdale grads surely thought of when it was time for them to pick a community in which to raise their families. And they chose to return to Scarsdale to put their own children into the hands of these very teachers. What a vote of confidence! And so well deserved, proven out again and again.
Not everyone who wished to be here today could be, and so I have gathered up some reminiscences and comments from your current and former students, and some of their parents, who can really show us the kind of exemplary teachers you have been in the classroom and in the school as a whole. I would like to share them with you now.
Laurence Brown
Larry, you have been at Scarsdale High School for 13 years, having previously enjoyed a successful career in the financial industry. You brought a real-world sensibility to your classroom, as well as acting as a class advisor to numerous classes and being a faculty member on the PTA Executive board. Here's what some of your students and their parents had to say:
Larry Brown is one of the most caring teachers at SHS. He absolutely loves his kids and he is personally invested in them both as scholars and people. He is a mentor as well as a friend and is a one of a kind teacher. Larry makes this school fun and he will be sorely missed.
Mr. Brown was, simply but truly, an extraordinary teacher. He made me feel like I could do anything, and be anything. He made policy discussions come alive. He taught us and pushed us, and he made us want to teach and push ourselves.
Larry, thank you, from the bottom of my heart. Thank you for your wicked sense of humor. Thank you for believing in us. Thank you for bringing it every day. More than any other high school teacher (probably any teacher, period), you have made me the person I am today. God bless you and your family - you will be missed.
Mr Brown truly devoted himself to the class of 2016 and was always such a positive and proactive force. During High School Musical he was absolutely beaming, laughed out loud and might have had tears of happiness once or twice. He was such a key in our kids' lives and development. Thank you!
Roger Cappucci
Roger, you are an institution at Scarsdale, with 50 years of teaching to your credit. People with whom I serve on various committees who had you as a teacher can still recite your formula for differential equations. Here are a few comments from your past students.
Having Mr. Capucci as a teacher was one of the best experiences I had at SHS!
He was the only teacher who could make calculus both academic and captivating for my class.
I will remember Mr. Capucci not just for his amazing talent of teaching, but also for his generous and kind heart.
Mr. Cappucci is so enthusiastic and always wants to make sure the student is achieving his best. In class he would always write something on the board and then point to something outside so that we would all look away and then he would finish the equation on the board so that it was finished when we turned around.
Sandra Cisco
Sandra, you bring the foreign and exotic into the school and make it part of the students' daily living experience. You have graced these halls for 22 years, and your students are a most appreciative lot.
Senora Cisco truly cares about her students' well being. When I passed out in her class she literally caught me before I fell on the floor and revived me. I've never felt so prepared for a test as I felt for the final in her class. She was always willing to help out if you asked for help. She's like everyone's mom. I frequently stayed to chat with her through lunch because she's so interesting and fun and I loved talking to her.
She was very funny and enthusiastic and she made every class fun. She would always dance and sing and get the students engaged in the lesson.
She was one of the best teachers my son ever had. He had her two years ago and still remembers the trabelanguas (the Spanish tongue twisters). He can still recite them two years later! It was a great year and he thanks her for her dedication and wishes her well.
Senora Cisco is amazing! She is the best Spanish teacher I have ever had. She makes Spanish super fun. She really cares about her students and wants them to succeed.
I found Spanish to be a very challenging class and Senora Cisco provided me with time and patience to help me reach my potential. I will never forget how hard her class was but she gave me the tools to succeed.
Tom Conrad
Tom, you have been on the Science faculty for 36 years. Besides your classroom service, you have been a long-standing presence on the Compact Committee, helping the High School deliver the best education in every way to the students who pass through the doors. Here are a few memories from your students.
Mr. Conrad was a calm and supportive presence in the often anxiety-ridden halls of SHS.
Mr. Conrad was such a clear and methodical teacher. The more teachers and professors I have had since him, the more I realize how rare and important that is.
He showed us a movie about the atomic bomb, which helped us understand the topic better. Whenever we were learning a topic you could tell how passionate he was about his subject.
Ann Liptak
Ann, you have been at the High School for 22 years. In that time, besides shining in the classroom, you have been the English Department Chair, overseeing the delivery of English instruction to literally every student in the High School. You have also been a class advisor, most recently for the seniors this year, helping kids knit together as a class and marshaling them forward on their paths to seniorhood and graduation. Here are a few comments from some of your students.
Mrs. Liptak was (and, I imagine, remains) a total boss.
Ms. Liptak's classroom was always a fun and dynamic place, and she helped make Gibbs Civ. Ed. into a magical social and educational oasis. Life does not get much better than the quirky bonding of the Gibbs Civ. Ed. trip. English teachers do not get much better than Ann Liptak.
Sue Peppers
Sue, in your 28 years at Scarsdale High School, you have been a social studies teacher and an administrator, getting into the weeds with the kids in the classroom, then soaring at thirty thousand feet to work with the whole population. You have also been a mother of SHS students, so you have filled many stakeholder roles at the school. Here are a few comments from parents and students.
I have worked with Sue on various committees over the years. She is always attentive to parent concerns and represents everyone's interests. She listens carefully, follows up dutifully, and always greets me with a smile. When she taught my child, she always had positive things to say about her. Sue makes everything she does look easy, but I know she puts significant time and effort into every task. I wish her well in her retirement.
Sue she and her husband, Jerry, were involved in Maroon & White when their daughters were athletes at the HS. About 12 years ago, they established the Peppers family awards, which are given each year to one male and one female graduating senior who exhibit excellence in both athletics and academics. The Peppers award is highly regarded by students and families. Sue and Jerry fund the award each year (there is a small scholarship for each winner), and are always present at the awards ceremony in June to deliver them to the receiving students. This is yet another way Sue shows her dedication to Scarsdale High School.
I had Ms. Peppers for 10th grade social studies. As a teacher, Ms. Peppers inspired us to think outside the box. She was always a warm face to say hello to in the hallways, and someone I really enjoyed learning from. I wish her a very happy retirement.
The year John Klemme retired was a difficult one for SHS Administrators. As PTA President at the time, I saw firsthand how Sue calmly grounded the school to keep it running smoothly. She stepped in to various new roles with true leadership and made things happen. It seemed like things were running themselves, but that was not the case. A lot of it was Sue.
I remember going on the orchestra trip with Assistant Principal Peppers and trying new foods with her. It was a cool experience to spend time with her outside a school environment and see how adventurous she was. I will always remember her for her love of exploring new cultures.
Paul Sheehey
Paul, your tenure at SHS spans 37 years, second only to Mr. Cappucci's among this year's retirees. In that time, you have made your English classes sit up and take notice. Your inspiration can be heard in the comments of some of your past students.
Mr. Sheehey likes to act out the voices in the books we read. I know more vocab words because of him. The tests were so hard with analogies and antonyms and synonyms but we'll be thankful for them later.
I really liked going to Mr. Sheehey's class. He brought a sense of humor to the classroom. He always came up with funny, quirky names for our writing assignments. For Macbeth, the name of the assignment was "Hell is Murky - Bring a Flashlight." For a short story called "A&P" the assignment was entitled, "Where Have You Been? At the A&P, Buying Herring Snacks?"
He's a very smart teacher, and always has been approachable and easy to talk to. I know he cared deeply about his subject, and would often end class leaving us with very profound thoughts to contemplate for the remainder of our school day.
Mr. Sheehey's class was always a part of the day I looked forward to. He is a great teacher with a great sense of humor and he taught me how to be a better writer. I learned so many vocabulary words from his grammar tests that I was very appreciative when the SATs rolled around. He always says 'hello' when I see him in the hallways. He really cares about his students and he will be missed at Scarsdale High School!
As someone who never cared much about English I realized that Mr. Sheehey had an innate ability to engage even the least curious student through humor, insightful comments and historical quips Hands down the best English teacher I ever had.
The most interesting man I have ever met. He has such an appreciation for life and has done some crazy things in his past (from living in different countries to his work experiences). He is not only a great teacher with a fresh perspective but a great mentor and friend to all his students. I wish him great luck in the future and I know he'll be doing some adventurous things. SHS was lucky to have him.
Loved his floral jackets. Pretty convinced he was in the CIA based on the stories he would tell us about his travels around the world
Beth Schoenbrun
Beth, you have been in the Science Department teaching for the past 20 years, lighting the lamp of curiosity and drive for more than 2000 students in that time. Furthermore, you have been an advisor to the Science Research class, where you have mentored great numbers of future scientists who are now making important contributions to our scientific knowledge at the university level and beyond. Here is what a parent and some of your students had to say about your tuition.
Beth Schoenbrun was the most influential teacher in our son's high school experience. She gave 100% to her students and then more. Her encouragement and pure love of science inspired our son to want to pursue a career in this field. We will be forever grateful to her.
Ms. Schoenbrun was always willing to meet with you after class and really wanted to help. She was very enthusiastic about her subject.
I recall her AP bio class and dissecting a pig. I'll never forget that Ms Schoenbrun pushed me out of my comfort Zone to try new things. I am very thankful for that.
Looking back on my experiences with Ms. Schoenbrun, I am reminded of her adoration for her pugs and, of course, her intense love of the color purple. More important, I remember her as a teacher who was really passionate in seeing her students succeed. I had both AP bio and Science Research with her, so I became familiar with how seriously she took academics. In both, she demanded nothing but the highest quality of learning. And while I admit that she and I butted heads on how to go about second semester senior year, I remember how genuinely happy she was when a fellow student won at WESEF, how proud she was when another accepted his award, and how her eyes would light up when speaking about the accomplishments of yet another. She was a teacher with her own brand of tough, but deep love that remains years after you've left her classroom. But she was also much more than a teacher. She was a great mentor. I remember sitting in her office after having missed two weeks of class for a personal problem. Instead of reprimanding me or simply filling me in on what I missed, she sat me down and asked what happened. The only thing she cared about in that interaction was how I was doing. I will never forget that. I will never forget how supportive she was in a time that was so full of personal strife. Years later, I remember the lessons she taught us about mitochondria and cell membranes, but much, much more importantly, I remember her as a teacher who unequivocally put her students first; who demanded hard work because she knew we were capable of being more; whose dedication in and out of the classroom represents the best aspects of a mentor.
Ihor Szkolar
Ihor, you have been at Scarsdale High School for 29 years, bringing the light of day to the often obscure subject of chemistry and other aspects of science. Your students are devoted to you, as we can hear in the following comments.
The cutest man alive!
Once a kid was talking during class and someone said, "Mr. Szkolar aren't you going to get mad? And he said, 'How could I get mad at any of my students?' "
He is the best person. He's always smiling and laughing.
Mr. Szkolar was so kind. When I had trouble with chemistry, he really helped me and made me feel comfortable in the subject. He helped me turn my grade around. I still miss him, even though it has been a few years since I worked with him.
Mr. Szkolar is a really genuine, nice guy. He knows how to connect with students.
So many students have been touched by each of you, in the classroom and outside of it. I hope you take joy and pride in these comments and cherish and remember them even as you are pursuing fresh interests in retirement. Know that the time you spent here was a blessing to so many who passed through your classrooms. We wish you the very best in your new walks of life and hope that you will come back for a visit once in a while. And now, I invite everyone to continue to enjoy the refreshments and to visit personally with our retirees. Thank you all for being here, and have a wonderful summer.