Accident Pins Woman Between Two Cars Near Greenacres Elementary School
Details

Category: Today's News
Published:

22 June 2018

Written by

Joanne Wallenstein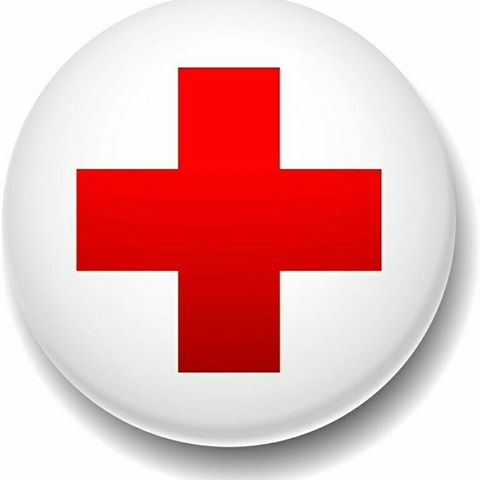 Just before 3 pm on Thursday June 21, a Greenacres woman was injured in a car accident on Montrose Road near the Greenacres Elementary School. Sinying Lin, age 24 of Valley Road backed the 2018 Volvo she was driving into a space on the west side of Montrose Road.
According to the police, when she backed in, she scraped a 2017 Toyota that was parked in the next spot. She got out of her car to assess the damage and the Volvo rolled toward the other car, pinning Lin in the middle.

Good samaritans rushed to help her. One moved the car to free her and another carried her to the grass to perform CPR until help arrived.
Scarsdale Police, firefighters and SVAC all came to the scene to extricate Lin who was taken to the trauma center at Westchester Medical Center for treatment. Her condition is unknown.
Add a comment
Committee Recommends Using EPDM Infill for Replacement of Synthetic Turf at Butler Field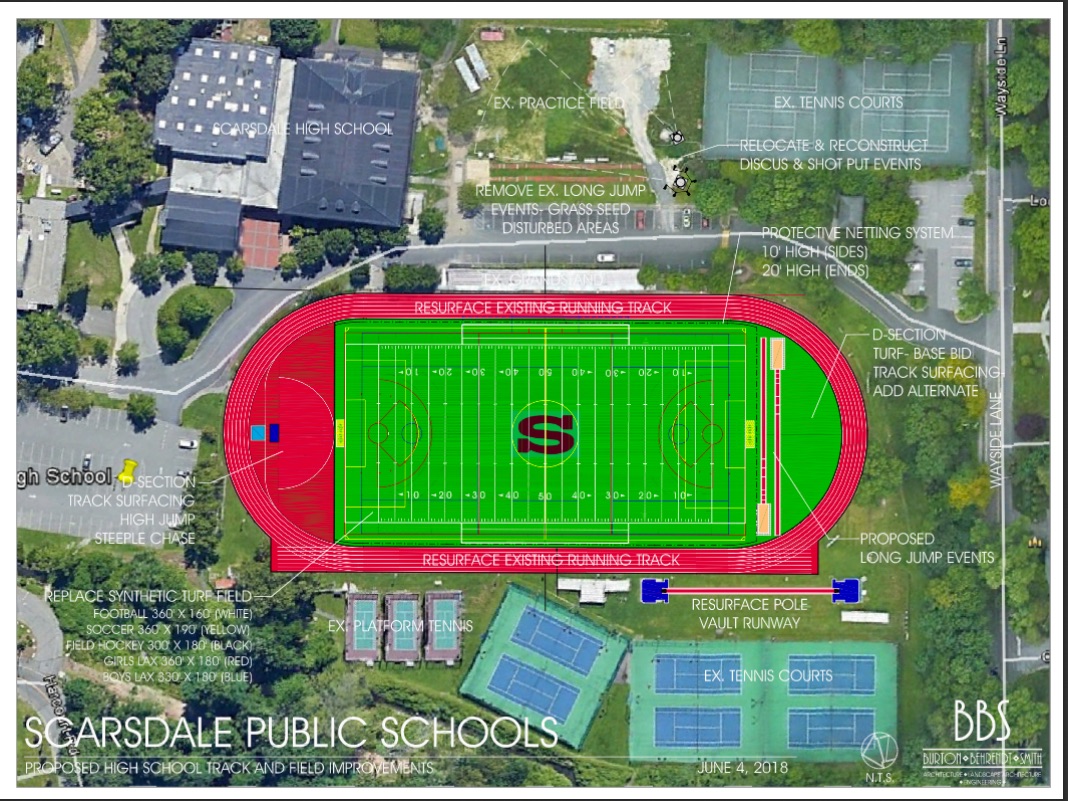 The Butler Field Committee comprised of administrators, coaches, parents and students was convened to analyze options for replacement of the 13 year-old turf field at SHS and to make a recommendation to the Board. At the June 11 meeting of the Scarsdale BOE, Athletic Director Ray Pappalardi reviewed the committee's report and explained why they had decided on a synthetic turf with Ethylene Propylene Diene Monomer (EPDM) black rubber infill as well as renovations to the track and relocation of some of the track and field events to another area.
The committee based their decision on the following criteria:
Availability
How early is the field available in the Spring?
Can you get on the field during the hottest days typically in August?
Is the field available after a medium or heavy rain?
Are there days lost due to maintenance?
Health and Safety
What are the current or known health risks?
What are the future or unknown health risks?
What are the concussion impact or injury risks?
Playability
Infill splash-bounce displacement
Ball speed and running speed
Similarity to grass for softness
Ease of Maintenance
Additional man-hours required on a regular basis?
Equipment or storage requirements?
Frequency of replacing lost infill
Sustainability
Made from recycled or renewable material?
Organic?
Disposal method at end of useful life?
Source country of materials?
Cost
Annual operational costs
Upfront cost
Expense of replacing lost infill
The committee visited numerous sites to learn more about different varieties of infill and spoke to parents, coaches and administrators in other districts about their experience with different surfaces.
Based on their research, they came up with the following: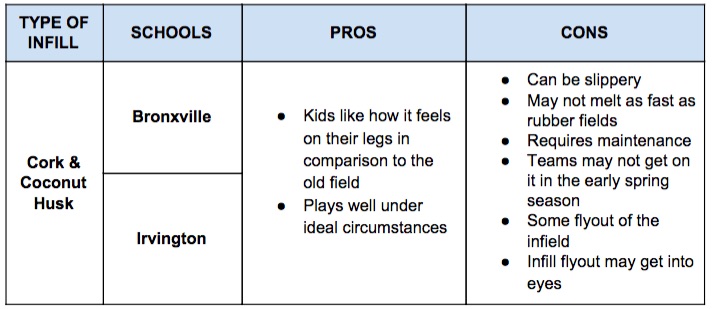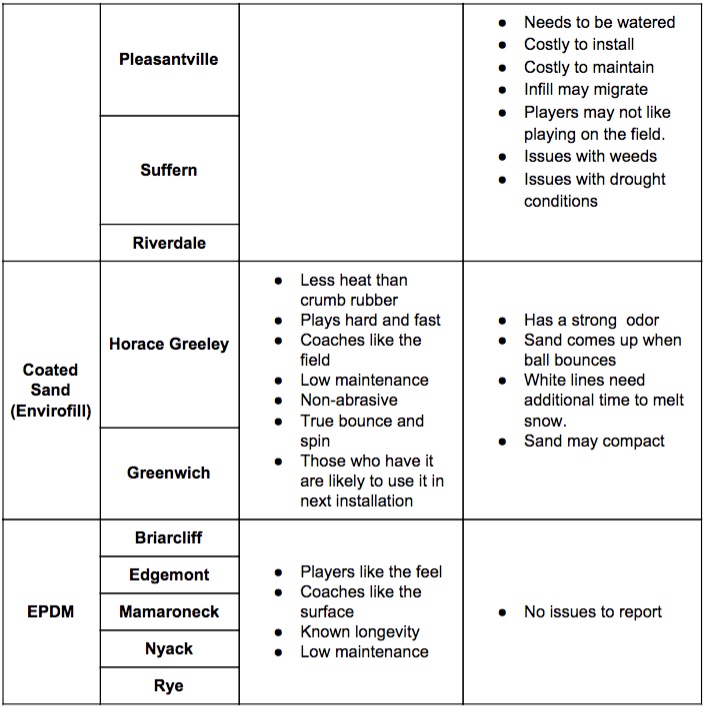 At their May 24 meeting, they weighed the criteria to determine their ranking of priorities and came up with this analysis: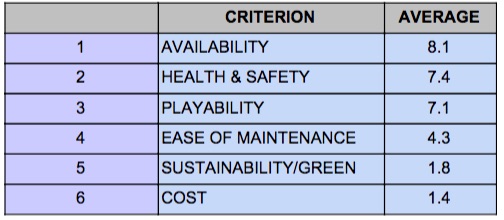 They concluded that fields with rubber infill are more readily available than those with organic infill such as cork or coconut husks. Fields with coated sand infill also have good availability and drain well.
For health and safety, they found that fields with EPDM and coated sand infill allow for the use of turf shoes rather than cleats, which increase traction and are a contributing factor to injuries of the lower extremeties. They learned that the fields with organic infill are slippery when wet and may be less safe.
In terms of playability, under ideal conditions, the organic infill feels good to the players. However when it's dry, the flyout gets into players eyes and mouths. Coated sand feels hard and plays fast. The committee found that EPDM plays well and provides a consistent surface for play in most weather.
Organic fields require more maintenance as they require grooming after rain as well as weeding. However, organic infills are the most sustainable option as they are compostable whereas EPDM and coated sand must be taken to a landfill.
The committee estimated that the annual operating costs for the organic field would be $36,000 as compared to $5,000 for the EPDM.
Based on their work, they recommended that the district install EPDM black rubber infill with a shock pad between the base layer and the synthetic turf, for both safety and playability.
They recommended that the six-lane track as well as the high jump, long jump and pole vault be replaced.
They also recommended that the aging goal posts be replaced and that field safety netting be installed around the field to prevent lacrosse and soccer balls from flying on the track.
The plan calls for turf work to begin in November 2018 and track work to begin in June 2019.
The budget for this work, including drainage improvements would be $1.712 mm. If the district decides to go with green EPDM rather than black, it would cost an additional $256,800and bring the cost to $19.5mm.
The committee also recommended additional work to the track, totaling another $250,000. The Board will need to decide whether or not to do this work at the same time as the turf replacement project.
In the discussion, Board Member Nina Cannon questioned the use of black vs. green infill and was told that the black is less expensive because it is more readily available, though the green might be cooler on hot days.
Art Rublin asked about sustainability, and Andrew Patrick replied, saying that the committee acknowledged that playability, not sustainability, was the objective of the project. Rublin also asked if there were any health studies available about the safety of EPDM and Stuart Mattey responded that the committee was not aware of any studies.
Lee Maude questioned whether or not the additional $250,000 should be spent on the track and field improvements. Chris Morin said, "We should decide if these are worthwhile and if so, use the most efficient way to make these improvements."
The Board of Education will vote on the field replacement at their next meeting on Tuesday June 10, 2018.
Also discussed at the meeting were gifts to the district, a new social media policy and a revision to the Code of Ethics of District Officers and Employees.
Annual Gift Review
The Board conducted an annual gift review of all gifts given to the seven district schools. They have received a total of $128,345.86 in gifts over the 2017-18 school year from various organizations, including the seven school's PTA organizations. One of the more recent gifts was $15,000 from the Fox Meadow PTA for new smart furniture, which includes standing desks, kinesthetic seating, and communal tables to create a more innovative and modular learning environment for Fox Meadow students. Board Member Leia Maude questioned the role the district would play in "owning up" to the purchase of the furniture, to which Dr. Hagerman responded that there is an expectation that once the school accepts the gift, the district will need to decide to either maintain it or eventually get rid of it. Hagerman also noted that Edgewood has also experimented with this kind of furniture and other schools will likely install more smart furniture in the future.
This discussion also led board member Art Rublin to discuss the issue of disparity, and maintaining equality among the elementary schools. Dr. Hagerman noted that the five schools should have a general shared experience, but are each unique. He thought it was best to look at the issue of equality by not necessarily looking at the amount of gifts a school receives in one year, but rather over multiple years. The Greenacres PTA, for example, has been holding out on spending a significant amount of money on gifts due to upcoming construction. Board President William Natbony agreed that it is key to ensure that these disparities do not exist in the long term and that all elementary students receive a high quality but unique experience.
Social Media Policy
Also discussed was the first reading of a new Social Media Policy presented by Director of District Technology Jerry Crisci. The new policy can be reviewed here:
The policy includes guidelines and education for students and staff on the use of social media. Board President William Natbony, questioned some of the phraseology used in the policy which states, "Under no circumstance should inappropriate comments be made about any member of the school community. Any user who receives threatening or unwelcome communications or material should report them to a teacher, a school administrator or the Director of Technology" but it did not define the terms "inappropriate" and "unwelcome." Natbony asked, "If a student made a constructive comment online that criticized their teacher, for example, would that be worthy of punishment? Natbony believes the words "disrespectful" and "offensive" might be better suited. Additionally, the policy states that "Engaging in social-networking non-academic friendships with current Scarsdale students is discouraged", but board members expressed some concern as students often seek help from teachers on personal issues, and this line could potentially alienate those students. Board Member Art Rublin suggested gathering community input on this policy before implementation.

Code of Ethics
The Board also reviewed revisions to the Code of Ethics for school district officers and employees. They discussed the section regarding school gifts that now says, "A Board member, officer or employee shall not directly or indirectly solicit any gift or accept or receive any gift having a value of $15 or more ,… under circumstances in which it could reasonably be inferred that the gift was intended to influence him or her in the performance of his or her official duties or was intended as a reward for any official action on his or her part". Assistant Superintendent Drew Patrick recommended that the $15 limit be scrapped, as no gifts of any monetary amount should be able to influence the intentions of any staff or board member of the Scarsdale Schools.
Board Member Nina Cannon brought up the future employment provision, which states that "A Board member, officer or employee shall not, after the termination of service or employment with the district, appear before the Board/District in relation to any action, proceeding, or application in which he or she personally participated during the period of his or her service or employment or that was under his or her active consideration while he/she was with the District." For example, this clause would prohibit retiring Board Member Art Rublin from speaking at a future meeting on an issue covered at a meeting in which he was a board member.
Add a comment
The June 26th Congressional Primary Election: What You Should Know
Details

Category: Around Town
Published:

11 June 2018

Written by

Derek Moritz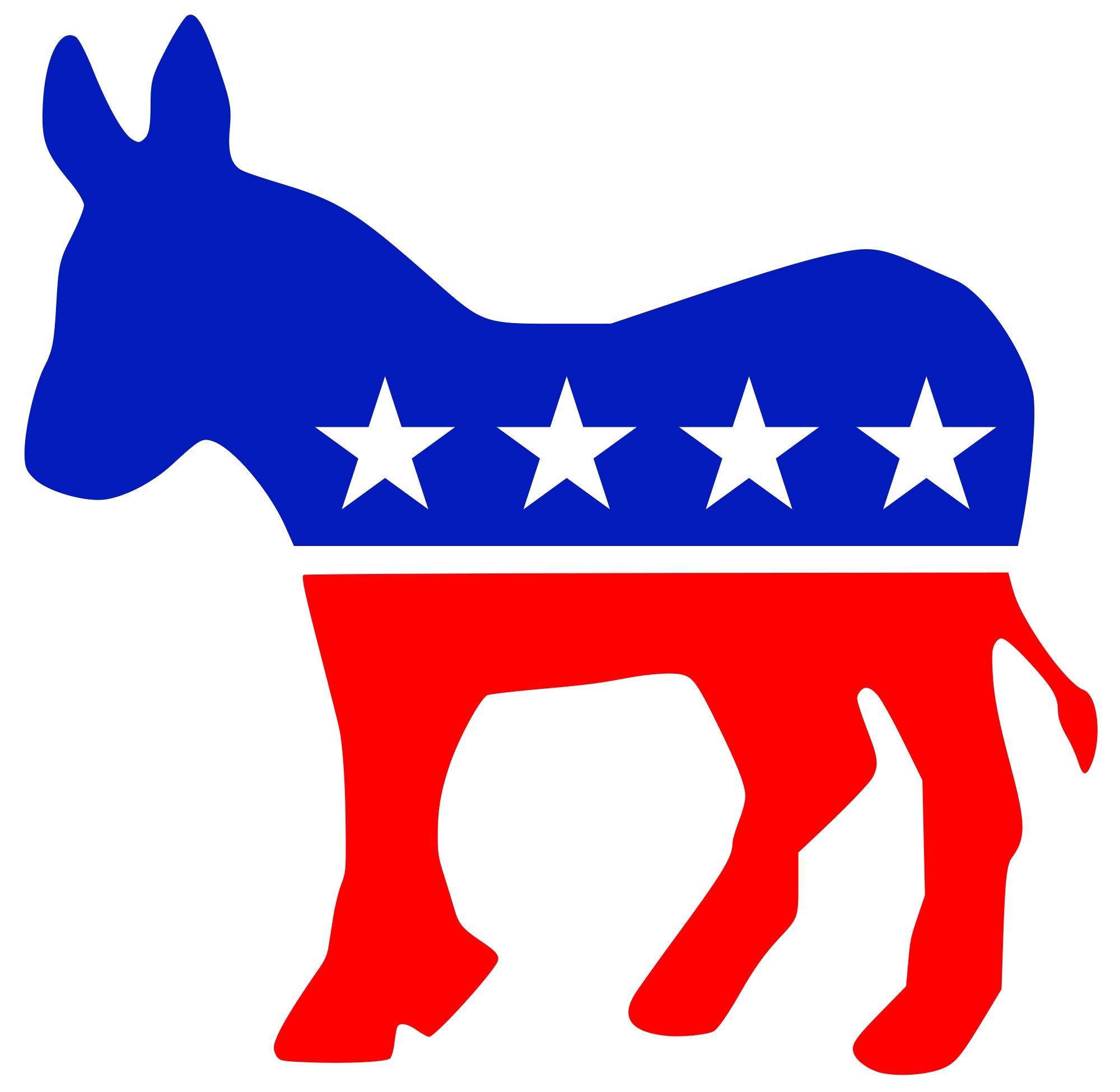 Many of us are receiving lots of mail from the Democratic candidates running in the June 26th primary for Congress for the 16th district. The seat is currently occupied by Eliot Engel who has been in Congress for nearly thirty years. Unlike the past, when the seat was uncontested, Engel faces some competition this year.
Although he's served in Congress for much longer, he only began serving the 16th district in 2013. The 2010 census lead to congressional redistricting in New York, and Engel's district changed drastically. In the past, Engel represented the 17th district, which included Riverdale and the Northern Bronx, Mount Vernon, the western portions of Yonkers and the Rivertowns, and Southern Rockland County. From 2013 onwards, Engel maintained a sizable portion of the Northern Bronx, but no longer represents Rockland County and instead serves nearly all of Southern Westchester. This change caused both the 16th and 17th districts to lose a sizable amount of registered Democrats, with the 16th district having 19.8% less and the 17th district losing 17.9% of its registered Democrats.
This year Engel is one of four contestants vying for the 16th district, with challenges from Jonathan Lewis of Scarsdale as well as Derickson K Lawrence of Mount Vernon and Joyce Briscoe of the Bronx.
Here's some information on the candidate's backgrounds and views on the issues: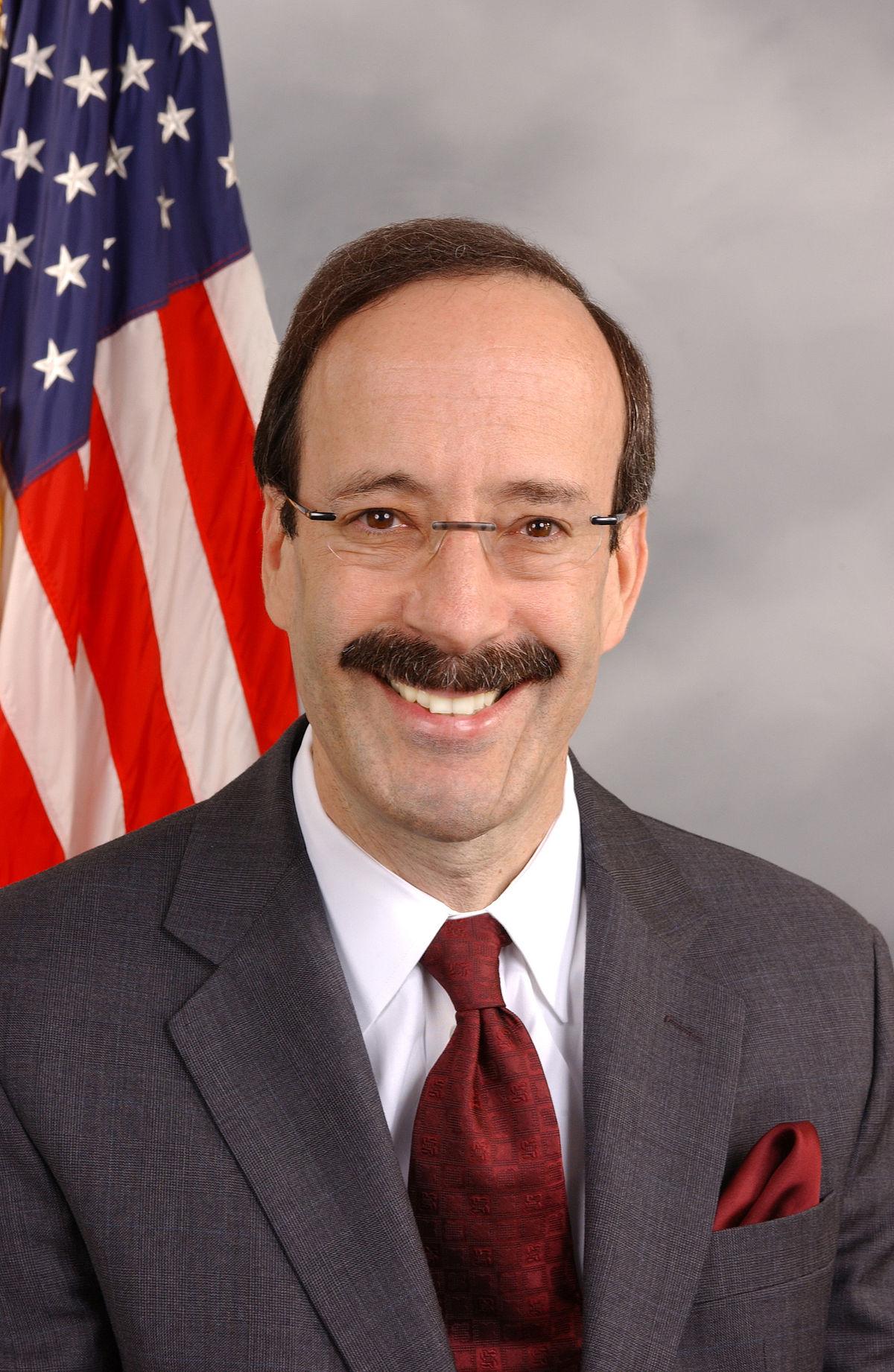 Eliot Engel
Eliot Engel has served New York in Congress for 29 years. Among his key issues are equal pay for women, social security and Medicare, gun control, health care, and equal rights. He sponsored the Paycheck Fairness Act to increase penalties for discrimination in the work place, fought against Medicare cuts, received an "F" rating from the NRA, worked to make Obamacare a law, and sponsored the hate crime prevention law. He's also a strong advocate for protecting the environment, and has sponsored legislation to protect and restore the Hudson River. Engel is also known for his work in Kosovo, where he urged President Clinton to intervene in the fight between Kosovo's Muslim Population and the Serbians under Slobodan Milosevic to prevent another genocide. He also was among the first to support Kosovo when it declared independence from Serbia in 2008, and helped secure $49mm in US government assistance for the country. For his actions in Kosovo, his face is now on a stamp and a street has been named after him.
Because of his actions in Congress and strong commitment to democratic values, Engel has received numerous endorsements from local officials, including Westchester County Executive George Latimer, State Senator Andrea Stewart-Cousins, Assemblywoman Amy Paulin, and County Legislator Ben Boykin. He's also received endorsements from organizations including the New York State AFL-CIO, New York State United Teachers, Planned Parenthood, and the Working Families Party to name a few. Engel believes that these endorsements speak volumes to the amount of work he's done to further democratic values and hopes to continue serving the 16th district.
Jonathan Lewis, has decided to challenge Engel as a newcomer with minimal political experience in county or state government. Lewis has significant volunteer experience and is now a trustee for the Yonkers Partners in Education and served a term on the Scarsdale Board of Education. On the issues, Lewis' positions are quite similar to those of Engels', including the need for affordable healthcare, gun safety, reproductive rights, saving the environment, strong national security, and protecting senior citizens to name a few.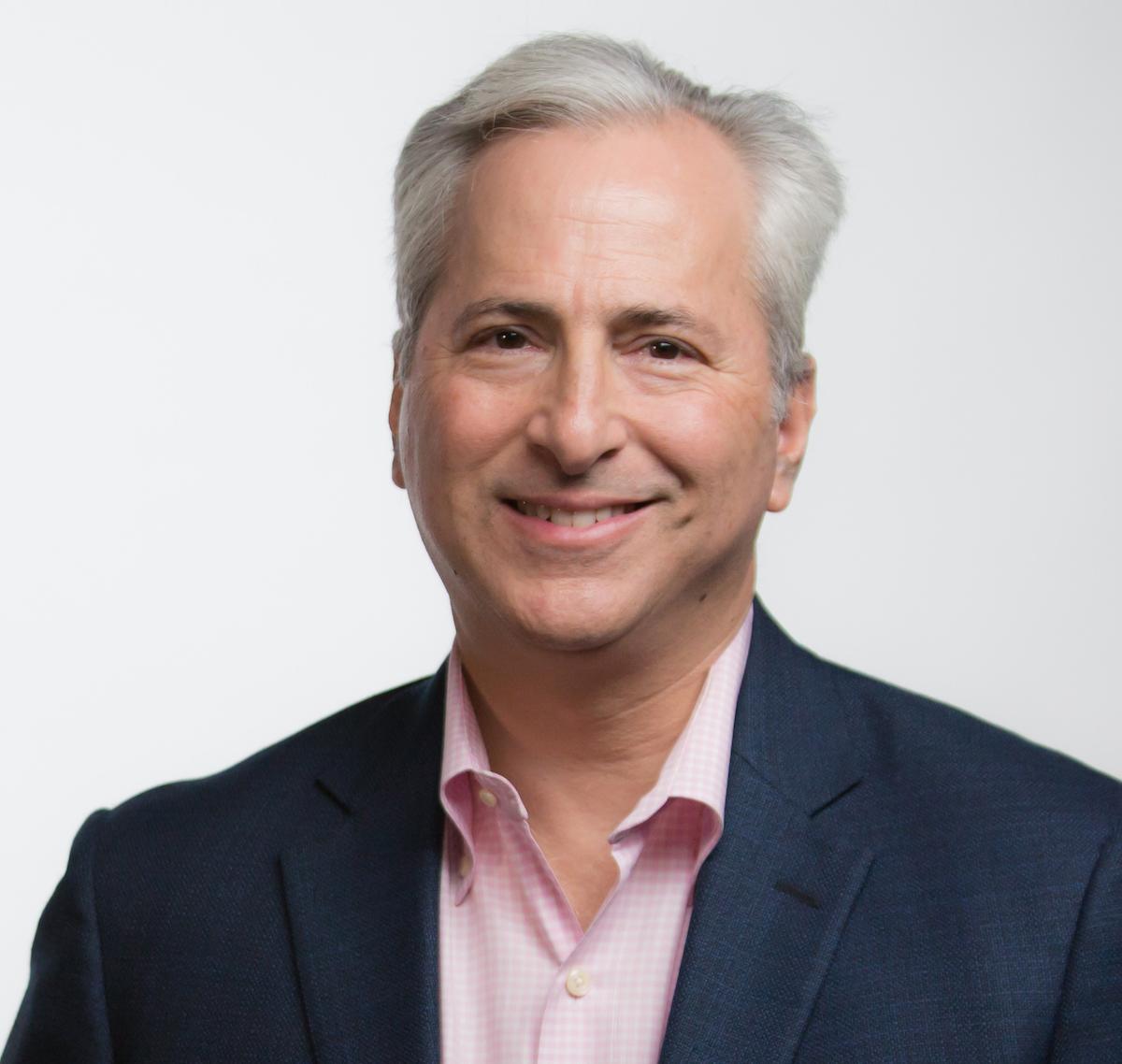 Jonathan LewisBut this begs the question - why is Jonathan Lewis running for Congress?
According to his campaign website, Jonathan Lewis is campaigning on "Repairing Our Broken Democracy" and cites Engel as a key example of a "broken democracy".
"Both of my children have Type 1 Diabetes, and several months ago, my daughter and I met with Eliot Engel in Washington seeking to enlist his support to find a cure for Type 1 Diabetes. When my teenage daughter mentioned that something felt off about the encounter, I decided to dig a little. What I found was a deeply conflicted elected official: while serving on the House Diabetes Caucus, which is supposed to represent the interests of those afflicted with both Type 1 and Type 2 diabetes, Eliot Engel has at the same time chosen to accept hundreds of thousands of dollars from political action committees (PACs) representing big sugar companies AND big pharma companies. Eliot Engel has done nothing meaningful against these companies as they have raised the price of life-saving insulin nearly 300% in the past decade. That's wrong, especially during a time when family incomes have been stagnant".
It should be noted, however, that Engel has co-sponsored legislation to establish a National Diabetes Coordinator to reduce the progression and impact of Diabetes in America.
To spread his message, Lewis has sent out numerous attack ads against Engel, and has even payed for video ads on YouTube. Engel has taken Lewis as a serious threat, and has spent money sending out ads both attacking Lewis and touting his numerous legislative accomplishments over thirty years in congress. He's also sent out ads that specifically target the Jewish community that list his numerous efforts in combatting anti-semitism and demonstrating strong support for Israel.
To show his commitment to fixing democracy, Lewis has pledged not to accept any money from corporate PACs or special interests. Engel has fired back at Lewis, noting that Lewis has failed to vote in multiple primary and general elections, thus demonstrating a lack of commitment to "protecting democracy". Lewis, however, has attacked Engel for a poor voting record within Congress, noting that Engel has second-worst attendance record in the New York Congressional delegation, and has missed over 1,300 votes over thirty years.
In the midst of the back and forth between Engel and Lewis, two other candidates sit in the background hoping for a shot at the 16th congressional seat. Derickson K. Lawrence of Mount Vernon and Joyce Briscoe of the Bronx are also running for the seat.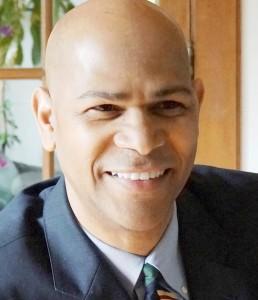 Derickson K. Lawrence
Lawrence actually ran against Engel in the 2016 general election as a People's Choice candidate and lost in a landslide, receiving only 5.3% of the vote. Lawrence has served as the Co-Vice Chair of the Westchester County Charter Revision to renegotiate the charter, Chairman of the Westchester County Homeowners' Coalition, and Chairman of Westchester County Crime Stoppers. Some of Lawrence's key issues include protecting the environment (including the labeling of GMO products), ending mass incarceration, and building an economy that works for all.
Lawrence is running because he believes he's "the only candidate who has a record of improving lives in the 16th congressional district", and has done so in four distinct areas. On jobs and upward mobility, he played a key role in starting the Mount Vernon Yonkers Bronx (MYB) $$eed Tank, an entrepreneurship program that allowed WCC students to learn to become entrepreneurs. The winner received a $10,000 stipend (paid for by Derickson). He's also worked to close the achievement gap in Mount Vernon by bringing in Apple Education, a company that helps educators find better methods for teaching special education students. Additionally, he's helped stop gun violence by sponsoring a gun buyback program in Mount Vernon, which was extremely successful. Lastly, Lawrence believes legislation should be introduced at the state level to force pharmaceutical companies to disclose prices before prescriptions are filled and a state dispensary of drugs should be created for competition.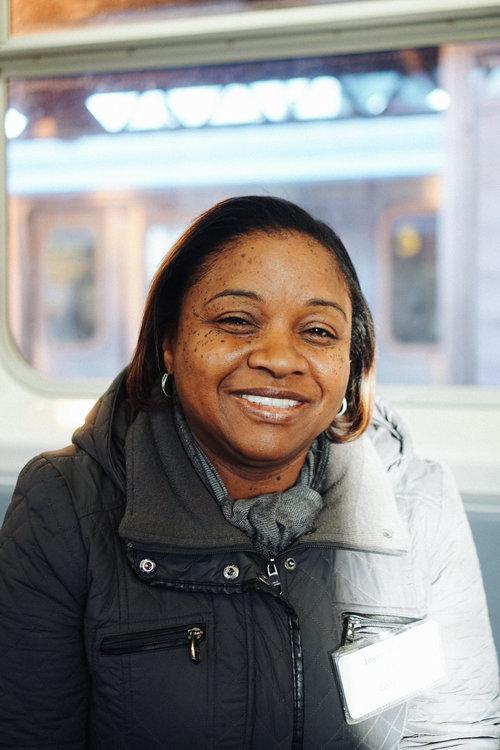 Joyce BriscoeJoyce Briscoe is a paralegal who has volunteered within her community at food pantries, the YMCA, and the Red Cross. Briscoe believes that "Her role as a paralegal has helped her to impact the lives of my family and others. Being able to provide information needed to empower them and change their circumstances for the better". She's running because she believes that the current candidates do not represent the people in her community and can't speak to the issues they face everyday.
Briscoe's key issues include schools, public housing, police re-training/mass incarceration, DACA, and inequality. To fix public housing, Briscoe believes there should be a "contractor bidding/competition for best and fastest "Extreme Home Makeover" "move that bus" renovations, similar to how the reality show homes were completed in a week." Briscoe believes that competition among contractors will lead to the most positive outcome. On police re-training, Briscoe believes that "Every cop should not be allowed to carry a gun--only the best on the Force….If a person is murdered on an officer's watch, there must be a mandatory punishment (i.e.: jail, suspension without pay)"
All of the candidates will face off at the League of Women's Voters Candidates forum on Sunday, June 24th at Sarah Lawrence College in Bronxville. You can find out more about the forum by clicking here. The primary will take place on Tuesday, June 26th and voting will take place at Scarsdale's elementary schools.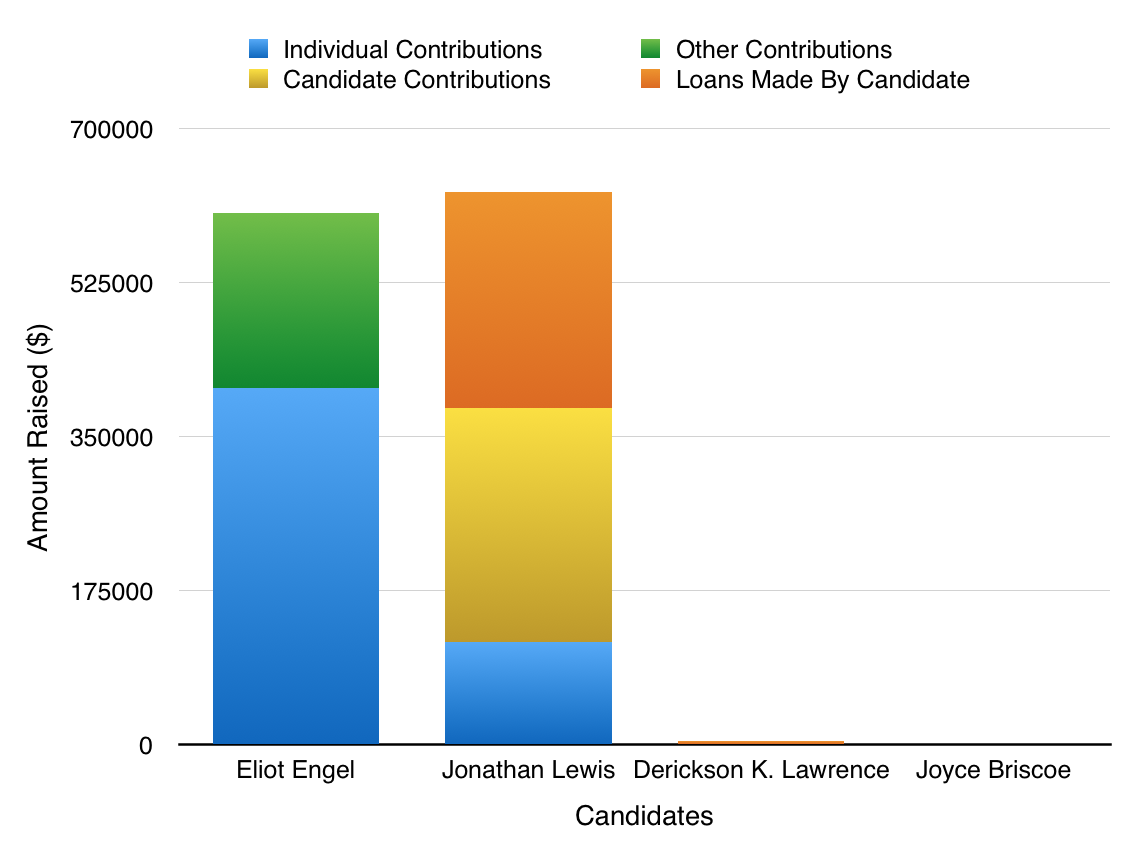 Amount of Money Raised by Each Candidate
Add a comment
Boundless Adventures: Challenge Yourself and Trust Others with the First Westchester Ropes Course
For my 40th birthday, (or was it my 29th?) I wanted to do a high ropes adventure course with my girlfriends. We ended up in the Berkshires for the weekend because there was nothing decent close by. We had the absolute best time bonding and we sulked about the bummer of having no ropes course near us the whole way home.
Therefore, I was beyond excited to recently learn that Boundless Adventures just opened a brand-new adventure treetops course almost in our backyard: right on the campus of SUNY Purchase. The course is for ages seven through adult and has varying levels of difficulty. Parking is free and so is observing; spectators can watch from easy to access walking paths, bridges and picnic tables onsite. (That's certainly not a Disney World perk!)
Now that my siblings and I all have families of our own, it's hard to find time to be together, just the three of us. So off we went, with our spouses as our sitters, to reconnect at 40 feet up in the trees while balancing on acrobat wire and zip lining on a snowboard.
Forty feet up in the air…okay, so a quick note about safety. Boundless Adventures puts safety first and has all new equipment included for use in the cost of your ticket. All staff members seemed really well versed in safety and helped us into full body harnesses. They explained that we would be attached to a safety line ensuring that we are always connected via a high-tech double belay system. After a thorough safety talk, they had us practice using the carabiners and belay system and took us through zipline specifics.
Ready to climb…we did "Rock, Paper, Scissors" as all mature adults do to determine who would go first. We chose to start out on a green (intermediate) course. The course is broken up into four different levels and there are multiple courses for each. Yellow (beginner) is the easiest at about 10 feet off the ground with slow zip lines and small bridges and beams. Green (intermediate) is up 15 feet high and has longer zip lines, ladders and beginner rolling elements. Blue (advanced) is 22-26 feet up and requires more strength and agility for its challenges. Black (expert) is 30-40 feet high off the ground and boasts the most difficult elements requiring strength, balance, stamina and agility.
We found the green course to be super fun but a bit easy so moved quickly onto one of the blue courses. Now, I don't want to give away any of the secrets or the fun, but this is when our adrenaline started pumping. We helped each other through the more difficult parts and then moved onto (GULP) the black course. The black course had some extremely difficult elements. My sister and I sent my brother ahead and we quickly realized that we all had to help each other out in terms of confidence building, helping each other keep our stamina up and encouraging each other to finish the element. It's possible that my brother said his first curse word ever. Your wristband buys you three hours of time on the courses (after the safety presentation) and we were positively zonked at the end of our three hours.
It is highly recommended to make reservations ahead of time due to lines as well as reserved times by camps, parties and corporate groups. They offer group discounts and there were several birthday parties being held while we were there. The kids looked like they were all having an absolute blast and it was priceless to see them cheering each other on. There are plenty of picnic tables so it made it easy to congregate kids for pizza and cake.
Boundless Adventures is open until 8:00 pm so it's great for date night, bachelor or bachelorette parties, girl and boy scout troops, teambuilding events and more. Kids (ages seven and up) and adults are welcome to enjoy the challenge.
Boundless Adventures is open during the following days and times: (check back for Fall hours) Weekdays: 10am – 8pm
Saturday: 9am – 8pm
Sunday: 10am – 8pm
Follow the signs when you enter the SUNY Purchase campus to Boundless Adventures!

735 Anderson Hill Road
Purchase, New York 10577
914-893-4550
pcinfo@boundlessadventures.net
www.boundless adventures.net
Add a comment
Argentinean and Italian Cuisine Expertly Combined at Magno's Grill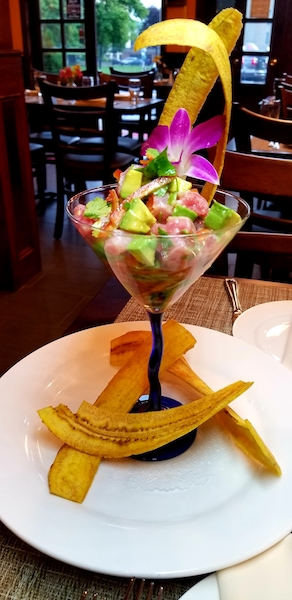 In my restaurant travels through the years, some spots have a special place in my memory. Many years ago I savored many fine meals at Tango Grill in White Plains. I described the executive chef Angel Magno, "an angel in the kitchen." In a few years, when the Tango Grill closed, I followed Chef Magno to Milonga and Gaucho Grill and then lost track. How delighted I was to discover Magno at Magno's Grill in New Rochelle, where he partnered with long time associate and general manager Vincent Reba, brother and chef Pac Magno and sister Gloria. Argentinean and Italian cuisines combine at Magno's Grill for a truly superb culinary combination. Several dishes are signature dishes from Chef Magno's repertoire, such as Argentinean empanadas, Magno's paella and grilled parrillada. The setting might be very simple and casual, but the food preparation and presentation are quite sophisticated. Food of this quality deserves crisp linen cloths on the tables. The restaurant seats about 42. Wood paneling, mustard colored walls and dark wood tables and chairs fill the room. Latin inspired posters including one of tango dancers embellish the walls. There are fresh flowers on each table and you may dine at the bar, as well. Multi paned doors open onto the street. In the near future, the backyard will be transformed into an outdoor dining area for barbecues and casual dining.

Chef Magno and manager Reba have a great relationship and respect each other's opinions. "Our food is authentic and prepared with love, the right way. Everything is house made. We believe you must walk before you run. We aim to establish comfortable, personal family feeling so our guests will return. We are very attentive to our guests." Magno and Reba indicated," In addition to our regular clientele, we would love to invite some well-known chefs to sample our dishes."

Warm from the oven, the focaccia presented to us is baked fresh daily. Served with country bread, as well, it was accompanied by an olive oil, basil garlic and balsamic dip at lunch and topped with bruschetta at dinner. Try not to fill up on this, since the dishes to follow are quite generous in size. As a recent tasting began, I noted that the presentations are photo worthy. Ceviche, popular in Latin countries, takes on a delightful twist at Magno's Grill. Presented in a long stemmed cocktail glass, embellished with crisp plantain chips it is prepared with small cubes of ahi tuna tossed with cubes of avocado, peppers, tomatoes and red onion and dressed with fresh lime juice and a touch of sesame oil. This generous cilantro flavored dish was a most refreshing starter. Argentinean empanadas were a real treat. The flaky dough crescents were filled with a lovely mixture of ground beef and caramelized onions. The two large empanadas were served with Chef Magno's chimichurri and garnished with his signature mashed potatoes, plantain chips and a fresh orchid. Chicken, vegetable, pork and crab fillings are planned for the future. We savored a bowl of mussels with a nicely spiced cognac sauce dotted with crushed tomato and enhanced with a touch of cream. Magno's signature crabcake, chock full of crabmeat, sets the standard for this dish with its honey mustard sauce. Sticks of thin pasta, fresh parsley and a rose petal add drama to this starter. From the Italian inspired appetizer offerings, we enjoyed tender clams oreganata, with a light lemony sauce. If you prefer to start with a salad, there is a classic burrata caprese, an innovative campo salad with baby kale, one with strawberries and goat cheese and a classic tropical salad with mango and berries, reminiscent of Tango Grill.

The entrees are plentiful and varied, with many Italian specialties and classic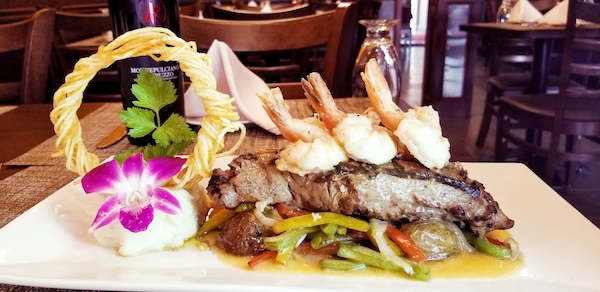 Argentinean grilled selections. We sampled homemade cavatelli with broccoli rabe, sausage and oven roasted tomatoes, all tossed with olive oil and garlic. A sprinkling of parmesan and an orchid added color and completed a perfect pasta dish. Very delicious was the crabmeat and shrimp risotto topped with slices of avocado. The chunks of sweet crabmeat and shrimp studded the creamy rice for a rich and delicious dish. Pork Valdostana was a mammoth sized chop filled with Portobello mushrooms, caramelized onion, prosciutto and mozzarella with a marsala sauce. The plate was garnished with Magno's signature ring of julienne fried potatoes. It was enough for 2 meals. A scoop of lemon sorbet refreshed our palate before continuing. A walk around the block might have been helpful. Of the many fish, veal and pork entrees, we enjoyed veal martini with lemon wine sauce. A hint of butter enriched the sauce and fresh spinach topped the dish. Red snapper was a winner here. Diced mango, tomato and spinach provided a base for the almond crusted red snapper filet with a cognac and lobster sauce, a super combination of ingredients.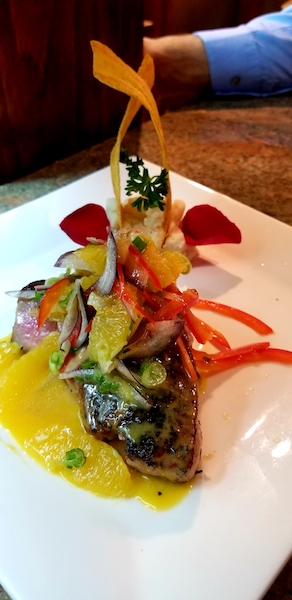 The piece de resistance were the Argentinean choices from the grill. We loved the classic mixed grill, the Argentinean Parrillada. It included samplings of skirt steak, hangar steak, flatiron steak. shell steak and Italian sausage which shared the plate with yucca and potato wedges and that wonderful chimichurri sauce. The varieties of steak, each had a unique texture and flavor and provided a delightful mouthful for the beef lover. Return visits may include blackened tuna with orange sauce, seafood stuffed filet of sole with scampi sauce, pork osso bucco, churrasco, mendozino steak with chorizo, mushrooms potatoes and caramelized onions, or Magno's shell steak with roasted potatoes, onions, peppers, mushrooms, shrimp and scampi sauce, and the list goes on. Many vegetables and side dishes are beautifully prepared, as well and a side dish of sweet plantains are a must have.

Which country would provide our dessert choices? All choices are homemade from tiramisu, to dulce de leche crepes. We chose an excellent tres leches cake and smooth and delicious flan. By the way, it took two visits to sample the many dishes offered. At the time of my visits, the restaurant was only opened for two weeks and they were awaiting their liquor license. Wines will be offered from Italy, Argentina and The United States. At lunch, a variety of paninis, wraps, salads, pastas, and entrees are offered.

Enjoy a meal at the new Magno's Grill where the friendly staff serves the many Argentinean and Italian delights as prepared by "The Angel in the kitchen", Chef Owner Angel Magno.

Magno's Grill
108 Centre Avenue
New Rochelle, NY
(914) 235-0008

Recipe: Tuna Ceviche (Serves 2)
Ingredients:
1 pound sushi grade tuna in ¼ inch cubes
1 small red onion, diced
1 bell pepper, diced
¼ cup fresh lime juice
1 plum tomato, diced
1 large Haas avocado, diced
¼ cup coarsely chopped cilantro
Salt, to taste

Instructions:
In a medium bowl, stir onions, peppers, lime juice, cilantro, tomatoes, avocado, and salt. Serve in martini glasses and garnish with plantain chips
Add a comment
Adventure Travel with Kids: Costa Rica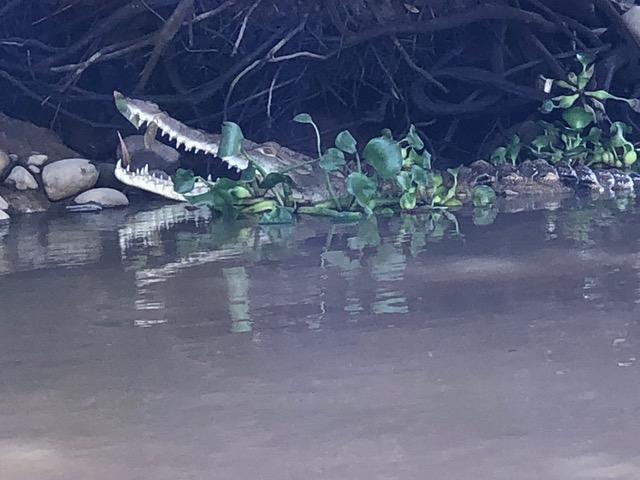 Costa Rica has become a top adventure travel destination for American families. In under five hours from a New York area airport (we chose Newark), you can be in the land of monkeys, ziplines, passion fruit cocktails, and, as they say in Costa Rica, PURA VIDA!
Although we had been to Costa Rica in the past as a couple, planning it with kids (ages 8 and 10), added a whole other element to the trip and we had a hard time finding good information online. It was overwhelming, to say the least. Should we rent a car, hire a driver or fly? Where should we stay and where should we go within Costa Rica? Do we need to speak Spanish? Where can we see lots of diverse wildlife easily? And our kids were hoping we could find a water park. Hmmmm…
Costa Rica has an extremely well-developed tourist industry. This means an abundance of activities for travelers, tour companies offering safer ways of experiencing adventure that aren't always found in less developed countries (e.g. helmets), everything running on time, the water being potable and a plethora of high-end hotels and restaurants from which to choose. "Ex-pats" from all over the world have made Costa Rica their home and their business, hence the higher quality (and prices that match) that you'll find throughout the country for anything tourist-related. Do you need to know how to speak and understand Spanish? Certainly not, but it does help so give it a shot even if you just know a few words. My son answered, "Quiero bailar!" when asked by a local if he likes Costa Rica but they loved that he was trying out his Spanish skills. (It means "I want to dance.")
We stayed for 9 nights and didn't want to spend too much time traveling within the country. We wanted a beach scene and some rainforest time; the kids were adventurous and wanted action packed days; we wanted good food options and nice places to stay; the kids wanted a swimming pool. Safety, however, was the top priority.
We landed in San Jose and were met by a ride arranged through the Adventure Inn's owner, Eric Robinson. The Adventure Inn is a full-service hotel in San Jose that also offers adventure travel to all parts of Costa Rica. They can arrange almost anything expeditiously and for a competitive price. We made our way over to the Southern Pacific coast where the world-famous Manuel Antonio National Park stands. We asked our driver to stop at the Rio Tercoles on the way to the park to see crocodiles below a bridge…and they did not disappoint. There were at least 25 massive and very active American crocodiles gathered below the bridge, measuring between 10 and 18 feet long…a sight to behold!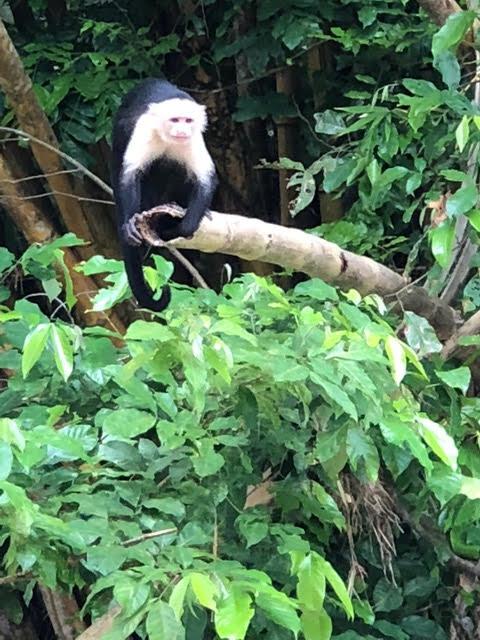 There are many exceptional hotels in Quepos. We hired a park guide (arranged by the hotel) and learned about tropical trees and insects within Manuel Antonio National Park. We also spotted snakes, three-toed sloths, white-faced capuchin and howler monkeys, frogs, giant iguanas, agoutis and lots of colorful birds. The beaches within the park are stunning; it's worth spending some time there. Late morning, we were picked up for a zipline adventure in the Quepos area. There were kids as young as seven in our group. It was a fun adrenaline-rush but if ziplining is a priority, the Arenal Volcano and Monteverde areas are better.
Despite the state of the roads, we decided to rent a car for our three-day trip South to Uvita, also on the coast. We heeded all warnings about American car rental companies and rented through Adobe. We highly recommend using Adobe and also suggest renting a 4-wheel drive vehicle for almost anywhere in Costa Rica off a main highway.
We arrived at Vista Celestial, a gorgeous and upscale boutique resort about 20 minutes up an extremely steep hillside. It was actually rather nerve wracking getting up the steep hillside (and this is coming from a thrill-seeking family) but the view was unbeatable at the top. Vista Celestial has a small handful of immaculate, roomy, and well-appointed villas, each with an outdoor private dip pool and a view of the famous "Whale's Tail" beach (which looks like a whale's tail from afar and can be accessed at low tide). Meals aren't included and are simple but well made and the service and management are both top notch. There is a secluded yoga platform if that's your thing; it can also be used for gymnastics practice by a 10-year-old (while your husband watches nervously thinking she may fall off).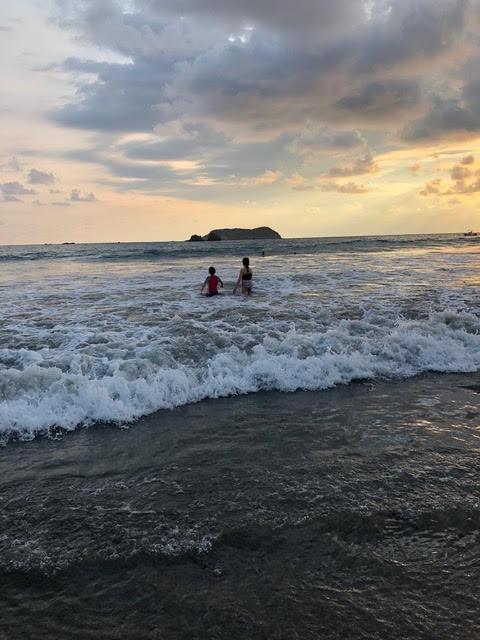 We packed our days with a walk to Nauyaca Falls (pretty and accessible waterfalls), lots of beach time, and a mangrove tour in Sierpe. The mangrove tour was the highlight of our experience with wildlife and showed us a different slice of Costa Rica. The car was helpful to have for all adventures in and around Uvita. We joined a semi-private tour on a small motorboat and explored the mangroves with a well-versed guide we found (again) via Tripadvisor. Hotels can arrange tours as well. We saw huge troupes of several types of playful monkeys; one even tried to grab a banana from my son! We saw big crocs (a little scary from the small boat), sloths, several types of snakes, visually stunning Scarlet Macaws and more.
The next day we returned our rental car in Quepos and got a ride to Rafiki Safari Lodge. Rafiki is a South African-inspired ecolodge situated on a river suitable for whitewater rafting. We stayed in a family-friendly permanent safari tent that is more luxurious than one might think. Each tent has a private, attached bathroom and a platform deck. From there we saw a family of toucans playing more than once.
Rafiki is a really special place and was the highlight of our trip. Adventure is plentiful and we took advantage of it. Whitewater rafting was a first for the kids. There were enough rapids for it to be exciting but it wasn't so wild that we feared for our lives. Rafiki's guides were excellent and we enjoyed it so much that we opted to do a second trip a couple of days later. We went horseback riding one day high into the surrounding mountains; one of the owners served as our guide providing continuous information about the history of the area as well as insight into the flora and fauna. When we weren't adventuring, we were relaxing with other guests in the hot tub, enjoying the view with a cocktail from the communal lodge, or watching the kids go down what might be one of the world's fastest water slides (and that is no exaggeration)!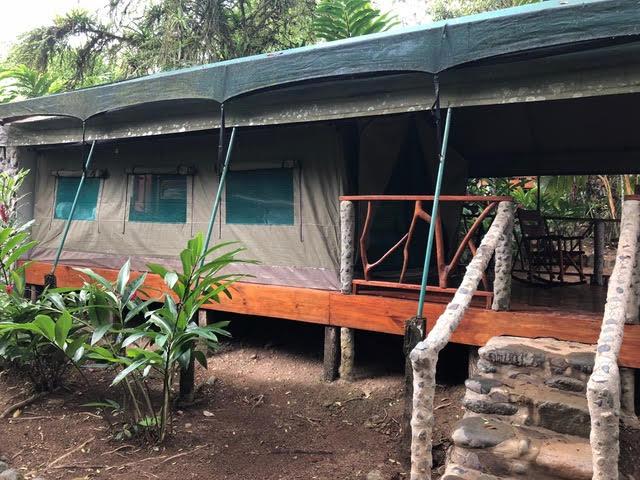 Food was mostly included at Rafiki. It was extremely fresh and surprisingly well prepared for a place so off the beaten path. Breakfasts were leisurely and filled with fruit, fresh fruit juices by request, and either typical Costa Rican breakfast food (rice, beans, eggs and plantains) or an American option. Service came with a smile and Rafiki's employees seemed happy to be working and interacting with guests. The lunches were varied and delicious and the dinners, at a set time each night, could have been served at an upscale NYC restaurant instead of the jungle. Each night there were several choices for dinner for both adults and kids; there were always meat and seafood options.
We chose to drive back to San Jose for an overnight at Adventure Inn before leaving to head back to the U.S. (Learn from me and book that flight back to keep that "pura vida" feeling). Adventure Inn will arrange for its visitors to catch a shuttle to the airport in time for their flight; it's complimentary with the room booking.
Costa Rica has many other places that people rave about but we could not access within our short travel time frame. There are volcanoes to climb, small islands to explore, sea life to be discovered while diving or snorkeling, coffee and chocolate plantations to be toured and so much more. And we'll be back for more passion fruit juice and pura vida.
Add a comment
New SMS House Counselor Brings Unique Skills to the Job
Details

Category: On Our Minds
Published:

13 June 2018

Written by

Joanne Wallenstein
Michael Williams will join the SMS Team as Cooper House CounselorMichael Williams will be the new House Counselor for Cooper House at Scarsdale Middle School. He has big shoes to fill, replacing Marjorie Najac, a beloved counselor, who has been helping students and parents for many years.
We were excited to hear that Williams will be coming to Scarsdale from Garrison and asked him to introduce himself to the community. Here is what he shared:
Please tell us about yourself … your background, your education and previous professional experience.
I am a career changer who graduated SUNY New Paltz with a B.A. in theater back in 1996. I was a professional actor for 15 years and along the way taught acting to kids (still do!). Once my own kids were born I became interested in a career that allowed me to be home more regularly. I initially went back to school to teach ELA but then, remembering how incredibly helpful and supportive my high school guidance counselor was when I was in need, I decided to pursue being a helper. I put myself through school at night at the College of New Rochelle and graduated in 2010 with a masters degree in school counseling. Shortly thereafter, I began working at Lakeland Copper Beech Middle School in Yorktown Heights and am currently finishing my 8th year as a K-8 counselor at The Garrison School in Garrison. I have been very fortunate to be able to support the kids and families in this community and am absolutely thrilled to begin doing so at Scarsdale Middle School next fall.
We heard you were previously an actor – tell us what you did and what you enjoyed about it?
The thing I enjoyed most about being an actor was the collaboration that took place in the theater and on film sets. Relying on others and knowing what you bring to the table is an essential skill in life and I credit my acting background for making me the team player that I am today. Also, it was just a ton of fun! I got to travel to places like Morocco and got to work with many people from all walks of life.
What lead you to make a career change?
My decision was based on family. My kids were young and I was missing out on a lot of milestones while I was off shooting independent films. On top of that, as everyone knows, it is not as stable as other careers. I would have a very successful year followed by a challenging year. I began to feel a bit selfish and wanted to provide a more stable life for my kids. It was a tough decision and one that I made slowly over a number of years. I am grateful every day that I wound up doing what I am doing now. Supporting and nurturing kids is more rewarding than anything I could imagine.
Do you use any of your acting skills in working with preteens and teens?
When I was trained to be an actor the key elements of that training were to actively listen and be present in the moment. I utilize those skills daily. Empathy is also extremely important for a counselor. I believe that my acting background has been crucial when it comes to really seeing how someone is feeling, not judging those feelings, and just putting yourself inside of that person's shoes.
What will be your role at SMS? Which house will you be in?
I will be the Cooper House Counselor at SMS. I will be there to support all students academically, socially, and emotionally. I hope to be a conduit between all stake holders in the students educational lives.
What are some of the similarities and differences between your current position and the new one at SMS?
The similarities are plentiful in that I will still be in a support role to all students, families, and teachers. I will help students navigate their educational careers with the input of everyone that impacts their lives. I will be running team meetings with the Cooper House teachers just as I am running middle school meetings where I am now The biggest difference is the size. SMS is much larger than Garrison. It seems as though my K-8 caseload at my present school is about the same size as my Cooper House caseload. I love the energy of middle school students and am housed in the middle school where I work now. There will just be more of that energy!
What do you find challenging and rewarding about working with preteens?
The rewards far outweigh the challenges. I think that preteens are still really open to ideas and generally lean into life with curiosity. Sometimes that curiosity leads them to bad choices but all of those choices can turn into teachable moments if handled correctly. I think social media is very challenging for them as they are truly the first generation to have to navigate this enormous world that they carry around in their pockets. Hopefully, we can help them figure it all out together.
How do you approach anxious teens and their parents?
I like to think that I handle anxious teens and parents with a calm, listening ear. Generally, I hope to find some concrete tools that may help alleviate some of that anxiety. At times, if the issue is larger than can be handled by the school, I will refer to a professional. Different approaches work for different situations as life is messy. The common approach for any situations is genuinely caring. That goes a long way for kids and families.
What are you most excited or nervous about in your new role?
I am really excited to get to know my new students, families, and school community. It really seems like an incredibly special place and I am so grateful to be invited to be a part of it. As far as nerves go, I recently had the chance to visit SMS and meet the incoming 6th grade who will be my students in Cooper House next fall. They were nervous just as I was. I told them something I heard a long time ago and it has always helped me to navigate nerves and that is that it is okay to be nervous - it's just proof that you care.
What do you do in your free time? What are your interests outside of work?
I enjoy my family time above anything else. My daughter, Mia, just turned 15 and is finishing her freshman year. My son, Dean, is about to be 13 this summer and finishing the seventh grade. My wife, Toni, and I love to be present for all of the fun things that my kids involve themselves in; theater, baseball, softball, singing, etc. On top of that I like to fly fish, play guitar, and I love baseball.
Add a comment
Fox Meadow Elementary School Principal and Assistant Principal To Take Positions in Briarcliff Schools
Details

Category: Shout it Out
Published:

21 June 2018

Written by

Joanne Wallenstein
Fox Meadow parents learned this week that both the principal and assistant principal of Fox Meadow Elementary School will resign to move to Briarcliff Manor where Colleen Mangan will become Principal of the Todd Elementary School and Principal Duncan Wilson will be the next Director of Curriculum and Human Resources for the Briarcliff Schools. Parents received the news about Ms. Mangan last week, and only learned about Mr. Wilson's plan in an email on Tuesday June 19.
As Drew Patrick notes in his email below, Wilson is leaving Scarsdale to fill a vacancy in Briarcliff Manor that was created when that district's Director of Curriculum was hired away by Scarsdale to fill a similar position in Scarsdale due to the retirement of Lynne Shain.
As the Scarsdale administration will not have time to do a full scale search before September, Drew Patrick announced that the district will retain an interim principal who will be "drawn from the ranks of retired principals with experience in this region."
The district already celebrated the retirements of tens of retiring faculty members and these departures came as a surprise. Both were very popular with kids and parents and the void will be felt.
The news makes one wonder if Wilson applied for Shain's position? If so, we might have retained both Mr. Wilson and Ms. Mangan who might have served as Fox Meadow's next principal.
Commenting on the departures, Fox Meadow parent Mayra Kirkendall-Rodriguez sent the following to the district administration:
Dear Messrs. Hagerman and Patrick,
….. I write to express my disappointment that Duncan Wilson is resigning. Of course, he deserves to pursue his career in whatever way that he chooses. No doubt he will excel wherever he goes. It is too bad that the Scarsdale school district could not have found a way to keep him.
I have had the opportunity to work with Duncan for three years on matters related to multiculturalism, since I have been a co-chair in that committee for that time period. I have found him to be incredibly global in his outlook of education matters. He is also very sensitive to the great differences in cultures and education traditions in our student body. He has also been so open-minded about changes that the Multicultural Committee has recommended on events that we run. His ideas on how we can improve multicultural events have also been very creative.
Even more important to me has been all the good guidance that he has given Brice and me on education matters related to our son and daughter. He has been very approachable on any matter related to our children, and he has also been very generous with his time.
I hope that if there is a committee to be convened to look for his replacement, that the committee really will include a diversity of parents both ethnically and professionally, who can help choose the next principal.
Below are the texts of emails from Drew Patrick and Thomas Hagerman as well as Duncan Wilson about the news:
(From Superintendent Hagerman and Assistant Superintendent Drew Patrick)
Dear Parents,
We are writing once again to share some bittersweet news about one of our Administrators. Duncan Wilson, Principal of Fox Meadow Elementary school for the past nine years, has been selected as the next Director of Curriculum and Human Resources in Briarcliff, NY. Duncan was appointed by the Briarcliff Board of Education last evening, June 18. You will recall that our own appointment of Edgar McIntosh as the successor to Lynne Shain in the position of Assistant Superintendent for Curriculum, Instruction and Assessment is the reason for the vacancy in Briarcliff. We congratulate Duncan, thank him for fifteen years of service to the District, and look forward to seeing Duncan succeed in his new leadership role!
As we wrote last week with the news of Colleen's departure, we want to assure you that we are already in the planning stages for a search process to select a one-year Interim Principal for Fox Meadow Elementary School, most likely drawn from the ranks of retired principals with experience in this region. The two most important reasons for the decision to appoint an interim are 1) it is very late in the school year to conduct the kind of search that would cultivate a candidate pool with the depth and breadth we desire, and 2) an Interim appointment allows us to recognize and thoughtfully plan for the possibility that there may be candidates within Scarsdale that warrant due consideration for a probationary appointment in 2019-20. We are confident that we will be successful in finding an individual to serve during the 2018-19 school as Fox Meadow transitions to a new leadership team.
Finally, we want to assure you that we will be supporting Debbie Vellozzi, Fox Meadow's secretary, Michael DeSantis, Head Custodian, and the entire staff during this transition. We look forward to sharing more as June proceeds, and to introducing a new leadership team in the coming weeks.
Sincerely,
Dr. Thomas Hagerman
Superintendent of Schools
Dr. Drew Patrick
Assistant Superintendent of Human Resources and Leadership Development
(From Fox Meadow Elementary School Principal Duncan Wilson)
Dear Fox Meadow Families,
Last week, you heard that Mrs. Mangan will be leaving Fox Meadow for the opportunity to become the Principal of Todd Elementary Schools in Briarcliff Manor. It is with a tremendous mix of emotions that I share with you my plans to leave Fox Meadow to take on a District Office position as the Director of Curriculum and Human Resources coincidentally in Briarcliff Manor. On a professional level, I know it is time for me to pursue this new challenge. But on a personal level I am saddened to leave a community that I have served proudly and have truly grown to love.

With that said, I am heartened to know that I leave behind a faculty as well as parents and children who have the strength of tradition and of community to move forward confidently. As a student and teacher of history, I want to remind everyone that this great school thrived for 81 years before I arrived, and on the eve of our 90th birthday, it is poised to do so for years to come. I am grateful for what you have taught me and for how you have allowed me to strive to be a better educator and a better leader. In truth, schools like ours thrive because they are lead not by one person but by many. Teachers, parents, support staff, and even students lead our school proudly everyday.

On a much more practical note, I want to assure you that I will work with Dr. Patrick and the new team to ensure a smooth transition for the new FM Team this summer.

Finally, a thought about saying goodbye. I have always said at graduation, "You never really leave the Meadow." I will hold onto that thought since I really hate goodbyes. Beside, I will still be your "friendly neighbor to the North" up on Ridgecrest West. I will still do laps at the pool (look for me in lane 4), and I will still stay in touch through my village work on sustainability. So just as Christopher Robin will always have "that enchanted place on top of the Forest," I hope to see you around the Meadow in the weeks and years ahead.
Your Friend,
Duncan Wilson
Add a comment
District Failed to Disclose Mold Testing Results Before Bond Referendum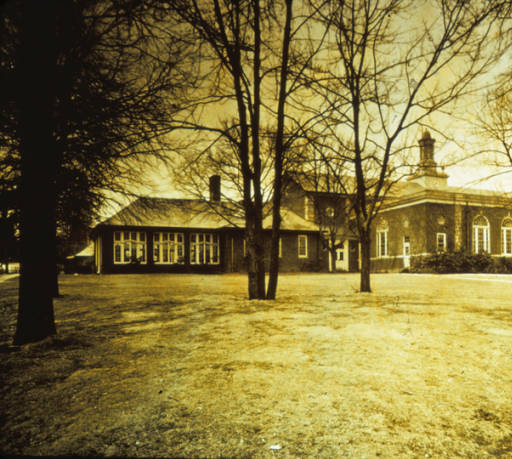 The question about mold at Greenacres School has resurfaced again. At the May 21 meeting of the Scarsdale Board of Education, Greenacres Dad Mitch Kahn inquired about the results of follow-up mold testing that was done at the Greenacres Elementary in January 2018. The re-testing was done after mold was found in the school in October 2017 but the results were never shared with the community. The report was dated January 22, 2018 just two weeks before a community vote on a bond referendum that included plans to renovate Greenacres School, but the testing results were not made available to voters.
Kahn said, "I don't understand why we haven't been told the results of those tests. Clearly we had to go through a FOIL to get the results of previous tests and we don't want to have to go through that process every time a test is done. We have an upcoming large renovation and its supposed to have third party testing and we don't want to have to FOIL the results."
He continued, "I think the administration has a communications problem. You know these are big issues. You know that parents care. If there are no issues then there should be no problem telling people where we can get the results of these tests…. If we do these tests and we don't tell anyone the results, does it matter that we do the tests? There are a lot of parents that are worried but are too intimidated to come up here to speak."
Just hours before the June 11, 2018 meeting of the Board of Education, which was five months after the January environmental report was received, those results were made public. They showed that there was again mold at four of the previous sites at Greenacres School – not at the same levels as previously reported – but present enough to require another disinfection process. Elevated readings were found in Classrooms 2B and 9, in the teacher's lounge and in the custodial area.
On Monday night, in a discussion of the testing, Assistant Superintendent for Business Stuart Mattey steered away from discussing the results or steps to eliminate the mold and instead focused on future reporting protocols. He said, "The district failed to follow up on IAQ (Indoor Air Quality) testing when we said that we would. This will be a regular agenda item in January and June. All reports will be posted on the website as soon as they are completed. The website has been updated. We included money for environment testing in next year's budget and John Trenholm will arrange the schedule."
However, reporting the problem does not solve it. Given that the school is about to undergo a $35 million renovation, Mattey might have addressed how the architects and engineers proposed to get at the source of the mold to stop these re-occurences. The building is known to be on a high water table and has had issues with water infiltration. In November, areas of the building were found to be very humid. Due to the expense, the existing areas of the building will not be air conditioned, which would have lowered the humidity and discouraged the growth of mold.
We followed up with Mattey and posed the following questions in an email on Tuesday June 12, 2018.
Stuart: I was surprised to see mold testing results from January 2018 issued in June, especially in light of a facilities bond vote in February. Information like this might have affected voters' choice.
Here are my questions:

Why were the results held until now?
Elevated readings were found in rooms 2B and 9 and in the teachers' lounge. The teacher's lounge is on the opposite side of the building from where the new dehumidifiers will be located. I believe that Room 9 is also above a dirt crawl space.
As you know, three quarters of the building sits on a dirt foundation on a very wet site. Has the district done any testing of the dirt crawl spaces? How can we assess the mold levels there? What are the plans for remediating any mold that may be coming up from this dirt foundation? I assume that BBS has submitted a plan – can that be shared with the public? Is there someone for me to contact at BBS to discuss this issue?
Mold was found in November 2017 and then reappeared in January 2018. Given that the mold appears to be endemic, are we all still comfortable with a renovation in the case that we are unable to eradicate the mold in the building?
Here is Mattey's response:
Dear Joanne:
Unfortunately, the District failed to circle back to the community regarding the January test results. This was certainly an oversight during an extremely busy period that included budget preparation and the enormous amounts of work prior to the February Bond Referendum. We are thankful to the Scarsdale resident who reminded us at the last Board meeting that the report had not been circulated as intended.
As a result of this experience, the District will now include Environmental Testing Updates twice per year (January and June) to help assure that both the Board and the community are kept abreast of testing results and activities.
In addition, all reports and protocols will now be posted on the website as soon as they have been completed. These can be found in the Facilities & Grounds section, under District Information. (https://www.scarsdaleschools.k12.ny.us/domain/8).
For your information the Indoor Air Quality Protocol states the following:
All the classrooms in the High School and the Middle School will be tested for indoor air quality (IAQ) during the 2018-2019 fiscal year. All elementary school classrooms will be tested for IAQ during the 2019-2020 fiscal year. The District will re-test all classroom areas every 3 years for IAQ issues. The District will enlist the following protocols in the event of any IAQ Issues.
-All building indoor air quality (IAQ) concerns are to be reported to the facilities department.
-Upon receipt of an IAQ concern, a report will be opened for the area in question and a thorough inspection of the area will be performed by the facilities staff within 1 day of receiving notice.
-The room inspection will follow EPA guidelines for possible causes for poor IAQ ( i.e nuisance dust, water infiltration, poor ventilation, poor disinfecting, visible signs of mold, etc.)
-If none of the EPA criteria are met for poor IAQ the District will look for possible outside sources. If nothing is found the District will completely ventilate the room and issue a report to close the investigation. If any of the EPA criteria are met for poor IAQ, a hygienist will be contacted to perform further air quality testing, ie MOLD Score.
-IAQ test of areas that have a MOLD Score of 150 and lower require our normal cleaning and disinfecting procedures.
- IAQ test of areas that result in a MOLD Score above 150 and below 250 will receive a full additional cleaning and disinfecting of all hard surfaces and a thorough floor cleaning.
-All areas that have a MOLD Score above 250 will be completely emptied and all items and surfaces will be cleaned and disinfected including but not limited to; hard surfaces, furniture, floors, walls, windows blinds, lights, etc. Re-testing of these areas in 6-8 weeks after cleaning to ensure that the levels have been reduced.
-All reports including results will be posted on the District's website
* Scores greater than 150 mean a moderate probability that the spores originated from inside the building. Scores above 250 mean a high probability that the spores originated from inside the building.
It should be noted that molds are part of the natural environment, and can be found everywhere, indoors and outdoors. They are found in schools, homes, hospitals, industry etc. Outdoors, molds play a part in nature by breaking down dead organic matter such as fallen leaves and dead trees. It is impossible to get rid of all mold and mold spores indoors; some mold spores will always be found floating through the air and in-house/school dust.
Greenacres IAQ Specifically
In November, testing showed six areas with mold scores of above 150, but below 250.
Retesting in December after cleaning protocols were followed showed levels below 150.
Follow-up testing in January showed four areas with moderate scores just above 150 but below 250 (in fact, below 175 in all areas). Cleaning protocols were again followed.
As you recall we have included funding in the budget for IAQ studies at each of our buildings over the course of the next two school years, beginning with the Middle School and High School this upcoming year.
All elementary buildings will be completed the year after that (2019-20).
These protocols will assure that we can respond in a timely and appropriate manner in the event that levels return a moderate or high probability moldscore.
Sincerely,
Stuart
Stuart P.G. Mattey
Assistant Superintendent for Business
Scarsdale Public Schools
2 Brewster Road
Scarsdale, NY 10583
(914) 721-2422
Add a comment