School Board Approves Bond Referendum For Greenacres Expansion and District Wide Facilities Needs
Details

Category: Schools
Published on

13 December 2017

Written by

Joanne Wallenstein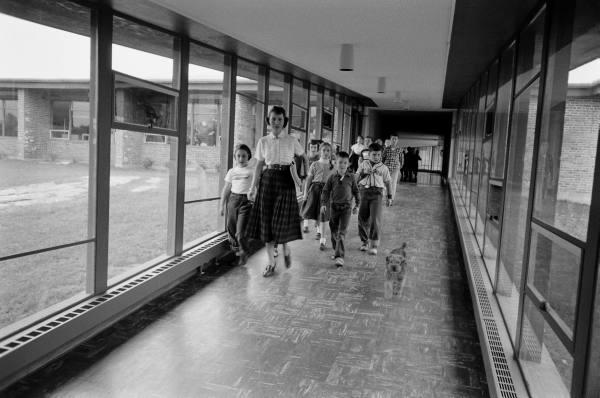 For anyone who hasn't yet heard, the big news from the Scarsdale Schools is that the Scarsdale Board of Education approved a referendum for a $64,867,577 bond for facilities work. All seven of the board members voted "yes" to hold the community-wide vote on February 8, 2018 though one did not support the plan, saying he was "certainly not convinced this is the right package of spending."
The scope of the project includes $34.1 million for a renovation and expansion of Greenacres Elementary School and facilities work at the six other Scarsdale Schools. Plans at Greenacres call for a cafeteria and learning commons and a two-story addition with eight new classrooms. After recommendations from the Greenacres Building Committee, the board agreed to extra air and noise monitoring during construction as well as air conditioning in the library and old multipurpose rooms, where the windows will need to be closed during construction.
The high school, which is currently under renovation, will receive $9.6 million dollars of the bond, with the biggest ticket items being $3mm in unit ventilators and exhaust systems, $1.7 mm for roofing, $1.6mm to replace boilers and burners and $1.4 million for improvements at Dean Field.
The biggest items on the lists for the other schools are as follows:

Edgewood Elementary School: $2,500,000 to replace abandoned forced air systems

Fox Meadow Elementary School: $2,500,000 to improve ventilation in the classrooms

Heathcote Elementary School: $2,412,000 to replace BUR roofing

Quaker Ridge Elementary School: $750,000 to provide mechanical fresh air and $660,812 to replace BUR roofing

Scarsdale Middle School: $3,506,579 to replace EPDM roof
Here is a topline summary of the meeting, but you can watch the full board meeting online here.
In his opening remarks, Board President William Natbony called the process "open and transparent" and thanked the executive committees of the PT Council, the Greenacres PTA and the Edgewood PTA for their statements in support of the project. He said, "We have a significant opportunity" to invest in our schools district's facilities, enhancing the safety, security and educational experiences of students and staff." He said he is "proud of the work we have done" and the collaborative process that allows for disagreement."
He warned about "inaccurate reporting" and charged words used to incite public emotions," and asked the public to "be good and educated consumers of the real facts behind the bond."
The subject of the meeting then turned to air quality, water infiltration and remediation.
Dr. Hagerman reviewed the results of the air quality testing at Greenacres School, where mold was found in October 2017 and said that all tests came back "normal at this time." He proposed a plan for air quality testing at all district schools to be included in the 2018-19 budget.
The four-pronged plan includes:
Immediate Response: Testing and remediation of any suspected air quality issues with follow up testing one month later and six months later.
Annual Testing: This calls for randomized room testing on a two year cycle for all district schools.
Vulnerable Areas: A list of vulnerable areas will be developed and closely monitored. They are vulnerable due to "excessive moisture, dampness, exposed soil, non-circulating air, outdoor detritus and the like." Annual testing will be done on these areas along with remediation and retesting one month and six months later.
Water Infiltration: A list of areas that have water infiltration, both one-time and chronic will be identified. They will be closely monitored, leaks will be repaired and testing will be done.
Dr. Hagerman said that the cost estimate for this testing is $20-$25,000 per year for each elementary school and $40 -$45,000 per year for the middle and high schools. Therefore, the total annual cost will be $180,000 to $215,000 per year.
Bill Natbony announced that two of the dehumidifiers in Greenacres were found to be "not working" and may have contributed to the moisture levels. Mattey said the two broken dehumidifiers did not help with the circulation and dehumidification of the basement and that two residential dehumidifiers had been purchased and placed into the unoccupied basement area. He said courtyard stairwells have been cleaned out. A contractor has been called in to make a recommendation for ventilation work. (It is interesting to note that the district also recently reported that the ventilation system in Greenacres gym is also not operating correctly. The reports show high humidity in the gym.)

Board member Nina Cannon asked about gutters filled with leaves and Dr. Hagerman referenced a video the district had received showing clogged gutters.
Mattey invited Facilities Director John Trenholm and hygienist Ernest Coon from Regulatory Compliance to discuss the facilities work done at Greenacres over the years. Coon has done Scarsdale's air quality tests for many years.
Trenholm explained that the gutter leak was in 2014 and that the video had been delivered to Ms. Purvis. The gutter was "mis-hung" and has been replaced. He said, "We have done extensive work on water infiltration at Greenacres, dating back to my tenure in 1998 all the way to the present. Starting with water infiltration in the courtyard back in 1998 and in 2001 on the northwest corner of the courtyard we added new leaders and gutters and storm drainage and we also dug down the whole foundation and waterproofed that area to prevent water infiltration into the stairwell. Over the years, on four different years, we have done gutter replacement and snow guard replacement to improve the water coming onto the façade of the building. We did have an issue last year on the Putnam side of the building. It took us almost 4 months to find the leak way up in the valley we had to rebuild the whole roof. There was a water infiltration issue, some of the plaster was damaged. We thought we had it fixed through some pointing work, but it took us three months to get to the final issue. Since then, no issues there."
Trenhold continued, "We do work at all the buildings. Though we may have taken a pause at Greenacres to decide what we were doing with the bond, the building was maintained. You can see that the buildings are maintained in very good shape. Do we address them, yes. We address issues right away."
Lee Maude asked if other districts have an annual plan to do air quality testing. Coon said, "no" ... not the entire building in one or two years, but in select areas."
Art Rublin inquired about mold findings at Greenacres. He asked hygienist Coon, "Are the positive mold findings now and in the past normal in your experience?" Coon said, "I am not certain what normal is, but I work with 10-15 districts in Westchester alone and I have commonly been called back to the same school twice– but typically it is not in the same area (of the school). There is nothing abnormal about me going to Greenacres the several times I remember." Asked if there were mold findings in other district buildings, Coon said, "yes." He said he found other air quality issues in the buildings at one time or another. Trenholm said, "We have had mold scores above the 150 level at Fox Meadow and at Edgewood School before," and added, "You haven't heard about this because this has been normal procedure. We have tested and remediated."
Rublin said, "Let's say the bond passes and we install industrial dehumidifiers plus vigilance about water spills. I know you can't rule out recurrence. It sounds to me that this is a viable building. Is it fair to think that those are long term fixes?"
Fred Seeba, the engineer from BBS responded, "From an engineering standpoint, if you look at the areas where high mold was found, there will always be water in the boiler room. Blowing the boilers down once a week means water will find its way to the drain. There is going to be live steam coming back into the room because all of your steam traps are not perfect. To find elevated counts, I am not surprised. In the other basement areas, it's a damp humid condition if you are not moving air around. The two other areas were sink cabinets. I am not surprised. There is water everywhere. Unless you are vigilant it is a high water area. I don't think these are constant issues. Am I willing to say that you will never have mold issues again in Greenacres? Obviously not. You can have leaky roofs or unit ventilators. There is no way to prevent that. Continue to monitor, continue to test."
Mattey said, "We have been on top of it." Since the early 2000's we have not had evidence of water coming up from the foundation. We have had roof leaks and water through a window well."
Seeba said that the firm "looked at the foundation on three occasions and other than cracks in walls they saw nothing. They looked at areas where there had been previous water infiltration but there was none during their inspection. The inside of the building had been repaired as well. The boiler room has not been repaired and the district is looking into doing that in January. A structural engineering company walked the foundation and provided minor recommendations. They examined areas that had previous water infiltration and concluded they were no longer leaking. They prepared a list of items to include in the bond referendum. There is some cracking. There is $160,000 to repair cracking. There is a site number of $500,000, some of which will be used to slope the building to make sure we draw water away from the building. There are light wells; the rain gets in there over time, we will cover those. We feel all the issues will be rectified."
The Board adopted the SEQR findings which you can review on the district website here. Natbony said the "board has gone above and beyond" what it is right to do, not just "checking boxes." Silberfein said that the revisions incorporated comments from the public.
Dr. Hagerman presented a 94-page review that tells the story of the bond process including comments from the public and the SEQR review that you can review here. He encouraged everyone to read it. He presented the bond resolution.
The board conducted other business and later returned to vote on the referendum.
Here are excerpts from their comments:
Art Rublin introduced the resolution and spoke at length providing a robust defense of the plan. He looked back at the history of the Scarsdale schools and likened the situation today to 1904 when the district debated whether to renovate the district's school building or build new. In the 1950's residents debated the construction of the Heathcote School and a resident questioned building a super duper school. Rublin said, "Voters have generally supported the bonds" and this has been to the benefit of thousands of school children. Within a few years of the construction of the school, Life Magazine called Heathcote a forerunner of the schools of the future. A school board member said that the new Heathcote School had "Increased Scarsdale's prestige and enhanced the value of all homes in the Village." Rublin recounted the long history of the development of the bond and said, "I am confident we will push through the debates to conclusion. ...I think now is the time for us to bring this bond to the voters in February 2018." He said that the existing fourth and fifth grade classrooms were among the smallest in the district, averaging 633 - 639 square feet. He said new 800 square foot classrooms would benefit the children. He said that none of the older classrooms would be less than 756 square feet. "No plan for Greenacres would satisfy everyone, but I think we have a plan that if implemented would provide significant improvement to the experience of thousands of elementary school students for decades to come."
Nina Cannon: "I feel that we have had a transparent process. I think there are those that are not happy. ...We have had quite a journey to get to this point. There will be additional facilities needs that will present themselves to us.... It does address the pressing needs and concerns of the Greenacres Elementary School as well as necessary facilities needs across the district while staying true to this board's concern with tax neutrality. I am pleased to cast my vote in favor of the bond referendum."
Pam Feuhrer said the board and administration "have listened to and explored hundreds of inquiries and suggestions from a broad and deep representation of school organizations and individuals.... The bond proposal has been "fully framed" by this input.... (it) promotes and supports exceptional teaching and learning in excellent facilities."
Chris Morin was the only board member who did not support the bond. He said "I agree with many of the comments and some about the outcome. I remain concerned that we are missing a responsibility and even an opportunity to take all the good work from KGD and BBS and understand what it's implications are....I am certainly not convinced this is the right $65 million package of spending.... I think the constraints upon us may be quite severe in the next 10 years. We have done all this work to compile the facilities needs. The right thing for us to do is to distill that into a real vision for what we want the district to look like, to agree on some principals, on values and goals and from that to create a context to make the right decision about Greenacres and the rest of the district and to integrate instructional planning with that and to consider what the financing implications are for that. I don't know why we're not doing that. As much as an awful lot of time has passed and so much work has gone into this, I don't feel like we're at the finish line. I am persuaded that given where the community and the administration are, it's fine with me to present it to the community. So I will support the resolution as written, although I do not support the plan itself."
Lee Maude said, "Dr. Hagerman and Mr. Mattey have placed the children of this district first. They have been completely transparent in their work and their communications with the public. It is the administrations work, their community engagement, their planning and their recommendations that lead me to support this bond referendum. .... Small classes and the time children spend with their teachers are where the bulk of our tax dollars go. Prior to 1999 I believe the district had underinvested in its facilities. Enrollment increases forced the district to finance significant bond projects to build additional classrooms around 1999 and 2000, and unfortunately we saw those 9% tax increases..... This current bond finally assesses the true infrastructure needs dictated by code and by safety and technology for all of our buildings. I applaud the administration for finally studying that issue."
She continued, "Greenacres is 100 years old – but according to engineering reports it is a structurally sound building. Having sent my kids to Fox Meadow, I have observed that Greenacres classrooms actually look bigger and brighter than Fox Meadow's... I fully support the renovation/expansion and I am excited about BBS's design. I do not believe we will endangering the students. If I did, I would not be supporting this proposal. While we may hear from people in the community engaged in the "construction industry" about risks during construction I don't believe that most of these people have worked under NYS environmental rules that are specifically for public schools. Please make up your mind based on the facts. Be careful when you listen to people in this community. There have been a number of remarks that are emotional and speak negatively about this project. Don't rely on the loudest people in the room, or people with access to the media or your home emails."
Scott Silberfein said, "We value critical thinking and creative problem solving... I think that this bond referendum is something we can be proud of. We got to a good place tonight. I learned from everyone I was involved with in this process. I am pleased to be casting my positive vote for the bond."
Natbony echoed the comments he made in his opening statement about an open, fair and collaborative process, the excitement about this opportunity and the need for this community to be good consumers of the facts and make their decision based on the facts.
Speaking during the public comments section, Mayra Kirkendall Rodriguez commented on a traffic survey done by the Municipal Services Committee of the Scarsdale Forum. Rodriguez is a co-chair of the Scarsdale Forum Education Committee and said that she had received many emails and phone calls asking when she would be writing a report about Greenacres. She said, "All of these issues about Greenacres are important but in the surveys we were told that the priorities were to write about a long term financial plan. The second priority is writing about a world-class education and how we know if we have it. It's not that I don't think that Greenacres is important, but there's only so much of me and my co-chair Carlos to go around. Also, the Education Committee members are deeply divided. There are those that are deeply unhappy with the communications process and many of those wanted a new school. But we also have those that are grateful that the bond will be tax neutral and for the information you have been giving. I invite members of the community to join the Education Committee and take the lead on writing a report."
Greg Loten of 6 Montrose Road commended the board on an excellent job. He said, "The devil is in the details," and you provided the details. ..You have been open to the community and I thank you very much."
Bob Berg of 2 Tisdale Road said, "This is Scarsdale and no good deed goes unpunished. You have been subject to a lot of flack from the community, mostly through anonymous comments on various blogs. You have provided the community with the opportunity to speak. You have studied this for three or four years. I think the bond is ready to be presented to the community. I don't know where it will go. I wish you good luck. But I think certainly you should send it out for a vote in February. I think the time is right."
Dr. Hagerman said the district had retained consultants to make the information about the bond more readily available on the district website. The bond referendum will be held on Thursday February 8, 2018. Watch the meeting in its entirety here.
Former Members of the Committee for Historic Preservation Suggest Changes to Preservation Code
Details

Category: Around Town
Published on

12 December 2017

Written by

Joanne Wallenstein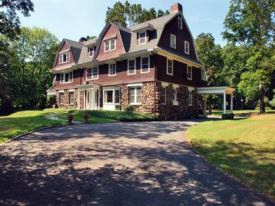 After the entire Committee for Historic Preservation resigned their seats in November, it became clear that the current Village Code regarding preservation needs to be revised. Committee members said that Scarsdale's current law, which is even more stringent than state and federal guidelines for preservation, make "preservation nearly impossible in Scarsdale." Now these former committee members have made suggestions for how the code can be revised to be more effective. See below:

Suggestions for Improvements to the Scarsdale Village Code December 12, 2017
William Silverman, Alan Steinfeld, Joyce Hirsch, Barbara Jaffe, John Cromwell, Abigail Olsen, and David Peck Former Committee for Historic Preservation
Following our resignation from the Committee for Historic Preservation (the Committee), we met with Mayor Hochvert to discuss proposed changes to the Village Code. At the Mayor's request, and with the intent to promote a workable and reasonable legal framework for preservation in Scarsdale, we have drafted this memorandum containing our main suggestions. It should be noted that these ideas are standard practice in countless towns and cities across the country. We have attached copies of two such local examples: the Bedford and Mamaroneck preservation laws.
1. Bring the preservation requirements in line with the State and Federal guidelines

a. Explanation: Criteria number three under section 182-5 of the Village Code requires that "the building is the work of a master and embodies the distinctive characteristics of a type, period or method of construction that possess high artistic values." (emphasis added) This standard is significantly more stringent than the New York State and Federal standards which provide: "Properties may be eligible for the National Register if they embody the distinctive characteristics of a type, period, or method of construction, or that represent the work of a master, or that possess high artistic values, or that represent a significant and distinguishable entity whose components may lack individual distinction."
b. Suggested Change: Adopt the federal and State standard by changing "and" to "or." The Village's standard does not adequately protect certain historic homes. Of importance here, the Committee could not always determine the identity of the architect or builder. Indeed, the Building Department only started requiring plans to be filed with the Village in 1923 so it is often impossible to determine the architect or builder for homes built prior to that date. In the absence of that information, it was especially difficult for the Committee to reach consensus on whether the home is the work of a "master." The Village Code does not provide any guidance on this point. Federal law does provide guidance but sets a narrow, challenging standard in such an instance: "The work of an unidentified craftsman is eligible if it rises above the level of workmanship of the other properties encompassed by the historic context."
Under the Village preservation standard -- which, as far as we know, is not followed anywhere else -- there is no question that homes which otherwise meet criteria number three were approved for demolition by the Committee because a majority was unable to agree that they were the work of a "master." To the extent a home "embodies the distinctive characteristics of a type, period or method of construction that possess high artistic values," we believe such a home should be eligible for preservation regardless of whether there is a sufficient basis to conclude that the home is the work of a "master." The federal and state standard appears in countless codes, including Mamaroneck (§ 218-5- B) and Bedford (§ 71-22-B).

Changing the "and" to an "or" does not mean that all works of a "master" would be eligible for preservation. Again, using federal law as a guide, the home must also "express a particular phase in the development of the master's career, an aspect of his or her work, or a particular idea or theme in his or her craft." The main takeaway here is that preserving a home because it is the work of a "master" is a separate and independent ground for preservation that should not be conflated with other criteria.
2. Historic preservation should be proactive
a. Explanation: Under current law preservation only attaches at the moment the homeowner intends to demolish more than 50% of a home.
b. Suggested Change: The preservation process should not simply be triggered by a request for demolition. The Village should hire an expert such as Professor Dolkart to complete a thorough survey of the Village and identify houses which should then be designated as historic.
When preservation is only raised at the time an owner wants to demolish the home, the process only invites conflict. The goal of a preservation statute should be to make historic designation both a socially and financially desirable circumstance. There should be a strong message from Village leadership that preservation is important along with an effort to raise public awareness. Historic designation should be accompanied by the awarding of a plaque, recognition in the paper, and a meaningful decrease in the tax assessment in recognition of the potential decrease in resale value. Also, a homeowner should be able to apply for such designation.

The Bedford preservation law (§ 75-25-A) provides for the ongoing recommendation of historic houses, as does the Mamaroneck code (§ 218-3-C-2).

In addition, when building permits are sought for significant work (but which does not constitute demolition of more than 50% of the structure), there should be some mechanism for the Committee to be included in the approval process for potentially historic homes. It is unacceptable that under current law an owner can demolish up to 50% of an historic home without the Committee's knowledge, much less consent.
3. Protect historic neighborhoods in addition to particular structures
a. Explanation: Under current law preservation applies only to individual structures.

b. Suggested Change: Scarsdale should consider providing protection for historic neighborhoods. This is standard practice in preservation codes throughout the country. Taken together certain homes have greater historic significance than when each is considered in isolation. Residents routinely would plead with us at meetings not to permit demolition because it would, in their view, undermine the historic character of their neighborhoods. The Reconnaissance Level Cultural Resource Survey from 2012, among other things, identified certain study areas which "have the potential to be historic districts." (at 1-2) We recommend that the Village pursue additional research and field study to define certain historic districts and their boundaries.
4. Broaden the makeup of the Committee

a. Explanation: Only Scarsdale residents may be Committee members and there is no required expertise among any of the members.
b. Suggested Change: It is important for the Committee to have access to expertise, as needed, to make informed decisions. Specify that an architect or architectural historian be on the Committee and allow one committee member to be from outside the Village if necessary. Adding someone from the Historical Society and a real estate professional to the Committee would make sense as well. Both Mamaroneck (§ 218-3-B-1) and Bedford (§ 71-23-B) follow this model.
5. Require a complete and better supported application

a. Explanation: The Village does not require very much from applicants in terms of information or supporting documents. This places an undue burden on a volunteer board.
b. Suggested Change: At a minimum, the Village should require applicants to submit copies of the Building Department and Tax Assessor's records so the Committee does not have to go scrambling for them. To the extent an applicant cannot determine who the architect is, the applicant should at least have to specify what steps were taken to find out the information. In addition, the Committee should have the discretion to take reasonable additional time to review an application so that a proper record can be made. Recently, the Trustees pointed to the fact that the Committee failed to present substantial evidence of who the architect was for a particular home. If the Committee had more time in that instance, the result may have been different.
6. Ensure that the hardship exception does not sallow the whole preservation code
a. Explanation: In the case of 12 Dolma Road, the Trustees overturned the Committee -- as well as its own determination that the property should be preserved -- on the basis of "hardship," thereby calling into question whether this exception renders the entire code meaningless.
b. Suggested Change: The Scarsdale Village Code appears to be substantially in line with hardship provisions from other jurisdictions. We do recommend, however, that an applicant should have to establish "substantial hardship," as found in the Mamaroneck code (§ 218-7).
The problem with respect to "hardship," in our view, is not as much a function of the specific code provision as it is the Trustee's lack of interest in enforcing the law. The Earl Graves home suffered a similar fate as 12 Dolma Road because the Village was unwilling to accept litigation risk and/or unwilling to spend money to defend its position. A preservation code is only as strong as the Village's resolve to enforce it even when -- especially when -- the homeowner hires a lawyer and threatens litigation.
The Elephant in the Basement
Details

Category: On Our Radar
Published on

10 December 2017

Written by

Joanne Wallenstein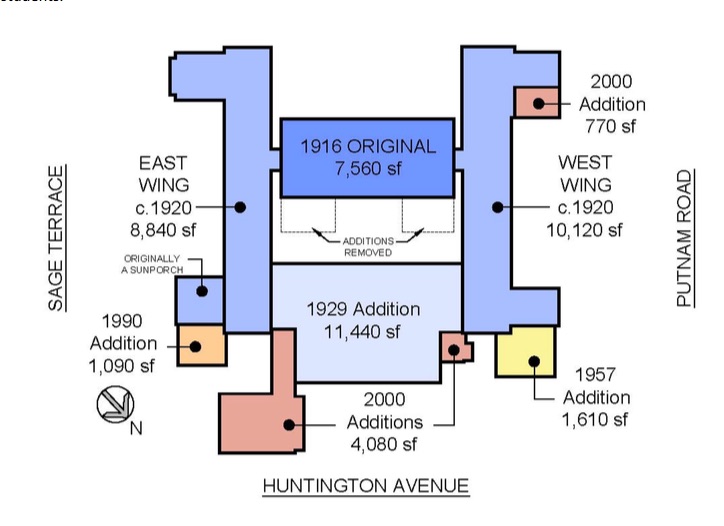 (This is the opinion of Scarsdale10583 site founder Joanne Wallenstein.) As we prepare to scrape off decades of paint from the walls of Greenacres Elementary School, lift up cracked linoleum flooring and remove asbestos ceiling tiles, no one knows what will be unearthed underneath. And then what? On Monday December 11 the Board of Education is poised to approve a community-wide bond referendum for an expansive addition to the Greenacres Elementary School, though many questions remain about the viability of the existing building, constructed on a high water table in 1916, 1920 and 1929.
We've tried to get answers to these questions...
Parents have asked the faculty for their thoughts about the school:
• What are the working conditions in the school?
• Have they had health issues due to air quality?
• Can the current structure facilitate 21st Century learning?
The teachers meet our questions with averted eyes and it's evident they are not permitted to speak candidly about their experiences inside the building. What are they hiding and why?
Then there's the environmental testing. After we smelled the mildew in the basement and heard rumors about mold in the building, we asked repeatedly for air quality testing. With the decision for a bond referendum just weeks away and the building committee disbanded, the district finally went ahead with the tests. Lo and behold, at the eleventh hour, they did find mold. In fact after months of delay, the response to Scarsdale10583's FOIL request revealed a long history of moisture and mold in the building. Certainly the district is now doing everything possible to clean it up, but as Assistant Superintendent Stuart Mattey admitted, "We are installing dehumidifiers in the basement to keep it as dry as possible."
Discussing the results of the environmental testing, Superintendent Hagerman said the district had tested 400 sites in the "occupied portions" of the building. What about the unoccupied portions? Has anyone tested those to see if mold is growing there? Don't we need to find the source of the mold? Is it in the dirt crawlspaces underneath the building and behind the classroom walls? How can we otherwise know what the real cost of a building renovation will be? And how can we know whether or not the infrastructure problems can truly be remediated?
The air quality tests also measured the humidity level in the building. The report on the district website says, "The chief problem with high indoor humidity from a health standpoint is the potential for mold growth. Humidity levels greater than 30% increase the potential for mold growth and high humidity, 60% or greater can cause biological contamination." The humidity levels in on the lower level of the school ranged from 63% to 71% and the humidity in the gym was measured at 65%. What are they proposing to do about it?
Another unresolved health concern is the lead pipes. We've been told that for the most part these pipes will remain within the walls and that the district will continue to do periodic testing and use lead filters to make the water safe to drink. Are lead filters a permanent solution? As the pipes age, do they leach more lead into the water? What if the thresholds for safe drinking water are changed in the future? What is the useful life of these lead pipes? What is the cost to do this testing and purchase filters for the next 50 years?
Without this vital information, we can't assess whether it makes sense to add onto the building. If we give the plan the go ahead and the construction crews open the walls and find mold, what will we do?
We need to slow down and get answers. Give the faculty the permission to speak frankly about their views on the building and any health and safety issues they may have. Permit a thorough and independent environmental assessment of the building, and appoint a committee of parents to oversee the work. Lift the veil of fear about open discussion and let's find the right solution together. All of this secrecy makes us skeptical.
The district is rushing to put the referendum to a vote without providing the community with the facts. Stop hiding what you do know and stop preventing the investigation of what we need to know. Let's confront the elephant in the room, or should I say the elephant in the basement. Find out what's down there and then we can discuss what to do next.
Scarsdale Gift Guide for 2017: What's in Store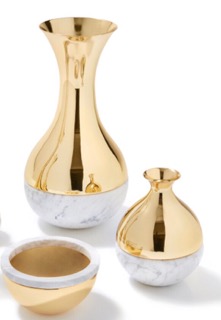 No need to leave Scarsdale to find great gifts for family, friends, colleagues, neighbors and everyone you wish to thank at the end of the year. The Scarsdale retail scene is experiencing a resurgence and you can find nice merchandise and support Village businesses by shopping local.
Here are just a few places to shop for the holidays:
Current Home is the place to find the perfect gift for everyone on your list. Looking for something unique and special? Feast your eyes on these gorge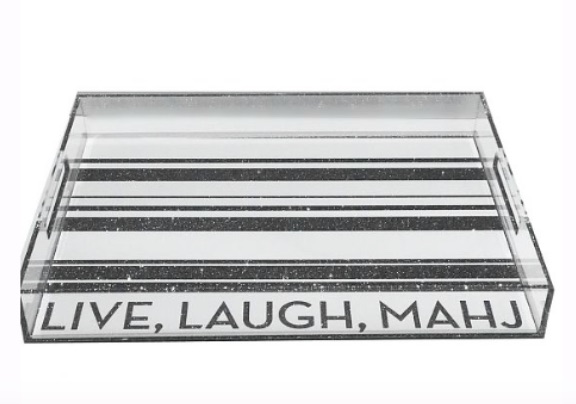 ous vases, bowls and candlesticks. The contrast of the Italian marble against the polished metal exudes a bold and modern vibe. All pieces available in gold and silver. If you're looking for a gift that is more personal, they offer customized throw blankets and trays that everybody loves. Stop by the store to see their many other options for holiday gifts.
Current Home
Golden Horseshoe Shopping Center
(914) 723-2462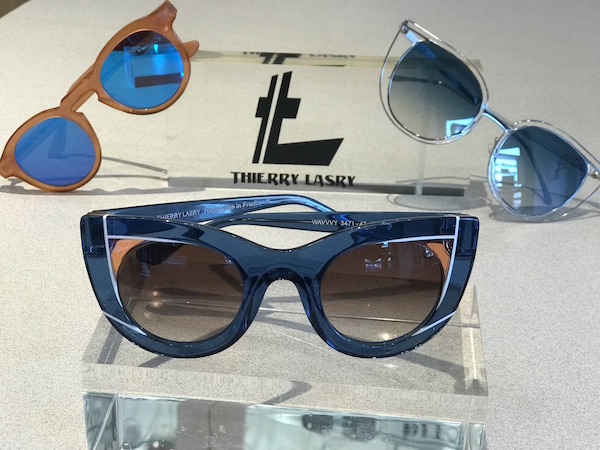 Eye Gallery of Scarsdale invites you to see the newest styles from Thierry Lasry, dazzling eyewear showing rich colors and mirrors. The newest Cutler and Gross sunglasses with round colors and mirrors are one of the many new styles they have for winter! See these as well as styles from Barton Perreira, Salt, Dior, Chanel, Dita, Matsuda, and countless others!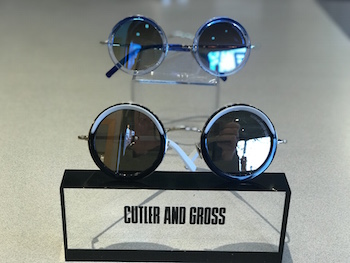 Eye Gallery of Scarsdale
Drs. Michael and Jay Rosen
8 Spencer Place
914-472-2020
I Am More Scarsdale is the newest addition to the Village. They are a unique women's boutique, featuring the hottest new trends in fashion, accessories,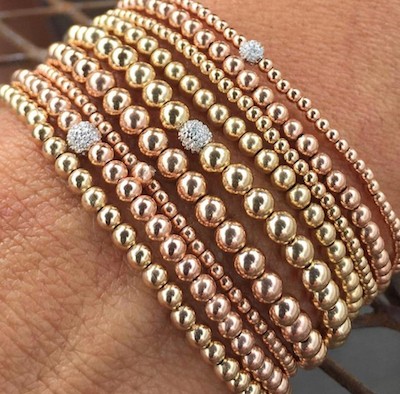 athleisure and jewelry. Their mission is to empower women to make them feel confident. They carry the work of up and coming established women-owned businesses and designers. For the holidays, check out these gold beaded bracelets from Karen Lazar. A gorgeous addition to your jewelry collection, these bracelets can be stacked with other bracelets or worn by themselves as a minimalist statement.
I Am More Scarsdale
6 Spencer Place
Scarsdale, NY


Lulu Cake Boutique has a special holiday menu with signature sweets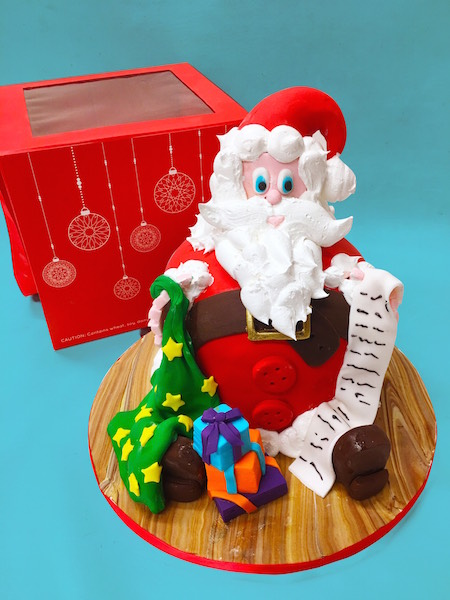 for Hanukkah, Christmas and New Years. They have created a 3D Santa cake, in three sizes, serving 15, 25 or 35 people. Dazzle your guests with this creative confection featuring Santa, a gift list and wrapped presents in red, green, purple and blue. Also on the menu are three variations on "Buche de Noel" in Valrhona chocolate, nutella with candied hazelnuts or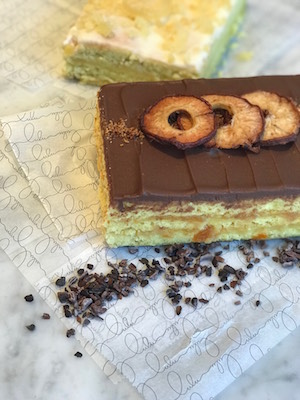 pistachio salty caramel with dark chocolate. Also special for the holidays are artisan rainbow cookies in apricot pear and almond, lemon and candied ginger and chocolate framboise raspberry. Sounds delectable! Don't forget their yodels, assorted retro twinkies and rugelach as well as the original Sarah Bernhardts from Jesperson's recipe.
Order today. Lulus will be open on Christmas Eve, December 24 and New Year's Eve, December 31 for pick-ups from 9 am to 1 pm.
Lulu Cake Boutique
40 Garth Road
Scarsdale NY 10583
(914) 722-8300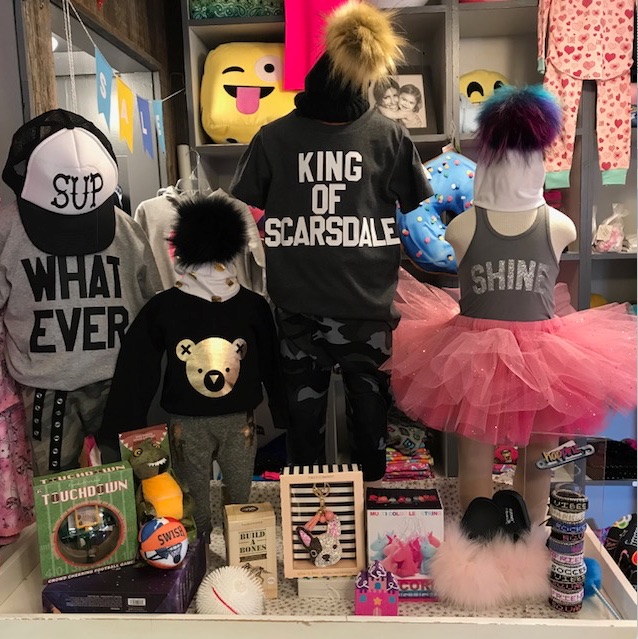 Wyatt Lily specializes in putting together gifts for babies, for birthdays and for no reason at all. They mix statement pieces of clothing with a cute accessory, book or game to make the package feel complete. Unique gifts you won't find anywhere else sized for boys and girls, newborns through size 16. For the holidays, try Wyatt Lily's custom glitter bar with custom made onesies to T-shirts from newborn to adult adorned with any saying that you want. Makes a great gift. Normally $38-$46. Mention the Scarsdale10583 gift guide and the price is $30 now through December 20. Shop Wyatt Lily on Instagram at @wyattlilyboutique.

Wyatt Lily
1 Chase Road
Scarsdale, NY 10583
(914) 472-1930

Zachys Wine and Liquor: Let's face it, finding the perfect gift for everyone on your holiday list can be difficult (and time consuming)! At Zachys, they believe you can't go wrong with the gift of wine. No need to worry about getting the right size or color; wine delivers a sense of luxury and pleasure.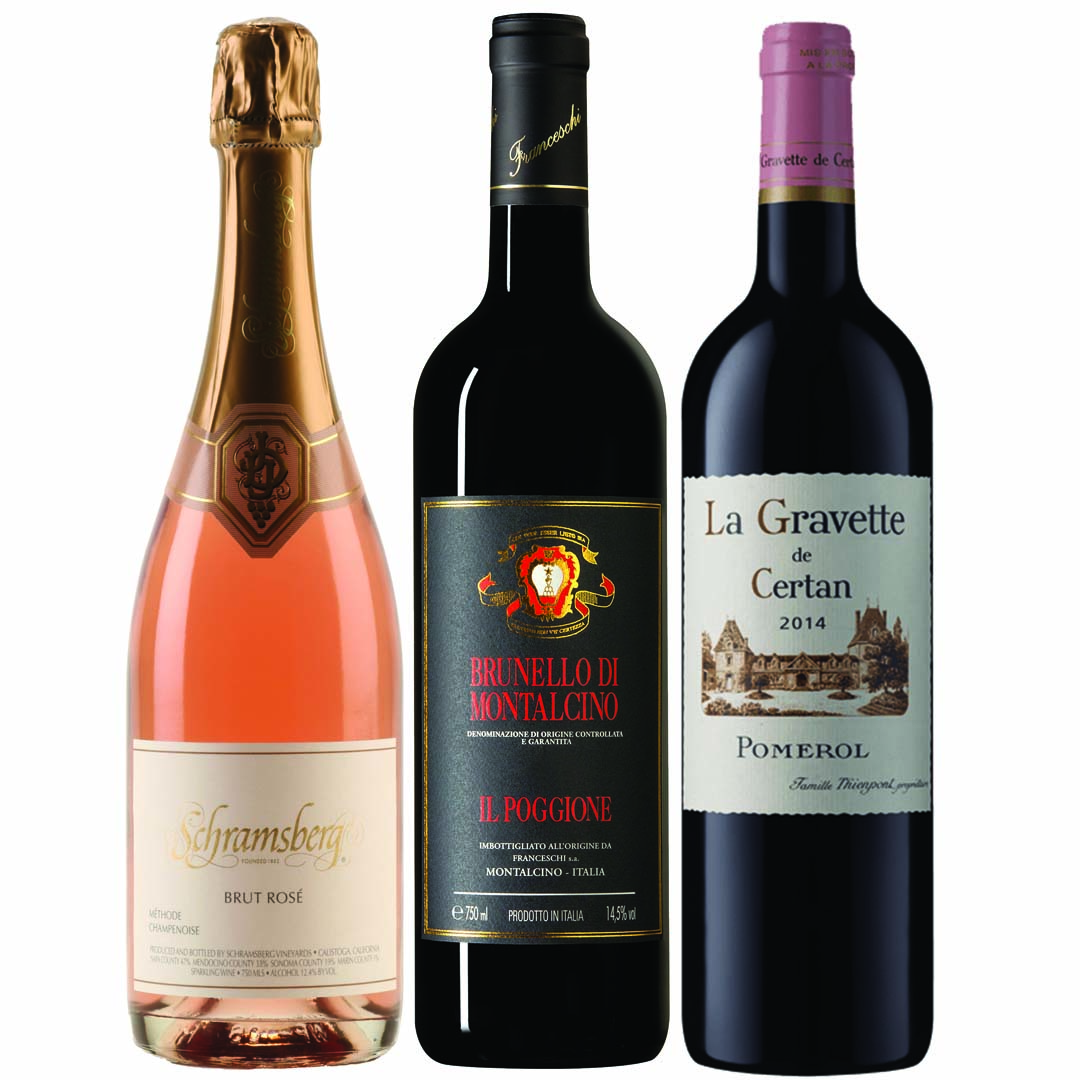 Their knowledgeable staff has done the work for you, curating a selection of premium gift packages guaranteed to "wow" any wine enthusiast, from novice to collector. Ranging from Italian to French, Californian to "World Traveler" (assorted region pack), each gift includes three 750ml selections accompanied by wine information and tasting notes, starting at only $75. Make Zachys your go-to wine gifting destination this holiday season!
Featured Selection:
Premium World Traveler Package (#406752): An assortment for the wine lover who enjoys French; Italian and California wines. The Premium World Traveler Package features a brut rosé from America's House of Sparking Wine; a difficult-to-obtain Bordeaux from Pomerol; and "one of the Year's Best Brunellos" from the 2012 vintage.
Brunello di Montalcino Il Poggione 2012 (93JS/93+VM)
Schramsberg Brut Rose 2013
La Gravette de Certan 2014
Zachys Wine & Liquor
16 E. Parkway, Scarsdale
(914) 874-8000
Order here!


A Festive Celebration for Scarsdale Library
Details

Category: Good Work
Published on

11 December 2017

Written by

Joanne Wallenstein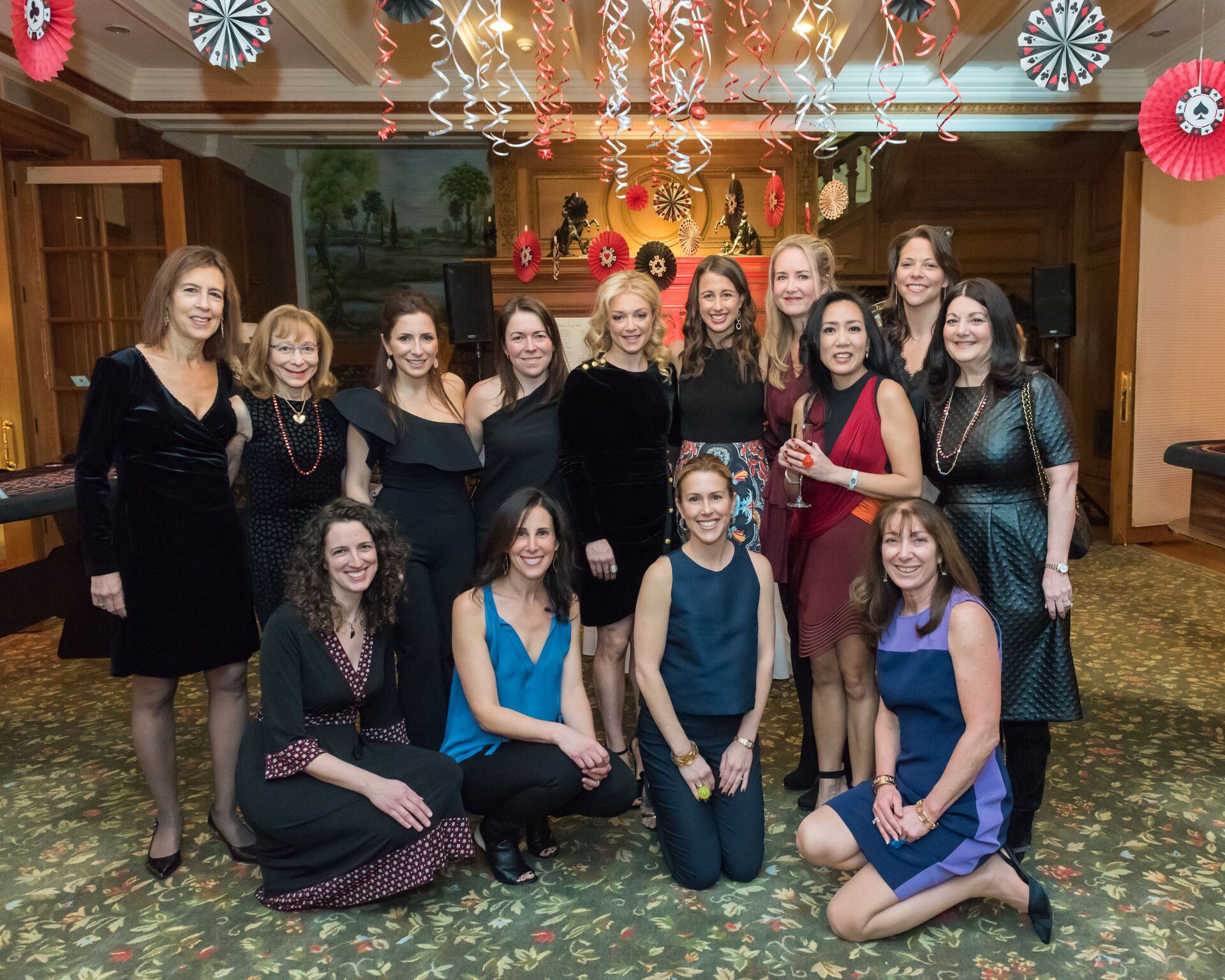 Scarsdale Library supporters came together Friday night to party and play in the warm, wood-paneled ballrooms at the Fenway Golf Clubhouse, but the atmosphere was anything but subdued. Food and drink were in abundance; the DJ was loud and lively; the games were cool; the prizes were fabulous; and the dance floor was full! Over 400 guests turned out for the "Black, White and Read All Over" Casino night and enjoyed gambling, dinner and drinks, while celebrating with their Scarsdale friends.

Many marveled at the inter-generational mix in attendance that included both long-time residents and also those newer to town. FOSL President and Campaign Co-Chair, Dara Gruenberg, remarked that "the Library is a central gathering place for our community and inspires people to want to be a part of the transformation. We are finding that people from all generations and neighborhoods are energized about this project. They simply want to be involved." Event co-chairs Lori Harrison and To-dao Casey could not agree more. As she thanked the generous local business sponsors and the many event volunteers, Harrison said, "We are so lucky to live in such a wonderful community. It is such a highlight to see people from all over Scarsdale coming together to support this great cause." Both Casey and Harrison grew up locally and used the library as children and students, returning now with their own young families. Casey added, "I wanted to become involved with the Library because I have such a passion for it. Having grown up in Scarsdale, I have always been a big library user and I think that our Library, especially has so much to offer - - we just need to fully realize its potential."

Diane Greenwald, President of the Library Board of Trustees, expressed her gratitude on behalf of the Board, "The Library is critically enriched by the ongoing support provided by the Friends." Enjoying the vibe, she quipped, "We may be a sleepy hamlet and home of the lifelong learner, but tonight proves, we are book nerds who can party!"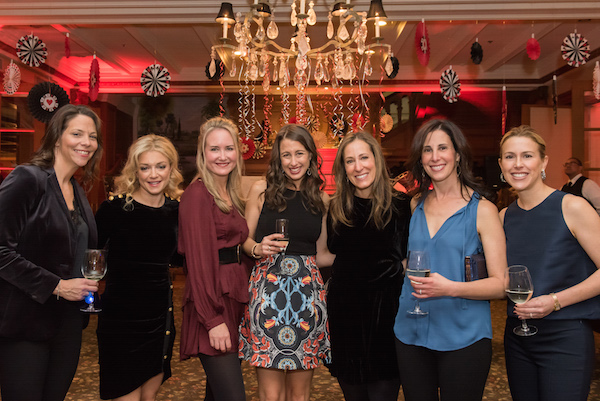 Both Gruenberg and Greenwald acknowledged the support of the Village Trustees, whose trust and encouragement have enhanced efforts to bring Library improvements to the community with integrity and value. Greenwald went on to praise the dedication and detailed oversight provided by the Library Building Committee. And Gruenberg noted the contribution of yet another group of active volunteers, saying, "because of the work of our unbelievably talented Campaign Committee, to date, we have raised almost $6.5 million dollars towards our $7.5 million goal." Her announcement was met with enthusiastic cheers! Such giving is unprecedented in our Village.
As the family of volunteers' grows, so too increases the ways Scarsdale patrons can help the Campaign for Excellence reach its goal. Gruenberg announced the launch of the "Pave the Way" Campaign, where donors can purchase and personalize large pavers that will be set in the Library's plaza and walkway. "This is an opportunity to leave your legacy and mark on our beloved Library for generations to come."
The Friends certainly know how to throw a great party and, considering the success, Scarsdale can only hope they will consider making this gala an annual Scarsdale tradition! Jane Veron, Village Trustee and Liaison to the Library Board, summed it up, "This event was a huge community builder and tremendously positive statement for this exciting project." So, friends -- same time next year?
Library Update: The library Improvement Project seeks to transform the building into a modern center for the community now and for generations to come. The $17.9 M renovation and expansion project is funded by a public/private partnership. Having received a half a million-dollar grant from NYS to outfit the Library's temporary home at Supply Field, the Village broke ground this fall on the 'Library Loft;' and construction documents for the renovation and expansion are almost complete. After 8 careful years of planning and assuming ongoing success of the Capital Campaign, the Library is poised to move to the temporary space and begin construction Spring 2018. Visit the Library Website for more Information.
Photos by Margaret Fox Photography
Response to FOIL Request Reveals Years of Water Woes at Greenacres
Details

Category: The Goods
Published on

02 December 2017

Written by

Joanne Wallenstein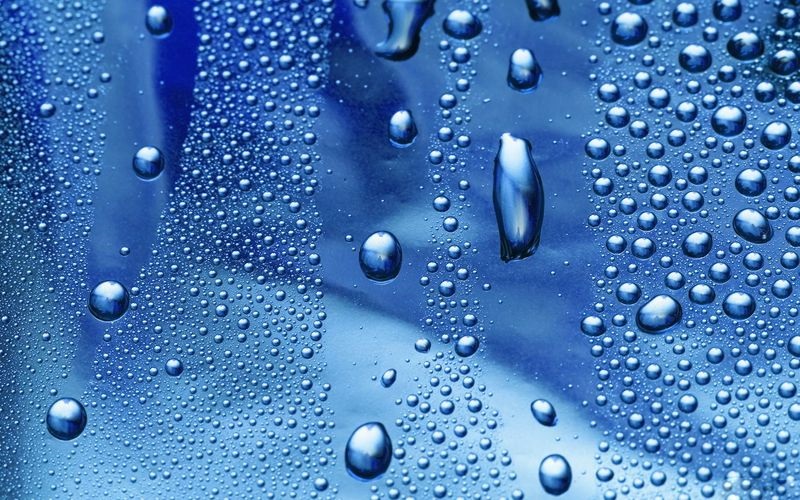 Though we were not able to get much of what we asked for in our July 2017 FOIL request to the Scarsdale School District, we did receive a 100-page PDF documenting repairs to Greenacres Elementary School going back to 2001. However 46 of the 100 pages were an air quality report from 2015 and a lead report from 2016 that are already posted on the district website.
The records we did receive show that the school was damp and often had water seepage and damage. There are work orders for waterproofing and mold remediation as well as incidents of water infiltration, leaks, foundation water and roof problems throughout the years. It appears that leaks come from the buildings' interior courtyard, from groundwater and from the roof.
The response includes several complaints from teachers who state that they have symptoms from working in the building including scratchy throats, runny eyes, fluid in their ears and more. You can see their statements below but it's evident that a number of the teachers have concerns about the building environment and the health of the faculty.
Interestingly though the district said there was no mold in the school this year (2017), in May 2017 a teacher reported visible mold in "dark spots" in a classroom, growing on a wall next to the sink. The report says, "Most likely this area got wet and was never dried behind the supplies and was a perfect habitat for mold growth, moist, dark and warm." The report claims that "this condition in no way was caused by the room or condition of the facility. It was strictly caused by the way the materials were stored and the manner in which people use the water in this area."
Air quality reports done subsequently in October 2017 did reveal mold and high humidity in the building, so it's plausible that the mold in May 2017 may also have been caused by the dampness inside the building.
Few details are provided about the repair history, but here is what we can see:
In August 2001 $24,390 was spent on waterproofing, excavation and repairs to a foundation wall of the interior courtyard and another $3,000 was spent to waterproof the basement a few months later in December 2001.
In November 2004 $5,000 was spent on mold remediation and then in January 2005, $50,173 was spent on mold remediation. No more details on the mold problem were provided but we do now know that the problems with water infiltration from the courtyard and in the basement, as well as mold, date back 16 years. The work orders show that the district attempted to stem the moisture problems using waterproofing and dehumidifiers, which were only partially effective.
The balance of the documents are primarily work orders outlining repairs to the building. They indicate damage from water coming into the basement, gutters and drains that don't work properly, damp walls, stained ceiling tiles, odors and even leaking sewage. These report start with a rotten floor in the teachers lounge and bubbling paint in 2006 and extend through the years to leaks and seepage in 2017.
Here are just a few examples of the issues:
"Teacher complaints about bad odor from board behind sink area. Appears to have old linoleum carpet on wall. Need to replace with cork."
"Damage from water coming in through the window flooding basement. Wall and wood cubbies damaged by lost and found."
"Wall leaking through crack when heavy rain falls on inner courtyard."
"Old drain pipe that was recently capped off is leaking, overspilling sewage down into boiler room."
"The pit near the boiler room has been holding some water which is seeping
through the foundation into the boiler room."
The FOIL request for "complaints from parents, students and teachers about excess moisture or mold in the school or regarding respiratory ailments was only partially granted as the district says, "the disclosure would constitute an unwarranted invasion of personal privacy insofar as such records reference the personal medical history/information of an individual or individuals."
However a few pages of complaints from teachers were offered, without their names. From what we can see, many of the teachers in the building were concerned about mold.
An email dated October 7 2015 from Greenacres Principal Sharon Hill to the district's Director of Facilities John Trenholm says:
Dear John:
Hoping you are well!
I am providing you with the list of rooms/areas that the staff would like tested for mold. I am sure you will let me know next steps.
Thank you!
Basement area including Art, OT and Music Rooms
Kindergarten cubby room
Kindergarten – Guardino Room 5
Kindergarten Quirk – Room 8
Speech Room
Spanish Room – Room 10
Elrich –Room 25
Leitner – Room 13
Sharon de Lorenzo's office and adjacent office
Rosenthal – Room 11
Library
O'Rourke – Room 18
Manin-Room 7
Mazza – Room 9
A few weeks later, on October 30, 2015 Hill asked teachers to document any complaints. She wrote, "John Trenholm recently conducted testing in classrooms and has prepared a report which Karen and Christina will be sharing with you. In connection with that report, please let me know if you have experienced an symptoms that are attributable to being in your classroom or the building environment"
Here are their responses:
"Allergies, stuffy nose, fluid in ears, post nasal drip, especially when handling materials that are musty and moldy-smelling from being inside cabinets."
"Since moving into room XX in XX I have needed to take allergy medicine not only during spring and fall, but also during winter – for scratchy throat, nose and ear congestion. More recently, the past 2 years my eyes have begun to react when at school. During the week I use allergy/steroid drops to help with those symptoms."
"Coughing, headaches, sneezing at times.
Mostly damp and dusty. In winter the heat is non-stop, which makes our room 85 degrees daily.
Last, the district included the following email: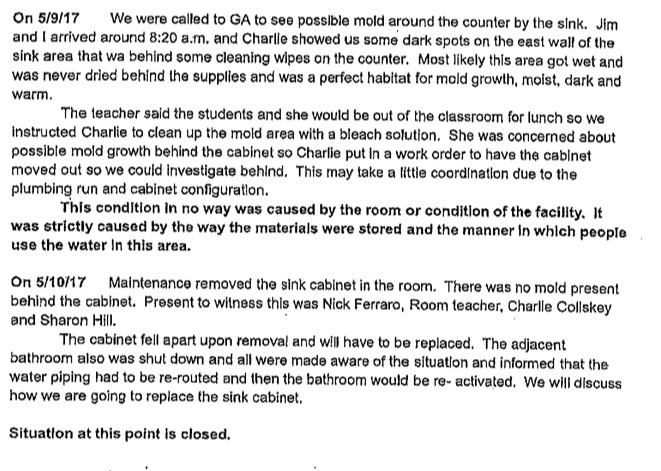 You can view the full response to the FOIL request here. Note that the newly released information begins on page 45.
The administration is currently proposing to renovate Greenacres and add 8 classrooms and a large cafeteria/learning commons to the building. They have said they will remediate the moisture issues by installing commercial dehumidifiers and moving all children and staff out of the basement. Some pipes may be replaced, but the scope does not include a total replacement of the building's plumbing or the inclusion of air conditioning.
It is not known whether the dampness and mold can be totally eradicated. The record here shows that moisture comes in from the foundation, the walls and the roof and that many attempts to waterproof the building and prevent infiltration have been made over the last 16 years.
Although we received limited materials in response to our FOIL request, it's clear from these records that environmental problems have affected Greenacres for at least 16 years, that teachers have complained about potential effects on their health and that remediation has been unsuccessful.
It will be up to the voters to decide whether or not it makes sense to spend $30 million to extend the life of this building.
Commenting on the information, local realtor Anne Dowd Moretti said, "Absolutely true, and homeowners in Greenacres deserve better than to have the cloud of children studying inside a school which may have environmental issues such as lead paint dust infiltration, airborne mold/mildew spores and anything else that might permeate the classroom environment. Mold can usually be effectively remediated; however, if there's an entrenched issue -decades ongoing-caused by old construction techniques, a high water table, and active mold creeping up through porous drywalls and unchecked for decades, that could be a much larger problem to fix. No one will know the extent of this until the walls are opened and construction begins. That's not how to begin a community project of this importance. We need to know all the facts, and it seems to me that the District must revise its cost analysis in light of these findings. Then our community can decide, once all the facts are known. Thank you, Joanne, for your efforts in making sure Scarsdale is fully informed."
If anyone wants to share any knowledge they have about this issue, email us at scarsdalecomments@gmail.com.