Supermarket Chef Charged with Stealing Money from Shopper
Details

Category: Today's News
Published on

30 June 2015

Written by

Traci Dutton Ludwig

On June 23, police charge Decicco Marketplace chef with petit larceny for stealing money from purse left in shopping cart by a customer June 20. John Corso, Jr., 45, of the Bronx, was captured on video surveillance, and confessed his actions to police. According to the victim – a 63-year-old woman -- she left the store with her purse inside a shopping cart and walked to her car in the parking lot on June 20. The video surveillance shows the woman returning the shopping cart to the entrance of the store, with the purse still inside the cart. Shortly thereafter, the video shows Corso, who is dressed in his white chef's coat, walk over to the coat, look around and push the cart containing the purse into another cart. He then walks off camera toward Christie Place with both carts. During a follow-up interview with Corso, police obtained a full confession. According to the police report, Corso was apologetic and said he was "going through tough financial times." He told police the total amount of money he stole from the customer's purse was $160. Corso was arrested on charges of petit larceny. He wrote a voluntary statement for police. He was released on his own recognizance and ordered to appear at Scarsdale Village Justice Court to answer charges on July 1.
Death

A family member called Greenburgh police on the morning of Friday June 26, when they discovered Christina Ruth Buckley Silverman, age 46, deceased in an upstairs bathroom of their home at 1110 Dobbs Ferry Road in White Plains. There was no sigs of trauma or foul play and the death is under investigation by the Westchester County Medical Examiner. Buckley-Silver is survived by her husband Albert Silverman, two sons, Jack and Ben, her mother, Madeline and her sister, Jennifer (Carlos) O'Connell. She was born in New York City on December 9, 1968 and raised and educated in Ardsley. She graduated cum laude from NYU. Christina worked in advertising before retiring from NBC Universal to raise her two sons. Memorials should be sent to St. Jude Children's Research Hospital , P.O, Box 1000, Memphis, TN 3810.
Stolen
A Mercedes Benz driver parked his car in Freightway Garage at 6:45 a.m., June 23, and returned to the car at around 6:40 a.m., June 25. Later that day, he noticed his car's hood ornament was missing.
The manager of the Popham Road CVS reported $809 worth of ScanDisk memory cards were stolen from a store display. A customer witnessed the theft in progress and alerted store employees. The suspect fled the store when confronted by the customer. Video surveillance showed the suspect acting suspiciously near the display and the witness told store management the suspect was putting numerous ScanDisk items "down his pants." The suspect was described as a white man wearing a white tee shift, red shorts and a black Yankees hat.
A Lincoln Road homeowner reported a $700 Trek bicycle was stolen from her open garage between 3 and 6 p.m., June 26.
Fraudulent tax return
On June 22, a Corell Road resident reported someone filed a fraudulent tax return in her name.
Fraudulent checks
On June 25, a Madison Road man reported a check he previously wrote on June 17 had been stolen and forged. The original check was written to Blue Cross Blue Shield for $69. The checks was dropped off for mailing at the Heathcote Branch Post Office in the inside mail pickup slot. However, the check never arrived at its destination but its information was instead used to form a counterfeit check. The fraudulent check was made payable to an unknown person in the amount of $4,920.29. The fraudulent check was of a different style than the man's original check, but all the information was the same. The signature was a copy.
On June 25, a Walworth Avenue man reported two fraudulent checks posted to his account. The checks were written to an unknown person and were cashed on June 10. The combined value of the checks was $2,700.
Identity theft
A Johnson Road woman reported someone stole approximately $2,000 from her business account with Chase Bank June 23. The theft occurred after the woman inadvertently clicked links in fraudulent emails and changed passwords for her online accounts with Chase Bank and Optimum. The money was removed from the woman's account through a QuickPay transaction.
On June 23, a Sheldrake Road couple reported receiving letters related to credit cards they never opened. Some letters contained new, fraudulent credit cards, and other letters were letters of credit card application denials. The couple was in the process of working with their banks' fraud departments and establishing security alerts.
On June 27, a Burgess Road woman discovered twelve fraudulent transactions on her MasterCard account. The charges, totaling approximately $20,000 – were made between May 23 and June 17, 2015. Police advised the woman to notify the credit card company, close the account and notify the credit reporting agencies.
On June 28, a Boulevard woman reported four fraudulent cell phone accounts were opened in her name. A bill from Verizon was generated in the amount of $518.68. She attempted to report the incident to Verizon's fraud department, but the department was closed when she called.
Broken windows
On June 22, a Myrtledale Road woman reported someone shot out her front window with a BB gun overnight. Police examined the window and noticed five small holes in the window's screen, a large hole in the window and several cracks. The window was double paned, and only the exterior pane was damaged.
On June 22, a Brookby Road woman reported someone broke her 2007 Honda Odyssey's side window while the van was parked in her driveway overnight. There were no apparent attempts to steal the van.
On June 27, two River Road residents reported the rear windows of their 2012 Kia van and 2014 Audi TT were broken while respectively parked in the resident's driveway and on the street. The van and Audi were locked, and no items were removed from either vehicle. A nearby resident reported hearing a "loud bam noise" followed by loud male voices sometime between 12:30 a.m. and 3 a.m. early that morning. A window of a third car on River Road was also broken; however the police report did not contain specific details about that car.
Graffiti
Graffiti was discovered on a street sign and parking meter on Garth Road June 24. The tag on the sign read "JHP or something similar," according to the police report.
Harassment
On June 28, a Franklin Road woman advised police she wanted to file a harassment report against her mother-in-law, who allegedly called the woman's house numerous times against the woman's wishes. The mother-in-law allegedly left voicemails that made the woman fear her safety.
Hit and run
A 22-year old Tunstall Road man was reported to have been in an hit-and-run accident in the Town of Mamaroneck around 10:30 p.m., June 27. Town of Mamaroneck Police asked Scarsdale police to help them contact the alleged driver of the car that fled the accident. At the house where the alleged driver lived, police found an open door and went inside. There they found a driver's license and cell phone belonging to the homeowner's 22-year-old son. While police were at the house, the homeowners returned. They contacted their son at a friend's house and advised him to return home immediately. The young man came home and appeared to be intoxicated. The young man said he had been hanging out with friends earlier that evening and went on a "beer run" when the accident occurred. He said the road had been wet, and he lost control of his car. He said he was unsure about what to do about the accident and got a ride to a friend's house. He said he had not yet consumed any alcohol at the time of the accident, but instead started drinking after the accident. Police advised him to go to Mamaroneck police department for follow-up. Police advised the young man and his parents about resources that might assist them.
Cars and roadways
Police alerted the highway department about an animal carcass on Heathcote Road June 26. The carcass was scheduled to be removed.
Police removed a fallen branch from Brookby Road June 28.
Five car accidents were reported in the village this week.
Lost dog
A Carstensen Road dog accidentally got loose and started following a jogger in the area June 28. Police picked up the dog, and shortly thereafter the owner reported her dog was missing. Police reunited dog and owner.
Village code
Police issued a summons to a landscaper using a gas-powered leaf blower on Fayette Road in violation of village code June 23.
Police issued a summons to a landscaper using a gas-powered leaf blower on Oak Lane in violation of village code June 24.
Police issued a summons to a landscaper using a gas-powered leaf blower on Oxford Road in violation of village code June 26.
A person was riding a bicycle shouting at people through a megaphone on Aspen Road June 26. Police advised the person to stop because it was causing a noise disturbance.
After neighbors complained of noise, police asked a Walworth Avenue party host to lower the volume of noise June 27.
Lost and found
A person gave police a wallet found on the basketball courts at Heathcote Elementary School June 23. It contained two dollars in cash, two identification cards and three gift cards. Police were unable to locate the owner's contact information. The wallet was vouchered at headquarters.
A woman reported losing her wallet somewhere in the village June 24.
A Ross Road man reported losing the license plates of his car June 27.

This police report is sponsored by Scarsdale Security who does more than just security. Contact them about remote video for your home or business. Call 914-722-2200 or visit their website.
SHS Graduates 401 Seniors on June 26th
Details

Category: Schools
Published on

29 June 2015

Written by

Carly Glickenhaus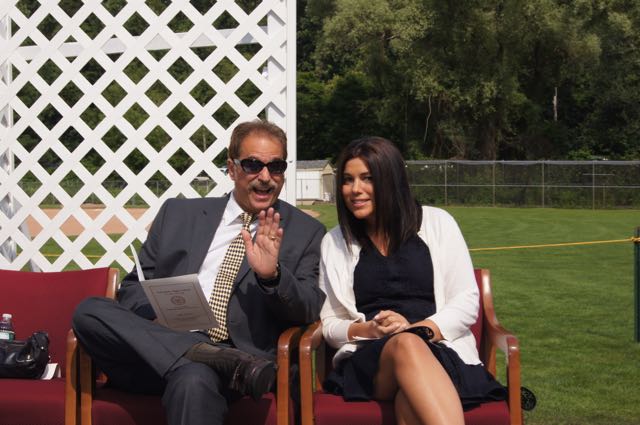 The Scarsdale High School Class of 2016 tossed their caps under sunny skies on Friday June 26th. The weather was expected to be dreary, but like the senior class, Mother Nature defied expectations and decided to bring out the sunshine instead. The 401 grads assembled in the gym together for one last time where they posed for a class photo and classmates Morgan Lawless and Jordan Green were given the "Henry David Thoreau award" for marching to a different drummer and assisting the class. They lined up in alphabetical order, marched through the school and streamed onto Dean Field to the sound of Pomp and Circumstance played by the Symphonic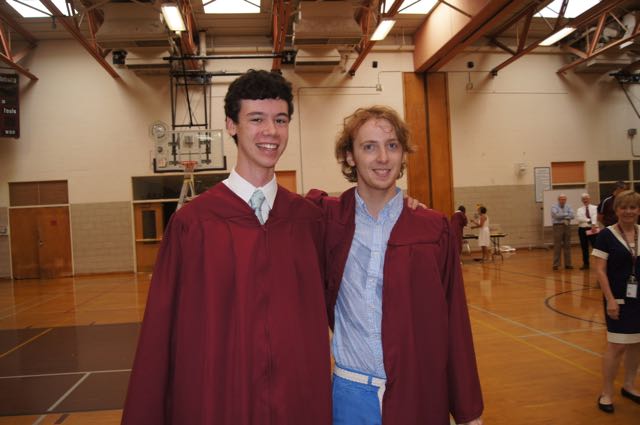 Band. These Raiders certainly deserved lots of "pomp" after four years of hard work.
Board of Education President Mary Beth Gose was the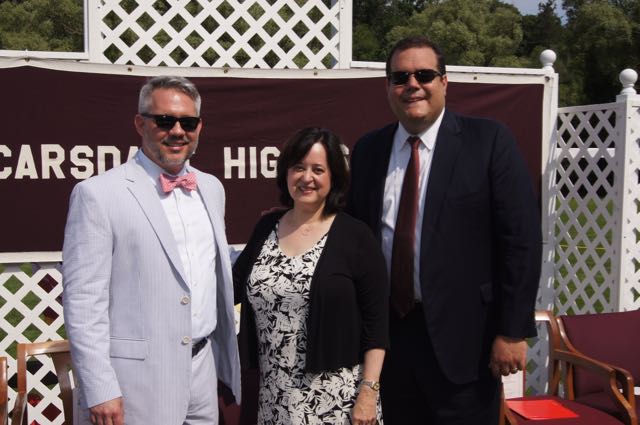 first to address the class. She reminded them that life is too short to preoccupy themselves with regrets. Students will have to adapt to new environments where there will be less structure and more choices. She also noted that teenagers possess the gift of time; youthful exuberance opens doors and leaves room for mistakes and do-overs. Teens tend to forget that one blunder, a B on a report card or a shameful loss in a football game, will not doom their careers. She advised the grads to "use this time to learn about the world, to think of others, serve, lead, take risks and retain their sense of curiosity. She thought it was fitting that the senior class advisors were health teacher Ms. Jessica Levenberg and psychologist Dr. Ernie Collabolletta. When Ms. Levenberg addressed the Class of 2016, she described her role as advisor as a blend of mother, older sister, and cheerleader. Dr. Collabolletta then told the crowd that as a school psychologist, his role is to teach people how to be happy. He explained that one way to be happy is to be involved with other happy people. For many SHS seniors, it had been easy to stay connected to happy people in a school where many students have known each other since kindergarten and best friends sit together in class. In a few months, however, they will find themselves in classrooms across the country, perhaps knowing no one else. Some will attend institutions up to twelve times as large as SHS. Nevertheless, parents can rest assured that their energetic seniors will be well prepared to seek out happiness at their new schools. Dr. Collabolletta made a distinction between happiness and pleasure, which is often derived from material "things." Pleasure is an ephemeral gratification. Friendship and love, he reminded them, continue to satisfy eternally.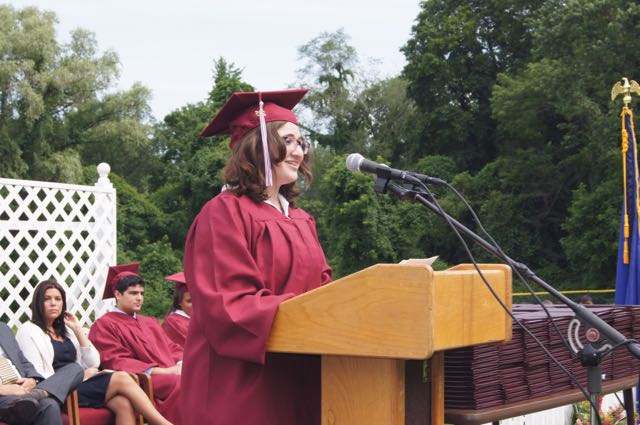 Senior Class President Angela Coco began her speech by reminiscing about elementary and middle schools. Coco said, "It is difficult to wrap one's head around the fact that the kid you stole all the pink crayons from in the second grade could end up being your prom date ten years later. Ms. Coco provided a sense of unity among her fellow seniors by saying they had watched each other grow since spilling juice and calling the teacher "mom." Many find comfort in being surrounded by familiar faces in the classroom each day. Next year, however, mundane high school routines will be replaced by a less predictable lifestyle. Ms. Coco brought to the forefront a fact that is well-known but perhaps takes time to sink in: in two months, the graduates will be scattered across the U.S. and the globe. She kindly reminded her classmates that their rooms will likely be turned into exercise rooms that "empty nest" parents will rarely use. Though humorous, the observation is painfully real. It is scary to let go, both for kids and parents. Ms. Coco told her classmates they had spent 120 million seconds together over the past four years of high school. But, she asked, "What is 120 million seconds, a handshake, and a diploma worth if you fail to remember how you reached this moment?" She reminded them that it was not easy to get to where they are now, and that everyone ought to be proud of their success.



Come the fall, laundry will not magically journey from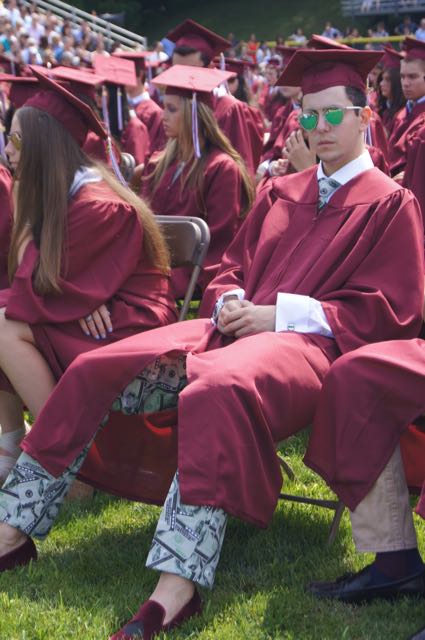 the bathroom floor to a neat folded pile in the bedroom. For these students, the reassuring comfort of their own beds may be a continent away. As the seniors prepare to abandon the familiar and venture into the uncertain territory of the college campus, Principal Kenneth Bonamo reminded them to make sense of the world in their own terms as their safety net becomes remote. He urged the graduates to set realistic goals that inspire, but do not debilitate. Coming from a competitive high school where the pressure is high, it will be a challenge for many rising college freshmen to learn to give themselves breathing room and create a balance between hard work and fun. Mr. Bonamo left the seniors with a reminder of the school motto, "Non Sibi," which means "not for oneself." He told them their good fortune requires them to make the world better for others. For many teenagers, Scarsdale is a bubble that provides shelter from certain harsh realities of the outside world. To make sense of these realities requires stepping out of comfort zones. The graduates are bound for colleges in starkly diverse settings across the nation, and beyond. Inevitably, they will be shocked by the diversity they encounter, but also pleasantly surprised by their abilities to forge relationships with people who appear to be their polar opposites. Ambitious and excited to meet the real world, Scarsdale graduates are each armed with a pin to pop the bubble and become active citizens in new communities.
Ticks, Ticks, Ticks
Details

Category: Shout it Out
Published on

23 June 2015

Written by

Stacie M. Waldman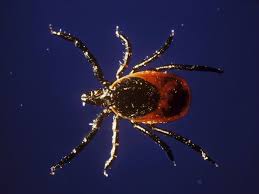 It's officially "tick season." Soon after I started asking people in the Scarsdale area if they've ever found a tick attached to them, I realized that virtually everyone has experienced this gnarly phenomenon. Ticks are very common in the Hudson Valley and many species of ticks that live (and thrive) here are known for carrying tick-borne diseases that can be transmitted to humans. In fact, the CDC cites Lyme disease as "...the most rapidly emerging infections disease and the leading cause of insect-borne illnesses."

Joanne Wallenstein, the founder of www.scarsdale10583.com has had two attached ticks and she is pretty sure she got them both out in the Hamptons. "My aunt has a small, furry dog that probably sent them my way," she said. "In both instances, a few days after I cam home, I found a black dot that I couldn't peel off." My family and I just came back from a camping trip and we found several ticks on us of varying sizes. They can be as small as a speck of pepper and as large as a pencil eraser when they are engorged with your blood.
Here are the most common questions that came up about these nasty little arachnids along with their researched answers.
Why are ticks such a threat in our area?
Several species of ticks commonly found in our area can cause a host of diseases including Lyme disease, Powassan, anaplasmosis, babesiosis, Colorado tick fever, Rocky Mountain Spotted Fever, tularemia, relapsing fever, and/or erlichiosis. The severity of these diseases ranges from mild to life threatening and even fatal. Some tick-borne diseases have the potential to lead to long-term neurological, cardiac, muscular, and eye issues that may not be treatable or curable. The Scarsdale/Southern Westchester area is wooded, has low lying grasslands, and is filled with front yards and back yards, all of which represent ticks' favorite spots to hang out and breed.

What should you do if you find a tick on yourself?
I spoke with Dr. Judy Stone, an experienced infectious disease doctor who has removed many ticks from herself and her husband. "There's a video on www.tickencounters.org that shows you how to properly remove a tick yourself with a pair of tweezers," she said. "It's no longer recommended that you burn it off or suffocate it with petroleum jelly," she added. Joanne Wallenstein preferred going to a dermatologist to have her ticks removed, but that requires getting an appointment with one, something that can take a while in this area unless you have a previous relationship. (They're busy with botox these days!) Joanne's doctor sent the ticks off to be tested for Lyme immediately. You can also send a tick off for testing on your own, according to Dr. Stone. The Tick Encounter Resource Center (TERC) will test your tick for various diseases for about $50 per tick. You can also send them a photo of the tick you found on you to start and they will tell you what kind of tick it is and how long it has been attached. This can help you gauge if you should have the tick tested or not. "If the tick was attached for less than 24 hours and you're asymptomatic, you do not need to go to the doctor," said Dr. Stone. "No treatment is necessary. However, 200 mg of doxycycline is effective for prophylaxis for Lyme (preventing you from getting the full blown disease) if taken within 2-3 days of the bite. It is not enough if you are symptomatic." Joanne took doxycycline both times for two weeks even though one of her ticks came back negative for carrying Lyme disease and she has remained asymptomatic. Remember, a Lyme positive tick newly attached (less than 24 hours) cannot transmit the disease so no treatment is necessary. Always kill the tick in alcohol and save it. Be sure to wash the area out well with soap and water.

What are signs and symptoms of a tick-borne disease in a person and how is it diagnosed?
These are variable since there are so many different diseases ticks in this area can transmit. The most common one, Lyme, is often identified by a bulls-eye rash but not always. If a person has been outside in woodsy or grassy areas and has any of the following symptoms, it's a good idea to see a doctor: rash lasting up to a few weeks (it can look like a bulls-eye or even just like hives, eczema, flea bites, or poison ivy and may or may not itch), flu like symptoms, a fever, weakness, headaches, or neurological symptoms like weakening of the facial muscles. Months or years later, a person can experience arthritis, numbness, concentration and memory issues, and difficulties with speech. Diagnosis of a tick-borne disease like Lyme is very difficult without a history of a tick bite. Serological tests can be run but are unreliable.
What can I do to protect myself and my kids from ticks?
The CDC recommends walking in the center of trails, bathing as soon as you come indoors and checking all people and pets for ticks, dressing in light clothing for hikes, wearing close-toed shoes and socks, wearing long-sleeved shirts and pants tucked into socks if hiking. It is especially important to check behind their knees, on their scalp and neck, armpits and groin area, and anywhere that clothing puts pressure on their skin. Insect repellant that contains DEET (less than 30% is recommended for use on kids) is effective at repelling ticks but not at killing them and it is only effective on bare skin. Permethrin, on the other hand, kills ticks and can be used on clothes. Dr. Stone believes Permethrin treated clothes and shoes are the safest and most effective way to prevent ticks along with tick checks several times a day. "Treating clothes with Permethrin or buying pre-treated clothes is a good idea if you're going to be in tick-infested areas," she suggested. If you're worried about chemical exposure, TERC has a permethrin exposure calculator that will quell your fears immediately in terms of how little absorption occurs with Permethrin-treated clothes. (For example, a 125 lb. adult wearing a treated shirt, pair of pants, and socks would have to wear 1,817 of those items all at once to reach the EPA's daily dermal No Observable Effect level!) You can spray your yard but few sprays and techniques have been found to be effective at tick reduction.
What resources can I access for more information?
Tick Encounter Resource Center (TERC)
Westchester County Tick-borne Disease Info Line: 914-813-LYME
CDC
Joan Weber Toasted at Grand Retirement Celebration
Details

Category: Schools
Published on

22 June 2015

Written by

Joanne Wallenstein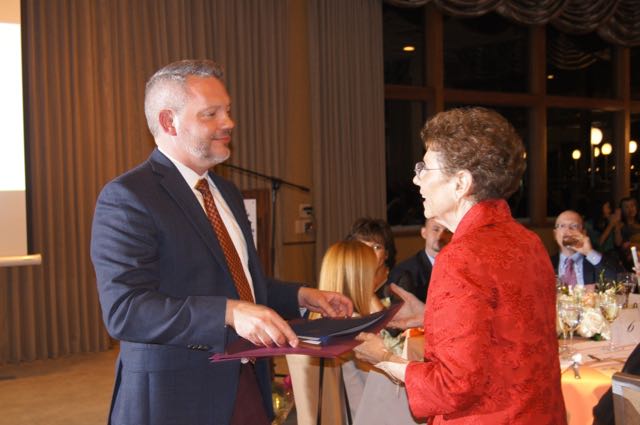 Though I have been watching Scarsdale school board meetings for the last seven years, I never understood the power behind the petite, demure woman who announced the comings and goings of district personnel. Without great fanfare, Joan Weber routinely served notice that a teacher had been granted tenure or was retiring from the Scarsdale Schools, always adding an insightful personal fact about their family, talents or favorite pastimes.
Little known to me -- or to many in Scarsdale --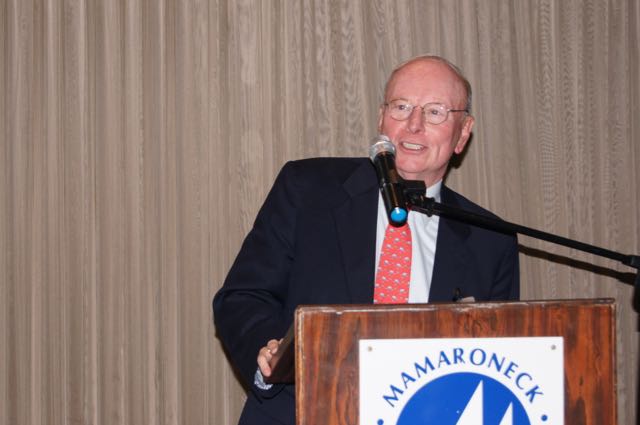 Weber quietly managed the teaching staff, administrators, professional development, and global and arts initiatives for the entire district for over 32 years. She recruited the faculty, nurtured their talents, made key staffing decisions and supervised hundreds, if not thousands, over the course of her career.
During her tenure she saw five superintendents come and go and as current Superintendent Thomas Hagerman said, Joan "whispered in their ears" to keep them on track.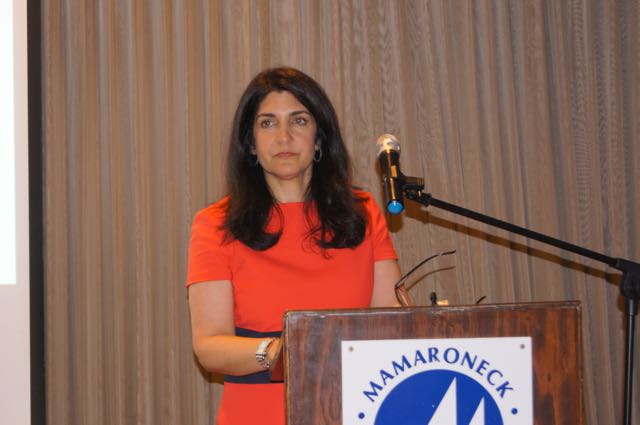 What's most impressive is the number of friends she made along the way. Almost 400 current and retired teachers, administrators, colleagues, school board members, PTA leaders, parents and family members came to the Mamaroneck Beach and Yacht Club on Thursday June 18 for Weber's retirement dinner, where the evening opened with two musical selections from the 54-member Scarsdale High School wind ensemble. The serenade was a fitting tribute to a woman who has been a big supporter of the arts in the schools and initiated a program at Lincoln Center for the districts elementary school students.
Even more surprising than all her work on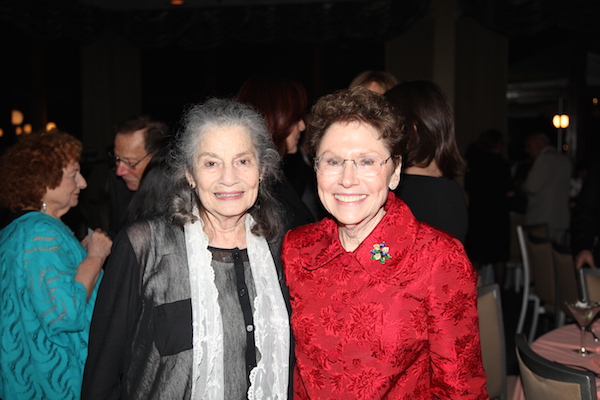 behalf of Scarsdale, was what she accomplished outside of school. It turns out that Weber has five children - several who are doctors – plus ten grandchildren and also serves on the Hawthorne Cedar Knolls Board of Education. Though many find it hard to sit still through a single Scarsdale Board of Education meeting, Weber has been doing double duty for many years – attending Scarsdale meetings in her professional capacity and Hawthorne meetings as a volunteer. To anyone who thinks, they have too much on their plate," take a look at Joan and you'll see what a determined person can accomplish.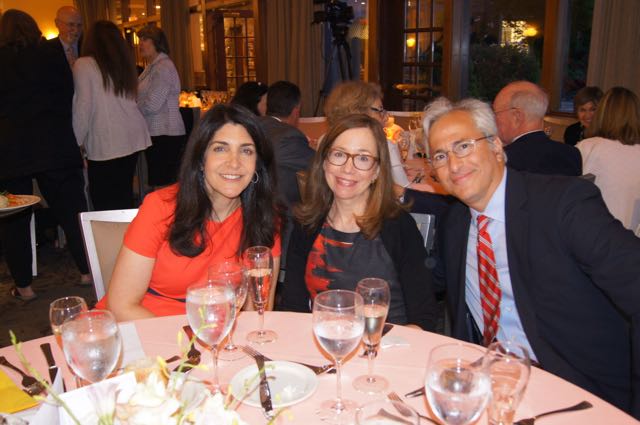 Tributes to Joan were amusing, lengthy and a testament to her many talents. David Wixted, President of the Scarsdale Teacher's Association, with whom she negotiated called her "cool, clam and unflappable." He said she was a case of "the right person, in the right place at the right time." He continued, "you do what is right with compassion and acknowledge the worth of every individual. We are better for the time we spent with you."
Trudy Moses, the former head of the STA, advised Weber to "sit back and take it all in as we treasure you.!"
Scarsdale Middle School Principal Michael McDermott compared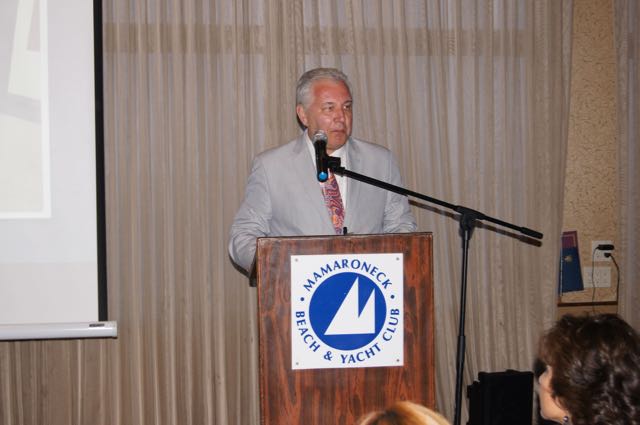 Weber to "a rare Stradivarius violin to be handled with care." He mentioned her signature hand written thank you notes and felt lucky to be a "FOJ," that is a "friend of Joan."
Technology Director Jerry Crisci and SHS Dean Michael Gibbs produced a wonderful video tracing Weber's beginnings in Brooklyn to her education at NYU and ultimately to Columbia Teacher's College where she wrote a 300-page dissertation. She was an only child, a gifted student and a dancer. She studied English and Political Science at NYU, and earned a masters degree in English at NYU. When her husband, who is a physician, was training in Virginia, she taught school in a rural Southern town and later taught in Hawthorne. After she earned her doctorate from Columbia Teacher's College, Scarsdale Superintendent Thomas Sobol selected her out of 300 candidates to be the district's director of personnel, a position she held for 32 years. During her tenure she brought educators, academics and proponents of human rights to visit Scarsdale, founded the Interdependence Institute and
championed professional development and the arts.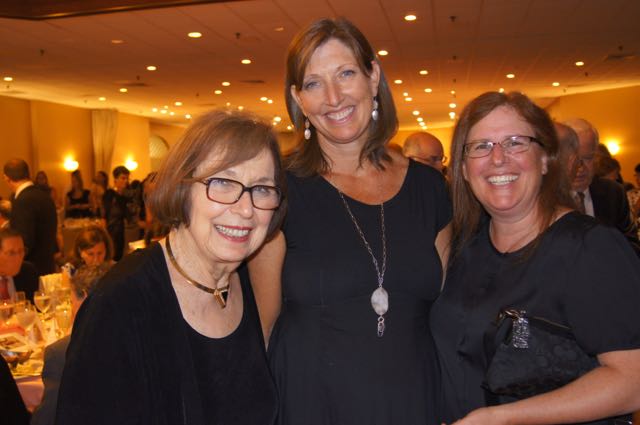 Former Scarsdale Superintendent Dick Hibschmann toasted Weber saying that impacted so many. He credited her with managing the district's health plan, maintaining a good relationship with the teacher's union and school board members, using her "inside voice."
Channeling Weber, School Board Member Suzanne Seiden said, "We accept with regret the retirement of Joan Weber," and then gave a humorous list of the "Top 10 Things Joan Would Like to Say."
1) Little known fact about Joan ... she has the tiniest handwriting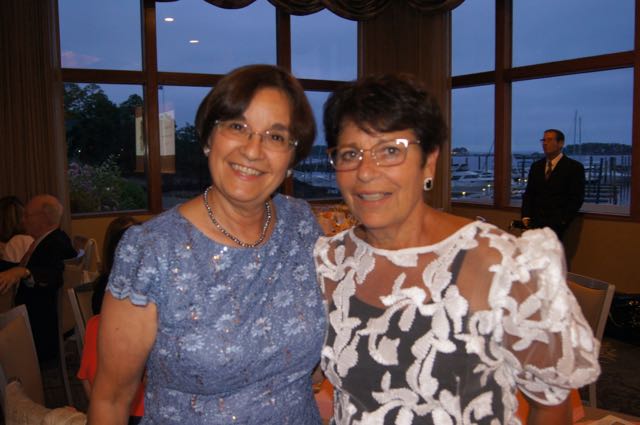 2) She is a big doodler during meetings (so that's how she sits through so many meetings!)
3) She wanted to be a ballet dancer
4) She loves pastries, bakes rugelach and does not let her husband Karl have any.
5) Joan is a school board member at Hawthorne Cedar Knolls
6) Her family of doctors has examined and operated on everyone in Scarsdale
7) She was chosen out of 300 candidates for her job
8) She has paid tuition for her children to at least ten institutions
9) She has ten dogs
10) She does not who the Kardashians are.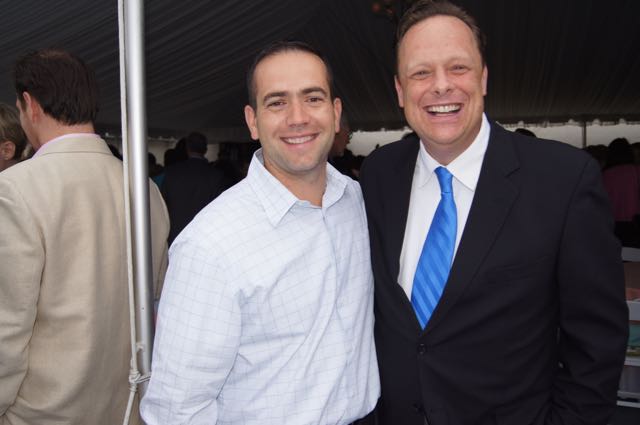 Former Superintendent Michael McGill called Weber "a mother lion who has cared for Scarsdale with elegance, wisdom and diplomacy." He said she "resolves thorny problems, and does what's right for the children first, the adults next and always what's right for the institution." He told her, " you nurtured the substance and the spirit of the Scarsdale schools and are at the heart of the schools. You are irreplaceable."
Cathy Inello and Denise Mulqueen, who worked with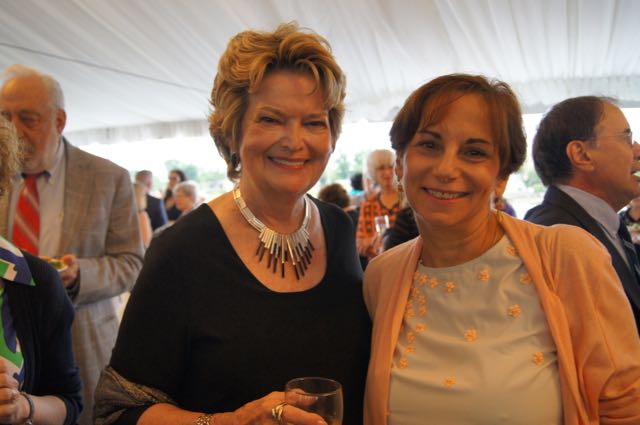 Weber day-in and day-out in the personnel office read a beautiful poem written by a former teacher and called her their "hero, role model, friend and advisor," adding, "and sometimes we let you be our boss."
Harriet Sobol, wife of former superintendent Tom Sobol called her a "tiny woman with a tiny voice and perfect handwriting" who Sobol's husband Tom hired to be the district's "Finder/Keeper." She said the Weber did "her work quietly, not drawing attention to her efforts."
Sobol said that Weber learned the following: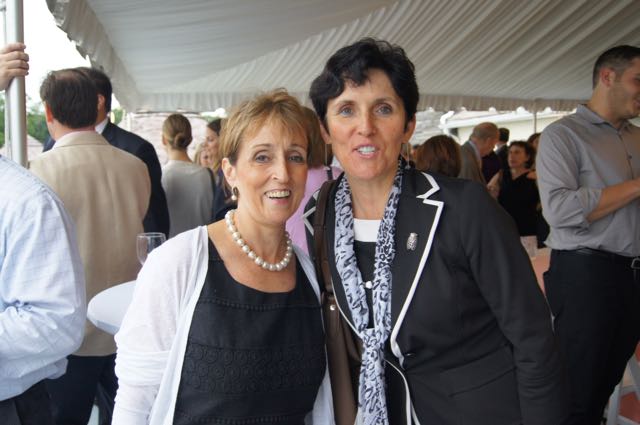 -Cherish the culture of caring. Learn empathy. Look at things from others point of view.
-Find teachers and principals who want to learn
-Have courage
-Bring music, theatre and art to all for the Arts are the lifeblood of humanity. Lincoln Center -Education will guide you
-Don't be afraid to dream. Help others to dream What if there is no book, bell or schedule? What do we want future schools to be?
-Have joint committees with teachers and principals for decision making and to resolve conflicts .
-Be prompt to administrative council meetings.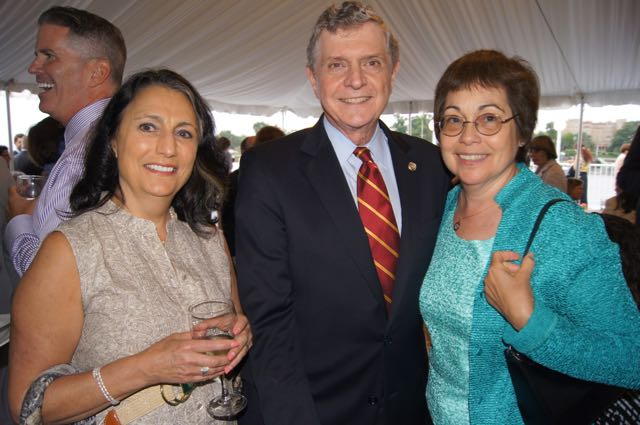 Reading proclamations from the community, Superintendent Hagerman expressed gratitude and respect and thanked Weber on behalf of Assemblywoman Amy Paulin, Mayor Jon Mark, and the Board of Trustees, declaring June 18th Joan H. Weber Day in Scarsdale. Hagerman joked, "It's been a pleasure to work FOR you .... I mean WITH you. Your spirit will continue."
Diane Celentano, Trudy Moses and Susan Taylor suggested that Weber be the next woman on the $10 bill and presented her with a gift box from Tiffany's. They welcomed her "to the soul sisterhood of retirees."
The night ended with the last word, or should I say words from Weber herself, who thanked everyone for the extraordinary evening. She said I have been "mythologized and eulogized .... It's a surprise party and a funeral at the same time."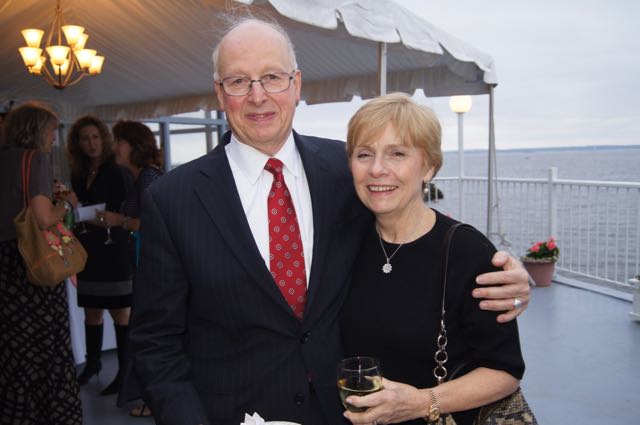 She remembered arriving at district with 3,800 students that has now has grown by 1,000 students. She marveled at the paradigm shift in American education that has "the U.S. trying to implement what China is trying to get rid of," with testing and assessments dominating the conversation. Mocking acronyms such as APPR (Annual Professional Performance Review and AYP (Adequate Yearly Progress) she said what we now have is CRAP. In a lengthy last will and testament she used cartoons to make a comical speech about the challenges faced by the schools including helicopter parents, the advent of technology and rising health care costs.
Here are just a few of her legacies: She granted Dr. Hagerman a cloak to preserve his magical powers and calendars to meet every schedule. Mocking the state education department she showed a cartoon that read, "there is a light at the end of the tunnel .... It's in New Jersey!"
She wished the new Superintendent of Business a "carefully crafted budget" and advised her replacement, the interim director of Human Resources, "to get to know everyone and to be candid with the superintendent."
For the board, she showed a cartoon of board members lying underneath a conference table and granted them "a new way of holding meetings." She wished them a successful round of negotiations.
She ended with a cartoon that read, "If we take a late retirement and an early death we'll just squeak by." She followed with a beautiful video photomontage of some of her memories of Scarsdale including visits from international guests, international families, trips abroad, outings to Carnegie Hall and Lincoln Center and photos from the international fair.
She concluded with the following advice: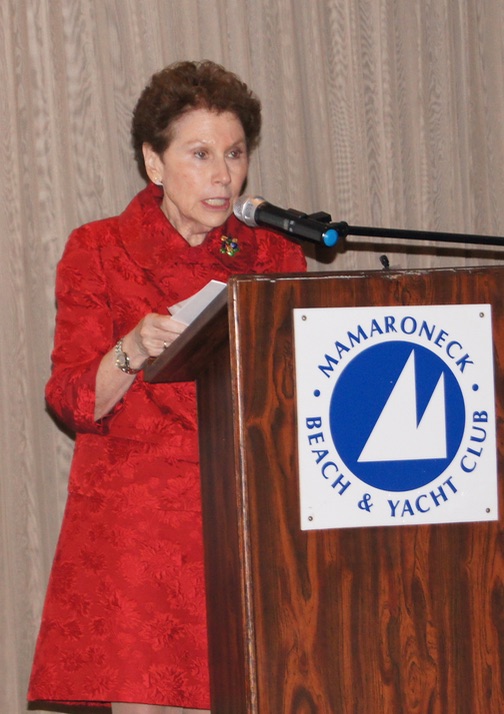 Laugh More
Gripe Less
Ignore Critics
Say Yes
Order Dessert
Love Life
Fourth of July Fun
Details

Category: Local Finds
Published on

01 July 2015

Written by

Joanne Wallenstein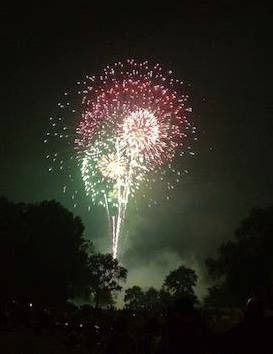 Fireworks will go off tonight, July 1 at the Scarsdale Pool Complex at 9:15 pm. A fee of $2 will be charged to anyone entering the pool after 5 pm. Non-pool members can enter after 5. Park at the pool or at Crossway, across the stree. There will be a DJ from 5:30 – 10 pm and O'Neill's will be open to purchase dinner, snacks and drinks.
Arthur Manor July Fourth Celebration:

The Arthur Manor Neighborhood Association will hold its annual July Fourth celebration and parade Saturday, July 4, with lineup for marchers in the parade at 9:15 am at the corner of Bell and Sprague Roads. The parade will start promptly at 9:45 am. Children participating in the parade can dress in patriotic costumes or decorate their bicycles, tricycles, wagons or strollers.
The celebration continues at Davis Park with a brief ceremony, field games and refreshments. Volunteers or contributed baked goods are welcome. To help, please contact Margaret Marcus at 723-0807 (peggylou99@aol.com) or Matt Martin at 723-1455 (matthew.martin@pattoneakins.com).
Greenacres July 4th Celebration
The Greenacres Neighborhood Association will hold their annual 4rh of July celebration on Saturday July 4th at the Greenacres Field from 9 am to noon.
The day begins at 9 with bagels and cream cheese, doughnuts, watermelon, lemonade and coffee for all.
Kids of all ages, and grown-ups too can participate in the games that start at 9:30 am. There will be a spoon race, 3-leged sack race, a dash, foul shots and a candy hunt. At 11:15 there will be a patriotic program followed by the traditional Greenacres Gallop. The Fire Department will be on hand to super soak the crowd.
The event is free and all Greenacres residents are welcome.
Greenacres Field
Saturday July 4 from 9 am to noon.
For more information contact Kevin Higgins at 420-3314 or by email at higgins400@aol.com.
Carnival Day at the Scarsdale Pool:

There will be a carnival day at the Scarsdale Pool on Saturday, July 4th (Rain Date: July 5th) from 11 am to 4 pm. A fun-filled day of picnicking, carnival attractions, DJ entertainment and aquatic activities are planned, including a 30 –foot inflatable ride. Uncle Sam will make an appearance and Pooh Bear too. Bring the kids – balloons will be given out.