Superintendent Hagerman Outlines District Roadmap
Details

Category: Schools
Published on

01 September 2015

Written by

Joanne Wallenstein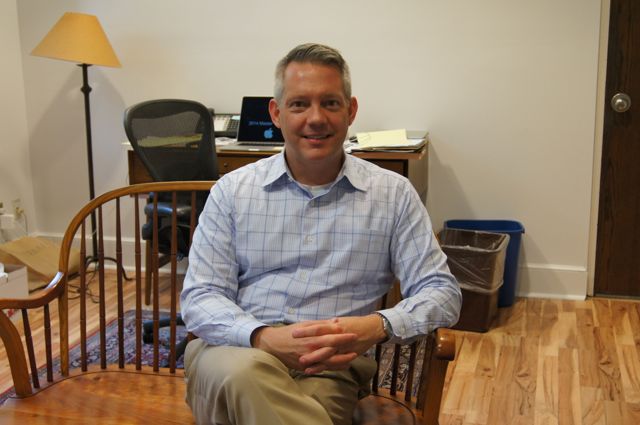 As the 2015-16 school year begins, we checked in with Scarsdale Schools Superintendent Thomas Hagerman to find out what his priorities are for the new year. We started out with some specific questions, but in response, he also shared his broad strategic plan for the district, which is included below.
Hagerman's three-year road map addresses the curriculum, the facilities, finances, professional development, political advocacy and the roles and responsibilities of the district leadership and the Board of Education. It's a far-reaching plan to address both the philosophical questions and the nuts and bolts of running a large school district during a time of transition in leadership and the transformation of the physical plant.
Though there is much to review, here are a few issues that I found of interest in the plan:
At the elementary, middle school and high school, the administration will
examine the integration of the STEAM curriculum. Now that maker spaces are available in the elementary school and new areas for design thinking and collaborative learning are planned for the middle and high schools, the administration will need to clarify how to develop "pockets of innovation" in the school and embed design thinking into the learning process.
The plan calls for the implementation of a new professional development program for elementary school teachers, to enrich their teaching skills in "balanced literacy, Singapore Math, and inquiry science." Specifically, it says, "Create Scarsdale's Teacher University (name? TBD) as an intensive professional development opportunity for P1-P4 teachers that focuses on balanced literacy, Singapore Math, and inquiry science by coordinating efforts between our current STI, Helping Teachers, Mentoring Program and Teachers-In-Charge."
The administration will examine the process of how formal and informal feedback on student progress is given to both students and parents at all levels. At the elementary school, the report card will be reviewed and revised.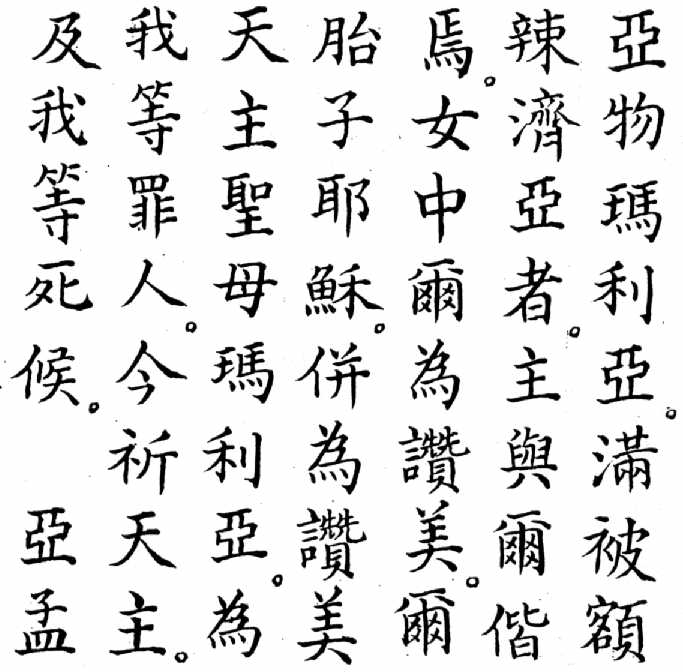 For those calling on the district to add Mandarin instruction at lower grade levels, the plan calls for a World Language Review to "Establish process to determine whether to add language(s) Examine any appropriate language options (including Mandarin) and to implement, if appropriate.
In terms of personnel, the district has hired an interim Assistant Superintendent of Personnel to fill in for Joan Weber, while a formal search for her replacement is underway. The plan calls for the creation of a "modified entry plan for the new Assistant Superintendent of Human Resources, and for a search for a permanent replacement.
As if this was not enough, the teachers' contract expires in June 2016, so the plan calls for the district to "Collaborate on and take part in collective bargaining" on four expiring contracts with the STA, SPA, ASTAA, and MADSA.
On a lighter note, with "Snow Queen" Linda Purvis in retirement, the administration will review their inclement weather policy and practices. New procedures on the two-hour delay and snow closings could be in the works!
Below find questions and answers from Dr. Hagerman, as well as the complete outline of the plan for 2015-16.

Did you get any time off this summer? What did you do to rest and rejuvenate?
I took a little time off; mostly to move from my rental in White Plains to my new home in Hartsdale. Not too much resting or rejuvenating though.
Now that the final school registrations figures are in, do we have any elementary school classes that are above the maximum enrollment?
We won't have a final count until kids actually arrive later in the week. On paper, we look good right now.
How do you think the construction projects will affect the educational agenda for the coming year?
I'm not sure I completely understand the question. The educational agenda (along with health and safety) are the drivers for most of the construction projects. So, in this respect, we are working to improve our programs through creating better learning environments. If you mean whether construction will interrupt teaching and learning, then that is likely true, although we continue to try to minimize any disruption to the extent we can.
There is ongoing controversy about the fate of the Greenacres School. What are your thoughts on the process? How can you ensure that all views are heard and fairly evaluated?
We are building off the feedback that we have received from the last building meeting, architects, community members, and the staff. We are in the process of redoubling our building committee work, and establishing a District committee to manage both Greenacres work and broader projects that may be included in a future bond.
Any major process like this will engender different ideas and opinions. This is not a bad thing. It does require open dialogue and active listening on the part of everyone.
State test results are out. What are your thoughts about the performance of Scarsdale kids?
I am going to defer this to Lynne (Shain).

Will the district continue to fight for more local control of curriculum and testing–are there any specific initiatives in the works at the state level that we are evaluating?
Yes. We have a three-pronged approach for this work: the BOE (through Portfolio group goals), PT Council and PTA advocacy, and through our teacher engagement with their various organizations. APPR is a huge focus of our energy right now as it continues to be unclear and unfair evaluation of teacher performance or effectiveness. The State has also made the determination that every teacher will have assessments for every content area (SLO process). This is untenable, and we are working to bring a more realistic view of State assessments and what their roles should be vis a vis our students.
What are your priorities for the 2015-2016 school year?
We have a very comprehensive transition plan that breaks our work down into 8 Portfolio areas.
Transition Plan Goals, 2015-2018

Board of Education & Administrative Team
Designation of Work Portfolios & Guiding Goals

Portfolio Areas & Administration/BOE Leads
Curriculum, Assessment, & Instruction/ 21st Century Learning
(Shain/Jerry/BOE Member)
Construction & Facilities
(Stuart/BOE Member)
Communication, Community Involvement, & Political Outreach
(Thomas/ BOE Member)
Finance, Budget and Negotiations
(Stuart/HR/ BOE Member)
Human Capital & Leadership Development
(Bernie/Boe Member)
Instructional & Information Technology
(Jerry/Rachel/BOE Member)
Special Education & Pupil Services
(Eric/BOE Member)

Board of Education Goal:
BOE development, leadership, succession planning, and staff relationships (BOE P & VP)
Extended Goals
Curriculum Assessment and Instruction/ 21st century learning:

To continue to improve curriculum and instruction by focusing on assessment practices that inform instruction; utilizing student feedback in meaningful ways; preparing students for 21st century learning and life in a global community; and including quality staff development that promotes the highest levels of achievement for each student.
Elementary:
Clarify structure and guiding principles of STE[A]M implementation:

Incubators (pockets of innovation)

Evolution & Metamorphosis (innovation ideas that expand across a school or schools)

K-12 Curriculum (innovation that become formally embedded in our curriculum)

Coalese elementary principal team across five schools

Create Scarsdale's Teacher University (name? TBD) as an intensive professional development opportunity for P1-P4 teachers that focuses on balanced literacy, Singapore Math, and inquiry science by coordinating efforts between our current STI, Helping Teachers, Mentoring Program and Teachers-In-Charge.

On board one new and one second year principal

Clarify TIC roles and responsibilities as instructional leaders

Enhance Balanced Literacy:

Implement TCRWP Initiative with fidelity across all five schools

Develop common understandings of appropriate assessment practices to inform instruction, and build a culture that values and uses differentiation to meet the needs of all students:

Work toward a consistent approach of RtI in Tier 1 to Tier 2 across all schools

Utilize multiple points of evidence

Review and Revise Elementary Report Card

Elementary PE/Health

Develop and implement a formalized plan
Middle School:
Clarify structure and guiding principles of STE[A]M implementation:

Incubators (pockets of innovation)

Evolution & Metamorphosis (innovation ideas that expand across a school or schools)

K-12 Curriculum (innovation that become formally embedded in our curriculum)
Define how Technology Education and Computer learning outcomes are in synch and are revised to reflect more advanced knowledge/skills of incoming





High School:
Clarify structure and guiding principles of STE[A]M implementation:

Incubators (pockets of innovation)

Evolution & Metamorphosis (innovation ideas that expand across a school or schools)

K-12 Curriculum (innovation that become formally embedded in our curriculum.
District Wide:

Clarify Professional Development and roles and responsibilities of various supports:
Personal growth (STI & Outside resources)

Building needs (STI, Mentoring, Helping Teachers, Staff Meetings and committee work, and STU)

District initiatives (STI, Mentoring, Helping Teachers, District Meetings and committee work, and STU)
Curriculum consistency
Clarification on differences in teacher autonomy and common experiences and assured experiences for students




Feedback on student progress
Formal and informal feedback to students

Formal and informal feedback about students to parents
Coordination of Health and PE
On-Board new Director

Establish short term vision & goals (next two years)

Establish long term vision & goals (next three to five years)
World Language Review
Establish process to determine whether to add language(s)

Exam any appropriate language options (including Mandarin)

Implement, if appropriate
Center for Innovation: Next steps….
Conceive, develop and implement Scarsdale Education for Tomorrow, 2.0

Renew our focus on Entrepreneurship
Global Learning Alliance
Renew our commitment to this work

Work with global partners to inform SET, 2.0
Construction & Facilities:

To provide students with an appropriate and well-maintained 21st century learning environments while continuing to be good stewards of community resources.
Complete 2014 capital projects on time and on budget

Conclude design process for all projects and create the District construction committee

Review staffing needs in light of enhanced facilities and increased space

Complete 5 year Building Condition Survey

Prepare 5-year Capital Plan after receipt of Building Condition Survey
Communication, Community Involvement & Political Outreach:

To provide clear, appropriate, and timely information to staff, parents, and the broader community in order to ensure all stakeholders are informed about our students, programs, and progress. Moreover, we recognize that it takes the support of the full community to ensure our collective success, and, as such, that volunteering and political advocacy are critical elements of local control and influence in school life in Scarsdale.
Create a comprehensive annual communication plan and calendar

Clarify steps in the problem-solving process and continue to share this with parents and staff

Include all stakeholder (including teachers) voices in curricular, programmatic, staffing, and construction decisions

Establish priorities for BOE & Staff work on political advocacy

Reconfigure BOE to capitalize on necessary work and community involvement

Reconfigure administrative meetings to capitalize on better understanding building needs and instructional practices

Use the District and school-based Compact Committees to address issues of wellness, conservation, and sustainability

Clarify inclement weather policies and practices
Budget & Finance and Negotiations:

To on-board the new Asst. Supt. of Business and to ensure that the District's finances and budget reflect the values, beliefs, and priorities of the Board of Education, Superintendent, staff, parents, students and community while continuing to be appropriate stewards of taxpayers dollars.
Create and implement an Entry Plan with the New Asst. Supt of Business

Include Entry Plan goals into broader Superintendent Transition Plan

Create a five year, rolling, financial plan to align goals to practice

Budget & Finance:
Evaluate the Budget process and propose improvements

Evaluate the adequacy of the Finance system for long term use

Develop a rolling five year financial plan

Make a determination on a 2018 Bond Referendum (GA, HS, Dist. Master Plan, Roofs/Boilers)
Negotiations:
Collaborate on and take part in collective bargaining

Contract expirations, June 2016: STA, SPA, ASTAA, MADSA

Contract expirations, June 2017: SAES, STU, CSEA
5. Human Capital & Leadership Development: To recruit, hire, support, and retain the highest quality staff using best practices in Human Resource management and to nurture and develop leadership capacity across all staffing groups.
Create and implement a modified Entry Plan with the New Asst. Supt of HR

Conduct a search to find a permanent replacement

Collaborate on and take part in collective bargaining

Contract expirations, June 2016: STA, SPA, ASTAA, MADSA

Contract expirations, June 2017: SAES, STU, CSEA

Automate and digitize HR functions

Implement Aesop as the District's subfinder process

Ensure Affordable Care Act compliance

Establish written procedures and guidelines for recruiting, hiring, retention and
Leadership Development
Clarify the mentoring process for administrators and teachers and ensure all new hires have appropriate mentors

Develop and implement appropriate evaluations for District admininstrators
6. Instructional & Information Technology: To ensure that technology appropriately supports District and building operational and informational needs, while, at the same time, is seamlessly embedded into curriculum, instruction and assessment practices appropriate for 21st century learners.

Instructional Technology and Innovation:
Develop a new Technology Plan

Create the SMART Schools plan

Ensure alignment of K-12 coding and STEM expectations

Formalize technology professional development program

Develop CFI grant proposals & future plans

Launch website and communications plan
Information Technology:
Propose and implement Infrastructure and wifi upgrades

Integrate administrative & instructional technology team

Expanding technology support using our electronic ticketing system

Implement online help desk system District-wide

Purchase and install IP Phone System

Implement online student & Census registration

Evaluate Finance/Personnel systems and propose recommendations, if any, for changes
7. Special Education & Pupil Services: To ensure that all students are academically and programmatically supported based on their individual needs, that parents are active partners in this work, and that staff are appropriately trained to ensure high level of fidelity with differentiated supports.
Establish a secondary Emotional Support Program (HS, followed by MS)

Develop processes to improve alignment in special class curriculum and an ongoing model for placement of the special classes

Create an administrative staffing structure (primary/secondary CSE Chairs) with appropriate role and responsibility delineation

Formalize communication structure with parents

Collaborate with colleagues to create meaningful Professional Development for special and general education teachers tied to District level goals
8. BOE development, leadership, succession planning, and staff relationships (Pres. & VP): To best serve as trustees of the District by supporting the full school community through policy development, macro-level governance, individual and Board development, and appropriate succession planning.
Develop protocols and meeting structures to determine the appropriate data and analysis needed to make decisions, time to process and ask questions and deal with issues

Build trust and relationships with the superintendent, administrative team, teachers and other staff, along with parents and community members by through active engagement, soliciting feedback and responding appropriately and in a timely manner

Establish a process and criteria for BOE development and succession planning

Utilize Work Sessions and other meeting structures to ensure that the BOE is striking the right balance between operational and instructional focus.
Back to School Guide 2015
Details

Category: Parenting
Published on

24 August 2015

Written by

Joanne Wallenstein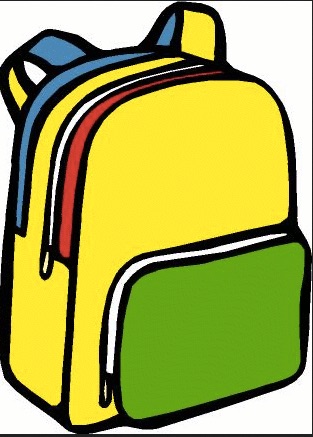 Say it ain't so! Summer is quickly coming to a close – and with school starting before Labor Day this year, the race is on to buy a backpack, school supplies, fall clothes and sign up for classes, enrichment, religious school, afterschool sports and fun. If your child has a fall birthday, you may also be planning a party. Below are just a few of the wonderful places and programs with activities for kids and families within driving distance of Scarsdale. Consider these and use the comments section below to recommend your local favorites.
Preschool:
Alef Bet Preschool provides children with an educational and enriching Jewish experience in a newly renovated beautiful old building and natural playground which was the former site of the old Young Israel of New Rochelle. Alef Bet provides endless opportunities to give children a passion for learning and Judaism that will last a lifetime. The children enjoy Musical Munchkins, nature, gardening, Super Soccer Stars, the Nature of Things, performances at the Performance Arts Center, yoga, cooking and Shabbat celebrations in a warm and loving atmosphere. Also ask about our Chabad Hebrew school" once or twice weekly "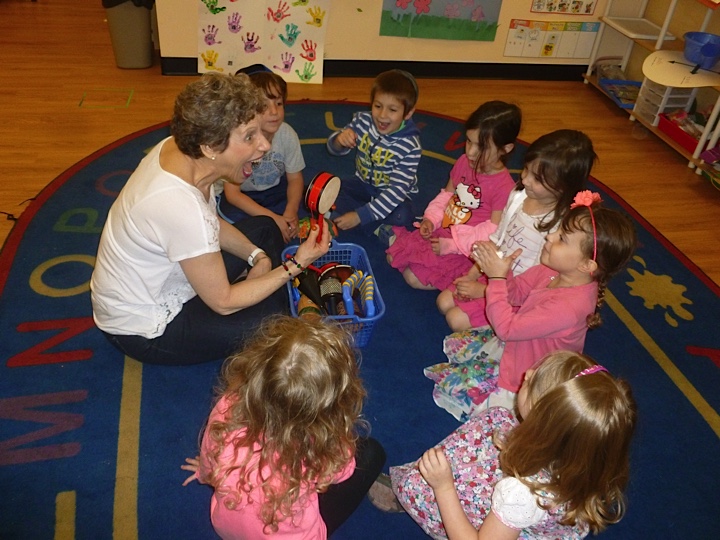 a vibrant Jewish learning experience for children age pre-k through high school. No membership needed. Financial aid, early and late drop-off available. Visit us at alefbetschool.com (914) 712-8332.
Congregation Kol Ami: The Early Childhood Program at Kol Ami is dedicated to providing a comprehensive and developmentally appropriate curriculum teaching and modeling Jewish values. We believe that children learn best through experiential play and provide for these rich experiences within warm, accepting, and nurturing surroundings. All of our Head Teachers have Masters Degrees in Early Childhood or related educational fields. We offer a wide range of programs for children (from 2 months to 5 years old) and their families. Our A Step Ahead! program for Fall 5 year olds provides full day pre-K learning until 4 pm. For more information, contact: Nan Blank, Early Childhood Program Director at nanblank@nykolami.org or call her 914-949-4717 x107.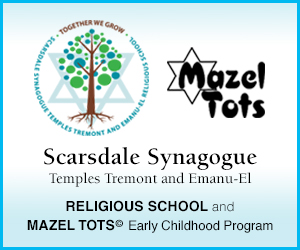 Mazel Tots® provides a warm and stimulating environment, which encourages children's curiosity and helps them to grow socially, emotionally, physically and intellectually. Our warm and nurturing staff will guide the children through a curriculum filled with a variety of child-centered and developmentally appropriate activities that are safe, fun and friendly. The children's spiritual growth will be enriched by the study of Jewish holidays, traditions and family values. We also offer a group of special activities such as sports and games, music, creative movement, sign language, nature, yoga, karate, science, art and more! We have two beautiful new playgrounds and gardens, plus a newly equipped indoor play space featuring ride-on toys, gym equipment, giant blocks, stepping stones and the like! Our Early Childhood Program serves children from 18 months until Kindergarten-bound! We also have afternoon Enrichment Programs and a Parenting Program! For more information please contact Jody Glassman, Early Childhood Program Director at 914-723-3001 or mazeltots@sstte.org. You can also visit our website at www.sstte.org.
Over the Moon Music and More: Did you know that all children are musical?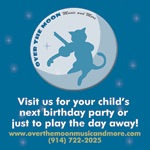 Over the Moon Music and More offers Music Together®, the research-based, international music and movement program for children newborn to 5 years with an adult caregiver, in Chappaqua, Mount Kisco, Scarsdale, Tarrytown, and Tuckahoe. We also offer Uke U., a fun mommy-and-me ukulele program, for 3- to 6-year-olds. Coming this fall in our newly expanded Scarsdale space: birthday parties, mommy-and-me art classes, parenting groups, mini-camps, a children's play space, and a gift shop! For class and demo class schedules, please visit www.overthemoonmusicandmore.com or call 914-722-2025.
Fun, Sport and Parties:
Backyard Sports Prep Basketball is now accepting registrations for all 3rd-9th graders to participate in our Fall Basketball League. The program takes place at Purchase College on Sundays. For more information go to: www.byardsports.com or call Danny Bernstein at 914-304-4052.
Chelsea Piers Connecticut: Our 465,000 sq.-ft. cutting-edge sports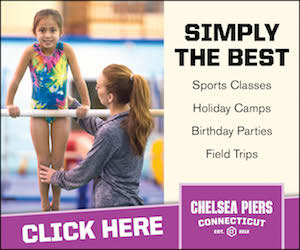 complex provides world-class facilities, expert instruction and the most exciting sports curriculum available – all under one roof. Sports facilities include: two ice rinks, an Olympic-sized pool, a Splash Zone water park, 12 squash courts, 7 tennis courts, baseball/softball and gymnastics training centers, a Field House with a 100-yard indoor turf field for soccer, lacrosse and field hockey, Aacer Maplewood basketball and volleyball courts, a preschool and child care center, a pro shop, a cafe and a restaurant.
Fall programs include a wide range of sports classes for children ages 4 months to 18 years, Chelsea Piers Athletic Club competitive teams and Adult Leagues in basketball, ice hockey, soccer and volleyball. Memberships are available for families, single adults and youth, and members now have access to a 65,000 sq.-ft. state-of-the-art fitness center and clubhouse. Chelsea Piers Connecticut also offers a wide range of birthday party options, including Splash Zone and Adventure Center (Trampoline & Rock Climbing) parties. Chelsea Piers is also a popular spot for sports-themed Bar and Bat Mitzvahs. Contact Chelsea Piers by phone at 203.989.1000, email at: info@chelseapiersct.com or visit www.chelseapiersct.com.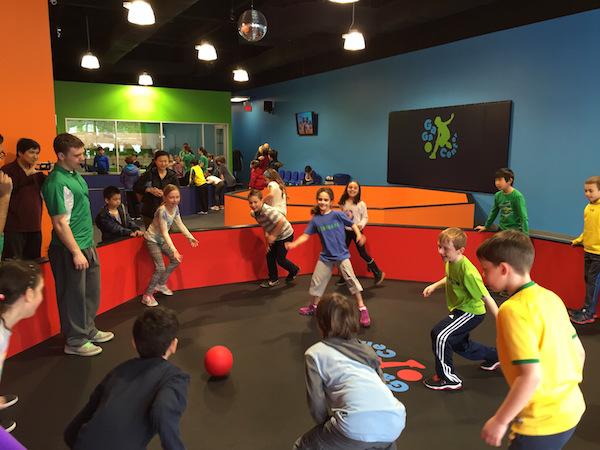 The Gaga Center is located at 365 Central Park Avenue in Scarsdale, New York. With high ceilings, lots of sunshine, three permanent pits and a kicking sound system, the energy is boundless. We offer weekly after school classes, programs for days off from school, Open Gaga on weekends, and birthday parties! We even have a fabulous private party room for all your happy celebrations. And the best part is, we'll take care of it all — from food to paper goods to party favors and everything in between. The Gaga Center, 365 Central Park Avenue Scarsdale, NY 10583, (914) 368 – 9889, www.gagacenter.com.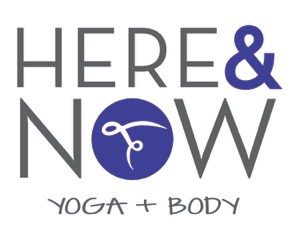 Here&Now Yoga+Body is Westchester's premier studio specializing in yoga, core fusion, and barre fitness classes. All classes are strengthening, mindful, creative and fun! Whether you are a beginner or an advanced practitioner, there is something for everyone. Here&Now also offers prenatal, parent/baby, family yoga, and a wide selection of kids yoga classes for ages 3 and up. Open seven days and offering more than 30 classes per week, we are conveniently located in the heart of Scarsdale on Garth Road. Please visit hereandnowyogabody.com for our schedule, teachers and other information.
Kinderkickers teaches soccer to children ages 3 to 6.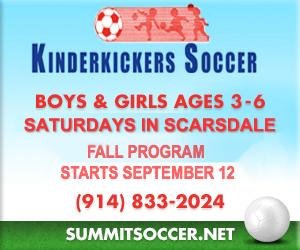 It is instructional with an emphasis on individual soccer skills. The program is taught is such a way for children to develop a love for the game and have fun. The Fall program is on Saturdays beginning September 12th at St. Pius. Call today to enroll (914) 833-2024 or click here summitsoccer.net for more information.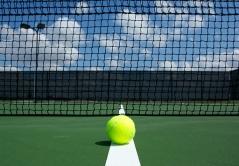 Proform Tennis Academy offers tennis lessons to all ages, all levels and all types of players. Whether it's through a clinic or private lessons, we have something to suit your needs! Our junior program starts at the Developmental Stage with the USTA QuickStart. This program uses lighter balls, smaller racquets and smaller courts. All tailored to the age/size of the child. Once a player has progressed though the various levels of the QuickStart program they will move into the Competitive Stage where players learn to develop their skills by focusing on technique, strategy and movement. For more information please visit our website www.proformtennisacademy.com or contact our office 914.935.6688. Proform Tennis: 975 Anderson Hill Road Rye Brook NY 10573

Westchester Skating Academy is a year-round, twin-rink ice skating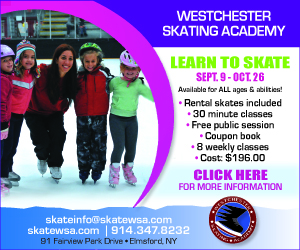 facility offering recreational, hockey, and figure skating for all ages and abilities. WSA programs include public skating, learn-to-skate classes, group events, birthday parties, summer/holiday camps and clinics, adult and youth hockey leagues and instruction, and much more. Visit us online for more information at www.skatewsa.com. Or contact us via email at: skateinfo@skatewsa.com, or (914) 347-8232 for more information.
Enrichment:
The JCC Academic Center offers a series of classes, lectures and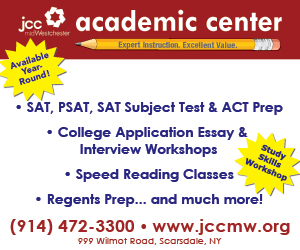 workshops designed to help students on their journey to college. The Center's fall schedule includes a myriad of programs including practice ACTs and SATs, special college admissions programs, College Interview Essentials, College Application Essay Writing. It also offers teens and tweens Organizational &Study Skills workshops, speed Reading, Babysitter certification and more. http://jccmw.org/teens/academic-center-college-prep/ 472-3300, x275, email: itzkowitzl@jccmw.org Pre-registration is required for all Academic Center lectures and workshops. Mention Scarsdale10583.com receive 10% off any Fall 2015 JCC Academic Center class or workshop.
Nina Cannon -College Essay Tutor: Need help with the college application process? Let Nina Cannon assist with drafting, editing and perfecting your child's Common Application essay and supplemental essays and provide guidance on all aspect of the college application process. She is a college essay tutor, freelance copyeditor/proofreader, former corporate attorney, and mother of three children at MIT, Princeton, and Bucknell. Nina Cannon, 914-329-7012 / nincan@verizon.net, www.cannoncollegeessays.com.
Education at the JCC of Mid-Westchester: Feeding the Minds and Bodies. Pre-school learners all benefit from the full service nursery schools, fitness and sports facilities and professional teaching staff throughout the JCC .... A year round indoor pool, fitness programs, arts programs and Special needs programs. All under one roof! Early drop off late pick up available. The JCC's Summer Art Center (SAC), a one of a kind program that provides a non-competitive, nurturing and flexible environment for all children with a passion for the Arts, continues throughout the year! Classes are all taught by professional artists and teachers and offers high quality instruction in Fine Arts, Dance, Theatre and Music. The Dance School provides extensive programs for pre-schoolers, teens, and adults. The Academic Center offers everything you need to prepare your kids for college entrance. One of the best things about having more than 250 programs for the whole family is that we can offer discounts to our members and patrons. For example, Nursery school families get significant discounts on the fitness packages, camps, and even pre-registration priority for programs that sell out like gymnastics. Contact the JCC for more information or to schedule a tour: 914-472-3300, www.jccmw.org.
Mathnasium makes math make sense! Their goal is to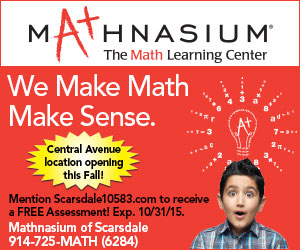 significantly increase your child's math skills, understanding of math concepts, and overall school performance, while building confidence and forging a positive attitude toward the subject. Using sophisticated techniques to determine what a student does and does not know, they tailor-make a personalized and prescriptive learning program. Each student follows their program with the help of specially trained Mathnasium math tutors, who provide instruction and lots of warm encouragement. At Mathnasium, the mission is simple - to teach children math the way that makes sense to them. Mathnasium offers instruction for K-12th grade, 1-on-1 instruction, unlimited monthly attendance, homework help, Regents/ACT/SAT prep, and optional communication with you child's school teacher. "I want to thank you for all you have done for Emily with her math and, most importantly, her self confidence. Her experience at Mathnasium Scarsdale has been like-changing. Many thanks for all you do!"
Mathnasium is open for assessments and instruction Monday - Thursday form 3:00-7:00pm and Saturdays for 10:00-1:00pm. Special High School only hours are on Tuesday and Thursday for 7:00-8:30pm.
Mathnasium of Scarsdale - 747 White Plains Road/914-725-MATH (6284)
Mathnasium of Larchmont/Mamaroneck - 1009 W. Boston Post Road, 914-725-MATH (6284)
Opening this fall: Scarsdale Park Mall - 450 Central Park Avenue, (By Central Park Dance and Gymboree Play & Music)
Religious School:
Scarsdale Synagogue Temples Tremont and Emanu-El Religious School welcomes you to join our exciting, innovative, and joyous community. Our program is designed for Pre-K to 12 and each grade has its unique educational focus (i.e. Holidays, Bible, Jewish Ethics and Social Action) and will enjoy exploring that theme through movement, visual art, music and more. Through these themes, we strive to instill a love of Jewish learning and sense of Jewish self among our students and families. Using 21st century technology to teach the relevance of the texts and traditions of Judaism, we make Religious School engaging, meaningful, and fun. Our school strongly reflects Scarsdale Synagogue's warm and welcoming approach to creating a Covenant Community of Shared Lives and Real Relationships. In addition, we offer an inclusive program, serving students in grades 4th-6th who benefit from small class sizes and specialized resources, and accommodating a range of learning and social challenges such as language-based learning disabilities and ADHD. We invite members of the wider Westchester Jewish community, of all ages, to stop by and learn more about our commitment to lifelong Jewish learning. For more information, please contact Rabbi Ilyse Glickman, Director of Congregational Learning, at 914.725.5175 or rabbiglickman@sstte.org. You can also visit their website here. w
Looking ahead: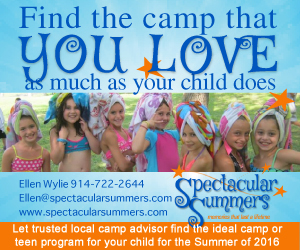 Spectacular Summers: Are you starting to think about sleepaway camp for your child for Summer 2016? Ellen Wylie of Spectacular Summers would be happy to help you. Based in the Scarsdale/Edgemont area, Ellen knows the camps and teen programs well and will share her personal knowledge and expertise with you. Ellen extensively visits camps and teen programs every summer. During the rest of the year, she speaks and meets with directors and obtains feedback from families she has placed. As a result, Ellen has the up-to-date knowledge and information to make the right recommendations for each child. Ellen gets to know the individual child and provides each family with a few (and not too many) well-thought out suggestions. The service she provides is free of charge to parents. Ellen is highly respected by camp directors and parents alike. To find that spectacular summer program for 2016, call Ellen Wylie at (914) 722-2644 or email ellen@spectacularsummers.com. Visit her website here.
A Conversation with Scarsdale Board of Education President Lee Maude
Details

Category: People
Published on

02 September 2015

Written by

Joanne Wallenstein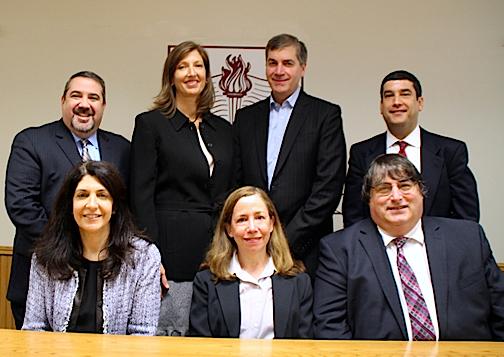 The 2015-16 school year has officially begun and the Scarsdale School Board has an ambitious agenda and some new procedures. We spoke to School Board President Lee Maude about what's in store and here is what she shared:
Now that you have assumed leadership of the Board, how will your role change? What new responsibilities do you have?
As President, my role is to be a facilitator and make sure the Board of Education works cohesively as a team. We will strive to listen to each other, staff and the community, and to respect each other views and come to consensus through mutual understanding and respectful dialogue.
What are the board's priorities for the 2015-2016 school year?
We have much work to accomplish this year. This year Dr. Hagerman and his cabinet with the board will be working on: the Scarsdale Transition Plan, the construction projects approved in 2014, consideration of further construction for 2019, the 2016-17 budget and of negotiations of the Teachers contract as well as other contracts.
Why have you moved some meetings to the daytime – how do you think that will affect attendance?
As community members, you will notice a number changes in the structure of our Board meetings. We have made these changes to have deeper conversations and listen to the community. These changes provide us with time to work with the administration on important changes to our educational programs. Let's review these changes.
One Wednesday morning each month we will meet to review any pending Board business. To the extent you have been or are unable to attend evening Board meetings, these morning meetings will give you the opportunity to attend and participate through the public comment opportunities. After pending Board business, the Board will work on various aspects of Dr. Hagerman's Transition Plan. The plan is divided into eight important areas of focus which we are calling Portfolios. We are excited about these areas of focus for the District and community for the next three years.
Curriculum Assessment and 21st Century Learning
Construction and Facilities
Communications, Community Involvement and Political Outreach
Budget and Finance and Negotiations
Human Capital and Leadership Development
Instructional and Informational Technology
Special Education and Pupil Services
BOE Development, leadership, succession planning and staff relationships
During each Wednesday meeting, we will review our progress on the Transition Plan. Following this review we will have an in-depth presentation and discussion about one or two of the eight Portfolios. The discussion will be led by a member of Dr. Hagerman's cabinet along with one or two Board members who have been assigned to these portfolios. The purpose of these meetings is to present information to the Board and the public and for the Board to assess and monitor the changes taking place at our schools. As members of the community we invite you to watch these meetings at the High School in Room 170-172 , on cable TV, or on our website.
Another change you will see in our Board meetings is that the three Assistant Superintendents will join us for discussion at the Board table. This will allow us to have meaningful, authentic, and collaborative conversation and reach consensus among the Board and the Cabinet.
One of our goals this year is to provide a more meaningful dialogue about teaching and learning outside of the budget process. Therefore, new education initiatives will be highlighted before the budget is presented. We believe this will give the Board and community more time to reflect on any proposed changes in our educational program.
There is ongoing controversy about the fate of the Greenacres School.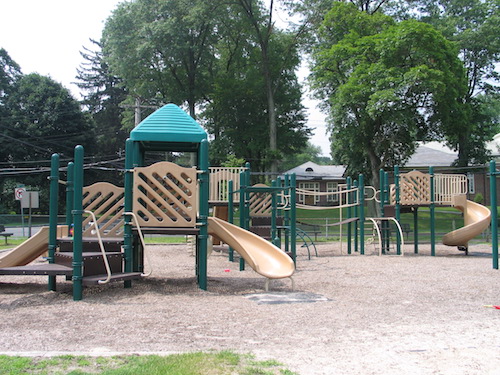 How will the members of the building committee be selected? What are your thoughts about the process.
We are adding three more residents and three more GA staff members to the GA building committee. The GA PTA will pick two and the GA Homeowners Association will pick one.
Are there any contracts up for negotiation this year? If so, which ones?
Yes see below:
STA -- Teachers & Nurses
SPA - Principals
ASTAA -- Aides
MADSA -- Middle Managers
Which board member will represent Scarsdale in Albany this year – what are some matters of concern to Scarsdale?
Suzanne Seiden and Art Rublin will be working on political advocacy, communications and outreach. We anticipate that the board will continue a dialogue with the State concerning issues such as unfunded state mandates, student testing and the Teacher APPR evaluation.
Anything else you would like to add?
This is an exciting year for the District. We invite everyone to watch our meetings and follow our progress on the Scarsdale School District Transition Plan.
We are relatively young board with most of us in our first three years of service. Our focus this year will be to listen to our constituencies, which include the Scarsdale School District students, faculty and administration and members of the community. Our goal for the coming year is to collaborate with Dr. Hagerman's team on the Transition Plan. We will endeavor to remain focused on those issues outlined in his plan.
Armed Robbery at Gas Station
Details

Category: The Goods
Published on

01 September 2015

Written by

Joanne Wallenstein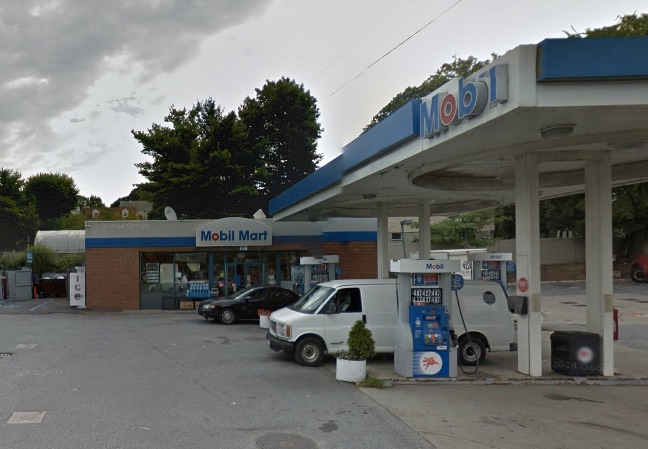 A Mobil station at 280 Saw Mill River Road in Greenburgh was the target of an armed robbery at 2:40 am on Sunday August 30th. According to the clerk, three men wearing ski masks and gloves entered the gas station, announced a robbery and forced the man to empty the cash from the register and turn over his own cash and cell phone. The clerk was "pistol whipped about the head and face" by one of the suspects. After taking the cash and phone, the three fled on foot.
The clerk had minor injuries which were treated by the Greenburgh Police EMS.
Police searched the area with the assistance of the Westchester County Police K9 unit.
Police describe the suspects as follows:
"Male black, 19-22 years of age, wearing a black mask to cover their faces, long sleeve shirts, dark colored pants, and gloves. All three were armed with what appeared to be semi automatic handguns."
On Sunday, August 30, 2015, at approximately 2:40 A.M., Greenburgh Police responded to the Mobil Gas Station located at 280 Saw Mill River Road, in the Town of Greenburgh on a report of an armed robbery. Responding officers located the store clerk who disclosed that three males entered the store wearing ski masks and gloves. The suspects announced the robbery and forced the clerk to empty the cash from the register and to surrender his own personal property, which consisted of cash and a cell phone. The clerk was pistol whipped about the head and face by one of the suspects. All three fled the scene on foot in the direction of Beaver Hill Road.
The police are seeking the public's assistance regarding the incident. Anyone who may have witnessed the incident, or has any knowledge pertaining to the robbery is asked to call the Greenburgh Police Detective Division at (914) 989-1725 or (914) 989-1710. All calls will be kept confidential.
Please Don't Pick Produce from the Garden at SHS
Details

Category: Bulletin Board
Published on

31 August 2015

Written by

Joanne Wallenstein
Scarsdale10583 received this note from SHS teacher Maggie Favretti who manages the sustainable garden at Scarsdale High School:
Please help the SHS Sustainable Garden Project achieve its mission. Please do NOT help yourself to the food!!
Here are the reasons why:
1. You might be destroying a long-term student experiment (for example, the kids have cultivated the apple trees for FOUR YEARS while waiting for them to produce apples, and they deserve to taste them, don't you think?!) Last year, their first small crop was entirely stolen.
2. You might be destroying a teacher's lesson. Much of the produce in the garden plays a role in outdoor classroom lessons, and if it disappears....
3. You are definitely taking food away from a hungry child. We give our food to local soup kitchens and food pantries, about 1500-2000 pounds per year.
If you would like to support our Sustainable Garden Project, by volunteering or donating funds, please contact Maggie Favretti, 721-2567.
Thank you for your help!
Maggie
HBO Series Hits Close to Home
Details

Category: Neighborhood News
Published on

27 August 2015

Written by

Joanne Wallenstein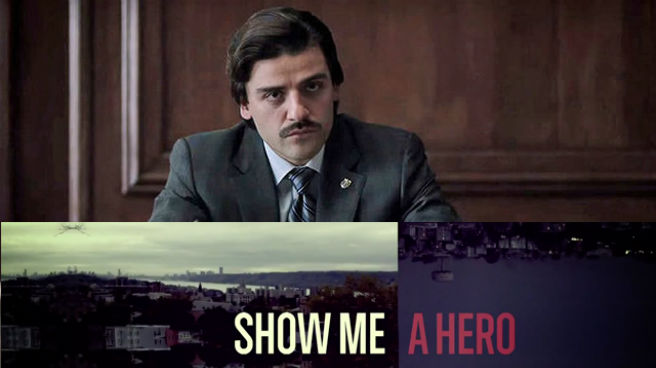 Thirty years have passed since Yonkers was ordered to build affordable housing in white, middle class neighborhoods, but the argument over integrated housing still rages on today. Westchester County is struggling to comply with the Fair and Affordable Housing Settlement, which orders the county to build 750 AFFH units in the county's least integrated communities by 2016.
Proponents and opponents are making the same arguments now as they did decades ago. That's what I realized watching the new HBO series, Show Me a Hero, which chronicles the Yonkers altercation in the late 1980's, when the city was ordered to insert public housing east of the Saw Mill River Parkway. At the time, white families, including many Italian-Americans, lived on that side of town, while public housing across the parkway included 81 percent minority residents. The new series is based on a 1999 book by former New York Times reporter and Westchester resident Lisa Belkin.
The conflict then bears many similarities to Westchester today, as the county scours the map for locations to build affordable units in densely populated, affluent communities. To make matters worse, zoning laws here often preclude the construction of multi-family dwellings, and developers would rather reap profits from a ten-bedroom mansion than a multi-family unit.
The protagonist of the HBO series is 28 year-old Mayor Nick Wasicsko. In 1987, Wasicsko unseated a long-sitting incumbent to become the nation's youngest mayor of a major city. Though he campaigned on overturning the housing order, Wasiscko soon saw that Yonkers had no choice. Facing citywide bankruptcy, Wasicsko beat back the opposition, and saw affordable housing built across Yonkers' east side.
Here in Westchester, Rob Astorino became County Executive in 2009, ending Andy Spano's 12-year reign. Astorino vowed to fight the $51 million settlement, which requires the county to build 750 units of affordable housing in 31 eligible communities by 2016. In these neigborhoods, African-Americans account for less than 3 percent, and Latino residents less than 7 percent, of the population. The settlement was reached after the county was charged with the misuse of millions of dollars of community development block grants, which were earmarked for the construction of affordable housing.
Unlike Yonkers Mayor Wasiscsko, Astorino has continued to spar with federal authorities over the terms of the settlement. As of July 2015, the county argues that it has met its benchmark to have funding in place for 450 units, but the U.S. Attorney says that Westchester has not met the mark, as 28 units planned for Chappaqua Station have not received local approval. The federal government has called for Astorino to order local agencies to grant variances, but his office argues that he lacks the authority to do so. The county has already forfeited millions in Community Development Block Grants that were denied and now faces fines of $60,000 per month in penalties for every month that housing benchmarks are not attained.
In the HBO series, residents object to "social engineering," and argue that the construction of public housing will cause overcrowding and stress in the public schools, a decline in real estate values and white flight. Opponents claim that economically diverse residents won't mix and will tear at the fabric of the community.
On the other hand, as Chuck Lesnick, former city council president, told Gina Bellafante of the New York Times, "for those who value diversity, Yonkers is a better place to live than many surrounding districts." And as a recent piece by Malcolm Gladwell argues, when disadvantaged children get a "fresh start" in a new place, their chances of upward mobility are many times greater.
It is a thorny issue, still hotly contested all these years later. The right balance is difficult to strike – but the longer we wait to compromise, the more funds are lost; monies that could be used to build new homes that would provide local residents with better lives.