How Big is Too Big
Published: Wednesday, 08 September 2010 17:31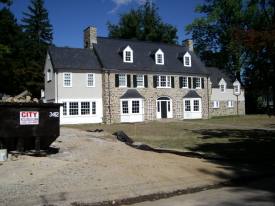 Despite the floor area ratios (F.A.R.) rules that govern the maximum size of homes in Scarsdale, many new, big and bigger houses keep going up. Whether it's just the lack of trees, or the owners or builders receiving variances, here are a few houses that appear to be too large for their locations.
On Brewster Road, a ranch, set on one acre was torn down after many heated village meetings. Three houses are set to be built on the site – one is up, the second is underway, and the house across the street has a for sale sign in front. Can you blame them?
In Fox Meadow on Brite Avenue another reconstruction is in process. The builder appears to have big plans and the house looks to be far larger than the one it replaced.
A diminutive house once stood on this plot at 10 Montrose Road, directly across the street from the Greenacres field. Though we don't have a picture of the original home, you can't miss the new one which is set on a high lot and looms over the field and neighboring homes.
The house shown above on Carstensen Road has been under construction for as long as we can remember and has grown quite close to the property lines on the right, left and in the rear. It appears to exceed the maximum far ratio which requires that a house be no more than .43 percent of the size of the lot.
Are any bonus size homes going up in your area? Take a photo and share it with the readers at Scardale10583 by emailing pictures to scarsdalecomments@gmail.com