Committee to Consider Fate of Duck Pond Home
Published: Wednesday, 15 December 2010 12:18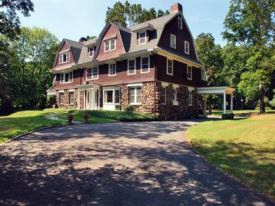 One of Scarsdale's original homes may be demolished. Architect Paul Benowitz, of Benowitz Shah Architects in Rye has filed a petition to raze the house at One Duck Pond Road on behalf of unnamed clients. The Committee for Historic Preservation was to consider the application on December 21, but the meeting has now been moved to January 18, 2011, due to the lack of a quorum on the original date.
Though the Village is now considering a new historical preservation law , under current code the Committee will consider the following criteria to determine whether or not the home can be demolished:
In considering whether the building in question appears to be of substantial historic importance, the Committee shall consider if it:
Is a building that is at least 100 years of age;

Is a building of historic significance;

Is a building which was the location of an event of historic significance;

Is a building related to an historically important individual;

Is the work of an architect or engineer of significance;

Is a significant example of an important building style or period; or

Has been listed on the National or State Register of Historic Places.
Since the home was built in 1902, it is over 100 years old, but the committee will need to review the home in light of the additional criteria.
Almost two years ago, the house was originally listed for $8,000,000. Though it is not currently listed, the asking price had dropped to $5.300,000 before it was taken off the market. The real estate listing read as follows:
Set on nearly four acres of level land in the heart of the Heathcote Association Estate area, overlooking a private duck pond, this 1902 stone and shingle American Revival Colonial evokes a sense of timeless beauty, solidity and permanence. The residence boasts fifteen rooms on three levels: seven bedrooms, five full baths, two half baths and four fireplaces. There is an attached two-car garage plus a freestanding cottage with a three-room apartment, three-car garage, and workshop. The home is 8,000 square feet and sits on 3.73 acres. Asking price: $8,000,000
The assessed value of the home was discussed in a recent report on tax revaluation written by the Scarsdale Forum. In their report they note that the homes assessed value in 2010 was only $42,900 with property taxes of only $52,014. Of course, in the event of a revaluation, or a demolition, the property is sure to be reassessed.
The history of the house is interesting, if not significant. The stone and shingle home is located next to a pond at the intersection of Sherbrooke and Duck Pond Roads. Apparently the pond is man made and pre-dates the home, which was built in 1902. Notes from the Scarsdale Historical Society provide some information about the pond. During the summer of 1876, a Scarsdale farmer named Barney Hannefield, living in the old Dutch Underhill farmhouse on the Post Road reported the following:
"Now I'd like to tell you about farmers. There are still plenty of us who work our own land. Our hours are long; vacations are almost unheard of, and certainly not now in the summer. Although we enjoy a general comfort, none of us could be called rich. Hay is our most important crop. We feed it to our horses, oxen and mules. We nourish our dairy and beef cattle with hay, and our givers of wool, our sheep, are also fed hay. I have to tell you that we've had a terrible problem with our sheep in the last five years due to packs of wild dogs that are decimating our flocks. I had a real problem with my cattle drowning in the swamp up back of the house that is fed by deep springs, but we dug a small pond and that problem got solved."
The home was originally known as the Lawrence Churchill house. On October 19, 1915 the New York Times reported that, "Angell and Company have sold the Lawrence Churchill house in the Heathcote Association at Scarsdale to John E Muhlfeld. The property consists of a modern dwelling and two acres of land."
John E. Muhlfeld was an inventor and executive of several major railroad companies. He served as the General Supervisor of motor power of the Baltimore and Ohio Railroads and as the Vice President and General Manager of the Kansas City Southern Railroad. He died in 1941 and his obituary was published in the June 27, 1941 edition of the Scarsdale Inquirer.
The home was later named "Oakmere" and its original address was Six Sherbrooke Road, rather than One Duck Pond Road, which is its address today.
We will keep our eye on the proceedings of the Committee on Historic Preservation and the fate of 1 Duck Pond Road and let you know what transpires.
In other Real Estate news, here are two recent closings: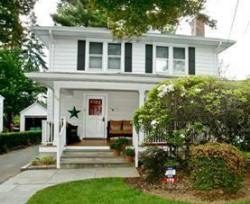 170 Lyons Road: Front porch graces this colonial in the heart of Edgewood. Step inside to find a terrific layout with traditional moldings and details. A graceful entry with French doors leads to a formal living room with wood burning fireplace. Large eat-in-kitchen adjacent to a fabulous family room. A formal dining room and powder room complete the first floor.
List Price: $839,000
Sale Price: $815,000
Real Estate Taxes: $14,486
171 Nelson Road: Adorable and affordable colonial in Scarsdale. This sun-filled three-bedroom home is bright and cheerful with new windows, hardwood floors throughout and a fireplace. You'll find a big eat in kitchen with granite counter tops. The cute yard has a play set and room to roam. Great location -situated on a quiet side street with an easy walk to park, school, bus, Scarsdale Village and train.
List Price: $575,000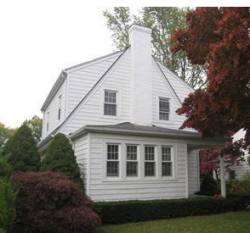 Sale Price: $590,000
Real Estate Taxes: $13,059