Hit by the Wrecking Ball
Published: Wednesday, 19 January 2011 18:40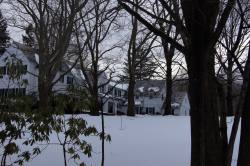 On Tuesday night January 18th, the Committee on Historic Preservation gave the go ahead for the demolition of five homes in Scarsdale. Here they are …check them out before they are history. A large home atop a hill on Normandy Lane built in 1928 will be demolished. According to Village historian Eric Rothschild, the home at 10 Normandy Lane was once the residence of Alfred and Louella Slaner who both played significant roles in the community. Al Slaner served on the Board of Education and helped to join the Quaker Ridge School with the Scarsdale School District, combining districts one and two.
63 Griffen Avenue will be taken down. Concerned neighbors came to the hearing to inquire whether or not a stonewall between their home and 63 Griffen could be maintained.
A home at
A brown shingle house at 24 Myrtledale built in 1964 will be demolished.
A 1956 ranch house at 33 Meadow Road will be taken down and replaced with a colonial style home. The existing foundation will be used.
A ranch style house originally built in 1949 at 19 Continental Road is also coming down.