Building Department Under Fire at Scarsdale Village Hall
Published: Thursday, 23 February 2012 12:28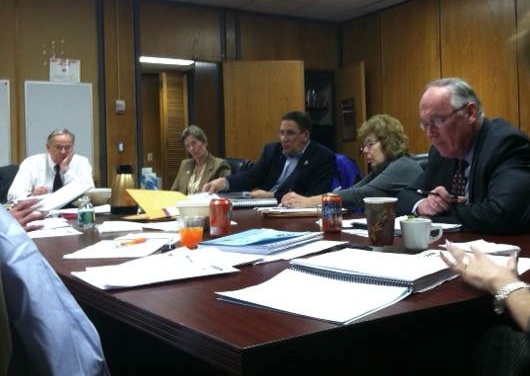 In response to a petition about the Scarsdale Building Department filed by Ruth Frankel and signed by over 200 residents, the Scarsdale Board of Trustees scheduled a meeting of the Municipal Services Committee to hear the public's complaints. The meeting was scheduled for Wednesday, February 22, which rankled some who felt that the meeting should not have been called during a vacation week.
In fact, Frankel herself was out of town and asked her friend Phyllis Jay to read a note she had written to the committee in which she told the committee, "Most people are away … they will be back. I am receiving new signatures every day (to the petition) We are crying loud and clear – look at the Building Department record and open your eyes." Trustee Stacey Brodsky assured the group that the meeting had been scheduled as quickly as possible to address resident's concerns and that the timing was not intended to limit attendance.
Nunzio Pietrosante, who heads up both the Village's Engineering and Building Departments revealed some statistics that demonstrate that the department is besieged by complaints. According to Mr. Pietrosante, last year the department received 750 complaints that resulted in 226 violation notices, 37 stop work orders and 9 court appearances. The staff includes six-seven NYS certified inspectors who investigate the complaints.
The residents who spoke at the meeting aired a myriad of complaints, some which were levied at the Building Department while others concerned the Village's stormwater management code, zoning code and decisions made by the Zoning Board of Appeals, the Planning Board and the Board of Architectural Review. Since these Boards are manned by volunteer residents the Village is charged with enforcing not making these rulings.
Robert Falk spoke and charged that the Building Department has failed to enforce stormwater management requirement and does not adequately test new projects. In addition, Falk said that there are no checks on the suitability of private stormwater management systems and "no safeguards for the public, or downstream residents, once a system is installed." He told Trustees that the department has "no accountability or transparency in regard to storm water management plans and will only discuss storm water issues with licensed professionals."
Lena Crandall made some suggestions on how the Village could be more proactive about dealing with storm water issues for new building projects. She urged the Village to fast track the good projects, increase side yard setbacks to require more permeable surfaces, come up with a meaningful tree replacement formula so that builders replace large trees with equally sized trees and to post a map of wetlands in Village Hall so that residents who build in these areas are aware of the negative impact of their projects.
Harvey Jay of Cayuga Road complained that builders of four homes in his area had raised the grade of their properties by trucking in dirt and fill. According to Jay, he never had a water problem in his home until four years ago when these projects had an impact on his property. He cited the Building Department for failing to police development to safeguard neighboring homes.
Toril Hanna of 138 Saxon Woods Road spoke about a project going up on a 7,500 square foot lot at 140 Saxon Woods Road. She says she brought up prospective water issues before the project was approved and was ignored and received with disrespect. She claims that she now has ponding in her yard and that the drainage system that was approved for 140 Saxon Woods Road can't be built due to rock underneath the house. Her husband contended that the builder raised the grade of the new house due to the rocky site, sending the water streaming into their yard.
Village Planner Elizabeth Marrinan explained that since 140 Saxon Woods Road is a non-conforming lot, the builder needed a variance to build outside the existing footprint and for setbacks for the larger home. The Board of Appeals granted both.
At this point in the meeting, Pietrosante attempted to answer every one of the Hanna's issues but Mayor Flisser asked him to stick to a discussion of general issues rather than specific projects.
On the flip side, Elyse Tretter, a neighbor of Ruth Frankel's spoke about the increased scrutiny her home construction project has received from the Building Department due to her very vocal neighbor. Referring to Frankel, she said, "Just because we're doing something you don't like, doesn't mean we're doing something wrong." She encouraged the department to weigh her rights against the rights of her enraged neighbor.
In response to the residents, Trustee Richard Toder said, "the boards and departments try and get it right." He added, "We are pleased to have your comments and we will think about measures and procedure to make it better, but I promise it will not be perfect"
Pietrosante was still smarting from the petition and criticism and suggested that a hearing be held where residents could air their complaints and get a response from the department. Unable to contain his anger, he said that Frankel had libeled him and suggested that "he was taking money from contractors."
The Trustees agreed to think about what they had heard and meet again to consider what measures could be taken to improve the situation.

----------------------------------------------------------------------------------------------------------------------------------------------------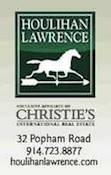 Featured Listing: 12 Withington Road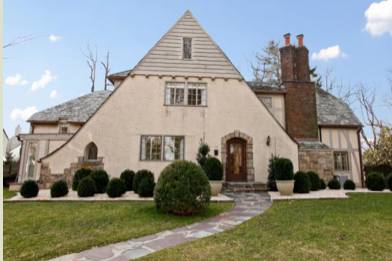 Stunning sun-filled Tudor nestled in the heart of the prestigious Cotswolds offering the perfect blend of sophisticated style and old world charm. This pristine 6 bedroom,3.5 bath home features classic proportions and fine architectural details throughout,with many interior and exterior updates.Enjoy the comforts of home and perfect flow for entertaining. Magnificent landscaping enhances the level private yard and patio List Price: $1,399,000  Learn more here: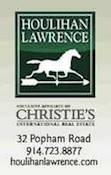 Featured Listing: 5 Carstensen Road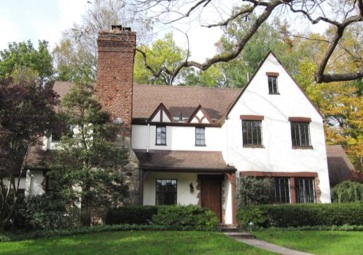 Enchanting sun drenched Collet-built Tudor in Fox Meadow on .51 acres of gorgeous grounds with complete privacy. Five bedrooms. Three full baths and a powder room. Cook's kitchen with a large center island, desk, top appliances and a fabulous family dining area. Stunning leaded windows, fine details, gleaming oak floors. Beautifully maintained. A botanical garden in Scarsdale with specimen trees, abundant flowers and water features. List Price: $1,495,000 Learn more here :