What's Going on at the Ritz?
Published: Thursday, 30 May 2013 13:13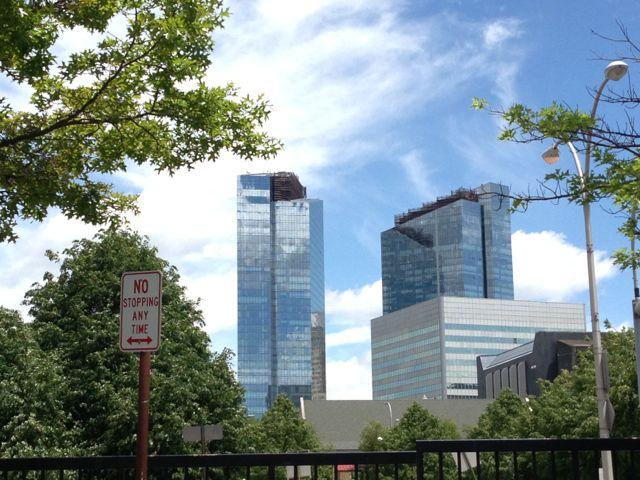 This week we received a few inquiries from readers about local properties and scouted around to find the answers. First a reader asked, "What's going on at the Ritz in White Plains? It looks like they are building on the top of both towers?"
We got in touch with Marge Schneider of the Cappelli Group that manages the Ritz Towers. She told us that scaffolding has been built on top of each tower to facilitate replacement of some of the mirrored panels. During Hurricane Sandy three or four panels flew off the top of the building and fortunately did not injure anyone when the fell to the ground below. Management had to wait until the weather improved to erect the scaffolding and allow workers to repair the metal façade cladding panels that were damaged during the storm. She expects the work to be done in three weeks and said that the building has been built to New York State standards and should be fine in the future.
We also got an email about a new fence that has been put up between the Wilgren Parking lot and the Heathcote School,
blocking foot traffic on the path from the lot to the school. For years, Heathcote parents have parked in the lot during drop-off and pick-up from the elementary school next door and walked over to the school with their children. Over Memorial Day weekend a new fence was constructed that blocks access between the school and the parking lot.
Tony Barreira, the property manager for the Wilgren Building told us, "The fence was put up to encourage pedestrians to use the public sidewalk, which is maintained by the Village and is safe. The safety of our tenants and visitors is a priority. Sorry for any inconvenience."
This Week's Sales:
5 Brayton Road: Charming Greenacres Colonial, completely rebuilt in 2003. The home features 4 fireplaces, 6 bedrooms, and 5.5 baths. New kitchen, windows, wiring and plumbing.
Sale Price: $1,225,000
Real Estate Taxes: $30,272
29 Quentin Road: Heathcote Colonial situated on a quiet street. The home features 4 bedrooms and 3.5 baths.
Sale Price: $996,500
Real Estate Taxes: $27492
168 Delhi Road: A beautiful Edgemont Tudor with interior Colonial flair. Living room with fireplace. Three bedrooms, 2.5 baths and a renovated kitchen, On .1148 acres.
Sale Price: $742,000
Real Estate Taxes: $18,883
16 Bretton Road: Brick and shingle colonial. The home features 4 bedrooms and 3 baths. Located on .14 acres, the home has 2,151 square feet of interior space and also includes a 2-car attached garage.
Sale Price: $735,000
Real Estate Taxes: $22,903
73 Brown Road: Sun-drenched Fox Meadow Tudor with 3 bedrooms and 1 bath. With .16 acres of property and 1,472 square feet the house has a deep flat back yard.
Sale Price: $709,500
Real Estate Taxes: $14,700
Featured Listing: 19 Cushman Road, Scarsdale

Fabulous brick colonial on prestigious Heathcote street built by Cum Laude Group. This nine-year-old home has magnificent details and features throughout. In addition to the four bedrooms and four and a half baths, there is a Crestron system, smart Radio Ra Lutron system. The kitchen has a 48 Wolf stove, convection oven, two Asko dishwashers, Sub-Zero refrigerator and separate drawers. Butler's pantry includes wine refrigerator and ice maker. The master with fireplace and outfitted walk-in-closet and spa bath. 1,800 square feet in lower level with full bath is included. Click here to learn more.
List Price: $2,350,000
Featured Listing: 30 Heathcote Road, Scarsdale
Bright, magnificently maintained and improved Tudor in Heathcote. Its magical curb appeal with circular driveway doesn't disappoint when you walk in the door. There is easy access to the rear patio with built-in grill and pool with spa and tennis court from the kitchen/family room, dining room and living room. The kitchen/family room was designed by Alisberg/Parker in 2005, new slate roof, newly landscaped and more. Click here to learn more.
List Price: $4,250,000