What John Waters Learned at Scarsdale High School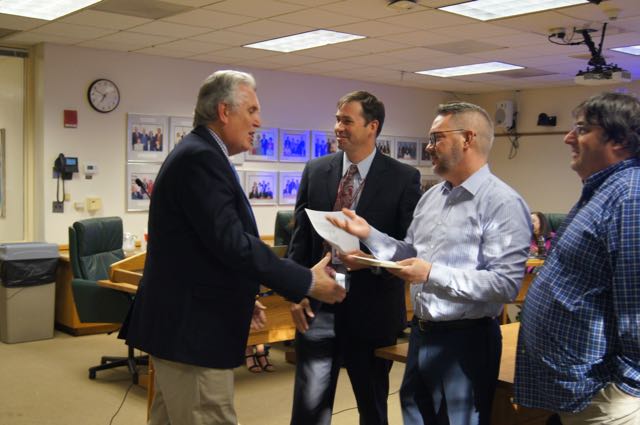 John Waters shakes hands with Dr. HagermanAfter 40 years of teaching, John Waters has decided to put down the smart board pen one last time. A graduate of Manhattan College, Waters began teaching at Brooklyn Tech in 1978, and taught there for 20 years. He left his position at Brooklyn Tech to become Math Department Chair at Bronx Science, and taught there for three years. Mr. Waters, however, always had an interest in teaching in a suburban school, and in 2003, Scarsdale had an opening. He's been teaching at Scarsdale ever since.
Waters believes that day to day teaching is the most rewarding experience a teacher can have at SHS. Scarsdale is full of motivated students who want to both do well and learn, which makes his job more meaningful and enjoyable.
Mr. Waters believes that as the years have gone on, his philosophy and style of teaching have changed. Waters recognizes that each and every student who walks through his classroom has a different style of learning: some students are visual learners while others are auditory learners. As a result, Mr. Waters tries to cater his lessons towards all learners through the use of technology. The only downside to this technology, according to Waters, is that it requires more prep work on his part, however, he finds it's worth it if it yields a more enhanced learning experience.
Mr. Waters has also learned a lot from his students. Waters noted that it's especially important to listen to students in math, as they may have a different approach to a problem that still yields a correct answer. It's important for a teacher to recognize this and learn from it, so in the future, the teacher can show students this new method for solving a problem to add more insight. Waters put it best: "Don't limit yourself to your own knowledge."
Waters is going to miss the students the most. He's described the students of SHS as a "group of motivated young people who want to learn", and has developed a sense of appreciation for their passion.
Upon retirement, Waters will still work part time at a local college, but will also have more time to pursue his unique passions. Waters is an extreme cyclist who bikes roughly 2,000 miles a year, and is also a big sports fan (specifically, Yankees, Giants, Rangers, and Knicks — in that order). Waters also loves to travel.
Perhaps the biggest mystery surrounding Waters is the origin of the iconic Superman poster sitting in his classroom adjacent to the side wall. Waters has finally spilled the beans. A former SHS computer teacher worked with the now-retiring Ms. Bell to make a calendar for the French club. Each year, the calendar had different themes, including classic TV shows. Mr. Waters was asked to be Superman, so his face was photo-shopped onto George Reeve's body by the computer teacher, and was used as the picture for one month of the calendar. These calendars were sold to students, and received an extremely positive reception, but the calendars were unfortunately discontinued when the computer teacher left SHS.
Waters offered the following advice to anyone planning on entering education or becoming a teacher: He believes a successful teaching career is rooted in having a passion for both the subject matter and the students. New teachers also have to be willing to learn and be open to change.