Parents Object to Hiring Process for New Principal for Edgewood Elementary School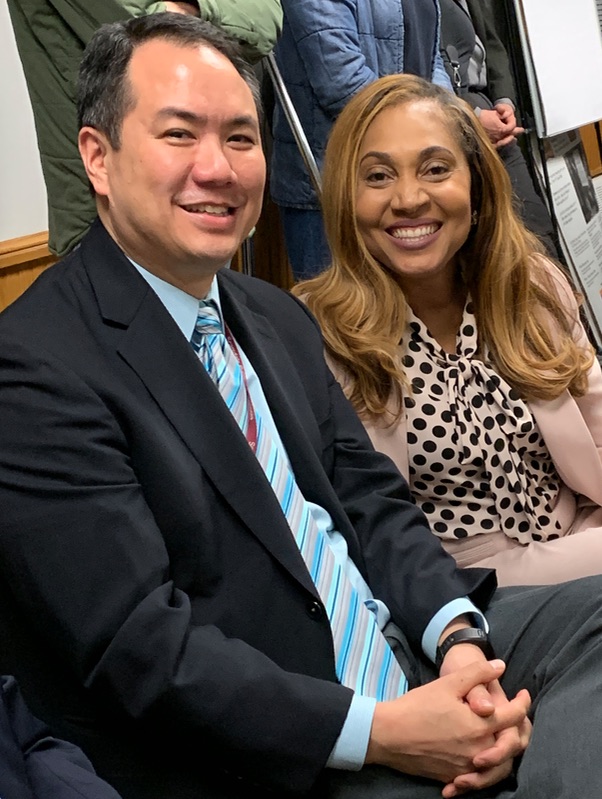 William Yang and Tashia BrownThe Board of Education and Dr. Hagerman found themselves playing defense at the Board of Education meeting on Monday night April 29, after receiving a flurry of emails and a petition objecting to the selection process for the next principal of Edgewood Elementary School.
In late February, when Edgewood's principal Dr. Scott Houseknecht announced that he would retire after 29 years at the school, the district embarked on a search --with a condensed timeline-- to identify his successor. They were already interviewing principals for Fox Meadow Elementary School and Houseknecht's announcement left the administration with a second big job to fill by the end of June.
Explaining their process, Dr. Hagerman said that several meetings were held in the first weeks of March, the PTA Executive Committee was consulted and a survey went out to parents in March. He said that among the values identified in the survey and meetings were diversity, equity, a student- oriented culture, balancing academics with other experiences, leading change without jeopardizing long held values, communication and collaboration.
The job was posted during the first week of March and closed on March 27 when 45 resumes of people considered for the principal position at Fox Meadow were considered along with 27 who applied for the principal position at Edgewood. Ultimately the district held a day for interviews for the four finalists and selected Tashia Brown, who is now the principal at the Ridgeway School in White Plains.
On Tuesday April 23, Edgewood parents received an email advising them that a decision had been made and that Brown had been selected. Parents reacted by sending emails to the Board objecting to the speed of the search and asking them not to rush the decision, claiming "there was little input from parents and the community."
Despite objections from the community, Brown's appointment was on the meeting agenda Monday night. Assistant Superintendent for Personnel Drew Patrick was not present at the meeting, so Superintendent Hagerman shared Brown's credentials for the position saying, "Ms. Brown has been a school building leader since 2006 and currently serves as Principal of nearby Ridgeway Elementary School, where she has been since August, 2009. In her time as principal, Ms. Brown has nurtured a student-centered community of learners and gained the respect and admiration of parents, faculty, and staff. She is a hands-on collaborator, and believes that trust-building and partnership are essential components of a successful school community. Prior to holding this leadership position, Ms. Brown was an elementary school teacher in Middletown, NY. She holds a graduate degree in Curriculum and Teaching from Columbia University, and a second graduate degree in Education Administration from New York University. Ms. Brown earned her undergraduate degree from the University of Vermont."
The Board of Education voted unanimously to approve her appointment, effective July 1, 2019.
However, it appears that many parents favored current Edgewood Assistant Principal William Yang for the job. He has served as Edgewood's Assistant Principal for the past three years and before that was the Assistant Principal for the Roaring Brook School in Chappaqua and held several positions in Scarsdale since 1999 such as the head elementary technology teacher, Teacher-in-Charge for Fox Meadow, and the technology teacher for the Greenacres School. Likewise, Mr.Yang holds a M.A. degree in Curriculum and Teaching from Columbia University in 1993, a M.Ed. from Bank Street College of Education, and Aspiring Leaders Program from New York University.
Unfamiliar with Tashia Brown, they wondered why the opinions they expressed on the survey had not been heard and why Yang was not selected. At the Monday night BOE meeting, many Edgewood parents were in the audience but may have been discouraged from speaking out, when Board President Scott Silberfein said that "public comments were invited" but that "comments on personnel were not welcome."
One young parent did remain until the end of the meeting to speak. Stephen Baer of Sprague Road said, "This is about the process. The search for Edgewood Principal will shape the future of Edgewood's community. We could have been better served by a more thorough process. We believe it was rushed and could have considered the feedback we supplied in the surveys about the individuals we thought would be good for that role. We did not think it was transparent. I spoke with two dozen members of the community over the past few days and the sense was that the search for the principal should have been same way Fox Meadow was – with an interim put in place. Hopefully Ms. Brown will be a fantastic new principal. I am excited to meet her and plan to support her any way I can to ensure Edgewood continues to offer a warm yet challenging learning environment with a positive energy. But I think the process was not great and I know many people in the community share that sentiment."
In a stand of solidarity, Ms. Brown, Dr. Houseknecht and Mr. Yang sat at the meeting together and appeared to be on board with the administration's decision.