WRT's Preschool STEAM Extravaganza
Monday, 23 April 2018 18:43
Last Updated: Monday, 23 April 2018 18:44
Published: Monday, 23 April 2018 18:43
Joanne Wallenstein
Hits: 1966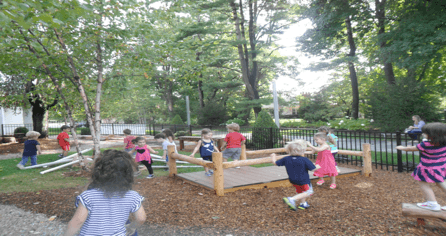 The Gan: A Nature Play Area For families with children
ages one through five.The Westchester Reform Temple Early Childhood Center emphasizes STEAM through hands-on science, technology, engineering, art, and math investigations. "We want our children to have fun while embracing the excitement that is STEAM within our school!" says Sue Tolchin, WRT/ECC Director. "Our teachers provide fabulous STEAM opportunities each day for our children to explore." Investigations such as mirror board physics, crocodile math, and tie-dye chemistry allow young learners to participate in inquiry-based challenges within their classrooms. In addition, the WRT/ECC has a dedicated outdoor space, The Gan, where children utilize an in-ground xylophone to explore sound and physics, ramps and leveling equipment to explore gravity, and a sand zone with bamboo blocks to explore engineering.
After-school, students can choose from a wide array of Afternoon Enrichment STEAM classes, including Construction Zone, where each week they are challenged with a new engineering feat, and Count Me In, where they utilize games and kinesthetic learning to understand the world of mathematics. Culminating the year will be the STEAM Extravaganza, a night of fun to explore new STEAM challenges together. From the Float Your Boat Design Lab to the Magnetic Forest Makerspace, it is sure to be an exciting night for the WRT/ECC's little scientists and their families.
For more information contact ECC Director Sue Tolchin at Sue.tolchin@wrtemple.org or call 914 723-5493.