Halloween Window Painting: The Artists at Work
Wednesday, 24 October 2018 12:47
Last Updated: Wednesday, 24 October 2018 13:10
Published: Wednesday, 24 October 2018 12:47
Emmeline Berridge and Brooke Bensche
Hits: 2475
On Sunday October 21st, the Scarsdale Parks and Recreation Department held their annual Halloween Window Painting contest. Children grades 3-10 spent their Sunday painting original creations on the storefront windows of Scarsdale Village, competing for prizes and enjoying the Halloween spirit with friends and family. To many Scarsdale residents, the artistic windows signify an excitement for the upcoming Halloween season.
Mia and Samara, both fifth graders, had a vision for a "Shady Witch," (pictured at top) because their assigned window was an eyeglass store. Mia's favorite part of the experience is waiting for the window to be done and peeling off the tape. This is the duo's second time competing together.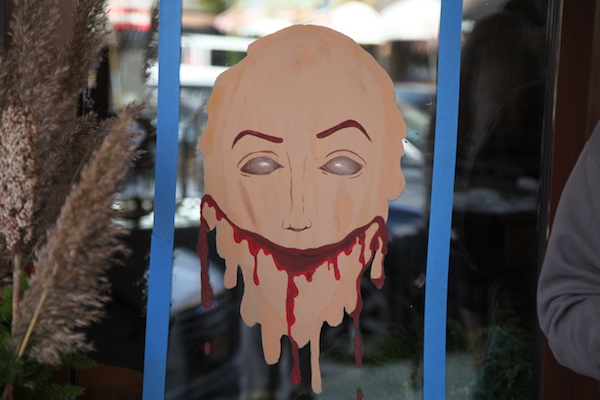 Anastasia Stefanou, a tenth grader, simply "felt like drawing a face," letting her passion for creativity and art flourish from there. Her method was to leave the background clear, adding to the "freakiness factor." Anastasia got an early start to her window, as later in the day she competed in the Varsity Girls Soccer playoff game, which ended up being a win against John Jay East Fishkill. She scored a goal in the game.
Whitney, a third grader, painted her window based on her favorite TV show, Ultimate Beastmaster. For Whitney, the best part about Halloween Window painting is doing the background. This year was Whitney's third time competing, and she looks forward to painting with her dad every year.
Anna Henry, a 7th grader, recreated a famous painting, "Sunny Day in the Afternoon on La Grande Jatte". She learned of this painting in Art for Looking in 5th grade, and used the and inspiration to add her own Halloween flare. Anna has been doing window painting since 1st grade, winning a number of awards throughout her years.
Ursie, a fourth grader, has been doing window painting since she was eligible. Her design this year was 3 pumpkins, mimicking the "hear no evil, see no evil, and speak no evil" monkeys.
Although the harsh winds reminded everyone that winter is near, the persistent spirit of all competitors was a perfect reminder that the fall and Halloween seasons are still present in Scarsdale. While some participants compete for prizes, most are simply excited to be a part of this long-standing Scarsdale tradition. Window painting is a great outlet for students of all ages to come together and celebrate their love for Halloween.
Text by Emmeline Berridge, Photos by Brooke Bensche