District Plans to Move Forward with Construction at Greenacres this Summer: Pending the Selection of a General Contractor
Wednesday, 01 May 2019 14:04
Last Updated: Wednesday, 01 May 2019 14:09
Published: Wednesday, 01 May 2019 14:04
Joanne Wallenstein
Hits: 1497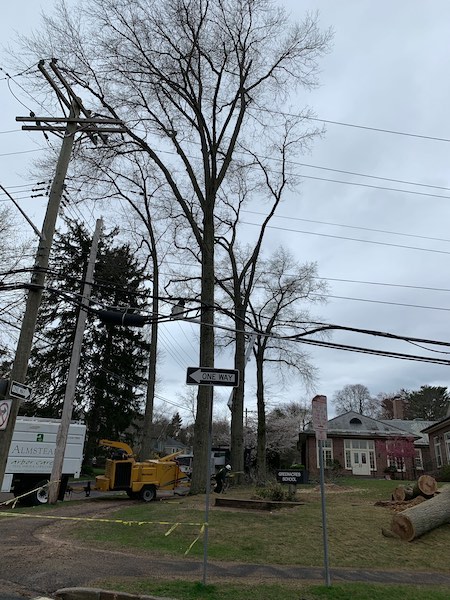 Large trees have been taken down at Greenacres School to clear the way for construction.The Scarsdale School District is moving forward with some of the work approved in the $65 million 2018 bond – but still waiting to award the bid to a general contractor for the estimated $28 million of work at Greenacres School.
On Monday night 4/29 the board approved contracts for the mechanical, engineering and plumbing work at the school, but said they would have to wait to award the contract for the general contracting which is slated to begin this summer.
According to the BOE agenda, "the lowest General Construction bidder withdrew their bid due to a mathematical error, and we have also just recently received a request from the second lowest bidder to withdraw their bid. Due to this we are not prepared at this time to make a recommendation regarding a General Contractor for this project but will be able to do so for the May 12th Board meeting. Bids for the other trades, however, are recommended to be approved at this meeting."
We followed up with a few questions for Assistant Superintendent Stuart Mattey and here is what he shared:
Q. Why didn't the first contractor simply correct their error, and what reason did the second lowest bidder give for withdrawing their bid?

A. The contractor has a right to withdraw their bid and is not permitted to resubmit at a different escalated price. Regarding the second lowest bidder we have received a request to withdraw their bid and the district is still in the process of analyzing its options in regards to this. I have no other details to provide on this.
Q. The contract award bids for plumbing and electric note that "Courtyard Reconstruction" has been added. Please explain: Who required that this work be added on and why?
A. Improvements to the Courtyard were part of the original proposed scope that was approved as part of the Bond. These improvements were bid as an add-alternate in order to protect the budget of the project as its completion or not has no impact on the rest of the scheduled renovations and additions. The courtyard's improvements were proposed in order to make this space a more usable instructional and wellness space for students and teachers and to serve as a model for other elementary courtyards. This work is not fully accepted at this time and will not until the GC bid is approved by the Board of Education which included this add alternate.
Q. What work needs to be done?
A. The improvements would add student gardens, sensory areas, reading areas and small play areas to name a few.
However, the Board did approve the following contracts:
Mechanical contract for Greenacres in the total amount of $3,693,669 to Clean Air Quality Service, Inc.;
Plumbing contract for Greeancres in the total amount of $1,385,500 which includes $2,500 for Add Alternate No. 1 (Courtyard Reconstruction) to S & L Plumbing and Heating Corp.;
Electrical contract for Greenacres in the total of $3,060,500, which includes $2,500 for Add Alternate No. 1 (Courtyard Reconstruction), to Healy Electric Contracting, Inc.;
The Board also approved the following contracts for additional work approved by voters:
Replacement of the high school boilers to Mengler Mechanical Corp for $1,382,000
Replacement of the roof of Heathcote School: The total of the low bid received including all alternates is $2,100,000 inclusive of a $29,000 contractor voluntary bid deduction from Nua Construction Corp.
Another bid for various improvements came in at almost double the estimated amount and was rejected by the board.
"Various smaller scale capital improvements at Heathcote, Quaker Ridge and the Middle School were included in the original scope of the February 2018 voter-approved bond project. This work, as an example, includes handicapped accessibility improvements and replacement of the Middle School gymnasium's partition door. The total project costs allocated for this particular project is $990,000 which includes $98,029 allocated for soft costs and $42,475 for construction contingency. The amount allocated for construction costs is $849,496 (including design contingency and escalation). We received a single bid in the amount of $1,897,000 from Siba Contracting Corp."
Despite the lack of a contract for work at Greenacres, the district is proceeding with the project. During April vacation trees were removed from the property – and two meetings will be held to let residents know what to expect.
On Wednesday night May 1 architects and construction managers will meet with parents at a Greenacres PTA meeting, and on Tuesday night May 7 a meeting with BBS Architects and Park East Construction will be held in the multi-purpose room at Greenacres School at 7 pm. The community is invited to attend.