Boundless Adventures: Challenge Yourself and Trust Others with the First Westchester Ropes Course
Details

Written by

Stacie M. Waldman

Hits: 2622
For my 40th birthday, (or was it my 29th?) I wanted to do a high ropes adventure course with my girlfriends. We ended up in the Berkshires for the weekend because there was nothing decent close by. We had the absolute best time bonding and we sulked about the bummer of having no ropes course near us the whole way home.
Therefore, I was beyond excited to recently learn that Boundless Adventures just opened a brand-new adventure treetops course almost in our backyard: right on the campus of SUNY Purchase. The course is for ages seven through adult and has varying levels of difficulty. Parking is free and so is observing; spectators can watch from easy to access walking paths, bridges and picnic tables onsite. (That's certainly not a Disney World perk!)
Now that my siblings and I all have families of our own, it's hard to find time to be together, just the three of us. So off we went, with our spouses as our sitters, to reconnect at 40 feet up in the trees while balancing on acrobat wire and zip lining on a snowboard.
Forty feet up in the air…okay, so a quick note about safety. Boundless Adventures puts safety first and has all new equipment included for use in the cost of your ticket. All staff members seemed really well versed in safety and helped us into full body harnesses. They explained that we would be attached to a safety line ensuring that we are always connected via a high-tech double belay system. After a thorough safety talk, they had us practice using the carabiners and belay system and took us through zipline specifics.
Ready to climb…we did "Rock, Paper, Scissors" as all mature adults do to determine who would go first. We chose to start out on a green (intermediate) course. The course is broken up into four different levels and there are multiple courses for each. Yellow (beginner) is the easiest at about 10 feet off the ground with slow zip lines and small bridges and beams. Green (intermediate) is up 15 feet high and has longer zip lines, ladders and beginner rolling elements. Blue (advanced) is 22-26 feet up and requires more strength and agility for its challenges. Black (expert) is 30-40 feet high off the ground and boasts the most difficult elements requiring strength, balance, stamina and agility.
We found the green course to be super fun but a bit easy so moved quickly onto one of the blue courses. Now, I don't want to give away any of the secrets or the fun, but this is when our adrenaline started pumping. We helped each other through the more difficult parts and then moved onto (GULP) the black course. The black course had some extremely difficult elements. My sister and I sent my brother ahead and we quickly realized that we all had to help each other out in terms of confidence building, helping each other keep our stamina up and encouraging each other to finish the element. It's possible that my brother said his first curse word ever. Your wristband buys you three hours of time on the courses (after the safety presentation) and we were positively zonked at the end of our three hours.
It is highly recommended to make reservations ahead of time due to lines as well as reserved times by camps, parties and corporate groups. They offer group discounts and there were several birthday parties being held while we were there. The kids looked like they were all having an absolute blast and it was priceless to see them cheering each other on. There are plenty of picnic tables so it made it easy to congregate kids for pizza and cake.
Boundless Adventures is open until 8:00 pm so it's great for date night, bachelor or bachelorette parties, girl and boy scout troops, teambuilding events and more. Kids (ages seven and up) and adults are welcome to enjoy the challenge.
Boundless Adventures is open during the following days and times: (check back for Fall hours) Weekdays: 10am – 8pm
Saturday: 9am – 8pm
Sunday: 10am – 8pm
Follow the signs when you enter the SUNY Purchase campus to Boundless Adventures!

735 Anderson Hill Road
Purchase, New York 10577
914-893-4550
pcinfo@boundlessadventures.net
www.boundless adventures.net
Adventure Travel with Kids: Costa Rica
Details

Written by

Stacie M. Waldman

Hits: 3693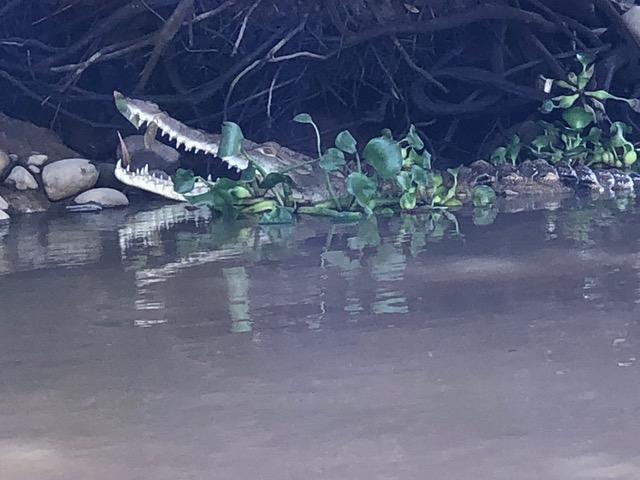 Costa Rica has become a top adventure travel destination for American families. In under five hours from a New York area airport (we chose Newark), you can be in the land of monkeys, ziplines, passion fruit cocktails, and, as they say in Costa Rica, PURA VIDA!
Although we had been to Costa Rica in the past as a couple, planning it with kids (ages 8 and 10), added a whole other element to the trip and we had a hard time finding good information online. It was overwhelming, to say the least. Should we rent a car, hire a driver or fly? Where should we stay and where should we go within Costa Rica? Do we need to speak Spanish? Where can we see lots of diverse wildlife easily? And our kids were hoping we could find a water park. Hmmmm…
Costa Rica has an extremely well-developed tourist industry. This means an abundance of activities for travelers, tour companies offering safer ways of experiencing adventure that aren't always found in less developed countries (e.g. helmets), everything running on time, the water being potable and a plethora of high-end hotels and restaurants from which to choose. "Ex-pats" from all over the world have made Costa Rica their home and their business, hence the higher quality (and prices that match) that you'll find throughout the country for anything tourist-related. Do you need to know how to speak and understand Spanish? Certainly not, but it does help so give it a shot even if you just know a few words. My son answered, "Quiero bailar!" when asked by a local if he likes Costa Rica but they loved that he was trying out his Spanish skills. (It means "I want to dance.")
We stayed for 9 nights and didn't want to spend too much time traveling within the country. We wanted a beach scene and some rainforest time; the kids were adventurous and wanted action packed days; we wanted good food options and nice places to stay; the kids wanted a swimming pool. Safety, however, was the top priority.
We landed in San Jose and were met by a ride arranged through the Adventure Inn's owner, Eric Robinson. The Adventure Inn is a full-service hotel in San Jose that also offers adventure travel to all parts of Costa Rica. They can arrange almost anything expeditiously and for a competitive price. We made our way over to the Southern Pacific coast where the world-famous Manuel Antonio National Park stands. We asked our driver to stop at the Rio Tercoles on the way to the park to see crocodiles below a bridge…and they did not disappoint. There were at least 25 massive and very active American crocodiles gathered below the bridge, measuring between 10 and 18 feet long…a sight to behold!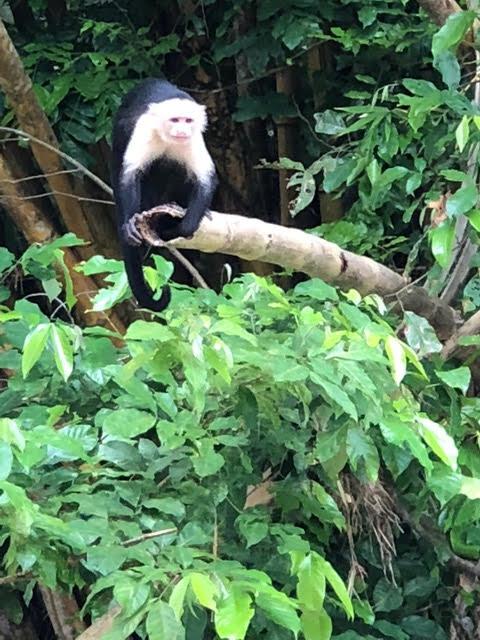 There are many exceptional hotels in Quepos. We hired a park guide (arranged by the hotel) and learned about tropical trees and insects within Manuel Antonio National Park. We also spotted snakes, three-toed sloths, white-faced capuchin and howler monkeys, frogs, giant iguanas, agoutis and lots of colorful birds. The beaches within the park are stunning; it's worth spending some time there. Late morning, we were picked up for a zipline adventure in the Quepos area. There were kids as young as seven in our group. It was a fun adrenaline-rush but if ziplining is a priority, the Arenal Volcano and Monteverde areas are better.
Despite the state of the roads, we decided to rent a car for our three-day trip South to Uvita, also on the coast. We heeded all warnings about American car rental companies and rented through Adobe. We highly recommend using Adobe and also suggest renting a 4-wheel drive vehicle for almost anywhere in Costa Rica off a main highway.
We arrived at Vista Celestial, a gorgeous and upscale boutique resort about 20 minutes up an extremely steep hillside. It was actually rather nerve wracking getting up the steep hillside (and this is coming from a thrill-seeking family) but the view was unbeatable at the top. Vista Celestial has a small handful of immaculate, roomy, and well-appointed villas, each with an outdoor private dip pool and a view of the famous "Whale's Tail" beach (which looks like a whale's tail from afar and can be accessed at low tide). Meals aren't included and are simple but well made and the service and management are both top notch. There is a secluded yoga platform if that's your thing; it can also be used for gymnastics practice by a 10-year-old (while your husband watches nervously thinking she may fall off).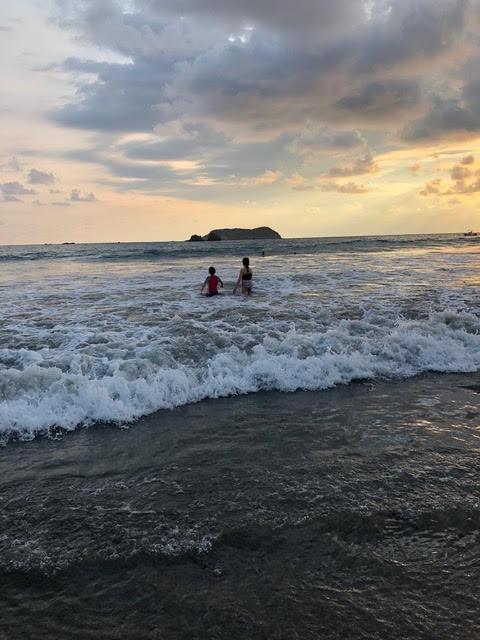 We packed our days with a walk to Nauyaca Falls (pretty and accessible waterfalls), lots of beach time, and a mangrove tour in Sierpe. The mangrove tour was the highlight of our experience with wildlife and showed us a different slice of Costa Rica. The car was helpful to have for all adventures in and around Uvita. We joined a semi-private tour on a small motorboat and explored the mangroves with a well-versed guide we found (again) via Tripadvisor. Hotels can arrange tours as well. We saw huge troupes of several types of playful monkeys; one even tried to grab a banana from my son! We saw big crocs (a little scary from the small boat), sloths, several types of snakes, visually stunning Scarlet Macaws and more.
The next day we returned our rental car in Quepos and got a ride to Rafiki Safari Lodge. Rafiki is a South African-inspired ecolodge situated on a river suitable for whitewater rafting. We stayed in a family-friendly permanent safari tent that is more luxurious than one might think. Each tent has a private, attached bathroom and a platform deck. From there we saw a family of toucans playing more than once.
Rafiki is a really special place and was the highlight of our trip. Adventure is plentiful and we took advantage of it. Whitewater rafting was a first for the kids. There were enough rapids for it to be exciting but it wasn't so wild that we feared for our lives. Rafiki's guides were excellent and we enjoyed it so much that we opted to do a second trip a couple of days later. We went horseback riding one day high into the surrounding mountains; one of the owners served as our guide providing continuous information about the history of the area as well as insight into the flora and fauna. When we weren't adventuring, we were relaxing with other guests in the hot tub, enjoying the view with a cocktail from the communal lodge, or watching the kids go down what might be one of the world's fastest water slides (and that is no exaggeration)!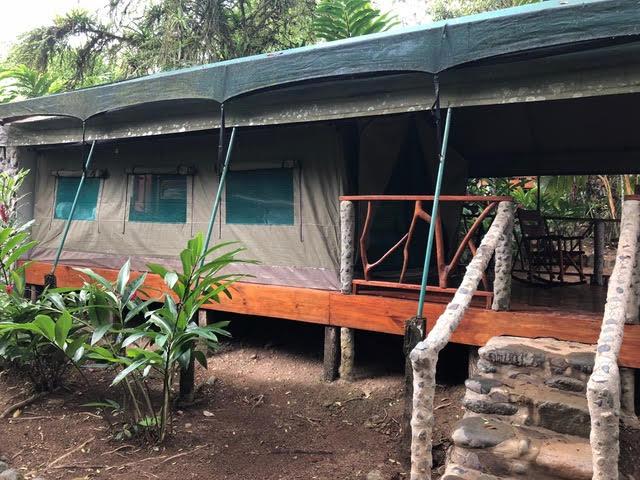 Food was mostly included at Rafiki. It was extremely fresh and surprisingly well prepared for a place so off the beaten path. Breakfasts were leisurely and filled with fruit, fresh fruit juices by request, and either typical Costa Rican breakfast food (rice, beans, eggs and plantains) or an American option. Service came with a smile and Rafiki's employees seemed happy to be working and interacting with guests. The lunches were varied and delicious and the dinners, at a set time each night, could have been served at an upscale NYC restaurant instead of the jungle. Each night there were several choices for dinner for both adults and kids; there were always meat and seafood options.
We chose to drive back to San Jose for an overnight at Adventure Inn before leaving to head back to the U.S. (Learn from me and book that flight back to keep that "pura vida" feeling). Adventure Inn will arrange for its visitors to catch a shuttle to the airport in time for their flight; it's complimentary with the room booking.
Costa Rica has many other places that people rave about but we could not access within our short travel time frame. There are volcanoes to climb, small islands to explore, sea life to be discovered while diving or snorkeling, coffee and chocolate plantations to be toured and so much more. And we'll be back for more passion fruit juice and pura vida.
SHS Juniors Reunite with Elementary School Pals at Junior Olympics
Details

Written by

Sarah Kazan

Hits: 2233
For high school juniors, there's nothing better than pretending to be back in elementary school. All week juniors anxiously waited for the announcement that Junior Olympics would be today. The suspenseful day is kept a surprise by the administration, however, team captains, shirts, and activities are planned in advanced. The uncertainty of the day makes it that more exciting for juniors. When the announcement was made over the loudspeaker, on Thursday, May 24, juniors cheered through the hallways and frantically got decked out in their elementary school's colors.
Junior Olympics is a high school tradition when each year juniors participate in a field day, with teams formed based on elementary schools. All year juniors look forward to this day, and see it as a chance to reunite with their elementary school friends and reminisce about their childhood.
Thursday's beautiful weather brightened the day's events which included activities indoors and out. Each team participated in kickball, dodgeball, capture the flag, trivia, and name that song to earn points for their teams. At the end of the games, everyone gathered in front of the school for a game of tug-of-war. The day ended with a pie-eating contest.
In preparation for the day, the grade elected four captains from each elementary school to lead each team in the different activities and help prepare by customizing the shirts for each elementary school. Also, the captains had the honor of representing their schools in the pie eating contest.
The best part of the day, according to juniors, was reconnecting with everyone from elementary school. "It was a ton of fun being back with people you haven't seen since elementary school because all of the memories and songs come rushing back and it's like a big reunion of everyone's first friends." said junior Brooke Bensche. "At such a stressful point in the year, it was nice to regroup with people you may have not seen in a while and pick up where you left off. It was just like being back in elementary school again," she added.
The games were extremely competitive. "It was especially fun to compete against friends from other schools," said Brooke. Greenacres faced off against Quaker Ridge, and Edgewood against Fox Meadow in an intense game of capture the flag.
After all the activities concluded, the points were totalled, and it was announced that the Quaker Ridge team won. Even for the teams that did not win, the day gave everyone a chance to get together, shake off the stress of junior year and act like kids again … if only for a few hours.
Westchester Reform Temple Hosts STEAM Extravaganza for Children
Details

Written by

Sarah Kazan

Hits: 1822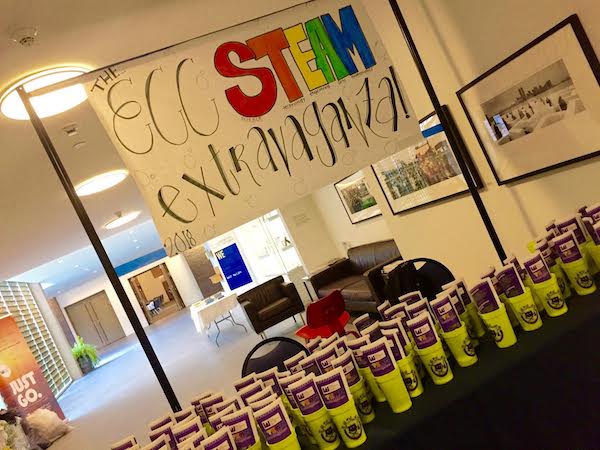 The Westchester Reform Temple Early Childhood Center's STEAM Extravaganza was an exciting place to be on Thursday May 31. Open to ECC families and their friends, the night highlighted hands-on science, technology, engineering, art, and math investigations for children. Young scientists were able to master the power of the magnetic field at the Magnetic Forest Makerspace, and explore the foundations of Archimedes' Principle at the Float Your Boat Design Lab. They utilized chemistry within the visible spectrum while creating Edible Rainbows, tried to defy gravity at the Ramp It Up Inquiry Zone, engineered their own erupting volcanoes, and more!.
"It was wonderful to feel the excited energy in the room as we celebrated STEAM within our school," said Sue Tolchin, WRT/ECC Director. Special guest RoboThink allowed children to build and utilize robots using their unique kits, and families celebrated their night of STEAM with a dinner, including their own color changing thermochromic Rad Lab cups!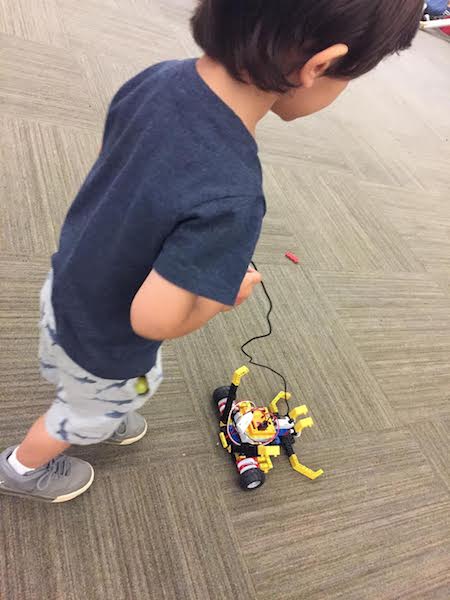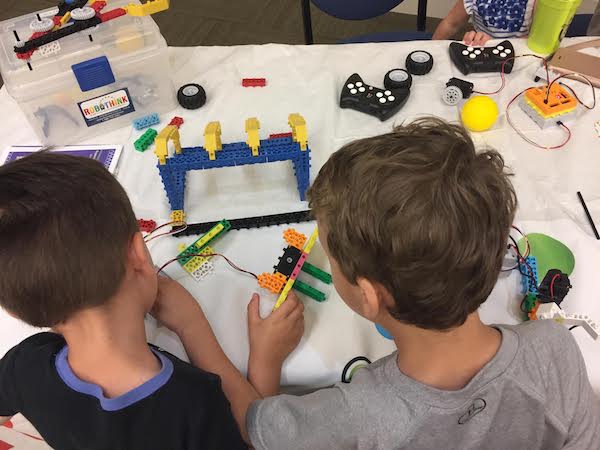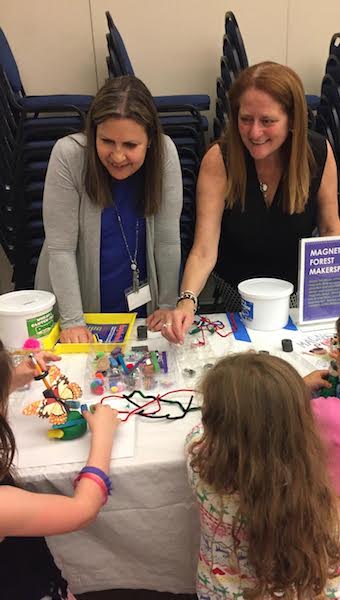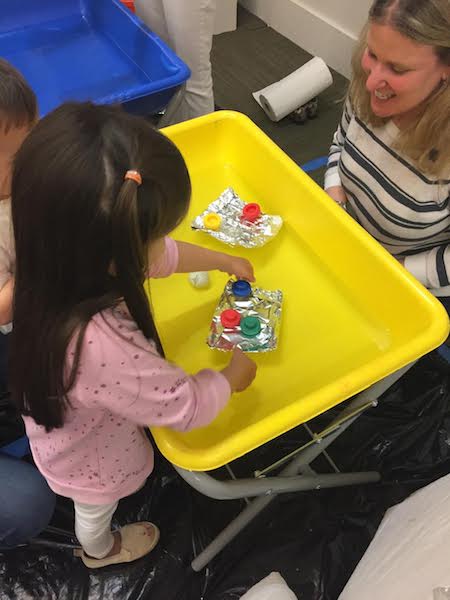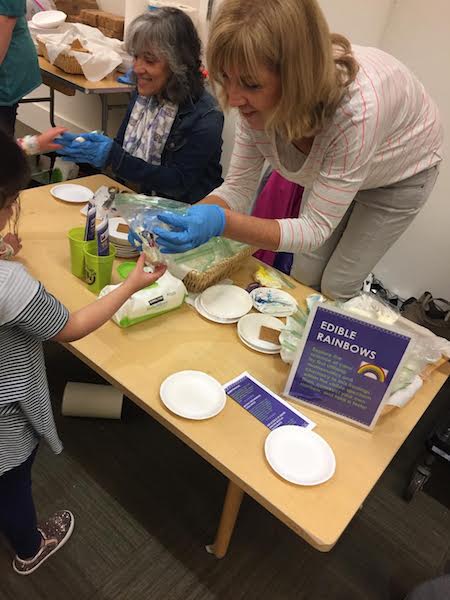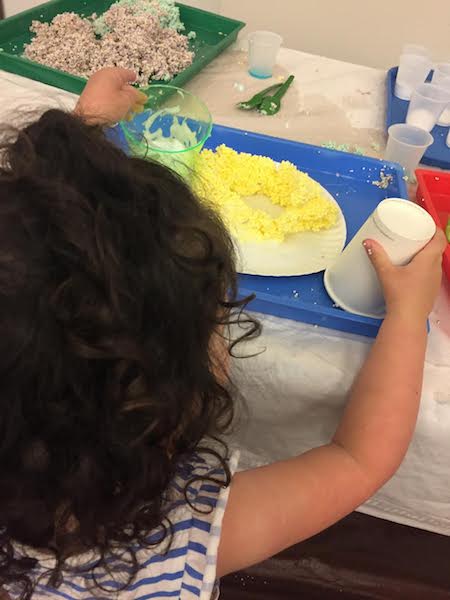 College Admissions Panel Debunks Myths, Answers Questions Surrounding the Admissions Process
Details

Written by

Derek Moritz

Hits: 3268

The Nine PanelistsCollege Admission: the Myth, the Hype, and the Reality, presented by the SHS Guidance Department on May 10th, gave parents an informative (and surprisingly entertaining) look into the college process. Nine admissions officers from a diverse list of schools were invited to participate in a panel designed for parents and their juniors at SHS. First, admissions officers from each college gave a brief introduction to their schools to pique the interest of students and parents.
Ann Fleming Brown of Union College kicked off, emphasizing Union's appeal as a small liberal arts college with a wealth of research opportunities. Robert Pertusati of Stony Brook noted that this SUNY school is more economical and also provides students with many research opportunities. Columbia reinforced the strong core curriculum that dictates the student experience. Texas Christian Dean Heath Einstein emphasized the school's spirit and eight diverse colleges. Lynn Holcomb of Colgate University warned not to let the title of "university" fool you; the school is almost entirely undergraduates. Christian Pritula of Washington University in St. Louis believes the university creates an environment to encourage and support an ethos of wide-ranging exploration. The representative from George Washington focused on its belief in social justice issues, and highlighted its international connections as an establishment inside of Washington DC. Adelphi representative Kristen Capezza focused on Adelphi's ability to create a personalized education for each of its students. The University of Georgia has a focus in experiential learning and accelerated degrees.
After introductions, the session broke out into two separate Q and A's, with half of the parents going to the cafeteria, and the other half remaining in the auditorium. Before taking questions from the audience, each admissions officer debunked a myth about the process. One myth was quotas on the amount of students taken from certain school districts/geographical areas, and the notion that going to a different high school increases the chances of getting into a certain college. They also emphasized the holistic nature of the process, and the importance of building relationships with the college admissions staff.
The panelists were thrown a curveball from the get-go by the questions asked from the audience. One distraught parent asked what to do if his child doesn't have A's but has a decent standardized test score. The rep from the University of Georgia said there's a college for everyone, and the rep from Adelphi added that only a few of the top schools have single digit admissions rates, and that its most important to find the right school profile for that student's achievement. The Adelphi rep said that having an upward trend in grades may also help, and it might not be the worst idea to get a letter of recommendation from a teacher in a subject the student struggles in, as the teacher can advocate for the effort that student puts in.
The second question of the night regarded course rigor, and if a grade of B or C in a higher level class looks better than an A in a regular class. The Colgate rep encouraged students to take risks and said, "You might get a C once in a while". The Texas Christian rep recommended that students take "appropriately challenging" classes.
The next question regarded the myths and realities surrounding standardized testing. The Adelphi rep recommended taking the test twice, as many colleges superscore, meaning they consider the highest subscores for each section. Adelphi and University Georgia place an approximately 1/3 weight on standardized testing, and 2/3 weight on GPA and course rigor. The Texas Christian rep perhaps said it best: "test scores are not as important as you think but more important than we'll tell you." He indicated that one or two points off on the average ACT score for a given school won't necessarily make or break an applicant, but any more more will decrease the student's chances of admission.
A parent also asked about the true meaning behind "recommended" SAT subject tests, and if recommended really meant required or optional. The Adelphi rep interpreted "recommended" as giving a student an edge if they do submit the score, but indicated that not submitting would not necessarily hurt the student. The Columbia rep advised students to send in their good scores, as additional information will help the admissions office gauge who a student is, but warned against sending in scores that would reflect poorly on a student.
On demonstrated interest in a specific school, reps from University of George and Columbia admitted it is not a factor in their admissions decisions. Adelphi does consider it a factor for admissions and when comparing two nearly identical students, the one who has engaged with the school either through visiting or clicking on emails will more likely win out.
After a brief intermission, the questioned resumed when the second panel of college admissions officers entered the auditorium. Before answering questions from the audience, each admissions officer gave general suggestions about the process. They recommended students and parents stay off websites like College Confidential, as they often have misinformation, they explained that decisions should not be taken personally, and reinforced that students need to be their own self-advocate. The rep from Union stressed the principle of self-advocacy and decided to use the rep from Wash U in a demonstration. The role-played scene was at a college information center. The Wash U admissions woman was instructed to be the Union admissions woman's daughter, and the Union rep proceeded to gently push Wash U onto the stage and jumped backwards. Being the parent in the scenario, Union emphasized the importance of having the child take the lead in asking the questions at the college while the parent stepped back.
On essays, the George Washington rep emphasized authenticity, and that the safe essays aren't the best ones. The rep Union stressed the importance of details, and finding a specific quality to focus on. She said, "Think of the admissions people as your grandmother, so no vulgarities. Strong Brook looks for statements that use logical examples and concrete thoughts.
Regarding extracurriculars, the Union rep stressed the importance of being in touch with a college coach if a son or daughter is considering playing sports in college, and to write efficiently on the activities section of the Common App as very few words are allocated.
The final question of the night was about the roles of the choice of majors in decision-making. The Union rep said that a major selection on the application is just a starting point and not permanent, and also noted that certain majors may be more specifically desired due to their low attendance nature (i.e German). The Stony Brook rep cautioned that being undecided is fine, but it should not be used as a strategy to sneak into a difficult-to-get-into major in the future.
The night attempted to put parents' fears at ease by debunking the most notorious of myths surrounding college admissions, but conflicting responses reinforce that there truly is no singular right answer on how to approach the college admissions process.