Summer Camp and Activity Guide for 2017
Details

Written by

Joanne Wallenstein

Hits: 12857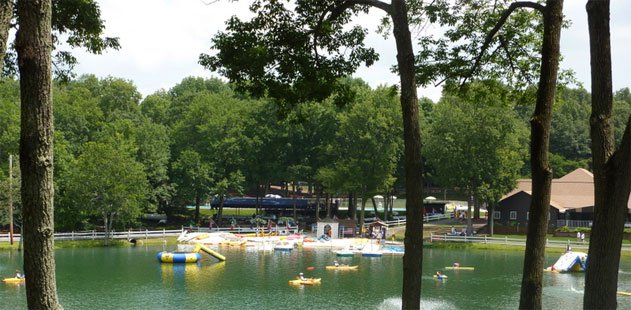 Summer dreaming? Looking forward to trading snow boots for sandals, scarves for swimsuits and school for the pool? Then it's time to make plans for summer camps and activities for the kids. We reached out to many local programs for details and here is a list of summer camps, enrichment programs, sports centers and nursery programs for kids from toddlers to teens. Check them out and if you get in touch, let them know you saw their listing on Scarsdale10583.com.
Day Camps:
Breezemont: Located on an expansive 18-acre property, Breezemont is nestled in natural surroundings. The campus maintains large green fields, towering trees, and a beautiful lake, which is a unique feature for a day camp. Complete with state of the art facilities, Breezemont preserves the appearance of an overnight

camp, while implementing a creatively robust day camp schedule. Ages 3-13 years old. Tours are provided 7 days a week.
Breezemont Day Camp
62 Cox Avenue
Armonk, NY 10504
914-367-1936
Email: Gordon@breezemont.comwww.breezemontdaycamp.com

Challenge Camp: Open the door to a delightful and meaningful summer of fun and learning for your bright, curious child. Challenge Camp is an ACA accredited camp celebrating its 37th summer. Join them at their new, fully air conditioned facility in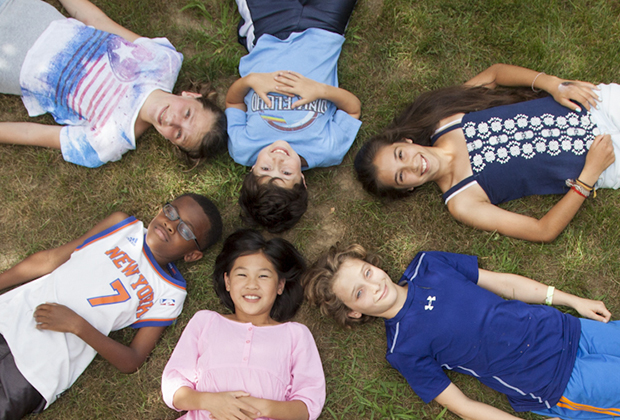 Hartsdale, NY. Challenge is dedicated to providing meaningful opportunities for children aged 4-15 to realize their intellectual and personal potential. They offer over 100 enrichment courses ranging from 3D printing, architecture, art, chess, coding, cooking, drones, littleBits, magic, Minecraft, robotics, theater, and more. Sports options include Swimming, Fencing and Tae Kwon Do. Bus transportation and early/extended day options available. Please join them for an Open House on Sunday March 26, 2-4pm at their location.
Challenge Camp
Schechter Westchester
555 West Hartsdale Avenue
Hartsdale, NY 10530
914-779-6024
Email: info@challengecamps.com
www.challengecamps.com
Concordia Summer Camp offers exceptional summer programs for children ages 3 to 18. Programs include Enrichment, General Sports, Slam Dunk Basketball Camp, Musical Theatre, Rock/Pop Music, Piano, Suzuki Guitar and Violin, Chamber Music, Vocal, Songwriting and Composition and Art......and don't miss their water inflatable fun Fridays! All classrooms are air-conditioned.
Concordia Summer Camp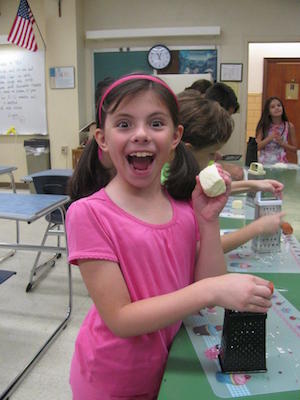 171 White Plains Road
Bronxville, NY
914-395-4848
www.concordiasummercamp.org
The House of Sports is your one stop shopping for weekly sports camps this summer! From ages 3 years old through high school, the House of Sports offers programming for children of all ages and ability level. For our younger campers, we offer a multi-sport camp that incorporates both learning and playing a variety of sports each day. For children in 3rd grade and older, they also offer sport specific camps in lacrosse, basketball, soccer and baseball. All camps take place in a 100,000 square foot climate controlled facility in Ardsley, and all camps are staffed by professional coaches and instructors.
House of Sports
1 Elm Street
Ardsley, NY
914-479-5419
www.houseofsportsny.com
For over 40 years, the JCC of Mid-Westchester has introduced children to the joy of summer camping. They offer seven weeks of camps, with a five day per week or three day per week option, which is ideal for young campers. The day camp introduces campers to a variety of professionally led activities and weekly special events including instructional and recreational swim in their heated indoor pool (beginning with 3 year olds), gymnastics, a variety of different sports activities, arts and crafts, nature. They offer low staff to camper ratio and early drop off/late pick up. Unique to the JCC is its renowned Summer Arts Center (SAC) for the creative and independent child who is interested in the arts. Campers create a custom schedule of up to 20 different classes/week (4/day), all taught by professionals in the field. For campers grades 6 and up who are serious and experienced dance students, there is a comprehensive curriculum of dance and dance-related classes taught by professionals in the state of the art dance studios. The JCC ow offers STEM robotics program as part of its summer offerings. The CIT/LIT programs offer teens the opportunity to gain hands-on counselor training and leadership experience with social action initiatives and weekly trips. LITs that successfully complete the program may be asked back for the following summer as junior counselors.
JCC of Mid-Westchester
999 Wilmot Rd
Scarsdale, NY 10583
Caryn Symons, Director of Camping: 914-472-3300 x 412
Email: symonsc@jccmw.org
www.jccmw.org/kidsfamily/summer-camps
Purchase Sports Camp located on the scenic campus of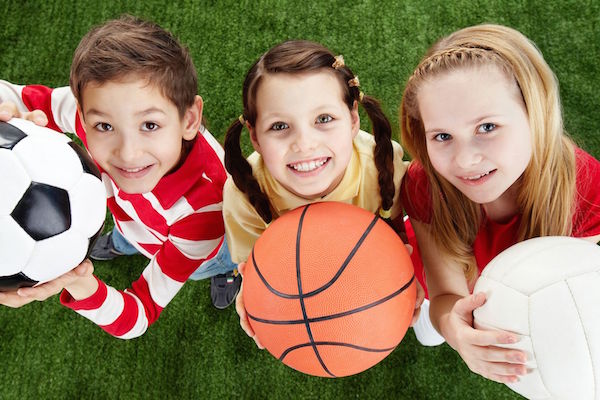 Manhattanville College in Purchase will offer weekly summer programs from June 26 to August 11, 2017. The camp is a fun and safe place for kids ages 3 to 15 where top-notch coaches help children of all levels feel at home, and bring their game to the next level. The well-rounded camp experience focuses on developing skills, discovering new interests, meeting new friends and most importantly, having fun.
The facilities include 6 Har-Tru tennis courts located right next to the campus's brand new state-of-the-art astro-turf soccer field, outdoor basketball courts, an indoor pool, and an indoor gymnasium that can be used for basketball and volleyball, and will be used during rainy days. While the primary focus of the camp will be tennis, soccer, basketball, baseball, lacrosse, cheerleading and flag football, the children will have an opportunity during the day to cool off at the pool, and the option to play other field sports as they like.
Come to our open houses on March 18 and April 15 from 2-4 pm at the Richard A. Berman Student Center Lobby and on May 6 from 2-4 pm in the East Room (Benziger Hall) at Manhattanville College. Register by March 31 for a $75 early bird discount (Mention 10583).
For more information, visit www.purchasesportscamps.com, email info@purchasesportscamp.com or call (914) 315-7507.

Camp Ramaquois: "A day camp as complete as sleep-away camp", situated on 44 magnificent acres in nearby Rockland County. From adventurous activities to creative arts to athletic activities, boys and girls, ages 3-15 experience a traditional day camp program filled with a variety of stimulating activities including instructional and general swim in nine heated pools and boating on a five-acre lake. Seven period programs planned for each age group include a splash park, aerial adventure park, climbing wall, flying squirrel with zip lines, tennis, basketball, volleyball, lacrosse, hockey, softball, soccer, recycling bin, ceramics, nature facility with petting zoo, dance, drama, yoga, special events and much more. Facilities include an air-conditioned indoor gym and group bunks with bathroom facilities. Hot lunch is served in an air-conditioned dining room by waiters and waitresses. Junior Camp for 3-6 year olds has a separate campus with age-appropriate activities and facilities. Ramaquois offers pre-teens and teens a regular camp program in combination with an optional Trail Blazers trip program. Day trips planned for 3rd–10th graders; overnight trips planned for 5th-10th graders; Leadership Program for 10th graders. Door to door air-conditioned mini-bus transportation is provided using professional CDL licensed school bus drivers and a bus counselor, who provides safety, as well as planned activities on the bus. Ramaquois is a magical camp where children experience a sense of adventure, meet new challenges, create wonderful memories and make lasting friendships.
Camp Ramaquois
30 Mountain Rd
Pomona, NY 10970
845-354-1600
www.ramaquois.com
Steffi Nossen School of Dance weekly dance camps and intensives for pre-school – teen dancers. Register by May 15th and receive a 10% discount! June 5-July 21.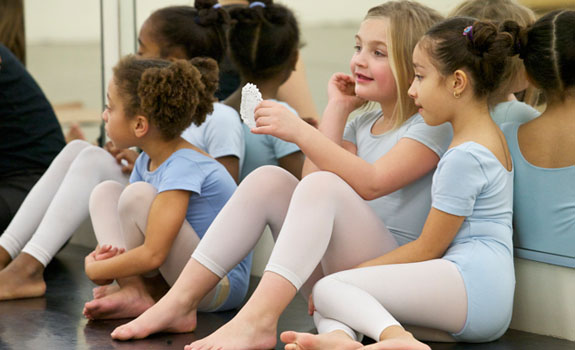 Weekly Story Book Camps June 5 – July 21 for ages 3-5, a morning of movement, music and art with a different children's story each week.
Moving Wheels & Heels Adaptive Adult Intensive - June 19 – 24 Dancers age 16+ learn technique and repertory, improve range of motion, explore and express creativity, and enjoy a collaborative artistic experience. Live music, wheel chairs welcome.

Moving Wheels & Heels Adaptive Youth Camp – June 26 – 29 incorporates dance, movement, and related arts activities in a warm, supportive and creative environment.
Dance Camp – two week camp, July 10 – 21 for grades 5-8. Take classes in Modern, Ballet, Jazz, Hip-Hop, and Musical Theater. Also dance history and composition, choreograph. No previous experience required
Musical Theater Intensive July 24 -August 4 Actor/singers who need more intensive dance training as well as the dancer who would like to explore acting and singing work with professional voice, acting and dance teachers to enhance vocal and acting skills while honing proper dance technique. Beginner – advanced performers.

Summer Dance Intensives I (grades 5-8 beginning/intermediate dancers) and II (grades 9 – 12 dance experience needed) Aug. 7-18. Rapidly improve dance skills and technique, explore new dance styles, and learn from professional dancers and choreographers. Modern, Ballet, Jazz, Musical Theater, Body Conditioning and dance history. Create your own dance compositions.
Early drop off & extended day options. Visit us at www.steffinossen.org. Call 914-328-1900 for additional information/ registration. Register by May 15 for a 10% discount.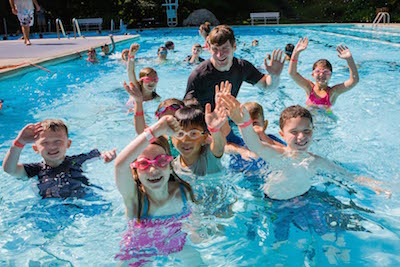 Squire Advantage and Squire Sports Camps at Maria Regina High School in Hartsdale is celebrating its 44th anniversary of operation! An OPEN HOUSE and CARNIVAL is scheduled for Saturday February 4th from 1-4pm. There will be door prizes, bouncy houses, carnival games and food! Instructors and coaches will showcase their courses and tours will be given. Courses are taught in air-conditioned classrooms by certified teachers. Hot lunch is included and transportation is available. Squire Advantage Primary (grades K-3) and Advantage Choice (grades 4-9) is created for campers who wish to custom design their own schedule by choosing courses in the fields of swimming, computers, sports, fine arts, science, cooking, music and more. There are more than 50 different activities to choose from! Squire Sports Camps are divided into two different sports programs. Squire All Sports Academy (ages 6-15) allows for instructing and playing of many different types of sports throughout the day. Sports include tennis, basketball, soccer, baseball, football, etc. Squire Tennis Academy (ages 6-15) is a fun and challenging tennis experience designed for beginners to experienced players. Squire Camps programs run from June 26th until August 11th, 2017.
Squire Advantage and Squire Sports Camps
Maria Regina High School
500 W Hartsdale Ave
Hartsdale, NY 10530
(914) 328-3798
www.squirecamps.com
Westchester Skating Academy: Weekly camps for all ages and abilities. Mini Camp, designed for preschool through eight-year-olds, includes two daily skating lessons, plus nature, science, magic, soccer, and crafts from June 12-June 30 and Aug. 14-Sept. 1. Figure Skating Camp with Olympic coaches runs for 11 weeks beginning June 19th. Hockey Camp runs for nine weeks beginning July 3rd and offers excellent player development.
Westchester Skating Academy
91 Fairview Park Drive
Elmsford, NY 10523
(914) 347-8232
http://www.skatewsa.com/page/show/44221-camps
The YWCA on North Street in White Plains offers an array of summer day camp programs: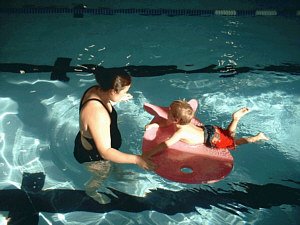 Camp Funkist (ages 4-15) provides non-competitive relaxing days of sports, swimming, visual arts, musical theater, nature, trips, and other age-appropriate summer activities. Full day of Summer Gymnastics for girls and boys offers opportunities for gymnastics to hone their skills. Finally, the YWCA offers Summer Camp for Children with Developmental Disabilities, which is designed to complement extended school-year programs. Parents can also take advantage of summer swimming classes set up around vacation schedules. The YWCA has well-equipped indoor and outdoor facilities. Experienced and qualified staff-led recreational and instructional swimming.
The YWCA
515 North Street
White Plains, New York
Camp Funkist (914) 949-6227 x168
Gymnastics Program (914) 949-6227 x135
Camp for Children with Developmental Disabilities (914) 949-6227 x108
www.ywcawpcw.org/content/summer-camps
For the Younger Set: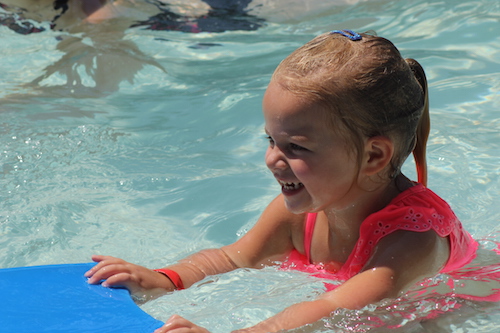 Beth El has been widely recognized as the best-in-class day camp in Westchester since 1951. Children from ages 2-7 love the sports, swimming in the pool, music, arts & crafts, singing, dancing, nature, storytelling, yoga, karate, and much more. Proudly accredited by the American Camp Association (ACA), Beth El Day Camp is also known for its nurturing environment, cutting-edge programming, and commitment to safety. They have the county's finest, best-trained professional staff, and a very favorable child/staff ratio. Healthy lunches provided, with gluten and dairy free options. Whether this is your child's first camp experience or not, at Beth El everything begins with love and ends in fun. Spots fill up quickly, so don't wait too long to sign up!
Beth El Synagogue Center
1324 North Avenue
New Rochelle, NY 10804
Julie Rockowitz, Director: (914) 235-2700, x256
Email: daycamp@bethelnr.org
www.betheldaycamp.org
Inchworm at the Scarsdale Congregational Church Nursery School has been a summer program in the community for over 30 years. Inchworm is a morning-only program open to children who will be entering Three's classes, Four's classes, or kindergarten for the 2017/2018 school year. Inchworm staff are all experienced preschool teachers. Each day at Inchworm includes indoor play, arts and crafts, stories, games and snack. There is also a special activity every day, such as a visit from a Nature Specialist, music, or a gym/fitness class - outdoor playground and sprinkler play, too. Each week at Inchworm features a different theme, such as pirates, camping, gardening and sports. The daily activities and crafts are geared toward that week's theme. Inchworm is a four-day-a-week program—Mondays through Thursdays from 9:15am to 12:00 noon. Summer 2017 program dates are
June 26th to August 3rd. Tuition is $195.00 per week (2 week minimum required).
Scarsdale Congregational Church
One Heathcote Road
Scarsdale, NY 10583
www.sccnurseryschool.com
Summer Scene at The Little School combines the fun of summer camp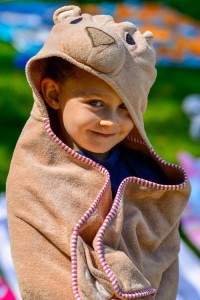 with early childhood learning in a structured, nurturing environment under the guidance of acclaimed teachers. Children enjoy adventure filled days that incorporate active athletic play, swimming at the Scarsdale Pool, art projects, music, play centers and plenty of time outdoors. Each week features a different Theme Adventure or Special Event, creating added excitement and learning opportunities. Theme Adventures give the children a chance to expand their talents and interests, build self-confidence and create lasting friendships. Samples of our themes include Freedom Rocks, Ocean Odyssey, In the Garden, Superhero Week (Scarsdale Fire and Police visit), Down on the Farm (animals visit KBLS), Strummin and Drummin (music event) and Jolly Roger Pirate Adventure (storyteller visits). The program is open to children 3 and 4 years of age. The 7-week program runs Monday - Friday from June 27 - August 11. The Full Day program is 9am - 3pm, with a 9am – 1pm half-day option for 3 year olds. Extended hours before and after camp are available from 7am - 6:30pm. Lunch and a healthy snack are provided each day.
The Little School
307 Mamaroneck Road
Scarsdale, NY 10583
(914) 472-5409
https://www.kbls.org/summer-scene/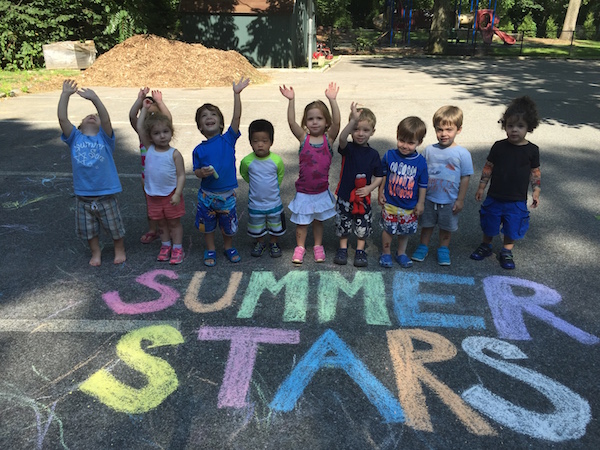 Scarsdale Synagogue's Summer Stars Summer Program is the perfect place for your child's first camp experience. This warm and nurturing program is a seven-week camp for children 18 months to 5 years old. The campers are engaged in activities such as sports, music, art, story time, daily water play and much, much more. There are special theme days each week such as Circus Day, Hawaiian Day or Carnival Day. At Summer Stars, friendships are formed and children grow socially, emotionally and intellectually as they engage in fun, stimulating summer activities. There is a three day option for Toddlers ages 18 to 30 months and 2 year olds may choose the three day option or attend five mornings a week. Three to 5 year olds may choose a half-day, 9am -12 noon option or a full day option from 9am - 2pm and will be served a lunch sent from home.
Scarsdale Synagogue
2 Ogden Road
Scarsdale, NY
914-723-3001
http://bit.ly/summerstars10583
St. James The Less Fun In The Sun Summer Program is a morning program for children aged 2, 3, 4 or 5 years old or those entering kindergarten in the fall. Staffed by experienced nursery school teachers,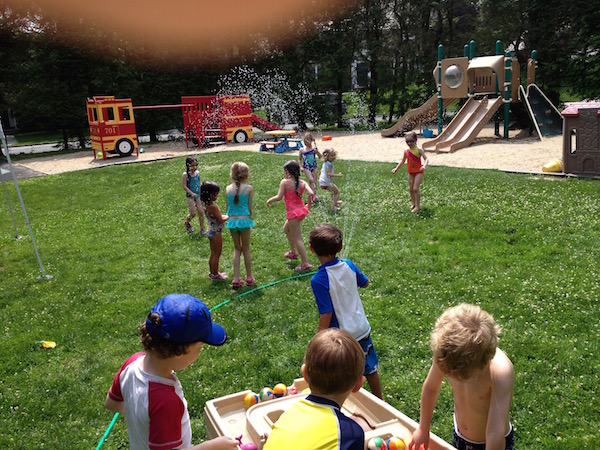 the Fun in the Sun Summer Program offers outdoor playgrounds, water tables and sprinklers, plus music and movement, gym and yoga classes, arts and crafts and fun weekly themes. Directed by Cheryl Smith, the program runs from 9 - 11:45 am, Monday through Thursday from June 26 to August 3. For the two's program, there is one counselor for every five campers. For the 3,4,5's, there is a 1 to 7 counselor camper ratio. Fees are $100 per week for 2 days and $200 per week for 4 days.
Fun In The Sun Summer Program
St. James the Less
Crane Road and Church Lane
Scarsdale, NY 10583
Cheryl Smith, Director 914-723-1018
Email: stjamesnursery1@verizon.net
Westchester Reform Temple's "Summer Play Place Camp" offers young children a unique 7 week summer experience. The professional staff provides arts and crafts, water-play, stories, games, athletics and snack within a nurturing and loving environment. The 3's and 4's program is enhanced by specialists in music, movement and nature and special theme days. There are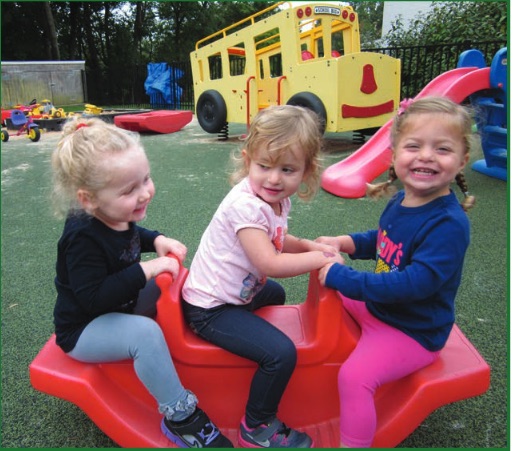 separation classes and classes with a loved one to stay as options for children who will be entering a 2's program in September. The little ones also enjoy crafts, water-play and music. Your children will learn, laugh and flourish.
Westchester Reform Temple
255 Mamaroneck Road
Scarsdale, NY 10583
914-723-5493
Email: sue.tolchin@wrtemple.org
www.wrtemple.org/page/early_childhood_center

Find the Perfect Camp for your Child:
Spectacular Summers: If you are thinking about camp or a teen program for your child for this summer or next, Ellen Wylie of Spectacular Summers would be happy to help you. Ellen has many years of experience in the industry and knows the camps and teen programs well. Every summer, Ellen personally visits and observes many camps while they are in session. During the rest of the year, she speaks to and meets with directors and obtains feedback from families she has placed. As a result, Ellen has the up-to-date knowledge and information to make the right recommendations for each child. She would be happy to share her personal knowledge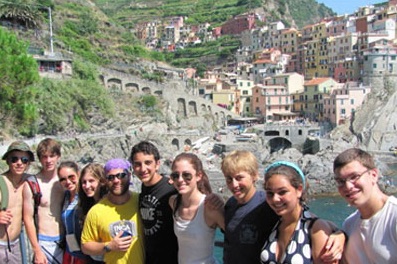 and expertise with you. Ellen will gain a thorough understanding of your child and what you are looking for and then provide well-thought out suggestions. The service is free of charge to parents. Ellen is highly respected by camp directors and parents alike.
Phone: Ellen Wylie (914) 722-2644
Email: ellen@spectacularsummers.com
www.spectacularsummers.com
What else?
The Scarsdale Recreation Summer Day Camp offers four camps for children from Kindergarten through eighth grade, including recreational and educational programs and daily swimming at the Scarsdale Pool. The camp accommodates about 900 children in grades K-8. Camp Sagamore is for children entering kindergarten, Camp Lenape for first graders, Camp Wapetuck for second graders and Camp Pathunke is for kids in third through eighth grades. The season runs from July 3-Friday, Aug. 4 (no camp July 4) from 9am - 3:30pm. Transportation is provided from each elementary school, Scarsdale High School, George Field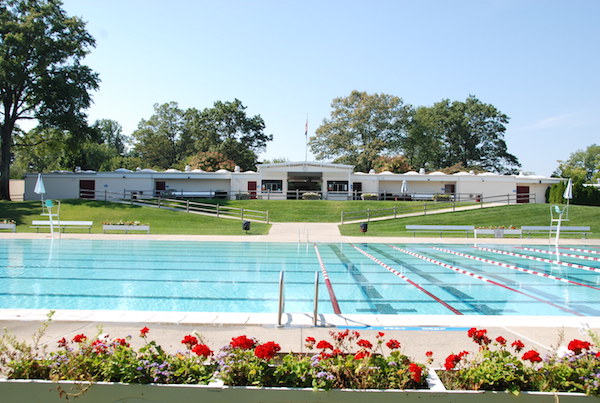 Park, Kids' BASE and the Scarsdale Pool. There are also combination camps for third-eighth graders who can choose soccer or sports camp in the morning and regular day camp in the afternoon. The Village offers two sessions of Teen Travel Camp for sixth through ninth graders, who go on a different trip each day.
Phone: (914) 722-1160
Email: recreation@scarsdale.com
www.scarsdale.com/campcentral
Add a comment
SHS School Week to Be 75 Minutes Longer: What To Do With That Time?
Details

Written by

Joanne Wallenstein

Hits: 3409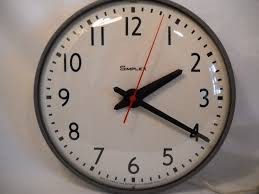 Though there's an active initiative underway to decrease student stress and improve wellness, the Scarsdale High School PTA leadership is concerned that a new policy will undermine that effort. In contract negotiations with teachers last year, it was agreed that 75 minutes a week of teaching time would be added to the high school schedule and 80 minutes a week of teaching time would be added to the middle school schedule. This came as a surprise to parents, some who did not want to see an extended school day add to their children's stress levels.
We asked STA President David Wixted for details about the additional time last fall, but he let us know that discussing this issue would breach "the confidentiality and good faith bargaining that governs our negotiations with the BOE." He continued, "I can only say that the additional instructional time is one part of a comprehensive agreement the STA reached with the BOE and that was ratified by our membership."
It seems that parents were turned down in their effort to collaborate on formulating innovative and productive ways to use this 75 minutes of weekly time. At the meeting of the Scarsdale Board of Education on February 13, members of the SHS PTA Executive Committee expressed their frustration with a decision that will add two minutes of teaching time to every class period in the high school schedule rather than use the time for individual meetings with teachers, small group learning experiences or activities that could improve student wellness. They called the new schedule "a default plan" that has been put in place until "something better comes along."
In remarks before the board on Monday night, SHS PTA President Amy Song suggested several ideas for the use of the time. She said, "Many students would appreciate a mandatory, structured period where they could sign up in advance for specific instruction. Another thought could be for students to select a class based on a teacher's expertise that incorporated a universal theme, such as wellness or global citizenship. The ideas are plentiful when you apply "classroom instructional time" in an innovative manner with students spending one-on-one time with teachers; this is what we hear students say they value most and is the hallmark of a Scarsdale High School education."
With the stopwatch running indicating that Song had exceeded her allotted three minutes, Suzanne Glaser read the second half of the PTA statement. She expressed the PTA's disappointment that they were not permitted to confer on the new policy. She said, "The PTA Executive Committee has attempted on numerous occasions to reach out to you in writing and also requested a meeting with your entire board or a subset to understand the process and express our thoughts. We remain disappointed by the lack of response, openness and collaboration from the BOE, as students and parents have not been directly represented in any talks regarding the implementation of this mandate. Please reconsider this culture."
Glaser urged the administration and board to work with all stakeholders and consider the ramifications of collective bargaining agreements on the students and the community.
Eileen Donovan who is a member of the SHS Wellness Committee said, "There is a high level of rigor at the high school.... We don't need more rigor." She called the new schedule "a regressive plan to keep kids in chairs for 75 more minutes," and said that the kids were, "pawns in a negotiation between the administration and teachers." She said that kids could benefit from time to foster relationships with their teachers and for small groups that form a more inclusive environment." She asked that the high school be given the power to come up with a new plan.
See the full remarks from the PTA Executive Committee below or watch them here:

I am the current Scarsdale HS PTA President and speaking on behalf of our Executive Committee.
Everyone in this room is an advocate for the Scarsdale HS student. However, there is a conversation taking place among adults who are not prioritizing our children. At last spring's contract negotiations, members of the BOE and STA agreed to extend the High School week by adding 75 minutes of more classroom instruction. These seventy-five generous minutes of potentially meaningful, impactful learning are now close to being relegated to the agreement's default plan of adding two more minutes to each class throughout the day. This last resort option appears to be the only proposal that both parties can agree on to satisfy the requirement for "additional classroom time," a term that was not properly defined thereby limiting any useful application. In other words, the policy prohibits any creative solutions from being considered due to the narrow scope that teaching and learning cannot take place outside of a scheduled class. How can two more minutes per class be more acceptable or meaningful than a full period of supervised, expertise-based individual or small group study sessions where both teachers and students are held accountable? While we do not dispute the BOE and STA's efforts for more valuable instruction, it seems that there was no thoughtful review process on HOW this mandate should be implemented at the High School since no administrators or parents were consulted during these discussions. In fact, many district and school administrators, teachers, and even some Board of Ed members admit that the default plan is far from ideal, calling it a "placeholder" until something better comes along. Unfortunately for our kids, "something better" is not coming this year due to a lack of collaboration and shared input from all parties involved.

In fairness to the scheduling committee, finding a place for 75 minutes in the High School day is no easy task. The schedule is complex and any changes to it should not only add value but also preserve the most important existing benefits. The ability to meet 98% of students' course requests, the flexibility to change class levels mid year, and the built-in time for programs like Civ Ed and various grade-level seminars are just a few of the longstanding advantages offered to our students.

Given the multitude of course offerings and diverse student needs, adding 75 minutes to a new or existing subject period would greatly disservice those students who, for instance, may not need more time in history class but would prefer the extra instruction in math or science. How can anyone decide where additional time should be allocated without student agency or self-determination? Our high school students are much more independent, capable, and self-aware than they are being credited for and would benefit from enhanced learning beyond the 49-minute classroom period.

For example, many students would appreciate a mandatory, structured period where they could sign up in advance for specific instruction. Another thought could be for students to select a class based on a teacher's expertise that incorporated a universal theme, such as wellness or global citizenship. The ideas are plentiful when you apply "classroom instructional time" in an innovative manner with students spending one-on-one time with teachers; this is what we hear students say they value most and is the hallmark of a Scarsdale High School education.

As you know, our PTA Executive Committee has attempted on numerous occasions to reach out to you in writing and also requested a meeting with your entire board or a subset to understand the process and express our thoughts. We remain disappointed by the lack of response, openness and collaboration from the BOE, as students and parents have not been directly represented in any talks regarding the implementation of this mandate. Please reconsider this culture. While we have no interest or position to be involved with collective bargaining, the fact remains that any change to the daily school schedule that immediately affects our students and families should have allowed us the opportunity to voice our concerns upfront on how the agreement could be put into effect.

It wasn't so long ago, but do you remember our debates on callback kindergarten? Or the many curricular conversations we shared about introducing Spanish to the elementary schools? The most successful and long-standing policies take place when all the stakeholders work together to listen and learn from each other.

While we acknowledge that we cannot please everyone, we all have the best intentions for meaningful education by putting our students first and then seeking the best outcome. Sadly, our students now stand to pay the price for this misapplication of terms and have just lost 75 minutes per week outside of school to do homework, participate in after-school activities, meet with teachers, work in group projects, catch up on sleep or spend time with family. We owe it to these kids to make the best use of this time and not have them serve as placeholders in order to satisfy YOUR agreement.

For this reason, we urge the BOE and Dr. Hagerman to encourage all of us -- the BOE, STA, HS Administration and PTA -- to work together to support student learning that is purposeful and worthy of a longer school day. It may take time to come up with an optimal solution, but a collaborative approach will help find quality instruction under the parameters of this agreement, as well as represent how our community includes all participants when making well-informed, important decisions for the High School.
We know you as our fellow neighbors, friends, and parents, but now count on you as our trusted elected leaders to show us your commitment to our high school students, first and foremost.
Add a comment
SHS Design Class Reimagines an Elementary School Classroom
Details

Written by

Melissa Attar

Hits: 3042
On Thursday, January 26, four design teams presented their concepts for reinventing an elementary classroom to the Scarsdale Center for Innovation's project grant team. The project "What Could We Do with Room 18" was funded to redesign a traditional classroom into a restructured space that would "become a laboratory for experimental thinking on instructional redesign." Each team met with potential clients, went on site visits, and conducted extensive research to develop their ideas and keep their projects on budget. The kicker? The teams were Scarsdale High School students, and the clients were Edgewood elementary school students.
Lisa Yokana explains that her Architecture and Design I class teaches her high school students to use Design Thinking Process "to solve real world problems for an authentic audience." For their final project, groups of four or five students were tasked with redesigning Edgewood's Room 18 to address 21st century student needs without exceeding a $3,500 budget. Students conferred with the grant recipients (a team of four Edgewood teachers who submitted the grant proposal to the Scarsdale Center for Innovation) whose mission is to outfit the new space. For ideas and research, students visited Edgewood's Room 18 as well as locations devoted to modern functional design such as Steelcase in New York City. They also had the benefit of interviewing the fourth grade students of grant team member and Edgewood teacher Marilyn Blackley via video conference. The meetings and research culminated in four presentations at Scarsdale High School's Little Theater by the architecture class to grant project recipients, Edgewood administrators, and Ms. Blackley's fourth grade class. Though all four groups' projects include beanless beanbag chairs (inflatable to resist lice, a pervasive problem in elementary schools) and mobile and/or multiple whiteboard surfaces, each high school group has its own unique take on the modern classroom. A video of the presentations can be viewed here.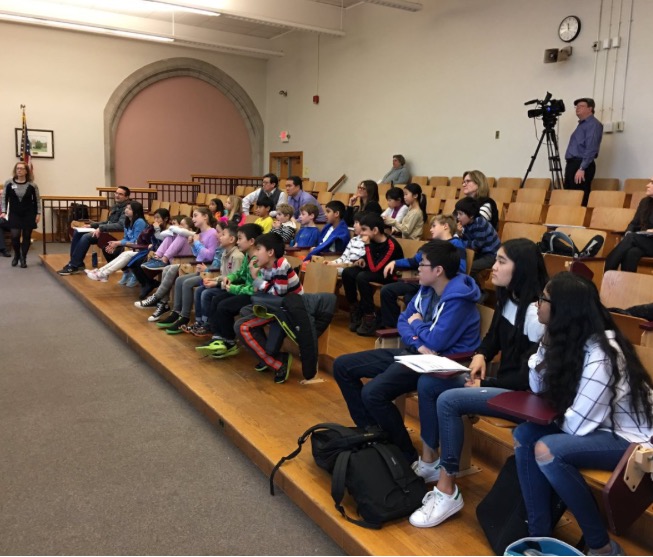 Project One weds the fourth graders' desire for individual desks to the need to occasionally work at large tables by utilizing pie-shaped individual desks on wheels that can be pushed together to easily create large tables for communal work. This project also addresses fourth grade complaints about malfunctioning smart boards by replacing the classroom Smart Board with a Smart TV.
Project Two concentrates on creating a very adaptable space. It includes pullout and Murphy-style tables and size changeable tables. Additionally, it utilizes tables of different heights (with stools that swivel for height adjustment) to help students in the back see over their classmates. One student noted that she likes this project because "the prices were cheap and the ideas were good."

Project Three also uses height adjustable tables. Like other projects, it includes a cozy corner with a rug and beanless beanbags to encourage a relaxed, homelike environment for reading and discussion. This project earned high praise from the Edgewood students for its Chrome Bar, which would allow for a designated space with storage and charging capacity for work with Chromebooks, which are becoming increasingly important in the classroom. The Chrome Bar faces the courtyard to encourage students to occasionally look away from the Chromebook screen in order to combat Computer Vision Syndrome.
Project Four, the largest departure from a traditional
classroom, garnered the most buzz from the audience. It involves the use of Everblocks, large Lego-type building blocks measuring twelve inches long by six inches high and wide, to build desks and partitions that can be rebuilt to adapt to the changing needs of the room. Besides the "cool factor" of Lego-type building blocks, students loved them for their flexibility and the potential to create and build. Also, they were excited that the blocks also functioned as white board surfaces.

Another innovation of Project Four is the loft with curvy slide to maximize the vertical space in the reading corner. In addition to a shag rug, the top level houses bungee chairs and/or beanless beanbag chairs, and the bottom would have hanging chair hammocks for additional seating. The hanging chairs were a big hit with the students because they thought the chairs would be great for privacy during reading time. Though the loft with slide idea was clearly a kid favorite, several fourth grade students expressed concerns that the loft might actually be "too playful" and that students would be so interested in playing that they would neglect to do their work.
The decision to include the fourth grade students was beneficial for everyone involved in the project. Ms. Blackley explained that the grant's purpose is to create a classroom that is flexible, inviting, "and yet still a place where focused learning could take place." She went on, "We felt that involving a class of elementary age students would be helpful towards that end, as they are the people who need to live in the classroom each day."

Beyond offering their unique perspective, the fourth graders were an inspiring force for the architecture students. Sophomore Ali Rothberg, who worked on the popular Project Four stated that designing for Ms. Blackley's class motivated her group to work harder to generate creative ideas because they knew they were "designing for a real user." She felt it was also more nerve-wracking because the high schoolers knew that the fourth graders would be more honest if they did not like the ideas. In fact, Rothberg stated that the adults gave solely positive feedback, but the negative feedback from the fourth graders, the "primary users," was very helpful.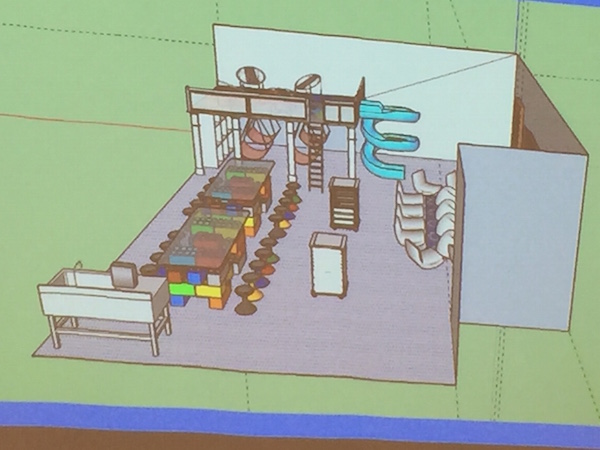 The feedback and motivation were major benefits of the collaboration. As Ms. Blackley stated, "I think (involving the younger students) offers the high school students a real project audience for their very real project." Not merely concerned with the academic benefit of the older students, Ms. Blackley also used the project to educate her own students. The students had the opportunity to think about what makes a great classroom, how student needs are evolving, and how to articulate those needs to the high schoolers. They also listened to each Little Theater presentation and asked thoughtful questions. Finally, they discussed the projects among themselves online through Google Classroom, practicing analysis and teamwork. The Google Classroom comments revealed that the fourth graders were considering cost-effectiveness as well as striking the correct balance between work and play. They also demonstrated that the students valued projects that allowed privacy during reading time, storage, flexibility, and the ability to have many white board surfaces. The fourth graders' input provides not only a window into their young minds but also useful information for the grant recipients to consider when evaluating the high school students' projects.

This evaluation is the next step for the grant team. Ms. Blackley noted "it is my intention, along with the team I'm working with at Edgewood, to implement some of the suggestions." With all the innovative and practical substance of the four proposals and armed with student feedback, the grant team has a great deal of exciting material to utilize.
Add a comment
Greenacres Students Visit Never Never Land
Details

Written by

Joanne Wallenstein

Hits: 1596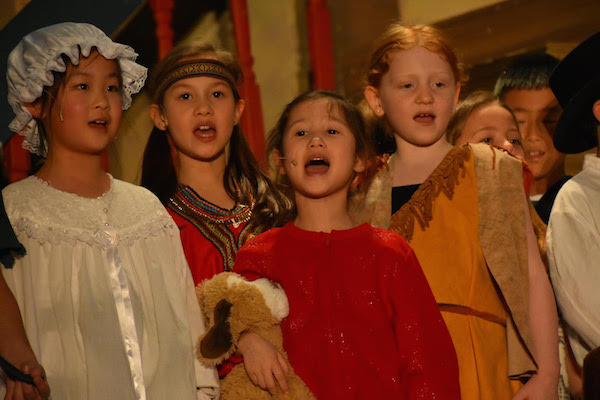 Five casts, comprising more than 200 Greenacres students appeared in seven performances of Peter Pan on January 28 and 29. The Greenacres PTA partnered with the Westchester Sandbox Theatre this year to produce the fun-filled shows. Dedicated parent volunteers supported the children, spanning grades kindergarten through five, as they rehearsed throughout January.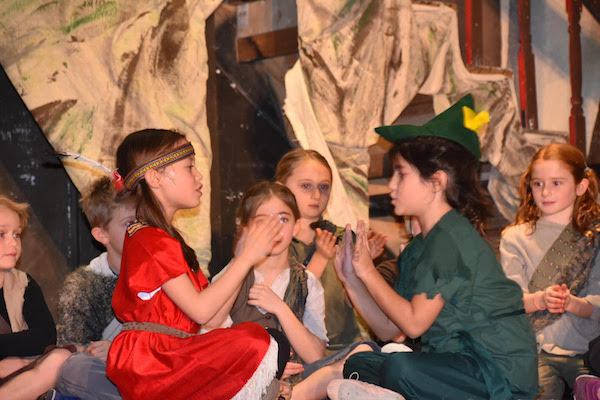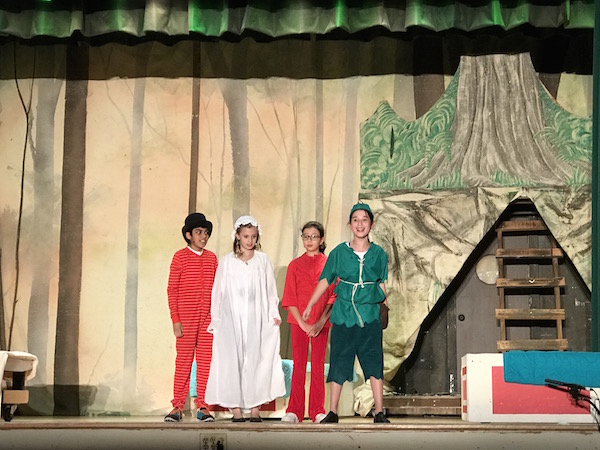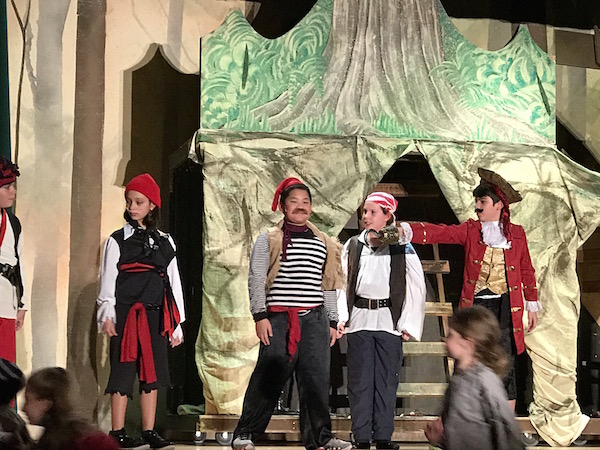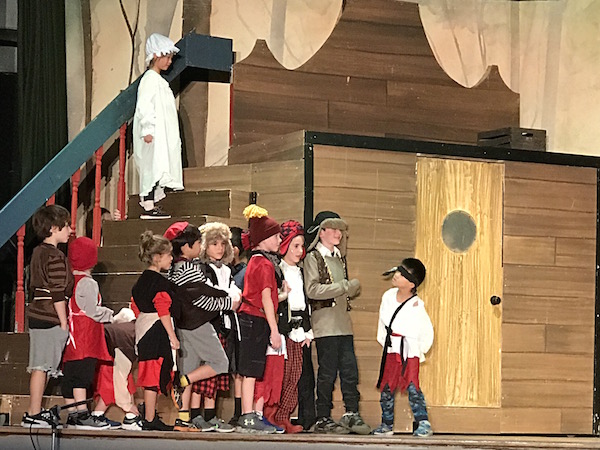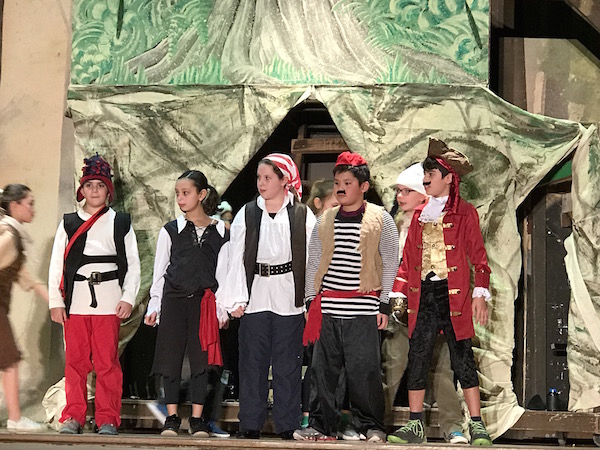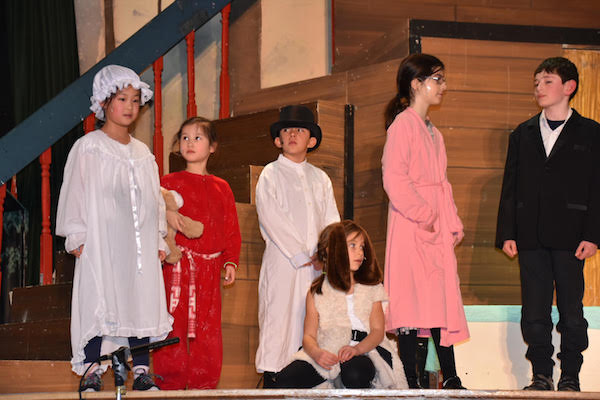 Add a comment
Raiders Girls Basketball Team Falls to New Rochelle in Close Game
Details

Written by

Emmeline Berridge

Hits: 1551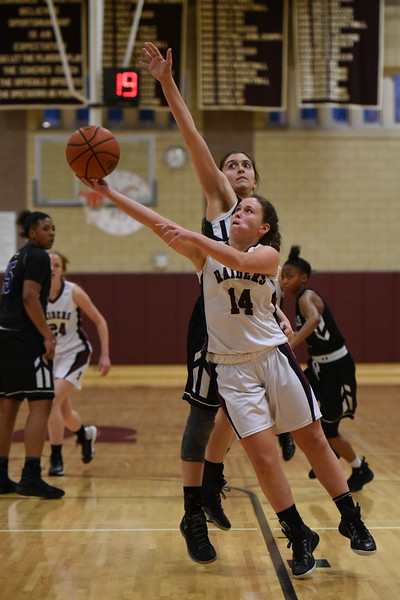 Going into their game against New Rochelle on Tuesday, January 24, 2017, the Scarsdale High School Raiders Girls Basketball Team had built up momentum from their previous league wins. Starting off the season 0-5 against some of the best competition in the state, the team had trouble finding their rhythm. Their 57-36 win over Mamaroneck on January 10 started a 3 game winning streak, with 2 hard fought wins against White Plains (37-34) and Mount Vernon (66-53). Scarsdale's ability to finish clutch against White Plains combined with their dominance over Mount Vernon resulted in a newfound cohesiveness of the group. These wins propelled the Raiders to a 4-6 record, a promising upturn to their season. On Friday, Jan. 20, the Raiders took on the 9th best team in the state, Ursuline. A 52-32 loss on Ursuline's home court was the result of a devastating first half, where the Raiders were down by over 30 points going into the 3rd quarter. A win against New Rochelle would mean that Scarsdale would establish itself as the second best team the league, which is well respected throughout the section.
Starting the game strong, the Raiders were up 18-2 after the 1st quarter. After a series of foul calls and loss of momentum, the half ended with the Raiders leading 25-19. Unable to maintain the lead, Scarsdale ultimately lost to New Rochelle 49-34. A total of 54 fouls were called in the game, an unprecedented amount for the 32 minutes of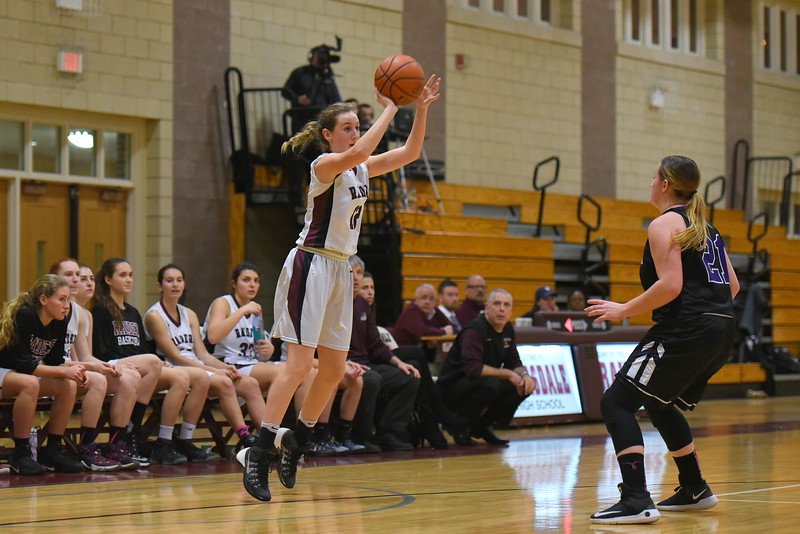 regulation play. With 1 minute left to go, the Raiders had already lost 3 of their starting 5 players to foul-outs. Center Emmeline Berridge got her 5th foul midway through the 3rd quarter, allowing the dominance of New Rochelle's center to shift the game. Guards Samantha Mancini and Lily Steckel were forced to leave the game late in the 4th quarter, weakening Scarsdale's offense. Another notable cause of Scarsdale's loss was their poor performance from the free throw line. Scarsdale's free throw percentage, which was under 50%, was a critical aspect of the team's loss. The Raiders also failed to make shots from the perimeter, which was detrimental for the perimeter-based offensive team. The team continues to their next game with a record of 4-7.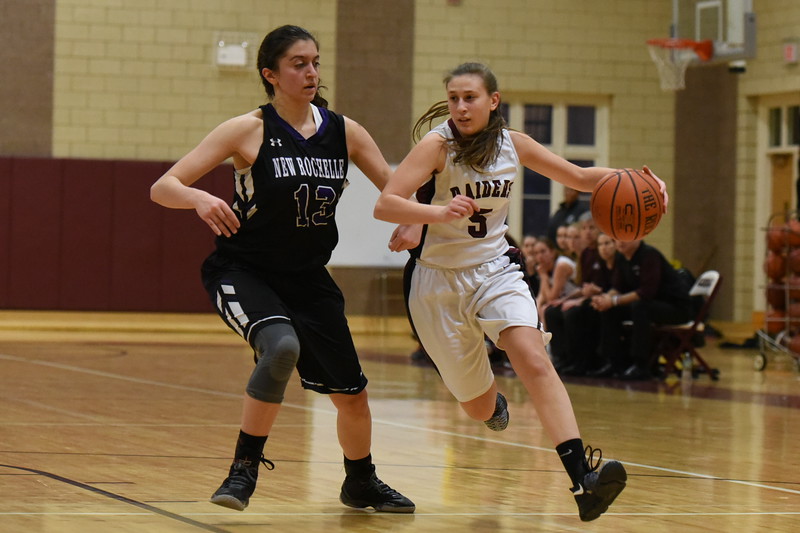 The Raiders will play Mamaroneck at home on Thursday, Jan. 26 at 4:15. Next week they face North Rockland on Monday, Jan. 31, White Plains on Wednesday, Feb. 2, and Mount Vernon on Friday, Feb 4. With a crucial stretch of the regular season ahead, Scarsdale looks to display their ability and advance their seeding for post-season play.
Photos taken by Jon Thaler. See more here.

Add a comment