BOT Talks Changes to Historic Preservation Code and Other Matters
Thursday, 12 April 2018 12:28
Last Updated: Thursday, 12 April 2018 12:28
Published: Thursday, 12 April 2018 12:28
Laura Halligan
Hits: 1855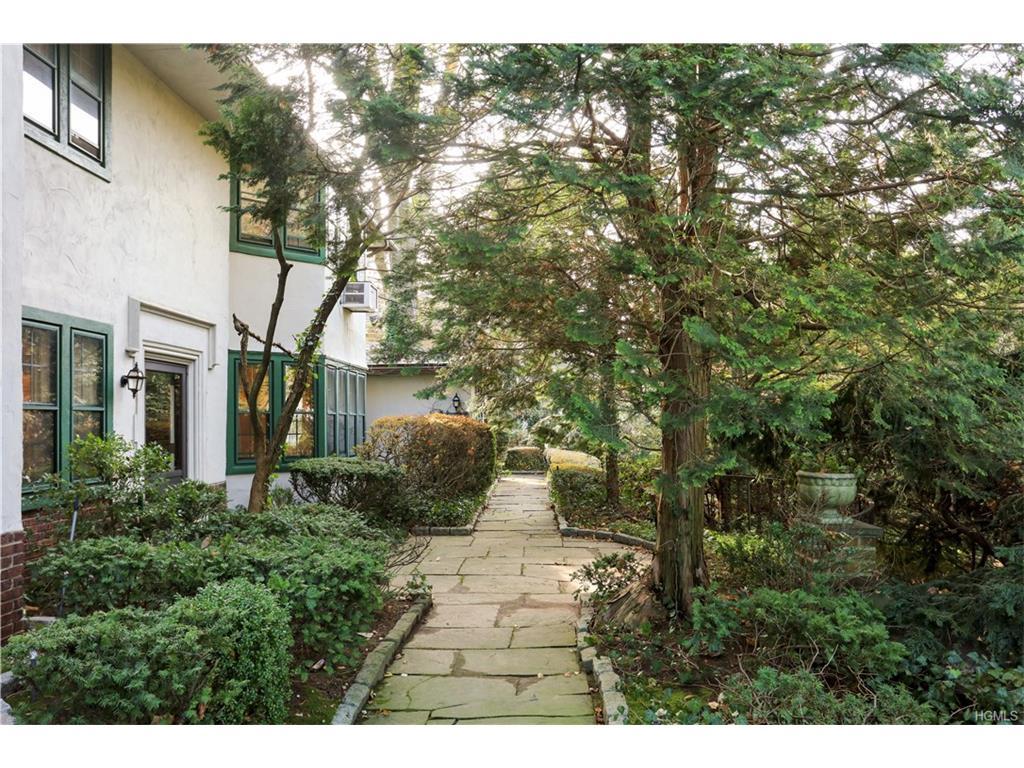 Scarsdale Trustee Carl Finger announced two proposed changes to the Scarsdale Historic Preservation code at Tuesday's board of trustees meeting, and invited feedback from the public at the meeting and in writing.

The amendments are 1) to allow a non-resident to sit on the Scarsdale Committee for Historic Preservation, provided he or she is an architect with an interest in historical preservation; and, 2) to make a change in language regarding preservation standards, specifically, revising one requirement by separating it into two different requirements: "That the building is the work of a master and embodies the distinctive characteristics of a type, period or method of construction that possess high artistic values" will be changed to read "That the building is the work of a master" or "Embodies the distinctive characteristics of a type, period or method of construction that possess high artistic values".

Finger further explained that reason behind inviting nonresidents to apply for the committee was to expand the pool of qualified individuals who could serve Scarsdale in this capacity.
Brice Kirkendall-Rodriguez (Fox Meadow Road) stated that, after recent resignation of committee members, he looked at historic preservation activities in neighboring towns. He found that "there is lot more rigor… They actually set forth a provision for identifying properties, in advance, that are worthy of preservation, rather than identifying properties on an ad hoc basis when the property is considered for destruction. The advantage of that, of course, is planning… both in the case of the homeowner and (the community)." He went on, "Given the current village standards for how (preservation is) determined, it's very difficult for someone without a great degree a knowledge to make a decision about whether a property is worth preserving. I would urge you, rather than looking at the wording… but they way the whole statute is constructed."
Finger responded that this approach was very much under consideration and that until a significant change is made, it is hoped that the proposed changes would clarify the existing code in the shorter term. The village will be accepting public comment on the amendments through Public comments will be accepted until Tuesday, April 24.
Mayor's Comments
The mayor and board addressed a number of other issues worth mentioning, beginning with the Mayor's commentary at the start of the session. Mayor Dan Hochvert mentioned that a red light has been installed at the corner of Popham and Chase Road. This is in response to resident complaints about drivers ignoring the "No Turn on Red" sign on Chase as they make their way onto Chase. "This should be a big improvement in moving traffic along safely and more effectively, and warn drivers that a right turn on red at that location is not permissible," he said.
Hochvert also announced that the Scarsdale Citizen Police Academy for middle school students would be held at the village's public safety building on Tuesdays, from April 10 through May 8. Class time is 4:00 to 5:00 pm; for more information or to register, visit thecenter862.com.
The mayor also addressed residents' concerns about proposed increases in water rates. "(First), try to save water. There were a lot of suggestions in a notice from water department… Just by being aware that water is flowing when you don't know it can save you money," he said. "Because we have to pay NYC for all water running through our system, including whatever leaks, by correcting these issues , it has helped keep our base rate one of the lowest in the county, after the recently proposed increase." Addressing recent questions about why the excess water rate was decreased from 3.5 percent to 3 percent, Hochvert explained, "The excess water users have to pay the increased base rate before they get to the excess rate, and they also have to pay three times the increased rate. We are charged by New York City at 2.94 times the base rate for excess usage… (these) form the rationale that we've provided. We have some control on how much we use. Those who use a lot still pay three times the base rate."
Village Manager
Village Manager Steve Pappalardo announced completion of the village's sanitary sewer evaluation study, which assessed the integrity of the sewer system and examined water inflows through video and smoke testing. The results identified 12 private sources of sewer inflows, such as driveway drains and roof leaders. Another 40 residential properties were identified as having plumbing defects or improper connections to the sanitary sewer system. Pappalardo advised that letters will be sent to affected homeowners shortly, explaining that the connections are are violations of village and county code. Village engineering staff will follow up on the letters to schedule secondary inspections and verify findings; the village also will provide access to professional assistance in determining best methods of remediation.
Trustee Reports
Trustee Jane Veron reminded the public about the upcoming Healthy Teen Brain Day, scheduled for April 19, from 2:45 to 6:00pm, at Scarsdale Middle School. The event will be presented by the Scarsdale Drug and Alcohol Task Force, and students from grades five through 12 are invited to participate, along with parents. Veron also mentioned that she will participate in a meeting with Scarsdale business owners next week to discuss creation of a new merchant group to further revitalization efforts in downtown Scarsdale.
Trustee Finger announced that the New York State Attorney General's Office, the Westchester County District Attorney's Office and the Westchester County Executive's office are sponsoring a gun buy-back program on Friday, April 13, from 9:00 am to 1:00 pm, at Mt. Hope Zion Church in White Plains.