"Running and Winning" Workshop Held to Educate High Schools Girls on Running for Office
Tuesday, 15 May 2018 22:04
Last Updated: Tuesday, 15 May 2018 22:06
Published: Tuesday, 15 May 2018 22:04
Deb Morel
Hits: 1434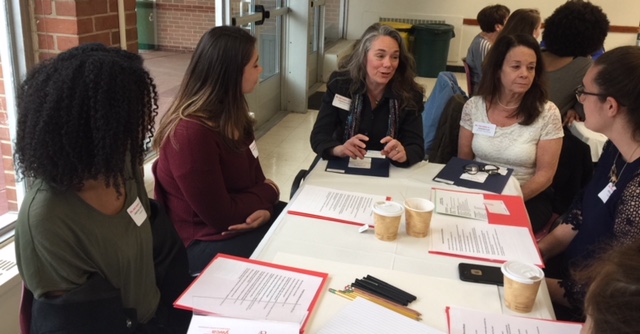 Victoria Gearity and Councilwoman Liz Fried spoke with the students.On April 19, 43 high school girls from across Westchester County met with 16 female elected officials to learn about running for political office. The seventh annual Running and Winning workshop was funded by the Westchester Community Foundation and sponsored by the League of Women Voters of Westchester, the American Association of University Women, and the YWCA of White Plains & Central Westchester.

The junior and senior girls listened closely to the female elected officials who included members of the State Senate and Assembly, and officials at the county, city, town and village levels. State Senator Andrea Stewart-Cousins reflected on high school students' growing political activism, "You are already speaking truth to power. Your biggest decision is how far you want to go, and how high you want to run."
Ossining Town Supervisor Dana Levenberg continued the encouragement, "Young women think they need to know everything before doing anything. But there is a lot of support for you out there."
There was no sugarcoating of the challenges. "I'm labeled as divisive when I'm outspoken," said Mount Vernon Councilwoman Farquharson. She offered practical advice: do not make decisions based on wanting to be re-elected. "I freed myself from that limitation. I will make decisions based on what is good for the community." Briarcliff Manor High School Senior Jane Tilles commented, "I loved when she [Farquharson] quoted Shirley Chisholm, 'If they don't give you a seat at the table, bring a folding chair.'" Cynthia Constantinou, Briarcliff Manor Senior, agreed. "We need to have more active and assertive women making space for themselves. The role models here today cemented a new awareness of women in politics."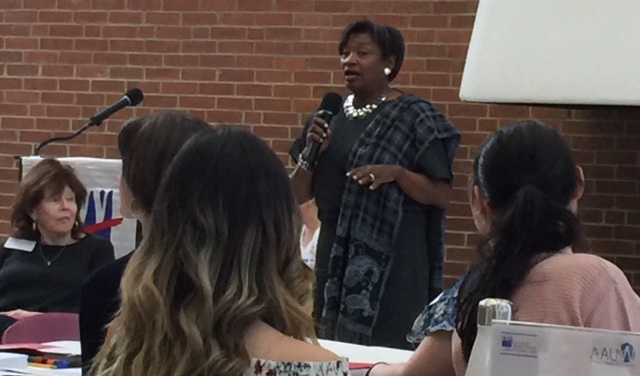 Senator Andrea Stewart Cousins also addressed the girls.
The officials shared their personal stories and motivation for running. They encouraged girls to follow their passions. Virginia Perez, County Board of Legislators, told them that "women run for office because something happened in their lives." After her brother was murdered by gang members, she ran to enact policies that could "save two people: the person who won't make the mistake in the first place, and the person who would have been their victim." Perez told the students that while she was proud of her work in politics, "I'll be a lot more proud when I vote for you."
Liz Fried, New Rochelle City Council, addressed one of the biggest challenges identified by the officials – raising campaign funds – while echoing Perez's encouragement. "When you ask for money to run, remember that they are not giving to you as an individual, but as a pathway to community."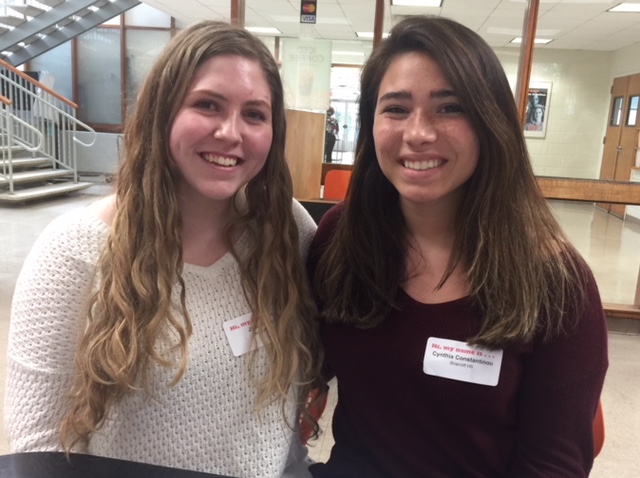 Janes Tilles and Cynthia ConstantinouConstantinou acknowledged that her generation faces challenges in addition to fund-raising, "Sometimes there is a stigma that teens can be lazy or have short attention spans. Underestimate us all you want, but we are changing things. Our generation will have an impact on politics." Fried invited that impact, "Don't feel guilty. Don't be shy. Put on your sneakers and run."