Utility Companies Fail to Repair Storm Damage and Legislators Hold Hearings on Con Ed's Response to Nor'Easters
Wednesday, 30 May 2018 15:12
Last Updated: Wednesday, 30 May 2018 18:08
Published: Wednesday, 30 May 2018 15:12
Derek Moritz
Hits: 2621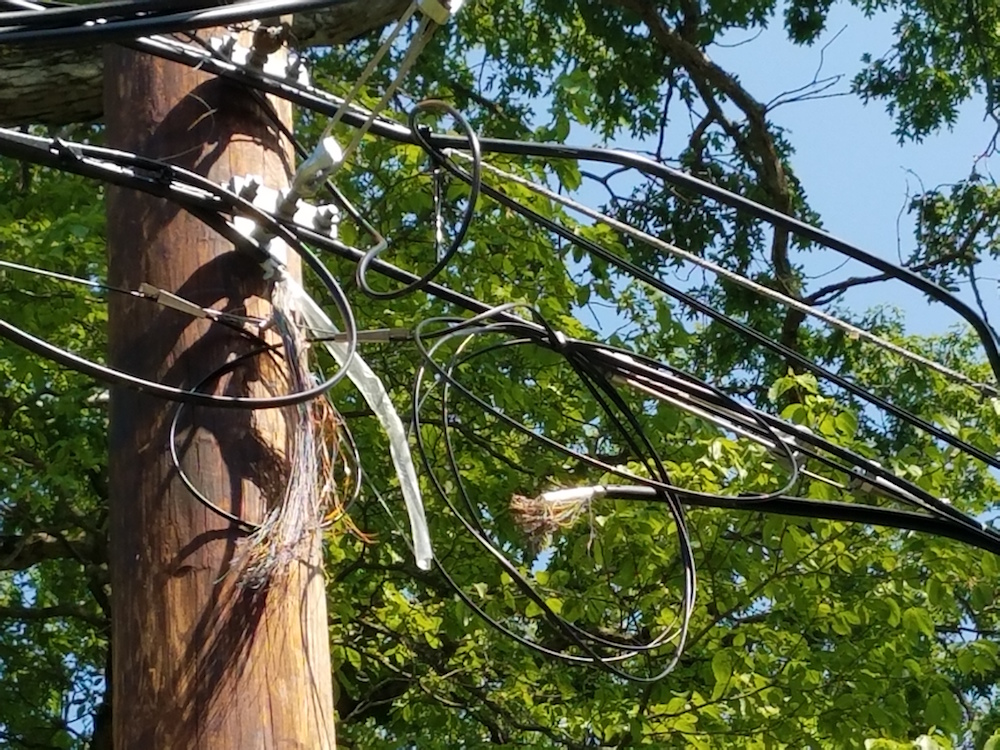 Exposed Wires at 40 Paddington RdWe received some complaints about broken and temporary utility poles in Scarsdale dating back to the damaging Nor'easters that occurred in March, 2018. Turns out these poles are the responsibility of Verizon and Con Edison, not Scarsdale Village, and the utility companies need to repair, replace and remove them.
In response to your inquiries on the state of the utility poles, we asked the Village Manager's office what was being done. They reported that Scarsdale was pummeled by multiple Nor'easters last March, resulting in a significant amount of damage to Con Edison and Verizon utility poles and wires. While much of the damage has been repaired, a few leaning and broken poles remain. The Village has reported the locations of the damaged poles multiple times to Con Ed and Verizon, but to date they have not been repaired.
In early April, Scarsdale's Department of Public Works (DPW) contacted Verizon to schedule the repair of tilting poles on Saxon Woods Road and Boulder Brook Road. After a month of no action, Verizon claimed that they sent out a job in April, and will work on expediting the repair. At this time, Village DPW also alerted Verizon of another pole located near 56 Crossway, and was assured by Verizon that this work would also be expedited. This exchange occurred at the beginning of May, and despite numerous emails since then, Verizon has not responded nor completed the repair work. Around this time, the Village Manager's office also contacted Con Ed to see if there's a plan in place to inspect and fix the remaining damaged poles.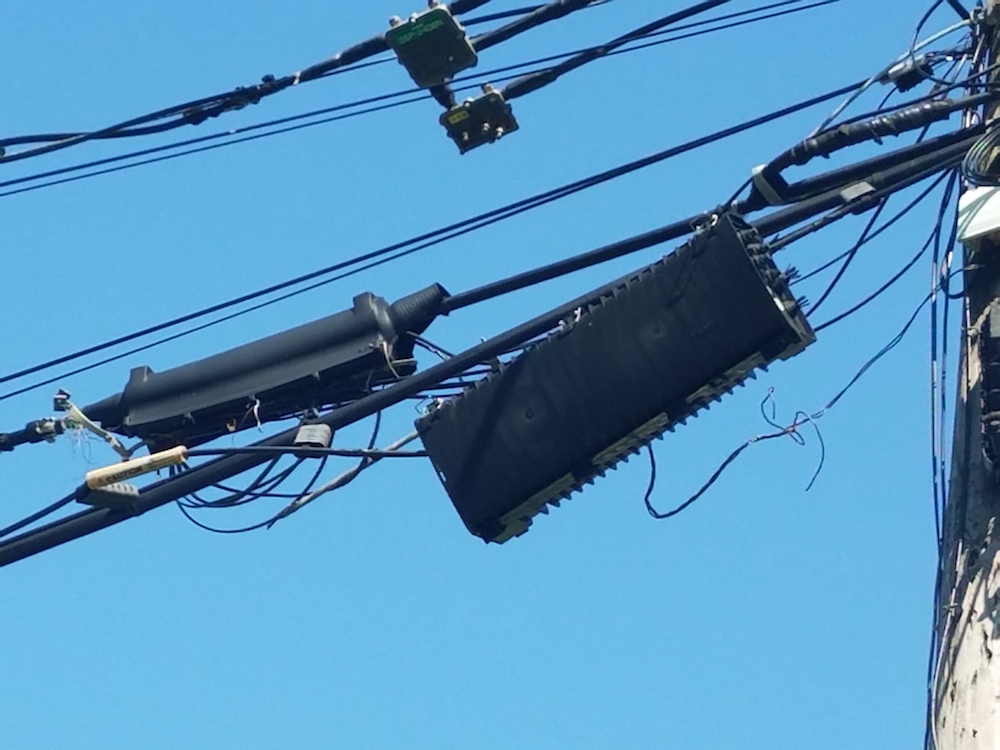 Hanging Transformer Box on Rodney RoadThree weeks later on May 17, Con Ed responded with a schedule of repairs they would do along with a list of jobs sent to Verizon to be scheduled. Work is scheduled to repair utility poles at the following locations:
33 Walworth Avenue
18 Sheldrake Road
2 Horseguard Lane
20 Olmstead Road
Con Edison notified to Verizon to repair the following poles:
Saxon Woods and Boulder Brook Roads
23 Park Road
48 Walworth Avenue
40 Paddington Road
Paddington and Olmstead Roads
Richbell and Larkin Roads
Rodney and Jefferson Roads
Rodney and Hamilton Roads
Con Ed also noted that 89% of Scarsdale pole inspections have been complete, and the remaining 11% won't be completed until the end of 2019.
But fixing these damaged utility poles is just the beginning of Con Edison's issues.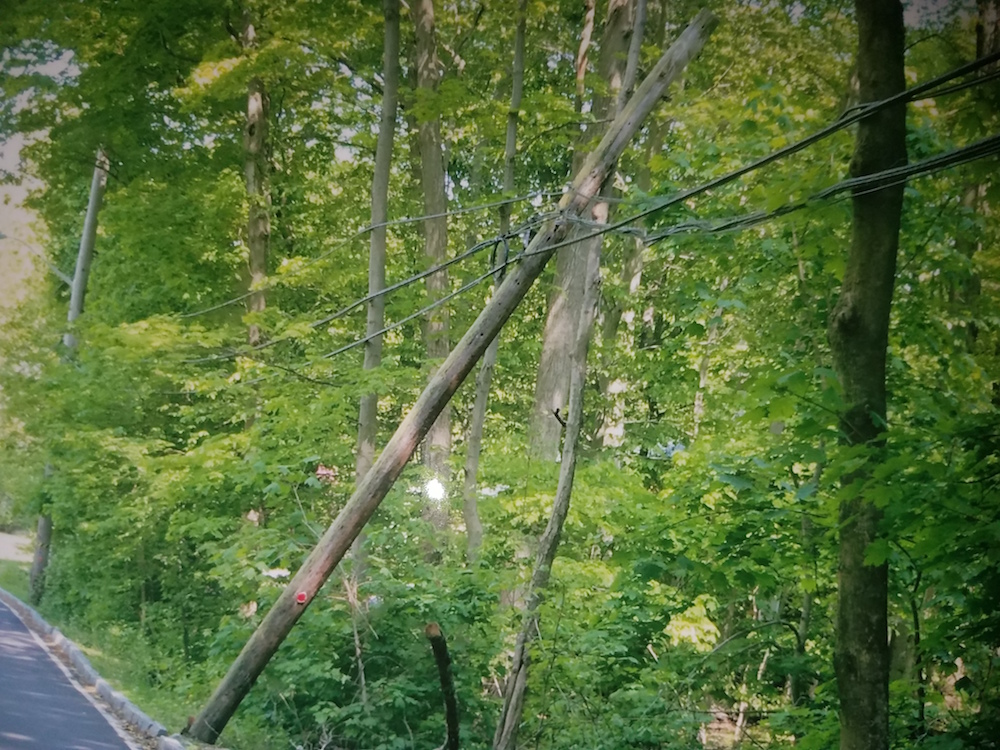 Downed Pole on Saxon Woods Rd
On May 11, the utility company issued a 94 page report on their response to the two Nor'easters that struck in March. They stated "Con Edison faced many challenges during Winter Storms Riley and Quinn. While the Company was able to work through these operational and restoration challenges, Con Edison recognizes, and has acknowledged, that the accuracy of the outage and restoration information provided to many customers did not meet our, nor our customers' expectations. While Con Edison restored many customers consistent with our initial estimate, other customers received incorrect information." In the report, they recognized that an error in their notification system lead to 49,000 customers being given false information. However, they did not fully acknowledge their own role in the lack of response, and instead noted that "obtaining mutual assistance support sooner would have enhanced our ability to execute on work packages and restore customers faster." They also touted that 90% of electricity was restored within the initial estimate of four days, but many Scarsdale residents in particular had to suffer much longer wait times.
On May 21, United Westchester, a committee of 70 elected Westchester officials including Scarsdale Mayor Dan Hochvert, published a 41 page report outlining the performance of Con Ed and NYSEG during March's Nor'easters. The report specifically highlighted eleven early recommendations the utility companies can implement to better respond to future storms.
These recommendations include:
Giving the local governments more accurate information regarding crew placement and damage assessment.
Reevaluating the heavy reliance on the mutual aid system (the practice where utility companies from out of state come in to help repair the power lines).
Abandoning the practice of communicating to customers via robocall due to lack of accuracy. 

These recommendations, if implemented, could lead to more transparency between Con Ed and local governments/customers while improving reliability and response.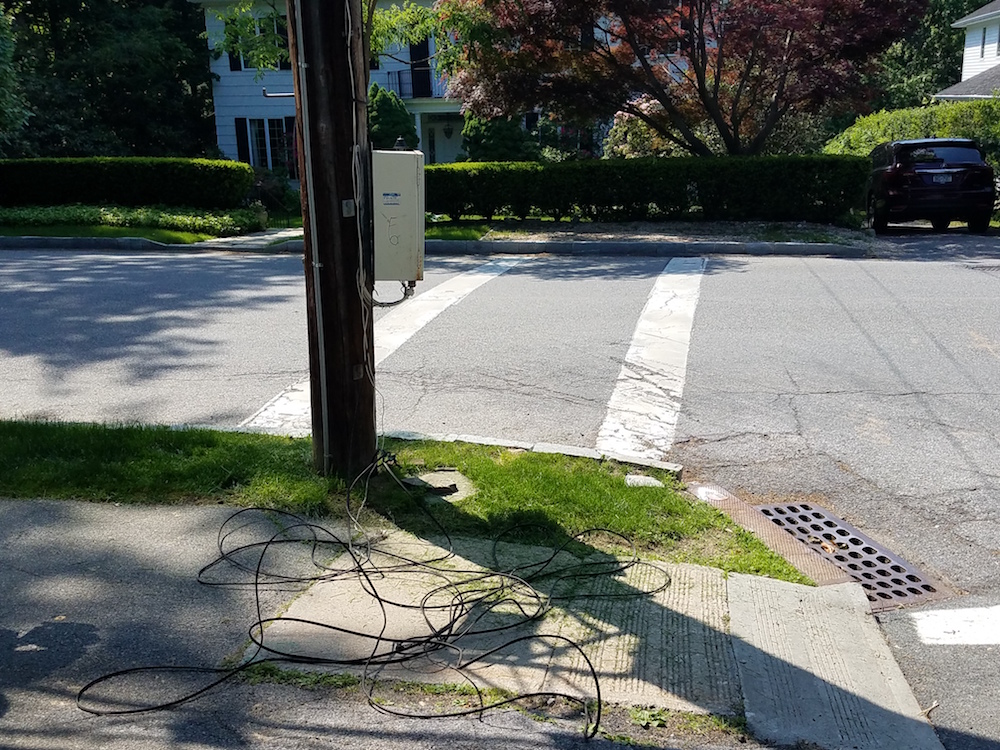 Wires Left on the Sidewalk Near 33 Walworth AveOn May 29, the State Assembly's Committee on Corporations, Authorities, and Commissions, chaired by Assemblywoman Amy Paulin, held a public hearing on storm response by utility companies. The committee asked the utility companies questions regarding their role in response and preparation for storms. Then, the committee heard from the Public Service Commission, which documented the utility companies' response over the past two months and also took input from local lawmakers.
After the hearing Assemblywoman Paulin said "These storms were extremely challenging in terms of their damage and close proximity in timing. We are all invested in Con Ed and NYSEG's success in circumstances like these. However, I am alarmed that so many of the issues raised today were also raised six years ago after Superstorm Sandy. The problems we heard about today included a mutual aid system for staffing that has consistently failed to deliver for storms of this magnitude covering large portions of the northeast; a cycle of confusion between the utilities and municipalities on the allocation of damage assessment, cut and clear, and linemen crews on any given day; and poor communication with the general public, including error-prone outage maps, frequent head-scratching robocalls where the utility seemed unaware if the customer they were calling had power or not, and misinformation shared by staff on the ground that exacerbated customer frustration during a very trying time. The legislature, the Public Service Commission, and the utilities need to learn the lessons of what went wrong in March and apply them moving forward so we're not repeating this pattern for future major storms."
Hopefully, these hearings will put enough pressure on Con Ed to make changes so there won't be utility poles left in disrepair months after future storms.