Post Road to be Repaved, New Gas Main on Scarsdale Avenue
Tuesday, 21 August 2018 20:09
Last Updated: Tuesday, 21 August 2018 20:11
Published: Tuesday, 21 August 2018 20:09
Joanne Wallenstein
Hits: 1990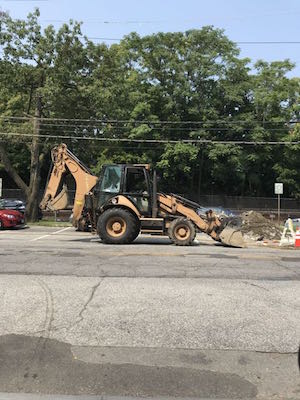 (The following announcements are from Scarsdale Village Managers)
The New York State Department of Transportation is scheduled to repave the portion of Post Road passing through Scarsdale in its entirety starting on Monday, August 6th. This estimated $2.1M project is not your everyday asphalt resurfacing.

The NYSDOT is going to do the job right so that it addresses a variety of existing physical roadway problems and ultimately delivers a traveling surface that will withstand the test of time and heavy usage. Doing it right translates into noise, lights, and heavy vehicle construction work involving long sections of Post Road. The Village is working with NYSDOT officials to minimize adverse impacts, but they are largely unavoidable given the project scope and location.
Heavy machinery and portable roadway construction lighting will be deployed between the hours of 7:00 p.m. and 6:00 a.m., Sunday through Thursday, beginning on Monday, August 6th. NYSDOT will endeavor to conduct the most disruptive elements of their work as early as possible on each day so as to minimize nighttime noise.
The work will begin near the border with Eastchester and proceed north from there, with the completion estimated for shortly after Labor Day. Residents and other Post Road users should avoid travel on Post Road as much as possible, as there will be lane closures and heavy construction activity. Motorists are advised to follow any posted detours and adhere to construction zone speed limits.
Official NYSDOT Traffic Alerts are available using 511 and through the NYSDOT website.
Con Edison to Replace Scarsdale Avenue Gas Main
Beginning on Wednesday, August 15th, Con Ed is beginning an estimated three to four week project involving replacing and upgrading the aging underground gas main on Scarsdale Avenue between Popham Road and Wright Place. Monday,
August 20th, through Friday, September 14th (estimated).
Major roadway excavation and gas main replacement between 8:00 PM to 6:00 AM.
Phase II is being performed at night to minimize otherwise potentially significant traffic and business impacts.
During construction hours, Scarsdale Avenue will be reduced to one lane, managed by Scarsdale PD to provide for travel in both directions on an alternating basis.
Expect construction lighting at night, roadway excavation noise, traffic management measures, and Scarsdale Avenue parking restrictions – watch for postage signage.
Motorists are encouraged to observe and obey all traffic and parking-related restrictions in the construction zone, and to exercise caution while traveling along Popham Road, particularly in the area of the intersection with Scarsdale Avenue.