Developers Offer Promising Ideas for New Freightway
Thursday, 29 November 2018 09:41
Last Updated: Tuesday, 07 May 2019 20:29
Published: Thursday, 29 November 2018 09:41
Laura Halligan
Hits: 5966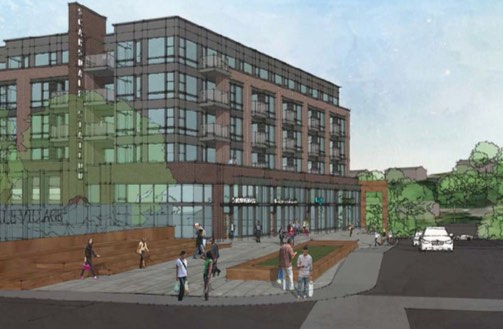 Toll BrothersDevelopers unveiled innovative plans for the development of the Freightway site at a meeting on Tuesday evening 11-27 of the Scarsdale Land Use Committee. Seven firms presented their responses to a "Request for Expression of Interest" (RFEI) for the Freightway redevelopment project. The RFEI yielded promising proposals that met the village's objectives in improving the site and appeared physically feasible to complete.
According to Scarsdale Village Trustee Jane Veron, "First, we are delighted to learn that there was strong interest among highly credentialed firms in taking on this development project. Second, we were incredibly pleased that many, if not all, principles of the (Freightway) visioning study seem feasible on the Freightway lot. Finally, we have seen a consistency among attributes from the development community that will enable the (development) of a successful request for proposal, or RFP."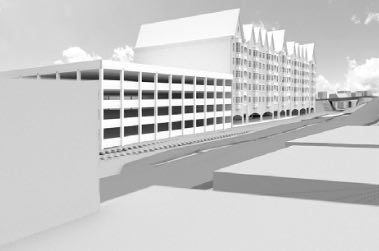 Avalon Bay Communities
She then emphasized that the purpose of the meeting was to share information about specific concepts that were proposed, and not to debate the plans. The firms that responded to the RFEI, which included Avalon Bay Communities, BRP Development, East End Capital, Gateway Development Group, LCOR, LMC/Lennar, and Toll Brothers, offered the village a variety of ideas, ranging from rebuilding just the garage structure to creating an elaborate mixed use development.
Before turning the meeting over to Assistant Village Manager Ingrid Richards, Veron cautioned that, while these preliminary designs were exciting, it is very early in the process, and the village is reviewing the firms' ideas without detailed understanding of costs, economic impacts, logistical issues and related matters. "There will most certainly be a time to articulate views and we will provide ample opportunity for that exchange," she said.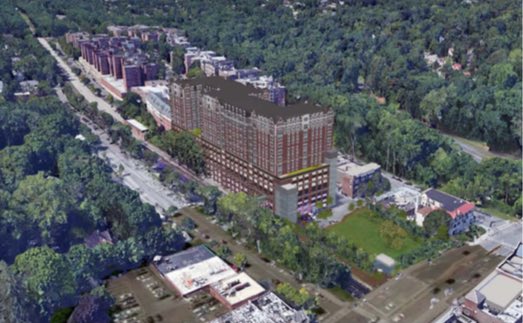 BRP DevelopmentRichards then presented highlights of each proposal. She began by noting that Freightway would be a "transit-oriented development," reflecting the current trend of creating vibrant, pedestrian-oriented areas centered near transit hubs and benefitting surrounding communities. Richards reminded attendees of the project's overall vision, stating, "Any future development… should be a signature project that positively contributes to the vibrancy of the village center while maintaining its current function as a commuter parking lot."
She then referenced the Freightway visioning study, which was completed earlier this year, and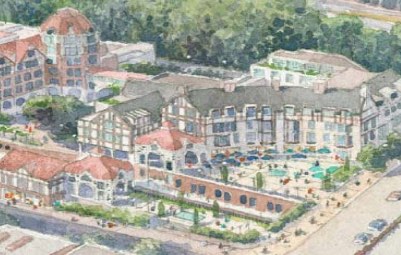 East End Capitalreviewed the seven principles guiding the project, which are to: 1) improve parking and circulation; 2) ensure public benefits are achieved; 3) ensure contextual development (consistency with look/feel of the village center); 4) encourage mixed-use development in support of the village center; 5) connect and integrate the site with the village center; 6) include environmentally friendly/sustainable attributes; and 7) plan for future needs/uses over the long-term.
Richards said that the study was shared with all developers that responded to the RFEI to ensure that they would incorporate the principles and residents' ideas in their proposals. "Many of the (developers') concepts were in line with the visioning study. We feel we can achieve what we'd like to achieve at the site," she said.
Generally speaking, the developers proposed creating a significant number of residential units at Freightway and improving parking capacity; and all but one provided for retail, commercial and/or office space.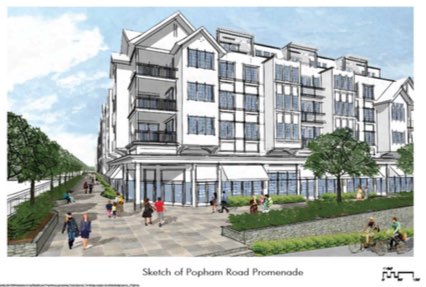 Gateway DevelopmentHighlights of the proposals were as follows:
The Toll Brothers plan features:
• A three-story podium parking structure with retail space, and a seven-story garage on the north side of the site;
• A two-story parking podium and five-story residential building on the south side/at center of the site;
• An urban plaza with retail space along the Popham Road bridge to connect the site from east to west;
• An improved alleyway/passage along the east side of the site to provide pedestrians with better access to the train and village center; and
• An offer to investigate construction of a wide esplanade over the Metro-North tracks, connecting Freightway to the rest of the village center.
The East End proposal includes:
• A design that reflects the Tudor architectural style to ensure consistency with existing village center buildings;
• Two publicly accessible plazas east and west of the Metro-North tracks, and a 30-foot-wide "highline" adjacent to the train tracks;
• Commercial/retail spaces, and an open plaza along Scarsdale Avenue, connecting Scarsdale Avenue to Garth Road;
• A service drive that improves traffic flow by separating service vehicles from commuter traffic, pedestrians and public parking; and
• A community theater and music school.
The Gateway submission contains: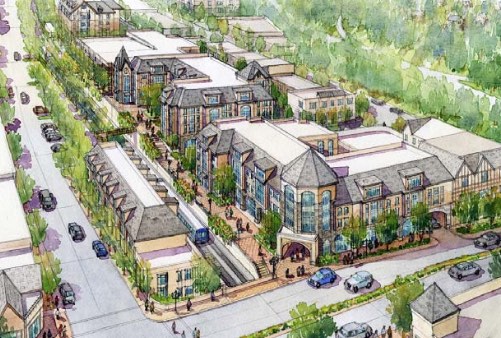 LCOR
• A five- to six-story residential structure with three levels of parking;
• A "Popham Road Promenade" with ample public and retail space;
• A pedestrian promenade, pocket park and rain garden on Scarsdale Avenue, connecting it to Garth Road; and
• A vehicular or pedestrian bridge over the Metro-North tracks, that arrives at the upper level of the new garage.
The Avalon Bay plan includes:
• One six-level parking garage for commuters and visitors;
• A five-story residential building located above a second, residential;
• A 3,500-square-foot retail/live/work space along the Popham Road bridge; and
• A village plaza at the corner of Popham Road and Scarsdale Avenue.
LMC proposes:
• A design featuring Tudor architectural features with contemporary elements;
• An integrated platform for community concerts, seasonal space for community events and activities, such as holiday pop-up shops and the farmer's market, as well as a dog run;
• A pedestrian plaza located on Popham Road, along the east side of the development; and
• 40,000 square feet of retail/commercial space (largest amount proposed, but less than the 10 percent of gross floor area required by Scarsdale).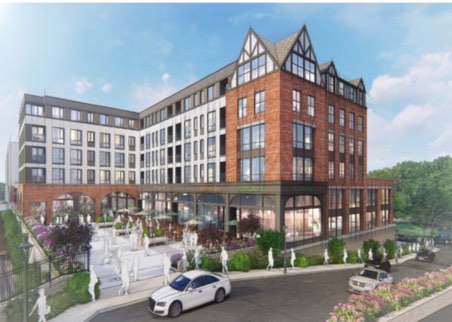 LCOR's plan suggests:
• A design that incorporates elements of the Tudor architectural style;
• A corner tower and pedestrian walkway similar to the Harwood building;
• Townhomes located on Scarsdale Avenue that are integrated with the development site;
• A 60-foot-wide green space ("The Mews") connecting Scarsdale Avenue to Garth Road and the Bronx River Greenway, and a public promenade adjacent to the train tracks;
• Changes to surrounding streets, including a curb cut on Popham Road and reconfigured turning lanes on Garth Road, to effectively manage traffic circulation.
And, finally, BRP's proposal includes:
• A seven-story parking structure, with eight stories of residential space above;
• A pedestrian access bridge connecting the site to Scarsdale Avenue;
• A public open space located adjacent to Popham Road, including a community park, commuter plaza and kiosk;
• A tree-lined, open park to be used for community events and as a local gathering space.
Next Steps

As village officials and staff begin to review the proposals, they also recognize the need for specialized legal services during the redevelopment process. At its general meeting following the RFEI presentation, the board of trustees approved a resolution to hire James Staudt, of McCullough, Goldberger, and Staudt, LLP, to advise and represent Scarsdale on legal matters related to the project. Staudt was chosen for his expertise in municipal economic development projects, and his previous positive experience with the village while working on the Christie Place development.
While the seven designs certainly will generate a good deal of enthusiasm, there's a long, complex road ahead. The next major goal for the village is to use information submitted by the developers to create a suitable RFP, which may be completed in early 2019. Considering the months required for developers to respond, and the additional time to review the submissions, Freightway's transformation is still a ways away. But, slow and steady consideration of each option will be critical to a project that will shape Scarsdale's future.
According to Veron, "We are in the beginning stages of a process that will guide one of the most important and impactful developments in Scarsdale's recent history." (To review the complete RFEI presentation, visit the Planning Department page of scarsdale.com.)
Speaking of Redevelopment…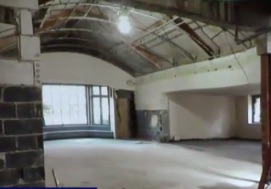 Representatives of the Scarsdale Public Library presented an update on the library renovation/reconstruction project at Tuesday's board of trustees meeting. Scarsdale Public Library Board President Diane Greenwald reviewed progress to date and provided a short-term outlook on construction. Work began in August, and demolition and asbestos abatement are continuing. Pylons have been completed and sewage lines have been identified to avoid any problems in excavation work.
"We are really moving along and we have a good sense of what (happens) in each phase, and, hopefully, we'll be on time."
In addition to collaborating with the construction team, the library's building committee currently is reviewing bids for external and internal design work. When dealing with the building's exterior, the committee is looking at materials that complement the local site, such as stone, terra cotta and wood, to ensure that the building blends seamlessly with the landscape. The committee also is working to design an interior space that offers "something for everyone," and now is considering furnishings that can be used in a variety of ways, and are both comfortable and durable.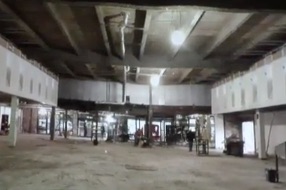 Beth Bermel, Director of the library, also provided an overview of current operations at the Scarsdale Library Loft. She announced the loft's new winter hours – 8:00 am to 8:00 pm (Monday, Tuesday, Wednesday); 8:00 am to 6:00 pm (Thursday, Friday); and 9:00 am to 5:00 pm (Saturday) – and acknowledged local organizations that are supporting the library during construction by hosting programs and assisting with circulation.
Bermel also announced that the Friends of the Scarsdale Library will host a second "Casino Night" in March, following the success of the first event, which drew 400 guests.
Laura Halligan is a local writer, editor and marketing consultant. She is principal of Pinch Hit Prose and provides communications services to entrepreneurs, small businesses and nonprofits.