New Restaurants Opening and Infrastructure Improvements in Process: News from the Village Board
Details

Written by

Laura Halligan

Hits: 11657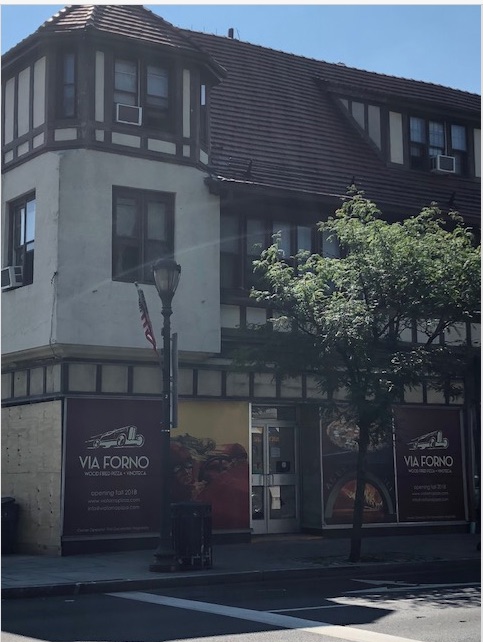 Despite the dog days of summer, Scarsdale continues to move ahead, as reported at this week's board of trustees meeting.
In his remarks, Scarsdale Village Manager Steve Pappalardo reminded residents about paving work on Post Road and the replacement of a gas main on Scarsdale Avenue.
The New York State Department of Transportation has begun prep work for resurfacing the roadway; moving north from Eastchester, contractors are replacing/installing handicap access ramps, adjusting manholes and removing asphalt prior to pouring new asphalt. To minimize negative effects for motorists and residents, is being done between 7:00 pm and 6:00 am, Sunday through Thursday, with the most disruptive activities planned for early in the evening each day to reduce nighttime noise. The project should be completed in early September.
In downtown Scarsdale, Con Ed has started replacing and upgrading an old underground gas main on Scarsdale Avenue, between Popham Road and Wright Place. The three- to four-week project will be completed in two phases – daytime work is scheduled between August 15 and 18, and nighttime work is planned from August 30 through September 14. While minimal disruption is expected during the first phase of work, residents are advised to expect more significant traffic and parking restrictions, as well as excavation noise during the second phase of the project.
In both cases, some short-term pain certainly will lead to long-term gain.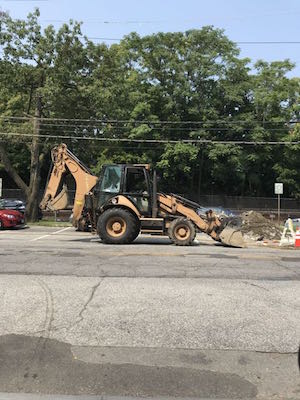 A gas main on Scarsdale Avenue is being replaced by Con Edison.
Perhaps more exciting news came from Trustee Jane Veron, who discussed two new restaurants that will be coming to Scarsdale.
Via Forno Wood Fired Pizza & Vinoteca will open in the former 7-Eleven space on Garth Road this coming fall. The restaurant, described as "a modern interpretation of traditional wood-fired pizza restaurant and wine bar concept," will feature an outdoor dining area at the corner of Garth and Popham Roads.
Veron also announced that the White Plains eatery Sapori is expanding to a second location in Scarsdale. The highly regarded Italian restaurant will move into the space that most recently was occupied by Wuji, on Chase Road.
In addition, she discussed her work with the new Scarsdale Business Alliance, which recently hosted the village's annual sidewalk sale and has begun planning for the next "Light the 'Dale" event, among other activities. And, in related news, the Scarsdale Farmers' Market will close at the end of August, and review resident feedback and comments in preparing to re-launch in the fall.
Veron concluded her comments with an update on the work of the Scarsdale Ad Hoc Communications Committee, which has been developing a volunteer portal for scarsdale.com and creating new resident information materials throughout the summer.
Mayor's Comments
Mayor Dan Hochvert provided a recap of his activities during the past weeks, which included making progress on a number of initiatives of interest to residents.
First, in an effort to learn more about distributed antenna systems (DAS) that are being proposed for Scarsdale, Hochvert and Trustee Justin Arest spoke with Rye City Mayor Joshua Cohn about Crown Castle's second lawsuit against Rye over a stalled proposal to place DAS in the municipality. Late last year, a federal judge dismissed a lawsuit filed by the company against Rye, which accused the city of violating federal law when it required Crown Castle to conduct additional reviews of its proposal. Cohn will continue to provide Scarsdale officials with updates as the situation develops.
Also, Hochvert and other municipal officials met with Westchester County Executive George Latimer to talk about "bridge strikes," or trucks hitting bridges on local roadways, which inevitably lead to traffic nightmares. An increasing number of truck drivers, following their GPS systems, enter local parkways, such as the Hutchinson River Parkway, and crash into low bridges that they cannot clear. In the first half of 2018, there were dozens of bridge strikes in Westchester. Latimer is interested in working with Scarsdale, Rye Brook and Rye to roll out new methods to alert drivers.
More recently, in advancing Scarsdale's sustainability efforts, Hochvert met with county officials to review ideas on reducing the number of plastic bags used throughout Westchester. While New York legislators didn't act on proposals to impose a fee on plastic bags during their last session, a growing number of communities throughout the state are banning the use of single-use plastic bags by retailers and are promoting the use of reusable bags to reduce environmental waste.
In addition, Hochvert continues to encourage better communications with Con Ed and improve communications with the utility during emergencies and power outages. He and other Scarsdale officials met with local Con Ed representatives to outline ways to more effectively coordinate activities among Scarsdale Public Works Department, Scarsdale Police and Con Ed officials, and reported that the work will continue.
Public Comment
Zoe Berg (Tisdale Road) expressed her concerns about what she sees as a lack of "organized efforts to solicit input about what matters most to us here in Scarsdale." She said, "Village board meetings… do not create an inclusive atmosphere that encourages dialogue… time limits, not responding to questions until the end of the speaking period, and refusing to engage in back and forth fosters apathy among our community… Why have no surveys been distributed to gain a better sense of residents' needs? Why have no focus groups been created? What about a town hall? You are here for us, so please make an effort to engage with us and find out what we need to prioritize as village."
Bob Berg (Tisdale Road) discussed Scarsdale's property assessment processes and recommended a recent report prepared by the Scarsdale Forum Assessment Revaluation Committee. "…the forum's (committee) published what I consider a brilliant, objective and highly informative study on how to do a proper town-wide property assessment… which is absolutely essential reading... The report uses examples of both the Tyler and Ryan revaluations to point out flaws and shortcomings that must be avoided in any future revals in Scarsdale, and it points out positive aspect, largely from the Tyler reval, that should be repeated." He continued, "The real estate market in Scarsdale is rapidly changing… I expect prices to decline next year as buyers run the numbers and figure out the true after-tax cost of owning in Scarsdale, now that the federal income tax subsidy has been mostly removed. We're going to need to do another reval within the next two to three years… given that reality… we've got to start the process soon."
Bob Harrison (Fox Meadow Road) began his comments by announcing that the Scarsdale Youth Tennis League just completed its 34th season. This year, 45 children participated in over 335 matches. He then changed gears and asked the trustees about how many property tax grievances were filed this past June (approximately 550, a decrease from about 750 filed last year).
Matthew Miller (Roosevelt Place) concluded the public comment portion by mentioning his concerns about general discourse during board meetings. "When I hear… the mayor cutting me off when I (am) speaking… I (don't) really care about that… On May 22, you told Bob Harrison, before he even spoke, to keep it to five minutes and, while he was speaking, you kept interrupting him… On June 26… he said it's a little cold in here… and you guys said you have to keep the air conditioning going because we're blowing hot air at you… That's not right. I think it was terribly rude… I believe this community is a great community. I will keep coming here… trying to make this town great; I also think all you guys are wonderful people… we(just) can't do those type of things."
Former Village Justice John Galloway Passes Away
Details

Written by

Joanne Wallenstein

Hits: 2087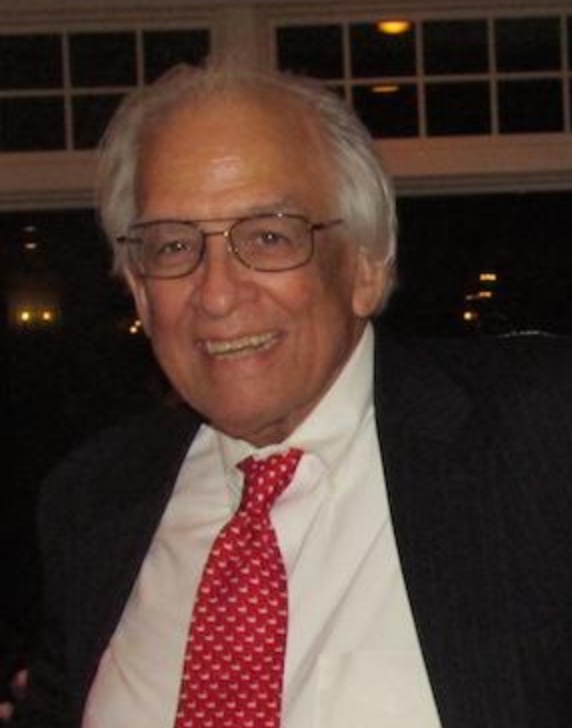 John H. Galloway III, affectionately known in Scarsdale as "the Judge," passed away on August 3, 2018. Born on August 29, 1939 in New York, New York to Mary Phillips Galloway and John Henry Galloway Jr., John resided in the Scarsdale area for much of his life.
John attended Stepinac High School, Georgetown and Cornell Universities and Fordham Law School. John and his wife, Frances, formed a law practice in Scarsdale where they were partners in life and law for over 50 years. His compassion, dedication to fairness and kindness showed through in every aspect of his life. As Scarsdale Village Justice of 20 years, longtime Rotarian, active parishioner and educator at Immaculate Heart of Mary Church in Scarsdale, John lead a life that made a difference in others' lives. He took great pleasure in Community Theater, sailing, bird watching, music and stargazing. The Galloways are long-time members of the Fox Meadow Tennis Club. Above all else, was his love for his family. He is survived by his wife, Frances Cassebaum Galloway, daughters Emily McGovern-Voliva and Sarah C. Galloway, brother, David Galloway, grandchildren Colleen McGovern, Erin McGovern and Kelly Ann McGovern. John was known by many and loved by all.
Commenting on the loss, Scarsdale Village Justice Jack Alemany said, "John Galloway was a great judge and a better person. The Village of Scarsdale and the legal community of Westchester County will miss him.
Scarsdale Village Manager Steve Pappalardo said, "John Galloway was a rare individual, smart, principaled, and respectful of all, a more empathetic, human being you won't find. Every defendant had their day in court when Judge Galloway precided and his decisions were fair and balanced. I will miss him for his friendship and kindness."
Mass of Christian Burial Tuesday August 7, 2018 at Immaculate Heart of Mary Church Scarsdale 10AM. A memorial luncheon will be held immediately following the mass at the Scarsdale Congregational Church 1 Heathcote Road Scarsdale NY 10583.
In lieu of flowers please make any contribution to Calvary Hospital, 1740 Eastchester Road, Bronx, New York.
Scarsdale Seeks Preferred Developer for Freightway Redevelopment Site
Details

Written by

Ingrid Richards

Hits: 1595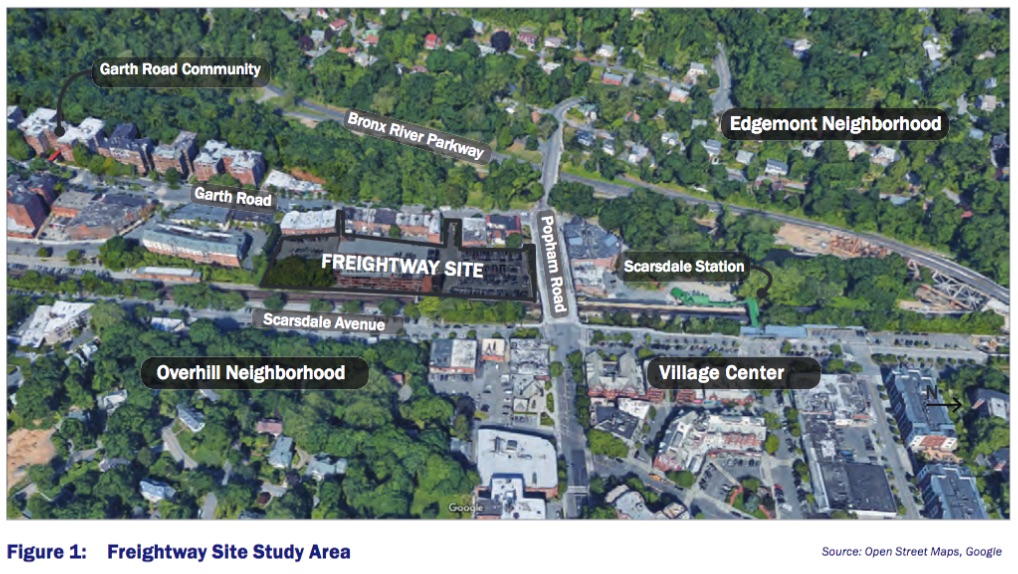 On Monday, July 16, 2018 Village officials distributed a Request for Expression of Interest (RFEI) to the development community for the Freightway Site.

The site is a 2.5 acre Village owned property currently used for commuter and merchant parking in an aging five-story parking garage and two surface parking lots. The site is located between Scarsdale Avenue and Garth Road, and includes:
• the Open lot which bounds Popham Road to the north;
• the Freightway Garage site; and
• the Beatty Lot, located south of the Freightway Garage.
The Scarsdale Metro North train station is north of the site and the tracks are located to the east of the site.

For the past 30 years, numerous studies have focused on the site, due to its key location in the Village Center. In March 2017, the Village Board of Trustees established a Freightway Steering Committee (FSC) to develop a visioning study for the site. The final Visioning Study (Study) incorporated a broad and meaningful public engagement process, and was guided by the FSC and supported by technical planning and market professionals. The Study provides a community-based vision that ensures future redevelopment, enhancing the Village Center while meeting local needs. The Study was completed and presented to the Board of Trustees in February of 2018. The Village Board of Trustees (BOT) views the development of the Site as critical to the evolution of the Village Center, and has commenced a two-step process to engage a preferred developer. The first step is to develop and distribute the RFEI which is designed to garner information from the development community on suggested conceptual development plans, zoning paradigms and creative financial models. This process will identify qualified developers with construction experience and the financial wherewithal to complete complex, mixed-use, transit oriented development projects.

Once the RFEI responses are evaluated, a short list of developers will be created and a Request for Proposal developed. The Request for Proposal will include information obtained from the RFEI submissions. The selected firms will provide a detailed proposal describing their proposed development plan, the associated zoning, and the preferred financial model to successfully complete the project. The responses to the Request for Proposal will be evaluated by Village officials, resulting in the selection of a preferred developer for the Freightway Redevelopment Site.

The Request for Expressions of Interest is located here. Read the Visioning Study here.
Scarsdale Shoppers Enjoy Great Deals at the Scarsdale Sidewalk Sale
Details

Written by

Sarah Kazan

Hits: 1536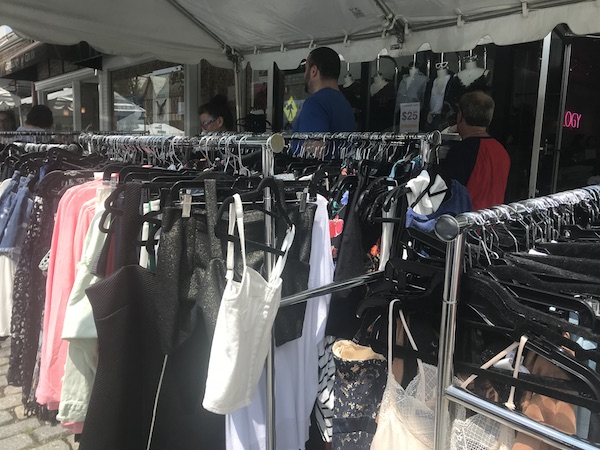 Scarsdale shoppers flocked to the Scarsdale Sidewalk Sale in search of deals from their favorite stores on July 26-28. Scattered showers forced the shopper to huddle underneath tents and awnings but did not dampen their enthusiasm for the search through racks and bins. Many stores offered free samples, including Bango Bowls which provided a taste of their açaí bowls. Other freebies included lip tint from Babo Botanicals and Italian ices courtesy of the Scarsdale Fire Department. Food, books, clothing, jewelry, gifts and discounts on services sweetened the pot.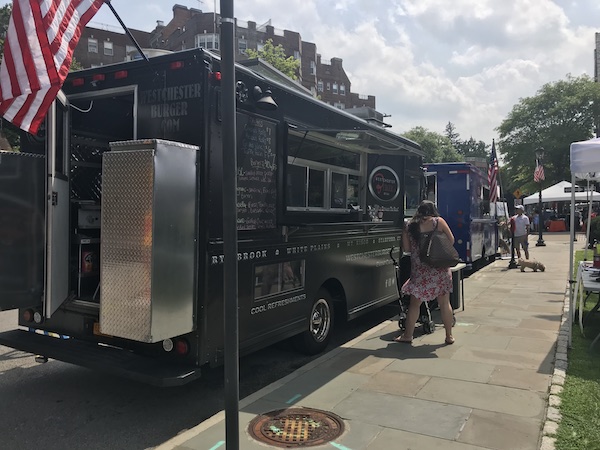 There was something for everyone. The Scarsdale Police and Fire Departments each had their own tents and taught children how to stay safe. Children could also get their picture taken in a fire truck.
On Friday and Saturday food trucks from Westchester Burger Company and The Souvlaki offered hungry shoppers a full menu. On Saturday, children gathered in Chase Park to hear a free performance from Songs for Seeds, which also offers music classes for children. The children sang and danced along with the band, and had a great time.
Commenting on the sale, Darci DeMatteo, the new Executive Director of the Scarsdale Business Alliance said, "The Scarsdale Sidewalk Sale was a wonderful event. The town was buzzing and we were thrilled to be able to collaborate with the village, the police and fire departments and the merchants to create energy, lots of foot traffic for the retailers and enthusiasm among the community members. We are thrilled the new Scarsdale Business Alliance was able to pull this together in such a short amount of time and we look to make it even better for next year."
Ken Giddon, President of Rothmans added, "The Scarsdale Sidewalk Sale was a huge success! It's not only good for the merchants to generate sales in the summer months, but it's an amazing opportunity to see so many residents out and about socializing, shopping and having fun."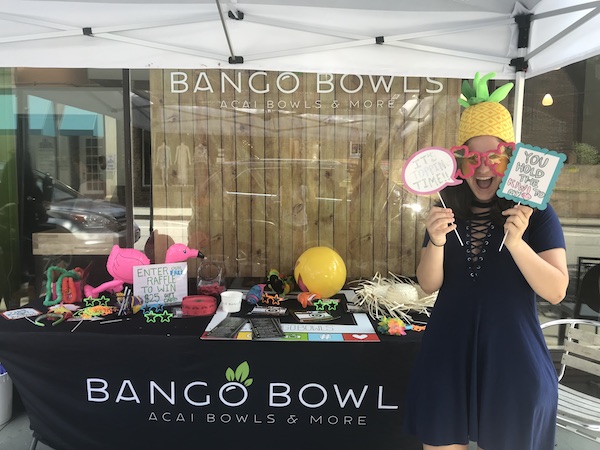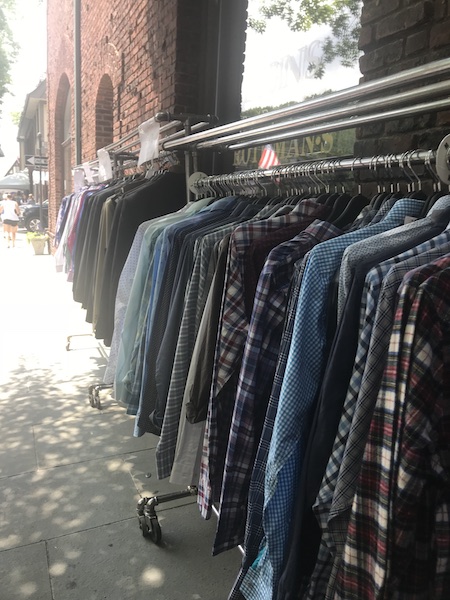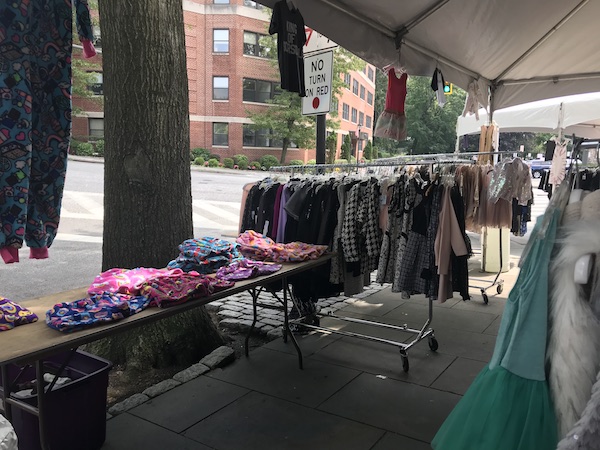 50th Anniversary Celebration at the Scarsdale Pool this Weekend
Details

Written by

Joanne Wallenstein

Hits: 1894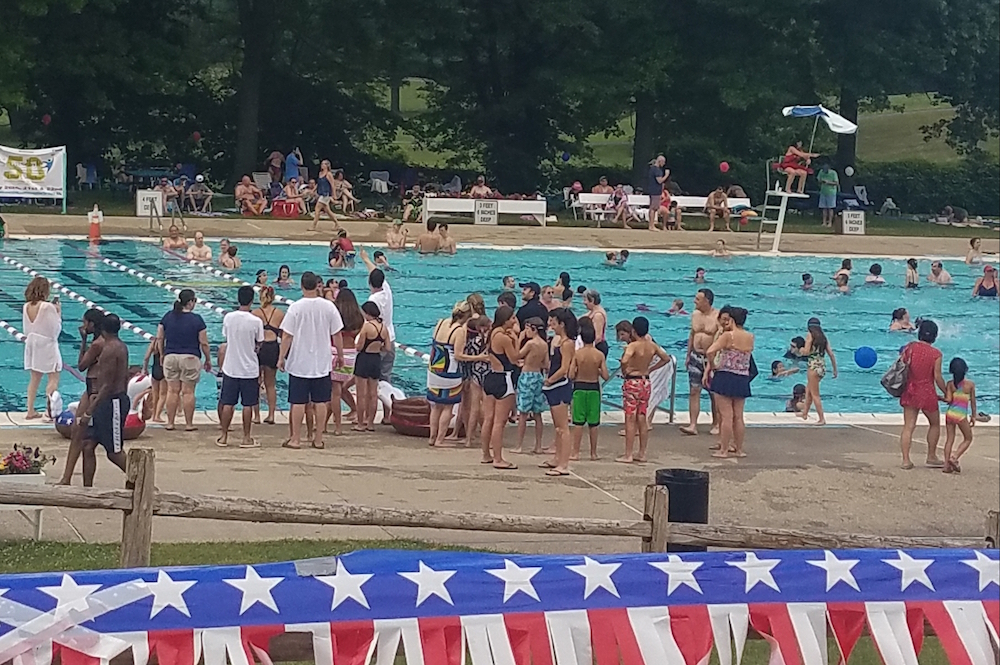 The Scarsdale Pool Complex will celebrate their 50th Season with a variety of festivities this weekend! All Scarsdale residents are invited to attend for a live band on Friday evening July 20 from 3:30 PM – 7:30 PM. No pool membership is required and no guest fees will be charged on Friday night.

On Saturday and Sunday July 21 and 22, the fun continues with more live music, a trivia contest, a scavenger hunt, float races, pool games, giveaways and more. A full schedule of events can be found on the pool website. Pool membership is required for entry on Saturday and Sunday, but members can bring as many guests as they like for the 1969 guest fee of $1.50 per guest.

Please come to the pool for a weekend of fun and celebration!