Historical Society Provides Additional Funds to Digitize Back Issues of the Scarsdale Inquirer
Monday, 14 May 2018 10:29
Last Updated: Monday, 14 May 2018 11:19
Published: Monday, 14 May 2018 10:29
Joanne Wallenstein
Hits: 2315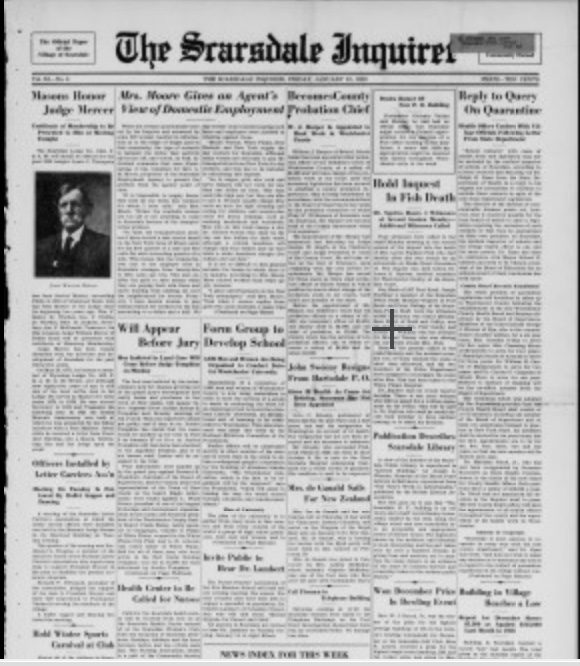 The Scarsdale Historical Society has committed an additional $37,000 to continue a joint project with the Scarsdale Public Library to digitize back issues of The Scarsdale Inquirer. The new funds will provide for digitization of the paper through 1977.

Previous grants of more than $50,000 from the society funded the first two phases of the digitization project covering the years 1901-1950.

The digitized material can be accessed at news.hrvh.org, an online resource housing historical newspaper as part of the Hudson River Valley Heritage (HRVH) service. Links to the paper can also be found on the on the society's website. The current project should be completed in one year.

"We are grateful to the Scarsdale Historical Society for their continued support for the digitization project," said Elizabeth Bermel, Library Director. "The Scarsdale Inquirer is an important resource for our community and having online access will increase its availability exponentially.

"The digitization of the Inquirer opens our community's history to students, researchers, and residents. In the past, access to back issues was available at the library in print and microfilm with limited finding aids created by Scarsdale librarians. The creation of these indexes was time intensive and did not allow for full text searching. Furthermore, there is no index for the years 1958-1979. Once issues are digitized, they are fully searchable, and the content can be found through Google searches."

Re-filming from the original papers and the generation of digital images is being done by Hudson Archival, of Port Ewen, N.Y. Generation of the metadata (METS/ALTO) necessary to put the images onto HRVH is by Digital Divide Data. Their innovative social model enables talent from underserved populations, including youth from low-income families in developing countries as well as military spouses and veterans, to access professional opportunities.