Students Find Creative Ways to Ask Their Dates to Prom
Tuesday, 22 May 2018 14:13
Last Updated: Thursday, 24 May 2018 10:34
Published: Tuesday, 22 May 2018 14:13
Sarah Kazan
Hits: 4564
The Scarsdale Senior Prom is just days away. The big night is Thursday May 31 at the VIP Country Club in New Rochelle. Continuing a Scarsdale tradition, students are coming up with elaborate promposals or ways to ask their dates to go to prom with them. While some use balloons, cupcakes, and flowers, others plan scavenger hunts or elaborate surprises for promposals.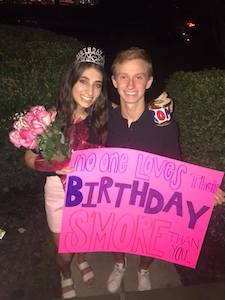 Sam Seltzer asked his date Aerin Cantor by surprising her at her house on her birthday. He hid inside a large box wrapped like a gift on her front door and rang her doorbell. She opened the box to find her date with a bouquet of flowers and a pint of s'mores ice cream, her favorite flavor, while his friends held a sign that said "no one loves their birthday s'more than you." All her friends were there for the surprise.
Katie Iver was asked to prom by Johnny Cohen after her Model UN meeting. She walked outside of the classroom to be surprised by her friends holding up flags of different countries and Johnny holding a sign that said "I couldn't think of a good pun but will you still be MUN (Model UN, rather than MINE) at prom?" Her friends then handed her foods from different countries as she walked down the hall to greet her date.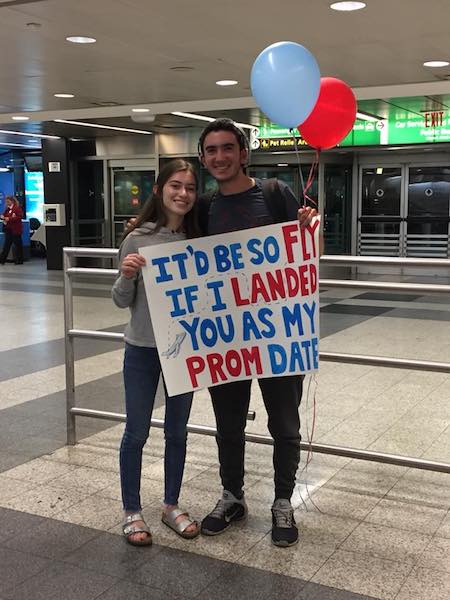 Boys are not the only ones to do the asking. Anna DeNelsky asked her boyfriend Michael Spiro by surprising him in the airport on his way home from college. She stood by baggage claim with balloons and a sign that said "It would be fly if I landed you as my prom date." Not only was he surprised to see Anna at the airport but the promposal definitely caught him off guard.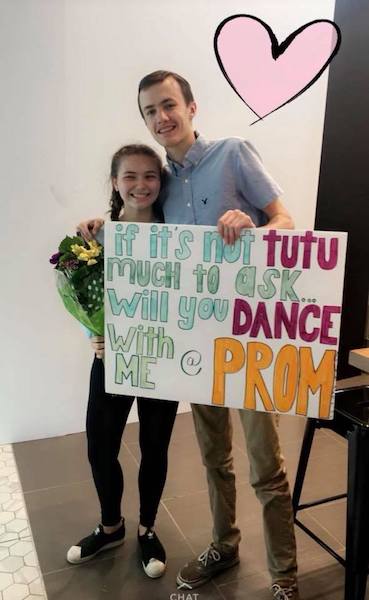 Another popular way kids ask their dates is by sending them on a scavenger hunt. Courtney Swift was sent to several different stores in the Westchester mall, including Sephora, Godiva, and Justice, where she was greeted by friends wearing tutus who gave her a clue to the next location. The scavenger hunt ended at Hai Street Kitchen in the mall's food court where she frequently orders poke bowls and where she found her boyfriend, Tom Fanning, wearing a tutu and a sign saying "if it's not tutu much to ask, will you dance with me at prom?"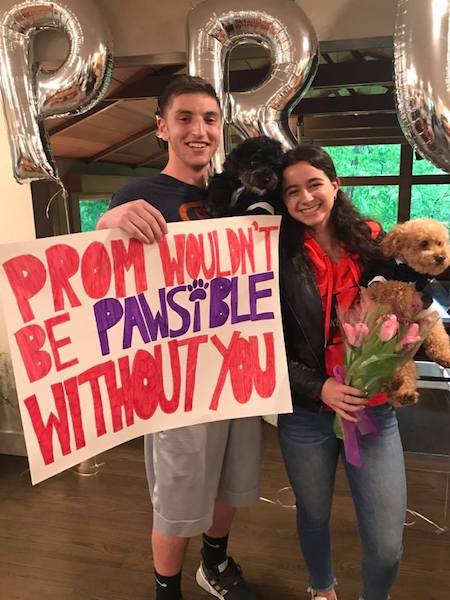 Jacob Brief surprised his date Carly Rubin by dressing her two dogs in tuxedos. When she walked into her house, she was welcomed by her friends, the dogs, balloons that spelled out "PROM?" and a sign that said "Prom wouldn't be pawsible without you."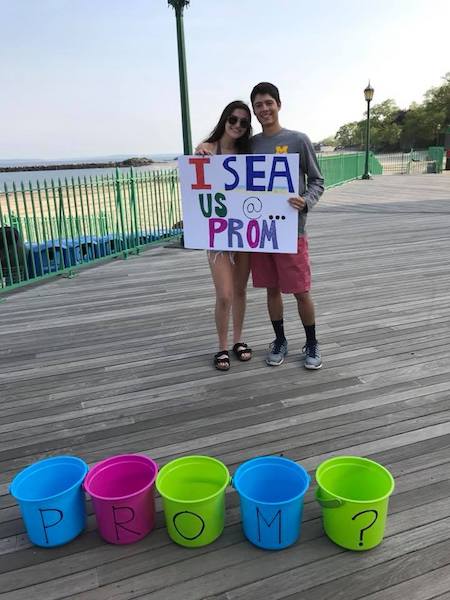 David Ostow asked Merritt Shelton to prom at Rye Playland beach. Her friends lined the boardwalk and as she walked down it she was greeted by her friends who each gave her a bucket. Each bucket had a letter that spelled out "PROM". The last bucket she received had a question mark drawn on it and was given to her by David who also held a sign that said "I sea us at prom." She said yes and all their friends cheered.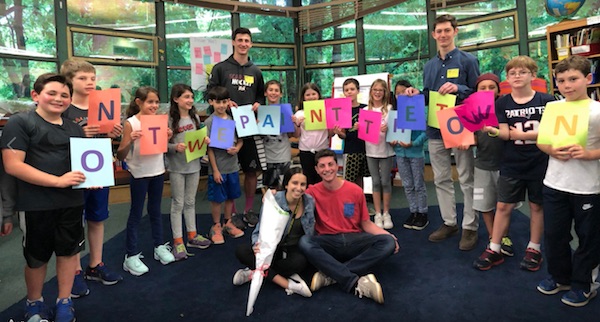 Abigail Suzman was surprised at her senior options by her date Steven Wetchler. Abigail, who is interning at Heathcote Elementary School, walked into her classroom to find her students each holding up a letter which spelled out "Why don't we paint the town at prom," and her date with a bouquet of flowers.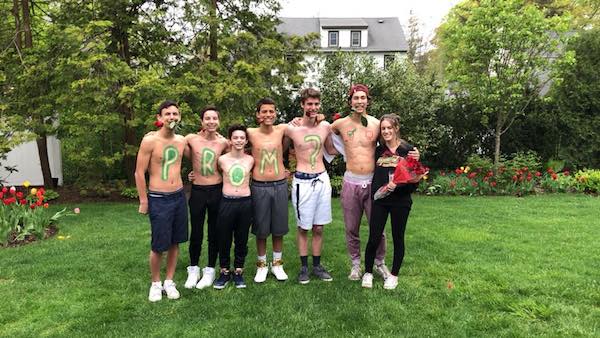 Abby Rosenstein came home to find all her friends in her backyard surrounding her younger brother and his friends with "PROM?" painted on their bare chests. She approached her date who had two check boxes painted on his chest, one that said "yes" and one that said "no" and was given a paint brush. She checked the box that said yes and all her friends rejoiced.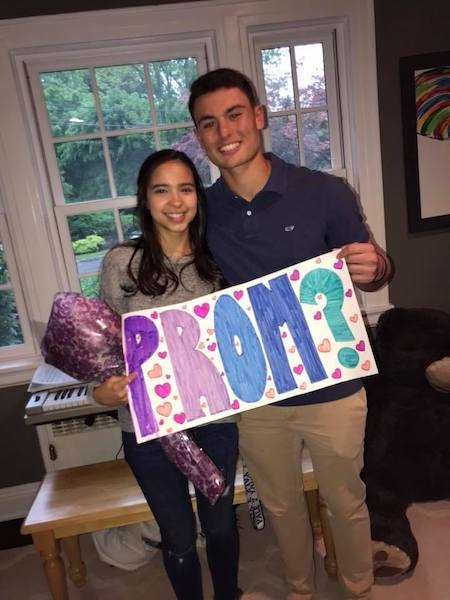 Camila Grisanti was surprised at a capella practice for her promposal. Her friends interrupted the practice to give her a "sing-a-gram". They then surrounded her and sung "Love is an Open Door" from the Disney movie Frozen as everyone watched. After the first verse, her date, Andrew Bernstein surprised her with flowers and a decorated sign that said "PROM?".
See these students and many more walk the red carpet to the prom bus on Thursday May 31 at 4 pm outside Scarsdale High School!
Have a good promposal you want to share? Email us at scarsdalecomments@gmail.com