Photo Opps: SHS Alum Named Presidential Scholar at Cornell, Scouts Honored
Tuesday, 12 June 2018 21:16
Last Updated: Thursday, 14 June 2018 11:43
Published: Tuesday, 12 June 2018 21:16
Joanne Wallenstein
Hits: 2416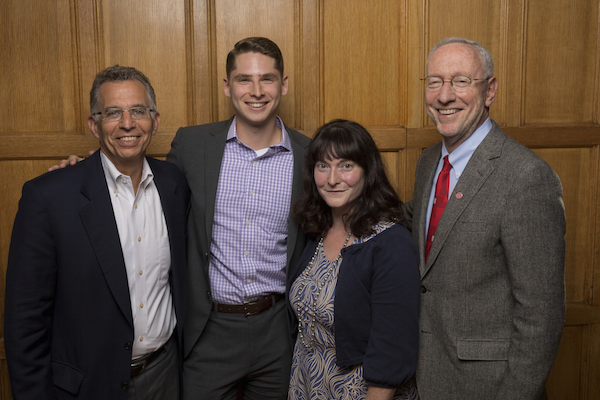 Joshua Klein, Larry Brown and Allison Weiner Heinemann with Provost Michael Kotlikoff Scarsdale native, Joshua Klein, was recently honored as a Merrill Presidential Scholar - an outstanding graduating senior at Cornell in the top 1 percent of his class. Each Merrill scholar is selected by their college deans for their intellectual drive, leadership abilities and potential to contribute to society. Klein was one of only three students recognized from the School of Industrial and Labor Relations.
Each scholar is also given an opportunity to recognize the high school teacher who most inspired his or her scholastic development and the Cornell faculty member who most significantly contributed to his or her college experience. Klein honored his high school teacher, Larry Brown and Allison Weiner Heinemann in the Department of Labor Relations, Law and History.
To further honor the high school teachers chosen by the Merrill Presidential Scholars, a one-time, $4,000 scholarship is awarded in the teachers' names to incoming Cornell freshmen or current students with financial need from the teacher's high school or geographic area.
Girl Scouts Gold and Silver Award Ceremony
Sydney Vleck, Grayson Rosenberg, Marykate Gorham, Katie Belbusti, Theresa Alarcon, Amy Paulin (NYS Assembly), Danielle Duffalo, Gillian Duffalo, Angelina Clark
The Scarsdale/Edgemont Girl Scouts (SEGS) held their 2018 Girl Scout Gold and Silver Award Ceremony on Sunday, June 10th. Nine Gold Award recipients as well as five Silver Award recipients were honored. Several local officials came to recognize the Scouts. Amy Paulin (NYS Assembly, Scarsdale), Benjamin Boykin II (Westchester County Legislator), Dan Hochvert (Scarsdale Mayor) and Kathie O'Connor (BPOE-Elks) were all in attendance. In addition, Erik Anderson, president of the Girl Scouts Heart of the Hudson, came to present the girls with their Gold Award pins.

The Gold Award is the highest honor a girl can receive within Girl Scouts USA. In order to earn this distinction, the scout has to spend a minimum of 80 hours on her chosen project, including hours earmarked for leadership within the project.

The projects for 2018 were all very interesting and wide-ranging in scope:

- Theresa Alarcon, in her project Crestwood Library Connections, worked to increase awareness of the library's offerings by promoting the use of press releases, articles, blogs and social media.

- Katie Belbusti, with her project Stay Healthy, Limit Screen-Time, focused on promoting individuality, healthy electronic habits, and awareness of cyber-bullying by holding a screening of a documentary regarding internet addiction.

- Marykate Gorham's project was titled Good Food for Good Soil. She created a program at a local nursery school to teach young children about composting, reducing, reusing, and recycling to help eliminate what is going into landfills.

- Emma Kornberg created a project called Art for the Heart. For this project, she wrote a guide containing various craft projects and helpful hints to aid new volunteers when working with the elderly in nursing homes.

- Gillian Duffalo, in her project Nutrition 101: Live to 101, concentrated on getting the message to all socioeconomic communities that affordable and nutritious meals could be easily prepared at home. To do this, she worked with boys from Children's Village, both cooking and practicing de-stressing activities.

- Danielle Duffalo's project was called Passport Around the World. The goal of the project was to create greater diversity acceptance by giving girls an opportunity to experience other countries by tasting international foods and working on crafts, activities and movements native to other countries.

- Paige Panessa, in her project Donating to the Humane Society, facilitated the donation process to the pet shelter. Paige built a donation bin enabling people to drop off goods at any time, as well as printing a Wish List to make it easy for donors to know what is needed at the shelter.

- Grayson Rosenberg's project, Staging a Change, addressed many of the renovations that needed to be done to her high school auditorium. She raised money to purchase new carpeting, paint and supplies and repaired and painted the façade of the stage. Grayson also created an arts information pamphlet for new community members to use as a reference.

- Sydney Vleck created a project called Diabetes Education in Food Pantries. Sydney noticed a high rate of diabetes in the population that frequents food pantries. Consequently, she focused on teaching a nutrition class for 3-6 graders at Don Bosco Community Center as well as creating an indoor herb garden for the center and assembling and distributing a Diabetic cookbook utilizing food commonly found in pantries.

- Angelina Clark, the Silver Award recipient, worked on a project Molly Bochner and Laura Paternoter called Dance to Discover. This project involved creating a fun and educational dance program for the children staying at the Coachman Family Center.

- Julia Genin's Silver project, Lend a Paw, involved providing Pet Therapy to nursing home patients

- Lindsey Kaufman's Silver project was called Gardening at Home. This project educated people about gardening in small spaces.

Congratulations to all of the Silver and Gold Award recipients.